Living in an area with severe power cuts or adverse weather conditions? With the right generator, you will never have to survive in the dark.
We live in a city with severe storms, and they come in unannounced. There have been power cuts that have lasted for two days even, and we knew we needed a good generator. Now the issue with most models is that they are noisy, and it is difficult to have a conversation in the same room.
So we decided to make a change, and after surfing through hundreds of reviews, we have compiled a list of the best generators. These are some of the options on the market that do not make too much sound.
It is time to surprise your family with the gift of light during dark times with a perfect home generator. Without further ado, let's jump right into the reviews.
Silent Generators For Home Use
IMAGE
PRODUCT
DETAILS

Our Top Pick

Our Top Pick

Honda EU2200I 2200 Watt Portable Generator

Weighs 47 pounds
48 DB sound level

VIEW LATEST PRICE →

Briggs & Stratton 30651 P2200 – 2200 Watts

HighTech engine controls 
Produces 59 dB at quarter load and 57 dB in eco-mode

VIEW LATEST PRICE →

WEN 56125i – 1250 Watts

Lightweight at 31 lbs
51 decibels noise level

VIEW LATEST PRICE →

Westinghouse IGEN2500 Portable Inverter Generator

Noise level rated at 53 decibel
Asymmetrical fans, and a double insulated hood

VIEW LATEST PRICE →

YAMAHA EF2000ISV2 2,000-WATT Portable Inverter Generator

Integrated soundproof glass wool 
Smart throttle regulates engine speed

VIEW LATEST PRICE →

Champion 3100-Watt RV Ready Generator

Presence of handle 
Noise level up to 58 Decibels 

VIEW LATEST PRICE →

WEN 56200i 2000 Watt Inverter Generator

Noise level up to 51 decibels
Eco-friendly and does not harm the environment

VIEW LATEST PRICE →

Honda EU3000iS Generator

Operates efficiently at 49-58 decibels 
Electronics-safe inverter power

VIEW LATEST PRICE →

Atima AY2000i

One-gallon fuel capacity
6 hour run time at 50% load
Sound levels up to 51 dBA to 61 dBA 

VIEW LATEST PRICE →

BRIGGS & STRATTON P4500 Powersmart Series Inverter Generator

Presence of quiet power technology
Additional Carbon Monoxide guard technology

VIEW LATEST PRICE →

Champion power equipment 75537I Inverter Generator

Noise levels not exceeding 58 decibels
3100 starting watts and 2800 running watts

VIEW LATEST PRICE →

Generac 6866 iQ2000 Generator

Noise levels do not exceed 53 decibels
6-gallon fuel capacity

VIEW LATEST PRICE →

Clarke IG2200 Silent Generator

Volume Level Of 64dB 
2200 Watts Maximum And 900 Watts Rated

VIEW LATEST PRICE →
If you are looking for a lightweight product that will do its job without waking everybody up, the Honda EU2200I Portable Generator is perfect. The company has recently come up with this model and compared to the previous one, this ranks higher on reliability. We were overjoyed with the outstanding performance of this generator.
No products found.
Why did we like it?
The best part of this generator is the fact that one can charge anything from a cellphone to big appliances without any hindrance. The device may be small and packed with a lot of power, approximately 2,200 watts of starting output and 1,800 watts running output.
Now you may ask even with such a robust device, how do we charge a large appliance along with a small one. We had a similar question when we found that the device comes with multiple outputs wherein you could connect mini-fridges, laptops and cell phones easily.
We took the device out with us on the road once while shifting houses and later realized we could not have made this journey happen successfully without it. Our phone batteries died in the middle of nowhere, and thanks to this generator, we were able to charge them back. This was needed to keep the GPS working. The journey continued with us sipping on cold drinks from the mini fridge which worked throughout, thanks to this product.
What could have been better?
The product functions perfectly well, but we have an issue with the fuel indicator. There is no indicator, and thus we have to wait for it to stop or calculate its runtime to figure out how much fuel is left. This could be a hindrance for some if you are using it very often, but otherwise, the machine works very efficiently.
Pros
Bigger and powerful engine

Very quiet operation

Eco-throttle system for efficient fuel consumption
For those who are setting up an inverter for the first time or do not want to get into a complicated process of installation, this product is an excellent choice. Briggs & Stratton 30651 is a model that ranks high on reliability and efficiency. We have been using it for some months now, and it has been a breeze to operate.
Why did we like it?
Powered by a 111cc Briggs & Stratton OHV, this is a brand that can be relied on entirely. The engine is powerful with a starting wattage of 2200W and continues with 1700W. Like the previous device, this one also charged multiple devices. Be it a big party you are planning, or you need a backup for your house, the machine will take care of any situation.
A prominent feature out here is the tank capacity of 1 gallon, which can work for 8 hours at 25% load. Adding to it, the device has secure parallel capability and is a great addition to the upcoming party or emergencies you want to be prepared for.
Also, with a 59 DB sound level, the machine is relatively quiet and would not disturb anybody trying to sleep. This is a little noisier than the previous device but not louder than a conversation.
What could have been better?
We found this device to be working well for us as far as operationality is concerned. We had a slight issue with the weight of it, which was 55 pounds. This may be considered bulky by some but would not be too heavy if you want to move it around. 
Pros
Easy to use

Automatically shuts down when low oil level is detected

Expandable parallel linking
One of the most lightweight products available, the WEN 56125i is a treat for those with storage issues in their houses. Small, compact, and weighing only 31 lbs, this device is exceptionally silent and would not disrupt anything in the household. We were happy to bring this small device into the house.
No products found.
Why did we like it?
Equipped with a 60cc OHV engine, which efficiently generated 1250 running watt, this machine might look small but is powerhouse indeed! With the kind of power that the device is offering, one need not worry about adverse weather conditions which may lead to current failure. 
The noise level is 51 decibels, which is very low and would not be heard even from a distance in the same room. You can ignore the noise and carry on with your get-together in the backyard. Our son had exams when the electricity kept fluctuating a lot. Thanks to this generator, his studies were not hindered, and he managed to do well the next day.
Another feature we appreciated was that this generator is EPA III and CARB certified. This means we can take it anywhere in California without the risk of facing any form of legal complications.
Lastly, the device with such great features did not make a hole in our pockets. Budget-friendly and productive, this machine is definitely recommended.
What could have been better?
The fuel tank capacity is 0.7 gallons, which is not as high as most generators. It can run for 5 hours at 50% load, which is a short period, and we would have been delighted if the capacity was more. This is perfect for short power cuts and maybe a boon to keep as a backup for emergencies at home.
Pros
Not expensive

EPA III and CARB-Compliant

Lightweight and portable
Cons
Does not fulfill high power demands
Do you need a very silent generator that does not bother while you work through power cuts? This device will be your partner during your dark times with its whisper-quiet generator at play. We wanted reliability and a machine which will last long, needless to say, this device met both our demands successfully.
No products found.
Why did we like it?
It's only after intense amounts of research that we have decided on this product. Packed with a four-stroke powerful engine, the inverter is rated at 2500 starting watts and 2200 running watts. This is a tiny powerhouse that enabled us to keep our appliances going for 6 hours when a power cut came our way all of a sudden.
The inverter also boasts of an impressive design including an LED display, asymmetrical fans, and a double insulated hood, thus making it look attractive while keeping the machine cool. The device was surprisingly very cool even after long hours of constant use.
It is a great product to take on hikes or tailgate parties, too, because of the quiet dual mufflers, which makes it one of the quietest inverters available. The noise rated at 53 decibels promised not to sour the mood of our party. It did not disturb  the silence of the surroundings too.
What could have been better?
We appreciated the generator a lot except for one problematic feature. There was an issue with the quality of the spark plug. The issue was resolved, but when we researched it, we found that this is an issue many have reported. But again, it is possible to fix it and would not be a hindrance.
Pros
Whisper quiet generator

Fuel efficient and adjustable fuel consumption

Fashionably designed with LED display
How cool would it be to buy an inverter which looks like a radio? Do not keep wondering, take a look at this device. With a sound muffler in place, Yamaha has managed to impress us big time with their uber-cool gadget that does the work but is super-quiet about it.
Why did we like it?
We loved its TwinTech capacities, which could be used to connect the machine to another device, thus increasing the power level. This is something we needed because power cuts are widespread in our neighborhood. 
To add to it, the machine has a visible fuel gauge, a low oil indicator which makes sure that we know about the deficiency and can fill up the tank when needed. Unlike some of the previous devices, this feature itself gives this device extra brownie points. 
What's more, it also came with a gasoline petcock, which made sure that stale gas does not remain stored. This is something we would not usually think about, but the company has thought it through thoroughly. 
The generator is also CARB and EPA compliant and can be used anywhere in America without any restrictions. We gifted one to our friends in California, and they are happily using it for months now. 
What could have been better?
This is an exceptional product that took care of intricate details while building the generator. But on the other side, it is small and is not fit for heavy-duty power tools. The machine can easily power small to medium-sized gadgets, and thus we recommend you to understand your needs before buying the product.
Pros
One of the quietest in the market produces only 51.5dB

Safe and reliable power source

Fuel efficient and has economy switch mode

High runtime for 10.5 hours

Presence of TwinTech Capability

Reliable oil watch system
Cons
Not for heavy-duty appliances

A little expensive
We were looking for a backup generator for our house, especially before a wedding in the family. It was going to be held in the backyard when we came upon this. The Champion RV Ready Generator is one of the best choices available with a comparatively low sound level but high levels of functionality. 
Why did we like it?
We had the device working for 8 hours at 25% load, and it worked without a glitch! Not only does this device come with extended run time, but it also produces very little noise. Equipped with a very user-friendly display that operates via touch, it will enable you to monitor and control everything the generator does through this. 
This generator is equipped with wheels and a handle, and this came as a surprise as most smaller generators are devoid of wheels. The wheels made it easy for older members of the family to push it around if needed. 
The company offers lifetime technical support for the device, which is of great help in case of malfunctions. It also gives three years limited warranty which is another boon that adds on to the fabulous features of this device.
What could have been better?
The one disadvantage we noticed was the absence of a remote-start facility. Every time we needed the gadget, we had to switch it on manually, which meant walking up to the generator, which could be avoided with a remote. Other than this, we did not have an issue, and the product worked fine. 
Pros
8 hours of continuous run time

Low oil shut off and recoil start

Cast iron body for durability and efficiency
Cons
Absence of remote start facility
Do you need a generator that is super quiet? One that will not wake up the kids at night if there is a power cut, and the machine needs to be switched on? The WEN 56200i Generator is a super quiet device that will do its work while not creating a ruckus in the house.
Sale
Why did we like it?
Today with most of us living in flats, any loud noise is not only bothersome for the people living in the house. It is also irritating for neighbors in the apartments beside or above you. With this device, one does not need to bother about disturbing anyone. 
The US Department of Health and Human Services has proclaimed that the noise emitted by this device is at par with noise levels of a conversation between two people.This is the best we could afford presently, especially with two young kids.
Adding to it, since the machine is EPA III and CARB certified, we could take it with us on the RV even to restricted areas. Also, low fuel alert installed in the inverter is a boon for those of us who do not always want to keep checking the fuel level. 
What could have been better?
We would have been happier if the wattage was higher as devices in this range mostly have a greater output capacity. It runs at 100% output for 4 hours and 50% output for 6 hours, which is easily exhaustible. The shorter output period makes it difficult for us to run gadgets that need a lot of power. 
Pros
Safely charges delicate devices

Quiet and does not cause disturbance

Easy to handle

Portable and lightweight
Cons
Output period not long enough
It is time to become the envy of your neighbors who cannot carry on a conversation with the inverter working nearby. It is extremely quiet, and does not guzzle fuel but sips on it lightly! This makes the device fuel-efficient and saves you a lot of bucks. What more could you possibly want?
Why did we like it?
The eco throttle mode was extremely impressive as it helped ration the fuel as well as made sure that even on full power, the fuel was used efficiently. We started it with a quick pull, and we had reliable and safe power for our household appliances. 
A feature we cannot help, but mention is the 20 hours run time on 3.4 gallons of fuel. This is the most significant capacity we found in any of the generators till now. We had a major power cut because of a sudden storm, and there was no electricity for a day. This machine helped us keep our home lit up while most of the other houses were left in the dark. 
Also, this device shuts off by itself once low fuel is detected. This is a brilliant feature as it is challenging to keep track of the oil level in the machine continually. And it is dangerous for the device to be on with all the oil used up.
What could have been better?
The device is one of the most powerful in the list, but it is relatively very heavy too. The machine is almost 200 pounds with fuel in it making it perfect for home use where you do not need to move it around at all. 
Pros
Low sound level

Efficient fuel consumption

Auto shutoff when oil is low
If you want a gadget on wheels for added support, the Atima AY2000i will be the choice to go with. Weighing 50 pounds, this machine is much lighter than the previous model but may look pretty bulky. The wheels make it a child's play to drag across when need be.
No products found.
Why did we like it?
This device is powered by a Yamaha engine, which has the most excellent reputation for making motors. We faced no issues with the power level and the engine functions. With a one-gallon fuel capacity, it can run for an entire day or night, making it capable of handling medium span power cuts. 
Another feature that this device comes with is an LCD, which will help you track and monitor the functioning of the generator. This also adds to the overall design of the machine, which is primarily made of aluminum and looks impressive. 
This machine also comes with a smart throttle, which makes sure that fuel is being used very efficiently. In the present times, with environmental problems on the rise and with depleting fuel levels, this feature is a boon in disguise. 
All we did was pull a cord and start the machine, and it worked to keep our appliances active while we could work in peace. 
What could have been better?
The device works well and is very quiet about it. So we have no complaints about having a conversation and not being able to talk in our average volumes. The only issue we have with this device is the absence of a fuel gauge. This prevents us from keeping a check on the fuel level.
Pros
Presence of a Yamaha engine

CARB Compliant and safe

Smart throttle adjusts engine speed and fuel consumption

1600-Watt output enough for household appliances
We think silence is golden, and if you are like us and share our thoughts, this generator will be the best choice. Briggs and Stratton are known to be technologically a step ahead at all times with their products, and this one isn't an exception. We were thrilled with the efficiency that this machine showed while operating and the power that it carried. 
Why did we like it?
The one thing we adored about this product is the CO guard technology, which switches off the whole inverter if it senses unsafe carbon monoxide levels. This plays a significant role in safeguarding the house and prevents risks to life. It made us feel a whole lot safer knowing the machine can handle itself and does not need to be continuously supervised.
Another vital feature here is the LED display, which lets you see the level of fuel left. The current run time, and how much power is being used is also made visible keeping you informed about the specifics. So you can be prepared to add fuel whenever it is on the verge of finishing. 
Coming to the convenience in functionality, this inverter is equipped with four household outlets, 2 USB ports, and a 30 amp RV outlet. This provides us with several different forms of charging points needed for various devices. 
What could have been better?
Though it is one of the most potent inverters, the Briggs and Stratton model has a very low-quality plastic exterior, which is not expected. Also, the placement of the fuel entry point is not proper, making it somewhat challenging to reach it and fill the tank. 
Pros
Presence of multiple power outlets

Clear LED display

16 hours of power at 25% load
Cons
A complex fuel entry point
If you have giant power needs wherein you would want to run an air conditioner smoothly during power cuts, the Champion 75537I Inverter is the product to go for. It will ensure that you have a very reliable backup for the home. We had planned a party in our backyard, and this generator took care of all our needs.
No products found.
Why did we like it?
This is a very powerful inverter as it can provide power for 8 hours on a single tank of gas at 25% load. This kind of power is rare with smaller inverters. The inverter also comes with wheels and handles to make it easily movable. During our party, we had to move the generator around because people were using it to charge their cell phones, and we faced absolutely no problems.
The sound it emanates during operations is 58 decibels, which is pretty quiet and would not be much of a hindrance. We were impressed by the versatility of this inverter, considering it could charge an air conditioner as well as a cellphone, two devices at two ends of the power continuum. 
Another essential feature is the eco mode, which enabled us to automatically idle our machine, thus saving fuel in the process. 
What could have been better?
The one thing we thought was missing from this inverter is a 240 V power outlet. This reduces the performance of ovens or fridges. A 120 V outlet will only have the appliances working at 1/4th the heat. This will only slow down the process, but all the gadgets will still work. 
Pros
Easy to use with a push to start electric button

Wireless remote which functions from 80 meters away

Presence of an economy mode
Cons
Does not have a 240 V outlet

Heavy machine
If you have different power needs and would like the noise to be at minimum levels, this gadget named Generac 6866 iQ2000 can be the best that you will find. Weighing just over 50 pounds, we could quickly relocate this device whenever needed while it took care of every little appliance in the house.
Why did we like it?
This device comes with three modes of operation, and in every mode, the noise is minimal. It is accompanied by a power dial that starts the generator immediately, and a toggle button is present for you to choose one of the modes. 
We also loved the lighted up display. Because it lights up, we were able to see it from a distance, and it was easier to determine the settings. It displays the fuel levels making sure we never run out of it during emergencies. 
Also, the low sound level ensures you can carry on with your daily life without hindrance. Once we had guests over when the power cut happened. But thanks to this machine, we did not have any problems and the evening went wonderfully.
What could have been better?
This machine needs clean, pure fuel to function efficiently. We found that low-quality fuel can do damage to the engine, and it stops working in its usual way. So we recommend that you should make sure never to put in any cheap fuel inside. 
Pros
PowerDial integrates start/run/stop functions into 1 dial

15 hours run time at 50% load

Ability to parallel 2 units together for twice the power
Cons
Low-quality cheap gasoline causes problems
If you are keen on aesthetics and want something for the house which is efficient yet looks good, the Clarke IG2200 Silent Generator may just be the best option for you. We were looking for a small inverter that would not be too noisy but would work flawlessly. This one, with its impeccable design, blew our minds!
No products found.
Why did we like it?
This is a tiny powerhouse that enabled us to keep our appliances going for 6 hours when a power cut came our way all of a sudden. We had official commitments to fulfill and needed the laptop to be working throughout the powercut. Thanks to this machine, our laptops and mobiles were working through the night. 
Additionally, with 1200 watts as maximum capacity and rate at 900 watts, the device can easily power several devices together via their sockets. There are multiple sockets to ensure the charging of more than one device simultaneously. 
 Also, being compact in design with a carry handle, we did not need to worry about portability, and you can easily move it to the outhouse or backyard if needed. The Anti-vibration / anti-slip feature was another valuable addition for us. This is because we are often so distracted that there is a chance we may drop it when transferring it from room to room.
What could have been better?
We did not find any faults with this product. This is truly exceptional and was a treat to use. The only factor we think may affect your decision to buy is the price. This may be considered as a pricey product and can cost you a tad bit much. If money is not an issue, then please go forward and purchase the device. 
Pros
12V 5 Amp DC Yield Charging Up 12V Batteries

4 Stroke Petrol Motor Containing Eco-Throttle

Uses 'Pure Sine Wave' Technologies

Ideal For Tenting, Caravanning, and homes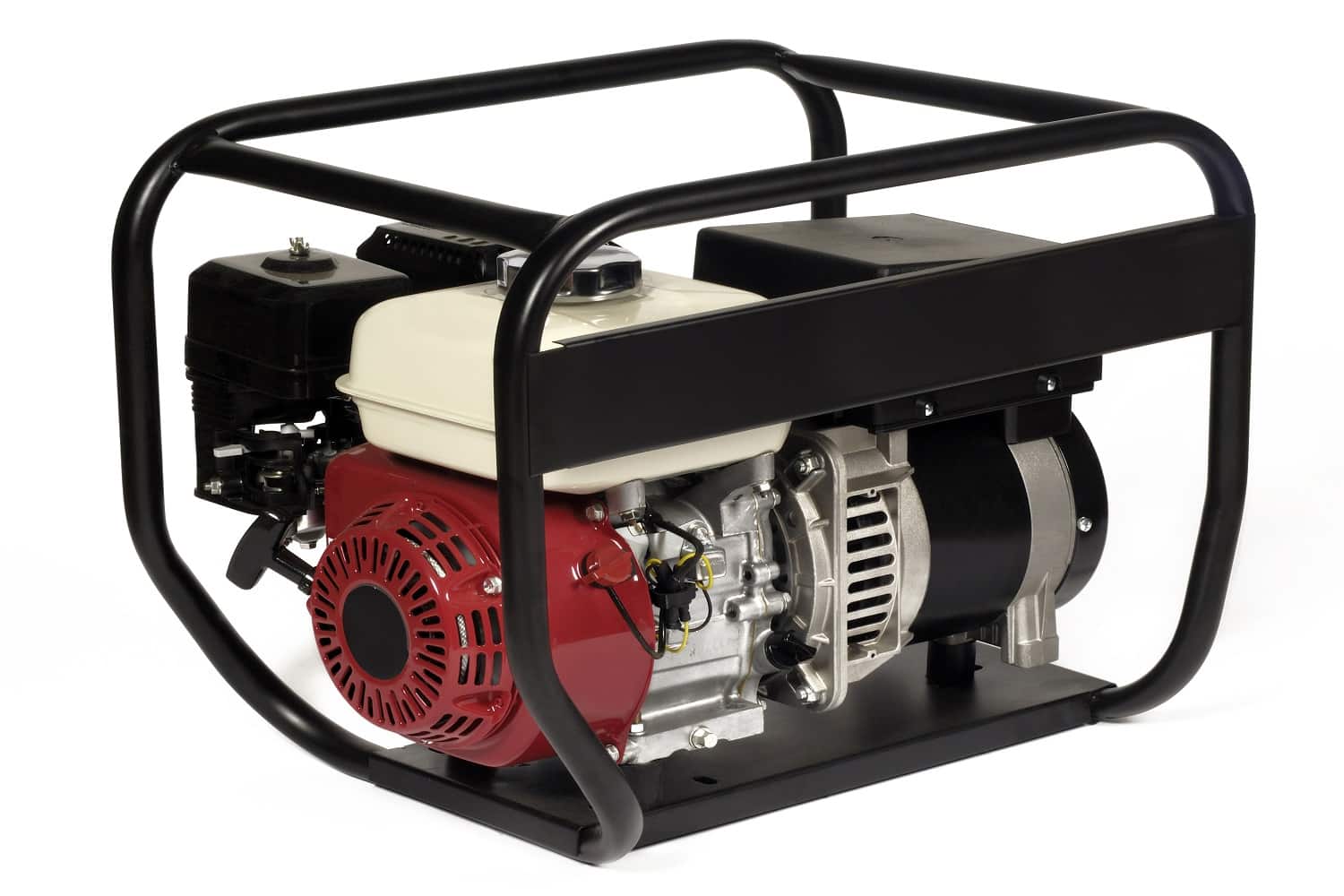 Buyer's Guide
Now that you have a clear idea about the products available, you may want to buy one immediately. But wait! You must keep in mind specific points to look for before buying a quiet generator. 
The Noise Level
Previously generators were known to make a lot of noise, and so every time the sound would stop, one understood that the machine was out of fuel. Today, machines come with so many features, and the biggest one is being able to work quietly. 
Different machines have separate levels of sounds, and you should choose according to your needs. If you need a bigger machine, it will make comparatively more noise than a smaller device but will give you more power. 
Size and Portability
Make a clear note of what you want to use the inverter for. If you are going to travel a lot, it has to be compact but to achieve a higher wattage and for household needs, go for bigger ones. Again, see if the device has wheels. If you are incapable of lifting heavy weights, make sure the inverter has wheels attached for sure.
Doubling up 
If you opt for a generator that works in parallel, you can double up the power output by connecting two generators. This will be of a lot of help in cases when you are in dire need of power. 
But the downside to it is that generators which have this feature are more expensive than the ones which do not. So check if you need this feature before actually buying it. 
Pollution
A generator is a gasoline engine and initially wasn't meant to be kept inside houses. But in present times, there are inverter generators that are CARB certified, making them safer for your use as well as the environment. 
 If you are staying in an area where there are issues related to air quality, make sure to opt for one which is CARB certified.
Price
Before you buy a generator, please do not only consider the price of the device. Look at the maintenance costs, operational life, and the cost of fuel. An inverter may be expensive but may come with comparatively lower maintenance costs and vice-versa. If you are on a budget, check the prices of everything you would need and then decide on buying.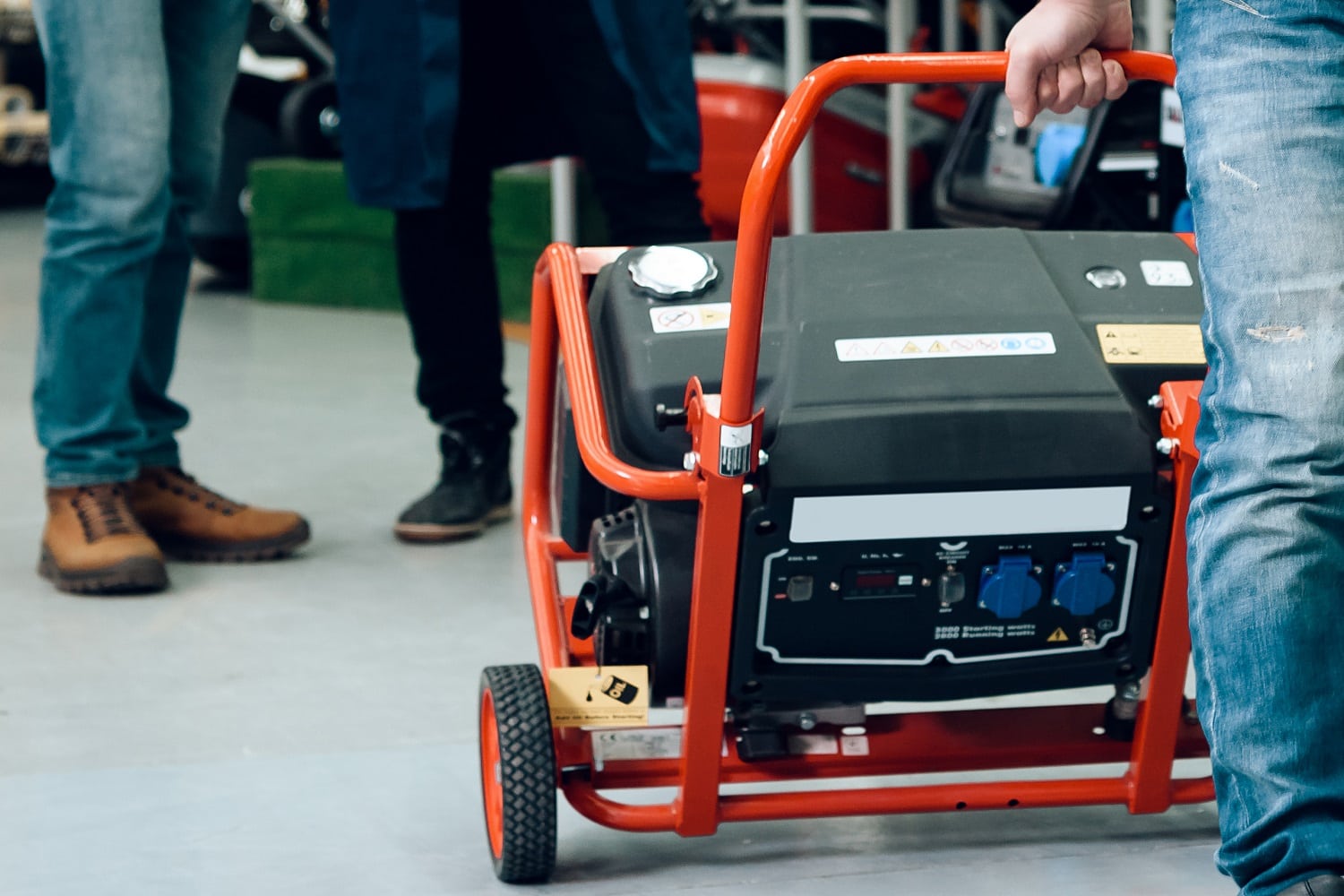 Verdict
Silent generators are the need of the day because power cuts come pretty much unannounced. It is a tough decision to choose among the top 13 models of quiet generators.
But there is always a winner, and here we would go with the WEN 56200i 2000 Watt Inverter. We choose this for its lightweight and low sound quality for backyard parties without disturbing the neighbors.
This device works very well with charging small household appliances and delicate devices, but the runtime is low and thus would not be a feasible option to use as a backup option for our home.
For this, we would go with the Champion power equipment 75537I Inverter Generator as a backup device in case of power cuts. This inverter has a brilliant capacity and would last for 12 hours, if need be.
You now know everything you possibly could about inverter generators. It's time to hit the stores and grab the one which fascinates you.
Happy shopping!
Related Articles
10 Best Quiet Propane Generators For Home And RV Use
Top 10 Quietest 5000 Watt Generators For Home Use
9 Best Solar Generators for Camping & Home Use 
9 Best Quiet 4000-Watt Generators 
10 Quietest 3000 Watt Generators For RV And Home Use
12 Best Cheap Inverter Generator to Consider Today