Currently, this is a discontinued product, no longer available on the market. 
For many people, felt might not appear as the most important roofing and shed protection item. However, construction and particularly roofing experts tend to disagree. Many regulatory bodies including the National Federation of Roofing Contractors consider shed felt a reliable waterproofing solution.  In some instances, the installation of shed felt is provisioned in the building code.
But far from those regulations and construction compliance, there are sheds erected beside the main construction for storage purposes. There, felts become the indispensable protection sheets to make those sheds weatherproof. This is the reason why most of the readymade sheds these days are already lined with felts.
But after all, felt is also a fabric type. So, no matter how rugged and sturdy it is, it eventually starts wearing away. In most cases, it is actually ripped apart in patches. In other instances, it's fitting gets too loose and can't provide the adequate water barrier. If you have a felt-laden shed but you still experience leakages after a heavy rain, then it might be the time to replace the felt.
Searching the market just for a standalone high-quality shed felt can turn out to be quite draining. In order to protect you from that unwarranted exhaustion, we are going to discuss and review one of the best shed felt to use right now.  If you are looking for a replacement felt, then you don't have to look beyond that.
Green Mineral Felt – The Best Shed Felt to Use Right Now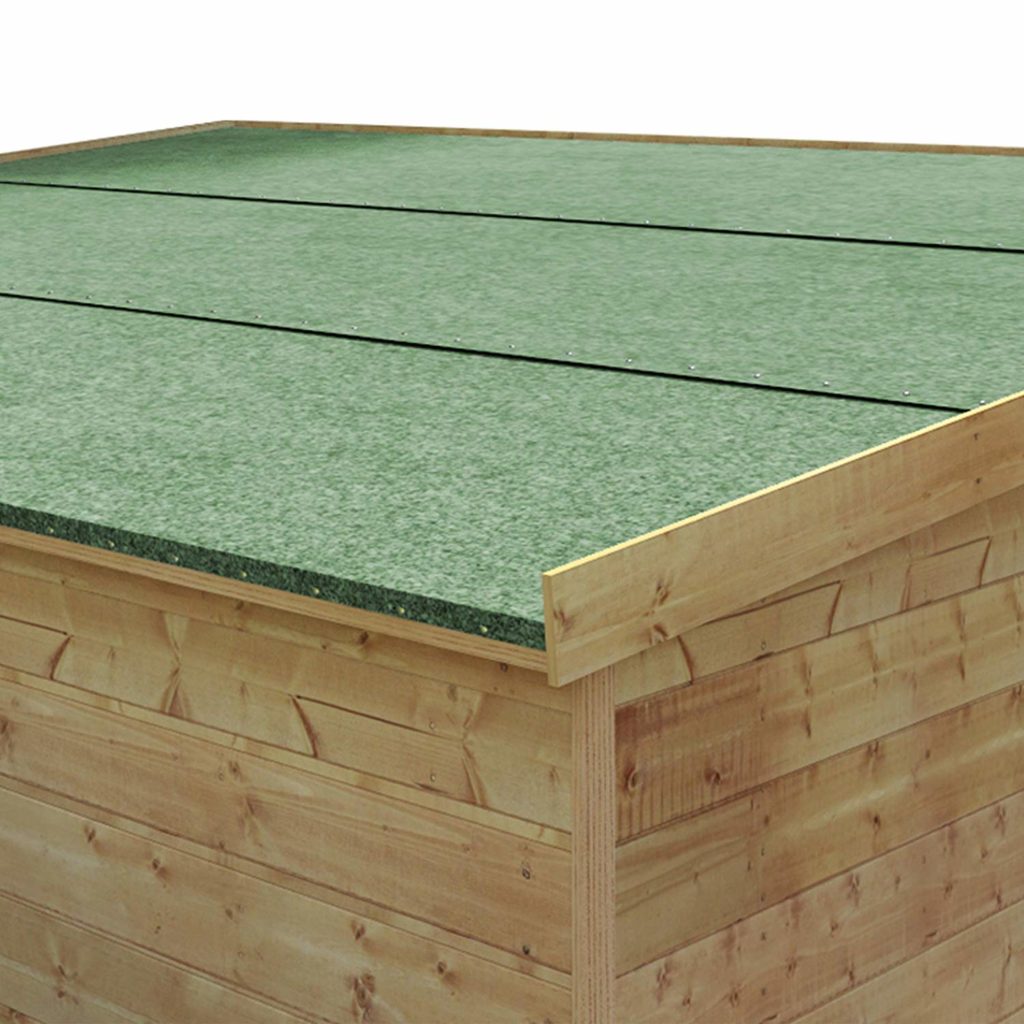 Green Mineral Felt is the most reasonably priced and high-quality shed felt you can find in the market right now. There are many reasons why we are calling it the top option to replace your old, worn-out felt shed. 
It is thick and sturdy enough to make your shed weatherproof again.

A single layer of the felt is enough to provide you the required protection.

The fine slate finish of Green Mineral Felt ensures harsh weather conditions don't erode it away. You get the totally uncompromised weather protection all year round.

The installation of Green Mineral Felt is a breeze. A couple of clout nails and a hammer/staple gun and you have all the things that you need to put the felt on the shade.
Short Buying Guide for Shed Felt
Green Mineral is undisputedly the best felt for any type of shed. However, keep in mind these important points to always buy the best item available on the block.
Always Go for Bitumen Finishing: Mineral finishing is common in the manufacturing of felts to make them long-lasting. We would recommend you to pick bitumen-finished shed felts because their operating life is generally a couple of years more than other mineral felts.
Prefer UV-Resistant Felt Over Other Variants: If you are looking for a long-term felt solution, then pick UV-resistant shade because it will not get discolored and taint the look of your shade and the surrounding landscape.
Installing a Shed Felt Roof
In some simple steps, you can remove and replace a shed felt with your own hands.
Take out all the nails from the worn out, to-be-replaced felt through the back of the hammer and gently pull it off.

Inspect the underneath timber surface and apply preservatives and plywood where it is looking thin and weary

After preparing the timber surface for the new felt, start rolling it over from one side while pinning it down through a hammer or a staple gun.
This won't take more than an hour and at the end of it, you will have your shed all brand new with a pristine sturdy felt.
Related Articles
Backyard Landscaping Design Ideas-Charming Cottages and Sheds
What is a Shed | Sheds Defined, Structure Types, Advantages and Disadvantages
Learn How Can a Garden Shed Change Your Outdoor Experience For The Better
9 Best Shed Alarm Systems for Enhanced Security