The importance of a reliable self-cleaning litter box isn't new to someone who truly loves taking care of their pets.
When it comes to litter boxes, it's imperative to maintain proper hygiene as it ensures the safety of your pets and prevents you from coming in contact with harmful pathogens. However, we only wish that cleaning the litters from time to time were just as easy as it sounds.
Although we love our cats, let's be honest – cleaning the smelly dump isn't something to rejoice. That's why self-cleaning litter boxes have been trending in the global pet owner community.
So, in case you're planning to treat your cats with sheer royalty, here are the 13 best options that you should consider. Besides, don't forget to go through our detailed buyer's guide consisting of the key factors to keep in mind before buying one.
Now, without any further ado, let's dive into the deets!
Top Self Cleaning Litter Box
IMAGE
PRODUCT
DETAILS

Our Top Pick

Our Top Pick

PetSafe ScoopFree Automatic Self-Cleaning Cat Litter Box

Automated waste-removal for optimal user comfort
Crystal litter cancels out the unbearable odor

VIEW LATEST PRICE →

Little Spinner Quick Clean Cat Litter Box

Easy-spin cleaning mechanism
Compact yet spacious litter box

VIEW LATEST PRICE →

Omega Paw Self-Cleaning Litter Box

Ultra-compact 19.5" x 22" x 20" size
Very sturdy build materials

VIEW LATEST PRICE →

CatGenie Self-Washing Self-Flushing Cat Box

SaniSolution cartridge for hygienic operation
100% dust-free granules to ensure cleanliness

VIEW LATEST PRICE →

Hagen CatIt SmartSift Litter Box

Noiseless Pull and Refresh technology
Easy-to-use maintenance door for cleaning

VIEW LATEST PRICE →

PetSafe Simply Clean Self-Cleaning Litter Box

Self-cleaning bowl moves at one rotation per hour speed
Air-tight bin to save you from the unbearable smell of animal waste

VIEW LATEST PRICE →

Nature's Miracle Multi-Cat Self-Cleaning Litter Box

100% automatic clean-up mechanism
Spacious; can host multiple cats over 15 lbs

VIEW LATEST PRICE →

LitterMaid Multi-Cat Self-Cleaning Litter Box

Can host multiple cats over 15 lbs at once
Tall walls and paw-cleaning ramp to prevent a messy situation

VIEW LATEST PRICE →

Pet Zone Smart Scoop Automatic Litter Box

Hands-free waste disposal system with smart sensors
Carbon zeolite technology to eliminate odor

VIEW LATEST PRICE →

Litter-Robot II Bubble Automatic Self-Cleaning Litter Box

Works fine with clumping cat litters
Carbon filter to soak all the bad smell

VIEW LATEST PRICE →

ModCat Top-Entry Litter Box Kit

Award-winning innovative design to eliminate litter tracking
Premium rip-resistant liners that last three months

VIEW LATEST PRICE →

Litter-Robot Open Air Ramp Cat Litter Box

Smart Air dump system to reduce litter tracking
Ideal staircase design to maximize ease of use

VIEW LATEST PRICE →

SELCNG Ultra Self-Cleaning Litter Box

Next-gen carbon-impregnated filter
Built with BPA-free material

VIEW LATEST PRICE →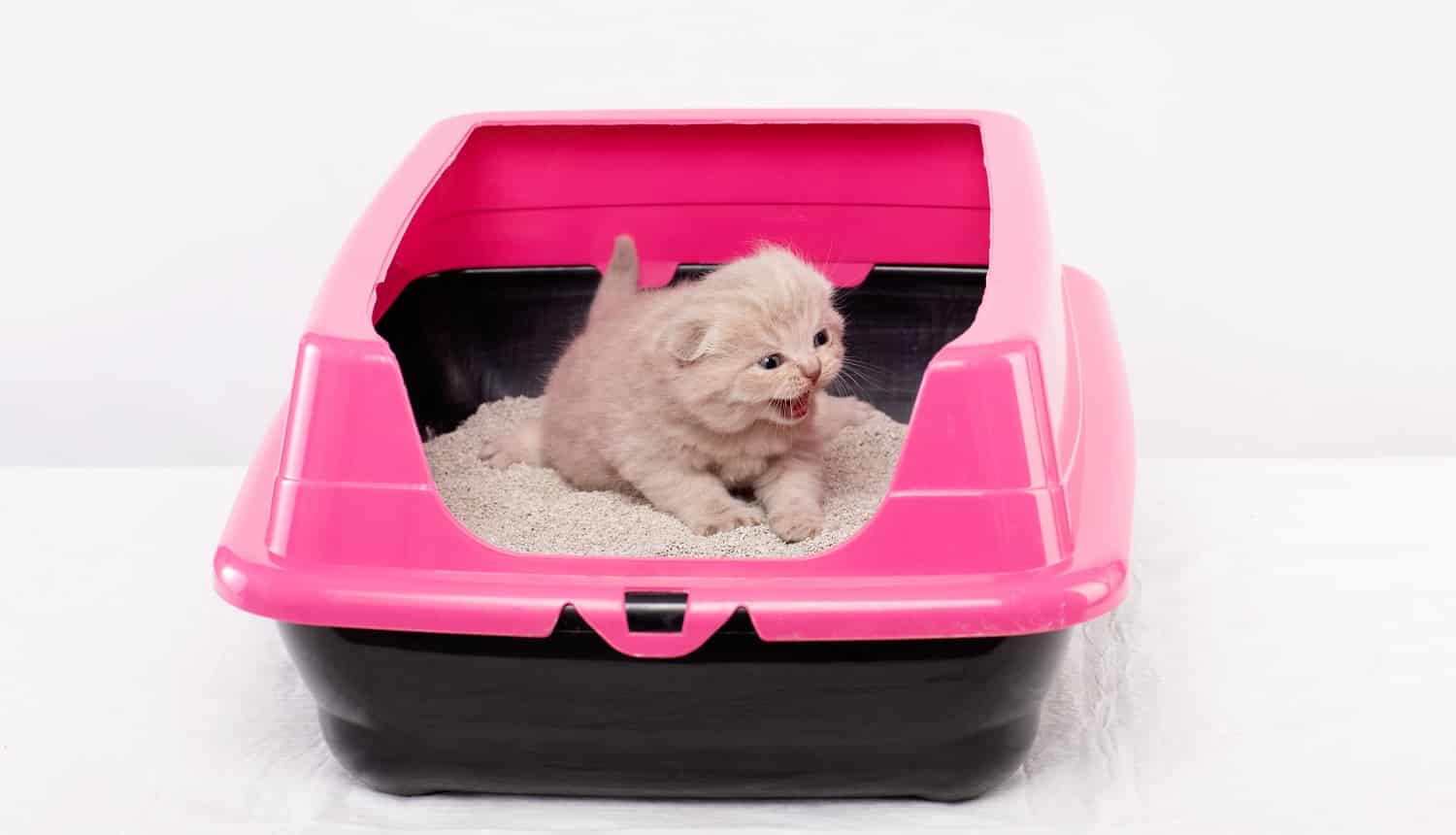 With innovations that have brought pets and owners closer since 1991, PetSafe is a brand that customers across 52 countries rely on blindly when it comes to uncompromised quality. Your feline friends deserve nothing less than the best, and that's what the ScoopFree automatic litter box, with its best-in-class features, is built to offer.
Why Did We Like It?
Let's begin with its unparalleled beauty – the uber attractive design and finish add a sophisticated touch to the box's appearance, guaranteed to have your pet-loving friends amused. Notably, the matte purple coating upfront adds all the sassiness, enhancing its visual appeal by quite a margin.
Besides, we're fans of the automated waste-removal technology that saves you the hassle of scooping the excreted waste on your own. With this product, you don't even have to clean or refill the litter box – its trailblazing self-sufficient capabilities take care of it for weeks.
Although one of the most irritating things about typical litter boxes is the stinking smell of urine and solid waste, it's not the case here. It takes automatic cleaning a step higher with its crystal litter feature that absorbs all the solid/liquid waste smell to cancel any foul-smelling odor.
However, don't be worried about the crystals sticking to your pet's paws, as the 99% dust-free properties save it from creating an ugly mess. Leakage isn't a problem either, as its disposable tray setting features the best-in-class plastic lining that blocks it effortlessly.
What Could've Been Better?
Royalty doesn't come cheap, and likewise, it's priced slightly towards the higher end. Nevertheless, if you don't mind spending a little extra to access the top trending innovations, we can't think of another reason why you shouldn't go for this litter box.
Pros
Automated self-sufficient cleaning

Unparalleled reliability

Crystal litter to prevent messy floors

Leakage-proof design
Since 2010, Little Spinner is best-known for manufacturing a vast variety of pet-friendly innovations under very affordable prices. Improve your kitty's sanitary habits with the all-new Quick Clean cat litter box, that too, without having to clean the waste afterward. Let's take a more in-depth look at its core features.
Why Did We Like It?
Litter Spinner is a brand managed by a group of cat lovers, and its innovations are well-researched to help you discipline your pets the best way possible. Their Quick Clean litter box isn't an exception either, as its vast array of features makes our lives easier as pet owners.
To begin with, it features a fantastic self-cleaning feature that saves you the stress of scooping foul-smelling solid waste after your cats have emptied their bowels. Not only that, but the solid waste gets separated automatically to a spacious drawer, creating little to no mess. Not only does it save you the extra work, but it also cancels the need for purchasing high-cost replacement containers.
Besides, it's incredible how handling the box has been made effortless, thanks to its excellent clumping cat litter design. You have to spin the box only once, and it takes care of the business automatically. Unlike other expensive alternatives, it isn't battery-operated, which makes it a lot simpler.
Last but not least, storage doesn't become an issue as its compact size allows you to keep it in any corner. However, despite its small size, be assured that it carries ample space for your pets to go about their business comfortably.
What Could've Been Better?
Although it's a very straightforward and easy-to-use box, some users have reported that it can be too dark for young kittens to feel safe and comfortable. Other than that, the inconvenient seam in the middle forces you to disassemble the whole product for emptying the waste.
Pros
Built with long-lasting materials

Can be cleaned simply through a spin

Compact and easy to store

Affordable pricing
Cons
Too dark for kittens to feel safe inside
One of the best-selling new and emerging manufacturers, Omega Paw, has disproved the stereotype that off-brand litter boxes are a total waste of investment. Its immense features and meager price range has majorly spiked the brand's growth enormously over the recent years. Let's check out its key specs and functions.
Why Did We Like It?
Affordability becomes a very concerning factor while buying high-end pet care products, but it's fortunately not the case with Omega Paw. Despite being an emerging brand, their USP revolves around offering excellent values to their customers, and one of its most prominent examples is the self-cleaning litter box.
First things first, we're fans of its very simplistic body, primarily designed to maximize user comfort. Featuring a shelter-like design, it builds quite a safe space for your pets to relax and finish their bowel movements without any interruption. Besides, assembling it is a cakewalk, making it easier to use for the owners.
It also rids you from storage hassle with its ultra-compact 19.5″ x 22″ x 20″ size. Even if you're facing a shortage of living space in your apartment, you can simply place it anywhere without causing a messy clutter. Besides, its 9″ x 9″ opening makes it very comfortable for your pets to enter and move around.
Its premium-grade build quality also ensures a long-lasting life. Apart from that, the manufacturers back up their durability with an extended 1-year warranty period.
What Could've Been Better?
The most significant downturn here is its lack of universal compatibility – it only works along with clumped litters. So, if you're one of those owners who prefer the whole litter to be thrown away, it might not be the best option to consider.
Pros
Easy assembly

Negotiable price range

Sufficient privacy for your pets

1-year warranty period
Cons
It only supports clumped litters
User convenience leaps forward with CatGenie, as its self-flushing cat box cancels out even the least of efforts that pet owners put into cleaning the litter. Highly popular as one of the most user-friendly products in the market, its self-flushing capabilities make taking care of pets as convenient as it can get. Let's find out some more.
Why Did We Like It?
How about relaxing for a change, and letting the autopilot take care of your cat's sanitary activities? If such high-end comfort is what you seek from your ideal litter box, CatGenie should be your ultimate go-to spot.
This product has amazed us with its highly enhanced automation settings that take care of everything, starting from wastage decomposition to disinfecting procedures. The secret behind such both advanced and hygienic operations is undoubtedly the SaniSolution cartridge.
Compared to other alternatives, the SaniSolution cartridge is a recyclable and eco-friendly option that decomposes the waste while ensuring that the box is disinfected immediately. Besides, although each cartridge is usually capable of performing 120 washes, you can double it to 240 by simply turning on the Cat-Activation mode.
You don't also have to worry about your pets creating a dirty mess throughout your living space after using the box. The washable granules that the manufacturers provide for your cats to dig through are 100% dust-free, offering a very clean and tidy experience.
Last but not least, this product is built of high-quality materials that can easily withstand mild wear and tear for a longer life. The manufacturers also ship each unit with a whopping 2-year warranty period to back up its longevity.
What Could've Been Better?
By now, you should've guessed that it's a little more expensive than a regular kitty litter box. Although it's marketed as the one-stop solution to your pet care needs, you can also avail somewhat similar efficiency from less costly alternatives.
Pros
Very hygienic for your pets

Dust-free granules

Cleans itself completely

Premium build quality
Cat-It is a name that doesn't need to be introduced when we speak of brands that offer incomparably reliable and efficient pet litter boxes under a budget. Their all-new Hagen SmartSift litter box gives your furry friends the required privacy to continue their business while saving you the trouble of cleaning it all. Let's take a more in-depth look at its core features.
Sale
Why Did We Like It?
Cat-It never fails to surprise us with its best-in-class specs and functions, and likewise, the SmartSift also stands out to be much more than a regular cat litter box. Be it through a highly user-centric design or next-gen technology; this product gives your cat the privacy it needs while ensuring that you don't stress about cleaning the mess afterward.
How often do you come across litter boxes that refresh the litter waste automatically, right after use? This product features a Noiseless Pull and Refresh technology, allowing it to gather the trash and transfer it to the litter tray in an instant. To be more precise, the clumps fall directly into the tray, making waste disposal a cakewalk.
The box clearly seems to be designed to offer the utmost comfort to your pets, as its large entrance allows cats of almost all sizes to enter and move around with ease. Besides, its transparent clear-view window lets you watch over your pets while they're inside, thus, ensuring their safety.
Unlike most of the alternatives in this price category, this product doesn't make cleaning and replacing the litter burdensome and tedious. You get an easy-to-use maintenance door below, which allows you to discharge the old litter trays to maintain proper hygiene. Besides, its built-in litter liners do a great job of keeping the insides clean at all times.
What Could've Been Better?
Although we're not complaining about its overall performance, it's a little inconvenient how the box is only built to hold litter of up to 11 pounds. This inconvenient restriction leads you towards emptying the litter a tad more frequently.
Pros
Appropriate to train large cats

Enough space and privacy for the pets

Automatic cleaning and refilling

Premium build quality
Cons
Subpar weight holding capacity
When it comes to merging the pet care needs and user's comfort to manufacture all-in-one products, no other brand does it like PetSafe. Enhance your pet's sanitary routine with the all-new Simply Clean litter box, a self-cleaning genius that gets the job done quietly without putting you through unnecessary stress.
Why Did We Like It?
Most of us are busy people, always searching for low-maintenance products that make our lives more comfortable with their extravagant features. For those, the PetSafe Simply Clean litter box is where you can get the most bang for your buck.
It's a very budget-friendly option indeed, mainly because it runs on low power to save you from increasingly high electricity bills.
The self-cleaning capabilities of this product are excellent and straightforward, making it ideal for your cats to feel comfortable inside. Here, you get a self-cleaning bowl that rotates at the speed of one rotation per hour. This steady-paced feature enables your cat to remain undisturbed while finishing their business, while the tray continues cleaning in quiet.
Besides, it saves you from encountering the intolerable odor released by the waste, thanks to its high-efficiency disposal mechanism. To be precise, the waste is swept away directly into an enclosed air-tight bin, which prevents all the smell-causing bacteria from spreading in your living space to create an uncomfortable situation.
When it comes to occasional bin-releasing and cleaning, this product crushes any competition with its effortless operations. You just have to line it with a dirtbag to empty it without any hassle, once the waste tray is filled.
What Could've Been Better?
Although the rotation system comes in very handy while keeping the litter pan clean at all times, various users have reported that it sometimes scares away the cats.
Pros
Very easy to clean and refill

Excellent value for the price

Rotating self-cleanliness mechanism

Zero odor issues
Cons
The rotations may scare some cats
Our penultimate recommendation of the day is Nature's Miracle self-cleaning litter box, one of the strongest competitors of LitterMaid. At an elite price, this product comes with all the exclusive features you'd expect from a high-performance litter box, and even more. Let's check out its core features.
Sale
Why Did We Like It?
This self-cleaning litter box has raised the bar pretty high with its next-gen automation, accompanied by smart sensors that make maintenance more effortless than ever. The detection modes function efficiently to offer 100% automatic clean-up, as soon as any solid waste is detected. This way, it saves you from the trouble of scooping cat litter every 2-3 days.
When it comes to user convenience, this product gets the upper hand over numerous alternatives with its extra-large litter box. As the name suggests, it's spacious enough to host multiple cats over 15 lbs, which puts it head-to-head against the LitterMaid box.
If you're someone who can't tolerate mess and odor, this product is what you should consider without a second thought. It gets a set of fully-functional waste receptacles containing the smell from ruining your living space's environment. Not only that, but the high-walled design restricts any scope of litter tracking to ensure utmost cleanliness.
However, the real cherry on top here is how deeply the manufacturers have considered every possible worst-case scenario to set higher standards for user convenience. Just so that your cats don't create a mess while you're sleeping, it gets bright nighttime to enhance nocturnal visibility.
What Could've Been Better?
Multi-cat litter box prices are generally set towards the higher end, and likewise, this product may also seem far beyond budget for many. However, despite being such a pricey unit, it doesn't feature a privacy lid.
Pros
Very large and spacious

Effortless to install and use

Odor-lock mechanism

Long-lasting build quality
LitterMaid has established a name for itself with a growing library of groundbreaking robotic innovations that make caring for pets very convenient. The all-new Multi-Cat self-cleaning litter box comes with sufficient space for a small cluster of cats to fit in. So, if you're the infamous cat lady of your circle, your litter worries end here.
Why Did We Like It?
The bargain hunter in you would surely be delighted to realize how affordable it generally is, despite offering such excellent values. Not your average litter box, this product comes with more than enough room for multiple cats weighing over 15 lbs, which itself demonstrates how much more cost-effective it can be in the long term.
It doesn't end there – it's one of the most low-maintenance products that we've tested in a while. If you use it correctly as per the instructions, there wouldn't be any need for daily scooping. As a result, you can go as far as seven days scoop-free.
Furthermore, you also don't have to come across the stinking smell, as the product conceals with its next-gen odor control mechanism. To be very precise, the waste receptacles that it comes with contains all the unwanted odor as soon as the rake removes the dump.
The mess is further contained inside as the user-centric design of this product, featuring tall walls that prevent the waste from being scattered in your living space. As a bonus, you also get a paw-cleaning base that restricts your pets from creating a huge mess everywhere.
What Could've Been Better?
Although the brilliant mechanism gets the job done precisely, we're not very impressed by the noise it produces while in action. Even if you resist the sound, your cats may hesitate to use the box, as it might scare them away.
Pros
Excellent build quality

Effortless to set up

Odor control mechanism

Affordable price
Cons
The noise could be improved
Wouldn't taking care of pets be a lot easier if the litter could dispose of the dump entirely by itself? The Pet Zone Smart Scoop litter box has set a higher benchmark for user convenience with its fully-automatic operation that practically needs you to clean once a month. Isn't that something? Let's take a more in-depth look at its core features.
Why Did We Like It?
First and foremost, the product has left us amazed by its incredible hands-free waste disposal management system. To make it better, it comes with smart sensors that enhance the activity of the cleaning cycle. However, the sheer intelligence of the Smart Scoop doesn't end there – you also get a one-month supply of zero-touch disposal bags that ensures 100% automatic cleaning, altogether.
Moving on, this product also controls the unbearable smell of waste through its advanced mess and odor control mechanisms. To be precise, the built-in angled deflectors operate their fins to contain the waste, whereas the tall walls prevent it from falling while being dumped. As a bonus, its carbon zeolite technology eliminates the stinking odor with precision.
Furthermore, the product operates quietly to ensure that loud noises do not scare away the cats. The manufacturers promise a 4x times quieter than any premium alternative in the market, which itself speaks for the genius behind its production.
Last but not least, it's fascinating how the Smart Scoop raises the bar higher for cost-effectiveness with its features. With this product, you don't have to worry about purchasing crystal litters or spending on refills, which saves you more money in the long run.
What Could've Been Better?
The receptacles should be a bit larger, as it fails to hold a substantial amount of wastage. Also, it's better to use 3-gallon bathroom trash bags while cleaning the box, as the OEM alternatives don't offer a great fit in most cases.
Pros
Very suitable for regular usage

Effortless to empty the waste receptacles

Can be assembled and disassembled easily

Quiet motor operation
Cons
Receptacles must be more prominent
Litter-Robot is back on our list with another best-selling product, the LR II Bubble automatic self-cleaning variant. Thanks to the next-level engineering, it offers enhanced hands-free waste disposal so that you never have to scoop dirty animal waste again. Let's take a more in-depth look at its core specs and functions.
No products found.
Why Did We Like It?
Litter-Robot products never fail to attract our attention with their futuristic design, and the Bubble automatic litter box is not an exception here. This box features a sophisticated and contemporary design that's guaranteed to turn heads with its distinctive charm. Not that that, but the premium beige finish also makes it scratch-resistant, protecting its attractiveness for years.
When it comes to assembly, litter boxes usually come off to be quite complicated. But that's not the case with this product, as its detailed instruction manual tells you everything you'd need to know about setting it up correctly. Apart from that, the product itself is effortless to install.
What we've liked the most here is that the product is exceptionally cost-effective, primarily because you won't need to buy pricey trays to operate it at the highest efficiency. Its functionalities are as simplistic as it gets, canceling out the additional costs that generally come with the regular high-priced alternatives. Apart from that, it also works fine with clumping cat litters that helps you save a few extra bucks.
Last but not least, it doesn't let the cat odor spread across the room to create an uncomfortable environment. To be precise, you get a large carbon filter that drains in all the smell so that you don't spend the rest of the day feeling nauseous, once your cats have finished their business.
What Could've Been Better?
Storage can be an issue for those who don't have sufficient room in their apartment, as it needs considerable space. However, despite being so bulky, it's a little disappointing that it doesn't work along well with cats over 15 lbs.
Pros
Ultra-quiet operation

Offers minimal litter tracking

Rust-resistant build material

1.5-year warranty period
If you're low on budget, but still can't afford to compromise with quality, the ModCat self-cleaning litter box kit is an appropriate solution to your pet care needs. Although it isn't a very technologically advanced product, its highly efficient design is an excellent choice to properly train your cats. Let's find out some more.
Sale
Why Did We Like It?
Starting with the best part, this product has a unique design, featuring an easygoing entrance at the top, which cancels the chances of your cats creating a big mess. Fun fact – did you know that the ModKat range has won several awards for its innovative design?
This product also eliminates any scope litter tracking to maintain the cleanliness in your living space. Not only that, but the top lid that is built like a walk-off mat ensures that your pet's paws are clean the very moment they depart.
Furthermore, the ModKat also makes cleaning a lot more comfortable with its swivel lid, offering you a hassle-free experience. All you have to do is use the attached swivel to scoop the waste. And in case some of it is left on top, it'll be dumped automatically as you open the lid.
Usually, pet care comes with unnecessary extra costs, which involves the timely replacement of liners. However, the high-quality liners that come with this product are backed up with a lifetime of 3 months and are resistant to your cat's sharp nails. Other than that, it doesn't allow any waste to stick overboard, making it easier to clean.
What Could've Been Better?
Being a very standard low-priced model, it's self-cleaning isn't very impressive. Although you'll be saving a ton of extra costs, you may need to scoop the waste a little too often compared to the pricey alternatives.
Pros
Top-entry design

Tall walls to prevent litter tracking

Premium build quality

Reusable liners
Cons
Unimpressive self-cleaning
If you're someone who's very intrigued by simplicity and subtlety, Litter-Robot has the most appropriate pet care products that suit both your needs and taste. We've recently tested the Open Air Ramp litter box, and just as we had expected, its ease of use and advanced features did not disappoint.
Why Did We Like It?
Litter-Robot has won our hearts with its ultra-smart and sophisticated mechanism that promises zero unnecessary hassle and uncompromised efficiency. It's not every day that you come across a cat litter box infused with best-in-class technology, which makes this product as futuristic as possible.
It features a very convenient design, comprising a flight of three stairs, which is very easy for cats to climb on to dump their waste. The product gives ample space for your pets to move around, and at the same time, ensuring that litter tracking is reduced significantly. Although large cats shouldn't generally face any issue while using it, it's even more comfortable for smaller cats and kittens, in general.
As soon as the waste is excreted, the open-air ramp catches it in an instant to minimize tracking. Furthermore, its efficient self-cleaning capabilities save you the trouble of scooping through your pet's dump uncomfortably.
The best part, however, is how easy it is to install. You'd only require to go through the detailed instruction manual once and arrange it without even using any tool.
What Could've Been Better?
Storage becomes a big issue with this product, as you're very likely to trip over this flat-bodied litter box and get hurt. Apart from that, it's disappointing how it is only compatible with official Litter-Robot accessories, which makes finding replacement parts quite a task.
Pros
Appropriate to train small cats

Next-level efficiency

Automatic cleaning and refilling

Premium build quality
Cons
Replacement parts aren't always available
Finally, the last recommendation we have for you is none other than SELCNG, a global brand that has reshaped the dynamics of pet care with its top-notch innovations. Speaking of products that bridge the gap between unparalleled performance and pocket-friendly prices, their Ultra Self-Cleaning litter box gives you the best of both worlds.
No products found.
Why Did We Like It?
If looks could kill, then it'd be fair to say that the Ultra self-cleaning litter box has a deadly outlook. Its ultra-modern design and appearance make it look like a gadget borrowed from the future. Apart from that, we're also fans of the sophisticated ivory finish that amplifies its visual appeal by a large margin.
Unlike most of the alternatives, this product comes with an extra-large lid that can be easily raised to make cleaning even more accessible. Not only that, but you also get a built-in bag holder, which maximizes hands-free operation while emptying the receptacle tray.
Furthermore, we're fans of its next-level carbon-impregnated filter that doesn't allow the stinking odor to hamper the surroundings.
Last but not least, this product is built to offer excellent longevity, as its scratch-resistant body allows it to withstand mild wear and tear to last much longer. As a bonus, it's made with BPA-free material that sets a higher benchmark of quality.
What Could've Been Better?
First and foremost, this product comes off a little too pricey for a cat litter box, which goes beyond the budget for many potential buyers. Other than that, storage becomes a significant issue as its extra-large body can also become a major disadvantage at times.
Pros
Optimal privacy for your cats

Built-in disposal bag holder

Carbon filter to cancel odor

Premium build quality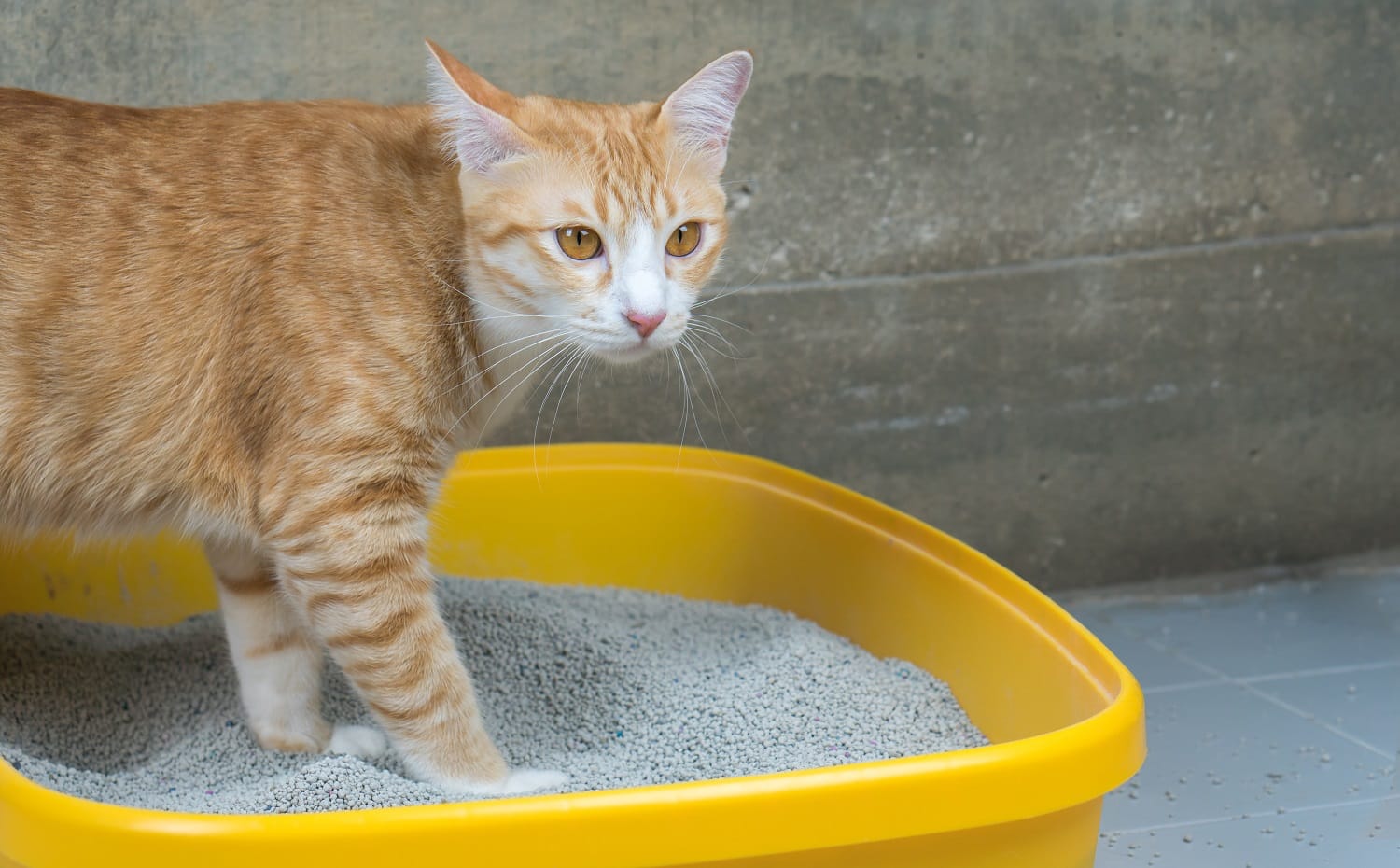 Self-Cleaning Litter Box Buyer's Guide 
Before you purchase a litter box, it's better to be well aware of its key features. Let's check out the topmost determinants that can help understand whether the product satisfies your needs precisely or not.
Ease Of Cleaning
Let's not forget that despite having self-cleaning abilities, these litter boxes still require being cleaned from time to time. That's why the ease of cleaning is always essential when it comes to these products. If you're someone who doesn't like scooping at all, it's wise to choose the ones that are easy to disassemble.
Waste Bin
a wider waste bin comes in very handy while disposing of a more substantial amount of waste. Furthermore, various bins also come with automatic flushing capabilities that set the bar higher for self-cleaning through smart sensor technology.
Odor Control
Even if you dump the solid waste quickly, it's the stinking odor that is quite a task to get rid of. However, various brands offer best-in-class features such as carbon filters, which help contain the smell within the receptacles to make our lives easier.
Anti-Litter Tracking
In most cases, litter tracking works against the purpose of having a self-cleaning litter box as it eventually forces you to get the broom. No matter what sort of variant you're choosing, always make sure to buy the ones that assure little to no litter tracking through its robust features.
Build Quality
Last but not least, durability and build quality is essential when it comes to almost any purchase. And as these products are always exposed to animal waste, it's imperative to be resistant to water and nail scratches for a longer life.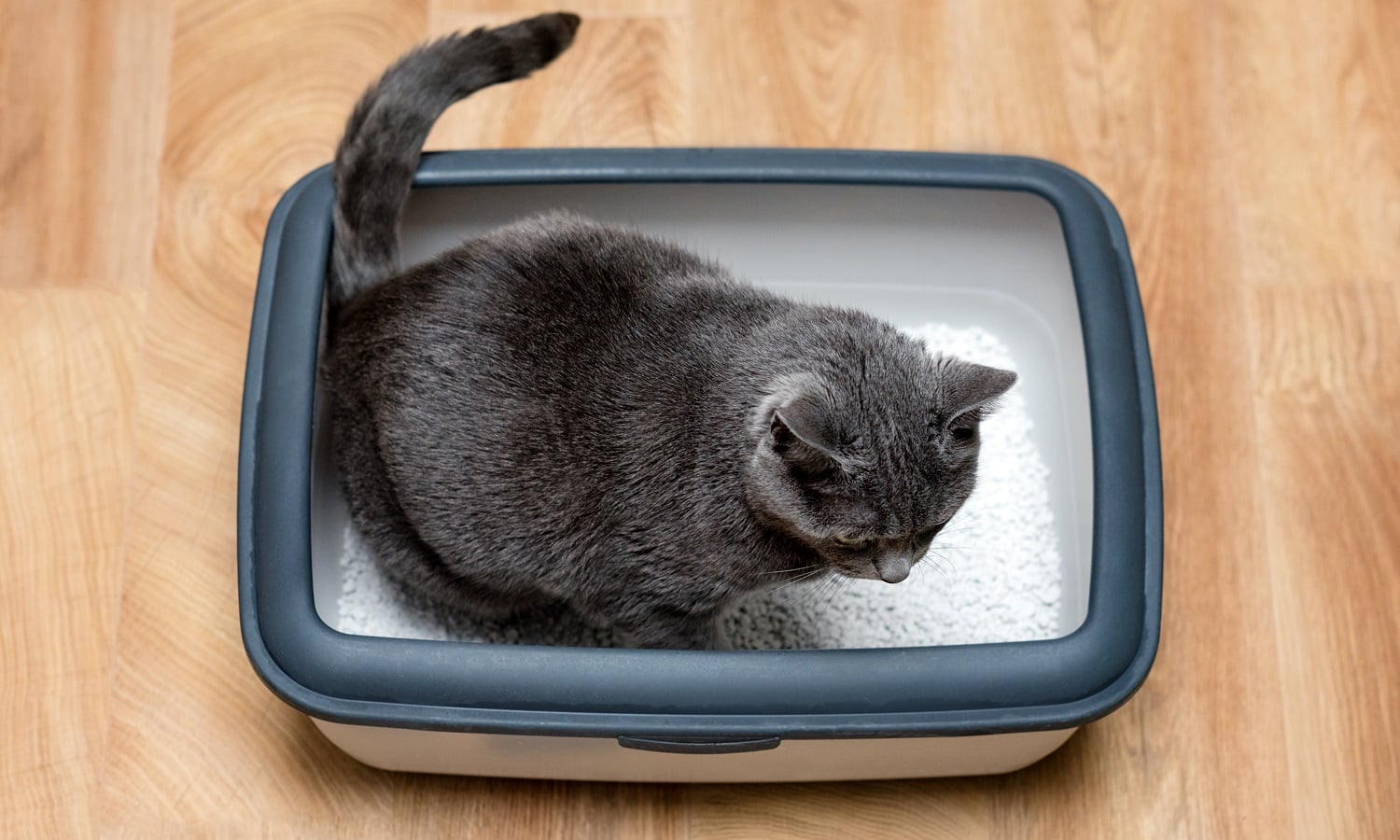 Verdict
Before we take your leave, here's a short recap of our editor's top picks, each bringing something unique to the table.
The PetSafe ScoopFree provides unmatched value for money, as its crystal litter takes care of the unwanted smell precisely. The Little Spinner model is suitable for those who need a compact product at an affordable price point.
Last but not least, if you're someone who takes hygiene very seriously, the CatGenie self-cleaning litter box is the best option.
That said, we'll see you soon with more exciting and fun-filled articles. Till then, stay tuned!
Related Articles
5 Best Dematting Tools for Cats
6 Beautiful Houseplants Safe For Cats And Dogs
47 Brilliant Easy Homemade DIY Cat Toys for Your Furry Friend