Science fiction is that unique genre in any literary or artistic medium that brings the best out of an artist's mind.
It juxtaposes whatever abstract thoughts the mind produces, forming the most extraordinary shapes and shadows and grotesque structures with a practical line of scientific thought and explanation.
At A Glance: Our Top 5 Picks for Sci-Fi and Fantasy Art Books
This is interesting as although the scientific and rational mind strives to explain these strange figures to lessen their terrific effect on the psyche; ironically, it ends up pulling these fascinating thoughts to the verge of reality which intensifies the horror of the unreal!
And this is precisely why, humankind has always had a horrifying fascination with science fiction and fantastical interpretations, more in the area of visual renditions than in any other medium, driven with the inspirational effect it can have on an individual's imagination.
This is precisely why artists have turned towards sci-fi and fantasy art books time and again to be thrilled and to be inspired enough to be as thrilling in creativity as the mind that creates the most unbelievable of all unusual things.
Best Sci-Fi Art Books For Artists
IMAGE
PRODUCT
DETAILS

The Art Of John Harris: Beyond The Horizon

Titan Books
Hardcover Book
Harris, John (Author)

VIEW LATEST PRICE →

Middle-Earth Envisioned

Used Book in Good Condition
Hardcover Book
Robb, Brian J. (Author)

VIEW LATEST PRICE →

Hyperluminal: The Art Of Jim Burns

Hardcover Book
Burns, Jim (Author)
English (Publication Language)

VIEW LATEST PRICE →

E338: The Art Of Loic Zimmermann

Hardcover Book
Zimmermann, Loïc (Author)
English (Publication Language)

VIEW LATEST PRICE →

Substrata: Open World Dark Fantasy

Richards, Paul (Author)
English (Publication Language)
240 Pages

VIEW LATEST PRICE →

The Art Of Greg Spalenka

Hardcover Book
Spalenka, Greg (Author)
English (Publication Language)

VIEW LATEST PRICE →

Sci-Fi and Fantasy Oil Painting Techniques by Patrick Jones

Patrick J. Jones (Author)
Korero Press (Publisher)
12/15/2020 (Publication Date)

VIEW LATEST PRICE →

Spectrum 25 The Best in Contemporary Fantastical Art

Hardcover Book
English (Publication Language)
304 Pages

VIEW LATEST PRICE →

The Art of Ian Miller

Hardcover Book
Miller, Ian (Author)
English (Publication Language)

VIEW LATEST PRICE →

Guillermo del Toro: Cabinet of Curiosities

Guillermo del Toro (Author)
English (Publication Language)
611 Pages

VIEW LATEST PRICE →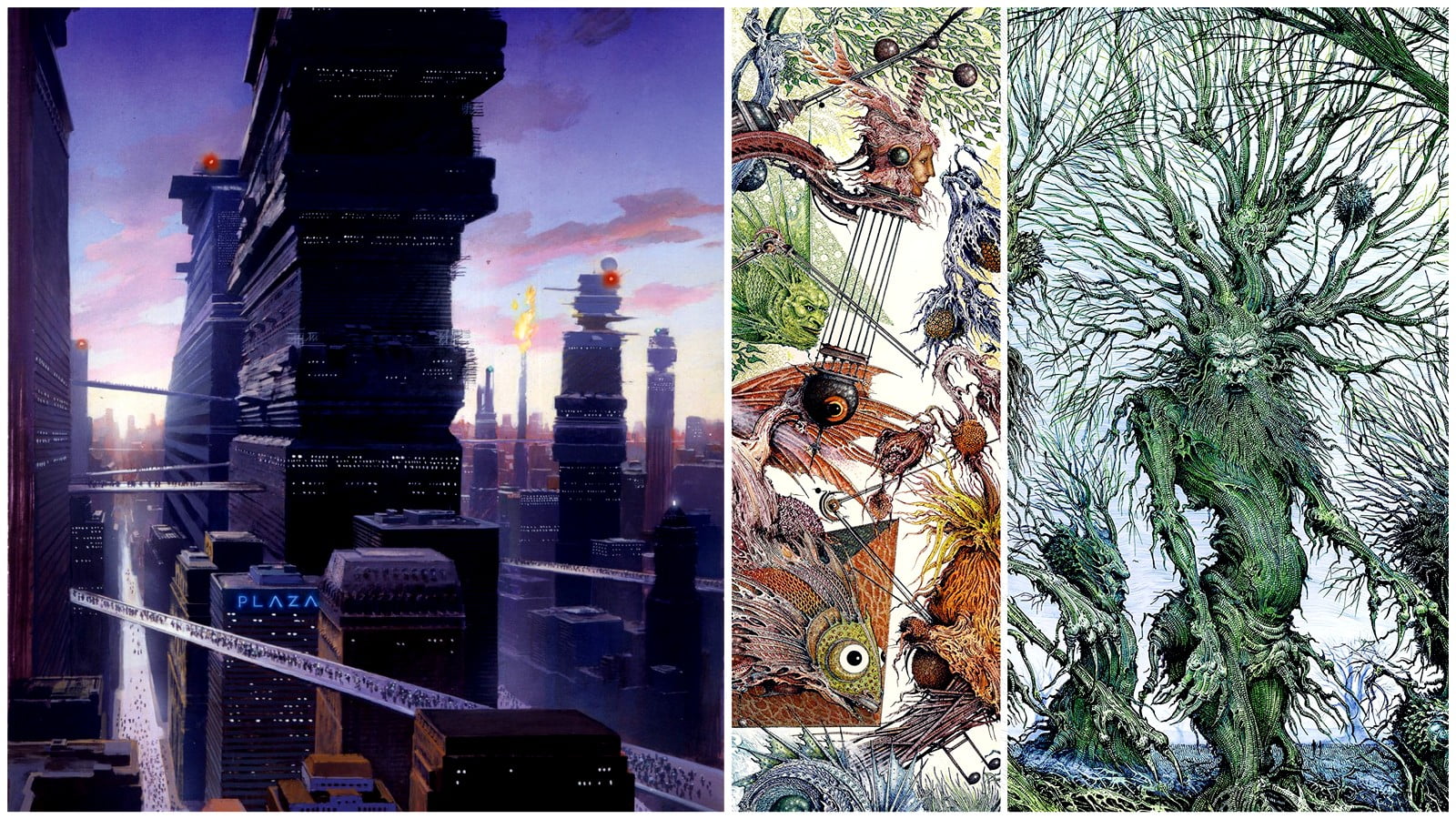 In the following extensive read, we're bringing you some of the best sci-fi and fantasy art books that will unlock your sheer creative power and help you to decode the language of bizarre!
John Harris is unquestionably a name to reckon with when it comes to science fantasy fiction, and we could definitely tell why, as he grew up with books written by legends such as Arthur C Clarke, Isaac Asimov, and Alfred Bester. The influence of such writers on Harris has been profound, and the effect seen is unmistakable in his art books.
Harris is known as one of the most influential contributors to the sci-fi genre, creating a myriad of spectacular visual imagery in his books since the mid-'70s.
And The Art Of John Harris: Beyond The Horizon stands to be a celebrated examples of artworks that included everything from vast and expansive landscapes and tower cities to ethereal, floating cities. This marvelous hardback consists of illustrations created by Harris over a span of four hefty decades that spells like an absolute treasure-house of imagery.
Although Harris worked mainly with watercolors taking them as his essential color medium for all sorts of illustrations, he was also known to experiment extensively with acrylics. He also has a  book containing illustrations in color pencils that captures his surrealistic take on fantastic world-scenery.
Sale
Few authors have been known to aspire and achieve the kind of creative grandeur that Tolkien had had with his unbelievable portrayal of the magical Middle Earth in his equally mystical and unparalleled fantasy-fiction, The Lord Of The Rings. 
This literary milestone has been impacting and influence art for decades and continues to inspire spectacular visual adaptations.
'Middle-Earth Envisioned' captures the wide spectrum of Tolkien-inspired art from the first unauthorized Canadian broadcast in 1953, comic books, Peter Jackson and letter-known adaptations such as one for a Russian TV.
All in all, this is one book that all fans of Tolkien's fan should have all by means.
Hyperluminal celebrates 40 years' worth of Jim Burns's works and stands to be one of the most precious sources of inspiration for all die-hards of the fantasy art genre. Burns is known for the covers that he has created for some of the most esteemed contributors to the fantasy-fiction genre such as Peter F Hamilton, Anne McCaffrey and George RR Martin.
And if you find these to be some of the finest works of Burns, then do get yourself a copy of Hyperluminal right away. This is one book that will help widen your perspective of the fantasy world, helping you to understand how artists can draw a distinct parallelism with it with the mundane world.
The art of Jim Burns shows all the proofs of having transitioned and transcended the traditional techniques of art, pervading and imbibing all the essentials of Photoshop and methods of digital illustration, truly establishing as a prolific artist in the field.
The cinematic art genius Loic Zimmerman is a celebrated and greatly sought-after visual artist for renowned film-makers who has redefined cinematic art in itself! Zimmerman's profound knowledge and incredibly deft handling of both 2D and 3D mediums has not only influenced other subgenres of fantasy in cinema substantially but has also earned him the reputation of having "hotch-potch punk" attitude towards his work. This is because of the rebellious spirit that is often reflected in his works.
Zimmerman's own nature is not very different from the nature of his art itself. A very unique and quirky character himself, Loic Zimmerman brings in a new perspective to legendary pop culture icons that include names like Wolverine and Bob Dylan.
This reflects the extent of his imagination, his understanding of the subject, and his skills as an artist. E338, made from equal parts of surrealism, eroticism and nightmarish horror, stands to be a magnificent proof of Zimmerman's genius.
Sale
The game, Darksiders by Vigil Games had shot up high in fame owing to its stunning art and battle-levels that were created and developed the esteemed game-illustrator, Paul Richards. After the eventual collapse of the game, Richards gathered over 80 artists who have previously created some of the top video games ever from all corners of the world, together compiling what is known as the book of "what-if" on the Darksiders 3 concept art.
In the absence of studio constraints, the genre of dark fantasy fiction saw the unrestrained flow of imagination and absolute creative genius of the artists' mind which came together to give birth to some of the most beautifully gruesome characters that there could ever have been.
These included monsters, designs, vast open spaces and locations, monsters and all that a video game fan can ever dream of seeing in print. Also, one of the best things about this book is that it provides you with a precious insight in their WIPs that gives you an idea of the world of video game concept design.
Greg Spalenka is no short of being legendary illustrators who have produced simply bewitching visual art in his career that spanned over more than four decades in time. His level of expertise involved creating concept film art, illustrating boxing heroes as well as marvelous polaroid photographs. There is simply no section in the field Spalenka has not been known to have experimented with.
The Art of Greg Spalenka chronicles and showcases almost all of the artworks that Spalenka has produced in his entire career up until the point where he gracefully transitions into the world of digital illustration.
And the highlights of the book include all that we would want to have from Spalenka, including the spectacular vistas and characters from the Chronicles of Narnia: The Voyage of the Dawn Treader illustrations!
Patrick Jones during his learning days had been influenced and inspired by prominent names in art such as that of Frank Frazetta and Boris Vallejo which compelled him to leave his native Ireland and settle in London where he pursued his artistic career.
Over time Jones developed a brilliant understanding of traditional methods of art including a steady focus on oils, eventually exploring the field of digital art mediums, with Corel Painter becoming his favorite software.
His profound understanding of both forms in art foreground some of the crucial rules for getting it just right in fantasy oil paintings. So, if you're aspiring to learn up more on the traditional art methods in the fantasy genre, then this is a book that you should use as a definitive guide and reference tool for the purpose.
The Spectrum 25 is almost hailed as essential for fantasy art as anything can ever be in the field itself for all ardent admirers of the sci-fi and fantasy art genre. The edition that was launched on the book's 20th anniversary is also the last book that was written and compiled by its celebrated author and illustrator, Laurie Lee Brom. 
With the kind of magically beautiful visual art that the artist creates for the book, it would just be a mistake not to have a copy of it if you're a fan of mystical and fantastical art. And this is precisely what makes Brom every bit a worthy recipient of the Grand Master Award along with the reputation of having been featured on the cover of every issue.
The book contains all that our imagination could spell of when it comes to fantasy art and for all forms of it be it in comics, editorials and or even unpublished works. You will find a new, curious character on every page waiting for you to get to know the story of their origin.
The 'Art of Ian Miller' is an extensive retrospective and analysis of Miller's unconventional artwork. Miller has been greatly influenced by the master storyteller and artist of gothic and fantastical fiction, HP Lovecraft himself which stunningly reflects in his creations.
Most of Miller's grotesque, fantastical outlines and gothic imagery have been used on the HP Lovecraft's book covers and Games Workshop publications along with incorporating his signature style to the concept art used in films.
Miller's mastery of the techniques of making the art of macabre seems to hold no hostage when it transforms his imagination into magnificent visual art forms. The book contains everything from some of his most disturbing and haunting depictions to enchanting Tolkien-esque character and unnerving illustrations that may remind of the etching by Gustav Dore.
Guillermo del Toro needs no introduction. The Mexican film-maker has acquired enough accolades for the world to know of his brilliant works as a master storyteller and an artistic genius. And in this semi-autobiographical book, you will all of the works of del Toro that speaks of his admiration and fascination with occult art.
The 'Cabinet of Curiosities' is replete with scribbled notes, sketches, doodles, storyboards, collections and interestingly enough, "obsessions" that takes us on a tour of del Toro's enlightened, mystic mind from which he fashions a strategy of infusing all of his absolute masterpieces with the essence of the supernatural.
The book also gives us a visual slice of his sprawling mansion in LA that is considered almost like a museum containing oddities full of film memorabilia and original props, portraying del Toro's larger-than-life imagination.
'Sexy Robot' was that work which had extolled Hajime Sorayama's genius as an artist and brought him global recognition. The author paints a very organic picture of robotic forms inspired by pin-up art, where the "feminoid" robots appear as chrome-plated gynoids striking suggestive poses.
His next science fiction book, the 'Pin-up' also follows the same pattern. The works of the author seem to follow similar themes involving figures in suggestive poses with one that includes a substantially realistic depiction of leather and latex. Sorayama's art is considered to be highly explicit, meant strictly for adults. The futuristic and erotic illustrations resonate loud in the mind's eye owing to their hyperrealistic nature, creating the kind of visual landscape that is impossible to achieve in photography alone.
Sale
The illustrative book, 'Journeyman' was the first collection by Chris Moore, a globally-recognized science fiction illustrator, that included a stunning range of paintings, complete with book covers, albums, and posters. These were hyper-realistically created fantastical depictions of simple as well as elaborated colored sketches that foregrounded the versatility of Chris Moore's illustrative universe.
It is an absolute feast for the senses that is bestowed with the best of expressions penned by the critically-acclaimed author of the thriller genre, Stephen Gallagher, through a series of conversations in the book.
These conversations tell the story of the modern-day journeyman and during the course of the story reveals interesting details about the process of creating art.
Published in the year 1977, 'Necronomicon' was the first significant compendium of images that was created by prestigious Swiss artist, H.R Giger. This book was subsequently given to Ridley Scott during the pre-production of his movie, Alien, after which he hired Giger to create the conceptual designs and artworks for the film. 
Sphinx Verlag first published the book. Thereafter, Morpheus International took it upon themselves to republish the book in the year 1993 along with a significant part of the designs produced by Giger for Alien.
A second collection of Giger's images came out in print in 1985, known as the Necronomicon 2 that was published by Edition C in Switzerland.
Interestingly the title of Giger's book is named after H.P Lovecraft's fictional grimoire, "Necronomicon" that he invented and used as a "plot device" for his stories. Lovecraft's "Necronomicon" is a compendium of "pre-human" lore enmeshed in Gothic elements of storytelling and depiction that was compiled by Arab Abdul Alhazred, a fictional mad Arab of Lovecraft's creation, in circa 700.
The fact Giger's book of images had been republished and produced in numerous sci-fi art books makes it a unique and precious object for all lovers of the genre.
Co-written with Frederick C. Durante with a forward from Sir Arthur C. Clarke, 'The Art of Chesley Bonestell' displays over 300 images by famed space artist and architect, Ron Miller.
These include drawings from the illustrations of the chief engineer's plans for the Golden Gate Bridge for the benefit of investors. It also contains one of his favorite paintings from the ones that he had himself made, 'The Engulfed Cathedral A Fantasy' and his pre-space-travel lunar along with Martian landscapes created for magazines such as 'Galaxy and Astounding.'
It can be safely remarked that if you aren't an astronaut for real, then all your conceptions of how outer space might look like has probably been formed by Chesley Bonestell super-realistic paintings of the planetary scenes. And this was also the fact that had caused a tremendous sensation when some of the images were published by 'Life' in 1944.
It is a belief amongst a section of the community that is formed of ardent lovers of sci-fi art and literature that Frank Kelly Freas could possibly be the best sci-fi artist to have ever lived. And we certainly have solid reasons to believe so, as everything ever created by Kelly Freas has lived to define an entire era of science fiction in itself. And this immense adoration and fascination with science fiction are lovingly represented in this sci-fi artbook. 
Freas's work is unconventional and somewhat, way ahead of its time in its depiction of a state of being that celebrated an upliftment of emotions and humanity, connecting all of his illustrated characters whether human or otherwise with a much broader perspective on relationships and life. This grand scale of art could be seen in some of the earliest sci-fi covers that he had created for the likes of Algis Budrys's work, 'Who?' and Tom Godwin's 'The Gulf Between.'
Sale
John Freeman brings a refreshing mix of the finest sci-fi illustrations created by some of the most distinguished figures in the science fiction genre. These cutting edge art forms and illustrations hail a revolutionizing impact on budding and aspiring artists everywhere through the spectacular images and concept designs it opens up for the world to see.
Freeman had been a former editor for the official magazines for projects and franchises such as that of Babylon 5, Doctor Who, Star Trek, and Star Wars. The successive phases in his career saw him turning is outstanding takes and understanding of science fiction and everything related to magnificent pieces of art that.
And this is precisely what you can expect from this ornately illustrated anthology to show to you: the creative processes of speculative fiction's latest and coolest upcoming stars. The book also celebrates some renowned creators who have continuously been breaking and creating new turf to expand the vividly colored and portrayed territories to great extents!
John Berkey was an immensely respected and inspiring space artist who was also considered as one of the titans in the history of science fiction history who did have a prolific and richly productive career producing celestial fantasy art that began some time in the 1950s. 
He had initially been one of the leading creative heads for concept art working for many different studios up till the point he got into Brown & Bigelow, the famed calendar-publishing company spending eight formative mastering his definitive style under his mentors.
It was at this place and time in his life that he developed extensively on his stunning landscape skills that were depicted in scenes of Americana and similar genres.
When he turned to freelance, he made complete use of his marvelously evocative neo-impressionist style in the area of science fiction which made him a revered figure for all in the community of science fiction.
Omni had always been a gem among popular science magazines during 1978-1998. Magazines such as Science News, Scientific America, Discover, and Science Digest might have been favorites for armchairs scientists, but Omni had been that innovative and masterful cutting edge of conventional science news and fiction that could stun and mesmerize all of its readers.
With just the perfect amount of flashy graphic design coupled with the images created by a generation of artists who were completely free from the restraints of general rules and principles with just a touch of sex, Omni topped some quite a few charts when it came to sci-fi artwork.
It was created by the legendary artist Bob Guccione, the founder of Penthouse. And Guccione handpicked all the illustrators and artists who eventually made Omni happen, turning it into a legacy, creating works ignited by intellect and passion which were two of Guccione's principle ideas. 'The Mind's Eye: The Art of Omni' extolls the spectacular work that has appeared throughout the history of publication.
Sale
J.J Abrams takes an entirely different approach to the greatest space adventure ever: Star Trek! It features a younger crew selected straight right out of the academy. Abrams has created a completely new rendition of Star Trek even while paying homage to those sci-fi storytellers who are known for their versions of the famous spaceship, The U.S.S.Enterprise of the 20th century. 
The film had quickly become a critical as well as a commercial success across the world.
And this visage of Abram's new vision is stunningly portrayed in this brilliant sci-fi art book, which traces the evolution of the film's productions through a spectacular collection of concept art and designs that the world had not seen previously.
The image of the Barbarian reflects raw, elemental power, brute force, and the vicious spirit of survival. The "seductive" imagery from the genre in a way, romanticizes this raging and violent era in the history of human evolution.
Arthur Suydam is notable for his fascinating work in this genre that depicts primal clashes on the battlefield, vivid shades of carnelian and the thunderous gnashing of the swords done with astonishingly precise details.
The vividness and vibrancy of the images make almost a tangible visual impact where one could almost smell the fear, blood, and rage prevailing in the very atmosphere of the time.
And all of these are wonderfully assembled for you to enjoy in the 'The Art Of The Barbarian.'
About Arthur Suydam, it has been famously remarked that the artist has been known to explore his own opinions and approaches on the primeval character of the Barbarian that expertly renders in a style that belonged to the old Dutch Masters.
The book is a highly resonant and reflective masterpiece done in fabulous shades that foregrounds Suydam's immense caliber and justifiable global-recognition for his works on the characters of Tarzan and Conan.
It brings you an in-depth and extensive analysis of the creative genius and inspiration of the artist.
Sale
John Foster is known and globally celebrated for his hauntingly beautiful imagery that reflects immense visual power. His works include the renowned Dark Horse Comics where the Star Wars covers created by him have become a "collectors' favorites" item and the sensational images of 'Dungeons and Dragons' portrayed bewitchingly by his deft hand.
You get to see all of it in 'The Art Of John Foster' which is a transfixing, yet at times, quite unnerving, provocative compilation of his best works. It is not for nothing that they say that Foster indeed knows the ways to capture the soul with his art!
Final Words On Best Brilliant Sci-Fi Books

And with that, we come to the very end of this vast and extensive guide on some of the best sci-fi and fantasy art books that will tickle and enrich the imagination and soul of every artist in every corner of the world.
We hope you liked our endeavor as much as we loved making this effort for you.
Hope to see you soon! Till next time!
Related Articles
8 Best Cartooning Books For Artists
7 Best Mechanical Pencil for Architects & Artists Today
16 Best Maya Books for Beginners & Professionals Alike
25 Best Concept Art Books for Artists
22 Best Drawing Books for Beginners
11 Best Adult Coloring Books That Will Color Your Mood
11 Best Color Theory Books for Artists
9 Best Layout and Background Painting Books for Animation
Best Watercolor Painting Books Everywhere