If you fancy yourself a green thumb and have some extra space, then you probably have big gardening plans. Whether it involves growing vegetables in the backyard or running a beautiful flower bed, you are going to need to till the land before you begin.
This is where you're going to need to get the right tiller for the job. With so many options available nowadays, choosing the right one can be a tough nut to crack, which is the purpose of this blog. Here, you are going to find all the information you need regarding the best rotary tiller for a tractor that you can use in your backyard.
Best Rotary Tiller for Tractor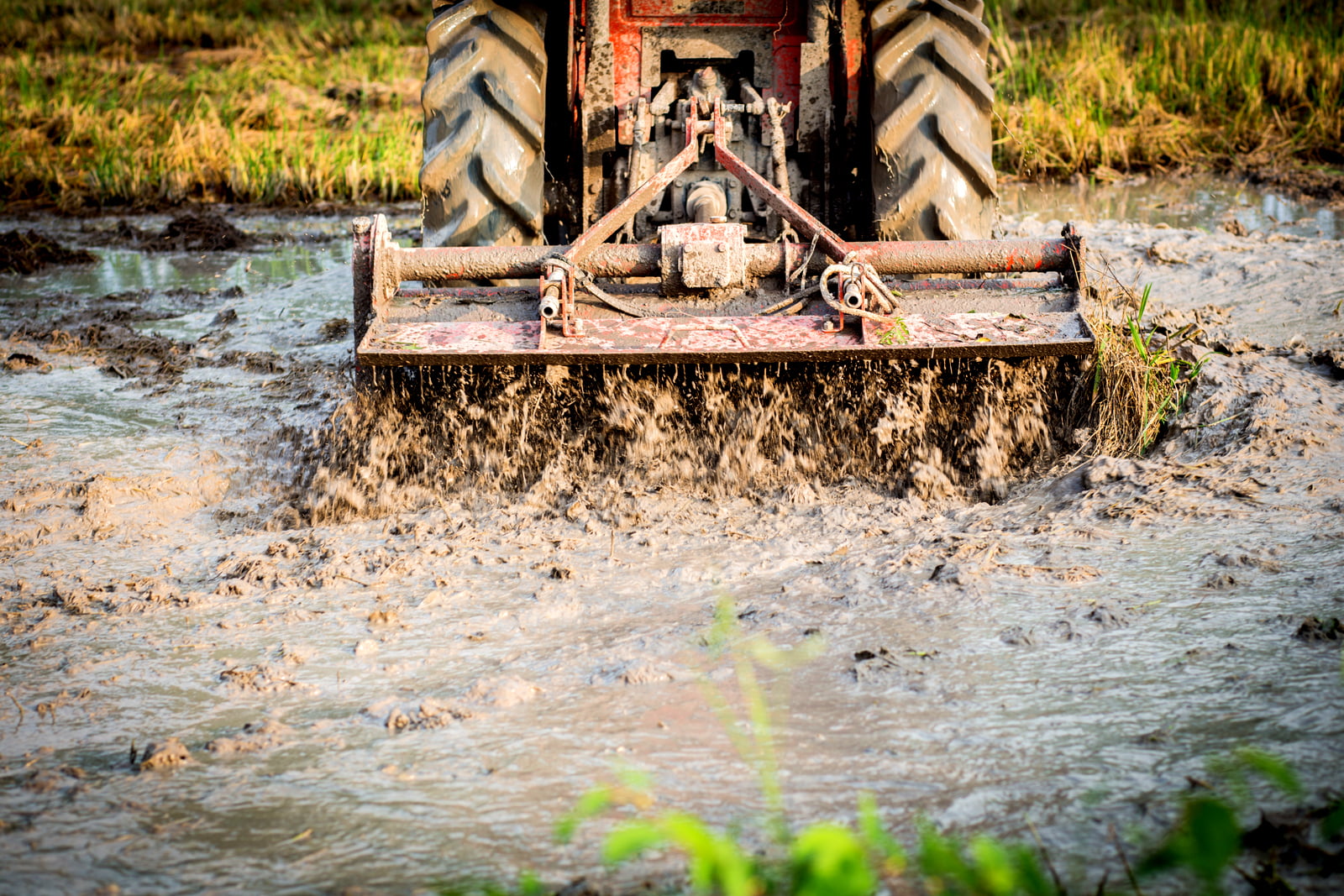 Let's start with the best tillers, after the individual product review we will go through the main factors to consider when investing in a tiller but till then, here's a list of our top picks for tractor rotary tillers. 
Farmer Helper is a well-known brand when it comes to farm and yard equipment. The China-based company does an exceptional job in delivering well-made products and the rotary tiller is no exception. The manufacturers are known for being consistent in delivering a high level of quality, and that can be seen with their rotary tiller. Because of its compact shape and design, the Farmer Helper rotary tractor tiller is the best option for small tractors.
Compact and Sturdy Build
One of the main selling points for the Farmer Helper Rotary Tiller is its compact and lightweight design. This makes it easier to till small patches of land without destroying bordering flower beds. That being said, this rotary tiller still delivers a massive 48" of width, which makes it easy to prepare land quickly.
The best part about the Farmer Helper rotary tiller is that the manufacturers have recognized that not everyone owns a large heavy-duty tractor. The compact design of this tiller means that it can be operated with as little as 18 hp without making you struggle.
Another solid for the Farmer Helper is that it skips the regular gear-driven model and uses a chain drive instead. While this does mean that the Farmer Helper Rotary Tiller does require more maintenance and upkeep, it is easier to fix if anything goes wrong, and is more efficient.
Pros
Large 48" tiller width

Reasonable power requirements

Powerful tines

Lightweight design 
Cons
Chain-driven tiller

Short maximum digging height 
This is another Chinese company that has been offering high-quality farming and yard maintenance equipment. The high level of quality that the company is known to deliver means that they can easily compete with many tillers that are built in the US in terms of quality. The company is known for delivering premium quality products including rotary tillers that are geared towards the mid-tier market.
No products found.
Powerful and Efficient
While the Titan Attachments' rotary tiller is not as powerful as many of the premium quality brands that are available in the market today, they do deliver a decent amount of digging power and efficiency, which puts them amongst the top tillers in the market.
Sturdy Build Quality
What makes the Titan Attachments rotary tiller unique is its large 60" width which enables you to cover more ground. Not only that, but this tiller also features up to 36 tines that are fitted on a total of 6 flanges to deliver a swing width of 18" inches. This prevents the blades from jamming while in use. The only drawback with using the Titan Attachments Rotary Tiller is that it's heavy, which means you are going to need a heavy-duty tractor to pull the tiller along.
Pros
Heavy-duty tiller and gearbox

Has 28 oz tines

Features up to 5 height settings

Durable tiller 
Cons
Heavy design

Will require a large tractor 
King Kutter is by far, one of the most highly rated manufacturers of rotary tillers available in the market today so it's no surprise that a King Kutter rotary tiller has made it to the list of best rotary tillers. Those who have been farming or landscaping for a while will already be familiar with this brand since it's been in business for the past 30 years.
The company's name has become synonymous with premium quality rotary tillers. Another advantage of investing in a King Kutter Rotary Tiller is that it's designed and manufactured in the USA, so you rest assured that you're going to be getting the best in quality.
Premium Quality Construction
King Kutter started off with manufacturing high-quality grass cutters, before expanding their brand to rotary tillers. This means that the company had a good idea of what was needed in the market and designed a product that meets the requirements of farmers, professional landscapers, and homeowners.
With King Kutter, you are going to get a rotary tiller which delivers in spades in terms of quality and build design. The TG-84 rotary tiller boasts of a 72" width and a total of 54 heavy-duty tines, which makes it easier to cover a lot of ground with relative ease.
Pros
Boasts of a large 72" cutting width

Features a total of 54 tines on 9 heavy-duty flanges

Delivers an immense amount of cutting power

Sturdy and long-lasting construction 
Cons
Requires lots of power

Some might find it a bit expensive 
The Everything Attachments Chain Drive Rotary Tiller YJC052 is a large 52-inch rotary tiller which features a reinforced frame and heavy-duty construction for more durability. This means that the rotary tiller has been built to take on large projects with minimum chances of breaking down.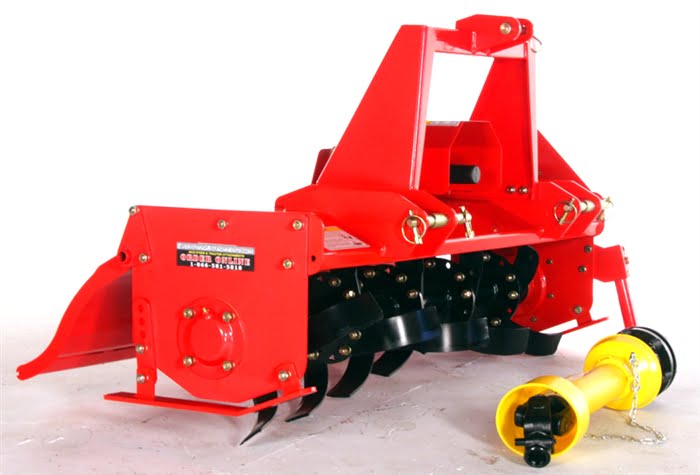 True Helical Gearbox
The gearbox of a rotary tiller is responsible for controlling the entire unit, which is why it is an important component of any tiller. This chain drive rotary tiller boasts of a True Helical gearbox, which provides the user with more control over the tiller. The five flanges have four tines each that have been spaced to deliver a 52" working depth.
Pros
Sturdy build quality

Compatible with a large variety of tractors

Large 52" width

Does not require much power 
Cons
Uses less efficient C-shaped tines 
The Value Leader Adjustable Rotary Tiller features a well-planned design and a sturdy build. The unit has been designed for the mid-tier market that does not need to till lots of land at a time. With its 37" width, the compact design of the Value Leader Adjustable Rotary Tiller makes it the ideal choice for homeowners and landscapers who need to till the land on occasion for planting flowers or vegetables.
Compact, Heavy-Duty Design
This rotary tiller boasts of a compact and heavy-duty frame, and it comes with all of the bells and whistles you would expect from a mid-tier product. The tiller features an automatic chain tension and heavy oil bath chain. You can also easily replace the cutting lines and sharpen the stool steel. This tiller is the ideal size for pairing with subcompact tractors.
Pros
Sturdy build

Requires less maintenance

Provides ample ground penetration

Long-lasting design 
Cons
Not compatible with larger tractors

Cannot counter-rotate tines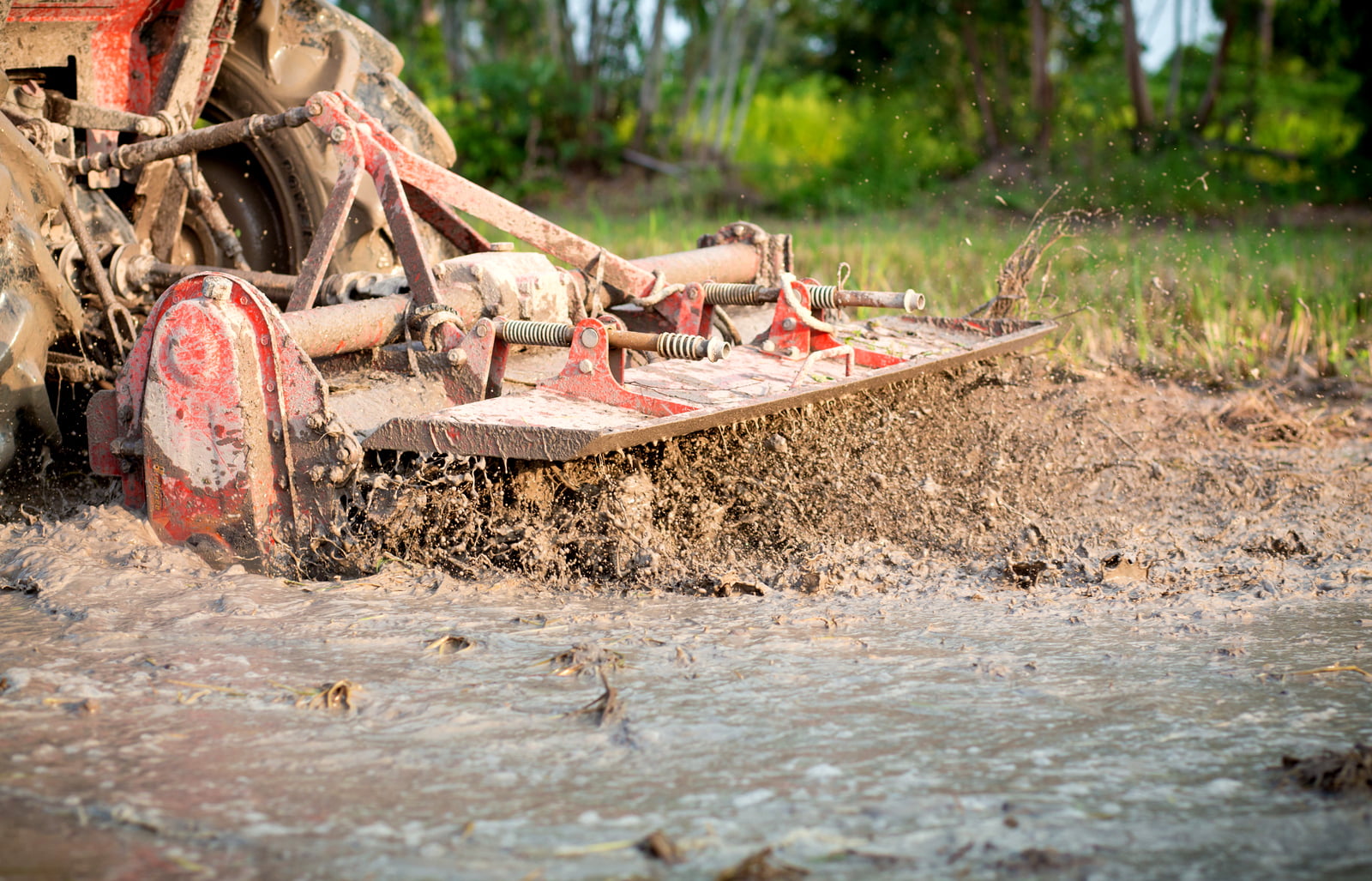 What's a Rotary Tiller?
Back in simpler days, tilling the land by hand took days on end and left you with sore hands and an aching back. With time and advancements in garden equipment, preparing the soil for plantation has become a lot easier. But that doesn't mean it's still not hard work. With the growing popularity of backyard farming and gardening, people have turned towards technology, mainly tractors and the rotary tiller, which has become a must-have implement for every tractor owner.
Using a tractor and rotary tiller is, by far, the best way to soften hard soil while mixing manure and fertilizer to the ground. A tractor rotary tiller is also an effective way to eradicate overgrown weeds from a patch of land you plan to plant on.
What to Look for When Choosing Tractor Rotary Tiller?
Whether you are a landscaper, small-scale farmer or a homeowner looking to spruce up the barren land around the property, you are going to need a good quality rotary tiller. Several factors need to be considered before investing in a rotary tiller.
Finding the right one for your land will offer a high level of efficiency in its performance while choosing the wrong rotary tiller will only be a waste of time and as it will make it harder to till the land properly. Below is a list of some of the factors that you need to consider before choosing the right rotary tiller for your tractor.
Width of the Rotary Tiller
When it comes to features to consider when purchasing a rotary tiller, the most important one is its width. Needless to say, determining the perfect width of the rotary tiller is mainly going to depend on the size of the land you are going to be working on. Those who have to work on a large area usually go for tillers that are wider since it allows them to cover a large area in a single pass, which saves them time, effort, and fuel cost.
The most commonly used width of a tractor rotary tiller between 4 to 5 feet. That being said, some tillers measure 6 to 7 feet in width. Choosing the width of the tiller again depends on your requirements. Needless to say, as the width of the rotary increases so too will its prices.
When it comes to measuring the width of a rotary tiller, a good rule of thumb is to make sure that the width of the rotary tiller exceeds the width of a sub-compact tractor, which has a width of four feet. If you are going to be using another type of tractor to till the land, then you will have to make sure that the width of the rotary tiller does not exceed the width of the tractor's wheels.
That said, when choosing a rotary tiller it is important to also consider the horsepower of the tractor to ensure it can handle a rotary tiller with a larger width.
Gear Drive or Chain Drive
When it comes to rotary tillers there are two main options. The chain drive and gear drive tiller. While both of these options are reliable, their efficiency is going to depend on a few factors that will be unique to the user.
Besides that, both types of tillers come with their fair share of strengths and weaknesses, which also has to be considered before getting a rotary tiller. The chain drive is more efficient when it comes to power, and it depends on the kind of surface you are going to be working on. Chain-driven tillers are easier to replace if you make a mistake.
Tiller Rotation
Another important factor to consider when choosing a rotary tiller is its rotation. While most rotary tillers go in the same direction of the tractor, some rotary tillers move in a reverse direction. One of the reasons why a reverse direction rotary tiller is not preferred by the majority of homeowners or farmers is because it tends to throw up stones and soil, which can create problems when it comes to the function of the tiller.
Heavy-Duty Construction
A rotary tiller should always have a heavy-duty cast construction to prevent it from getting easily damaged. Having a rotary tiller that's well constructed and made from durable materials will ensure that it is going to last longer. Having a well-constructed rotary tiller also means that the solid outer shell would protect the inner machinery of the tiller.
Replaceable Tines
The tines of a rotary tiller are, by far, one of the most important parts of the tiller. These are the sharp points that spin around and rip the ground open as the tractor moves forward. Depending on where you live and the soil conditions, the tines are the first to show signs of wear and tear.
Since they are in direct contact with the ground, they are also prone to damage and breaking. Since the tines of a rotary tiller is a crucial part of the tool, it's important to invest in a tiller that doesn't just have functioning tines, but one that has sturdy and replaceable tines.
Easy to Assemble
You should always go for those rotary tractor tillers that are simple and easy to assemble. Normally, rotary tillers come along with a user manual which provides detailed instructions on where the parts need to be attached. Rotary tillers that are easy to assemble will save you a lot of time and effort compared to those that are complex and difficult to assemble.
Weight
The weight of the rotary tiller will have a direct impact on its efficiency. While the width of a tiller increases its weight, there are also other factors which can result in the increased weight of a tiller. For instance, some of the most durable tractor rotary tillers that are available in the market today have been constructed from heavy-duty steel, and also come with heavy-duty gearboxes along with other components.
While these components will not affect the performance of the tiller itself, they will increase the weight of the rotary tiller significantly. That being said, you will want the rotary tiller to have some weight which will help drive the tines into the soil. Regardless of how heavy the tiller is, you will need to have a tractor that's powerful enough to pull the tiller along. This is why the width and the weight should both be considered while purchasing the tiller.
Power and HP Rating
To save you time, money and effort, it's best to go with a tractor that's able to operate at a minimum of 540 rpm PTO drive shaft. When it comes to the power of the rotary tiller, the first thing that comes to mind is the digging power of the tiller. This power is determined by the ability of the tiller to convert PTO (Power Take Off), and can also be roughly correlated to the HP rating of the tractor.
The best way to find out the power of the tiller is to find out how much power the tractor needs to run the standard 540 rpm PTO drive shaft. The rating can be found in maximum and minimum with the latter denoting the type of the tractor. In short, a powerful tiller is going to require a powerful tractor as well for it to run smoothly.
Safety Features
Depending on where you live and how serious you are about planting or farming, safety features on a rotary tiller will either be the first thing on the list or an afterthought. The good news is that many of the newer versions of rotary tillers come with built-in safety features that protect the driver from flying mud and debris. Other safety features include appropriately spaced out tines which are going to avoid jamming and tensioners that are easy to reach.
Conclusion
If you've been searching for a quality rotary tiller than you are sure to find one that's compatible with your tractor or ATV in the list above. If not, then you can always use the information here to find a rotary tiller that better suits your needs. Whether you are a professional landscaper or a homeowner, it's important to remember to always purchase a rotary tiller from a well-known and established brand to ensure you are able to get a superior quality product.
Related Articles
Free Land in Australia | Where Cheap or Free Land Can Be Found?
17 US Places Where You Can Find Free Land for Homesteading Today
3 Best Finish Mower Right Now | Buyer's Guide and Reviews
Effective Tips for a Weed-Free Landscape Design Today
5 Best Weed Barriers and Landscape Fabric for Happy Gardeners
8 Best Dump Cart for Lawn Tractor & ATVs | Buyer's Guide and Reviews
7 Best Electric Fence Chargers  
5 Best Sod Pluggers Right Now | Buyer's Guide
13 Best Watering Timers For Garden & Lawn
9 Best Drop Spreaders Reviewed | Buyer's Guide 
13 Best Seed Starting Mix Right Now [Buyer's Guide]
11 Best Sprinklers for Kids of 2022 [Reviewed & Buyer's Guide]