If your lawn seems too large and unruly, you may be feeling reluctant to push around a gas mower or the standard walk-behind mower on the endless grass.
Thankfully, there is a way out of that predicament — the riding lawn mower! It is the perfect alternative, looks fabulous, and offers an incredibly diverse range of solutions for all conceivable gardening woes. 
However, with the sheer number of models available in the market, each with its distinctive features, choosing the right mower can be an arduous task. Different models cater to particular needs, while some come with a combination of technologies that may awe you at first sight.
Needless to say, it pays to research well. Here, we have done it for you and picked out our favorites, highlighting each one's pros and cons as we found them.
Let's get started, shall we?
Best Riding Lawn Mower
IMAGE
PRODUCT
DETAILS

Our Top Pick

Our Top Pick

Husqvarna YTH18542 Riding Lawn Mower

Automated technology for smooth and hassle-free maintenance
Highly durable with twin steel sheets and cast iron axles
Compact design for ease of use and greater comfort

VIEW LATEST PRICE →

Husqvarna YTH24V54 Hydrostatic Riding Mower

Cruise control that maintains speed and focus
54-inch cutting deck ensuring incredible speed
Adjustable cutting height

VIEW LATEST PRICE →

Cub Cadet Xt1 Enduro Series

Automatic hydrostatic transmission
Push-button cruise control
16-inch turning radius for smooth maneuver

VIEW LATEST PRICE →

Husqvarna Z254 Zero Turn Lawn Mower

54-inch 12-gauge steel reinforced cutting deck
26 HP Kohler 7000 Series engine
Zero-turn transmission

VIEW LATEST PRICE →

Troy-Bilt 382cc Riding Lawn Mower

Five different cutting heights
18-inch turning radius
30-inch 14-gauge steel cutting deck

VIEW LATEST PRICE →

Craftsman R105 Riding Lawn Mower

Six variable speed options
Ergonomic design for comfort
Powerful 382cc engine

VIEW LATEST PRICE →

Husqvarna YTA24V48

24 HP Briggs and Stratton Intek engine
Fast auto transmission for a smooth pedal-controlled performance
Access to Husqvarna's complete line of accessories

VIEW LATEST PRICE →

Poulan Pro 960420202

Six cutting height settings
6-inch turning radius for tight turns
42-inch reinforced cutting deck

VIEW LATEST PRICE →

Poulan Pro 960420170

Fast automatic transition
Responsive steering
16-inch turning radius

VIEW LATEST PRICE →

Ariens Ikon X 52-inch

Commercial-grade build quality
Ultra-wide 52-inch cutting deck
Zero-turn and hydrogear EZT transmission

VIEW LATEST PRICE →

Poulan Pro P46ZX Briggs V-Twin

Electric clutch
Zero-turn radius for smooth navigation
22 HP Briggs and Stratton V-Twin Pro engine

VIEW LATEST PRICE →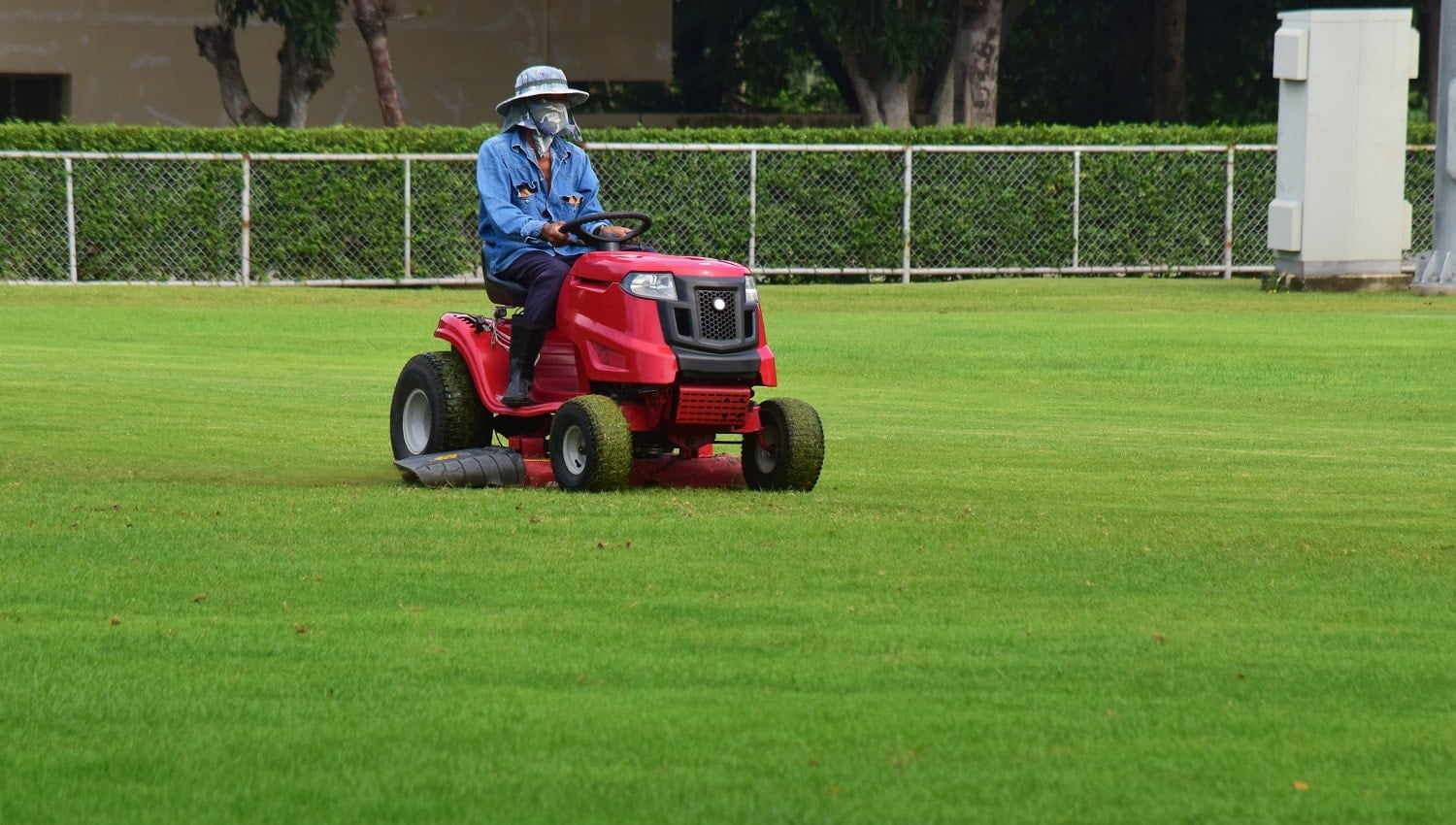 Husqvarna remains a favorite on the list, this time with its YTH18542 Yard Tractor. It is sturdy, dependable, and packed with the power of ten horses. Managing your landscaped gardens will be a breeze with this one. It is a powerful machine that starts at the turn of a key and stays with you till your garden resembles a painting.
Why Did We Like It?
The Husqvarna YTH18542 offers powerful features in a compact design, which means it works more and takes up lesser space. Fitted with a formidable engine, Husqvarna's premium model performs the most heavy-duty tasks effortlessly and is a suitable companion to the passionate landscapist.
This particular model leaves us especially impressed by how little it requires the driver to do in terms of operation. Highly efficient and durable, it is designed to work in the toughest of gardens without a hitch. Moreover, the rear differential improves traction and cuts the grass smooth and fast, no matter how stubborn. And it does all of this, at the push of buttons!
All in all, the Husqvarna YTH18542 is exceptionally constructed and promises to rough it out without disappointing. It is safe to claim it as one of the most versatile riding mowers in the market, and one that ensures unmatched comfort for the user. 
What Could Have Been Better?
With a price sitting slightly higher on the scale, the Husqvarna YTH18542 makes for a premium purchase. However superior, its expertise comes at a cost that may not suit all pockets. Also, with a fuel capacity of 2.5 gallons, it ranks a little low in this aspect compared to most other models. 
Pros
Strong engine

Compact design ensures comfort

Sturdy and resistant to wear-and-tear

Versatile, automated functions

Very easy to use
Cons
Higher price range

Comparatively low fuel capacity
Husqvarna is known for its sturdy build and versatility of functions, and this model is no exception! Making use of hydrostatic technology, it combines performance with speed to provide a smooth ride on any garden. The cutting is lightning fast, and the vehicle, easily maneuvered. Priced affordably for its features, the Husqvarna YTH24V54 is a good choice that burns no holes in your pocket. 
Why Did We Like It?
Husqvarna's hydrostatic mower is built with a single-minded focus on quality and exceeds one's expectations of fast and clean cutting. Its speed and efficiency remind us of the fundamental ethic of machinery i.e. to reduce human effort.
The combination of an ultra-wide cutting deck and adjustable cutting height results in superior mowing that is even and saves time. Adding to that is the cruise control feature that does away with gear changes and automatically maintains a uniform speed.
This model upholds Husqvarna's legacy and takes it a notch higher. All its features come together to ensure an energy-efficient mowing experience and deliver spectacular results. For a well-integrated performance, we definitely suggest the Husqvarna YTH24V54 for consideration. 
What Could Have Been Better?
The only downside to Husqvarna's otherwise excellent mower seems to be the fuel capacity. At 2.5 gallons again, it leaves customers dissatisfied and wanting. Additionally, the technical capacity of the model is somewhat undermined by its lack of resistance to prolonged and heavy use.
Pros
Incredibly fast cutting

Automated to a considerable extent

Works on grass of varying lengths

Ease of navigation
Cons
Prone to wear-and-tear

Comparatively low fuel capacity
Cub Cadet eliminates, both, the need for gear changes as well as a heavy budget. This high-powered mower is one of the most affordable options when it comes to smooth performance on rough terrains. It is small, weighs light, and stays put. If power packed with value for money is your lookout, then you may not need to look much further.
Why Did We Like It?
The Cub Cadet mower is thoroughly impressive in its performance. It delivers well, is cost-effective, and will save you a ton of time on an uneven lawn. In fact, its efficiency on rough terrain is what truly sets it apart from the other mowers in the market.
What we perhaps like second-best, is the ease of navigation it provides. Fitted with the right parts, the Cub Cadet is infallible in its mowing. Be it those hard-to-reach spots or wet grass, this mower powers through without burning a hole in your pocket.
While the 42" cutting deck saves time, its hydrostatic technology leaves you with not much to do. To be fair, mowing the lawn has never been easier.
What Could Have Been Better?
This compact and powerful mower sometimes tends to malfunction in terms of starting up and  mowing in reverse. Customer reviews suggest that it is lacking in user-friendliness. However, if the instruction manual is closely followed, chances of wear-and-tear are greatly reduced. Secondly, given its functioning, this model seems better-suited to someone with a solid technical understanding of lawn mowers.
Pros
Performs well on uneven terrain

Compact design and ease of navigation

Great user comfort

Highly affordable
Cons
A few aspects prone to malfunction

Customer Care services could improve
Husqvarna occupies multiple spots on this list, and for good reason. This time, the Z254 Zero Turn mower is definite proof of their excellence in gardening machinery. With a stylish look, the right features, and lasting strength, this model promises to deliver.
Why Did We Like It?
Husqvarna's reputation comes from their unwavering attention to strength and durability, and their products rarely disappoint. Without a doubt, we were thoroughly pleased with the sheer efficiency of this mower. Several key features are highly enhanced which makes mowing not only easy but also exceptional.
Its powerful engine, combined with a wide cutting deck, makes light work of large and tough lawns while a zero-turn transmission ensures durability on low maintenance. Built for heavy-duty, the Z254 is also designed to put the user first. Fitted with an ergonomic control panel, integrated headlights, and anti-scalp rollers, it offers an effortless and impressive ride.
What truly held our attention was the technical superiority of the tool. Alongside this, it is easy to assemble and highly resistant to wear-and-tear. The Z254 is a machine that, in our opinion, packs efficiency, comfort, and durability together into a sleek and stylish tool for an effortless mowing experience.
What Could Have Been Better?
The Z254 is clearly on the higher range of the price scale, and would probably not suit all budgets. While the price is reasonable for its superb features, it is not indiscriminately affordable. Also, the tool is prone to the occasional glitch when the engine fails to start. However, Husqvarna's commitment to its customers is legendary and a solution to such problems is never too far away.
Pros
Well-rounded technical features

Low maintenance

Prioritizes user safety and comfort

Superior cutting capacity
Cons
Higher on the price scale

Prone to startup failures
Let's look at a compact, high-performing mower that combines the best of both worlds – the standard rider and a walk-behind gas mower. It is impressive in its versatility, speedy, and offers a host of features that makes mowing easy and enjoyable.
No products found.
What Did We Like?
Straight up, we were impressed by the attention to detail in its design. It fits right into a shed, but never compromises on performance or power. For a medium-sized lawn, the Troy-Bilt 382cc is ideal. It reaches a good speed and features an adjustable cutting height, thus manicuring your lawn to perfection.
Maneuvering the mower is a cakewalk with the combination of the 18" turning radius and its compact size. We were more than satisfied with its cutting prowess that combines a sophisticated mechanism with durability and ease-of-use. Long story short, it affords the user an upper hand over the most unruly gardens and ensures that grass of different lengths is cut evenly.
This particular Troy-Bilt model scores high on affordability, a prime criterion while buying a mower. If we had to pick a model that is equally attentive to both performance and comfort, and still reasonably priced, we would perhaps go for Troy-Bilt's compact dynamo, the 382cc rider.
What Could Have Been Better?
A fuel capacity of 1.3 Gal leaves room for improvement in this otherwise superlative machine. It is ideal for small to medium-sized lawns but does not perform as well on large stretches of grass.
Secondly, it lacks the wide cutting decks of more expensive models which further restricts it to properties of certain sizes only. But there is a mower for each lawn, and Troy-Bilt 382cc is for the smaller ones.
Pros
Even, clean cutting

Compact design and easily operated

Affordable price range

Scores high on comfort
Cons
Low fuel capacity

Comparatively narrow cutting deck
Here is yet another excellent mower that stitches together compact size with a high-powered cutting capacity. Relatively small and fitted with a powerful engine, it is suitable for the largest of domestic lawns and yields remarkable results.
Why Did We Like It?
This mower is undoubtedly one of the most flexible models on our list, one that provides a sturdy engine capable of tackling large lawns with speed and efficiency. The array of speeds available on this mower affords greater control to the user, leading to more customized cutting, as per the lawn's needs.
Craftsman awed us with its design – sleek, easily stored, and lightweight. We especially loved that it was in no way less competent in domestic mowing than the larger models. As a user, it gives you one less thing to worry about – storage. Needless to say, that also means less maintenance!
What sets the R105 apart from other compact models is that it does not compromise on power. Similar to Troy-Bilt, Craftsman's mower also comes with a 382cc engine, which is well-suited to domestic needs. Additionally, the model includes a deck wash that cleans the cutting deck, thus saving you more time.
What Could Have Been Better?
Although a highly dependable machine, the Craftsman R105 is not suitable for lawns of larger dimensions. Its efficiency reduces on a big turf, both in terms of speed and consistency. Secondly, while it is extremely reliable in terms of basic functioning, the mower lacks additional features, which may give other models an upper hand.
Pros
Highly efficient on a budget

Easy to assemble

Compact design

Low maintenance

Time-saving operation
Cons
Not suitable for big yards

No additional features
This is again a Husqvarna product of outstanding value and reliability that lives up to the brand's reputation of long-lasting, high-performing gardening tools. As one of the most impressive mowers in the market, it is capable of producing astounding and powerful results.
No products found.
Why Did We Like It?
Common to most Husqvarna mowers is a terrific engine, and the YTA24V48 is no different. The robust engine combined with an automatic transmission system allows it to walk the talk and deliver a distinguished performance. For prolonged heavy-duty tasks on low maintenance, our vote goes to Husqvarna's YTA24V48.
A number of factors contribute to its unmatched capacity, especially the pedal-controlled transmission. It ensures that more power is utilized in cutting grass rather than driving the vehicle, which in turn results in efficient fuel consumption. This surely makes for a great investment, and promises you a lifetime of flawless gardens.
The YTA24V48 comes equipped with an ultra-wide cutting deck. In addition to this, there are numerous features pertaining to cutting that work together to ensure consistent and satisfactory results. Also, the model is compatible with the full range of Husqvarna's accessories, making YTA24V48 an incredibly versatile riding mower.
What Could Have Been Better?
The Husqvarna YTA24V48 is a powerhouse on most gardens, but it is not compatible with hilly or rough terrain. Additionally, there have been occasional complaints about driving it in reverse, and that the warranty lacks proper backup which often poses a problem for customers.
Pros
Optimum capacity for heavy-duty

Low maintenance

Efficient fuel consumption

Versatile and durable
Cons
Not suitable for rough or hilly terrain

Occasional warranty problems
Again an affordable option that packs in solid cutting power, the Poulan Pro 960420202 is a top contender in terms of durability. It is reliable on tough turfs and offers premium features that are otherwise found in far more expensive models. Read on to learn more about all that it has to offer.
Why Did We Like It?
For its price, the Poulan Pro 960420202 features an incredible range of functions that are sure to manicure your lawn with precision and style. The options in cutting heights leave little scope for missing out patches and allow you to get the desired length of grass. Also, its 42-inch wide deck makes for effortless mowing on large properties with immense ease.
Maneuvring this vehicle is hardly a task, thanks to its impressive turning radius. If your lawn has hard-to-reach spots, this mower will be a great fit. After all, the turning radius works in tandem with the hydrostatic transmission system, ensuring smooth navigation at the desired speed.
The Poulan Pro 960420202 is a versatile and capable riding mower that offers outstanding value for money. A smart buy, it gives you the most varied combination of features that sets it apart from other mowers in the same price range.
What Could Be Better?
One aspect where the Poulan Pro 960420202 falls short is comfort. While numerous models boast of features specifically geared towards ensuring a comfortable ride, this model focuses more on its primary function of mowing.
Another area of concern is the fuel capacity which, at 1.5 Gal, may not be suitable for large-scale mowing endeavors.
Pros
Efficient on grass of varying lengths

Good value for money

Offers a range of features

Versatile
Cons
Low fuel capacity

Not calibrated enough for users' comfort
With the number of mentions of Poulan Pro on the list, you must have an impression of its excellence in garden tools by now. The Poulan Pro 960420170 is further proof of that, as one of the best models in the market in terms of power, performance, and durability.
Why Did We Like It?
With an impactful engine and pedal-controlled transmission, the Poulan Pro 960420170 keeps its word to deliver a powerful performance on any terrain. What left us especially impressed was the easy maneuverability that the mower provides.
Fitted with a 16-inch turning radius and a 46-inch cutting deck, the mower makes it possible for you to trim the remotest corners of your yard. The specialized front tires are worthy compliments to the sophisticated mechanism integrated into this model, and the result is an excellently mowed lawn, each time. 
The design is ergonomic, and it is constructed to ensure an easy ride. A 13-inch mid-back seat, along with a comfort grip steering wheel, provides utmost comfort while mowing, and are added incentives for prospective customers. Further, the model also features built-in headlights and is just as efficient in the dark!
What Could Have Been Better?
An excellent piece of machinery otherwise, the Poulan Pro 960420170 faces criticism for its warranty policy. Although it is not directly linked to the functioning of the mower, it affects customer satisfaction and, in turn, brand value.
Pros
Superior features for cutting

Works well regardless of terrain

Durable and sturdy
Cons
Warranty policy often unsatisfactory
A new name on the list, Ryobi's 42-inch mower is a battery-powered rider with an exceptional capacity for clean cuts. Fully electric, it runs quietly with net emissions amounting to zero. With its precision in cutting and advanced features, it makes for a solid investment.
Why Did We Like It?
This powerful mower is an all-rounder; it runs for hours, exceeds your expectations, and does not pollute. It made it to our list on account of several reasons, the primary one being its outstanding longevity on the lawn on a single charge. There is no need to refill the tank, and LED headlights ensure that no matter what time of day it is, your lawn gets mowed.
Along with such attributes, the Ryobi Electric mower features a 42-inch steel cutting deck and adjustable cutting heights. Specialized precision blades are also part of the deal, combined with a zero turn technology. Needless to say, this rider leaves no stone unturned to make mowing a thoroughly fulfilling experience.
Handling this model is by no means difficult. It is easy to assemble and does not demand extra maintenance. And perhaps its greatest USP lies in being eco-friendly and sustainable. We would highly recommend Ryobi's fantastic model to anyone looking for a long-term solution to all their mowing woes.
What Could Have Been Better?
Ryobi's excellence comes at a cost; it is an expensive mower. Priced quite high on the scale, it is only affordable for a select few. However, it would be smart to look at the machine as an investment rather than a splurge as it is resistant to heavy-duty tasks and also eliminates all fuel costs.
Pros
Battery-operated

Outstanding, long-lasting efficiency

Advanced features for ease-of-use
This zero-turn mower from Ariens is a good fit for large swaths of grass and saves you time and energy. It's quite the winner with a strong combination of power, durability, and efficiency. We have outlined its distinct attributes for you; read on.
Why Did We Like It?
We liked it for a simple but important reason – it can mow through and over any obstacle! Combined with a high-torque engine, its transmission system and cutting deck ensure a winning performance on large lawns. Furthermore, it is power efficient and can work for long hours at a stretch.
The engine is a mighty 23 HP Kawasaki FR V-twin. What this ensures are speed and productivity. This particular model can reach a speed of up to 7 mph and also mows equally well in reverse. Furthermore, Ariens' mower is powerfully built and resistant to wear-and-tear.
Easy-to-use and comfortable, the Ikon X is one of the best zero-turn mowers available with a single-minded focus on performance and precision.
What Could Have Been Better?
While it is good with obstacles on large tracts of flat land, it does not work well on uneven slopes. If used on such terrain, the results are uneven cuts. Moreover, the price of the mower is slightly on the higher end of the spectrum.
Pros
Sturdy build and high resistance

Precise cutting for large, flat lawns

Excellent zero-turn and hydrogear transmission system
Cons
Not suitable for uneven terrain

A tad bit expensive
The Poulan Pro line has a legacy dating back to 1944, and its excellence continues to be reflected in the Pro P46ZX Briggs V-Twin. Lightweight and fast, it works to its maximum to give you the best manicured lawn in the neighborhood. To top it off, it comes at a fairly reasonable price – talk about a good investment!
No products found.
Why Did We Like It?
The Poulan Pro P46ZX cuts grass at an incredibly fast pace while ensuring uniformity and precision, and is fitted with an electric clutch. Moreover, its zero-turn radius and 46-inch stamped steel reinforced deck significantly enhance its performance. Clearly, it leaves you with little to worry about, whether it's undoing a wrong turn or spending too much time mowing.
With all its sophistication and technical prowess, the Poulan Pro P46ZX remains a comfortable mower to ride. Fitted with cushioned handles and high-backed seats, it makes lawn mowing as comfortable an activity as any other. 
If you are looking for a high-performing model on a reasonable budget, look no further. It is the best in its price range and offers a variety of functions to provide a well-rounded mowing experience. With little to be desired, the Poulan Pro P46ZX definitely ranks high on our list of recommendations!
What Could Have Been Better?
We love it, but we wish it was as good on the hills as it is on level ground. There is a slight decrease in performance on rough ground and its speed and precision, both, are affected. So, while we would not recommend this for uphill mowing, it more than serves its purpose on level ground.
Pros
Outstanding features

Considerably reduces cutting time

High fuel capacity

Comfortable and user-friendly design

Great value for money
Cons
Not suitable for rough terrains

No variable height choices for the deck
The John Deere rider is a gorgeous mower with high durability. It works well on any terrain and takes into account the comfort of the user. Equipped with advanced features and a powerful engine, the mower is adept at handling all sorts of mowing tasks and is a dependable companion on the lawn.
Why Did We Like It?
This affordable and sturdy mower is powerfully built and can sustain long hours of difficult mowing. The 20 HP engine is backed by the ReadyStart technology and cruise control which offer multiple speeds and make it easier to change directions.
The specific attributes of the John Deere rider dedicated to the user's comfort deserve a mention. This model, in particular, boasts of enhanced features such as a large, high-backed seat with ten adjustable positions. There is also a multitude of compatible accessories that ensure an enjoyable ride.
What also makes the model a great choice for landscapists is its adjustable deck, separate gas pedals for forward and reverse and low maintenance. It delivers what it promises, and is definitely a strong recommendation.
What Could Have Been Better?
A lack, however, that this model suffers from is that the fuel tank is not visible, which poses difficulties while refueling. Let's face it; nobody wants their mower to run out of fuel halfway through the process, right? But it's not exactly a deal-breaker, if you ask us!
Pros
Highly automated and user-friendly

Efficient and reliable on rough terrain

Focused on users' comfort

Affordable and good value for money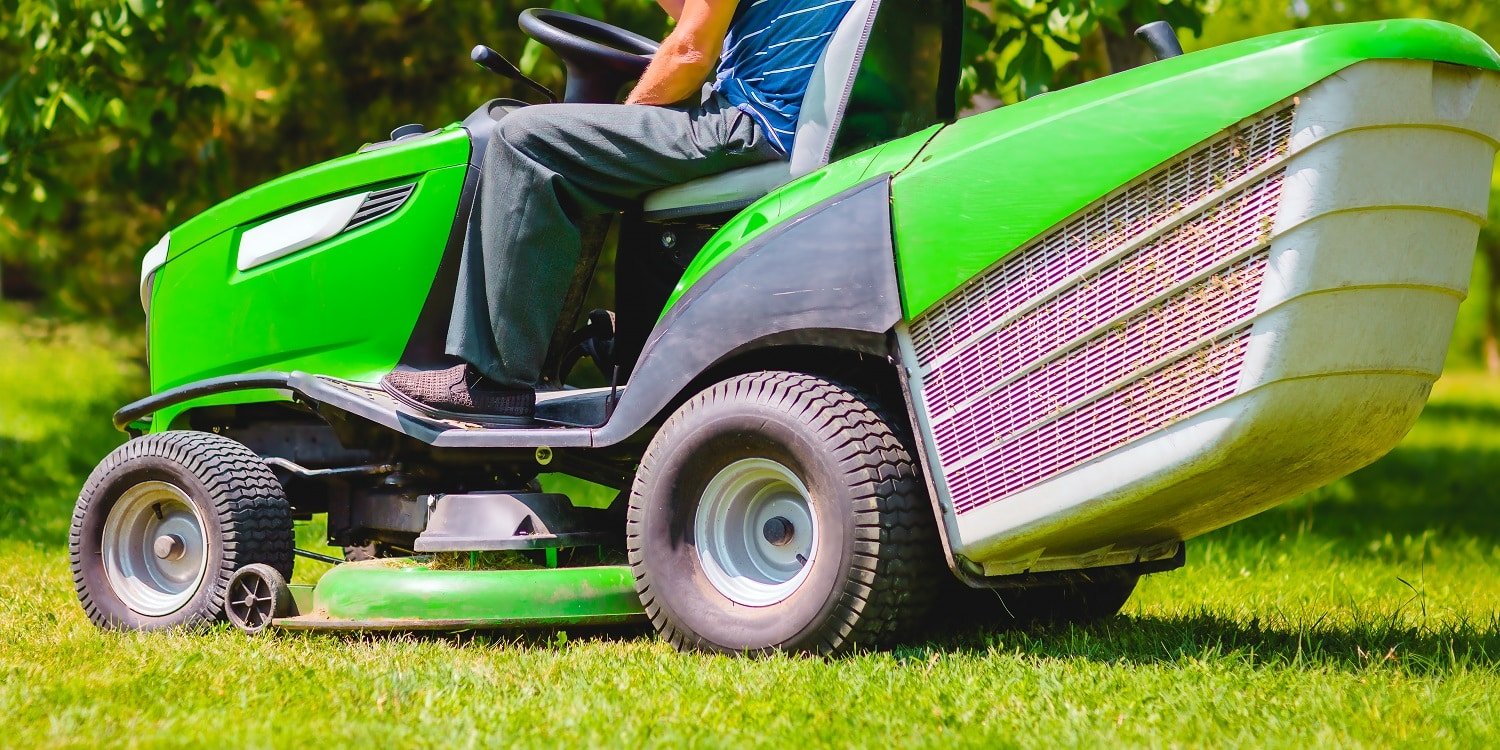 Riding Lawn Mower Buyers' Guide  
Riding lawn mowers are remarkable in their efficiency at tackling lawns of varying sizes. They demand minimal effort and save you time while delivering the desired result. The options available in the market are numerous, and each comes with its unique features as listed above. 
Since that only makes it harder for you to choose, we have put together a comprehensive guide outlining the factors you must consider before making your purchase.
Engine HP
Engine Horsepower (HP) is the measurement used to gauge the engine's power output. Simply put, this is the amount of power that's available to be shared among the various components of a mower, for functions such as driving and cutting grass. As these tasks are performed simultaneously, a higher HP value signifies more power output, resulting in increased efficiency.
Cut Width
The cutting width denotes how wide a swath of grass the mower can cut in one pass. What matters while selecting the cut width is the size of your lawn. A larger property requires a large cut width of 40" to 50". But if your lawn is small or has hard-to-reach nooks, a smaller cut width is ideal.
Fuel Capacity
Measured in gallons, the fuel capacity describes how much gas a mower's tank can hold. This is usually in proportion to the size of the model and most importantly, should be adequate to tackle your lawn. Larger lawns need mowers with a high fuel capacity and vice versa.
Transmission
For the mower to be driven forward or in reverse, power needs to be transferred from the engine to the wheels. This is known as transmission and has three modes of functioning: manual, automatic, and hydrostatic. As you need to select the range of speed in manual models, it is best to ensure that movement is not restricted and you are able to change speeds without a clutch. 
Automatic transmission makes use of a gas pedal to control the speed of the mower, as does hydrostatic transmission. Both allow for greater speed control and require low maintenance. Being fluid-based, these systems of transmissions also guarantee the smoothest rides.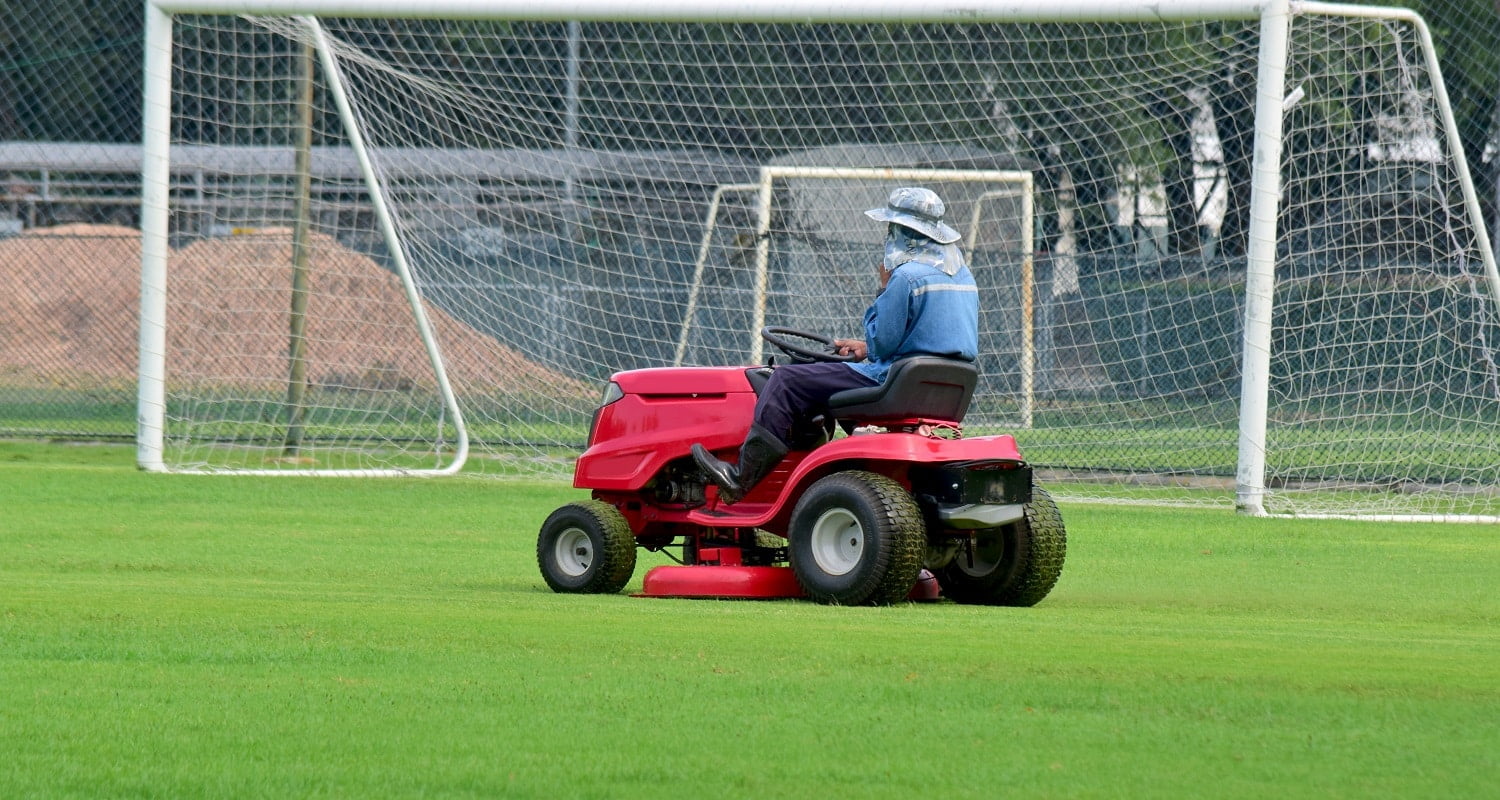 Verdict
Tending to one's garden is a work of love, and we understand that it deserves nothing less than the best. This was our primary motivation in compiling this list for you, and we hope it has been illuminating.
Each garden is unique, unmatched in its beauty and also, needs. So when it comes to mowers, there is one for each garden. The Cub Cadet Xt1 works best if yours is slightly uneven, while Husqvarna's hydrostatic mower glides over grass with lightning speed.
If it is high performance that you are looking for on a budget, then the Poulan Pro 960420202 or the Troy-Bilt 382cc riding mowers would be our recommendations. And for the one willing to splurge on a highly sturdy mower that takes care of itself, it is the Husqvarna YTH18542 Yard Mower.
A popular pick for an all-round performance is the Ryobi Electric 42-inch 75AH Zero Turn mower which is also a great investment for your lawn.
We will be delighted to know what you feel about our picks.
Till next time!
Related Articles
5 Best Self-propelled Lawn Mowers Right Now
The 5 Best Lawn Mowers for St Augustine Grass Right Now
Best Lawn Edging for a Legendary Garden 
5 Best Gas Hedge Trimmers Reviewed
4 Best Walk Behind Brush Cutter | Buyer's Guide
3 Best Yard Hydrant  | Buyer's Guide and Reviews
5 Best Stick Edger  | Buyer's Guide
13 Best Trimmer Lines | Multi-Sided, Round, Square, Twisted & Serrated
13 Best Inexpensive Lawn Mowers For Small Yards
6 Best Electric Start Self Propelled Lawn Mowers 
11 Best Battery Powered Lawn Mowers 
How to Clean the Lawn Mower Carburetor Without Removing It?
13 Best Brushless Cordless Lawn Mower