You can't take your kitchen along while traveling, but how about carrying a portable single burner?
After all, there are very few feelings that can match the delight of having a home-cooked meal. However, it's not only the portability that makes these appliances a customer favorite. The high power output can give bigger stoves a run for their money.
That's why we thought of getting one immediately. But that wasn't to be as the plethora of options left us confused. But did we give up? Absolutely not!
To make things a little less complicated, we have narrowed down the 15 best portable single burners that money can buy. On top of that, we've also included a comprehensive buyer's guide at the end for our readers to take the right pick.
With all said and done, let's begin!
Best Portable Single Burners  
We get the ball rolling with the Elite Gourmet Countertop Electric Hot Burner. It sports a simple design but is highly effective for medium-duty cooking and heating needs. With a straightforward operation, this portable burner won't burn a hole in your pocket.
Why Did We Like It?
For starters, we fell back on the positive customer feedback to put our trust in this product. Featuring a sturdy plastic body, it has a high power output of 1000 watts for fast and efficient cooking. Moreover, the compact design is ideal for crowded cooking platforms. And it wouldn't take up much space in the luggage either.
But its plastic construction and small footprint should not be mistaken for inferior quality. In fact, its heating ability is at par with most traditional cooktops. The non-stick cast iron plate ensures proper heat distribution, which is especially beneficial for larger containers. Besides, the temperature control knob is conveniently located at the front with off, low, med, warm and high settings. 
We loved how the cool-touch base stays true to its purpose even when the heat is cranked up to the highest. This means you can easily place the burner on any surface without worrying about heat-related damages.
Finished with a stable base supported by four small leg-like structures, this unit leaves very little room for complaint.
What Could've Been Better?
Although not very alarming, we should mention that the cast iron plate doesn't cool down very quickly. Hence, we'd suggest you unplug it as soon as you switch it off and wait for at least 20 minutes before putting it away. Other than that, there is nothing else we can crib about.
Next up, we have the Duxtop Portable Induction Cooktop. This lightweight unit is integrated with multiple user-friendly features for a hassle-free experience. What's more, the diverse temperature range and power settings allow you to cook a range of dishes.
Why Did We Like It?
At first glance, it was the black crystal-glass plate that got our attention. It's just the right size to accommodate most of your standard induction compatible magnetic cookware without actually taking up too much space. And since there's no open flame or heating element, cleaning the top takes the least effort. So, that's a bonus!
However, its biggest highlight is the digital control panel, which takes the versatility factor a notch higher. Starting from the left, you'll find the power button, LED display box, plus-minus buttons, and three operational controls, viz., the temperature, power setting, and timer. 
While the temperature ranges between 140 to 460 degrees Fahrenheit, the power level has 10 increments from 200 to 1800watts. Likewise, the built-in timer has 1-minute increments of up to 170 minutes. 
We also appreciate that the unit has an auto-pan detection feature to conserve power. This means it'll automatically turn off after 60 seconds if no cookware is detected. And finally, there's a low/high voltage warning system to prevent malfunctioning.
What Could've Been Better?
For all things good, there are a few aspects that we'd like to improve. Firstly, the fan sound becomes very loud when the unit is placed in a cramped space. Secondly, the induction doesn't have the most compact design, so be prepared to make significant room on the countertop. 
Another of our top recommendations is the IMUSA GAU-80305 Electric Single Burner. This simple unit is super-affordable and lets you cook anywhere you have a plug. With a high power output, it can well become your go-to cooking appliance.
Why Did We Like It?
The IMUSA GAU-80305 Electric Single Burner doesn't have a charming appearance, but its effectiveness and utility are at par with many high-end units. Unlike the Elite Gourmet Countertop Electric Hot Burner, it has an aluminum build, making it extremely resistant to regular rough use. Additionally, the metal construction contributes to its stability.
Coming to the rest of the design, the unit mainly functions with a 1,000-watts heating coil that's responsible for consistent heat distribution. Even if the cookware base doesn't cover the entire coil, it won't result in a longer cooking time. It took us around 45 minutes to prepare a full-fledged hotpot with frozen ingredients.
But what appealed to us the most is the stainless steel drip tray, which protects the accumulation of food and liquid on the hot plate. Not only that, but the heating coil can also be easily removed for cleaning purposes.
Complete with an indicator light and temperature control knob, this single burner is ideal for people who are on a tight budget.
What Could've Been Better?
Owing to the all-metal construction, the unit tends to get heated up when running for prolonged periods. Hence, the brand recommends operating it only for 60 minutes at a time and allowing it to fully cool down before the next use.
When it comes to portable single burners, Cusimax is a name that hardly needs any introduction. And the CMHP-C150N Electric Hot Plate totally justifies that reputation. With its fast heating abilities, this unit definitely packs a punch for its size.
Why Did We Like It?
Hot plates compatible with varied cookware are always a big yes, and this unit is no exception. Its 1500-watts cast iron hot plate has a 7.5-inch diameter sits atop a stainless steel housing that's built to resist the wear and tear of everyday use. For optimum heating, the brand recommends using pans and skillets not more than 7.4-inch diameter.
Furthermore, the bottom comprises 4 anti-slip feet-like extensions, responsible for stabilizing the unit even on slippery surfaces. In addition, they raise the cooktop to the right height to prevent the surface below from developing any heat-related damage. Once the unit cools down post-cooking, you can wipe it with a soft clean cloth.
The adjustable thermostat control knob is placed on top of the housing instead of the commonly used side panel. In hindsight, this smart design negates the need for extra clearance in tight areas. Lastly, the unit has a low-noise operation that won't hammer your eardrums.
What Could've Been Better?
One significant issue that may cause some trouble is that the stainless steel housing gets heated to the point where the slightest touch may cause burns. Hence, you may want to put on a pair of good quality mittens while using the cooktop.
The Ovente BGI101S Single Hot Plate Electric Countertops is one of the sleekest units on our list. But there's more than just the design that earns our praise. Made from a blend of stainless steel and glass, it heats up in quick time.
Why Did We Like It?
This Ovente BGI101S surpasses its predecessor in terms of the technology used. The infrared technology accounts for powering the smooth top with high power for quick cooking on the go. As a result, the electric plate gets heated up without leaving any cold spots. 
Unlike a lot of other induction cooktops that don't support a range of cookware, this one is compatible with almost all types of cookware. However, we found this induction to be most effective with the flat bottomed ones, which are close to the 7-inch diameter of the plate.
On that note, both the crystalline ceramic glass top and metal housing can be easily cleaned with a damp cloth. Just a few swipes and the induction becomes as good as new!
Operation-wise, you'll notice that the hot plate emits a bright red light as soon as you turn it on. After a few seconds, the light becomes dim, meaning that the plate is just warm enough. You can then control the heat using the 5 setting knob located at the front.
What Could've Been Better?
We'd have liked the plate to be a tad bit bigger to better accommodate larger cookware. Moreover, we observed that there's very little difference between the highest and lowest heat setting. So, it may not be suitable for temperature-sensitive cooking tasks.
The Sunavo HP102-D2 Electric Single Burner is the latest addition to the brand's long line of electric burners, and as such, finds a mention on our list. With a compact yet durable design, it's bound to meet all your cooking needs.
Why Did We Like It?
From a visual point of view, the Sunavo HP102-D2 comes across as a modified version of the Ovente BGI101S. In fact, this similarity is what tempted us to try this product in the first place. At the heart of the unit is a 1500watts high power hot plate that works with all cookware. From steak plates to frying pans and more, no variant is a mismatch!
Beyond that, it's powered by an exclusive heating tube technology, which is a class apart from traditional heating tubes. Aside from increased heating efficiency by up to 20%, it's made to be corrosion resistant for prolonged service life. Similarly, the threaded cast iron heating plate reduces cooking time by ensuring adequate heat distribution. Plus, the rotating knob facilitates 6 temperature levels.
Much like the Elite Gourmet Countertop Electric Hot Burner, this one is also integrated with an overheating protection mechanism. The hot plate will automatically turn off when the heat is too high and turn on when the temperature normalizes. And the insulated handles allow trouble-free transportation.
What Could've Been Better?
Due to its heat retaining properties, you can't put the single burner in the cupboard or carry bag right after use. Similar to the Elite Gourmet model, it takes a minimum of 20 minutes to lose all that heat. But you can speed up the process by placing a pot of cold water to replicate a heat sink.
If you're looking to get an extra burner for a small cooktop, then consider the Proctor Silex 34103 Electric Single Burner. With a powerful 1000watts output, it's sturdy heating coil prevents the cookware from sliding around.
Why Did We Like It?
Having tried the nearly identical IMUSA GAU-80305 Electric Single Burner, we were curious to find out what this one had to offer. And gladly, the performance wasn't too different either. For one, the familiar heating plate is replaced by a hinged coil that perfectly allocates the heat to all parts. 
Moreover, it has a removable design to provide complete access to the stainless steel drip pan below. Just use a non-abrasive damp sponge to get rid of any spills post-cooking. 
Unlike some of the other units on the list, there's almost zero hat transmission to the body. In combination with the less than 3 pounds weight, the Proctor Silex 34103 certainly ticks off untroubled portability.
In addition, the temperature control knob can be adjusted from anywhere between low and high settings and also doubles up as the on/off controller.
Finally, the base is equipped with quadruple rubber feet for enhanced stability on varied surfaces, weather indoors or outdoors.
What Could've Been Better?
The Proctor Silex 34103 with almost the same performance can be considered an expensive version of the IMUSA GAU-80305 burner. And weirdly enough, its 1200watts variant is cheaper than this 1000watts burner. You might as well go for the latter if you're tight on budget.
Now that we're halfway through the list, allow us to talk about the Cusimax B101 Electric Single Burner. Its stylish design and dual engagement system make for the perfect addition to any culinary setup.
Why Did We Like It?
Before we take you through the technicalities, allow us to award this single burner with brownie points for the classy appearance! Its stainless steel back body is a fit for both indoor and outdoor decors. On top of that, the silver hot plate and control knobs make it look like a million bucks.
Moving on, the first thing that grabbed our attention was the 1500watts output, which is, in turn, based on 7 thermostatically controlled heat settings. Long story short, there are 7 heat settings that can be achieved by the silver knob on the right. It has numerical markings for greater convenience.
A good thing about this unit is the dual engagement mechanism, meaning the ignition won't start until both the knobs are turned on. This is a great way to ensure optimum safety while preventing any chances of overheating the plate. 
Last but not least, it's safe to use with all cookware measuring 7.4 inches in diameter. Overall, the Cusimax B101 Electric Single Burner is one of the most cost-effective units on the market.
What Could've Been Better?
Even at the lowest setting, the plate tends to heat up quicker than normal. Hence, we had to keep a constant watch so as not to burn the food. And while at it, you may also experience significant heat transmission to the knobs.
With simplicity in mind, we thought it'd be fair to include the Cuisinart Cast-Iron Single Burner. Boasting of a compact size and one knob control, it's an ideal match for users who don't want to wrack their brains figuring out the operation.
Why Did We Like It?
For the unversed, Cuisinart made a name with its line of food processors before venturing into this category. And we must say that the brand knows how to go about the business. Firstly, the 1300watts cast iron plate has a no-delay heating mechanism so that you don't have to wait for cooking. 
That said, the guidelines recommend preheating the plate for 4 minutes before the first use to burn off any manufacturing residue.
Having been disappointed with a few adjustable temperature systems, we decided to test this for noting down the temperature at the lowest setting. Our pot of water boiled at around 140 degrees, which is above the 135 degrees mark for safe handling of cooked food. There are two LED indicators to tell you when the induction is on and fully heated up for cooking.
Moreover, the sides didn't feel too hot to touch. This feature will prevent accidental burns in the absence of insulated carrying handles. And lastly, the rubber feet stabilize the induction for safe use.
What Could've Been Better?
The stainless steel housing of this unit isn't very easy to clean compared to some other models with the same construction. This was a real problem, especially when we tried to remove spill stains since we couldn't begin without letting the unit cool down. The longer we waited, the more stubborn the stain became.
Another popular unit in the electric coil burner category is this portable model from the house of Techwood. This seemingly humble single burner is equipped with just the right features to provide users with a fast and reliable cooking experience.
Why Did We Like It?
By this time, you may have figured out our obsession with stainless steel housings, but that's not the only reason why we opted for this model. The electric coil burner runs on a 1100watts supply to heat food faster than conventional ranges of single burners. At the same time, the metal housing and plastic handles are resistant to high temperatures.
The brand has emphasized making this unit a multi-purpose portable burner to cook a wide variety of dishes like scrambled eggs, soup, pasta, etc. For this, the temperature output can be controlled via a knob located below the coil on the right. 
Like most of our other recommendations, the knob also doubles up as the on/off controller. And there's a small LED light to indicate the status of the burner. 
Furthermore, we were pleasantly surprised to find out that the coil comes with an overheat protection mechanism, which will cut off the ignition if the temperature becomes too high. If you see the LED lit up, you know that the temperature is back to normal.
 What Could've Been Better?
Perhaps the biggest disappointment with this product is that the adjustable burner doesn't have level markings. Hence, you have to largely rely on assumptions to set the temperature between high and low settings, which will be pretty challenging for first-time users.
Since Techwood caters to different burner technologies, we decided to test an infrared ceramic single burner from the brand. The flat cooktop makes it suitable for use in compact spaces like dorms, RVs, and camp tents.
Why Did We Like It?
Straight off the bat, we were happy that this single burner counters a basic problem we faced earlier- an unmarked temperature control knob. Even in the absence of level markings, the gradually increasing white strokes (ranging from the off to minimum settings) give users a fair idea about the temperature range. 
Other than that, the cast iron plate is integrated into the stainless steel housing for a small and compact footprint. Not only is it compatible with multiple brands of cookware, but you can also use non-magnetic frying pans and kettles. The thread circulation heating ensures proper heating, irrespective of the material.
In our opinion, its biggest advantage is the pair of stay-cool handles. Unlike some of our recommendations, these full-grip handles are separated from the housing, thanks to the quadruple plastic joints. Despite using it at the highest temperature setting, we don't feel the handles becoming hot.
Last but not least, the product comes with an 18-month warranty and friendly customer service to answer all your queries.
What Could've Been Better?
As we have already mentioned, the handles extend beyond the stainless steel housing, meaning you need some clearance on the sides. Also, the plate gets hot very quickly at the lowest setting, so you may have to adjust the cooking time accordingly.
Cukor strives to provide you with an extra burner with this electric hot plate. Scoring high on multi-utility and eco-friendly parameters, this unit is backed by high-quality construction for long-lasting service life.
Why Did We Like It?
First things first, the cast iron hot plate is built to emit zero radiation and carbon monoxide making it extremely safe for indoor use. It has a protective coating, which needs to be burned off during the first use. That's why the brand suggests keeping the burner switched on in an outdoor location for at least 15 minutes.
Moreover, the hot plate employs a dual safety mechanism for overload protection. In this regard, it uses a combination of thermal fuse and continuous burner on-off cycles to maintain the desired temperature. We noticed that it requires around 10 minutes of preheating, which is an effective way to prevent the food from getting burnt at the lowest setting.
With a wide-ranging temperature from 80 to 1058 degrees Fahrenheit, it saves 30% more electricity than some other 1500watts models. We also liked it's compatibility with almost any flat-bottomed cookware made from aluminum, stainless steel, ceramic, or glass. 
Lastly, there's a 30-day return and 18 months free-replacement policy in case you're not satisfied with the product.
What Could've Been Better?
Simmering water for a few minutes gives off some sort of zapping sound that's often confused as a sign of malfunctioning by users. And at 22 pounds, this isn't the most lightweight unit out there. These little annoyances aside, there isn't a lot that can turn away potential customers.
If a complicated burner operation gives you the jitters, then our next recommendation may just be the one for you. The Brentwood TS-322 Single Electric Burner is a super-compact and lightweight unit built for basic cooking anywhere, anytime.
Why Did We Like It?
The Brentwood TS-322 Single Electric Burner doesn't make fancy promises but stays true to its purpose of basic heating. For this, the unit uses a cast iron heating element in the form of a hinged coil, which rests above a stainless steel drip tray. Like the Proctor Silex 34103, you can remove it to clean the tray for effortless maintenance.
Apart from that, the die-cast housing was a break from the monotony of stainless steel constructions. It has a brushed powdered finishing that resists temperature and moisture accumulation. And despite being reasonably sturdy for its size, the lightweight design doesn't affect portability. Weighing at around 2 pounds, you don't have to break your back for carrying it around.
The four rubberized feet provide it with the right elevation to protect the surface underneath. Complete with a 1000watts output and temperature adjustment knob, it facilitates brisk quicking at all times.
What Could've Been Better?
There are a couple of things that need to be addressed by the brand. Firstly, the heating coil doesn't distribute the heat properly, especially in the case of larger cookware. Secondly, the cooking element doesn't retain heat properly during temperature adjustment. 
We had to constantly fidget with the knob to get the temperature up and down as required. But  this may also be a manufacturing defect.
Towards the end of this list, we're back with a second single burner from Ovente. The BGI201S Single Hot Plate Electric Stove is a robust and affordable unit that fits in cramped spaces for fast cooking.
Why Did We Like It?
Honestly, the efficiency of infrared technology in the Ovente BGI101S got us hooked, and we thought of trying another one. 
Similar to the BGI101S, this one also has a 1000watts ceramic glass top for facilitating even distribution of heat minus the hassle of cold spots. This is one of the main reasons why this single burner is compatible with types of cookware, including those made of aluminum and glass. It supports a maximum of 11 pounds, making large-scale cooking a breeze.
Aside from the LED indicator beside the temperature control knob, the glass top emits a red light through cooking. This way, you don't always have to come close to the unit to see if the hot plate is being heated.
The temperature control knob has a small handle for easy gripping with mittens. Here, we should mention that there are 6 temperature settings to choose from, and the knob also functions as the on/off controller.
Lastly, the non-slip rubber feet design prevents the unit from tipping over on any surface.
What Could've Been Better?
Oddly, the ceramic hot plate has a slippery coating which doesn't go away even after a couple of uses. While we understand that it might protect the bottom of the cookware, this also means that containers with curved bottoms may not be suitable for use with this unit.
Before wrapping up the list, here's a traditional heating coil single burner from Courant. Sporting a familiar design, it has garnered popularity due to its compact structure and multi-purpose utility.
Why Did We Like It?
It didn't take us long to figure out how good this electric burner works for different types of cooking with different types of cookware. We used it to stir fry some vegetables and meat, and the coil got heated up to the highest setting in merely 3 minutes. 
Likewise, the change in temperature while turning the knob didn't make us wait forever. But the 1000wattst output doesn't burn the food and cooks everything evenly. Similarly, the lower settings maintain a gentle simmering.
For its small construction and one-knob operation, we certainly weren't expecting the auto shutoff mechanism that disengages operation if the temperature becomes too high.
The power indicator and control knob are conveniently located close to each other for users to keep a constant eye on the on/off status. We also appreciate how the brand doesn't shy away from warning its users about the housing becoming hot, as is evident from the sticker on the left side.
What Could've Been Better?
Some users have reported that the unit breaks down at the 6 month-mark, thereby raising questions about its durability in the long run. Besides, the markings on the control knob got wiped away when we tried cleaning it after use. Hence, we'd advise using number stickers for this purpose.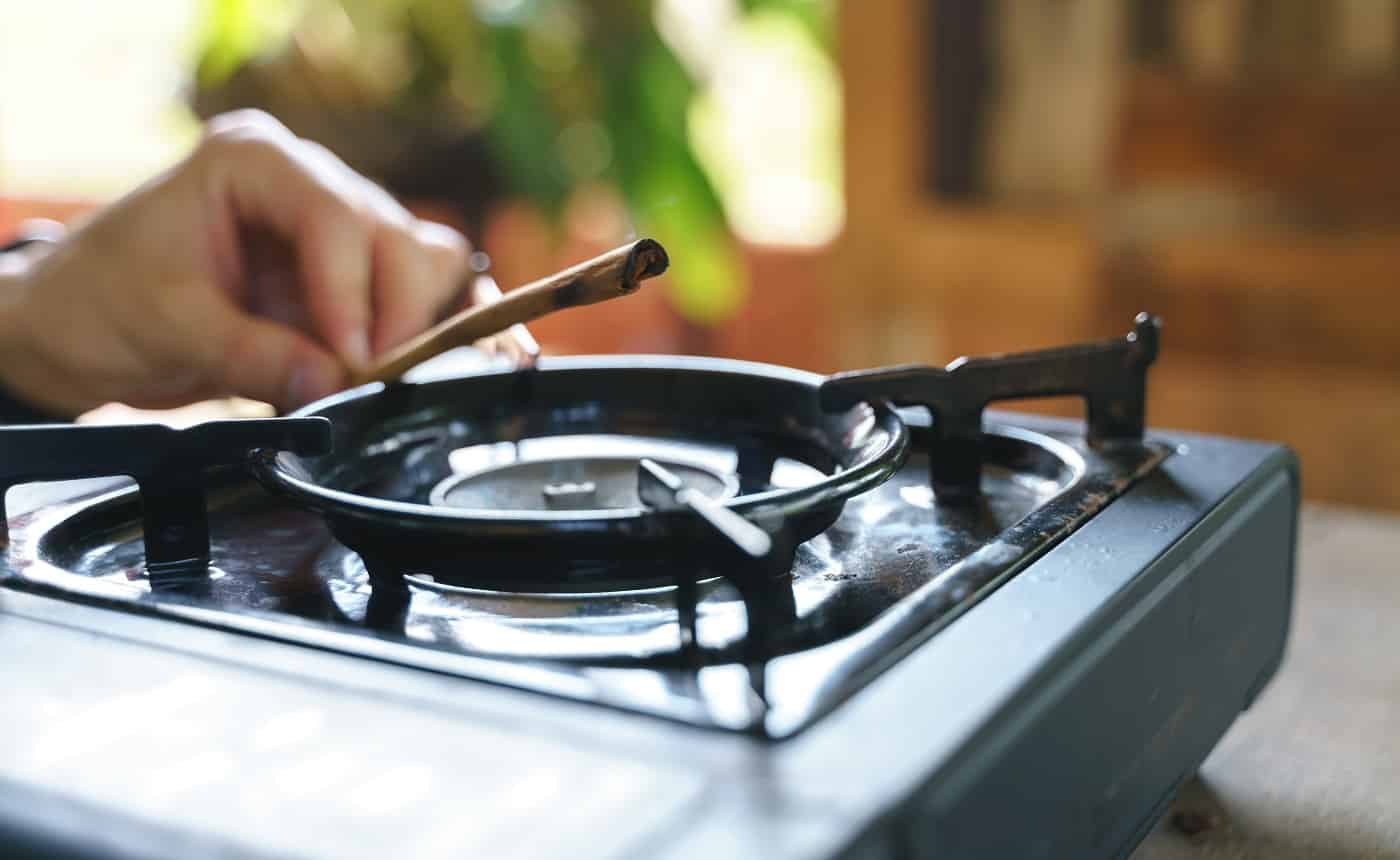 Portable Single Burner Buyer's Guide
Sure, portable single burners will not cause you a fortune. But that doesn't mean you should pick the first unit that you come across, since it may not cater to all your needs. So, if you're thinking about how to pick the best one from our recommendations, we've got your back with a buyer's guide that consists of the key points to consider before making a purchase.
Capacity
Generally, the capacity of a portable single burner is measured in watts. And there's no rocket science here- the higher the watts, the more is the cooking power. That's why most single burners offer a range between 500 and 2000watts, with the 1000watts models being common for regular cooking jobs. According to your needs, you may even opt for a 1500watts model. 
However, one thing that you should keep in mind is that a high watts capacity may put significant pressure on the hot plate, especially when operated for longer hours. Hence, always look for quality constructions with a long service life.
Size And Weight
For any single burner to be portable, small size and low weight are two critical aspects to fulfill. It's useless to buy a single burner that occupies very little space but weighs 20 pounds. Thus, we'd strongly suggest going for a unit not heavier than 12 pounds. 
As far as the size is concerned, you can choose a bigger model with low weight that will ultimately enhance the portability factor, but it can make storage difficult.
Type
Usually, most single burners are powered by infrared, induction, or electric coil technology. While infrared burners use an infrared heating wave paired with a cast iron hot plate, induction models utilize magnetic power to heat up things. And electric coils are directly heated up once the cord is plugged into the outlet.
Today, a majority of single burners are designed to reduce cooking time while ensuring uniform heating. So, you don't have to really fret over choosing the right technology. However, induction cooktops may only be compatible with magnetic cookware, so that's something you should look out for.
Material
Except for electric coil burners, portable single burners are mostly made of stainless steel, which is highly resistant to corrosion, moisture and is easy to clean. But in our opinion, almost all stainless steel housings become somewhat hot with continuous operation.
Insulated Handles
Thermo-insulated handles are the best way to counter the aforementioned problem. While some handles may be closely attached to the housing, others may spread out to ensure a comfortable grip, but they may require more space on the countertop. 
Rubberized Feet
Not only do rubberized feet reinforce the stability of the burner on varied surfaces, but they also keep the unit from damaging the countertop through heat. We'd strongly advise keeping this feature on the top of your priority list!
Drip Tray
Only applicable for electric coil burners, a stainless steel drip tray will catch all the spillage to keep the rest of the housing clean. The coils have a hinged design so that users can remove them to wipe away any accumulation on the tray. But make sure the burner is completely cooled before you touch the coil.
Temperature Range
Most homeowners prefer buying a single burner that supports a wide range of temperature, simply because it'll facilitate versatile cooking needs. You can always go for more heating levels, which correlate to a broad temperature range. The settings can vary between 4 and 6 levels.
Auto Shutoff Feature
No matter how cheap or expensive a single burner is, it usually doesn't miss out on the auto shutoff mechanism. This is a good way to prevent wasting electricity while also extending the service life of the heating elements.
LED Indicator
Depending on the overall design of the burner, the operation indicator may be a big or small LED adjacent to the temperature control knob.
Cookware Limit
Apart from the material limitation, many brands specify the maximum weight that you can put on the burner. Remember that this includes both the weight of the empty cookware and the food being cooked.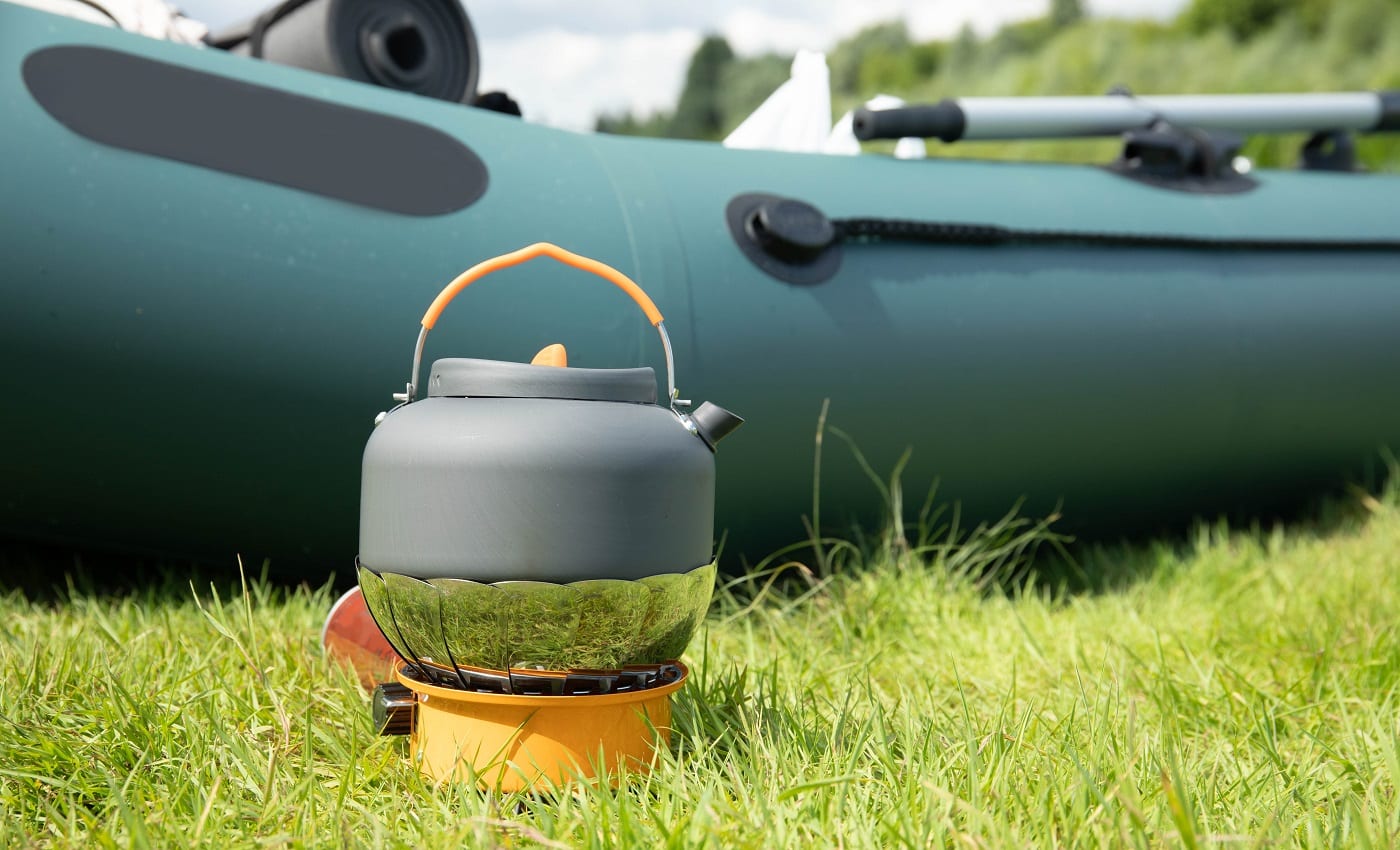 Verdict
Phew! That was a long list. But we wanted to make sure that we aren't missing any name that's worth the consideration. After all, the benefits of a portable single burner make it hard not to get one today.
And that brings us to the end of today's guide. Now, we know that it will take some time for our readers to process all that information. Meanwhile, we'll assist you further by naming our top 3 picks from the list.
The Elite Gourmet Countertop Electric Hot Burner is a compact and powerful model in its price range, while the Duxtop Portable Induction Cooktop makes things easier with its digital control panel. Finally, the IMUSA GAU-80305 Electric Single Burner is an affordable unit for fast cooking.
Hopefully, our efforts will help you find your "right match". And when you do so, don't forget to let us know in the comments down below!
Till the next time, stay happy and take care!
Related Articles
Learn How to Clean Gas Stove Burners Today
11 Best Rocket Stoves for Camping and Survival Enthusiasts