For every DIY enthusiast out there, an air compressor will save so many trips to the gas station!
What's more, it not only takes care of filling tires, sports balls, and balloons, but also operates painting guns and nailers in workshops. These devices can be taken to and from the house and our workshop with no extra effort, thanks to the lightweight and compact design that portable air compressors have.
Now the trouble is that there are a variety of options available in the market varying in sizes, maximum pressure capacity, and hose types. But you don't need to fret over it anymore. We have reviewed 13 of the best portable air compressors for your benefit with an unbiased pros and cons section for each.
The list ends with a buyer's guide section to help you make a choice. Without further ado, let's move on.
Top Portable Air Compressor of 2022
IMAGE
PRODUCT
DETAILS

Our Top Pick

Our Top Pick

DEWALT DWFP55130 Air Compressor

3.0 SCFM at 90 PSI
2.5-gallon tank
Pump Speed of 2300 RPM

VIEW LATEST PRICE →

Bostitch BTFP02012 Air Compressor

Maximum tank pressure of 50 PSI
6.0-gallon tank
2.6 SCFM at 90 PSI

VIEW LATEST PRICE →

PORTER-CABLE C2002 Pancake Compressor

Maximum pressure of 150 PSI
2.6 SCFM at 90 PSI
Low amp 120-volt motor

VIEW LATEST PRICE →

VIAIR 400P Portable Compressor

Maximum pressure of 150 PSI
Air hose length of 25 feet
12 volts operated

VIEW LATEST PRICE →

Ingersoll-Rand P1.5IU

Powerful 2HP compressor
Tank size of 30 gallons
135 PSI of maximum operating pressure

VIEW LATEST PRICE →

California Air Tools 8010 Air Compressor

1.0 HP motor
Oil-Free Pump
3.00 CFM at 40 PSI

VIEW LATEST PRICE →

Makita 2.5 MAC2400 Portable Air Compressor

2.5 HP 4-Pole motor
Cooler running pump
4.2 CFM at 90 PSI

VIEW LATEST PRICE →

Senco PC1010 Portable Air-Compressor

Delivers 0.7 SCFM at 90 PSI
Maximum pressure of 125 PSI

VIEW LATEST PRICE →

Excell U256PPE Pancake Air Compressor

Delivers 2.8 SCFM at 90 PSI
Low voltage start-up capacity of 64V
1.5 HP 6.0-gallon air compressor

VIEW LATEST PRICE →

Campbell Hausfeld DC010500

Delivers 1.2 CFM at 90 PSI
Weighs 29 pounds
Maximum pressure up to 125 PSI

VIEW LATEST PRICE →

California Air Tools 10020C

5.3 CFM at 90 PSI
Maximum pressure up to125 PSI

VIEW LATEST PRICE →

DEWALT Air Compressor, 135-PSI Max

69-71 decibels
Delivers 0.75 SCFM at 90 PSI
Maximum pressure up to 135 PSI

VIEW LATEST PRICE →

Industrial Air IL1682066.MN 20-Gallon Belt Driven Air Compressor

Delivers 5.3 CFM at 90 PSI
Maximum pressure up to135 PSI

VIEW LATEST PRICE →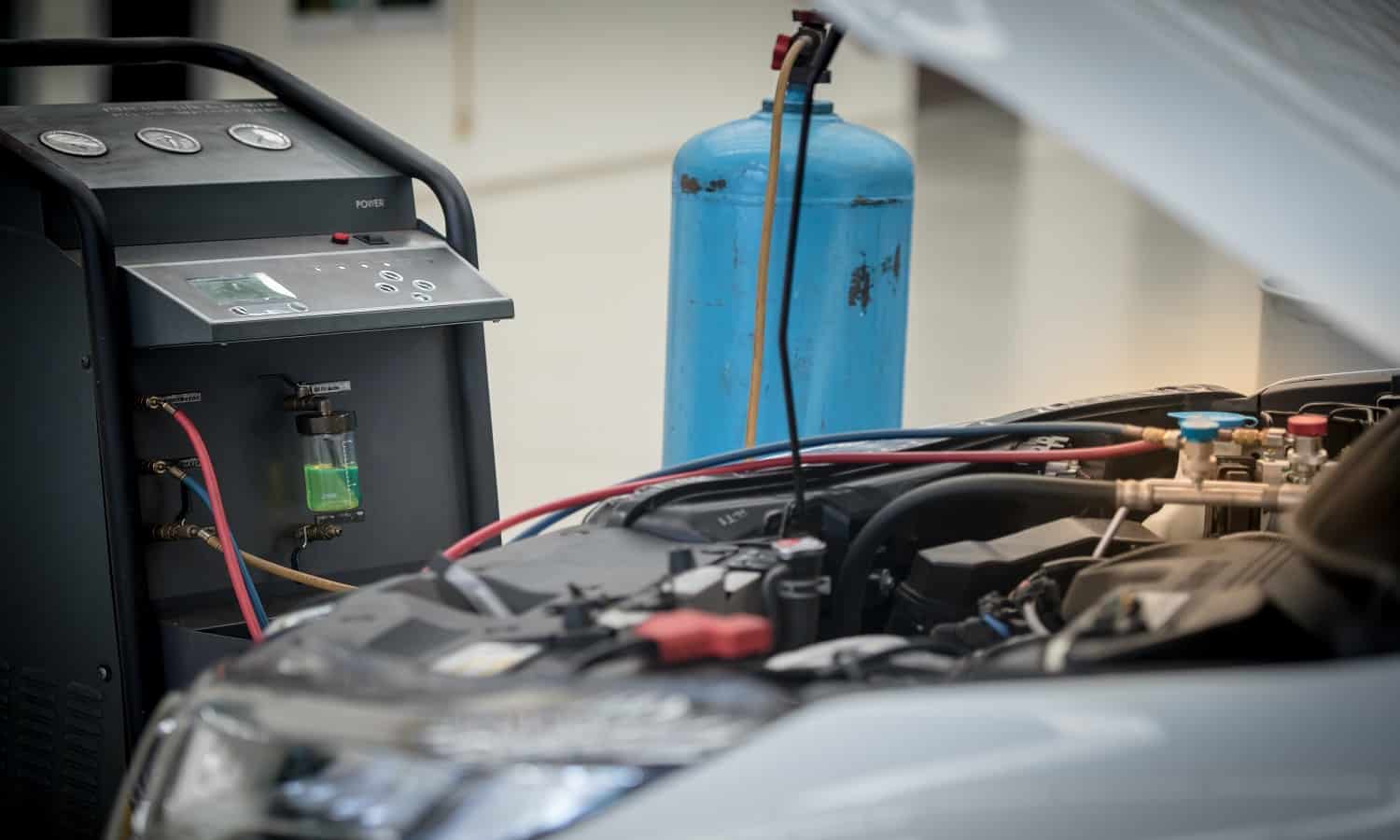 The DEWALT DWFP55130 Air Compressor is known for its portability and easy handling. It makes work easy for you and leaves you satisfied at the end of the day. The product will not disappoint with its remarkable number of bells and whistles, to begin with.
Why Did We Like It?
This unit has exceptional operational endurance, and with a 2.5-gallon tank and a maximum PSI of 200, it allows remarkable tool performance. We used it to inflate tires, and needless to say, it exceeded our expectations.
To add on to the notable features, this device is quite compact. Weighing just 39.9 pounds, this unit will take care of all your needs without you having to fret over a heavy body. The compact design is accompanied by strong handles which make it easy to carry around.
Also, we should not miss out on the durable build of his machine, which promises to last long without hindrance. The cast-iron build saw no scratches throughout the time we have been using it. We can say for sure that the sturdy exteriors ensure better operational efficiency.
What Could've Been Better? 
With all the brilliant features comes a higher price tag. This device is one of the most expensive units on this list, and it may be an issue if you are an average homeowner like us. We wish that the price could have been slightly cheaper.
Pros
Portable

Lightweight at 36 pounds

Low 12 amp draw motor

Very quiet
Next up is a machine that is portable, as well as super quiet. The Bostitch BTFP02012 Air Compressor is a powerhouse that is loved by people. We were in awe of how it did not cause any ruckus in the house, and our kids could sleep with the machine working outside their rooms.
Why Did We Like It?
A brilliant feature that this device has is that it is maintenance-free and would not have you heading to the garage on a daily basis. It features a pump that is super sturdy and lasts long.
Also, the machine is oil-free, and you do not have to worry about refilling. This is a great benefit as there have been times in the past with our old compressor, which stopped functioning during work hours. This hindrance was caused because of a lack of oil, but with this new gadget, we could finally be at peace.
Further, the machine can start up easily, even in cold weather conditions. We live in an area that sees a lot of snow, and we can assure that for anybody staying in cold places, this device will be a boon.
What Could've Been Better?
What we thought was a slight hindrance was that a hose was not included in the pack. You would have to buy it separately. Now that you are aware, it should not be a problem anymore as you can order both of them together. Other than this, we have no issues with its functionality.
Pros
Portable

High flow regulations

Works silently

Doesn't produce emissions

Works in cold weather
Cons
Doesn't include hose or gun
The pancake-style tank that this device comes with will impress you with its stability. The PORTER-CABLE C2002 Pancake Compressor is a device that is very easy to operate. We were delighted by the easy usage, and we are sure you will be too.
Why Did We Like It?
The 120V induction motor shows impeccable performance at 150 PSI maximum pressure. We have been using this device to fill tires as well as fire a nailer. It has been beneficial in both cases.
Also, the product comes with a steel construction as well as a shroud and console cover. This ensures that the major parts of the body are well protected and cannot be harmed by accidental bumps.
Further, the machine has rubber feet for added stability. We did not feel the device vibrate while operating because the rubber absorbed a lot of it. To add on, the product is a part of a 13-piece accessory kit, which also includes a blowgun, nylon hose, and a gauge, to name a few.
Lastly, the machine is easy to move around and can be taken place without any fuss. Owing to its lightweight and compact features, we have been taking it around in our car from the garage to the workshop easily.
What Could've Been Better?
The major problem we faced with this machine is that it is pretty noisy. This is not only a hindrance for us but also any family member in the house. Try using this machine during work hours only when everybody is awake and working. Otherwise, the sound may cause a lot of disturbance to the neighbors as well.
Pros
Affordable

Tank size of 6 gallon

Easily portable

Easy to startup

Oil-free motor
Are you on a budget and looking for a machine that will suffice your basic needs? The VIAIR 400P Portable Compressor may just be the best choice. Being one of the best small air compressors today, it is a great option when it comes to usage around the house.
Sale
Why Did We Like It?
We would not call it one top powerful device, but it works well for the modest size and lightweight design that it has. We found that the unit could be used to fill up tires measuring 33 inches or less very smoothly.
Additionally, it comes with a 10-foot power cable and can also be powered with alligator clamps that hook up to a car battery. Thus we could use it easily at any place where an electric socket is not available. Also, the device has a LED power indicator that informs you if the machine is switched on or off.
Another notable feature of this product is a 25 feet air hose, which allows you to move around and use the device efficiently. Be it painting guns or filling tires, the long hose allows easy movement.
What Could've Been Better?
This is a smaller gadget and is not suitable for bigger tasks. If you try to attempt jobs like filling up large tires with this device, it will perform slowly and inefficiently. Also, this is not a device to work with for long hours at a stretch. Keep these conditions in mind before choosing the product.
Pros
Affordable

Heavy-duty dual battery clamps

Includes anti-vibration tray

Very portable

Perfect for most tools
Cons
Not suitable for bigger projects
If you want an air compressor that will take care of your heavy-duty projects and be portable as well, the Ingersoll-Rand P1.5IU will live up to its name. With a hoard of brilliant features, the product will easily help you take it from your home to the workshop with no extra efforts at all.
Why Did We Like It?
This may be heavier than most units on this list, but that should not worry you one bit. The semi-pneumatic wheels with no flat tires will make it a child's play to wheel the device around.
Also, this device is pretty tall, and this has its benefits. It does not take up much storage space, and you can store it anywhere with utter ease. We were genuinely surprised by how we could fit this bulky device in our small garage.
Lastly, the cast iron build of the product worked well for us. Being a heavy device, it is prone to jerks every time we draw it over rough terrains. The sturdy frame ensured there were no marks of wear and tear on the body.
What Could've Been Better?
We faced issues with the capacitors, which failed in the initial stage itself. The customer service was helpful in dealing with our issues, and we got it replaced pretty soon. We related this complaint with certain other users and found that some others have also faced it. Call up customer service if you witness any sign of malfunctioning.
Pros
Semi-pneumatic wheels for extra portability

Oil-lube belt-driven design

100% continuous duty cycle

Durable cast iron frame and cylinder

Thermal overload motor protection
Cons
Issues with the capacitors
If you are looking for a device to perform simple tasks, this is a great option to go with. Be it inflating or powering an air drill, and the California Air Tools 8010 Air Compressor works very efficiently. We found that this device does not hinder conversations and is an excellent option to bring home.
Why Did We Like It?
This is a pretty quiet device with maximum noise levels at 60 dB. You will only hear a slight whirring sound that is essential for understanding that the device is functioning correctly.
Also, the product is equipped with an oil-free dual-piston pump system that works exceptionally well regardless of any temperature or terrain it is placed in. We were not worried about any kind of oil spills. The oil-free features saved us a lot of effort and there was a considerable drop in expenditure too.
Further, we were awed by the 3000 hours plus life cycle of this unit. It would not show any signs of wear and tear till before this time. This is an impressive feature, as most devices do not exceed 500 hours before they start showing signs of deterioration.
Lastly, the compressor weighs 54 pounds and is accompanied by wheels in the kit itself. The wheels allowed us to move the machine easily, and we did not fret about its weight. The device can also be carried by two people easily if necessary.
What Could've Been Better?
We were disappointed with the material used to make the valve. While it did not break down yet, the thin material keeps us pretty worried about its durability. The walls are paper-thin, and you can almost feel the vibration. Beware of this before you buy the product.
Pros
Fills up rapidly

8.0-gallon steel air tank

Noise level of 60 dB

Powerful and durable

Lightweight
Cons
Cheap materials used to make the valve
Are you in search of a powerful air compressor that will help you deal with any kind of heavy-duty task with ease? The Makita 2.5 MAC2400 Portable Air Compressor is a brilliant option. It is sturdy and works like a beast. We used it for filling big tires, and it worked perfectly.
Why Did We Like It?
If you are a professional, this device can be of great help. It is powerful enough to power 2 nailers. We are into multitasking, and we often undertake several tasks together. We needed a machine that could sustain being used continuously. Needless to say, this device did not disappoint.
Moreover, the presence of twin-stacked 4.2-gallon tanks adds to the power of this machine. We think it is the most powerful device on this whole list. And to add on, it supports stability like never before. You do not need to worry about placing the device on uneven terrains.
The pump is oil-lubricated, which ensures that it lasts longer as well as stays comparatively cooler while working. Further, it only emits 79 DB of noise, which makes it a silent machine. You will be able to hear the engine whirring, but a conversation can be continued easily just beside it.
What Could've Been Better?
At 77 lbs, this device is on the heavier side, and this may cause issues if you want to move it around a lot. We would suggest if you do want it to be portable, get a cart on which it can be placed. This will give it the needed ease in portability, but it will also increase the total costs incurred.
Pros
Copper finned discharge tubing

Durable cast iron cylinder

Can be maintained easily

Works very quietly

Powerful
Cons
Heavier and difficult to move
This is one of the easiest machines to carry around in this list. And what more, if you are looking for a device that will not disturb your daily conversations at all, the Senco PC1010 Portable Air-Compressor will do the job. Without further ado, let us get into the features.
Sale
Why Did We Like It?
It comes with a 10-inch wide tank and handles to make it easy for you to carry around. It is one of the lightest devices at just 20 pounds, and this enables you to take it around with ease. It is so light and compact that we could fit it in a bag and carry it when needed.
Further, the compressor that the machine comes with is oil-free and produces a maximum of 125 PSI of pressurized air. This is quite efficient and will handle all DIY projects easily.
It makes 68 decibels of sound, which is remarkably less and does not cause a ruckus. Lastly, we recommend using this product for smaller needs or projects. It will work very well for renovation and will make the process smooth.
What Could've Been Better?
If you are going to engage in large scale projects which need a very powerful machine, this product will disappoint you. While it works tremendously well for smaller projects and tasks, the compressor is not strong enough for complicated tasks.
Pros
Delivers 20 to 44 drives per minute

Ideal for renovation purposes

1-gallon tank capacity

Lightweight and portable
This is one of the small but very powerful gadgets in the market. The Excell U256PPE Pancake Air Compressor will attend to all your home requirements as smoothly as possible. This is also budget-friendly and comes at a very reasonable rate. We needed one for our homes to use occasionally without burning a hole in our pockets and this met our requirements.
Why Did We Like It?
What would you expect from a powerful air compressor? A sturdy well built machine with a heavy-duty engine and easy portability? Well, this device comes with all of that and more. With a 1.5 HP motor and a 6-gallon tank, you can vouch on it to take care of all your needs.
The best part about this gadget is that it features a low voltage start-up. We know the dilemma that one faces if one lives in an area where the power fluctuates a lot. This device can be operated in places with deficient power supplies.
To add on to this, it will work in cold temperatures, and using it in winter does not have to be a cumbersome job. The compressor delivers 2.8 CFM at 90 PSI, with a maximum pressure of 150 PSI smoothly in all weather conditions.
What Could've Been Better?
We have no complaints regarding the functionality of this unit. The only issue is that the hose is not included with this product. You would need to buy one separately along with any other extensions you may need. This leads to an increase in cost, but the body is reasonably priced, and it should not be much of a problem.
Pros
Easily portable

Lightweight at 39 pounds

Low voltage start-up capability

Start-up easily in cold weather
At 68 decibels, if you were looking for a device to use inside your house, the Campbell Hausfeld DC010500 may be the right choice. It makes very little noise, and your neighbors would not be able to hear the machine through the walls. If you live in a flat, this device may work out very well for you.
Sale
Why Did We Like It?
We were impressed by the suitcase-like design that the product came with. It helped us hold and carry it easily thanks to the well-placed handles for convenience. Also, to add on, the device is lightweight and would not weigh more than a real suitcase.
The compact size and design that this device has made it extremely portable and easy to store. We have a very small garage, and there is no ample space, but this device managed to fit in under the workbench.
Additionally, the product comes with a dual-piston pump system. This makes it 4 times easier and quicker to fill the tank. With the busy schedules that we have, this gave us much needed relief.
Moreover, the product is durable and made with very high-quality metal. We have been using it for a year now, and we have faced no issues whatsoever.
What Could've Been Better?
We have no complaints about the functioning ability of this unit. The only drawback is the process of assembly. It took us a while to understand the process and then go on about it. A better-detailed manual would have been helpful, and we would suggest you call the customer care up as soon as you sit with the assembling process.
Pros
Sound level up to 68 decibels

Equipped with oil-free pump and induction motor

Revolutionary slim suitcase design
This device is compact but works like any of its bigger cousins. The California Air Tools 10020C delivers 2.0 CFM at 90 PSI and 3.0 CFM at 40 PSI. It is strong and robust and does its job smoothly. Be it airbrushing that you need to do or powering small hand equipment, and this machine will take care of it all.
No products found.
Why Did We Like It?
This is one of the easiest to maintain and keep clean. The surface is resistant to rust, and one can wipe off dust and debris from the exterior surface of its body. The body is tightly sealed, and there is no space for any foreign particle to enter the gadget.
Also, the compact size of the device made it easy for us to use in home spaces and workshops and garage for professional purposes. This feature ensured that the machine is portable and you can easily take it in your car or pull it around if necessary.
Moreover, this gadget can work for an hour at 2.0 CFM. This may not be the most powerful device in this list, but for the size of this machine, it works like a beast.
What Could've Been Better?
The drawback that we found with this air compressor is the manifold feed line. The tubing is merely 1/4″, and if you want to increase the abundance in flow, you will need to pump manually. This could be a strenuous job to do. We were very exhausted after one round of pumping.
Pros
Quick-Connect Coupler

10 Gallons in size

Low maintenance

Low amp and can function in any weather

Lightweight and reasonable priced
Cons
Requires manual pumping for a high-flow output
This is another lightweight device from the house of Dewalt. The yellow and black color of the DEWALT Air Compressor, 135-PSI Max speaks of remarkable design and power. Weighing only 24 pounds, this machine will surprise you with its efficiency.
Why Did We Like It?
This air compressor is equipped with many essential features, including a tank pressure gauge and a regulation knob and gauge. Also, it is super compact, being 15 inches wide and 19 inches deep. We wanted a portable device as there was a constant need to take the compressor from our workshop to our garage.
We were very happy with the fact that the device had rubber feet. This ensured that the vibrations from this device would be absorbed by this rubber foot. It will prevent any unnecessary movement of the gadget and will not let scratch marks form on the base.
Do not be tricked by the small size of the machine as it works powerfully. It does make some sound at a maximum of 71 decibels, which is not too much and will not be wiping out conversations if you are talking in the same room.
What Could've Been Better?
We have been using this unit for a few months now, and it has been put to work very often. But the body already shows signs of wear and tear, which is not expected as the machine did not face any kind of injuries. We see the color fading in parts, and the functionality has also shown a slight decline.
Pros
Heavy-duty 1-gallon trim compressor

1 gallon in size

Comes with a protective roll cage

Oil-free compressor
If you are looking to paint cars, then this product may be exactly what you need. The Industrial Air IL1682066.MN 20-Gallon Belt Driven Air Compressor is a pretty cheap device when it comes to budget while it works very well with painting guns. We have already used this on two of our cars, and it works like a breeze.
Sale
Why Did We Like It?
Because of its lightweight and long hose, it was easy to work on all the sides of the car. Also, if you have a limited workspace and it is not possible to move large compressors around, this device will solve your problem. It fits into any space with utter ease.
To add on, we also liked the fact that it dissipated heat efficiently. We were operating this device for almost an hour continuously, and it showed no hesitance in performance. All the delicate parts worked smoothly, and there was no build-up of heat inside.
Lastly, we would want to mention the sturdy and durable build of it. It comes in a strong frame and does not get damaged easily. We had not expected this at such a reasonable price and were glad to have gotten such remarkable features.
What Could've Been Better?
The machine works fine for smaller projects. With a capacity of 6.2 CFM at 40 PSI, it is not made to work for more extended periods. The drawback is that it only functions with low-volume spray guns. This is expected considering the dimensions of the product but can be of a disappointment if you were planning to fill tires.
Pros
Fast heat dissipation

20 gallons in size

Durable construction

Perfect for smaller tasks
Cons
Only works with low-volume spray guns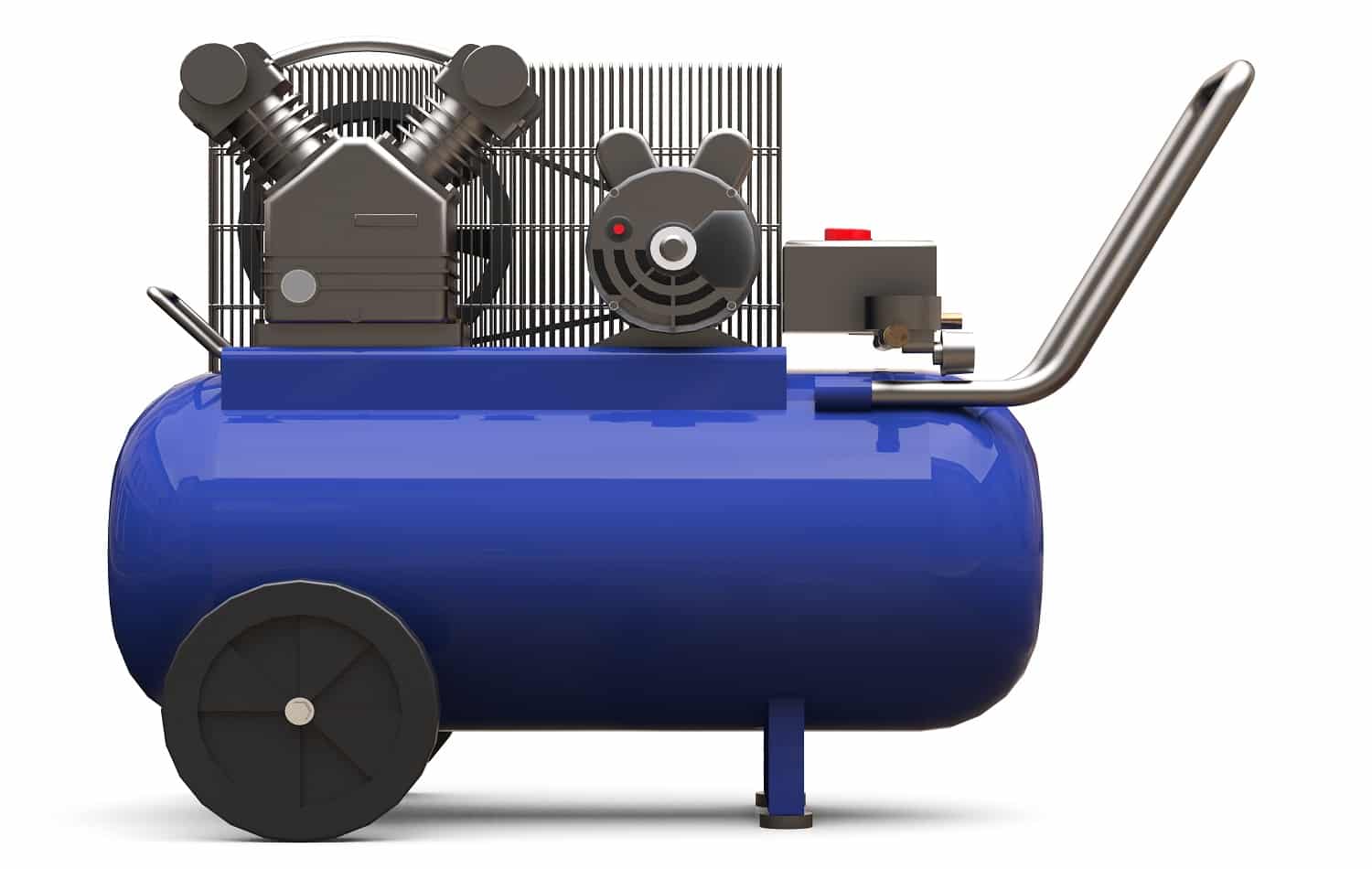 Portable Air Compressor Buyer's Guide
An air compressor may seem like an easy device to buy, but after going through the 13 types mentioned above, you must be thinking about which one actually suits you. Always remember the following points before making a purchase. 
This is because the best product may end up not having that one specific feature that you require. The few things we have noted down will help you not make this mistake while buying a device of your own.
Pressure and Volume
Do you need to work with heavy-duty tools? Or are you looking for a product that will suit your DIY and personal needs? The pressure and volume required will vary according to your answer. Heavy-duty tools need a larger volume and pressure, while smaller devices require less pressure. 
A compressor with lesser pressure when used for larger needs like filling large tires, works slowly and less efficiently. Some devices are smaller and cannot be used to fill tires. Be sure to check out the specifications before purchasing a compressor. 
Size of the tank
As we all know, a larger tank will have a bigger capacity to store air and can be used for bigger projects. This will allow one to work for more extended periods. 
So the question is, do you need a compressor to paint, or are you looking to fill tires? Is it that you want to use it on a nail gun? Again the size and capacity of the tank should reflect your needs. Buying a product with a giant tank for small purposes would be an unnecessary move as bigger devices are heavier and more challenging to move. 
A small tank will be enough if it is needed rarely and for smaller projects while a larger tank is required in order to fill up big tires or to paint the house.
Cost 
It is vital that you find a perfect product that fits your needs at the best value that you get it in. Imagine going for a lower-end device because of budget constraints and then having to replace the machine again in a few months as the performance does not match up. 
This will only lead to spending more money. It is better to buy a device according to your needs and check for its durability. This will ensure that you do not have to invest in other equipment soon. 
Material 
A fancy product does not mean it is made with the best of materials. If the material used is not thick and strong, the parts, including valves, may form cracks, and you would end up going to repair shops often. This is not wanted. 
Cheaper materials corrode easily and get damaged if it slightly bumps against any other surface. Also, if you are going to be using the device on rough terrains, a good build is a must.
Oil-free or lubricated 
Some devices do not need oil to function while others are lubricated with oil, to begin with. Oil-free compressors are good for the environment and also comes at a comparatively lesser price range. 
These machines do not need oil replacement after periods and save you the job of refilling every now and then. 
But then lubricated compressors do have their sets of benefits. They are more likely to last longer as they are lubricated, and there is less wearing down of parts due to constant usage. 
So both of these types have their sets of pros and cons. It is on you to decide which one seems more beneficial for you. 
Noise levels
Initially, the noise was not seen as a concern with air compressors as they were mostly used in professional settings, and the noise was thought of as inevitable. But today with electrical compressors, the sound levels have gone down a lot.
If you want a quiet device, there are many options in the list above. But remember that gas motors are more powerful than electric ones. Though the gas models are noisier, it may be needed for heavy-duty work. 
Remember, if using the gadget indoors, you may require a quieter gadget, but if you are going to work in open areas, then a louder machine may not cause too much of a problem. Please consider your usage and where you would need to use it the most before choosing a product.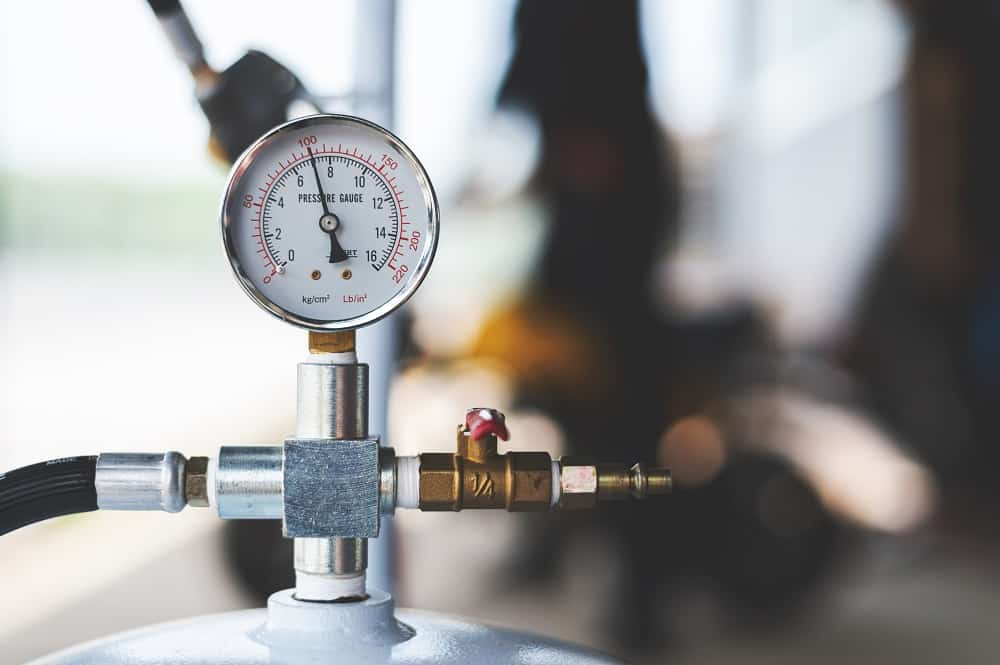 Verdict
Finally, we are at the end, and it is time to announce our favorites from the list above. It is a difficult choice, but we are sure this would make things easier on your end.
Overall, we would choose the DEWALT DWFP55130 Air Compressor for its superior performance. Though it may be on the pricier side, it is absolutely worth it and has achieved the first position in this list.
If you are looking for a product for your heavy-duty needs, the Ingersoll-Rand P1.5IU is our best find. It has a vast tank capacity while being very portable and is not noisy. 
With this, we will end our guide. We hope you find the perfect match for your workshop. Happy shopping!
Related Arrticles
9 Best White Face Paint For Cosplay, Clowns & Halloween
8 Best Face Paint For Kids in 2022 Reviewed
6 Best Body Paint of 2022 | Top Brands Compared
5 Epic Face Painting Supplies That Will Improve Your Designs
6 Best Body Paint For Cosplay in 2022 Reviewed
11 Best Face Paints of 2022 Reviewed | Top Brands Compared
Learn How to Body Paint With Brilliant Results Right Now
16 Brilliant Face Painting Techniques to Feed Your Imagination
11 Best Face Painting Kits of 2022 Put to the Test
13 Best Air Compressors of 2022 | Buyer's Guide and Reviews
10 Highest CFM Air Compressors of 2022 Reviewed
9 Best 6 Gallon Air Compressors for Your Home & Garage
10 Quietest Air Compressors For Your Garage
13 Best 30-Gallon Air Compressor of 2022 Reviewed
Makita Mac2400 Air Compressor Review
10 Best 80-Gallon Air Compressor to Consider
13 Best 20 Gallon Air Compressors Of 2022
13 Best Air Compressors of 2022
How To Refill Co2 Tank with Air Compressor?
13 Best Quiet Air Compressor for Your Home in 2022
10 Best 60-Gallon Air Compressors to Use in 2022
13 Best 10-Gallon Air Compressors for the Buck in 2022
10 Best Air Compressors For Impact Wrenches in 2022
10 Essential Air Compressor Accessories You Need
10 Best Air Compressors For Nail Guns
13 Best Dual Fuel Generators of 2022
5 Best Nail Gun Brands of 2022
13 Best Finish Nailers for Woodworking of 2022
13 Best 60 Gallon Air Compressor of 2022
12 Best Gas Powered Air Compressor for the Buck in 2022
13 Best 12V Air Compressor of 2022
11 Best 4000+ PSI Pressure Washers of 2022
9 Best Air Tools Oil Review | Top-Rated Pneumatic Nail Gun Oil