In summer, having a pool amidst blooming green shrubbery within your property is a blessing of the highest degree. Whether it's about cooling off the sweltering afternoon heat of long summer days or having a pleasant evening getaway, home pools with the accompanying undergrowth and flower patches make for quality time.
However, you can only avail all these beneficial features of a pool if you are taking care to maintain it. While a pool among the plants and shrubs create a lagoon-like experience, it also comes with some snags. For instance, the pool water gets dirty in lesser time. All the fallen leaves, weeds, and dirt ending up in the pool certainly ruin the pool water just after a couple of uses.
With a good quality pool vacuum cleaner in the house, you can deal with this ongoing cleaning situation in a more effective manner. Any top-of-the-line pool vacuum cleaner enables you to collect all the plant debris and sediments from the water body with minimal human intervention. Not only a good quality pool vacuum cleaner keeps your pool water sparkling blue but it also helps you in saving water and keeping the dose of chemical sanitizers low.
If you have a pool amid soft soil and shrub borders, then we would strongly recommend you to have top-quality pool vacuum as well. It will make your pool cleaning less hectic and more fulfilling.  In order to help you out in getting one, we are going to review 13 of the best pool vacuum cleaners available in the market right now (the numbering doesn't indicate a preferential order).
In the end, we are also going to share a short buying guide and FAQs regarding pool vacuum cleaners.
Best Pool Vacuum Cleaners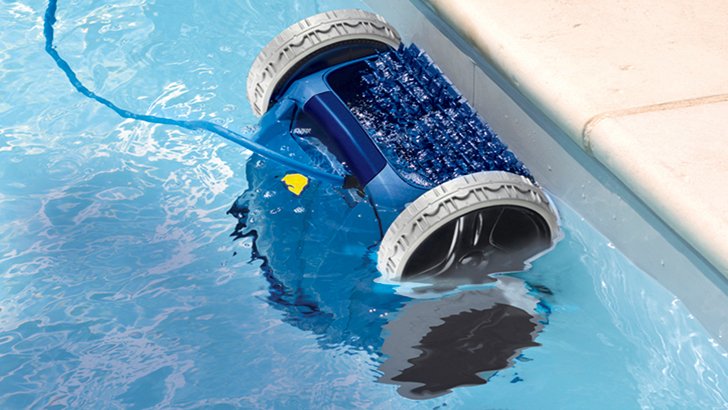 Superior hydraulic design

A single moving flapper

Comes with a free skimming valve
We are starting off our list with Pentair K50600. The manufacturer has given an interesting name to this pool vacuum cleaner. The words "Kreepy Krauly" in the product title actually indicates the "creepy crawling" of the vacuum in the pool like a wild sea creature. From a functional standpoint, this creepy crawling of Pentair K50600 actually highlights some of its valuable features.
For instance, it only has a single moving flapper with no gears and wheels. In other words, the vacuum will need lesser maintenance with fewer moving parts. Moreover, the random motion of the vacuum inside the pool ensures that every nook and corner of the pool is taken care of debris and sediments.
And not just that, the superior hydraulic design intrinsically makes Pentair K50600 better with its vacuuming power. Moreover, the free skimming valve attached to the vacuum assembly automatically takes care of water flow to ensure optimal cleaning speed. The skimming valve also helps the vacuum in sucking in the surface debris as well. 
Pros
Perfect for small pools

The design is fundamentally low maintenance

The random movement ensures optimal cleaning
Cons
Setting it up for the first time can be wearisome

Operates with a loud sound
Pentair is a great choice for homes with small above-ground pools. With low maintenance needs and robust design, the vacuum also regulates the flow of water through the pool. However, see other options if you are apprehensive of noise pollution.
Features unique deflector wheels and AG disc

Comes with a 32-feet feed hose

Features  a double-valve system
Just as Pentair K50600 is called Kreepy Krauly for a reason, the next product on our list is called 'ranger' and with an even better rationale. There are two components that give this vacuum cleaner an operational outlook, as if a ranger vehicle is traversing through rough terrains. To begin with, it is fitted with a state-of-the-art deflector wheel.  If your pool has a curvilinear shape with steps and other such features, then this feature will come in really handy. This deflector wheel ensures that the vacuum doesn't get stuck in any corner.
Sale
Moreover, the vacuum is fitted with an AG Disc, a single moving diaphragm, which makes it easier for the vacuum to slide along all the surfaces within the pool while sucking in the debris and dirt. This is also the only operational moving part of Zodiac Ranger which makes it a low-maintenance vacuum machine.
A better flow of water just adds on to the vacuuming activity in the pool. The manufacturer has taken care of this aspect in Zodiac Ranger and fitted it with a combo of Flowkeeper valve and Insta-Skim self-adjusting flow control valve. These valves ensure the water flow in the pool remains consistent throughout the cleaning activity.
With 32-feet feed hose and a pre-assembled setup, Zodiac Ranger Pool vacuum cleaner is definitely a bang for the buck. 
Pros
The pre-assembled construction makes for hassle-free setup

A low-maintenance machine

Relatively quieter operations
Cons
Not ideal for large and soft-sided (Intex) pools

Large debris can get stuck in it
Go for Zodiac Ranger Pool vacuum if you have to look after a small to medium size pools of solid construction.
Hypergrip continuous tracks

Extremely energy-efficient DC motor

An Amazon's Choice Product
If you want to see technology manifested in a single pool vacuum cleaner, then this is it. Dolphin Escape Robotic Pool Cleaner is what the future sounded and envisioned in the 80s. To begin with, its shape is not like a regular vacuum cleaner. It's a compact and sturdy small tank with continuous tracks (just like the real one) and for the same reason i.e. to get better surface traction than the wheels.
Sale
Then there is the "Robotic" part of the cleaner. The vacuum features smart technology with programmed chips. It enables the vacuum to scale through the pool without colliding with steps and corners. This smart navigation system of Dolphin Escape Robotic Pool Cleaner ensures optimal cleaning throughout the pool.
Some debris and sediments embed into the pool base and can't be dealt with simple vacuum suction. Dolphin Escape Pool Cleaner takes care of this problem with built-in scrubbers that loosen those stubborn elements.
Dolphin Escape Pool Cleaner also stands apart among its competitors because it is one of the most power-efficient machines on the block. While a traditional pool cleaner can consume up to 1800 watts of power, Dolphin Escape Robot operates with a 180-watt onboard DC motor. Moreover, it features a spacious top-load filter cartridge instead of messy debris bags. This filter feature makes the use of Dolphin Escape Pool Cleaner more hassle-free.
With such striking features, it is only natural that Dolphin Escape Pool Cleaner enjoys the tag of "Amazon's Choice" in the category "automatic pool cleaner above ground ". 
Pros
Continuous rubber tracks ensure optimal traction

Use of SmartNav technology means no supervision is required

Combo of fast-running brushes guarantees absolute cleaning
Cons
Filter for fine particles is not included
We won't say much except that this tank-shape smart vacuum cleaner is the best cleaning apparatus you can get for your swimming pool.
Contoured fish head-like design

Easy installation

Comes with a 1-year manufacturer warranty
Wanda the Whale—sounds like an animated feature film for kids. On top of that, the shape of this pool vacuum cleaner resembles a fish head (even eye stickers are there). However, all this design playfulness has no bearing on the function of this pool vacuum cleaner. In fact, the contoured fish head design optimizes the steering pattern of the vacuum and cuts down the cleaning time. And not just that, the steering pattern of Wanda the Whale is governed by a programmable chip. The programmable steering further makes sure that the vacuum can do its job with the utmost accuracy and efficiency.
It is important to mention here that all the intelligently programmed steering mechanism of the vacuum can only work if it is supported by the complementing hardware parts. Hayward has taken care of this important point in the manufacturing of Wanda the Whale. Therefore, the vacuum features deluxe bumper rings that cut down the underwater friction to ensure easy movement and steering resumption.
Although Hayward 900 is not a plug-n-play pool vacuum cleaner, its installation doesn't take more than 10 minutes and doesn't need any hardware tool at all. 
Pros
Programmable steering ensures effective vacuuming

Bumper ring ensures friction-free underwater maneuvers

Noise-free operations

Easy to set up
Cons
Can tumble along the pool sides and corners

Vacuuming capability dips with debris collection
Go for a Hayward 900 Wanda the Whale if you are looking for a noiseless and compact pool vacuum cleaner.
Customizable movement

Features 18-quart easy-to-use reusable micro filter bag

An Amazon's Choice product
Aquabot Pool Rover Hybrid Robotic Pool Cleaner—the name gives away what you can expect in this pool vacuum. This vacuum cleaner is literally a filter on wheels. With its plug-n-play configuration, you don't need to set up anything. Just tap its power button and drop in it in the pool of any size and shape. Its high-performance machinery is able to take care of 5,400 sq-ft of pool surface in an hour. And all this heavy-duty cleaning comes at minimal maintenance requirement since the vacuum cleaner is not fitted with belts, bearings, gears, pads, swivels, and flaps.
Aquabot Pool Cleaner doesn't just offer wider coverage with its quicker operations. Its advanced suction pump also makes sure that you can get rid of every single piece of debris from your pool. It can even detect and draw particles as small as 2 microns into its spacious 18-quart filter bag. For perspective, remember that a regular pool vacuum cleaner can pull on the smallest particles of 20 microns.
The smart navigation system installed in this vacuum rover makes it certain that no supervision is required when it's in the pool moving and vacuuming. No matter how many construction features are there in the pool, Aquabot Pool Cleaner can easily navigate and maneuver through them.
The manufacturer has also made sure that this rover pool vacuum cleaner can work without tipping over. For that matter, Aquabot Pool Cleaner features low-profile and extra-wide tires that ensure a firm grip in the face of water ripples and bottom patterns.
Aquabot Pool Rover Hybrid Robotic Pool Cleaner deservingly bears the tag of "Amazon's Choice". 
Pros
Can clean big pools within an hour

No supervision needed

Can take care of the smallest debris
Cons
Doesn't offer good vertical operations

Some customers find its auto shut-off feature substandard
With decent suction power, Aquabot Pool Cleaner is a custom-made option for people taking care of large pools that face all sorts of debris.
A fully rechargeable lithium-powered suction motor

Comes with multiple filters

Easy push-button operations
Are you looking to clean a pool that doesn't have built-in filter systems and drains? Are you trying to clean a pool that is quite far from the power outlet? Pool Blaster has particularly introduced a sleekly designed pool vacuum cleaner for all such users.
Sale
With the shape of the robotic arm where the suction inlet is mounted at 45 degrees and handle that can be extended by any telescopic pole, Water Tech Pool Blaster Catfish ensures you can use it just like a brush in all those pools and spas that don't have their own filter systems.
It features a lithium-ion battery that is fully recharged in four hours and can offer nonstop vacuuming for 45 minutes. In other words, you can take care of debris and dirt of a medium-sized pool in a single go. But its cordless and rechargeable features are not the only reasons why Water Tech Pool Blaster Catfish has ended up on our list of best pool vacuum cleaners.
Its filtration system is one of the best one the block. It comes with an all-purpose reusable filter for general cleaning. Moreover, two microfilters are also part of the deal that ensures fine cleaning of all the debris of a couple of microns.
With the easy push-button on-off mechanism, the use of the Pool Blaster vacuum is as easier as it can get. 
Pros
A cost-effective and user-friendly pool cleaner

Can be used in pools without built-in filtration systems
Cons
Not ideal for large pools due to limited- battery time

Suction power could be better
Go for Water Tech Pool Blaster Catfish if you are dealing with small and medium-sized pools that don't need extensive vacuuming.
Compatible with 1,600-3,500 gph filter pumps

Particularly designed for Intex pools

Automatic cleaning system
In-ground and above-ground concrete pools usually have their own filtration systems. And even if that's not the case, you can use different vacuum cleaners in them. On the other hand, debris cleaning is not that easy in Intex pools. The majority of pool vacuum cleaners are not designed to work in an Intex Pool.  Don't go too far, even the products we have discussed above are not suitable for Intex pools.
Sale
Instead of relying on others to produce a vacuuming solution for its pools, Intex has designed one that is custom-made for its above-ground pools. Intex Auto Pool Cleaner has rover-like construction with caster wheels that can easily maneuver through an Intex pool. This purpose-built pool vacuum cleaner is compatible with a filter pump of gph rating somewhere in between 1,600-3,500.
Setting up Intex Pool Cleaner with a filter pump is the tricky part of its use. You have to make sure that no air pockets are left in the cleaner hose. This diligence helps you in getting every last bit of vacuuming power to work.  A user manual that comes with the vacuum will come in really handy in setting it up with zero air pockets. 
Pros
Sturdy construction ensures an extended service life
Automatic cleaning needs no supervision and also saves time
Cons
Not good for lumpy pools
Setting it up is quite tedious
To clean Intex pools don't experiment with other pool vacuum cleaners when you have an option particularly designed for this sort of pool material and construction.
Robotic cleaning that needs no supervision
Easy top access to the filter box
Comes with extra-long kink-free power cable
Pool Rover S2 40 is the powerful version of the cleaner by Aquabot we have earlier reviewed. To begin with, it is equally good for larger above-ground pools and medium-sized in-ground pools. It can work on deeper floors and the coves if they have partial walls of certain dimensions. Moreover, it can filter out 80-85 gallons of water in 60 seconds for all sorts of debris.
Aquabot Pool Rover S2 40 takes care of all these hardwearing tasks from a sleek SUV-like design. The design of Aquabot Pool Rover doesn't just make it easy on the eyes, but it also makes sure that the vacuum machine can easily maneuver through the pool in lesser time.
It has been noticed that the long warping cables often take a toll on the performance of a pool vacuum cleaner. No matter how good the suction power and maneuverability of a pool vacuum is, it can't make the most of it if gets snubbed by its power cord.
Aquabot has especially taken care of this feature in S2 40. It features a 40 feet long kink-free and EZ swivel power cord. Rest assured your pool vacuuming won't be disturbed by a troubling power cable. 
Pros
Easy plug-n-play use
Impressive suction and filtration features
Sturdy design
Cons
Prone to debris clogging
Might not give desired results in large in-ground pools
In terms of vehicles, it's an off-road version of Aquabot Pool Rover Hybrid i.e. more powerful, sturdy and designed to be used in rough conditions.
Features hi-flow VAC motor
Built-in filtration system with micro filter bags
Specially designed for commercial users
If you are running a private swimming pool and spa, then this Water Tech vacuum pool cleaner can cut your cleaning work in half. It is another pool vacuum cleaner with sleek robotic arm design that can be operated and maneuvered through a telescopic pole in all pool depths. Moreover, it's a cordless vacuuming machine that rules out the hassle from pool cleaning. However, the features that truly make this Water Tech vacuum a commercial product are its quick-swap exchangeable batteries and extra-wide cleaning head and intake port.
Water Tech Pool Blaster Pro Commercial comes with two quick-swap rechargeable batteries.  Recharge one while using the other to avoid any downtime. In addition, the 15-inch wide cleaning head provides better coverage in lesser time. Lastly, the 1.5-inch inlet port makes sure the vacuum can take care of all the large debris that commercial pools often face.
These features collectively come in really handy when you have to clean a pool that remains under extensive use. The filtration system of Water Tech Pool Blaster Pro Commercial is also worth mentioning.  Its built-in filtration system comes along with micro filter bags and reusable mash that can take care of all the silt and sand. 
Pros
Quick-swap rechargeable batteries ensure non-stop vacuuming
Wider cleaning head ensures more vacuuming in lesser time
Cons
Using it continuously can strain your back and arm
Homeowners may find it overpriced
We would strongly recommend this Water Tech product to all those users who have to take care of the formidable task of commercial pool cleaning.
Handheld design compatible with all standard telescopic handles
Vacuum head features bristles on both sides
Features removable filter
Kokido has designed its pool vacuum cleaner by keeping both the functional needs and convenience of users in mind. It's a lightweight, battery-operated vacuum cleaner that can be used with different telescopic handles in all sorts of pool constructions. So, use it as a pool brush without the hassle of handling power cable.
Sale
While plant debris is easily get sucked into the vacuum, there is some stubborn embedded debris (algae) that needs some agitation and ruffling beforehand. Kokido has made sure that you can also deal with this tricky pool waste with its Telsa 30 Pool Vacuum Cleaner. For that matter, the vacuum head features centipede-like bristles on both sides. These bristles scrub and loosen algae from the pool floor which is then sucked up into the vacuum.
The filtration apparatus of Kokido Pool Vacuum Cleaner also validates the convenience of its use. The filter is easy to remove and you can get rid of all the debris from it's with a simple water wash—there is no need to singly take out all the trapped waste.
Kokido Pool Cleaner is definitely a bang for the buck for all those people who want to take care of their pool cleaning without a bit of hassle. 
Pros
Cordless cleaning operation
2-in-action cleaning action (scrubbing and vacuuming)
Easy-to-use washable filter
Cons
Not ideal for extensive cleaning
Extended use can be quite tiresome
If your pool doesn't get decked with plant debris and slit every other day, then Kokido Pool Vacuum Cleaner will come in really handy.
Compatible with 1,600-ghp pumps
Features swiping rubber disk
A budget-friendly pool vacuuming option
If you are done with those hammering pool cleaners that make more noise and do less cleaning, then you are yearning for VINGLI Automatic Pool cleaner. It is a high-performance automatic pool cleaner that can be used with water filtration pumps of 1600-ghp with its scuff-resistant durable hoses.
Sale
The hoses fit perfectly to ensure no air leaks and pockets.  This way you can make the most of all the horsepower of the suction motor. It is important to mention here that the suction and filtration system of VINGLI pool cleaner is good enough to draw in all the dust, dirt, hair and all similar sediments that users manually get rid of by emptying out the entire pool.
Apart from its impressive suction power, VINGLI also features a high-quality rubber disk with toothed edges. This add-on helps the vacuum to work equally good on all different surfaces (concrete, vinyl, etc). Furthermore, its sweeping mechanism ensures that all stubborn debris can loosen up. In order to offer maximum satisfaction to consumers, VINGLI is offering its product with a worry-free guarantee.  
The cost-effective suction and scrubbing of VINGLI Automatic Pool Cleaners have earned it the tag of "#1 New Release" on Amazon, at the time of writing.
Pros
Scuff-free hoses are part of the package

Premium rubber disk ensures holistic pool cleaning
Cons
Not suitable for large pools
Automatic and robotic rovers and rangers pool cleaners are heavy on pockets. For all the homeowners who just want the pool cleaning job done, VINGLI appears as a cost-effective pool vacuum cleaner.
Features dual brush assembly
Features CleverClean programming of 2-hour vacuuming cycle
An Amazon's Bestseller
Comes with a 24-month warranty
This is the second Dolphin pool vacuum cleaner on our list. This one also has all the features that justify its position on the list of the best pool vacuum cleaners available in the market right now. For instance, it also has a base of continuous track that makes sure that vacuum remains in the right position throughout the pool without tumbling over corners and patterned floor. Moreover, the bottom of Dolphin Nautilus CC is fitted with two brushes that ensure all the tough algae and dirt buildups can be easily vacuumed.
The other good thing about Dolphin Nautilus CC Pool vacuum cleaner is that it doesn't maneuver on random paths. The vacuum is programmed via Clever Clean Technology that runs a 2-hour cycle of vacuuming with carefully planned steering to get 100% neat and clean pools.
Power cords often make the use of heavy-duty pool cleaners bothersome. New pool owners often get exhausted just in untangling the power cord of the vacuum to ensure it can cover the entire pool. Dolphin has used swivel-free cable technology for this hardwearing pool vacuum so that you can provide coverage to every nook and corner of the pool without constantly worrying about the tangled up wire.
With all its impressive features, Dolphin Nautilus CC is currently #1 bestseller in the category "Robotic Pool Cleaners" on Amazon. 
Pros
A programmed 2-hour vacuuming cycle ensures absolute cleaning
2 sets of filter cartridges take care of all small and large debris
Cons
A bit heavy on pocket
Some people might find it hard to operate
Pool cleaning features have reached their zenith with Dolphin Nautilus CC Pool Cleaner. Buy this state-of-the-art cleaner if you don't want to make any compromise on your pool cleaning.
Comes in 2-wheel and 4-wheel designs
Features multiple internal steering sequences (pre-programmed)
An Amazon's Choice product
Poolvergnuegen pool vacuum cleaners are hardwearing cleaner options that are available in 2-wheel and 4-wheel designs. It can be used with all standard pool pumps and in the pool sizes of up to 20 sq-feet. The construction of Poolvergnuegen Pool Vacuum Pumps indicates that the manufacturer has made it for extensive pool cleaning works. For instance, its patented self-adjusting turbine blades ensure optimal suction power at any flow rate and take care of debris of all sizes.
Moreover, the treaded tires in both 2-wheel and 4-wheel versions make it sure that the vacuum can easily climb walls and scale other obstacles. The treaded tires are accompanied by adjustable roller skirts. This combination makes sure that the suction power of the vacuum remains same on uneven surfaces.
The most striking features of Poolvergnuegen Pool Vacuum Cleaner is its many pre-programmed steering sequences. Unlike many vacuum cleaners that only maneuver on particular tracks, Poolvergnuegen's machines ensure complete pool coverage with its well thought out intricate programming of internal steering sequences.  
Poolvergnuegen Automatic Suction Pool Vacuum is available on Amazon and enjoys the tag of "Amazon's Choice" due to its impressive vacuuming features. The customer rating of 4.1-star also approves of Poolvergnuegen pool vacuum cleaners' reputed status on Amazon. 
Pros
Turbine vanes offer optimal suction for all sizes of debris
Equally good for small and large pools
Ideal for extensive cleaning work
If you are looking for a hardwearing pool vacuum cleaner that can work in all sorts of pools and against all types of debris, you can definitely go with Poolvergnuegen Automatic Suction Pool Vacuum.
Brief Best Pool Vacuum Cleaner Buying Guide 
The 13 best pool vacuum cleaners reviewed above have enough options to choose from if you are going to buy one right now. Nonetheless, we are going to share some important points and features that will help you whenever you will go to buy a pool vacuum cleaner.
Manual or Automatic
As you have noticed, our list of best pool vacuum cleaner is a mix and match of manual and automatic options. Both manual and automatic cleaners have their own advantages and downsides. For instance, manual cleaners are relatively cost-effective and allow you to put extra attention to some particular segments of your pool.
On the other hand, automatic ones offer quick and hassle-free cleaning that needed no supervision. Nevertheless, some automatic options are susceptible to miss some spots. So decide between an automatic and manual pool vacuum cleaner that is closer to your functional needs.
Corded or Cordless
Just as with picking either manual or automatic, you have to make a tradeoff while deciding from the corded or cordless pool vacuum options. Cordless cleaners are lightweight, easy to use and offer better coverage. But they are not that dependable with their battery-powered running time.
On the flipside, corded ones are hard to operate and often face coverage limitation due to cable size. However, they provide more reliable nonstop vacuuming operations.
Note
If convenience is the one and the only feature you are striving for, go for a cordless automatic pool vacuum cleaner. The robotic ones often have both of these features. We have also reviewed a couple of the above.
Suction Power
Continuous tracks, a comprehensive filtration system or a preprogrammed steering mechanism—all these features definitely add value to the function of a pool vacuum cleaner. However, you can't make the most of these features if they are not accompanied by the right suction power. Despite the good maneuverability and traction of the vacuum, it can't bring in desired results if its suction power is not good enough.
So, always keep the power rating of the suction pump at the forefront while sifting through pool vacuum cleaner options.
Coverage
Many users don't pay much heed to this feature while buying a vacuum cleaner for a pool. And they only come to know about its importance when they face difficulties in giving a complete cycle of absolute cleaning to their pools. Therefore, we would recommend you to factor in this feature at the time of buying.
If you are going for a corded one, then make sure that its power cable is long enough to cover your entire pool. Evaluate this distance by the nearby power outlet you are going to use. Similarly, when going to buy an automatic or robotic pool cleaner, confirm with the seller/manufacturer that it can cover your entire pool without needing any supervision.
Taking this seemingly small point into consideration at the time of buying will keep the use of pool vacuum cleaner entirely hassle-free.
Filtration System
A good quality pool vacuum cleaner must capture all the debris that stains the pool water.  The specs of a vacuum cleaner can easily give you the idea of how efficient is its filtration system. Moreover, you have to pick between bag-less and bagged filtration systems.  Bag-less filtration often comes in modern pool vacuum options. These pool cleaners have filtration chambers (often removable) that you can easily clean and make them reusable.
On the other hand, old pool vacuums come with filtration bags that require more extensive cleaning after every vacuuming. If you have a budget to spare, then we would strongly recommend you to go with bag-less filtration systems because of their hassle-free and more effective sieving mechanism.
Warranty
All reliable manufacturers offer their pool vacuum cleaners with certain time-bound warranties. Similarly, all parts that come with a pool vacuum cleaner product must be covered under this warranty. Products available with money-back guarantees and lenient return policies are worth buying because the manufacturers are pretty confident of their products' quality and thus present such attractive offers.
Answering Some Common Queries
Before we wrap up this piece, let's answer the common queries regarding the use of pool vacuum cleaners.
When to Vacuum Your Pool?
There is no definite answer to this question. If your pool experience extensive use and located in the middle of soft soil and shrubbery, then it is better to have it vacuumed once a week. Otherwise, you can give a 2-3 week gap between two vacuums.
Are Robots Better than Manual Cleaners?
Robots can be better than manual ones and vice versa. It actually depends on the setting in which you are using them. For instance, a programmed robotic pool vacuum cleaners prove to be really effective in cleaning small above-ground pools. On the other hand, typical large in-ground pools are taken better care of with heavy-duty manual vacuum cleaners. However, there is no hard and fast rule that gives precedence one option to the other.
When to Empty the Filter Chamber/Bag?
Empty it as soon as you are done with vacuuming. Many users often commit this mistake where they wait for the chamber/bag to get completely filled.  Having debris drying down in the filter can only corrode its surface and take a toll on the suction power of the vacuum. So, make it your habit to clean the filters no matter how less the collected debris is.
What to Do When the Cleaner Is Not Working?
If the cleaner doesn't rev even after doing the time-tested trick of switching it on and off, then we would strongly recommend you to refrain from doing any experiment. If this happens within the warranty, contact the seller/manufacturer. Otherwise, go to any seasoned technician who really knows to work on faulty cleaners instead of trying your luck on the vacuum head.
Pool water free of dirt and debris ensures healthy dipping and swimming and a good-quality vacuum cleaner plays an integral role in getting this dazzling sparkling water. We hope that this article with 13 product reviews and a buying guide will help you in getting the best pool vacuum cleaner for your exact needs and within your budget.
Related Articles 
13 Best Bagged Canister Vacuums 
10 Best Shop Vacs For Dust Collection
7 Best Xiaomi Vacuum Cleaners for Healthy Homes
13 Best Shop Vacs  | Buyer's Guide and Reviews
13 Best Vacuum for Stairs | Reviews and Buyers Guide
13 Best Robot Vacuums You Can Buy Under $200 
8 Best Robot Vacuums Under $150 | Reviews & Buyer's Guide
13 Best Backpack Vacuum Cleaners | Reviews & Buyer's Guide
13 Best Non-Electric Vacuum Sweepers 
Best Samsung Robot Vacuums| POWERBot Buyer's Guide
6 Best Vacuum Cleaners for Mattress That Promote Healthy Sleeping
19 Best Upright Vacuums with HEPA Filter| Reviews & Buyer's Guide
Dyson AM07 vs Dyson AM06 Fan Comparison
Shark NV682 vs. NV683 vs. NV752 | Upright Vacuum Comparison Review
Vornado 530 vs 630 vs 660 | Room Air Circulator Fans Compared
Bissell BigGreen 86T3 vs. BG10 | Carpet Cleaner Comparison & Buyer's Guide
13 Best Canister Vacuums for Pet Hair
ILIFE A4s vs. iRobot Roomba 690 Compared | Robot Vacuum Face-Off
Shark ION ROBOT 700 vs 720 vs 750 | Robot Vacuums Compared
ECOVACS Deebot N79 vs. N79s | Robot Vacuums Compared & Buyer's Guide
Lasko 7050 vs. U15701 vs. 655704 | Floor Fan Comparison
PureClean PUCRC95 Automatic Robot Vacuum Cleaner Review
Oreck Commercial ORB550MC vs. Orbiter Ultra Multi-Purpose | Buyer's Guide
iRobot Roomba 675 vs. 680 vs. 690 | Robot Vacuums Compared & Buyer's Guide
Bissell 9595A vs. 1831 | CleanView Upright Vacuums Compared & Buyer's Guide
13 Best Central Vacuum Systems
The Best Vintage Vacuum Cleaners To Collect
11 Best Wet/Dry Handheld Vacuum
13 Best Steam Cleaners for Hardwood Floors
6 Best Miele Vacuums For Cat, Dog, And Pet Hair
5 Best Central Vacuum Hose Replacements
12 Best Vacuums for Tile Floors
6 Best Central Vacuum Inlet Valve Replacements
14 Best Wet/Dry Handheld Vacuums
12 Best Robot Vacuums For Under $300
Aquabot X4 Robotic Pool Cleaner