Are you looking to make your swimming pool look more beautiful and increase its overall safety for you and your loved ones? You know that the best way to go about it is with pool lights.
Finding the right pool lights is not an easy task. If you have shopped for them, you will know that there are so many different types of them out there, and all of them have their own specifications. For those having a difficult time trying to figure out which pool lights they should get, we have just the thing for you.
Best Pool Lights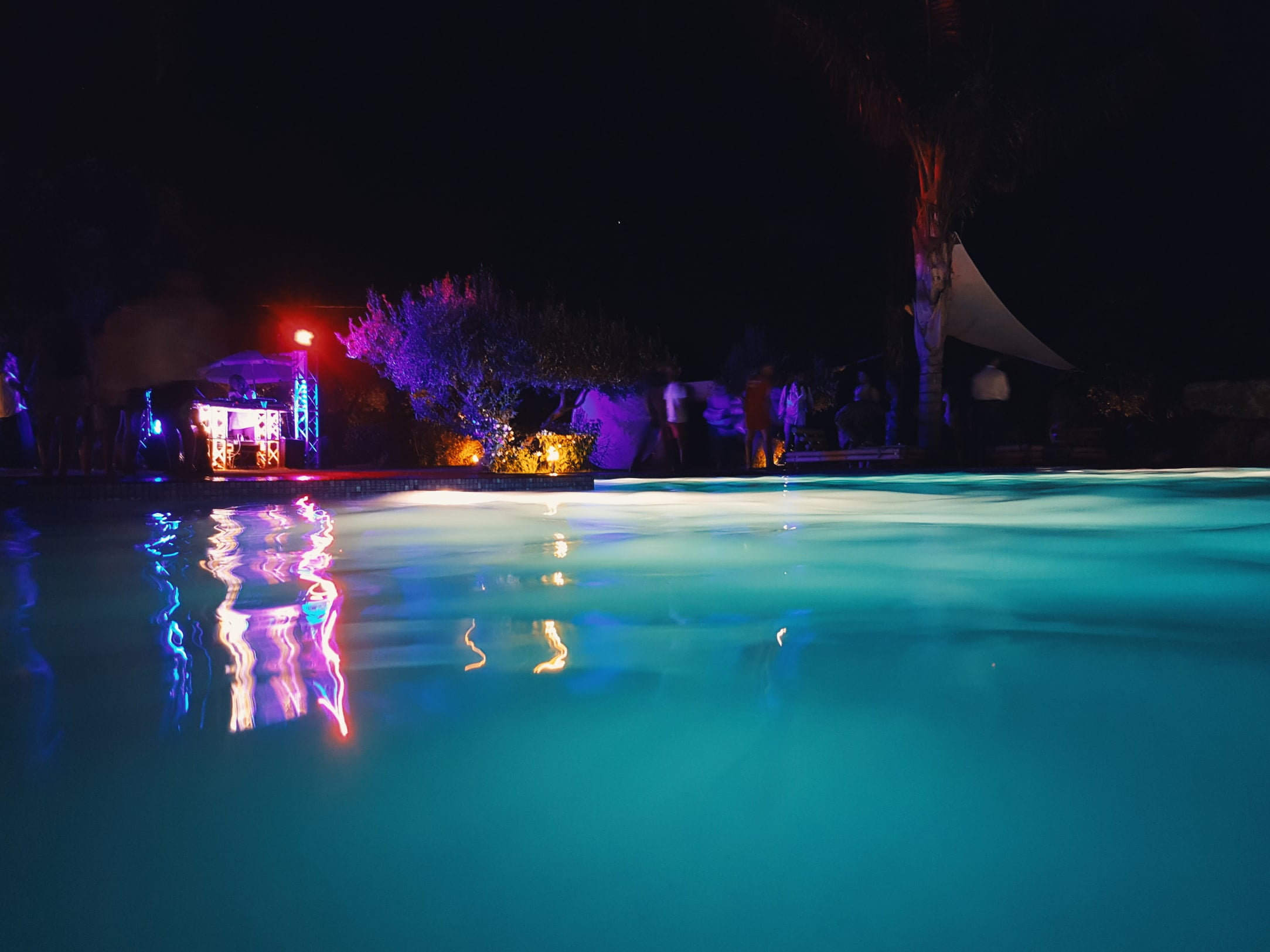 We have created a comprehensive guide on the best pool lights that you can spend your money on. In this buying guide, you will also see a list of reviews of some of the top pool lights, highlighting all their important features.
Furthermore, we have also mentioned some tips on how you should go about making the purchase and the most important features you should consider when buying pool lighting. Let us first take a look at the reviews of some of the best out there right now.
The best overall choice for pool lights you can get in 2022 is the Loftek LED Pool Light. Loftek is a company renowned for its lighting solutions all over your home. This is a company that was not going to be left behind when it comes to addressing your need for lighting in the pool. For homeowners looking for an upgrade in the pool lighting, the Loftek LED Pool Lights are a great investment.
These LED pool lights are made in the shape of a ball, but they do come in different shapes and sizes. There are 16 different light options you can choose from with four different lighting modes. You can change the settings using a remote control. The lights have a long battery life and they are all rechargeable. All it takes is a single charge and they will last the whole night.
The company markets these LED pool lights as eco-friendly. Considering the fact that they are free from any IR, UV, lead and mercury, we are inclined to agree with that. These LED lights are completely waterproof. Use them outside by your pool or within the pool itself. The 12-month guarantee gives you added peace of mind that you are getting a high quality product.

Pros
Eco-friendly lighting
Multi-purpose LED pool lighting
Comes in a wide range of shapes and sizes
Cons
Some customers found the lack of solar charging inconvenient
Take up too much space during off-season shelf storage
For all the homeowners who have above ground pools that do not have metal walls, finding the right pool lights can be very difficult. There are not a lot of options out there actively catering to that market, but Intex came up with an LED pool light solution that works well almost anywhere.
The Intex LED Pool Light allows you to place the LED lights on either side of the pool to create the perfect lighting solution. There is a back panel on the LED lights that sits outside the pool, while the light housing itself sits on the other side using a magnet. The light uses very little electricity, but produces a very bright light.
The best thing about it is that if the light housing ever detaches from the magnet for any reason, the lights will float in the pool. All you need to do is pick them back up and reattach them in a second. These are the ideal lights for use with above ground pools and the LED bulbs will last a very long time.  
Pros
Made keeping above ground pools in mind
Long lasting LED lights
Bright light despite low energy usage
Cons
Light housing can detach from the magnet
Not very useful for regular in-ground pools
For people who already have a pool light housing installed in their swimming pools and they need the best possible light to fit in there, WYZM might have the perfect solution for you. The WYZM Color Changing LED Pool Light is an ideal replacement for your existing pool lights.
Very easy to install, this LED light has a screw fitting, which can simply replace the existing pool lights. You have the option of 15 different colors with changing LED lights that can be used as smooth transitions between colors or fast changes. You can create any kind of mood you want with these LED lights.
The lights last a very long time and provide brilliant and bright colors for your swimming pool. It does require housing beforehand. If you do not already have housing for pool lights in your swimming pool, you should consider other options.

Pros
Multi-color lighting options
Long lasting pool lighting solution
A range of different settings
Cons
You need to have light housing within the pool already
Some customers face trouble with multiple lights
The second light ball for swimming pools that we have reviewed in this guide, we think you are really going to like the Mood Garden Deco Balls Pool Lights. These are a smaller solution and come in a pack of 12, which makes them great for pools of any size.
Each of the Mood Garden pool lights is LED housed in balls the size of baseballs. They can be placed all around the pool to make a safe area around the pool for good visibility. The lights have seven different options for the colors. You can choose to keep them on a particular color or program to change their colors periodically.
The lights are fully waterproof, so you can place them in the pool or beside it without a problem. They do take up quite a bit of battery power, which makes them less than ideal for a lot of people. That is also the reason why they are not at the top of the list.

Pros
Very compact design
Can be used for many occasions
Plenty of settings available to choose from
Cons
The lights don't stay on unless they are in water
Some customers have complained that the lights are not entirely wateproof
Pentair is another company that has manufactured a reliable solution for your swimming pool lighting needs. If you are looking for a few color-switching pool lights for the entire pool, you will be happy with the Pentair IntelliBrite 5G Color Underwater LED Pool Light.
This LED light comes with a whole housing unit that can be installed on the pool wall with fixtures. This can become a permanent lighting solution for your pool. The Pentair 5G is a particularly bright LED light, which has a high reflective design. The light reflects all the way to the bottom of the pool to increase the overall light intensity and create a more beautiful looking lighting effect in the swimming pool.
You can rotate the lens of the light and choose five different color options, which you can use to set the right mood for swimming. The control system for the lights is also very easy to use. It is a long lasting LED light and you will not find yourself looking for a replacement for a long time. You get the option of a 150-foot or 30-foot cord, depending on your needs, so you know you have a comprehensive lighting solution for the pool.

Pros
Long lasting LED light
Has a much higher intensity light beam
The lens can be rotated
Cons
Some customers reported that the light does not last more than a year
Only comes with a 30 day warranty by Pentair
Bentolin created the 120V Color Changing LED Swimming Pool Light to fit into the existing housing of the pool lights within your in-ground pool. This is one of the pool lights that we feel is perfect for use in a number of occasions to light up your pool. What makes them so ideal is that you can fit them into the housing that you already have for your old pool lights.
One of the greatest features of this LED pool light that we found is the fact that it gives you the option of having a proper lightshow within the pool. There are nine different lightshows that you can use to create beautiful lighting in the pool. The light also gives you the option of choosing a solid light from seven different color options.
This makes the light perfect for events where you can simply show off your pool. The LED lights offer you at least 65,000 hours of light and when the time comes to replace them, it is as simple as switching out the old one with a new unit without a hassle.

Pros
Offers nine different lightshows
Each LED light lasts at least 65,000 hours
Can be easily switched out with another unit
Cons
Some customers found the lights too dim
Some customers found the yer-long warranty too short for a promise of 65,000 hours
Hayward created a pool lighting solution for your swimming pool, which you will need to put in a bit of time and effort to install, but it is one that will give you a long lasting solution. The Hayward ColorLogic is a very decent LED pool light, which you should consider installing in your swimming pool. There are so many reasons for it.
The LED pool light comes with its own casing that is made using stainless steel. The material is rust resistant and very rigid so it will provide very good protection for the LED light it houses. It is a very low energy light that lasts 10 times longer than incandescent bulbs while giving you a greater brightness in the pool.
There are 10 different color options for you to choose from with these LED lights. You also have seven different lightshows to choose from, based on the kind of mood you want to set in the swimming pool. The fact that they are completely waterproof means you can install them below the waterline without worrying about the lights getting ruined. The stainless steel housing does not just give added protection to the light, it also makes the pool look better. You only need one or two of these to light up the pool because of their intensity.

Pros
Strong stainless steel casing
Permanent pool lighting solution
Very long lasting LED lights
Cons
Some customers found the 30 day return policy a very short time
Some customers complained that the lights do not last as long as advertised
If you are looking for a swimming pool lighting solution that will make the pool a lot more fun as it lights up when the sun goes down, GAME might have just the right thing for you. The GAME Solar Underwater Pool Light is an excellent solution for homeowners looking for a solar powered-LED light.
The fact that this is a solar-powered LED light immediately makes it one of our favorites on the list. Imagine not having to worry about installing power cords or replacing batteries every now and then. The LED light can save you a lot of money over time because of solar power.
The sealed housing allows the light to easily float on the water in the pool. Keep in mind that this is not one of the brightest pool lights you can get, but if you want a pool with a great lightshow, this is definitely the option to go for. The light turns on automatically when it gets dark and charges throughout the day. After every charge, it provides six to eight hours of continuous light so you can enjoy plenty of time swimming at night with decent lights on.

Pros
An excellent light show
Solar powered lights
Each charge lasts 8 hours
Cons
Does not charge properly if the sky is cloudy during the day
The light is not the brightest swimming pool lighting solution
9. Topist Submersible LED Pool Light – Best Temporary Lights
If you are looking for a pool lighting solution that will help see you through a particular occasion and does not require the hassle of installing permanent lighting, you might like the Topist Submersible LED Pool Light. You will not get fixed lighting, but you will get a great range of flexibility with lights that will last a very long time.
You can submerge these LED lights in the pool and control them using a remote. They are powered by three AAA batteries so you can keep them wherever you want within the pool without worrying about wiring or other factors for the placement. Just keep them where you need them. The remote control unit that comes with the light is a very cool feature. You can use it to switch them on and off as needed. You can even adjust the brightness and colors using the remote.
These are very stylish lights that can last a very long time. The AAA batteries can last 12 hours of continuous use, so if you are using the pool for around an hour every night, just three AAA batteries will last a very long time. You can even use the light elsewhere for parties or even in cabinets. It's a great investment for your pool.

Pros
Battery powered lights
No hassle with cables or installation
Versatile LED lights
Cons
Switching out the batteries can become annoying
Not a very bright light compared to others in the guide
10. Illuminorb Maxx Multi-Purpose LED Pool Light – Best Light Balls
Illuminorb's Mazz Multi-Purpose LED Pool Light is simply one of the best things we have come across while looking for swimming pool lights. This is a great lighting solution, which is something you can use both within the swimming pool and for a lot of other applications.
These light balls look amazing in pools and can make your swimming pool look absolutely stunning. There is a range of 16 different colors that you can choose from. These waterproof lights float on the pool and they also come with a remote control that allows you to choose the different color settings, based on your needs.
They are rechargeable lights that will last you the whole night on each charge. You will not have to worry about them dying out on you while the pool party rages on through the night. This is not the best idea when it comes to permanent lighting for the swimming pool because of the need to charge it, but you can use them again and again as much as you need.

Pros
Floating ball light
Plenty of colors to choose from
Easy to operate with remote control
Cons
You need to recharge them every time you use them
Not good for every day use
P&LED is another company taking up the LED pool light space industry and making the best of it by introducing excellent products for homeowners to consider. This is a pool light which you already need to have a fixture within the in-ground pool for. You can install this in a Hayward light fixture and it is very good for lighting up the whole pool.
One of the things we light about the LED pool light is that a single unit can illuminate a 25,000 gallon pool without the need of any other lights to help. It is a very powerful pool light that uses less electricity to save you on energy bills. There is a very useful remote control that allows you to change the lighting for different moods.
Another great feature of the light is its ability to detect water temperature. The light is adaptable for both DC and AC currents with a 12V connection. You can get multiple units and control them all using a single remote, though you will probably only need one – unless you have a very large pool of course. The one year long warranty gives you additional peace of mind from this long lasting LED light that is perfect for large pools.

Pros
Uses less electricity
Saves you on energy bills by using less electricity
Compatible with DC and AC 12V connections
Cons
Some customers found the Remote control to be problematic
Some customers found the color transitions too abrupt
If you are looking for a simple lighting solution for your swimming pool in white, you might want to consider the Bonbo LED Pool Bulb White Light that comes in the 35 watt range. This is an ideal pool light to get for spas, pools, low bay or high bay.
Able to light up a pool of 26,000 gallons without a problem, it is safe to say this is the perfect solution for providing safe lighting for your swimming pool. The amazing design of this product makes the light look brilliant in the pool.
The Bonbo LED light offers you at least 60,000 hours of sufficient pool lighting. It has a heat overload protection switch which turns off the light automatically if it ever gets too hot. You have to install it within an existing housing in your in-ground pool. That is not going to be a problem since the light is compatible with several light housings you might already be using.

Pros
Very bright LED light
Excellent for lighting up large pools
Compatible with different pool light housings
Cons
Lack of color options
You might want to get gasket sealer to make sure that it is completely waterproof
For a homeowner looking to replace the existing LED lighting in a large pool, you are in for a treat with the Bonbo LED Pool Bulb White Light 50W. A lot of homeowners install the incredibly expensive and high energy-consuming halogen bulbs in their pools because of the need for extra brightness. This LED light comes in as the perfect replacement for them.
This is a simple LED light which is a lot more powerful than your standard incandescent bulbs and provides you the same brightness of a halogen lamp while using a fraction of the power. If all you are looking for is a white light in your pool and you have a large pool, it does not get better than this one.
The 50 Watt version of the Bonbo LED Pool Bulb is more powerful and shines brighter to light up your pool. The fact that it uses less electricity and provides you at least 60,000 hours of service makes it a lot more affordable than halogen lamps which can burn out a lot faster and use more energy. This replacement pool light is compatible with a number of lighting fixtures, which makes it suitable for all types of swimming pools.

Pros
Very bright LED light
Compatible with a number of light fixtures
Perfect replacement for halogen pool bulbs
Cons
You might want to get gasket sealer to make sure that it is completely waterproof
There are no color options just a solid white light
Remote controlled lights that change colors based on pressing commands on a simple remote are a particular favorite for homeowners. In that regard, we found the Bolaxin Color Changing Swimming Pool LED Lights to be the best. They offer you a long time of service, gives you loads of different colors and make your pool look absolutely amazing.
The Bolaxin LED lights have a lifespan of at least 65,000 hours. There are 15 different settings that you can enjoy with them in the swimming pool. There are six solid color settings to choose from and nine different and beautiful light shows that you can go with. These LED lights are perfect for medium-sized swimming pools and they are compatible with existing swimming pool light fixtures.
The remote control enables you to easily switch between all the different settings. The light comes with a 20-month warranty, which is almost twice the amount of time the rest of the pool lights come with.

Pros
Beautiful lightshow settings
Ideal for medium sized pools
Comes with a long warranty period
Cons
Some customers found remote difficult to operate
Not the best option for larger swimming pools
If you are looking for a simple LED light for your swimming pool that you can use to replace existing lights and get a decent and well-lit pool, you might want to go for the E-Cowlboy Pool Lights LED. This is a pretty simple and easy fix for someone looking to get a lighting solution and replace their existing pool lights.
The E-Cowlboy pool lights are compatible with most of the LED light housings on the market and provide sufficient lighting for a pool about 24,000 gallons. The product comes with built-in overheating protection and a cooling fan that makes sure you get the most of this LED light.
The manufacturer is so sure of its product that it provides an 18-month long manufacturer's warranty with the product.  The LED light also saves you a lot on your energy bills since it uses less electricity for greater brightness.

Pros
Compatible with different light housings
Easy to use LED lights
Lasts a very long time
Cons
No color options to choose from
You might actually find yourself claiming the warranty
Do you already have a decent enough lighting in your pool but there are a few dark areas in the pool in that are simply too difficult to light up? Instead of getting bigger lights or increasing the number of lights, you might want to think smaller and smarter. Why use more electricity with bigger lights to light up a small area in the pool when you can get a microlight that will do the same job with a lot lower energy consumption?
The S. R. Smith FLED Treo Micro Pool Light is one of our favorites in the entire guide because they are different from the rest of the products we have reviewed. This is something anyone can use for their pools. Perfect for lighting up tiny and hard to light areas in the pool, you can also use these for the pool steps or as accent lighting.
The bulbs come in both the simple LED and RGB LED versions. You can synchronize them with the Smith's light beam water features as well. These lights can be controlled using a remote and they provide you a decent lighting to make your pool look even better without using a lot of electricity. Use the remote control to switch between colors to get the kind of lighting you want.

Pros
Ideal for lighting up hard to light spaces
Comes with a remote control
Does not use a lot of electricity
Cons
It is too easy to change the color setting by mistake
Not very good other than for decorative purposes
If you are looking to get a powerful LED pool light, which will get you very good value for your money, Toveenen might have a good solution for you. This is one of the most powerful LED lights that you can get for your swimming pool. Two times as bright as standard LED pool lights, you will need just one of these to light up a medium-sized pool.
You can use this as a straight-swap replacement for your standard swimming pool light as it can be used in the existing housing within the in-ground swimming pool. The light is powerful and also features 16 different color modes that you can choose from using a remote control. The color memory makes sure that the color that the light had when you switched it off is the same when you turn it on again.
The product comes with a 2-year warranty that will give you additional peace of mind. The lower consumption of energy will save you a lot on your energy bills and you get the premium features of a color-changing LED light for a more reasonable price range.
Pros
Color changing LED light
Color memory feature
Twice as bright as standard LED
Cons
Some customers found that they will have to use the warranty
It is better to use a sealing gasket to keep it waterproof
Are you looking for LED pool lights that you can install easily, get plenty of color options and get a product that will last you a very long time, this product by Bulbwizards might just be right down your alley. Equipped with seven different colors, you can choose from four different speed settings for how the colors switch between each other.
The bulbs themselves are rated at a remarkable 100,000 hours and they use only 30 watts of energy. Do not think that their low wattage rating means anything about their ability to light up your pool. They offer the same brightness that a 400-watt incandescent bulb can give you for your swimming pool. The installation is very simple and the installation kit comes with a very easy to follow guide.
The only thing you might not like about the light is the fact that the red and yellow colors are not as bright as the rest of them.

Pros
Long lasting solution
Easy to install lighting
Very energy-efficient LED lights for your pool
Cons
Red and yellow colors are not very bright
They have been known to get damaged easily
If you are looking for a pool light that does not come from a big brand name, but it is able to perform its function really well, the TOP Color Changing Pool LED Light is a very good product to go for. The 58 different color changing effects make it one of the most diverse pool lights you can get.
Suitable for medium-sized pools, they can easily illuminate a 20,000 gallon pool. That is quite impressive considering the fact that they use only 35 watts. These lights are very easy to install and they can be fitted into most screw fitting underwater light housings.
The remote might cause you a bit of a problem. Some users have complained that the remote becomes effectively useless when you fit the light underwater. You might just find yourself using a ziplock bag to use the remote underwater for changing the settings.
Pros
58 different lighting color options
Easy to install light
Compatible with most screw lighting fixtures
Cons
Some customers found the remote to be useless after installation
Some units have been found to malfunction after a while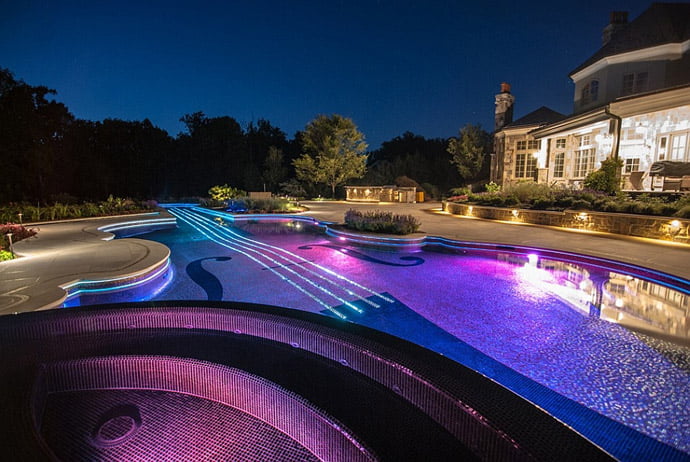 LED Pool Lights Buying Guide
Now that you have some detailed reviews about some of the best LED pool lights you can get in the market, you might be wondering there are way too many options to choose from. This is why we have made this part of the guide to help you make a better decision. You already know the specs that the different models have to offer, now read about the factors that can help you decide which one is better suited for your needs.
Is it easy to install?
Generally, you will find that pool lights are very easy to install. Most of them come with the set of instructions that will help you install the lights within your pool without a lot of hassle. Some low quality models, however, can be quite difficult to install. Note that all the light bulbs might not be suitable for the kind of housing you have in the pool and that is a very important thing to consider.
Make sure that you get LED lights that are easy to install and that they are able to work with the lighting fixtures in place within your pool.
How bright is the light bulb?
How bright a light bulb is one of the most essential things you need to consider when you are selecting an LED light for your swimming pool. Pool lights have just one job: they need to illuminate the swimming pool at night. It is useless having a swimming pool light that will not help you see the pool better at night.
There are some micro LED lights that are used for accent lighting. They have lower brightness and will not illuminate the entire pool, but you need to know about these things and what purpose you need the LED light for before you decide to buy it.
What features do I want?
Swimming pool lights are filled with a lot of features now. A lot of homeowners just want to get something that will properly light up the pool, but LED pool lights nowadays can give you so many options. One of the most common (and sought after) features is the color changing lights.
This might not be the most ideal option for some people, but a lot of homeowners can appreciate multi-color options for occasions. Another feature could be the ability to dim the lights. If you have any specific requirements for colors or brightness, you should check out the extra features on a model before you purchase it.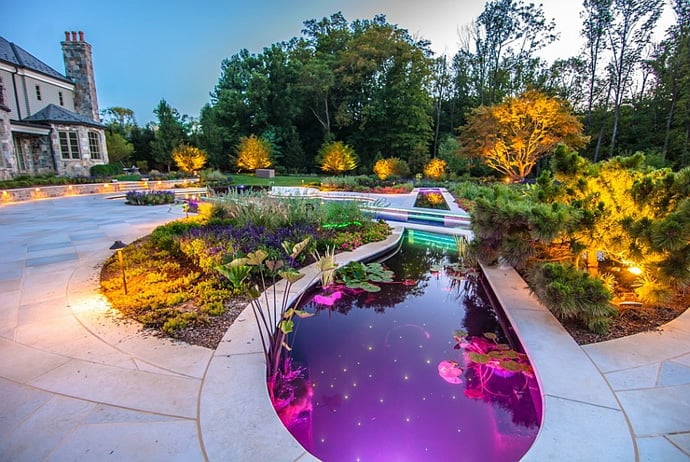 How efficient is the light?
Anything that uses electricity will eventually add to the energy bills you get at the end of the month. Pool lights in the past used to be infamous for causing a spike in your energy bills – halogen lamps being the most energy-consuming ones out there.
The thing with all of the models that we have reviewed in this guide is that they are all LED pool lights. This means that you will not need to worry a lot about your energy bills with any of these installed.
How durable is the light?
It is no use getting pool lights if they will not last very long. What good is a pool light if it lasts for just a couple of hours? Make sure that you check out the ratings of the LED lights that you are considering and how long they can last. Those that last longer than the others will typically cost a lot more. Ensure that you get a model that will last you a very long time of service.
Tips on Lighting Your Pool
When you add lights to your swimming pool and the surrounding areas, it will make the pool look more beautiful at night and it will make it safer by allowing you to see properly. You do not want to misstep because you couldn't see after the sun goes down, right?
Here are some tips on lighting your pool area. This might help you make a better decision on which model to get for your swimming pool.
Lighting in Your Pool
Installing lights within the pool underwater can transform the pool. You can easily customize and spread them out in a way that you can properly see every inch of the pool underwater. You can use the lights to create different moods by using different colored lightings.
Lights within the pool are typically installed in the pool walls for in-ground pools. Some are installed under the coping or even in pipes to provide the illumination and beauty that homeowners want in their pools.
Lighting Around Your Pool
Instead of focusing on installing lights just within the pool, you should consider getting lights and install them around the pool as well. Perhaps, consider low voltage lights that will help enhance the look of the pool area. Accent lights on the pool steps or in hard to light areas near the pool can add more safety and improve the overall atmosphere around the pool.
Conclusion
Your swimming pool is a vital part of your home. You should make sure you do your homework and only get the best lighting for your swimming pool so that you can make the best of your swimming pool.
We hope that this guide will provide you all the information you need to narrow down your options to find out which one works the best for your swimming pool needs.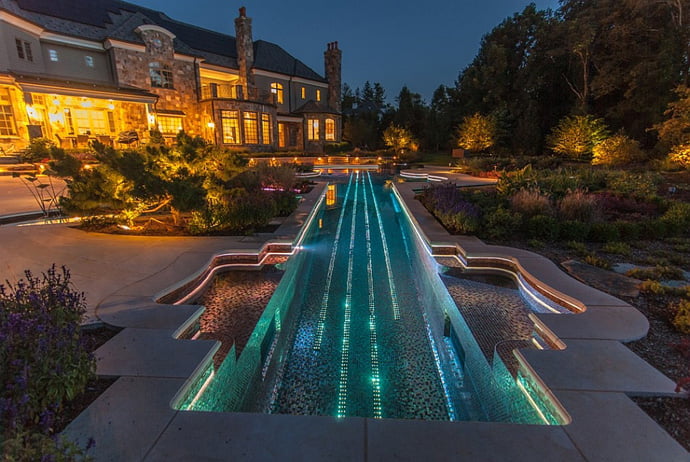 Related Articles
5 Best Above-Ground Pool Pad | Buyer's Guide and Reviews
5 Best Epoxy Pool Paint | Buyer's Guide and Reviews
10 Best Pool Cover Pumps  | Buyer's Guide and Reviews
Learn How to Install a Spa Cover Lifter
Dolphin M400 with Caddy Review & Buyer's Guide
Learn How to Keep Chlorine Levels Up In Your Pool
9 Best Liquid Pool Covers and Why You Need Them
13 Best Chlorine Tablets for Swimming Pools | Reviews & Buyer's Guide
13 Best Salt Water Chlorinators 
13 Best Pool Volleyball Nets to Enjoy This Summer
39 of the Best Pool Toys to Enjoy this Summer
13 Best Pool Test Kits | Reviews & Buyer's Guide
13 Best LED Work Lights | Buyer's Guide and Reviews
13 Best Solar String Lights for Sustainable Designs | Buyer's Guide
5 Best Auto Chlorinators for Pool 
9 Best Above-Ground Pool Ladder
11 Best Deck Box For Outdoor Storage
Aquabot X4 Robotic Pool Cleaner