Having a pool in your abode is a domestic blessing one should be thankful for. A pool creates an opportunity to add physical activity to your stale daily routine in an interesting and effortless manner. It also becomes a buzzing place when arranged and decorated with the right outdoor furniture.  
However, a pool is as good as the way you take its care. And you can only make the most of your pool if its hygiene is maintained with the utmost diligence. In summer, when there is plenty of sunshine, pools become a breeding and thriving place for algae and mold. If not taken care of, this seemingly harmless microorganisms can mess up all your swimming experience.
This is where you will find the use of pool brushes really useful. They are an inexpensive yet effective alternative to keep your pool clean. They take care of the algae problem by scrapping it from the surfaces and breaking it down into smaller pieces. These little bits of algae and mold float on the water and are eventually sucked by the pool filter.
Besides taking care of algae, pool brush also comes in handy to deal with chemical stains on the pool walls.  In short, if you have a pool then you should definitely have a good quality pool brush to keep your swimming and dipping place in a hygienic and swimmable condition.
Best Pool Brushes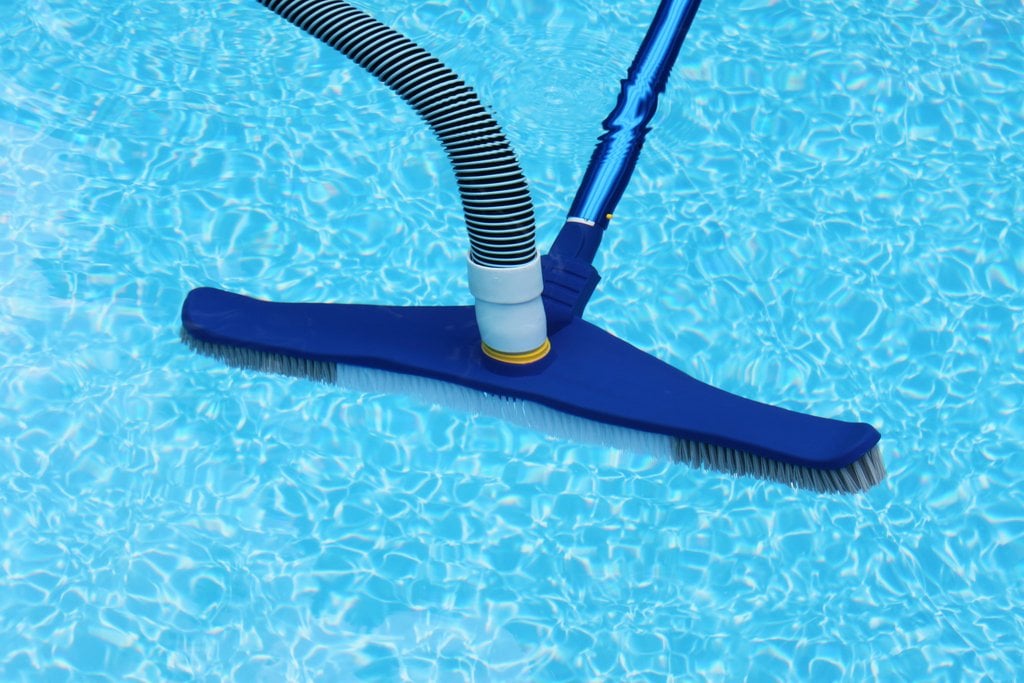 So, here we are going to review 13 of the best pool brushes available in the market right now. We will also discuss several other aspects of buying and using a pool brush. Keep reading!
Poly bristles

Wide bristle frame (18")

An Amazon's Choice Product
Blue Devil Pool Wall Brush is a basic pool brush that gets the job done. People who have used this pool brush consider it ideal for vinyl pools. Its poly bristles are the reason why it can be used on vinyl surfaces. The bristles are hard enough to clean moss, algae and chemical stains without scratching the vinyl finish. It is equally good on wooden surfaces as well.
Sale
Apart from bristles, the other features of Blue Devil Brush also make it a good-quality pool brush. For instance, the bristles are fixed in a reinforced metal frame to ensure durable use. Moreover, the attachment handle is also made of heavy metal and has a push and snap latching mechanism, compatible with the most standard size telescoping poles.
Lastly, the curved corners of the frame ensure that you can easily use it around the edges and tight corners of the pool (stairs, etc).
With reasonable price, it ends up earning the tag of "Amazon's Choice" and rightly so. 
Pros
18" wide bristle frame ensures quick sweeping and cleaning

Poly bristles are ideal for vinyl surfaces
Cons
Bristles wear down too quickly

Tight arrangement of bristles doesn't guarantee complete cleaning of tricky spots in the pool
Nylon bristles

ABS frame with metallic reinforcement

Curved bristle assembly
Milliard has introduced different types of pool brushes and two of them have also ended up in our list. First, let's have a look at the nylon pool brush of Milliard. To begin with, it offers the same sweeping coverage as the Blue Devil one. Similarly, the nylon bristles are particularly used to take care of vinyl pool linings.
Vinyl is easily get scratched and paint on it is easily scrapped if you rub it with a hard-bristled brush. Nylon bristles have the right balance of hardness and softness. The gentle touch of these bristles doesn't scratch the vinyl surface, but their toughness is enough to scrape the algae and moss growth.
The construction of Milliard Nylon Brush is also well thought out. The bristles are housed in an ABS frame that is then attached to a metal frame. Moreover, the frame is curved at both ends so you can easily reach the tight corners of pool steps.

Pros
Curved frame ensures absolute pool cleaning
A cost-effective nylon brush option
Cons
The bristles could be arranged in a more effective manner
A heavy-duty pool brush
Hybrid of wire and nylon bristles
An Amazon's Choice product
The second Milliard pool brush on our list is a heavy-duty version of the product we have discussed above. Instead of all nylon bristles, it is actually a combination of wire and nylon spikes. Milliard has designed this pool brush to particularly deal with those stubborn algae buildup where poly bristles and only-nylon brushes are unable to produce desired results.
This hybrid bristle formation is housed in an aluminum-ABS frame with the attachment angled at 45 degrees to offer streamlined cleaning. It is important to mention here that this pool brush is not ideal to rub on vinyl linings.
This Milliard product has earned the tag of "Amazon's Choice" in the category "heavy-duty pool brush". 
Pros
Effective hybrid of wire and nylon bristles get rid of tough algae buildups and stains
Aluminum-ABS housing ensures extended use
Tail extension to exert additional pressure
Can easily be used by seniors
An Amazon's Choice product
No matter how good a pool brush is, you have to engage both of your hands to use it. Using long-handled pool brushes with both hands put a lot of strain on the back. And it becomes more cumbersome when you have to deal with some stubborn algae patches and stains.
Sale
The Wall Whale Classic has outplayed its competitors by introducing a pool brush that needs a one-hand application. The manufacturer has done it by attaching a 'tail' at the top of the brush frame. This flap can be adjusted at various angles to exert 10 times more force when you push down the brush.
With The Wall Whale Classic Swimming Pool Brush, you don't need to hold the brush against the pool wall with one hand and use your other hand to move it up and down. The tail of the brush will take care of it.  
Due to this innovative feature, this pool brush has deservingly earned the tag of "Amazon's Choice" in the category "pool wall brush".

Pros
Tail flap ensures one-hand use of a long pool brush
Flap also cuts down cleaning time
Cons
The tail can't let you use the brush on crevices and other tight spots
Tail connection to the frame is somewhat loose
Spoiler-shaped frame
Poly bristles
No moving part in the frame
SweepEase has designed its pool brush on the blueprint of a car spoiler, and not just to make it look stylish.  The spoiler-shaped frame of SweepEase Poly Brush actually streamlines its cleaning activity. It actually adds 5 to 10 pounds of more pressure to every thrust you make with the brush. Moreover, it ensures that the brush slides back with minimal resistance.
Sale
This brush of steel-frame and poly bristle is really good against calcium and sodium stains. Not to mention its effectiveness against algae buildups on concrete and stone linings. The other good thing about SweepEase is that its assembly doesn't have any moving parts, which automatically extends its operational life.
This spoiler-like pool brush is available on Amazon with an impressive 4.3-star customer rating.
Pros
Spoiler-shape adds more pressure to the downward push
Long bristles at both ends help in cleaning pool corners
Cons
The pole clip is a bit loose
Non-abrasive bristle frame
For both in-ground above-ground pools
All plastic body
Usually, concrete and vinyl or fiberglass pools have their own different cleaning brushes. In the above reviews too, we have seen how poly bristles are usually considered good for vinyl surfaces and nylon and wire bristles are used for concrete, tile and stone surfaces.
Aqua EZ has got around this limitation of a pool brush and introduced a product with rubber bristles and non-abrasive housing.  Whether it's concrete or vinyl lining, Aqua EZ pool brush is equally good for all sorts of pool surfaces. The other good thing about Aqua EZ is its all-plastic construction. The manufacturer has completely ruled out the chances of corrosion by using strong plastic mold in the construction of its frame and pole clip.

Pros
Ideal for all sorts of pool linings
Also good for debris removal
Cons
Some may find it hard to adjust its clip-lock system
An Omnidirectional pool brush
Soft bristles for vinyl and fiberglass surfaces
Equally good for moping of the pool floor
Blue Wave Wall & Floor Pool Brush has ended up on our list for its outstanding feature of 360-degree arrangement of bristles. It is, in fact, a cylinder of soft bristles mounted on a metal frame. Its steel clip can be attached with any standard-size pole with an easy-to-use push and snap lock. It is important to mention here that Blue Wave has designed this product particularly for plastic and fiberglass pool liners.  
Sale
The omnidirectional bristle arrangement leaves no space for any sharp edge on the brush. So, its use doesn't entail any scratching and abrasion at all. Moreover, the soft bristles on all sides make it quite a handy option to clean pool corners and algae buildup in the pits of steps.

Pros
360-dgree bristle arrangement guarantees effective cleaning of curves
Absence of rough and sharp edges ensures scratch-free operations
Cons
Bristles wear down at a rapid pace
Not ideal for tough algae buildups
A hardwearing pool brush
Comes with three replacement V clips
An Amazon's Choice product
If you have a concrete pool then you will be aware of how hard it gets to get rid of algae stains from it. AquaAce has introduced a pool brush that can help concrete pool owners to have a hassle-free cleaning routine. AquaAce Pool Brush is a rugged construction of aluminum handle that contains the combo of nylon bristles and stainless steel wires.
This sturdy combination gives impressive cleaning results on concrete surfaces. You can also use them on stone linings but with a gentle hand. However, refrain from using it on vinyl and fiberglass linings. Like any good quality pool brush, the frame is also curved at the ends to take care of corner cleaning.
The product is available on Amazon and enjoys the tag of "Amazon's Choice "in the category "concrete pool brush".
Pros
Versatile enough to take care of both chemical stains and algae buildups
Offers greater sweeping coverage
Cons
Can't be used on fiberglass and vinyl finishes
A nylon brush with EZ clip handle
Comes with a 100% satisfaction guarantee
An Amazon's Choice product
U.S. Pool Supply has been around for a while offering quality pool accessories. It has introduced a pool brush that has all the features that you look in any functional pool wall and floor cleaning brush. To begin with, it has an 18" wide frame that is fitted with five rows of nylon bristles. The frame is made of the combination of plastic and aluminum, which doesn't just keep its weight light but also ensures needed durability.
Sale
Similarly, EZ clip allows you to attach the brush with all sorts of pole sizes without injuring your hand. Like any top quality pool brush, U.S. Pool Supply is equally good against algae and calcium buildups.
The tag of "Amazon's Choice" also vouches for the high quality and utility of US Pool Supply Pool Brush.
It comes with a 1-year 100% satisfaction guarantee.

Pros
Wider bristle frame ensures quicker cleaning
Nylon bristles are equally good on all surfaces
Cons
Not ideal to clean curves and corners
Fitted with a patented collar
Pro Grit bristles for heavy-duty use
All-plastic body
Truth to be told, pool brushes with metallic parts are bound to wear down before their prescribed service life. The constant exposure of water with metallic parts eventually set off corrosion no matter how good the rust-free coating is. This is the reason why many homeowners prefer non-metallic pool brushes even if they have to make some compromises on their functionality.
Oreq has introduced a pool brush product that caters to all those users. It is an all-polymer body having a patented SpeedLock collar. This state-of-the-art collar let you have pole attachment with the needed flex and bend you require during cleaning.  
Moreover, the plastic frame contains Pro Grit bristles that can work against all sorts of algae, chemical and dirt buildup. The frame has curved edges that are specially fitted with long bristles to get to all those tight corners around the pool steps.
The product is available on Amazon and enjoys 4.5-star (out of 5) customer rating, which further puts the seal on the supreme utility of Oreq Pool Cleaning Brush.

Pros
Involves 0% corrosion
Pro grit bristles are equally good for concrete and vinyl surfaces
Cons
Not that good for spot cleaning
Stainless steel bristles
10" wide bristle base
Comes with attach and release V-clip
This pool brush bears one of the simplest constructions. However, its usefulness lies in that simplicity. This 10" wide pool brush has stainless steel bristles fitted in a tough plastic housing that is attached to an aluminum frame. The main function of this hardwearing pool brush is to deal with all those stains and algae/moss growth that embed into the concrete lining of the pool.
If you are using a brush with nylon or poly bristles to get rid of concrete pool stains, then we would strongly suggest you to change your approach and go with this all-stainless steel bristles brush option. With lesser effort, you will be able to get better results.
This heavy-duty pool brush is available on Amazon at a very reasonable price.

Pros
Gives extremely good results for tough concrete pool cleaning
A cost-effective steel-bristle brush
Cons
The bristle frame could be wider
Not suitable for vinyl and fiberglass linings
Top-quality plastic material
A lightweight pool brush
100% corrosion-free
FOONEE Hard Nylon Pool Brush is a high-quality plastic product. The entire body of the brush is made of ABS plastic mold. From bristle frame to pole handle, not a bit of metal is used to keep the brush a corrosion-resistant, anti-oxidant and non-discoloring product.
No products found.
It has a 10" frame with hard nylon bristles that make sure you can use them on vinyl surfaces without inflicting scratches. Meanwhile, the hardness of bristles is good enough to take care of all sorts of stubborn algae growth. What we find striking in FOONEE pool brush is the arrangement of bristles.
You can see there is considerable spacing in between the bristle bundles. This spacing actually improves the agitation action of the brush when you rub it on algae-infested surfaces.  
To provide the optimal force arm, the plastic handle of the brush is fitted at 45 degrees. You can fit any standard telescopic pole in it as per the size and dimensions of your pool.
Pros
Robust ABS construction ensures an extended service life
Hard nylon bristles are good on both fiberglass and concrete surfaces
Cons
The bristle frame is quite small
Designed for plaster and in-ground concrete pools
Tough ABS plastic frame
Comes with V-clip handle connection
A thin greasy layer of algae eventually covers the entire concrete pool floor if you don't clean it regularly. This slimy algae-infested floor doesn't just increase the slip hazard manifold, but it also affects the quality of time you spend in the pool. The slimy touch of algae even drives many people out of the pool.
No products found.
If you are facing such extensive algae problem, then get BLILI New Pool Cleaning Brush. It's a compact pool brush with a plastic frame and stainless steel bristles. This material combination ensures that the brush doesn't feel heavy on the hands. You can easily take care of your 15,000-gallon pool with BLILI Pool Cleaning Brush in a single go.

Pros
A lightweight steel-bristle brush
Usable with all standard pool and spa telescopic poles
Cons
May scratch vinyl and fiberglass finishes
Bristle frame is not large enough
Why You Should Own a Pool Brush
With the introduction of automatic pool cleaners, many homeowners have started thinking that it is good enough to keep the pool in sparkling condition. Automatic pool cleaners have streamlined the cleaning of large pools. But it is important to understand that they don't work in isolation.
Pool brush, for instance, lends valuable help in taking care of a pool in a more effective manner for these three reasons.
 It Breaks Down Algae Buildups
Algae stain water. It permeates a strange odor to it. Its growth on pool walls and floors makes them slippery. In short, it is critical to get rid of algae from your pool as soon as possible. A good-quality brush can't stop algae and moss from reproducing, but it can help you in their timely culling. If you are regular with the use of a pool brush then there is no way that algae can bring about all the aforementioned problems.
 They Clean Chemical Stains
Have you ever noticed faded tile colors on the pool wall? This discoloration usually happens due to the reaction of sanitization chemicals you use in the pool water. Although these stains don't affect the functionality and service life of the pool, they still tarnish the clear blue look of it. If you have a routine of rubbing and scrubbing the pool walls and floor with any good-quality pool brush, these chemical stains won't develop in the first place.
 They Prevent Chemical Damages
Chemicals and other elements in pool water don't just cause stains. Some elements can also cause damages to pool construction. Let's take the example of calcium. It is present in the pool water and gradually starts building up on the pool walls to cause pitting and chipping.
People who don't use pool brushes often get to know about this issue when the damage has already been done. Any good quality pool brush is also pretty good in taking care of invisible chemical buildups that can eventually cut down the operating life of your pool.
 Factors to Consider While Buying a Pool Brush
The above list of 13 best pool brushes has enough options for you to settle on one for your particular pool cleaning needs. Nonetheless, one should have a general idea about buying the right type of pool brush. For that matter, we are going to discuss a short buying guide here.
The following points will be of great use whenever you are going to buy a pool brush for your unique pool cleaning requirements.
 The Handle or Head of the Brush
It is the elongated part of the brush that houses the bristles. Whenever you are going to buy a pool brush make sure that its handle or head has the following characteristics.
It should be strong enough to keep the bristles in place under the powerful thrust of water
It should be lightweight so you can easily use it throughout the pool without straining your hands, arms, and back.
Aluminum heads have these both characteristics. They are durable and hardwearing and as well as lightweight. This is the reason why the majority of pool brushes we have reviewed here bear aluminum reinforcements.
Hardwearing plastic is another material option that you can consider for handle/head of the pool brush. For example, ABS molds have this unique combination of tough application and lightweight that a pool brush should have.
 The Bristles of the Brush
This is undoubtedly one of the most critical features one has to consider while buying a new pool brush. At the onset, make one thing clear: you have to select the bristles according to your pool type. For instance, if you are looking for a brush solely for vinyl and fiberglass pools, then remain settled on poly bristles since they leave no scratches on their soft finishes.
On the other hand, nylon bristles are considered good for concrete, stone and all different polymer and fiber surfaces.  Steel wired brushes are particularly designed for concrete and plastered pools where algae are strongly latched to the surface.
You can also find the hybrids of steel wires and nylon bristles in some brushes (we have also reviewed some). These combo bristles are used to get rid of stubborn algae from all sorts of pool constructions.
If you are not sure what bristle material you should pick for your pool to get rid of algae and stains without damaging its lining, then nylon is the safe bet since it is good on all surfaces.
Here the size of the brush means the width of the bristle frame. Usually, the 18" bristle frame is considered ideal for all pool sizes. Its wider sweeping coverage ensures you can wind up the pool walls and floor cleaning in the least amount of time.
On the other hand, 10" and even 5" bristle frames are available. Go for these small and compact brush options if you need a brush for the spot cleaning of your pool.
 The Shape of the Bristle Frame
Rectangular bristle frames are the most common in the market. They offer required cleaning work in the simple square and rectangular pools that don't have many construction features. However, if a pool has some non-planar curved shape along with steps and breaks, then go for a frame that has an arched shape and is also fitted with extra bristles.
You may not find this feature of any importance right now. But believe us getting a pool brush with the right bristle frame shape will save you from buying another smaller brush for difficult pool corners and edges.
 With Pole or Without Pole
Many first time buyers might find it strange that all the products we have discussed here don't come with long handle poles. Poles are not included in the package because they only make shipping cumbersome and expensive.
Moreover, poles don't play any decisive role in the application of a pool brush. It's the head and bristles that matter. So, we would also recommend you to order a pool brush without a pole to keep its price low. Instead, go with telescopic poles that you can easily find in any nearby hardware store at a very reasonable price.
 The Service Life of the Brush
Let's face it: A brush that has to be used underwater to strongly chafe algae and chemical-laden surface can't last for years no matter how top of the line it is. Even the premium quality pool brushes can't survive more than a couple of seasons. And budget pool brushes breathe their last in just a few months.  
So, if it happens with your pool brush, don't proceed to think that you have been duped. It is pretty common to have pool brushes with limited service life.
We hope that this comprehensive buying guide along with the objective reviews of 13 of the best pool brushes available in the market right now can help you in easily picking the option tailored for your pool cleaning needs.
Related Articles
5 Best Above-Ground Pool Pad | Buyer's Guide and Reviews
5 Best Epoxy Pool Paint | Buyer's Guide and Reviews
10 Best Pool Cover Pumps of 2022 | Buyer's Guide and Reviews
Learn How to Install a Spa Cover Lifter
Dolphin M400 with Caddy Review & Buyer's Guide
Top Tier APEC vs. iSpring RCC7 | Water Filtration Systems Compared
Learn How to Keep Chlorine Levels Up In Your Pool
Aquabot X4 Robotic Pool Cleaner Review | Buyer's Guide
13 Best Pool Heaters of 2022 | Buying Guide
11 Best Pool Handrails of 2022 + Buying Guide
9 Best Liquid Pool Covers and Why You Need Them