Looking for the best, inexpensive alternative to epoxy resin? Consider using polyester resin for stunning results without burning a hole in your pocket. 
Those who have previously experimented with epoxy resin know the versatility of the material. It can be used for creating various structures – from swimming pools to jewelry and much more. 
That said, epoxy resin can be expensive and quite tricky to work with, especially for beginners. If you are looking for an alternative, consider the next best item- polyester resin. 
Polyester resin works as well as epoxy without you breaking the bank. Moreover, it is durable, versatile, and has water-resistant properties. 
Looking for the best polyester resin for your DIY projects? Look no further. We have curated a list of the top 3 polyester resins you can experiment with. 
Without further ado, let's get straight to the deets!
Best Polyester Resin
IMAGE
PRODUCT
DETAILS

Our Top Pick

Our Top Pick

Bondo 3004.7879 Fiberglass Resin

0.9-gallon
Waterproof formula
Compatible with all paints

VIEW LATEST PRICE →

TotalBoat Polyester Laminating Resin

1-quart
Does not contain wax
Ideal for laminating and repairs

VIEW LATEST PRICE →

True Composites Polyester Fiberglass Resin

1-gallon
Compatible with fiberglass
Grade A ingredients

VIEW LATEST PRICE →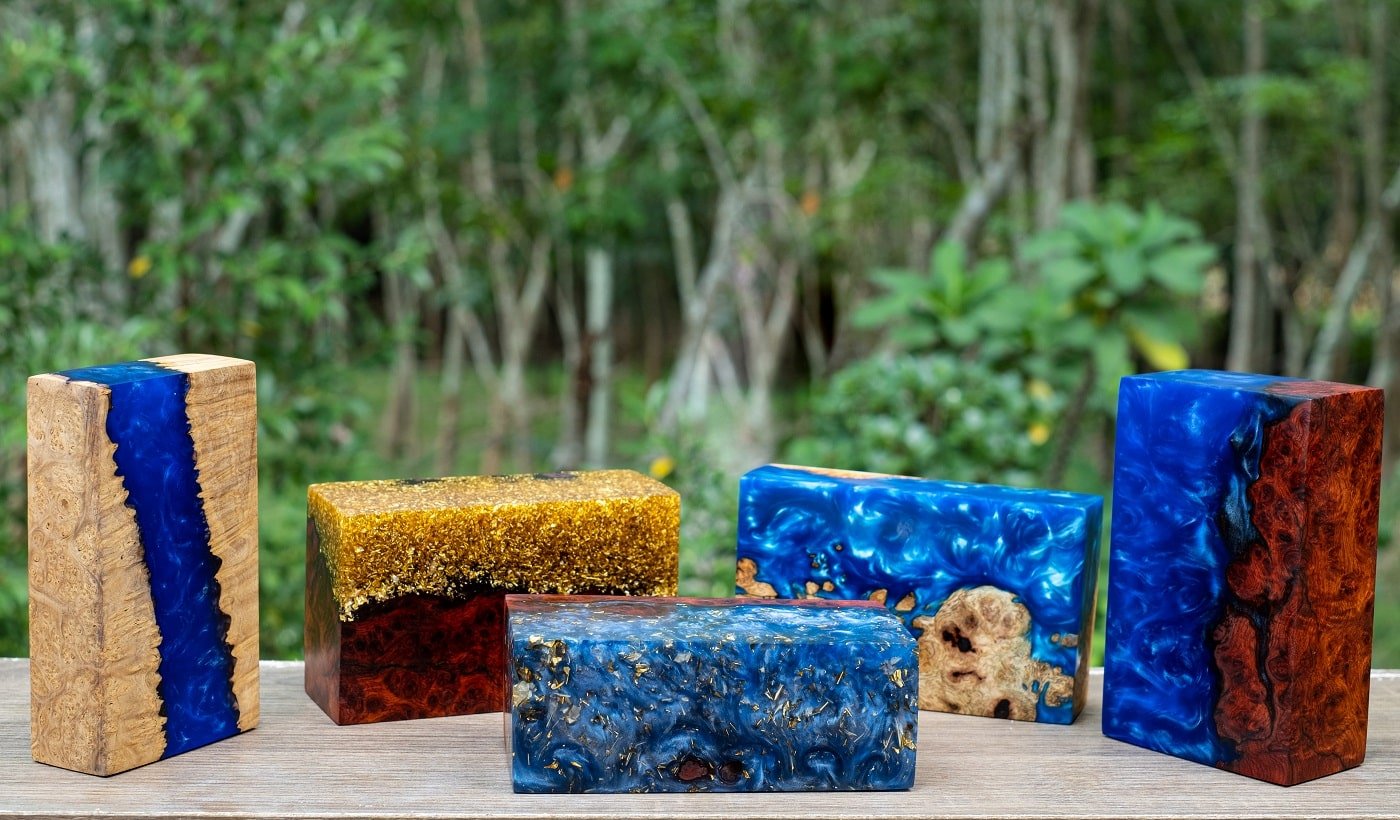 Those looking for a high-strength, professional-quality product can consider the Bondo 3004.7879 Fiberglass Resin. It has a variety of applications, making it a versatile and easy-to-use product. Moreover, it is compatible with a number of paint types, including marine paint and gel coat. You can use it alone or with other materials for repair applications.
Sale
Why Did We Like It?
The Bondo Fiberglass Resin is commonly used to build boats, automotives, and for repair applications. It is trusted by most professionals, which piqued our curiosity and made us want to test it ourselves.
For starters, this polyester resin is very easy to use. The kit comes with an included product called Bondo Liquid Hardener. When used with the Bondo Fiberglass Resin, it allows you to sand the product within two hours, after which you can allow it to cure properly. 
Moving on, you can use this product for a plethora of DIY home projects as well as for professional applications. It is an ideal solution for resurfacing surfaces like pools, bathtubs, etc., as it is completely water-resistant and forms a long-lasting bond effectively. 
Lastly, it can also be used for all 3M Body Repair Systems, which enable you to repair automotive body parts with ease. 
What Could've Been Better?
Overall, this polyester resin is an excellent solution for most applications. That said, it may not be ideal for larger applications like repairing a longboard. 
Secondly, the product can be hazardous if not used with precaution. Ensure that you are wearing protective gear like gloves, eye protection, and a face mask.
Pros
Variety of uses

Detailed instructions

Can be sanded within two hours

Easy to use

Included liquid hardener
Cons
Can be hazardous if not used with precaution

Not enough product for large applications
As the name might suggest, our next product is a polyester resin that is primarily used for boats and other automotives. It goes without saying, but the ingredients are entirely water-resistant and help you create products that are built to last. Curious to know more about it? Read on to find out.
Why Did We Like It?
After testing several products on the market, we chose the TotalBoat Polyester Laminating Resin as one of our top recommendations, and with good reason. 
For starters, we loved how easy to use the product was. It comes with an included MEKP catalyst that can be adjusted to control the curing time of the resin. 
As such, we recommend using one teaspoon of the MEKP hardener (for every quart of resin) for a slow gel, taking about 20 minutes. If you are looking to speed up the process, consider using two teaspoons of hardener per quart of resin for 15 minutes. And for faster gel time, use three teaspoons per quart. 
We also appreciate that this resin does not require sanding between coats. This not only saves time but makes for a more efficient process. 
Lastly, the resin contains no wax, which means that it dries tacky. This ensures that the surface doesn't get sticky, allowing for maximum adhesion.  
What Could've Been Better?
Although this resin is versatile in its uses and functionality, we do not recommend using it on decks or any place which is exposed to constant, direct sunlight. It is best to use this resin for laminating and repair work for boats and other autos.
That said, you can use it for other applications as well (research well beforehand). However, the material does have a specific melting point, and exposing it to excessive heat may lead to issues. 
Pros
Easy to use

The hardener amount can be adjusted for the best results

Does not get sticky after applications

You do not need to sand it between coats
Cons
Not ideal for products that are exposed to continual, harsh heat
The next item on our list is the True Composites Polyester Fiberglass Resin. It is a high-grade resin that is primarily used by professionals for a variety of applications. Manufactured in the US, it is a top-rated product that is easy to use and compatible with fiberglass as well as other coring materials.
Why Did We Like It?
Are you struggling to find an affordable alternative to epoxy resin for DIY projects or professional use? The True Composites Polyester Fiberglass Resin will not disappoint you. 
Made of the highest Grade A materials, this product is an ideal option for a multitude of applications. It is primarily used by professionals but can be used for several home-based DIY projects as well. 
The polyester resin is perfect for using as a base coat for repairs, resurfacing, and other processes. Moreover, it is an excellent sealer for wood repair work. It can also be used with metals without hassle. 
The kit includes a fantastic MEKP hardener that comes in a small 2-ounce bottle. However, don't let its size fool you – it is enough to use with the entire 1-gallon resin. The product is a DCPD-type material that ensures tack-free drying without the need for wax. 
What Could've Been Better?
All said and done, this resin has quite a strong, foul odor, which can take anywhere from 24 to 48 hours to dissipate completely. We recommend using it outdoors so you can avoid most of the odor. Fortunately, once your project cures, the smell automatically disappears. 
Pros
Tack-free drying without wax

Easy to use

Dries relatively quickly for small projects

Compatible with a variety of materials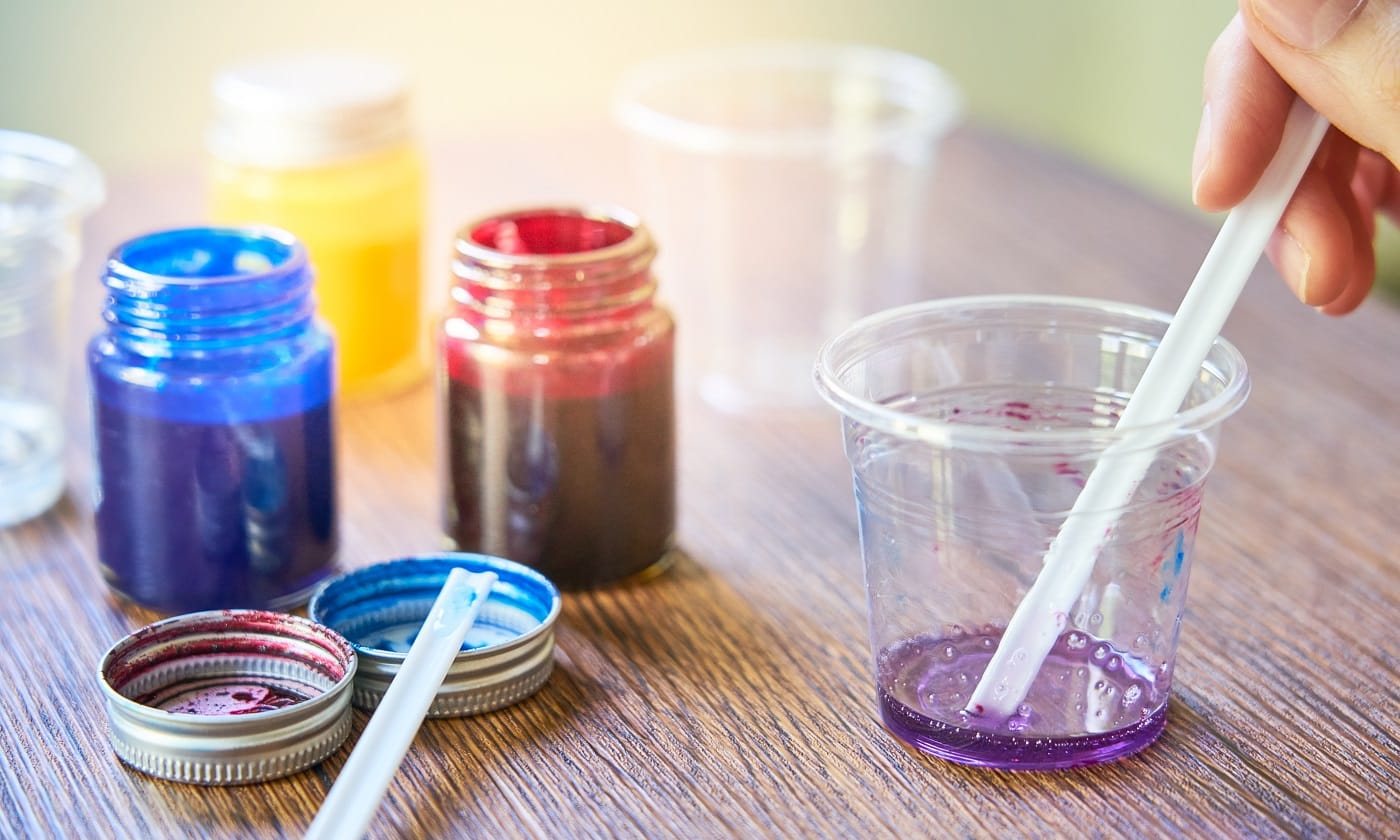 Polyester Resin Buying Guide 
Moving on to the next section of our guide, we have curated a buyer's guide to help you choose the right polyester resin. While all the products we mentioned above are top-rated and offer multiple applications, you need to take time to choose the right one that will be suitable for specific requirements. 
Here are a few essential factors to keep in mind when choosing the right polyester resin for your projects. 
Quality And Price
We already mentioned that polyester resin is the inexpensive sibling of epoxy resin. That said, when looking for a good quality product, it is best not to go by its price. Instead, look for the ingredients used and the customer reviews.
This will tell you everything you need to know about the product quality. While it is always good to have a budget before purchasing any product, opting for the cheapest item may not be the right strategy. 
It is especially true if the applications you are using the product for require a long-lasting, durable bond. In cases like these, we recommend researching the quality of materials used and whether it is suitable for your DIY project or not. 
The Reinforcing Material
More often than not, polyester resin is used with some type of reinforcing material. These vary from glass fiber mats, glass filament fabric, glass fiber fabric, and more. 
Although you have a range of options to choose from, it is imperative to select the right reinforcing material with specific resin. This also depends on the result of your project and what you plan on creating. Ensure that you choose it carefully, so you end up with the best results from the project.
The Thickness Of The Glass Fiber Mats
This is one of the crucial factors to consider when purchasing the right polyester resin for your projects. You will find glass fiber mats in varying thicknesses for different applications. We admit it; the choices can be overwhelming and confusing for most beginners. 
Furthermore, the thickness of the resin itself varies from product to product and for different applications. As such, we recommend having a clear goal about what you want to create before opting for the right thickness for both the glass fiber mat and polyester resin materials. 
What The Purpose Of The Product Is
The next vital aspect to consider is what the purpose of your product will be. If you plan on resurfacing surfaces like bathtubs and pools, the type of resin suitable for the project will differ from if you plan on using it to repair and seal other materials. 
Basic auto repairs require a durable form of polyester resin that can withstand specific conditions. As such, you will find several different brands and types of resin which vary in their thickness and applications, so ensure that you research beforehand.
Keep in mind that no polyester resin can be used for every type of application. Each resin has its own purpose and use, so purchasing the right one for specific projects is imperative. 
Curing Time
Another essential factor to consider when purchasing the right polyester resin is its curing time. You will find several types and brands in the market – some of which take as little as two to four hours to cure, and some which take one or two days. 
Knowing the curing time of the resin can help you plan projects while understanding the time constraints of your work. Once you mix the resin, it is vital to apply it and allow it to cure for the specified time; otherwise, the project may fail or not yield optimal results. 
Furthermore, it ensures that you don't remove the resin from its mold before it has completely cured. Doing this can significantly affect the result, so it is best to research well before beginning a project. 
Shelf Life 
Typically polyester resin has a shelf life of around six months. Of course, this can differ from brand to brand, but the difference is not significant. 
Before purchasing the right polyester resin for a project, consider its shelf life. We recommend buying a product which you plan on using completely before half of its shelf life. The longer you store resin, the more it starts to lose its value. 
Moreover, resin kept for too long in the wrong environment can start yellowing prematurely, which is a sign of it spoiling. Once it becomes unusable, you have no option but to throw it away, which is a wastage of money and resources. 
Another minor factor to keep in mind is that the longer the shelf life of a product, the lesser its price. Although this is not a golden rule, most manufacturers and brands follow it. Consider purchasing a resin with a longer shelf life so you can store it without worrying about spoilage.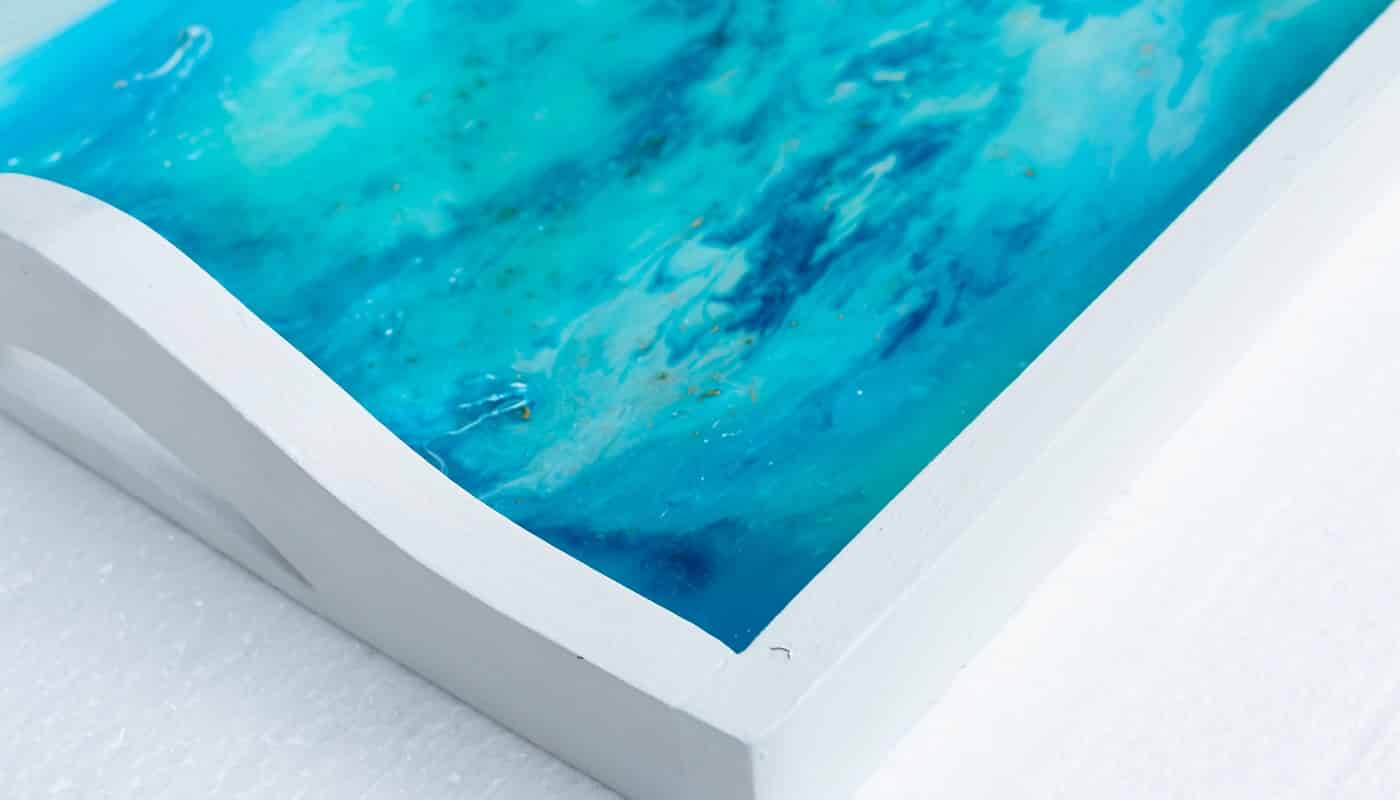 Verdict
It's finally time to wrap up our guide. 
We hope you enjoyed going through it and found the right polyester resin for your projects. Consider the buyer's guide carefully before choosing a product to make the best of your purchase. 
We recommend opting for polyester resin after researching thoroughly on how to use it, as you require a certain skill level for it. You can always watch tutorials or take help from others around you. 
Let us know what you think of our recommendations and if you agree with our picks. Until then, stay safe! 
Related Articles
11 Best Polyurethane Protective Coatings
5 Epic Face Painting Supplies That Will Improve Your Designs
6 Best Body Paint For Cosplay Reviewed
Learn How to Body Paint With Brilliant Results Right Now
5 Best Airbrush for Body Painting Reviewed
16 Brilliant Face Painting Techniques to Feed Your Imagination
13 Best Paints for Bathroom Ceilings
What is the Best Wood for Outdoor Furniture 
13 Best Spray Paints For Metal
7 Best Airbrush for Miniatures & Model 
11 Best Epoxy Resin For Crafts 
5 Best Polyurethane for Floors
5 Best Epoxy Resin for Tumblers
9 Best Exterior Wood Stains Today 
13 Best Spray Paints For Metal
7 Best Sprayers For Staining A Fence
7 Best Airbrush For Models & Miniatures
Acrylic Pouring Medium Guide [All You Need to Know]
2 Best Epoxy Resin Guide [All You Need to Know]
7 Best Polyurethane for Floors 
Food Safe Epoxy Guide 101 [All You Need To Know]
Sanding Epoxy Resin Guide 101 [All You Need to Know]
Acrylic Pour Painting [All You Need To Know]
Totalboat Resin Epoxy 101 | Reviews + Buyer's Guide
How To Make Resin Dice 101 [All You Need to Know]
How To Make A Resin Geode [Complete Guide]
Art n Glow Resin Review [All You Need to Know & Buyer's Guide]
Alcohol Ink and Epoxy Resin 101 [All You Need to Know]
How to Color Clear Epoxy Resin [Coloring Resin
How To Fix Radiator Leak With Epoxy+ Best Radiator Repair Epoxy
Epoxy Garage Floor 101 [All You Need to Know]
Mold Release Guide + Best Epoxy Release Agents
Surfaces Resin Won't Stick to [All You Need to Know]
Heat Resistant Epoxy 101 [A Guide for High Temperatures]
Epoxy Cement Guide 101 [How to Repair Concrete with Epoxy]
How To Mix Epoxy 101 [Measuring & Mixing Epoxy Resin Guide]
How To Harden Sticky Resin [Uncured Epoxy Solutions]
How To Fix Epoxy Mistakes [Tackling Common Epoxy Problems]
6 Best Pressure Pot For Resin Casting Right Now