Hey! Are you looking to kickstart your landscaping career? The first thing you'd need is a reliable and robust plate compaction machine.
These machines come in very handy at flattening uneven surfaces, which is the first step to patio/yard construction. However, we wish that finding the best plate compactor was just as easy as it sounds.
With the lack of sufficient buyer's info and an abundance of products in the market, we understand that it's becoming more challenging for customers to find the best option.
That's why we've enlisted 9 of the best options to choose from. Also, don't forget to go through our detailed buyer's guide to know the various factors to consider while buying.
Now, without any further ado, let's get into the deets!
Best Plate Compactors
IMAGE
PRODUCT
DETAILS

Our Top Puick

Our Top Puick

PowerSmart 6.5HP 3600-Pound Compaction Force Plate Compactor

Ultrasmart 196cc engine cranks up to 5,000 blows per minute
The convenient design makes it easy to maneuver and lift

VIEW LATEST PRICE →

WEN 7HP 4500-Pound Compaction Force Plate Compactor

The powerful 212cc engine produces 5,400 blows per minute
Smart vibration isolators to extend the engine life

VIEW LATEST PRICE →

TOMAHAWK 5.5HP Honda Vibratory Plate Compactor

Iconic and durable 5.5HP Honda engine for greater productivity
3-year manufacturer's warranty offer included

VIEW LATEST PRICE →

YARDMAX 1850 lb. Compaction Force Plate Compactor

The self-propelled 79cc engine produces 5,900 blows under a minute
Foldable wheels and three-point handle for easy portability

VIEW LATEST PRICE →

Stark 2.0 HP Gas Vibration Compaction Force Construction Plate Compactor

79cc 2.0HP engine operates with a vibration-free mechanism
Foldable transport wheels for smooth maneuverability

VIEW LATEST PRICE →

Multiquip Honda GX160 Plate Compactor

Fuel efficient engine; consumes 0.31 gallons per hour
Honda GX160 motor; 50% fewer vibrations

VIEW LATEST PRICE →

NorthStar Close-Quarters Plate Compactor

Honda GX160 engine included for greater fuel efficiency
Fuel tank strainer and anti-splash technology equipped

VIEW LATEST PRICE →

JUMPING JACK 5.5HP Vibratory Plate Compactor

5.5HP engine produces 2,050 lbs per ft. compaction force
3-year extended engine warranty period included

VIEW LATEST PRICE →

RuggedMade 2,400-Pound Compaction Force Plate Compactor

Patented RuggedMade self-propelled engine
2,400 pounds force @ 5,600 vibration per minute

VIEW LATEST PRICE →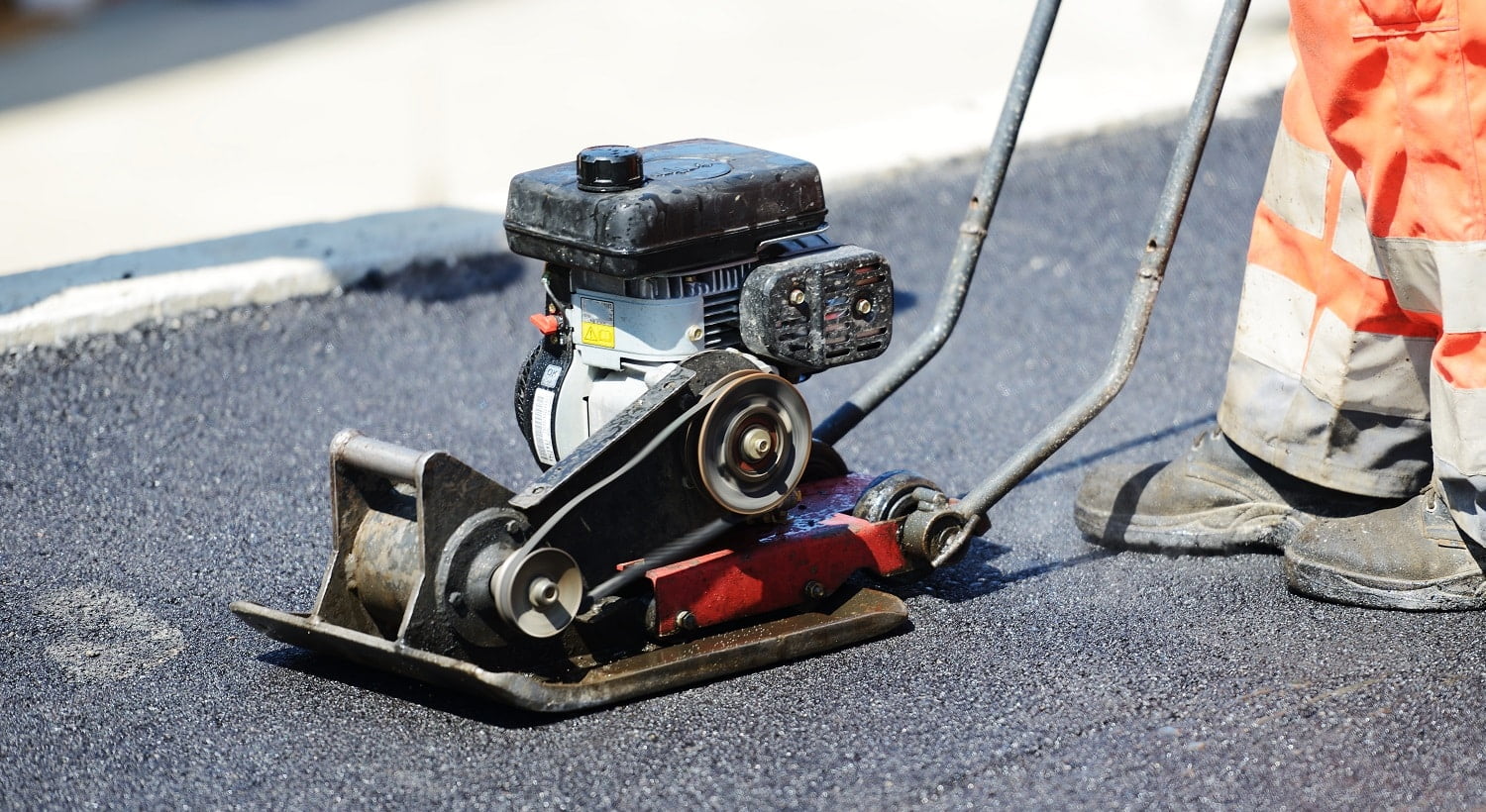 PowerSmart is undoubtedly one of the most common names that professionals recommend when it comes to superior technology that can be pushed beyond its limits. The brand has shaken the market with the 6.5HP compaction force plate compactor, a smart machine to opt for if budget isn't a factor. Let's find out what the hype is about!
Why Did We Like It?
Straight off the bat, the PowerSmart 6.5HP plate compactors are 196cc of sheer uncompromised superiority. The immense power this machine generates allows you to crank it up to the highest potential for long hours. With a maximum production capability of 5,000 blows per minute, this product indeed takes the cake for heavy-duty performance.
Although it's a cumbersome machine, it's surprising how that doesn't affect transportability by the slightest. Thanks to the iconic PowerSmart design, it comes with an ultra-convenient swing-over handle that raises the bar for maneuverability. Besides, the compact 25″ x 17.3″ edge plate makes central lifting a walk in the park and provides additional storage space.
Speaking of make and material, we're very impressed with the sturdy and long-lasting construction it features that makes it an ideal alternative for commercial use. The all-metal chassis and frame are not only reliable but also rust-resistant, enhancing its longevity and protection. That's not all; it comes with an exclusive 2-year manufacturer's warranty and excellent customer service.
What Could've Been Better?
Honestly, we couldn't find any performance issue that's worth being highlighted, as the machine lives up to its promises. However, it's priced towards the higher end, for which some customers may have second thoughts about buying it.
Pros
Excellent power

Long-lasting build quality

Easily maneuverable

2-year warranty
Let's move on to some professional-grade CARB compliant models, shall we? WEN is the brand to opt for when you're looking for nothing but incomparable power for heavy-duty jobs. Our next recommendation is the WEN 7HP force plate compactor, an all-action machine that gets the job done twice as fast as its rivals. How so? Let's find out!
Why Did We Like It?
Beginning with the main attraction here, this product features an engine that's more powerful than most of its alternatives in this price segment. It indeed lives up to the hype, as this 212cc motor can quickly produce up to 4,496 lbs of force at 5,400 blows per minute. To put it simply, it's the ultimate solution to the heavy-duty power requirements at work sites.
Now, in case you're wondering if such top-class power would cause irritating vibrations, be assured that the manufacturers have addressed this issue. To be precise, the genius WEN engineering on this 7HP compactor has reduced this prevalent flaw to a great extent. Thanks to the iconic vibration isolators, the engine runs at a smooth pace, even at high speeds.
Last but not least, it's remarkable how ergonomically it's designed, which isn't very common among such heavy industrial-standard machines. To begin with, the convenient lift handles make it easier to move around with less labor. Moreover, it has a central loading bar, which is the reason behind its hassle-free lifting.
What Could've Been Better?
Durability remains a grey area with this product, as many users have reported that it's not the best option to consider for long-term use. Other than that, storage becomes a concerning issue due to its extra-large size. If you're struggling with storage space in your workspace, we'd recommend scrolling down to our next recommendations.
Pros
Large 212cc engine

Industrial-grade design

Central lifting bar

Value for money
Are you someone who's job revolves around dirt and asphalt compaction? Worry not, the TOMAHAWK 5.5hp compactor is what you need to make such severe and heavy-duty jobs look like a cakewalk. Boasting a sturdy Honda engine, this product exhibits greater productivity at its finest. Let's take a look at its core features!
Why Did We Like It?
It's not every day that we come across two of the highest-rated brands manufacturing an absolute powerhouse. However, Tomahawk and Honda's collaborative engineering has created this remarkable 5.5HP force plate compactor, which offers excellent performance for long-term use. To be precise, the manufacturers claim that it's capable of compacting over 3,000 lbs per square ft.
Furthermore, we're delighted with how easy to maneuver it is, which gives it a direct advantage over our previous pick. It boasts a traveling pace of 79 ft per minute, which enhances productivity and user-friendliness simultaneously. Besides, the design itself is extremely portable, thanks to the user-friendly handle and base plate for upping the game.
When it comes to quality, it's safe to say that Honda acquires the catbird's seat. Likewise, the Honda engine construction makes it extremely durable and immune to vibrations at higher speeds. Other than that, the reinforced steel construction also adds to the sturdiness and reliability. To back it up, the manufacturers offer an extended three-year warranty as an assurance of quality.
What Could've Been Better?
Performance-wise, this product hasn't given us anything to complain about. However, you can't put a price on quality, and similarly, it's comparatively a lot pricier than most of its alternatives. Be assured that it's worth every single penny you spend; it still doesn't make a feasible choice for many.
Pros
Easily transportable

Powerful engine

Durable construction

Ultimate protection
YARDMAX boasts a rich history of introducing some of the best-selling machinery in the American market, which has raised the bar for on-site work ever since. The all-new 1850 lb force plate compactor has risen to be every bargain hunter's delight, considering how it offers such power under a reasonable price tag.
Why Did We Like It?
First and foremost, this model should be your go-to option if you're passionate about DIY exterior renovation. It's awe-inspiring how YARDMAX always focuses on providing good quality and performance at an affordable price, and nothing describes it better than the 1850 lb compactor.
This self-propelled 79cc model is extremely capable of handling medium-duty jobs with ease, making it an excellent option for beginner professionals. This 2.5HP engine can smoothly crank up to 5,900 blows per minute, which is comparatively higher than most of its alternatives in the segment.
Speaking of maneuverability, the compact frame and lighter frame gives it an instant advantage over our other recommendations. On top of it, the three-point handle is ergonomically designed to offer the utmost comfort while moving it around.
Speaking of add-on features, the real catch here is the utterly convenient and foldable wheels that come along for easy transportability. Last but not least, the handles can also be folded for easy storage, which makes it even better for those with smaller workspaces.
What Could've Been Better?
It's a little irritating how the machine tends to vibrate at high speeds, so we'd advise you not to push it beyond limits to maintain engine life. Although the brand claims that the rubberized brushings are included to absorb vibration, it only works temporarily.
Pros
78cc sturdy engine

All-steel construction

Reliable and long-lasting

Extremely affordable
Now that we're halfway through the list let's look at a few more budget-friendly alternatives for DIY use. Speaking of which, Stark is one of the emerging names in the market that has been making waves with the 2.0 HP compaction machine. Let's take a brief look at what it offers!
Sale
Why Did We Like It?
Hear it from the users- this product is famous as an excellent blend of performance and practicality, making it an ideal choice for both professionals and homeowners.
As the name implies, the USP of this model is the vibration compaction it offers. To be precise, the manufacturers have specifically engineered it to run vibration-free at higher impact, offering a very smooth and uninterrupted user experience. With such powerful blows and precise operation, it makes an appropriate machine to opt for residential projects.
However, what we've personally liked here is how easy it is to store, thanks to the 40″ x 15.5″ chassis. With such a refined engine loaded under such an easy-to-store compact frame, you have another reason why it's every DIY homeowner's best friend.
Finally, it's a multifunctional device that takes care of a broad category of jobs, including landscaping, paving, patio construction, etc. Under such a negotiable price range, not enough brands offer such versatility, which gives it a higher advantage in the market.
What Could've Been Better?
Fairly speaking, it does a good enough job for the price, for which it's only restricted to medium-duty use. However, if you're planning to upgrade to a very powerful compactor for daily commercial use, it's not the right choice.
Pros
Easily transportable

Powerful engine

Central lifting bar

Value for money
Cons
Not recommended for heavy-duty use
We can never have enough of Honda engines when it comes to force plate compactors, can we? Multiquip brings you some more of the iconic and exquisite GX160 action with its brand new plate compactor. If money doesn't restrict you from getting the best out there, give these 198 pounds of sheer greatness a try!
Sale
Why Did We Like It?
Beginning with our favorite aspect, this product features durable all-steel construction, from tip to toe. Considering that on-site work revolves around dealing with mud, dirt, and rain, the manufacturers have coated the alloy steel with rust/stain-resistant and water-resistant properties for optimal protection. Other than that, you get a sturdy tubular steel bar that safeguards the engine components from sudden impact.
Now, coming to the real reason why it's a top-notch professional's choice- the Honda GX160 engine speaks for itself. The immense power and performance it offers are second to none, giving itself a significant advantage. However, it doesn't end there- it consumes only 0.31 gallons/h, which means you save huge chunks of dollars on operational costs annually.
We can't have enough praises for the refinement the Honda GX160 engine offers. For instance, the brand guarantees 50% less vibration during the performance, and the machine certainly lives up to it! Other than that, its low oil shutdown feature also helps protect engine life to offer uncompromised performance for years.
What Could've Been Better?
There's not a single thing we'd change about this product, except the price. This product could have been the no. 1 selling compactor in the market if it weren't for its excessively high price. It's certainly not affordable for the most, and on the other hand, it may also be overkilling for small-end jobs.
Pros
Iconic Honda engine

Appropriate for commercial jobs

Immense power

Easy to move around
Our list would've been incomplete without mentioning NorthStar, one of the most popular entry-level equipment brands trusted by customers worldwide. The brand has left us surprised with its brand-new Close-Quarters Plate compactor, an ultra-smooth machine to choose for medium-duty landscaping jobs. Let's take an in-depth look at what it offers!
Why Did We Like It?
One of the biggest reasons why we're in love with this product is the engine it features, which comes off pretty surprising. Like our previous pick, it features an iconic Honda GX160 engine, that too, at a fraction of its cost. This way, not only do you get unmatched reliability, but it also provides the best values as the engine is famous for its low fuel consumption setting.
Despite the lower price, this product doesn't fall short of power, making it an excellent choice for those with a tight budget. The motor can generate around 2,270 lbs of compacting force at a maximum capacity of 5,700 vibrations per minute. Other than that, you also get a full travel speed of 82 feet per minute, which speaks volumes for the convenience it offers.
Furthermore, we're also very impressed by design, as it makes moving it around a cakewalk. Most importantly, the ergonomic handle gives you the freedom to use it in tight areas with its vertical positioning.
What Could've Been Better?
Considering how low priced it is, it's not sturdier than our previous recommendation. Other than that, you're also ought to notice higher vibrations while using it at high speeds, which gives it a significant disadvantage in the market.
Pros
126cc sturdy engine

Ergonomically constructed

Reliable and long-lasting

Extremely affordable
Cons
Long-term durability issues
Although our penultimate recommendation is relatively another rising brand in the market, its 6.5HP vibratory plate compactor can go head-to-head against the big players with its incredible features. This trending Tomahawk sub-brand has undoubtedly raised the bar very high for performance and durability with a host of stunning features. Let's find out a little more!
Why Did We Like It?
To our surprise, this product also comes equipped with a compact and powerful Honda GX1160 engine, which speaks for itself. The USP of the machine is, without a doubt, the fuel efficiency it offers. As a result, it saves you a massive amount in the long run. Other than that, it provides sufficient power for medium-duty landscaping and paving jobs, which makes it an ideal option for beginner professionals.
It's incredible how, despite offering a maximum capacity of 2,050 lbs per ft., the engine doesn't produce eerie vibration issues. Thanks to the refinement of the motor, it provides a very smooth and precise user experience. As a result, you can compact granular soils up to 8 inches without worrying about the Jumping Jack machine.
However, it doesn't end there- the engine components of this precisely-built 6.5HP is of premium quality material. It also comes with a protective chassis to enhance engine life, ensuring years of use without any breakdown. To top it off, the manufacturers offer an extended 3-year engine warranty.
What Could've Been Better?
Although the engine's reliability is unquestionably impressive, we can't say the same for the rest of the machine. The overall build quality doesn't stand out extraordinarily, which is also understandable due to the basement bargain price.
Pros
Iconic Honda engine

Ideal for beginners

Smooth and reliable

Easy to move around
As we've reached the end of our list, let's look at another budget-friendly option that strives to offer outstanding values. RuggedMade has surprised us with the all-new 2,400-pound force plate compactor, a brilliant self-propelled machine that offers remarkable performance for greater productivity. Let's check out its core features!
Why Did We Like It?
Not your average force plate compactor, the RuggedMade device lives up to its legacy with its ultra-smart self-propelled 5HP engine that gets the job done with precision. Customers have rated it as one of the best medium-duty commercial jobs because it can produce a compaction force of 2,400 pounds at around 5,600 vibrations per minute.
Besides, its lightweight and compact frame also give it a higher advantage over most of its rivals. To be precise, it weighs only 126 pounds and features a set of wheels that help you move around without excessive labor. We're also fans of the foldable central handle that gives you the confidence to lift and store the machine hassle-free.
Last but not least, it comes with an uber convenient base plate that helps you compact larger areas in a short time to get the job done quicker. To be precise, the 20″ x 14″ plate can easily compress an area of 80 feet per minute, which is sufficient for your day-to-day DIY jobs.
What Could've Been Better?
The general area of concern regarding force plate compactors hasn't spared this product, and thus, it also has a common vibration issue. Although the foam grips on the central handle absorb the vibrations to a certain extent, it's not as effective at higher speeds.
Pros
Large 5HP engine

Industrial-standard design

Central lifting bar

Value for money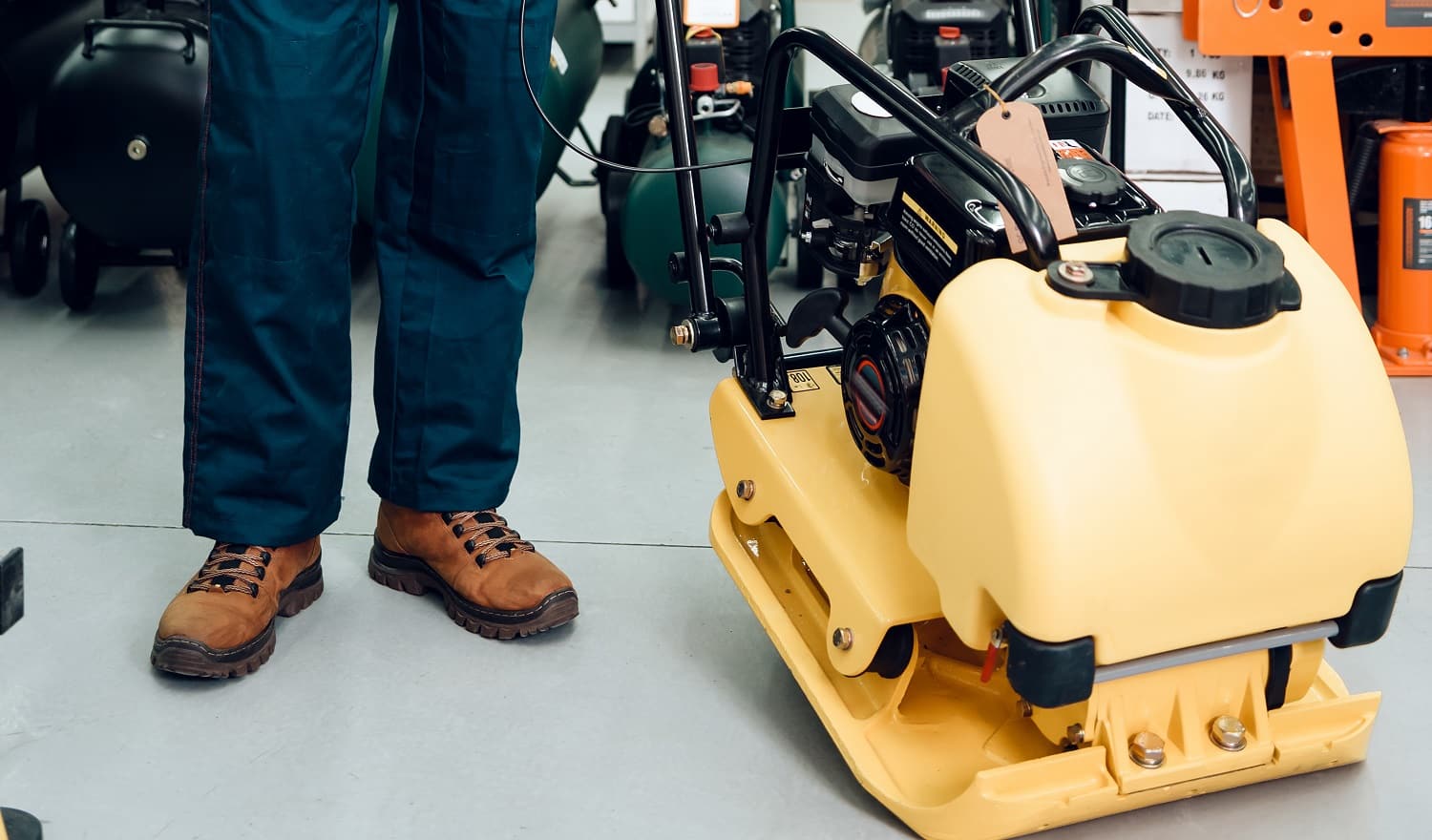 Plate Compactor Buyer's Guide 
Now that you've learned about the best plate compactors in the market let's take it a step further and find out the key factors that help separate a reliable product from an average one. Most importantly, let's check out the features that help determine which one best suits our needs.
Keeping these points in mind will save you from buying a plate compactor that you won't regret. That said, let's take a look!
Directional Plates
Being an essential feature of any plate compactor, the directional plates play a significant role in developing the compaction force. Mainly, these are of two types, such as single plate and reversible plates.
However, it gets a little tricky- what kind of directional plates would suit you the best depends on what your job revolves around.
If you're looking forward to performing medium-duty jobs without excessive power requirements, give single plate compactors a try. If you're buying one for heavy-duty commercial jobs, reversible plates would be more convenient.
Centrifugal Force
Secondly, the compaction force that the model is capable of producing also makes a huge difference. To be precise, the greater the centrifugal force, the higher the efficiency. Nevertheless, it's not advised to blindly opt for the most potent option available only to access high power.
That's because unless you're performing heavy-duty jobs, high-force plate compactors are an absolute overkill. It's ideal to stick between 3,000-4,000 pound alternatives to have the best of both worlds without spending a fortune.
Base Plate Shape/Material
The base plate is what carries on the force to compact the soil underneath, and that alone explains why you shouldn't neglect this fundamental component. It's essential to check whether the base plate is made from durable quality material, as it determines whether it can withstand the impact.
Besides, a slightly curved plate also prevents it from gouging at higher force for longer life. Other than that, it also helps you work precisely in small areas, raising the bar for convenience.
Verdict
Have you found the one that fits your requirements? Don't forget to let us know in the comments below!
In case you haven't yet, here's a little suggestion – the PowerSmart 6.5HP compactor is the best all-rounder, offering a great blend of performance and reliability. If you're looking for a heavy-duty machine, we couldn't have a better recommendation than the WEN 7HP variant.
However, if you're running low on budget and searching for good enough performance for medium-duty jobs, give the Stark 2.0HP model a try.
Most importantly, stay tuned for more helpful guides. Till next time!
Related Articles
7 Best Fiber Cement Shear Reviews + Buyer's Guide
13 Best Jackhammers and Demolition Hammers