No one is born with the ability to sew, and some of us, no matter how hard we try, find it impossible to learn.
That's why fabric glues are the next best thing. The lack of sewing expertise shouldn't stop anyone from making fun costumes or modifying old clothing. Fabric glues are ideal for adding eye-catching stones and gems to add some frill to worn-out clothes and make them look new again. Plus, DIY Halloween costumes with no sewing? Sounds like a dream!
But, since this fabric glue and leather glue craze is catching on, there are many brands to pick from. If you're looking for reliable fabric glue, you're in the right place. To make it easier, we have put together this review of the 11 best permanent fabric glues available in the market. 
Since time is of the essence, let's get right to it!
Best Permanent Fabric Glues
IMAGE
PRODUCT
DETAILS

Our Top Pick

Our Top Pick

Aleene's 25042 Fabric Fusion

Flexible drying
Non-stringing

VIEW LATEST PRICE →

Tear Mender TG-6H Instant Fabric And Leather Adhesive

Instant bonding with fabric (wearable in three minutes)
Acid-free and non-toxic

VIEW LATEST PRICE →

Gear Aid Seam Grip

8 hour cure time
12 feet coverage

VIEW LATEST PRICE →

Beacon Fabri-Tac 1123-34 Adhesive

Does not soak or stain the fabric
Can be used on wood

VIEW LATEST PRICE →

Gorilla Waterproof Fabric Glue

Dries in seconds
Crystal clear color

VIEW LATEST PRICE →

Odif USA 505 Temporary Adhesive

Does not stick to the needle
Mist-free spray

VIEW LATEST PRICE →

ThermOweb NR-3098 Heat N Bond

Heat-activated
Bonds on fabric in less than 10 seconds

VIEW LATEST PRICE →

Secure Stitch Liquid Sewing Kit

Includes two applicator bottles
Effortless hemming with hemming clip

VIEW LATEST PRICE →

Roxanne BG82 Glue Baste It

Syringe applicator
100% water soluble

VIEW LATEST PRICE →

iCraft 4831 Fabric Fuse Liquid Adhesive

Dries clear
Works with metal and wood as well

VIEW LATEST PRICE →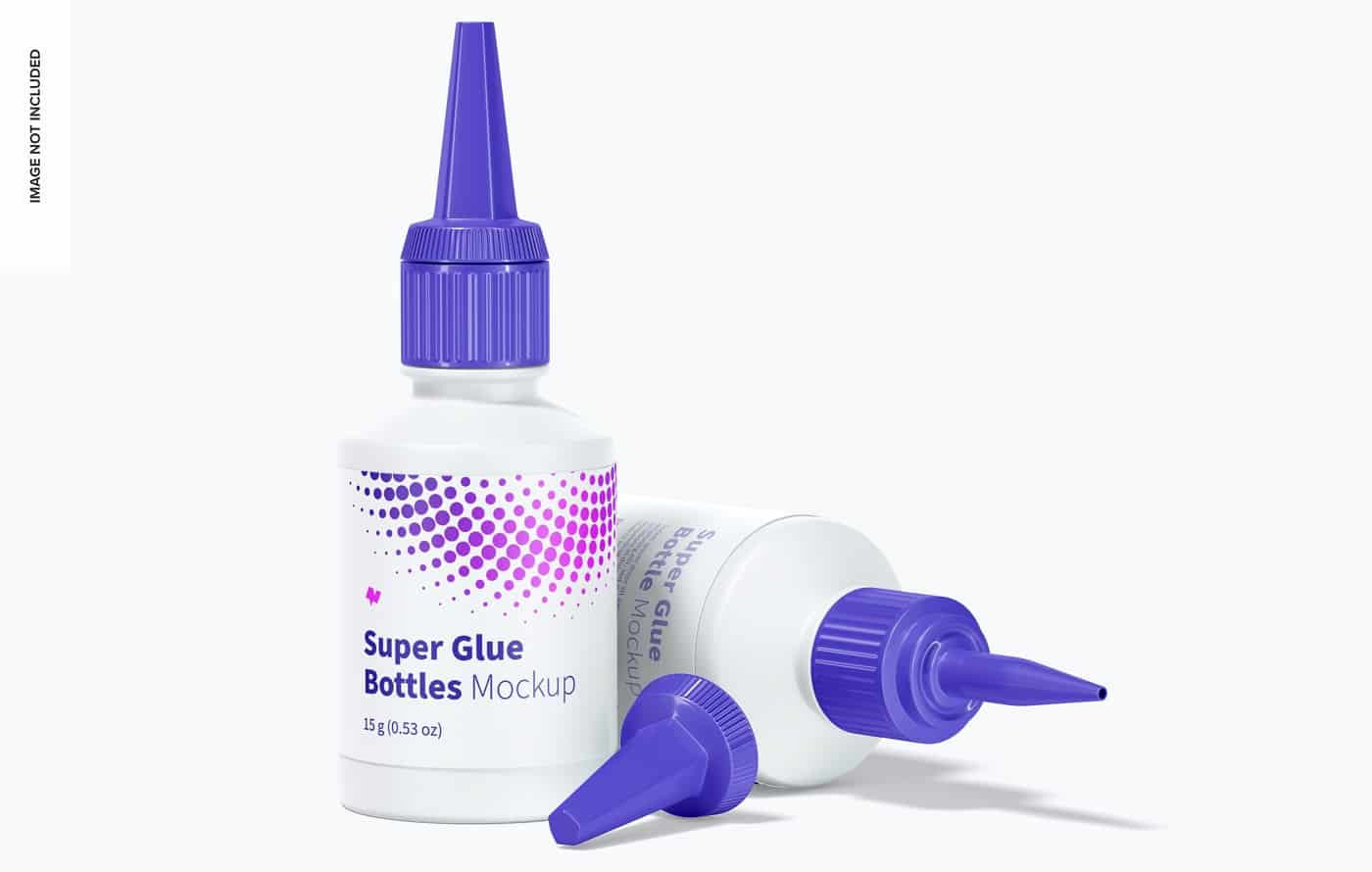 One of the best things about fabric glue is that it can help add embellishments to make the fabric stand out. And a very popular fabric glue for that purpose is this one by Aleene's. It has many features that make it a hit, and it doesn't spoil the fabric.
Sale
Why Did We Like It?
People avoid fabric glues because once the glue is washed, it makes the fabric stiff. However, that problem has been solved by Aleene's. This product has been formulated in a way that keeps the glue flexible even after washing. So it won't feel uncomfortable or unnatural against your skin.
Another great thing about this glue is that it stays permanent on a variety of fabrics. So whether you want to embellish a jacket or add some patches to a jersey, Aleene's fabric glue can help you do it all. Plus, it is a non-toxic glue that will not cause any harm in case it touches the skin.
Aleene's Fabric Fusion is also odorless and does not create strings when applied. This makes it easy to use and reduces the chances of making a mess. It is also machine washable, so there is minimal after-care required.
What Could've Been Better?
This glue is quite popular since the adhesion is top-notch, and it stays even after multiple washes. However, the only issue with it is that it is not quick drying like most of its competitors. Even when used in small amounts, it takes a while to dry.
Pros
Strong adhesion

Can be applied to a variety of fabrics

Mess-free

Non-toxic and machine washable
When it comes to fabric glues, timing is everything. The glue must stick firmly and dry fast. If you don't like to wait around for the glue to dry, take a look at Tear Mender's instant adhesive. It is made for people looking for fast drying, strong fabric glue.
Why Did We Like It?
Straight off the bat, we were impressed with how "instant" this glue is. The adhesive is quite strong and bonds with the fabric very quickly. After application, the material remains flexible and is wearable within three minutes. Since it is water-proof, machine-washing the fabric will not weaken the bond.
It's also impressive that the glue can be used on both indoor and outdoor fabrics. Since it is made for leather too, not only can it be used on clothes but also upholstery, décor, and sports gear. Moreover, it requires no additional solvents or heat to create a firm and permanent bond.
You may think that any glue this strong will be toxic, but that is not the case. Tear Mender's instant glue is made with natural latex and is acid-free, making it non-toxic. Plus, it is effortless to clean since it does not stick to hard surfaces.
What Could've Been Better?
While this is a very popular brand of fabric glue and has a ton of positive reviews, one consistent complaint is that it runs a little thin. So when applying on larger surfaces, you will have to use it more generously. Plus, it is not odor-free, and the smell can be overpowering for some.
Pros
Instantly bonds

Non-toxic

Ideal for outdoor furniture

Waterproof
Fabric glue is not just great for decorating jackets and fixing sofas. It can be helpful for outdoor gear as well. If you are looking for something to fix seams in tents, awnings, and the like, take a look at the Gear Aid seam grip. Fixing camp gear will never be a hassle again.
Why Did We Like It?
Fixing tents and other outdoor gear can be quite a hassle, especially if it faces a lot of rain. Sewing may not be as effective every time and can be pretty time-consuming. This is where the Gear Aid seam grip sealant comes in handy. It has a coverage of 12 ft and dries clear.
It comes with an applicator, which makes it easy to apply on the seams. It takes about 8 hours to cure but can also be kept overnight. After curing, it forms a strong layer on the fabric. The best part is that it is water-proof and can be used on a rainfly and camping gear.
Additionally, it can be used to fix tears on nylon, polyester, canvas, leather, and vinyl. Since it dries clear, it will not be visible, leaving the fabric looking smooth.
What Could've Been Better?
One of the most important things to be careful about is the application. The glue is a bit thick, so while applying, make sure you apply a thin layer. The thinner the coating, the less time it will take to cure and it won't look bulky. 
Pros
Water-proof sealant

Ideal for outdoor and camping gear

Can also fix tears and rips

Ample coverage with one tube
Cons
Glue consistency is too thick
Next on the list is the Beacon Fabri-Tac adhesive. If you are one of those DIY costume makers or are always looking to update your wardrobe, this glue is a blessing. Other than for creating elaborate designs, it's great to have around for basic repairs too. Let's have a look at some features.
Why Did We Like It?
One of the biggest issues DIY costume makers have is finding fabric glue to work on various fabrics. While most work on the basic ones like leather, nylon, and polyester, finding something that works on delicate fabric is tough. But that's a thing of the past with the Beacon Fabri-Tac adhesive.
Fabri-Tac is not just ideal for day-to-day crafts but works really well on soft fabric because it does not soak or stain it. And, since it does not become stiff, the softness of the fabric can be retained. Another great thing is that it is incredibly fast-drying, and the fabric is wearable almost immediately after application.
Much like the other glues on the list, it is acid-free and non-toxic. Interestingly, this glue can also be used on hard surfaces like wood. Since it is water-proof, washing will not affect the adhesion.
What Could've Been Better?
This is one of the highly-rated glues due to its quick-drying qualities. However, one recurrent issue users have faced was that it caused a mess. The glue is relatively thin, so you will have to be careful while applying it.
Pros
Ideal for soft and delicate fabric

Does not soak or stain

Can be used on wood

Water-proof and non-toxic
This is yet another fantastic option if you love adding embellishments to any fabric. The Gorilla fabric glue has a quick-drying formula that can bond all sorts of gems and stones quickly. Plus, the adhesion is strong and will keep the gems in place. Now, moving on to some deets.
Why Did We Like It?
A fabric glue that dries in seconds? What's not to like! Not only does it have a quick-drying formula, but it can also be used on a variety of fabrics like corduroy, denim, fleece, flannel, and more. With this at home, your old corduroy jacket can finally be brought back in style. 
But that's not all; this glue is 100% water-proof that remains flexible even after washing. You don't need to worry about water weakening the adhesion anymore. Plus, it dries crystal clear and will not leave unappealing stains on your favorite fabric. 
Whether you are looking to add buttons, ribbons, or even rhinestones, this glue can hold onto it all. It is available single but can also be bought in a three-pack; the choice is yours. 
What Could've Been Better?
First off, this fabric glue is not recommended for softer fabric like velvet or satin as there is a possibility it will bleed through. Plus, it may be quick-drying, but it takes a long time to cure. So wearing the fabric immediately will not be possible. 
Pros
Strong adhesion ideal for gems and rhinestones

100% water-proof

Dries with seconds

Glue remains flexible
Now, we know this is not a permanent glue but hear us out. What if you put some extra rhinestones, and now the permanent fabric glue won't let go of it? Enter temporary fabric glue. This one by Odif is a great product to have if there is a chance for errors.
Sale
Why Did We Like It?
As much as someone may like to believe it, it is impossible to do something without making a few mistakes. If you want to try a few embellishment patterns before permanently fixing them or wish to baste fabric, try Odif. This temporary fabric glue is ideal when there needs to be room for adjustment and repositioning of fabric.
Hemming a dress or quilting has never been easier, thanks to Odif's temporary glue. Most people avoid using temporary glue because it sticks to the needle but not this one. You will have a smooth and effortless stitch despite using glue.
Additionally, this is a mist-free and odor-free spray. It is also non-toxic and acid-free, so you won't have to worry about any harmful fumes. Moreover, since it is a spray instead of a pour spout bottle, it is also straightforward to use.
What Could've Been Better?
Like with most spray bottles, nozzles tend to be an issue, and this one is no different. One of the most common issues faced with this temporary spray is that the nozzle tends to clog after a few uses. This can make spraying a bit difficult but can be fixed by shaking the bottle vigorously.
Pros
No odor

Mist-free spray

Ideal for when fabric needs to be repositioned

Can be used for quilt basting
Liquid fabric glues are not the only tool that can be used for DIY projects and costumes. If you are the type that prefers patches to gems on fabric, then this iron-on adhesive is perfect for you. The ThermOweb Heat N Bond works on any inkjet printer and is excellent for patterns or texts.
Why Did We Like It?
Patch jackets are always in style; the only problem is, they can be pretty expensive to buy. But worry not, you can be up to date with the latest fashion trends by making a DIY patch jacket using the ThermOweb Heat N Bond. This is a handy tool to have for people who like to display their creativity through their clothes. 
It is pretty easy to use and does not take a lot of time. One pack comes with ten sheets that can be used with a standard inkjet printer. On printing the design or text, it only takes 5-10 seconds to dry on the paper. Since it is heat-activated, it has to be ironed on (no steam).
On the fabric, it takes about 6-10 seconds to fully bond, after which you can sew along the edges. Plus, the adhesive is machine washable and will eliminate the need for pinning.
What Could've Been Better?
Although this is easy to use, it does need some stitching work. For this reason, it is not ideal for people that have no sewing experience at all. In those cases, regular fabric glues are a better option. However, this does have strong adhesion and is highly recommended.
Pros
Ideal for applique quilting

Non-toxic and acid-free

Quick bonding time

Does not gum the needle
Cons
Not ideal for people with no sewing experience
If you are just entering the world of fabric glue, picking different glues for different fabrics can be expensive. Plus, the additional accessories and tools come separately at an extra cost. But not with this kit. The secure stitch kit has everything you need at an affordable price.
Why Did We Like It?
Buying kits and packs are the best way to get the most for your money. Not only are you saving money, but it also makes the project easier since everything is provided for in one kit. The Secure stitch liquid sewing kit has seven items that can make any repair or DIY project easier. 
This kit covers a variety of fabrics. One solution works well on natural materials like cotton and denim, while the other is ideal for artificial materials like acrylic and nylon. It also comes with two applicator bottles, so it's easy to separate the solutions, and a separate silicon applicator. 
The hem clips make it easier to measure fabric before hemming. Additionally, these glues are flexible and machine washable. It does not string on the fabric and won't bond to the skin, making it perfectly safe to use.
What Could've Been Better?
While this is an excellent kit for people on a budget, the glue is a bit thin. This leads to making a bit of a mess when using it on bigger projects as it's runny. Plus, it does not dry clear and is a bit milky in color.
Pros
Ideal for people on a budget

Works on a variety of fabric

Strong adhesion

Flexible after drying
Let's come back to the topic of temporary glues to talk about this fantastic product. The Roxanne glue baste-it is perfect as an applique glue. If you are into quilting or just want a temporary glue to make it easier to reposition fabric until you're sure of the design, this is one to consider.
Why Did We Like It?
We know how tedious quilting can be. It is crucial to put the right pieces together and if there is an error, pulling them apart can be difficult once sewn in. This is where Roxanne's glue baste-it comes in handy. Since quilting often requires repositioning fabric, it is helpful to have a temporary and easy solution to pull apart.
To make this process even easier, the bottle comes with a syringe applicator. This allows for more precise glue placements, and since it's a syringe, you will not be using a lot of it in one go. This way, you cannot only control the droplets, but use just the amount needed.
Additionally, the solution is 100% water-soluble. So once the sewing is done, the glue easily washes off without hampering the fabric. Plus, it does not gum up the needle, which is very convenient.
What Could've Been Better?
People who like quilting highly recommend this product. But, it is a bit expensive considering it is a temporary glue, and there are cheaper alternatives. However, the quality makes up for the price. Also, the plastic cleaner for the needle is a bit flimsy.
Pros
Great for applique quilting

Easy to pull apart

Washable

Precise drops using the syringe
When it comes to quick and easy fabric glues, this one by iCraft is a strong contender. The fabric fuse liquid adhesive comes in a handy 2.1 oz bottle and is the solution if sewing is your biggest problem. Let's have a look at some of the features that make it so popular.
Why Did We Like It?
To begin with, we were very impressed by the strength of the adhesion this glue has to offer. Not only does it work well on fabrics and gem/rhinestones but also plastic, wood, and metal. Fabric fuse is the best no-alternative as it works on several surfaces and forms a strong bond. 
Now, a significant concern with fabric glues this strong is how it reacts with fabric. But with fabric fuse, you can let those worries go. Not only is it a strong adhesive, it dries clear, ensuring the fabric remains unharmed and clean. Moreover, the glue is flexible, so the fabric feels natural and comfortable to hold or wear.
Another great thing is that this glue is non-toxic and will not harm your skin either. Users find this extremely convenient to use when fixing hems and home décor.
What Could've Been Better?
One consistent issue with this glue was that it takes a long time to dry. When used on larger surfaces, it might even take a day or two. Plus, the glue tends to stick to the skin. And although it is non-toxic and won't harm you, we advise wearing gloves.
Pros
Firm adhesion

Flexible drying

Colorless when dried

Works on outdoor furniture

Can be used on a variety of surfaces, including wood and metal
Cons
Long drying time

Sticks to the hand
Finally, we have yet another popular permanent fabric glue which is also Amazon's choice. This fabric glue by Dritz is an excellent buy for all arts, craft, and DIY enthusiasts. As a brand, it aims to bring every creative idea to life. What was once a family business has now become a household name.
Why Did We Like It?
When it comes to using permanent fabric glue, this is as easy as it gets, and we appreciate that. The Dritz unique stitch comes in a small tube which is very simple to use and beginner-friendly. All you need to do is squeeze out the glue and spread it with your finger on the fabric. Since it is non-toxic, it will not harm the skin.
This is quite popular not just because it forms a permanent bond with the fabric but also because of its versatility. Iit be used on typical embellishments like gems, rhinestones, ribbons, etc. Additionally, it can be used on zipper tapes and hook and look tapes too! This glue can cater to most DIY costume needs and décor repair work.
Additionally, it is water-resistant after drying. So once it is fully dry, it can be machine washed, and you do not need to worry about damage to the glue.
What Could've Been Better?
As we mentioned, once the glue has dried, the fabric can be machine or hand washed. However, it is advised to avoid dry cleaning any fabric that is treated with this. Also, if using this for home décor, it is only ideal for lightweight items.
Pros
Beginner-friendly tube

100% water-soluble after drying

Can be used on a variety of surfaces

Non-toxic
Cons
Cannot dry clean treated fabric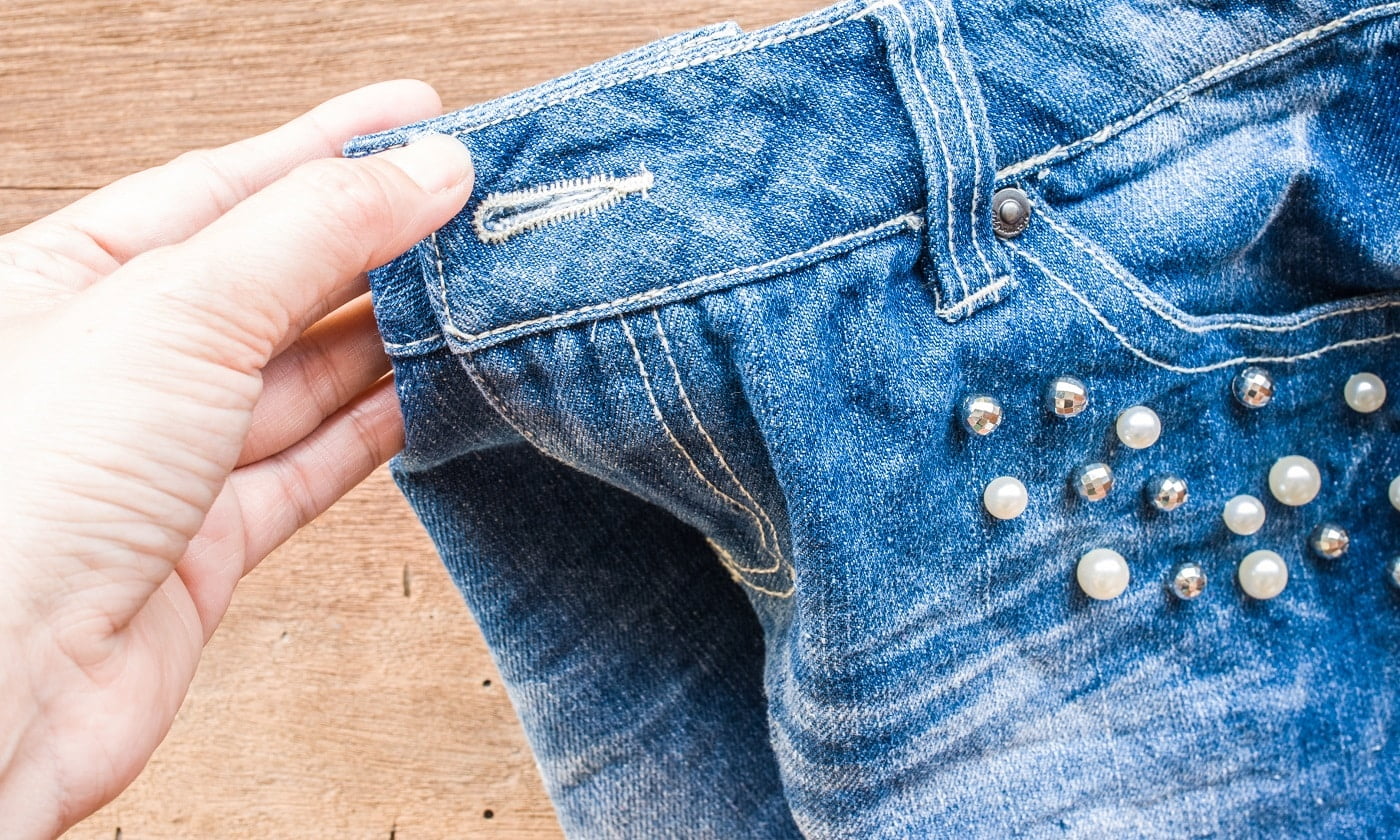 Fabric Glue Buying Guide  
Now that we are done with the reviews, you may have noticed that most of these glues have similar features. But which ones are more important than the others? Well, to tell you precisely that we have put together this buying guide. 
If you are searching for the ideal fabric glue and are unsure of the 11 we have suggested, take a look at the features below. Since there are endless brands to choose from, knowing which attributes will aid your project is beneficial.
Now, enough chit-chat, let's dive into this.
Strength 
This is perhaps one of the most critical factors. The main reason for buying a fabric glue is to stick things to the fabric, and if it doesn't hold, then what's the point? The strength of the adhesion is of top priority. 
If you are looking to stick heavy-duty things to the fabric, we suggest going for superglues or industrial fabric glues. On the other hand, if you need basic glue to stick stones onto fabric occasionally, the fabric glues available in the market are good enough.
Quality 
Another important aspect is the quality of the glue. No matter how strong the adhesive may be, if it tends to absorb into the fabric or harms it in any way, the project will go to waste. Good quality fabric glue will dry clear and not leave any marks on the fabric. 
This is why it is crucial to test the glue on a small piece of fabric before applying it to the whole thing. Top-quality glue will be transparent when it dries and, in some cases, seamlessly blend into the fabric.
Texture 
Next, we have the texture of the glue. It is vital to find the perfect balance between thick and thin so that the fabric is not harmed. If the adhesive is too thick, it will become stiff as it dries and cause the material to stiffen. It will look unnatural and feel even worse. 
On the other hand, having a glue too thin will lower the chances of a strong and permanent bond. In such cases, the glue will weaken as soon as it's washed.
Temporary vs. Permanent
Since this review has both temporary and permanent glue, we thought why not include this point too. If you are confused between the two, it all boils down to your choice. If the aim is to stick patches, stones, or decorative designs on the fabric, then go for permanent glue. 
However, if you aim to try your hand at quilting or want to iron-on patches, then temporary glues are better. They eliminate the need to pin the patches in place.
Additional Features
Lastly, take a look at the bottle to see if it's an eco-friendly product. Since you will be using it with your hands and inhaling its smell, it needs to be safe for the body and the environment. The best way to tell is if the glue says it's non-toxic or acid-free or both.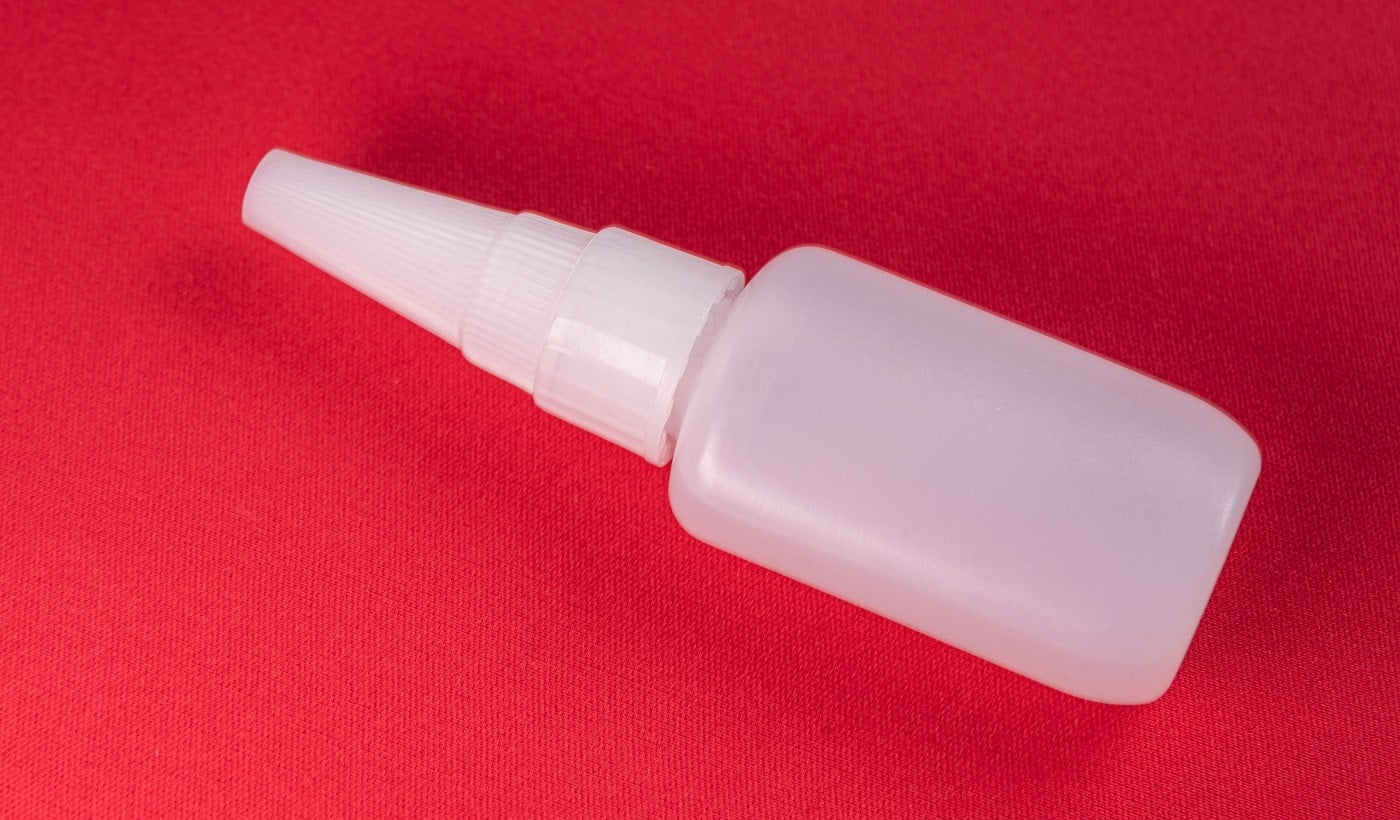 Verdict
And there you have it, a comprehensive guide on the 11 best permanent fabric glues. The world of fabric glues is vast with too many products, and we hope this review has helped shortlist a few. 
We would love to make the decision-making process easier, so allow us to name some of our favorites. If you want something to help in creative projects, especially with adding solid embellishments on to fabric, Aleene's Fabric Fusion is ideal. 
However, if you want something that works on indoor and outdoor fabrics, then the Tear Mender Fabric and Leather Adhesive is the best option. We shall now take your leave and be back soon with more reviews and guides. 
Until then, stay safe and stay creative! 
Related Articles
The Difference Between Epoxy & Super Glue
How to Remove Gorilla Glue From Skin Safely & Easily
14 Different Types of Glue – How They're Used + Tips
11 Best Permanent Fabric Glues
Can I repair a broken LEGO brick with glue?
45 of the Best Gifts for Architects 
11 Best Glue For Paper & Paper Mache
10 Best Ceramic and Porcelain Glue
11 Best Glue for Polypropylene
9 Best Glue For Acrylic Plexiglass
9 Best Glue for Plastic Eyeglass Frames
10 Best Glue For Stainless Steel
Polyurethane Glue 101 | All You Need to Know  
Gorilla Glue vs. Super Glue | Strengths, Weakness + Winner?
JB Weld VS Gorilla Glue | Comparison & Winner
9 Best Glue For Hardwood Floors
7 Best Adhesive For Acoustic Foam
Glue That Works On ABS And PVC