Disclaimer | This article may contain affiliate links, this means that at no cost to you, we may receive a small commission for qualifying purchases.
No matter how much you love spicy food, a meal without a dessert always seems incomplete! Doesn't it?
And that's where pastry mats come into the picture since they can help you shape the perfect cookies or pastries for any occasion! They make it much easier to knead the perfect dough and also help keep the countertop clean.
Hence, choosing a good-quality pastry mat will simplify the baking process considerably. But it does become confusing when there are hundreds of options available out there. So, we've tried to make your task easier by bringing you a list of the 13 best options to consider.
Read on to know more.
Top Pastry Mat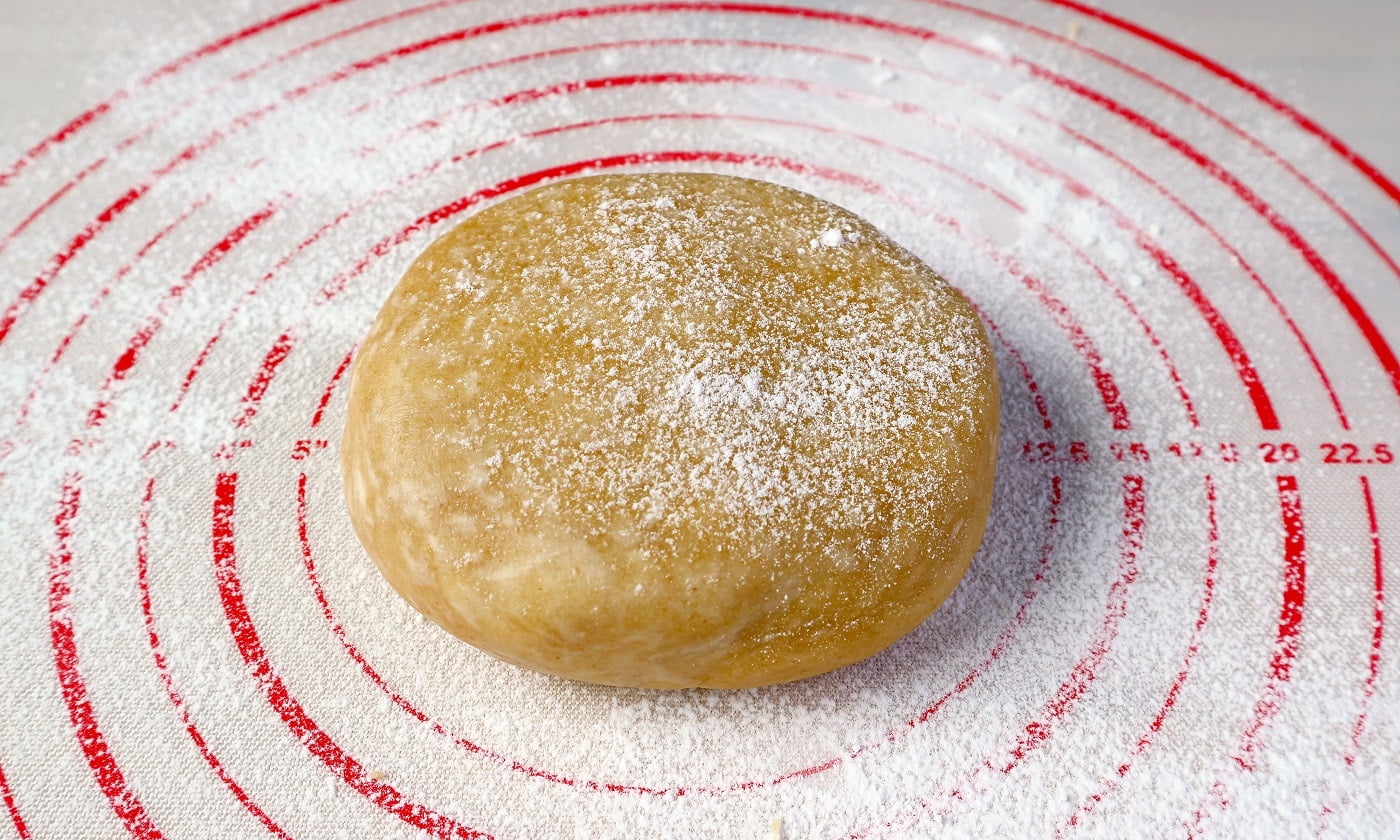 Provide your sweet dishes a healthy baking environment by bringing home this pastry mat from Folksy Super Kitchen. Made with high-quality materials, this mat has been certified by chefs as a super-efficient and healthy choice. Behind this magic is a number of amazing features, so move on and take a look at what it offers.
Why Did We Like It?
To begin with, we were glad to find that the silicone material of this mat was perfectly non-sticky. This enabled easy and efficient baking each time and also made the cleaning process much easier.
Another great benefit of using this mat is that its backside has a non-slip design. Thus, it will remain fixed on the surface while you are rolling a dough. Plus, this is a multi-use tool as you can use it as a pastry mat, baking mat, countertop mat, or table mat based on your needs.
Furthermore, the mat has a thickness of 0.7 mm, which is twice that of most average silicone mats. So, it stays on any surface in the right shape, without showing any wrinkles during use.
What Could've Been Better?
Sometimes, this product may be folded along the middle for delivering it, which may result in a crease along that line. This is contrary to the usual rolled-up form in which pastry mats are available and the mark may even stay permanently on the mat. So, make sure you check the product thoroughly when it is delivered.
Next up, we'll be reviewing this pastry mat from Greenrain that would offer the ultimate baking experience. You can bake a variety of sweet dishes like cookies and can even use this for roasting vegetables and meat. So, trust us when we say, this pastry mat will surely provide total satisfaction each time.
Why Did We Like It?
Making the dough is an important step in preparing various food items, including breads and pastries. And the thickness of the mat is crucial to ensure that it can be done properly, without the mat being displaced. Considering this, the 0.6 mm thickness of this mat is double that of other products, making it convenient for such purposes.
Further, the durability of this product is enhanced by a glass weave reinforcement. As such, it is suited for multiple uses and can be washed frequently.
Additionally, the measurement markings on this mat are easy to comprehend as they are printed in both metric and English. This helps you create pastry chunks or doughs of equal sizes, which is ideal when you are preparing the dish for a number of people.
What Could've Been Better?
Although this product works quite well most of the time, it might be a bit difficult to get it off wooden rolling pins or other such surfaces. So, it has a tendency to stick to these surfaces more firmly. However, sometimes it may even be due to very thick doughs being rolled on the mat.
This product from EasyOh is another great pastry mat for baking all kinds of foodstuff. So, you can forget about getting half-baked cookies or cakes as in case of ordinary mats. And this mat can be confidently used even by beginners or less experienced bakers. Note that this baker comes in dimensions of 16" x 24" and has a thickness of 0.4 mm.
Why Did We Like It?
The best thing about this pastry mat is its perfect dimensions, which make it suitable for baking all kinds of food items. Thus, you can bake a large birthday cake as well as small muffins for your loved ones any time. Plus, the thickness of 0.4 mm ensures that the mat doesn't wrinkle or slip during use.
Also, we really liked the circular measurement guides on the mat, which make it much easier to roll out a pizza crust or a pie dough. As such, anyone can roll out and slice the perfect crust for a pie or pizza. And the measurements are given in both metric as well as imperial units to yield perfect results each time.
Plus, the product comes with a 100% money-back guarantee and can be replaced in case you are not satisfied with its performance. The manufacturers are sure to provide friendly support regarding such issues.
What Could've Been Better?
We felt the mat was more sticky than other pastry mats, since we found smaller cakes or cookies sticking on its surface. If you face a similar issue with this product, you can add some flour on the mat from beforehand. But if the stickiness persists, you should inform the manufacturer and request for a replacement.
Rolling out perfect pastry doughs while maintaining the cleanliness of your countertop is no longer a problem with this pastry mat. It is also very safe to use for anyone, be it a beginner or a pro, which makes it one of the most sought-after products on our list. Note that this mat measures 24" long and 16" inches wide and is 0.4 mm thick.
Why Did We Like It?
Firstly, this mat can be used for processing food items within a large temperature range, that is, -45 °F to 450°F. As such, you can use it for products kept in the freezer for hours as well as food items just taken out of the oven.
Plus, this mat doesn't produce any unpleasant odors, and hence allows you to enjoy your baked stuff thoroughly.
Another noteworthy feature of this mat is its non-stick property. It makes sure that you don't need to use any oil or flour to get the cakes and pastries off the product. This also rules out the need for scrapping dried doughs off the countertops.
Lastly, the simple conversion charts given on the mat makes obtaining the right size of doughs and pizza breads very smooth.
What Could've Been Better?
The only issue that we faced with this product was that it was a bit thinner than average mats. As a result, the mat curled up quite a few times while processing a food item. This problem is more common for granite countertops, so you don't need to worry if you have one made from different material.
Specially designed to serve multiple needs, this high-quality pastry mat from Silpat can be used to create anything you desire. This one is an improved version of the original mat from the well-known brand and thus offers even better performance. Also, this product is suitable for all, be it a novice baker or a pro.
Why Did We Like It?
If the mat slips or moves while rolling a dough, it becomes difficult to create the perfect cookie or cake you desire. Hence, the mat should have a non-slip surface to yield the perfect size, and this is exactly what you get with this product. It's backside is specially formulated to prevent any moving or slipping, so you need not worry about this problem at all.
Further, the dimensions of 23" x 8" make this mat suitable for making food items of a variety of sizes. And the measurements drawn on it help you obtain the appropriate size each time.
Last but not the least, this product is made with superior-grade silicone material which makes it highly durable. Thus, you can use it lots of times by just rinsing it with soapy water and drying it for a while.
What Could've Been Better?
The packaging of this product can be better as the box is not very strong and may be torn in quite a few places by the time it is delivered. This might also alter the condition of the mat sometimes, causing it to be creased in a few portions. So, make sure you check the mat thoroughly just after it is delivered.
The next baking mat that we've picked for you is this healthy product from LIMNUO that can last for years to come. Its durability and effectiveness has been praised by customers across the country. And we can assure you that the product indeed won't dissatisfy you at all.
Why Did We Like It?
If you are searching for a thicker product than the average pastry mats available out there, this is another ideal option to go for. With a thickness of 0.6mm, it hardly wrinkles on the countertop and hence makes your creations perfect.
We also loved the non-slip design of the bottom part of the mat, which strongly adhered to the countertop and other surfaces as well. As a result, the mat doesn't bunch or move when the dough is pushed out.
Furthermore, the product is highly versatile and hence can be used for roasted vegetables and meat besides making cookies, sweets, and pastries. Lastly, you get an efficient refund facility with this product. So, you can contact the manufacturer if you face any major issue with the mat and they will refund the entire amount.
What Could've Been Better?
In case of bigger cakes or pastries, it might be a bit difficult to get them off from the mat. So you may have to use some flour while preparing such food items on this product. Most of the time, this problem can be dealt using this tip from beforehand. But if it is observed for all food items, you can consider getting a replacement.
If you want to be relieved from the mess created by sticky pastries and cakes, you can go for this product. It is made with efficient material that ensures you get the best possible results every time. Also, it is perfectly safe for use and is convenient enough for both beginners and experts. So, let's find out about all its wonderful features.
Why Did We Like It?
Won't it be super-convenient if a mat can be used for both baking and cooking purposes? Well, this product does just that, since it can get your pastries, apple pies, and pizzas done really well. This way, it becomes the perfect multi-functional pastry mat that anybody would love to own!
Interestingly, the back-side of the mat is designed to offer greater friction. This way, it doesn't move a bit throughout the cooking or baking process. Plus, it has a thickness similar to that of professional-grade mats and attaches firmly to countertops.
And that's not all. This mat can last longer than 3 years and comes with a convenient 12-month refund and exchange policy. Thus, you can simply get in touch with us for a quick return if you are unsatisfied with the product.
What Could've Been Better?
The only drawback of using this product is that the readings for measurement are not completely legible. That's because the printing is not clear in some places and the size of the text is also too small. To deal with this issue, you can keep a magnifying glass handy, though you may not need it too frequently.
This highly temperature-resistant product from Sapid is another top-notch option among the pastry mats available out there. It ranks high both in terms of durability and performance and is also a very cost-effective choice to go for. In fact, we were surprised to find so many exciting features at such an attractive price.
Why Did We Like It?
We were highly impressed by the 0.7 mm thickness of this product, which is greater than most products you'll find on the market. This will ensure that the mat stays firmly in place and also doesn't wrinkle during use.
On top of this, the mat has a much larger size than the average products, which makes it perfect for baking items of different sizes. Also, this prevents the fondant or flour from spilling on the surface all along.
When it comes to versatility, this product also fares quite well. It can be used to make breads, cookies, biscuits, fondants, pasta, pizzas, and more. Lastly, the product is available in two colors, red and blue and is easy to store and clean as well. The cleaning process is very simple as you just need to rinse it with soapy warm water.
What Could've Been Better?
In the case of this product too, we found the packaging to be a major issue. First of all, the box is not strong enough to withstand the ravages of the delivery process. And as a consequence, sometimes the mat may be affected, like for one of our orders we found that a portion of it was torn.
This baking mat from Aurora Gadgets makes cooking less stressful and more fun than average products found in the market. It doesn't contain any harmful materials and also makes cooking faster and more efficient. Note that this product measures 19.6" long and 15.5" wide.
Why Did We Like It?
We found the 19.6" x 15.5" surface of this mat to be perfect for all the shaping, rolling and kneading work. As such, you can work on different sizes of food items and they are never spilled over the surface. Plus, you can use it for cooking purposes which makes it a multi-use kitchen tool.
Further, the use of highest quality silicone material ensures that the mat provides a consistent performance for years. This material is also very soft and totally free from BPA. While the softness makes the mat easy to clean, absence of harmful materials makes it perfectly safe for use.
What's more, every purchase of the product includes an accessories guarantee of 5 years. Thus, you can request for a replacement free of cost or a refund if you are not happy with the product.
What Could've Been Better?
Although this product delivered an impressive performance, sometimes we had to deal with cookie doughs that stuck to the mat surface. So, adding flour from beforehand is an essential precautionary measure if you decide to go for this mat. That said, this problem won't occur too frequently since you would get perfect pastries and cake most of the time.
 Here's another premium-quality product that would help you in making perfect doughs for breads, cookies, pastries and more. Loaded with a number of beneficial features, this mat makes your baking accurate, while ensuring your safety as well. Note that this product comes along with a scraper for dough and a brush also.
Why Did We Like It?
We begin by discussing the thickness of this mat as we found this to be its most significant feature. Being 0.6 mm thick, the mat always stays firmly on the surface and doesn't wrinkle while being used.
On top of this, it is highly heat-resistant as it can bear temperatures of -40°F to 480°F. Thus, you can use it safely in freezers as well as ovens. Plus, you need not worry about the cakes or pastries sticking on the surface of this mat since it is made from high-quality non-stick silicone material.
Furthermore, the measurements given on this baking mat are easy to comprehend since they are mentioned in Metric as well as Imperial systems. So, you can make accurate dough sizes very easily using these guides.
What Could've Been Better?
The only fault we found with this product was fibres sticking out of the edges in some portions. This may be observed after having used the mat for a year for washing it regularly. To deal with this issue, make sure you don't apply too much force on the product when washing it with soap water.
Cooking a variety of super-healthy baked food is no longer a problem with this pastry mat from Precis. It creates the right work surface for all baking purposes and also renders a fairly long service. Also, this mat is suitable for both novices and experts, since it is super–easy to use and store. Note that this product comes in dimensions of 32" x 24".
Why Did We Like It?
The most beneficial feature of this mat is its extra-large size of 32" x 24", which makes it suitable for making small cakes and puddings. Thus, when you have a cozy family get-together or a house-party with friends, this mat lets you make the perfect delicious sweet dish that anybody craves for.
What's more, this mat is highly heat resistant as it can withstand temperature between -40°F to 450°F. So, you can use it for freezing or heating any item whenever you like. Plus, this mat can serve you for several years without deteriorating in quality and even its color remains intact.
 Lastly, this mat can be stored easily by rolling it or even laying it flat on a secure place and occupies minimum space.
What Could've Been Better?
We noticed creases on quite a few portions of the mat since it was folded up when it arrived. However, the creases didn't stay for too long as they were gone after about 2 months. Also, sometimes this mat slid around the corner, so you have to be a bit careful while using this product.
This product from TLWTCT ensures that your countertop is never too messy despite regular kneading of doughs. It is made with high-quality materials and ensures complete safety of the users. Also, it comes with a reliable warranty of 12 months, which is rare to be found in the ordinary pastry mats out there.
Why Did We Like It?
This product is made from silicone and fiberglass that together work to enhance its durability considerably. This combination also makes the mat highly stain-proof. Plus, it doesn't contain any BPA which makes it completely safe for use.
Further, this made is twice as thick as other products, which makes it stay firmly on any surface including countertops. As such, there is no crinkle in the product, nor does it slip from the surface during use.
Moreover, the markings of equivalent dimensions makes it very easy to prepare the pie crusts and biscuit doughs. Lastly, the non-stick nature of the mat eases out the cleaning process as the dough and sugar can be removed easily.
What Could've Been Better?
The only disappointing aspect of this mat is that it is smaller than the average products in the market. As a result, it may not be possible to make the doughs for large-sized sweet dishes. So, in case you are looking to make food items of a variety of sizes, it's best to go for another product such as our previous pick.
Another superior-quality product is this one from LIBGEYA, which empowers you to create perfect baked food any time you like. This mat can be used for all purposes, whether it is shaping bread or pie crusts, kneading or rolling doughs or making pasta.
Why Did We Like It?
First of all, this product is made from efficient silicone material, which can be cleaned easily and also dries up quickly after a wash. It is also very soft and stick-resistant, which ensures that cookies or pastries never stick to the mat surface.
What's more, you get a 100% refund or replacement guarantee with this product in case you're unhappy with the product. Plus, it comes with an appropriate thickness which ensures that it doesn't slip or wrinkle during use.
 Finally, the dimensions of 31.5" x 23.5" are fair enough to ensure that doughs of various sizes can be processed comfortably. This is why you can even make large-sized sweet dishes for the whole family to enjoy during festive occasions.
What Could've Been Better?
Although the product is extremely beneficial for all baking purposes, it is a bit difficult to store. That's because even if you roll up the product, it becomes a tall roll that requires more storage space. So, if you have limited kitchen space, this product might not be the one ideal for you.
Pastry Mat Buyer's Guide
Buying the right pastry map is not a problem if you follow the right approach. Keeping your needs and preferences is important and so is considering a few essential features that are characteristic to pastry mats. So, here are some key points to consider before proceeding to purchase the perfect pastry map.
Size
There are lots of sizes available when it comes to pastry mats, and the best size will depend upon the type of baking you generally do. Along with this, you also need to consider the space that you have. For instance, if you generally don't make very large pieces and have a little space on the countertop, you can go for a smaller mat of around 16" x 20".
On the other hand, if your counter space is wide and lacks depth, you can go for mats with dimensions of around 16" x 26".
Multipurpose Or Just For Baking?
This is another essential consideration to make, since quite a few baking mats are suitable for cooking purposes also. So, you should be clear about whether you just want the mat for kneading dough or for preparing a variety of food items including roasted vegetables and meat.
Plus, many pastry mats come with useful utensils for baking such as rolling pins. So, you must decide whether you want to buy such combo items. Also, if you also need guidelines to help you in the baking process, go for products that come with cookbooks or descriptive guides.
Non-Slip And Non-Stick Nature
Pastries or cookies often tend to stick to the surface of ordinary products, which ultimately makes taking them out a messy affair. That's why it is so essential to bring home a non-stick product. And a non-slip back-side ensures that the mat stays firmly in place while kneading the dough.
So, you must make sure that the product you are choosing ranks high in both these criteria. Make sure you check the information on the material used in making the mat and the roughness of the back-side while going through the details of any product.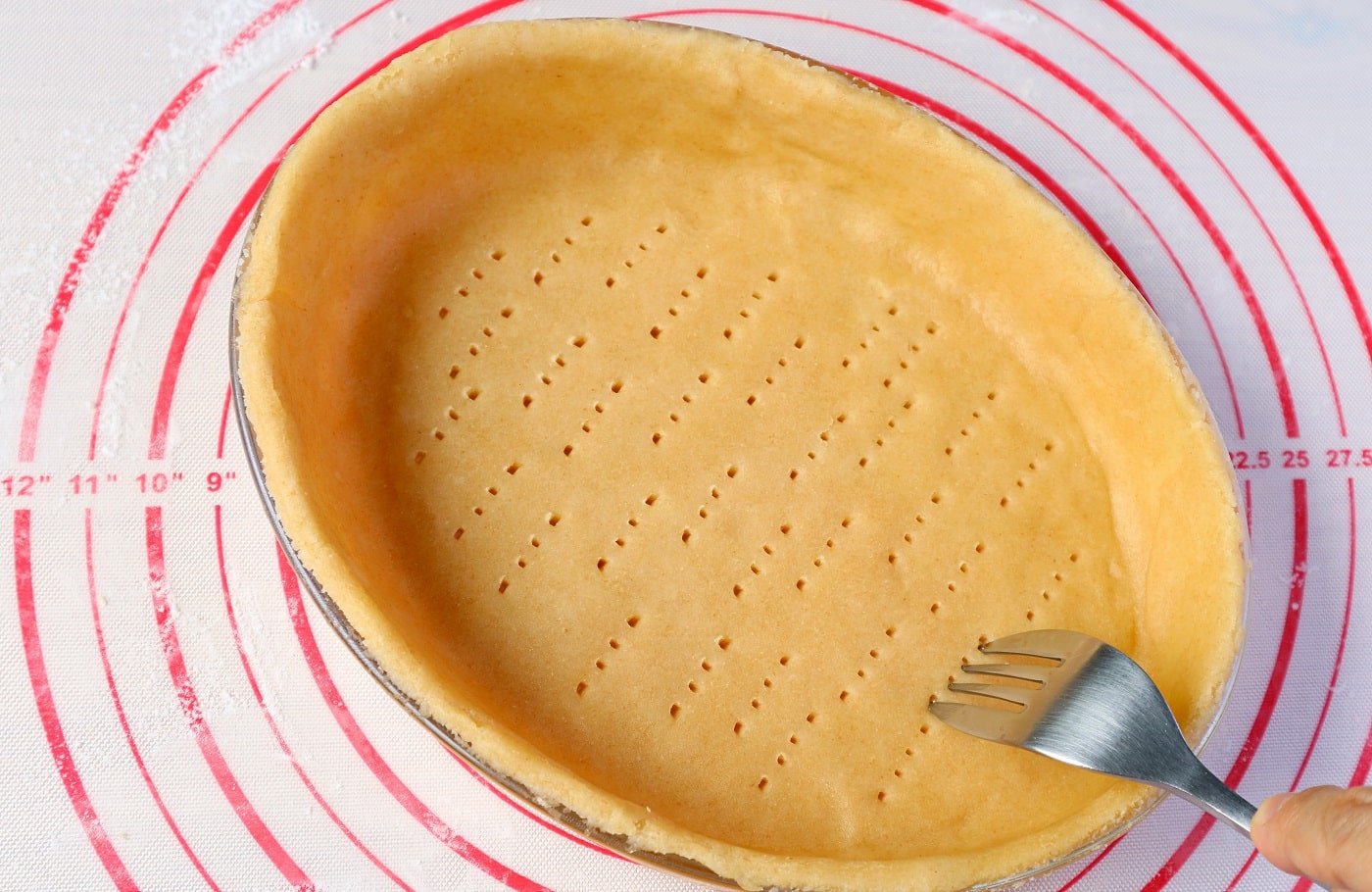 Verdict
That's all the time we have for you today!
We hope you'll be confident enough to choose the best pastry mat now. But before we sign off, here is a pro tip to help you further. To ensure that the pastry mat is fit for the space you have, look at products which would match your countertop dimensions.
Now, here's a recap of our favorite products from the list. If you're looking for a mat of an average size that is also cost-effective, you can go for the Sapid Silicone Pastry Mat.
However, if you have greater space on your countertop and don't mind buying a product that's a tad bit expensive, the Precis Silicone Pastry Mat will be an ideal choice.
With that, we'll call it a day. Till we meet again!
Related Articles
11 Best Nonstick Cookware Brands
9 Best Tamale Steamer [Reviewed & Buyer's Guide]
9 Best Chinese Cleaver [Reviewed & Buyer's Guide]
Are Red Copper Pans Toxic? [All You Need To Know]
Ceramic vs. Stainless Steel Cookware 101 [All You Need to Know]
11 Best Chef Knife Bags Under the Microscope
13 Best Steak Knives Right Now
11 Best Electric Knife Sharpeners
How to Build a Hidden Cabinet Knife Drawer Safe For Children