A backyard or garden is one of the best assets of your property. The added open space gives you a private place to lounge and soak up the sun or have fun with your family. However, when the sun starts getting too hot in the summer, the outside doesn't seem as appealing anymore.
Pergolas are the right solution for this dilemma. They add a lot of shade and privacy, adding value to your outdoor space. You can enjoy the sun and sit in the open or have your kids play safely, away from direct sunlight.
Like any other outdoor furniture and accessory, there are various materials pergolas are available in. Here, we focus mainly on metal pergolas as there are many reasons why they are better suited to your needs than any other material.
One of the main factors that give metal pergolas an edge is that they last much longer. Also, they are better to manage and maintain over time. They can withstand various weather and hot summers without losing any sturdiness.
And surprisingly, metal pergola kits are relatively lighter than wooden ones. So, if a lightweight yet durable and long-lasting pergola kit is what you need, then a metal one is probably your right match.
This article lists some of the best metal pergola kits currently available in the market. Each is reviewed with important highlights and pros and cons made clear for your perusal. We have also added a comprehensive buying guide at the end to make the buying process easier.
Without any further ado, let's dive into the details of kits.
Best Metal Pergola Kits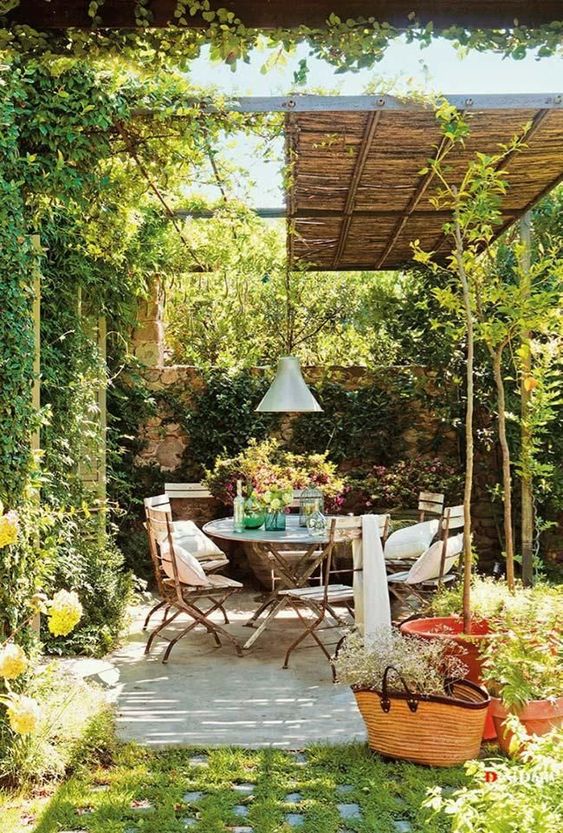 Large size

Hardtop roof and sturdy frame made of steel and aluminum

Replacement parts are available
The first pergola on our list is the largest and most luxurious one. 12' by 16' in size, this is the pergola for people who have large families or love to host outdoor gatherings.
The hardtop roof means you won't have to take it down once the snow starts falling or when the monsoon arrives in all its glory. The pergola will stand strong and withstand the climate well.  
The frame supporting the galvanized hardtop roof is made of rustproof aluminum. The charcoal color of the frame and ceiling gives a nice contrast to an otherwise green and luscious backyard. It easily becomes the focal point once it's installed.
You can relax under the shade by the pool or just lounge around while your little ones play on the grass. It has space for a ceiling fan and lights so you can still enjoy your backyard when there is no breeze.
The kit comes with a PVC-coated polyester mesh mosquito netting. It's just as durable as the frame and also blocks sun exposure. Although it needs to be installed by a professional, it will protect you from environmental elements for years to come.
Pros
Has fixtures for ceiling fans and lights.
Quite grand-looking design with many features.
Hardtop roof can withstand snowfall.
Cons
Requires professional assembly.
Heavy on the pocket.
2. Sunjoy 10' x 12' Chatham Steel Hardtop  – Best Double-Tiered Canopy 
Hardtop canopy
Vented roof
Dimensions: 10' by 12'
Hardtop canopies are perfect for those looking for a permanent gazebo. It keeps the sin away and gives you and your kids a comfortable place to enjoy the outdoors all year long. This Sunjoy gazebo is large and fits well in backyards where there is enough room.
The frame for this gazebo is very solid and heavy-duty. Made from high-quality powder-coated steel, it's meant to last a long time and multiple weather conditions all year long. The hardtop roof is made with the same material and can take heavy snowfall pretty well.
The double-tiered roof allows air to flow through the gazebo much more freely, providing good ventilation when it's needed the most. The kit comes with mosquito netting so you can enjoy the outdoors even when there are bugs flying around.
You do have to get the pergola professionally installed as it is quite heavy. But once it's assembled, it will immediately become the place for you and your family to hang out.
Pros
Can withstand wind and snow
Well-ventilated.
Long-lasting framework.
Cons
Hard to assemble due to the weight.
The hardtop roof can fade under bright sunglight.
Traditional venetian design
White color
Dimensions: 10' by 10' frame with 5" x 5" posts
If you've even come across Venetian themes in movies, the soft romantic textures, light colors, and minimal architectural details all look incredible. You most notable piece from that time is the classic pergola design. This version is based on the traditional design, with some modern touches.
The white, trellis-like roof of the pergola is the perfect foundation for flowering vines. Set in a lush garden, with white wicker furniture and flowers all around, this pergola will become the focal point in your backyard.
The framework is made of vinyl, which is easy to clean and maintain. Whether you install it on grass, concrete patio or wooden deck, it takes only people and a few tools to install the pergola. In a few hours, you can enjoy the pergola.
Be noted that the kit doesn't come with a netting or canopy cover. You may have to purchase it separately if you need it.
Pros
The vinyl material is easy to clean.
Easy to install.
Goes well with various themes.
Cons
Doesn't come with a canopy.
Relatively expensive.
Heavy-duty aluminum and steel material
Comes with netting and waterproof sidewalls
Dimensions: 10' by 12'
If you need a waterproof, heavy-duty pergola, this Kozyard hardtop gazebo in Rosana is perfect. Unlike soft top gazebos, this particular one is suitable for homes in places where winters have snow. Also, this gazebo is suitable for homeowners that have no opposition to having a permanent gazebo.
Sale
The frame is made from rust-proof aluminum. It is very sturdy and strong, built to last a long time. The dark brown color of the frame is matched to the hardtop roof. The metal top is made from galvanized steel roof.
It gives the gazebo more sturdiness. Also, it weatherproofs the pergola. You can leave it up in the winter as it can withstand heavy snow and harsh winds. The kit also comes with anchoring stands with pre-drilled holes for installation.
Lastly, this gazebo can be used anytime during the year. The netting keeps the bugs away while the waterproof sidewalls keep water out.
Pros
Galvanized roof can withstand snow.
Weather-proof.
Has space and hooks for a ceiling fan.
Cons
Difficult to assemble.
The roof makes noise when rain hits it.
Patio, deck, and backyard gazebo
Lightweight
Comes with a mosquito netting
Dimensions: 12' by 12'
The tapered roof on gazebos has been done too many times. While it's attractive and practical in all regards, every now and then you want something different. The round roof on this pergola is unique enough to satisfy those requirements.
This pergola is perfect for homes with a little more space to accommodate a larger canopy. It has a large footprint, coming out to be 12 by 12 feet. You'll be able to fit more underneath and entertain more people outside when it's sunny. 
The metal framework is made of steel. Like other gazebos mentioned here, this one is also coated with rust- and corrosion-proof powder. The canopy cover is beige in color and fits well over the rounded roof.
It is made of 250g polyester and has waterproof and anti-UV protection. The kit also comes with mesh netting to keep the bugs out. Along with that, it also has solid "walls" that can be drawn close for more privacy. These layers have zipper openings, which make entering the gazebo easy.
Pros
Cost-effective pergola.
Comes with mesh netting to keep bugs away.
Lightweight.
Cons
The welding at some joints may be weak.
Lack of instructions can make assembly difficult.
Features a double-tiered vented roof
Powder coated and corrosion resistant steel framework
Waterproof polyester canopy with PA coating
Dimensions: 10' by 10' and 8.5' in the maximum height
It's quite understandable that not everyone wants to spend hundreds of dollars on a gazebo they will just use in the summer. For that, the metal gazebo by Quictent is an affordable but quality solution.
While it's not as elaborate as some of the other pergolas mentioned in the list, it's perfect for homeowners looking for a simple kit. 
Even though the gazebo is simple, it gets the job done well. The metal framework is built out of sturdy steel and protected with heavy-duty powder coating to prevent rusting and corrosion. The canopy on top is very easy to install and has a PA coating, making it waterproof and UV-safe.
The material of the textile canopy is high-grade 210g polyester that is very breathable and anti-fade. The metal framework itself is sleek, making it a very simple and flexible canopy that can fit with various styles.
The product comes with bolts and stakes for easy assembly and installation.
Pros
Comes with stakes for better grounding.
Extremely lightweight yet durable.
Can be used on decks as well.
Cons
May require weight bags for wind resistance.
The metal might not be the igest quality.
The canopy is waterproof.
Comes with two types of netting for different needs
Can be installed on a deck, balcony, backyard, and more
Dimensions: 10' x 10'
While it's not the smallest gazebo, area-wise, it is better suited for homes that have limited outdoor space. This pergola can be made the focal point of the outdoor space without it taking up all the room.
This Sonoma gazebo is not only the right size and stylish, but it also durable and provides protection from environmental elements including harsh UV rays. 
The pergola kit comes with a 10' by 10' metal frame made of solid steel that can withstand harsh winds and the summer sun. The polyester canopy on top is large enough to provide sufficient shade and waterproofing.
You can place patio furniture underneath the gazebo and enjoy the outside when the sun is shining bright. If bugs are a problem, you can open the netting. There are two layers of netting to suit your needs. Interestingly, the netting also has a zipper door, which can make you feel like you're inside a giant tent on a camping trip.
Pros
Comes with a mosquito net that can be fasted with straps.
Lightweight for the size.
Textile canopy is easy to remove.
Cons
Canopy pockets collect water, weighing it down.
Assembly instruction might be confusing.
8. Sunjoy Large Naples 10' by 8' – Pergola for Al-Fresco Style 
Beige adjustable and louvered slat canopy
The metal is coated with a rust-resistant powder
The while pergola frame has a 10' by 8' footprint
This Sunjoy canopy is the perfect one for anyone who loves Italian and French al fresco dining aesthetics. You can bring those aesthetics to your outdoor space. While on the larger side, the canopy is 10 by 8 feet and can fit in many backyards. 
This free standing pergola is quite sturdy and hardy through various climates and weather conditions. The frame is constructed out of durable, high-quality steel to ensure that it is long-lasting and safe. Furthermore, the metal is powder coated to keep the rust away.
Slit design allows wind to pass through, providing stability. The stylish pergola with a grill-like ceiling of the frame is further added with a beige-colored canopy. The soft-top canopy is vented and keeps the UV rays away.
The textile canopy is durable. It is also adjustable and louvered, allowing you to open and close it to let the sun in when you need it. The slats are a sling material and also coated with rust-resistant powder.

Pros
Adjustable canopy can be opened and closed.
Sturdy steel frame is coated with rust-resistant powder.
Versatile design works well with many styles.
Cons
Can be hard to assemble.
Harsh conditions might not be tolerated well.
Includes mosquito netting and canopy.
Weighs 95 lbs. | Dimensions: 10' x 12' (frame footprint) 11' x 13' (canopy)
Maximum height: 8' x7"
Sunjoy is being recommended for the third time in this list for a reason. This pergola kit makes a classic gazebo in your outdoor space. Not only is it affordable, it comes with additional features that give you complete shade and utmost privacy when you're outdoors.
Create a sweet space for you and your friends to have a few drinks with this metal pergola. The classic 4-bar design is supported with steep frame. Addition of paisley-like unique patterns on the corners adds a touch of detail to the frame.
The stainless is sturdy and powder-coated to keep it looking stylish and new. It comes with a double canopy, each of which is on a different level. The main canopy is the large one, casting a huge shadow to keep the sun away.
There is a smaller canopy above that, which doesn't really have a purpose but adds an aesthetic element to the design. The canopy is made out of polyester material, which shades well and prevents any leakages when the weather is rainy.
The kit also comes with a center hook for your light. Each leg also has a corner shelf and a side hook for hanging any planters. Overall, the gazebo is suited for pleasant weather and medium-sized locations with basic needs.

Pros
Lightweight and easy to assemble.
Frame has a netting to keeps the bugs away.
The steel used to build the frame is powder-coated.
Cons
The frame may not withstand harsh winds.
Might not be long-lasting.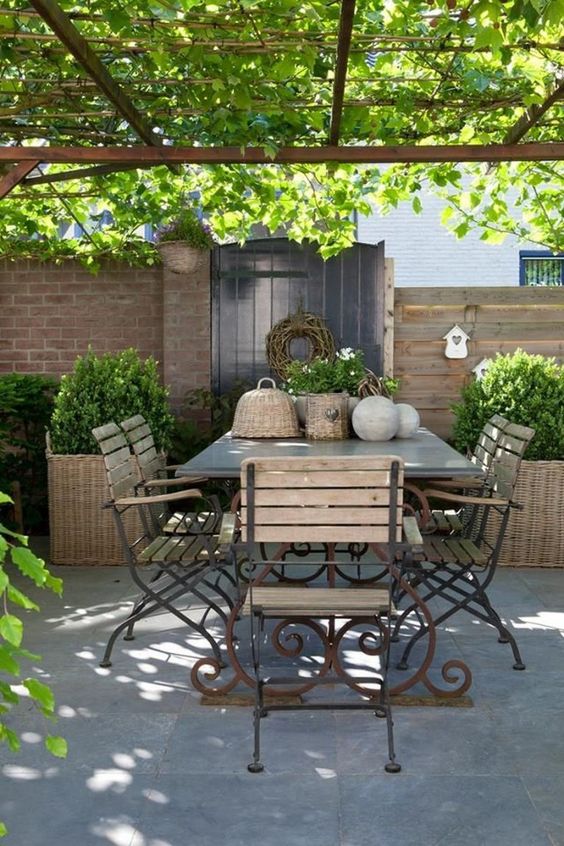 Metal Pergola Kit Buying Guide – What to Look for in a Pergola
Whether made of metal or other material, pergolas can serve a number of various purposes. They provide shade for an outdoor dinner space or by the pool. Or it can create a covered space for your kids to play without being under the hot sun.
The creativity is really up to you. However, having some idea about how you will be using the pergola will help you choose the right one. This brief buyer's guide can help you further.
Material
We've already explained why we prefer metal over wood for pergolas. It is low-maintenance and long-lasting. You don't need to varnish it or worry about it aging and fading under the sun or how it will stand up to water damage and other weather elements. You can just use it straight out of the box.
Deciding to but a metal pergola is just step one. You need to go further and decide what kind of metal you want. The most common options available include steel, vinyl, and aluminum. Each metal, while sturdy, has its pros and cons.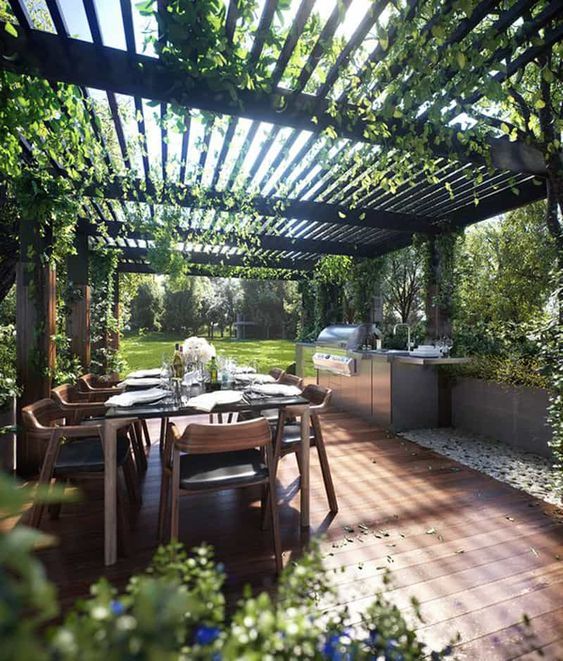 You can decide which one suits your needs better. Vinyl, for instance, is easier to clean compared to the other two and is more aesthetically pleasing. Steel, on the other hand, is much sturdier and will stand the test of time better than vinyl.
And lastly, aluminum is a much better option for those who live in wet climates because the metal is waterproof.
For people who do want the wooden pergola kit in their backyards, cedar anchors well in the ground. However, metal pergolas are lighter and work well on porches and decks where the weight can cause damage.
Size
Along with the material, the size of the pergola kit is the most important consideration. No matter the features and durability of a pergola, it won't work if it's too big or too small.
The size you need depends on where you want to install the kit and how you want to use it. Pergola kits come in various shapes and sizes to fit different spaces. They can range from the smallest at 6' by 6' to 122' by 20'.
You need to consider the length and height of the pergola and the surface area of the location you are going to place it on. Also, if your backyard has trees, take the height and width of nearby foliage.
Along with the exterior dimensions of the pergola, measurements for the inside are also important. You want to make sure that it is spacious enough to fit furniture and the tallest friend or family member that frequents your home.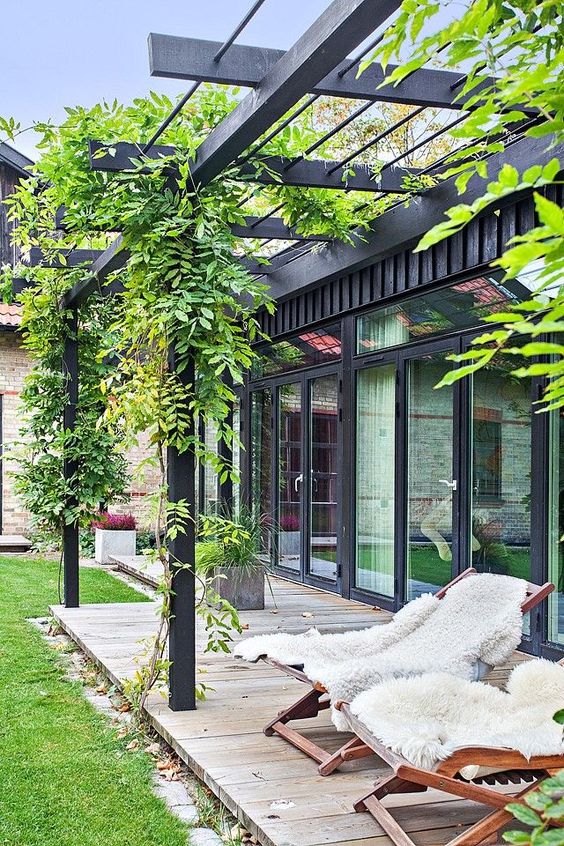 Price
Prices on pergolas can vary from $300 to an upwards of $3000. As one would expect, metal pergola kits on the smaller side cost less than the larger and more elaborate ones.
The price for metal pergolas is dependent on the size of the frame and whether the canopy is included or not in the kit. Most metal kits start at around $400 to $500. The price goes up when other features are added.
Style
The consideration for the style of the pergola is mostly for aesthetic purposes. You can pick between round, rectangular, and square gazebos. But that's not the limit. There are many other unique shapes to look at as well.
The right gazebo would be the one that complements your home's architecture. Instead of looking out of place, it should blend well with the design.
But don't forego practicality when looking at the style. Don't give in to your liking for the design and choose an attractive pergola that doesn't quite fit the space right.
Final Thoughts
If you have a large enough backyard, deck or patio, a pergola will complete your outdoor aesthetics. Even though they are not cheap, they are investment pieces and add value to your home, especially permanent ones.
You just have to make sure you know what you're looking for and check the dimensions of the kit to get one that will serve you well for a long time. We hope that the buyer's guide and the recommendations give you some options and guidance in choosing the one that suits your needs.