Maintaining a garden is not easy! While it may pose as a challenge, using good loppers can be a deal maker in achieving a well-kept garden.
Loppers that fit your needs can go a long way in saving your time and energy. While there are handheld pruners available, they are often not strong enough to cut through thick branches. And this is where loppers come into the picture. Investing in a good product will give you a picturesque garden to flaunt!
Now we know how disastrous it can be to choose one without having proper knowledge about the types available and the array of features that are there. To make it easier for you, we have reviewed the 13 best loppers currently available in the market, detailing out their pros and cons. 
Let's move on to the reviews, without further ado.
Top Loppers 
IMAGE
PRODUCT
DETAILS

Our Top Pick

Our Top Pick

Fiskars 28-inch Bypass Lopper

Hardened, precision-ground blade
Low friction coating
Rust-resistant

VIEW LATEST PRICE →

Tree Power Lopper Tabor GL-18 Garden Bypass Pruner

Made for 1" diameter thick branches
Non-stick blade coating
Hardened razor-sharp, precision-ground carbon steel blades

VIEW LATEST PRICE →

Corona SL 3264 ComfortGEL Bypass Lopper

Shock-Guard bumpers
25-inch steel handles

VIEW LATEST PRICE →

Tabor Tools GG11A 30-inch Bypass Lopper

Works with 1- ¾ inch thick branches
Carbon steel blades
Compound lever system with multiple pivot points

VIEW LATEST PRICE →

TABOR TOOLS GG12 Anvil Lopper

Effective for branches of 2" diameter
Rubberized grip on 22" handles

VIEW LATEST PRICE →

Spear and Jackson 8290RS Razorsharp Heavy Duty Telescopic Ratchet Anvil Loppers

PTFE coated blade making it rustproof
Tubular telescopic aluminum handles

VIEW LATEST PRICE →

Fiskars PowerGear2 Bypass Lopper, 32 Inch, (394801-1003)

Premium steel blades
Rust resistant
Patented gear technology for better leverage

VIEW LATEST PRICE →

KSEIBI 252606 Razor-Edge Pruning Lopper

27" - 40 inches oval tubular telescopic handle
Efficient lever drive system
5 extensions with thumb release lock button

VIEW LATEST PRICE →

Corona Compound Action Anvil Lopper, 32 Inch, FL 3420

32-inch fiberglass handles
For professional usage
1-½ inches diameter capacity

VIEW LATEST PRICE →

Utopia Home Premium Garden Lopper

Resistant to rust
26 inches in length
High carbon steel blades

VIEW LATEST PRICE →

MLTOOLS Easy Cut Ratcheting Lopper

Superior ratcheting mechanism
Lightweight and portable
Capacity of a 1-3/4th inch diameter

VIEW LATEST PRICE →

Wolf-Garten Power Cut Telescoping Loppers

For branches up to 1.97" in diameter
4x cutting strength
New dual-pivot cutting head technology

VIEW LATEST PRICE →

Felco 200 Bypass Loppers

Aluminum Fiber Tubes
Available in 3 sizes
Cutting capacity is 1.4 inches

VIEW LATEST PRICE →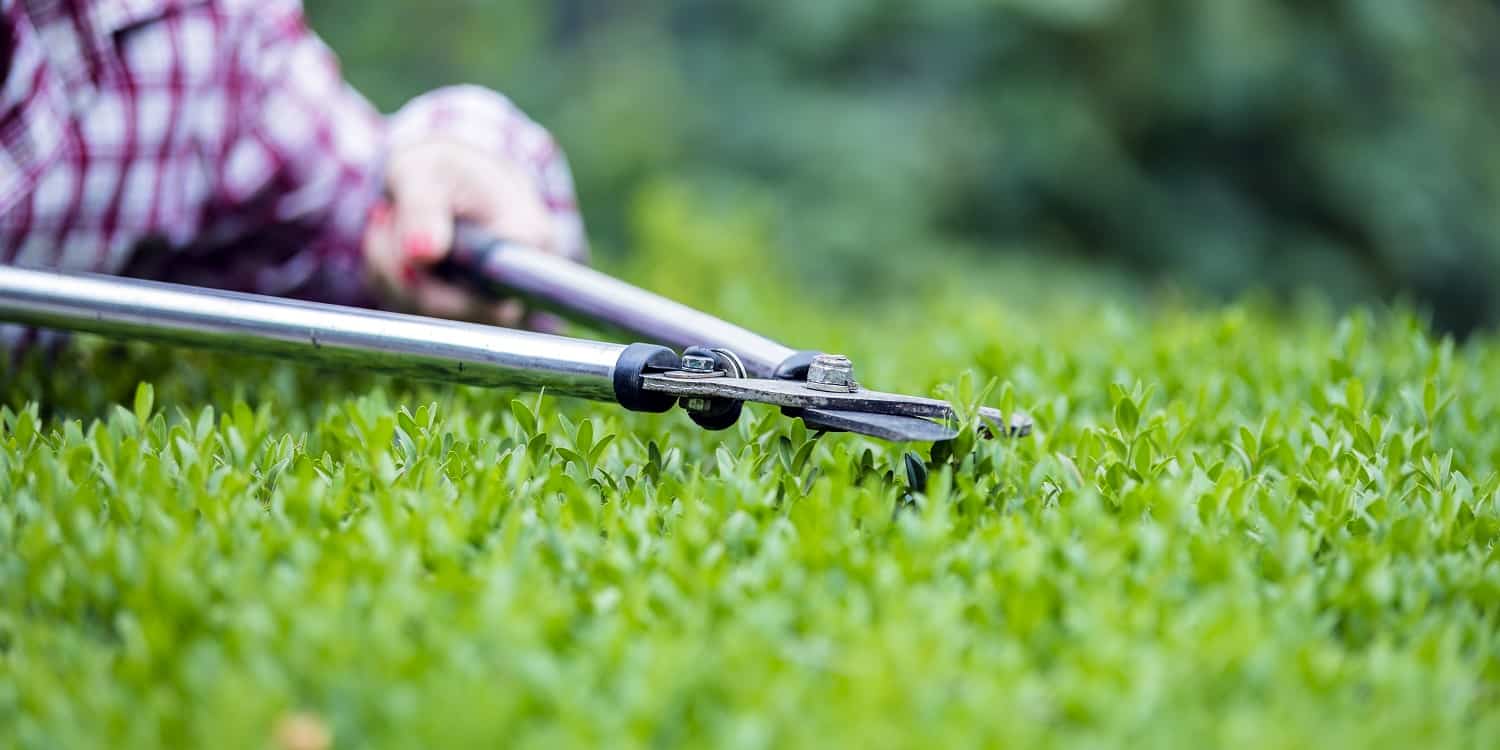 The product which ranks number one on our list is the Fiskars 28-inch Bypass Lopper. It is arguably the best option we have found. You have to use it to understand its brilliant features. Made for the toughest branches of the lot, it will take on very difficult tasks and do it with ease.
Sale
Why Did We Like It?
We will begin with its cutting capacity. It has a whooping capacity of cutting branches with a diameter of up to 1.5 inches with ease. The device is known to be almost three times more powerful than any lopper you may have previously owned.
Further, the blades are indeed a work of art with a low-friction, non-stick coating, and a stainless steel body. This makes it the perfect weapon to deal with your excess growth in the garden. All cuts are clean and smooth, and with this product, the blades will not get stuck in the wood.
Adding on, we were in love with the handles, which are made extra long for your benefit. Tall branches could become a hindrance as it is difficult to reach them. But with this lopper in our hands, we had nothing to worry about.
To top it all, the handles are made super comfortable to hold and provide cushioned grip and shock-absorbing bumpers. What more could you have asked for!
What Could've Been Better?
As perfect as they were, the blades disappointed us a little as they started losing their efficiency within a month of heavy usage. But the best part is that these are replaceable and can be sharpened as well. Take it to the garage shop to sharpen the edges, and it will be good to go.
Pros
Super strong blades

Cutting capacity of 1.5-inch thick branch

Shock absorbing bumpers

Safe from sap and debris

Durable steel handles
Cons
Blades becoming blunt over time
This lopper loves a good challenge! Made to tackle medium-sized branches, the Tree Power Lopper Tabor GL-18 shows a marvelous cutting performance and will clean up all the extra branches in a jiffy. You can tackle gardening like a pro with this device. With some brilliant features up its sleeve, the job would be well done before you know it!
Sale
Why Did We Like It?
Known to be the go-to expert, this lopper is extremely handy in tackling small and medium-sized branches without requiring too much effort from you. From a homeowner to a DIY enthusiast, this is one handy tool to have around for everyone.
Also, because of the small size and lightweight design, it can be carried on forest hikes and camping trips. You can easily clear up an area to set camp with this product.
Specializing in comfort and functionality, the device has razor-sharp, precision-ground bypass blades, which cut away branches smoothly. It is also coated with a nonstick material, which helps reduce friction during work. Not only this, but the nonstick nature also makes sure that the blades are sharp for longer.
To top it all, the product is pretty affordable and will not make a hole in your pocket. It is worth the price and is an excellent addition to your gardening kit.
What Could've Been Better?
While this product shows unparalleled efficiency when it comes to medium-sized branches, it does not work very well with bigger plants. We would recommend you to first check up the plantation that needs to be tended and then buy a unit of your choice.
Pros
Two sizes to choose from

Affordable

Rubber covering of handles provide better grip

Lightweight and medium-sized

Easy to store
Cons
Cannot tackle bigger branches
A device that prioritizes efficiency before anything else, the Corona SL 3264 ComfortGEL Bypass Lopper is a must-have for those who are on a budget. It packs utility in a rugged body, making it an excellent choice. Also, the cost is very reasonable and will definitely not burn a hole in your pocket.
Sale
Why Did We Like It?
If you are concerned with small to medium-sized trees and branches, this device will snip your worries away. And what more, you can prune away while holding on to super comfortable handles. The handles give you a soft gel grip and allow you to take over the snipping with ease.
It is also paired with shock guard bumpers that help you prevent straining your hands. Now the long hours of pruning will not feel like a tough job, and you could finally rest at night without the need to use pain-relieving medication, thanks to this unit.
Another impressive feature is the dual arc design that the blades sport. Because of the bent blades, your performance gets elevated, and you can get more work done in less time.
Adding on to the super comfortable handles, they are also made of steel, making them resistant to easy breaking. We tend to use the unit a lot, and this one proved to be very effective.
What Could've Been Better?
Though the blades worked very well and were extremely sharp, we found that there were signs of rust when it faced damp weather. The first signs of rust were enough to make us worry as it spreads quickly. Make sure that the device is kept as dry as possible if you go forward and purchase it.
Pros
Ergonomically shaped grips for highest comfort

Non-stick blades for absolute sharpness

Strong handles

Anti blister comfort gel grip

Easy to use
This is the best friend you needed to work in your garden. The Tabor Tools GG11A 30-inch Bypass Lopper offers you the cleanest of cuts, and it will smoothly slice away all extras with utter ease. We have tested this product multiple times, and needless to say, it has passed with flying colors.
Why Did We Like It?
Ranking high in performance, this is a device made for tough jobs. With a compound lever action technology, we could snip away thick branches of up to a 1-3/4th diameter. The enhanced leverage combined with the cutting power will make your job easy, and you would not be spending too much time at it.
To add on, the handles fit snugly into our palms with ergonomic grips and are made with aluminum, which is resistant to corrosion. It works brilliantly well while you do not feel the tension in your hands.
Also, coming to strength, the blades are very sharp and do not lose their edge no matter how much you use it. This saved us so many trips to the garage to sharpen blades or get it replaced.
And this is not all; the bypass lopper has a blade that sweeps past the lower jaw. This ensures that the final cutting is clean, and it works well for the health of trees that you are tending to.
What Could've Been Better?
A drawback remains in this otherwise perfect product. It is a heavier unit when compared to the other options on this list. This makes it difficult to be carried and used by anybody who has lesser upper body strength. It may not work if you have older adults trying to use it. Other than this, we have nothing to complain about.
Pros
Efficiently navigates around branches at a height

Blades are 3x more powerful

Rubberized grips for comfort

Easy to use for elderly people
With paramount power, comes the next device in the list. The TABOR TOOLS GG12 Anvil Lopper is known to be the king of loppers with its brilliant ability to slice its way through obstacles. With big handles and a sturdy blade, it can cut through both green and hard/dry wood with no extra efforts at all.
Sale
Why Did We Like It?
Firstly we would mention the remarkable anvil mechanism that this device is equipped with. The blade on top is narrow, and the anvil is wide. Both of these help in the distribution of pressure, thus preventing straining of your hands. Also, the wide anvil provides support to the branch, and this prevents any damage to plants.
Another brilliant feature is the large nonstick blades, which cut through branches with precision. It offers clean geometrical cuts with minimal pressure. The ease of usage makes it an excellent choice for older adults to choose this device as well.
Furthermore, this product can be used for all branches, be it big or small. If you have a garden with different sized trees, this product would be a perfect fit. The sturdy solid body and lightweight design make it a very attractive choice for almost everybody.
What Could've Been Better?
This product costs more than most of the items listed in this guide. The high cost could cause a problem for average householders and may make a DIY project expensive. Other than this, we also thought that the handles while working well for average-sized hands do not fit into bigger palms. They can cause discomfort and may not be a preferred choice.
Pros
For professional applications

Nonstick gliding blades for ease of operation

Multiple pivot points to increase efficiency

Highly flexible and reliable

Suitable for cut-to-length work
Cons
Expensive product

Grip issues for people with larger palms
Known to be one of the most reliable devices, the Spear and Jackson 8290RS Lopper is a great choice and comes with great features. It is an excellent option for cutting thicker and harder branches. The strength and endurance capacity of this device baffled us.
Sale
Why Did We Like It?
We feel the blades are super strong, and with the additional feature of it being rustproof, we were left very impressed. The blades are thick and hard and are known for their sharpness. We had a dense growth of branches that needed to be cleared from the side of our yard, and we had previously tried using many units and failed.
The thick growth made most blades bend, but not this one! These heavy-duty blades fought through the overgrowth and cleared it in no time.
Adding on, the handles are built to last. Made with aluminum, they feel light while they work efficiently. It would feel soft in your hand, and you will get a very comfortable grip. Everything that you could want in a device is packed together in these loppers.
What Could've Been Better?
Now since the blades are heavy and it is meant to do heavy-duty work, we can expect the device also to be weighing more. It is bulky and weighs more than most devices on this list. But again, we would not hold it against all the remarkable features that we got.
Pros
Can handle heavy-duty and difficult jobs

Long handles for increased efficiency

Ratchet action allows for easier cutting

Does not get blunt easily
However tough the job is, it will never be too much for the Fiskars PowerGear2 Bypass Lopper. With modified gears and increased efficiency, these can cut through thick branches easily. It works like magic and slices through branches like butter. Continue reading ahead to take a look at everything this tool offers.
Sale
Why Did We Like It?
We loved the design of the advanced blades, which are made of premium quality steel. These have low friction coating and are extremely resistant to rust. We could use these in any weather conditions, and even though we have left it outdoors on many occasions, the product is absolutely free of rust.
Furthermore, equipped with a patented gear technology, the tool works superbly well and is 3 times more powerful than a basic lopper. The cam mechanism in the tool, makes sure that power is concentrated on areas where a branch is most thick.
Also, featuring very long handles with oval-shaped grips, the brand has focused on versatility and made sure that it is comfortable to use. Blistering is something that happens to anyone who needs to use loppers often. This device, with its soft grip, prevents blistering completely.
What Could've Been Better?
If you want to cut branches within dense growth selectively, this product would not be suitable for it. This is because the handles are long, and the blades need to open up to 180 degrees to attain this feat. It seems impossible to do so while working on one branch in the middle of dense growth.
Pros
Oval grips allow versatile usage

Low friction coating

Modified gears and cam mechanism

Made for thicker branches
Cons
Does not work well for selective usage
Next up is a phenomenal product that will glide across your hedges with utter perfection. With extendable handles, the KSEIBI 252606 Razor-Edge Pruning Lopper offers you excellent performance and will leave you with an immaculate garden. Read on to know about the bells and whistles it comes with.
Sale
Why Did We Like It?
This works like magic on fat branches with a diameter of up to 2 inches. You can easily snip it off like a twig; such is the efficiency with this heavy-duty tool. We were also pleased with the oval tubular telescopic handles that it had. No work would seem tough enough with such easy-grip handles.
If you are suffering from arthritic issues, this tool with its 5 extensions and a thumb release lock button will be a boon. These features make the product feasible to be used by anybody as they provide adequate safety. Combined with a lever drive system that increases the force by many folds, no strain needs to be applied on the handles.
Also, we loved how the company went the extra way and mailed us a complete guide to maintaining our loppers after purchasing this product. The e-brochure detailed out every nitty-gritty of this tool covering all the features and essentials of maintaining a garden.
What Could've Been Better?
While this product comes packed with astounding features, it is accompanied by a high price tag. We would be happier if it were more affordable, But again, the high cost is compensated with the exceptional specifications it comes with. If you have the budget, go for this product without a second thought.
Pros
Has a 27 to 40-inch range

Razor edge non-stick Teflon treated blade

E-brochure with detailed out features

Ergonomic grip for more comfortable usage

Ideal for personal and professional work
Next up is another very versatile choice from the house of Corona. The tool can cut through anything that comes its way. With easy cut technology, if you are a DIYer looking for that one perfect tool, this is the one that cannot disappoint. For both professional and personal usage, the Corona Compound Action Anvil Lopper is a gem to have.
Sale
Why Did We Like It?
Firstly, we will talk about the anvil design and the robust build of this product. We used it to snip off thick hardwood branches, and they sliced through like butter. It works really well for hardwood branches of 1 inch or less in diameter and softwood branches of 1-½ inches in diameter.
Also, we liked how many of the parts of this product are easily replaceable. From the anvil to blades, one can get all the parts online. Gone are the days when a malfunctioning part meant having to buy a whole new tool.
To add on, this device is perfect for use by DIYers as well as gardening enthusiasts. It is affordable and will not lead you to spend more than you should. With them being affordable as well as easy to use, these are an excellent addition to the gardening kit.
What Could've Been Better?
While the device functioned well, it came with a drawback. The handles were comfortable to hold but not strong enough. If you put too much pressure on it, there are chances that it will break. We loved the durable blades but wished that the handles could be stronger.
Pros
Extended foam grips for better comfort

Blades and anvil are replaceable

Nonstick high carbon steel blades

Resistant to daily wear and tear
Imagine getting a device that works like any other premium tool but comes at a lower cost! The Utopia Home Premium Garden Lopper will give you just that. Being exceptionally versatile and equipped with out of the world features, the lopper met all our needs with precision.
Why Did We Like It?
This tool has carbon steel blades, which are one of the sturdiest in the list. They are built to last and survive heavy forms of usage. We have a garden filled with tough branches that may not be very thick, but the hedges are quite dense.
The loppers were bought, keeping heavy usage in mind and voila! They worked very well. The blades did not become blunt for months; such is the quality of it.
To add on, the blade on top has an illation coating, while the one below is made of chrome-plated carbon steel. This makes both of them resistant to rust and lets the blades snip through wood without gumming with the sap.
These loppers are known for their exquisite built, and for anybody concerned about usage, this one makes the whole process of snipping very smooth.
What Could've Been Better?
We had nothing to complain about for the initial one month, but post that we saw that the shock absorber had started turning sideways. The more we used it, the more it turned. But we will advise you to immediately call up customer care as we did so and got the device replaced.
Pros
Perfect for tree branches and small plants

Low friction coating

Sharpness intact after multiple usages

Easy to use

Steel tubing
Cons
Shock absorber malfunctions after heavy usage
Next up is another extendable product, which is adjustable, keeping in mind the task that needs to be done. For everybody who perceives extendable products as very light and not sturdy enough, we would like to break the bubble. The MLTOOLS Easy Cut Ratcheting Lopper is a powerful device, and it works better when extended. It is sturdy and will meet all your needs.
Why Did We Like It?
We loved the ratcheting mechanism, which seemed to work extremely smoothly. The ratchet teeth are evenly spaced out, and you do not need to adjust the handle too much while shifting to the next position.
What we mean by this is you can cut through thick branches without having to change the position of the handles too much. They could remain at wider angles, or they could be close to each other, and the ratchet teeth will do the job. This ratcheting mechanism makes the process of trimming 5 times easier to perform.
We also loved how light and portable the tool was. The loppers accompanied us on our forest hike, too, as it fits well without increasing the weight of backpacks. It can be used to clear away areas to set camp when needed.
What Could've Been Better?
The product worked very well for a few months before we saw that the handle started to bend slightly. We had been using it heavily for a few months, but this was unexpected. Also, the bending makes it challenging to hold the handles as space between both is reduced.
Pros
Ratchet teeth are adequately spaced out

Non Slip grips for easy use

Makes work simpler with less pressure needed

Good customer service
Cons
Handles bending after heavy usage
An excellent product from the house of Wolf Garden, the power cut telescoping loppers, will give you everything you could have asked out of this tool. Packed with brilliant features and efficiency, the tool is a must-have for anybody who wants a neat garden around their houses.
Why Did We Like It?
Unlike other telescoping handles that come with a cinching ring to adjust the length of handles, this product is ahead of it. They come with a modern and advanced pin-locking mechanism. This ensures that the handles do not move at all during work.
Now, this is essential for safety, too, as a slight movement could lead to unfortunate injuries. But with this tool in hand, you do not need to fret.
Additionally, the long handles also ensure that you can work with branches generally beyond the reach of your hand. Since it is lightweight, lifting it above your shoulder level is easy, and the work can be done smoothly. The soft lining will allow you to grip the product properly and will reduce strain.
Moreover, the blades are very sharp and will help you finish up the work in no time at all. The product left us thoroughly impressed with its performance.
What Could've Been Better?
There is, however, a significant drawback with this tool. There are no replacement parts available online, and you cannot take the blades out. Now, the blades will last longer than you can imagine if you are not heavily using it, but with heavy usage, the situation is different. Again, on the plus side, the blades can be sharpened when needed.
Pros
Lightweight at just 3.86 lbs

Soft lining grips on the handle

Telescopic adjustment capacity ranging from 25.6″ – 35.5″

Superior German steel blades
Cons
Replacement parts are not available
Are you a hobbyist or a professional looking for a top-quality product? We bring to you bypass loppers from one of the most trusted brands, Felco. It uses the latest technologies to build a device that surpasses many others. The tool is a combination of comfort, durability, and is highly adjustable, making it a preferred choice for many.
Sale
Why Did We Like It?
Weighing just 1.6 ounces, this is a great tool to use, especially when you are working on ladders. We all know how difficult it becomes to operate a heavy and giant tool while maintaining proper balance, but you would face no such issues here.
The brand also uses a spare parts system, which basically allows you to replace any of the parts without needing to buy an entire tool again.
To add on, we were elated to find that one could alternate between the straight cutting head and curved head of the tool. It initially comes with a straight cutting head, which allows for precise clean cuts. A slide resistant anvil blade accompanies this.
Moreover, the device has a shock-absorbing system that works to lessen the impact of cutting. With this technology, the pressure you apply gets amplified multiple times, thus making sure that there is a need for the least amount of exertion.
What Could've Been Better?
The biggest drawback of this product is its price. We felt the price could be lower so it is more affordable for everybody. But Felco, as a brand, has always been on the expensive side, and if you are a brand loyalist here, paying a few bucks extra will not be an issue.
Pros
Made for ultra-precise cuts

Individual parts are replaceable

Slide resistant with non-slip coating

Options of straight and curved cutting heads available
Cons
Another expensive product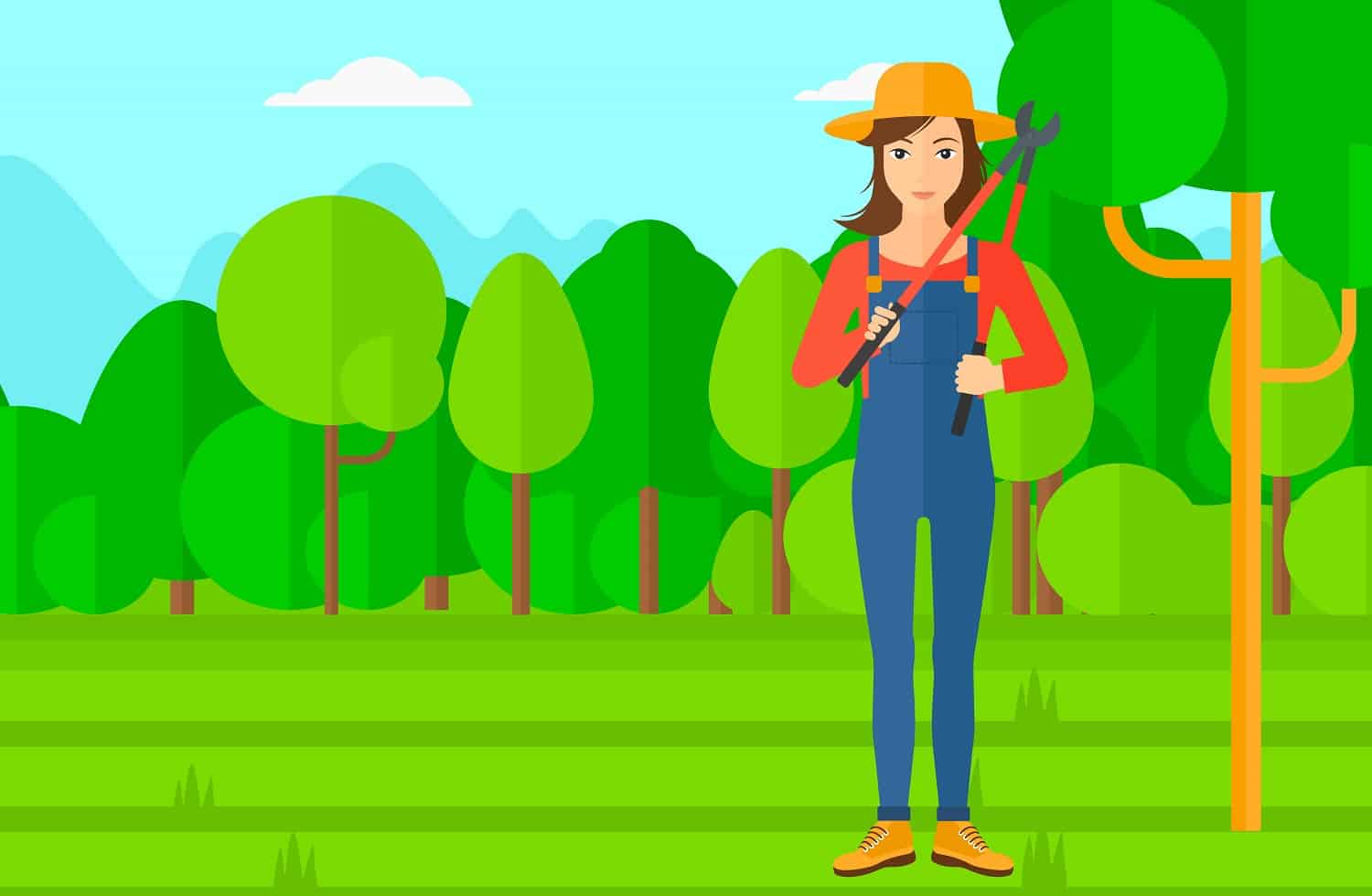 Loppers Buyer's Guide
We have tried to cover different types of products for varied needs that you may have. But it is essential to remember that a tool that may rank high but does not fulfill your requirement is pointless. Just because your neighbor has a huge lopper does not mean you would need one too!
Also remember, an expensive product does not necessarily have to be the best one. Always keep your benefits in mind before choosing one. Here we have listed down some points to make it easier for you to decide.
Cutting Capacity
The cutting diameter of the loppers is a significant deal. If you need to take care of thick branches, buy a tool with a diameter of 2 inches or more. These will make sure you can do the job easily without having to put in too much pressure. 
The diameter decides the performance of a product. If your garden has hedges with thin branches, you could choose a tool with 1.5 to 2 inches in diameter. This will take care of the thin branches as well as medium thick ones. 
Type of Usage
Do you have big trees in the yard, or do you have low bushes that need to be taken care of? Depending on your answer, there are different loppers. Some loppers work with higher branches with ease while some work better with denser growth.
Also, if you are a DIYer who plans to use the device rarely, then there is no point in getting a big tool, while if you plan to buy it for heavy-duty usage, a sturdier product is essential. 
Length of the Tool
If you are planning to work with dense bushes, a shorted blade with shorter handles will make it easier to reach branches inside the hedge. While if you want to reach higher branches or work with thicker ones, a long and sharp blade will work perfectly.
If you have arthritic conditions or an elderly person plans to use the product, it is best to go with larger handles enabling easy usage.
Handles
Some handles come with a rubberized grip, while some are accompanied by cushions to ensure that less pressure is needed. For heavier jobs, handles with cushioned grip are preferred as there is heavy work involved, and you can easily strain your hands too much.
With a cushioned grip and a working anvil system, the pressure you apply is increased by 3 to 5 times, thus making it easier to snip. Also, try opting for loppers, which have shock absorbers as these products work more efficiently in reducing pressure on your hands.
Weight
Most people do not give this too much importance but later realize their mistake. A heavy device is suitable for people who are physically very strong. Using a heavy tool for long hours could lead to straining and hurting hands. It could also cause muscle pull for those who have lesser physical strength.
We would suggest not going over 4.5 pounds if you want to play safe. Lightweight, reliable tools with sturdy blades are readily available and will do the job with the same amount of precision as a heavy product.
Also, keep in mind if you need the tool to be easily portable. Are you planning to take it on hiking trips in the forest? If so, it is essential to choose a device weighing less as they are going to be carried in your backpacks.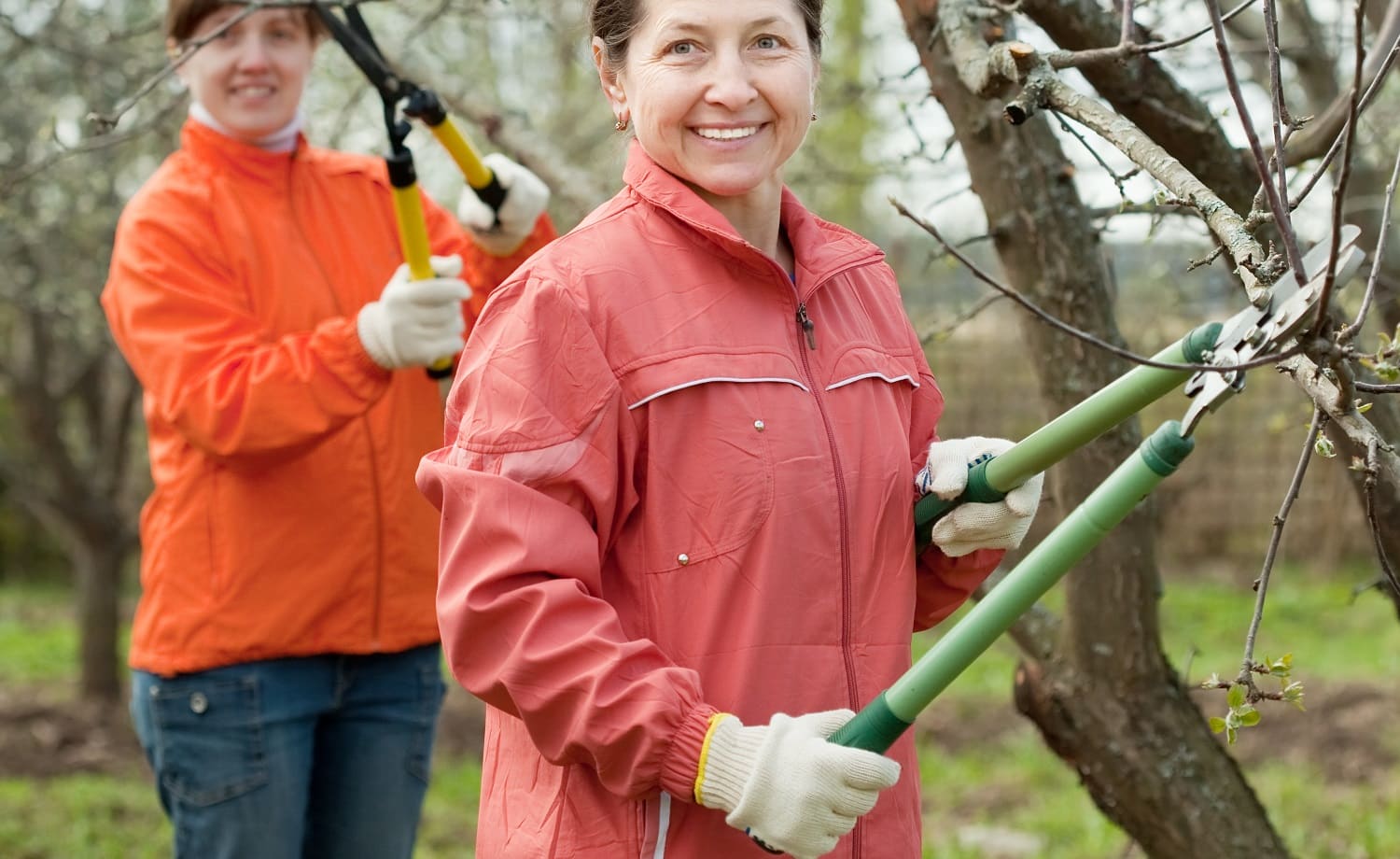 Verdict
It is time to pick our favorites, and here it goes. The clear winner here would be Fiskars 28-inch Bypass Lopper. It has the biggest cutting capacity and works well for all kinds of branches, no matter how hard and thick they are. Plus, it is fit for both professional and residential use.
If you want a lightweight device that can be carried around easily and will tackle smaller to medium-sized branches, the Tree Power Lopper Tabor GL-18 Garden Bypass Pruner is a sought after choice. Be it for use at home or to take with you on hiking trips, this tool is as versatile as it gets.
Finally, we are at the end of this article, and you have enough information to make a choice. We are sure that you will make an informed decision.
Happy shopping!
Related Articles
Best Lawn Edging for a Legendary Garden 
4 Best Walk Behind Brush Cutter
Top 10 Longest Pole Saws For Tree Pruning 
13 Best Trimmer Lines | Multi-Sided, Round, Square, Twisted & Serrated
11 Best Battery Powered Lawn Mowers
Zero Turn Vs Riding Mower, Differences & Best Solution 
Who Makes The Best Lawn Mower Engine Today?
9 Best Ratchet Pruner | Reviews + Buyer's Guide