Setting up a kids' room is no mean task. You can't just stuff them with things without thinking it through. Besides, getting furniture particularly designed in line with kids' requirements is another challenge. With such a confounding context, loft beds seem like a godsend for all those parents who are stressing over kids' room setting.
We all would agree that loft beds are fun for kids. If you set them up properly, they can actually turn into an in-house play area for young ones. Moreover, they are great space savers. For instance, twin over full loft beds allows you to devise bedding of two kids within the same footprint.
Even if you are using a simple single loft bed, it helps you in saving a lot of valuable horizontal space in the room. Under the bed, you can set up a study table or wardrobe. In short, a loft bed gives a lot of freedom to set up and jazz up kids' room.
If you are also one of those parents that are baffled and can't settle on a loft bed for your abode among multitudes of options teeming in the market then read on. We are going to review 19 best loft beds for kids in 2022. This list will provide you more than enough options to settle on a bed that will offer you the required utility within your prescribed budget.
Best Loft Beds for Kids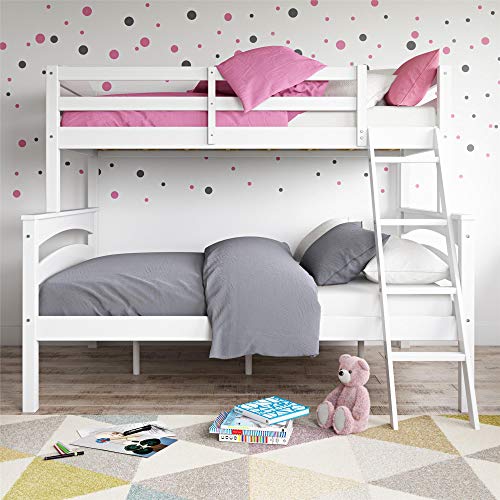 Made of resin-reinforced pine wood

Comes with reversible chest

An Amazon's Choice product
If you are a fan of transitional mission style furniture, then you would definitely like this Discovery World Furniture product. This twin over full loft bed dons a stunning merlot finish that perfectly mixes brown and red hues with a mild luster. Kids will also love this loft bed for its shape and features.
The bed and all its accompanying structures are made of sturdy pine wood that ensures a lifetime use. It is important to mention here that the beds of this twin over are not stacked on one another in the same direction. They are set at a 90-degree angle. Apart from giving this interesting arrangement, the manufacturer has also added a reversible 6-drawer chest that you can use on either side of the bed.   
Moreover, a 4-level bookshelf is also there. Like any good loft bed for kids, this merlot-finished unit contains a perfectly angled ladder and guardrail to offer optimal safety for using the loft. To make the bottom bed easily movable, caster wheels are attached at its base.
We also like its mattress-ready configuration. Both top and bottom beds come with hardwearing metallic slates with central support. Discovery World has also made sure that the wooden base of the bed remains impregnable against water and moisture. Therefore, it is added with strong resin content.    
All things considered, this loft bed unit is a complete package for a room of two kids with its comfy beds, drawers, and bookshelves.

Pros
Stunning merlot lacquered finish
Spacious bookshelf and drawers
Easy to scale ladder (removable)
Saves a lot of precious space in any room
Cons
Time consuming assembly
Caster wheels can chip hardwood floors
Pine wood construction with cappuccino finish
Features desk, drawer and bookshelf
Wider ladder and taller guardrail
If you are looking for a bed, a drawer, a bookshelf and desk for your kid, then here is one-in-all option for you: DONCO Kids 760-CP Low Study Loft Bed. It is another high quality pine wood construction single bed with low loft and all the other accessories we have mentioned above.
Sale
DONCO has utilized all the space available under the loft in the best possible manner. Starting from the left, you get a desk tucked in. It is easy to pull in/out and can be used as writing, reading and computer table. Next to the desk is an assortment of six spacious drawers and then there is a bookshelf.
Even the loft of the bed is not that high, DONCO has still put up a tall guardrail to make sure all those restive sleepers don't tumble down. We also like the wide and sturdy two-step ladder that one kid can easily climb up/down. Harmless and non-toxic materials are used to give DONCO Kids 760-CP a stunning cappuccino finish.
For all those parents having space-stressed kids' rooms, this low loft 4-in-one bed is a true blessing.

Pros
Perfect for small rooms
Compact and sturdy pine wood body
Aesthetic dark cappuccino finish
Easy to assemble
Cons
Some users may not like its low loft
Many not be suitable for younger kids
Pine wood construction
Comes with pine slates
An Amazon's Choice product
Industrial and minimalistic aesthetics have become all the rage in home decors. If your home is already draped with either of those themes, then this Dorel Living Loft Bed will be a perfect choice for the kids' room. It is a pine wood construction finished in bright white and features a clear-line design without any twisting and turning.
Kids love it when their loft beds soar to the ceiling. Dorel Living has taken care of this aspect in its bed and gives the bedding platform 56 inches of loft. Not only does it give the kids what they want, but you also get a lot of space underneath to work with. You can easily tuck in a desk, chair, 3-drawer chest and even a storage bin under the bed. For all those people stressing over space, this high loft bed can take care of many things.
Dorel Living has also added all the important features of a standalone bed in its unit. Unlike many loft beds and bunk beds, this one features solid panel headboard and footboard.
We also like the 5-step ladder that comes with it. You can mount it on either side of the bed (alongside footboard or headboard). Also, it can be set at an angled position for easy climbing. Then there is a sturdy and high guardrail that makes sleeping at such height completely failsafe.

Pros
A solid construction including footboard and headboard
Offers a lot of underside space
A functional ladder
Easy to assemble (within an hour)
Cons
Gives off strong paint odor in the beginning
Some users may not like its high loft
Metallic construction
Full-length guardrails
Shipped in one convenient box
If you want to have a loft bed for kids that also offers a lot of personal space, then you must consider DHP Abode Full-Size Loft Bed. Unlike the above reviewed models, it is not carved out of timber. Instead, here you get a more refined and sleek metal frame with stylish black finish. Kids prefer lustrous metallic beds over dull wooden ones and here DHP has played well.
Sale
This high loft bed looks like a small unit of climbers and slides installed in parks and nurseries. Ladders on both sides of the bed, guardrail on all sides and its ladder-like base is the reasons it looks as such. Apart from the sturdy bed with metallic slates and complete guardrail protection, there is a desk installed underside. And not just desk, you also get several shelves with it.
The desk is set up on one side of the desk and you still get a lot of underside space. Whether its wardrobe, toy box or a chest, you can easily accommodate it underneath the bed.  The dual ladder configuration also makes this bed a great spot for kids' activity. It will give a unique twist to many in indoor games. Whether it is hide-and-seek, sardines or the floor is lava, the playing time will get more exciting around this full-size loft bed.
From its appearance, DHP loft bed seems like a hard and time-consuming appliance to install. However, that's not the case. All the parts come in a single box and ensure stress-free assembly.

Pros
Ideal for kids' rooms and dorms
Stylish metallic construction
2-ladder configuration for easy access and fun
A desk and a lot of space underneath
Cons
The desk and accompanying shelves could have a better design
Not suitable for low-hanging ceilings
Pinewood construction
Features non-toxic durable finishes
Comes with 1-year manufacturer's warranty
A cabin in the woods— this is the adventure and thrill for which kids love loft beds. Canwood has designed its loft bed by keeping this eternal fondness of kids in mind. The bed is carved out of pinewood and features the ruggedness of outdoor timber cabins.
Sale
However, the rawness of the design has no bearing on the function of the bed. Like any high-quality loft bed, it can accommodate a twin mattress to offer a comfortable sleep. In addition, full-length railing rules out instances of falling down. The height and design give the railing a fence-like appearance that suits pretty well with the idea of the cabin.
The construction details of this Canwood loft bed are also pretty impressive. For instance, the pinewood base is reinforced by composites to prevent chipping and breaking over a long period of use. Similarly, metal-to-metal fastening components ensure that the bed doesn't start squealing and screeching after some time.  
Like any top-quality loft bed, you get plenty of room under it. This space can serve a lot of purposes. From the cabinet to study table, you can utilize it to give kids' room a more free and spacious appearance. We also like the ladder of this loft bed. It is a 4-step frame with a wider base to offer hassle-free climbing.
Besides white, you can get also this pinewood loft bed in natural and Espresso finishes. Canwood Loft Bed will be a great addition to kids' room from both functional and aesthetic standpoints.

Pros
Sturdy pinewood construction eliciting a feel of outdoor cabin
Easy to assemble
Offers plenty of underneath space
Easy on the eyes (available in three different finishes)
Cons
A bit lightweight for a wooden loft bed
Some users may not find it wide enough
Pinewood construction and wax finish
Comes with a tent and slide
An Amazon's Choice product
If your "grown-up" toddler is giving you hard time in moving to his/her own bedroom, then this is the loft bed you can use to persuade them. With this model, Donco has created a perfect loft bed for all those young ones that are bidding farewell to their toddler years.
No products found.
It is not a bed but a complete playing zone for kids 2 year and old. The full-length guardrail loft bedding features tent underside.  You can get this tent in different colors and themes. With windows and doors, this tent proves to be the wonderland for kids. Set it up with toys and other items of interest of your kids and have them busy for the most part of the day.
Another striking feature of this loft bed is its sliding ladder. At one end, you get a regular step ladder and on the other end, there is a slide that makes climbing down easy and fun. While giving the bed a goofy playful look, Donco hasn't compromised on its quality.
The bed is made of sturdy pine and bears wax finish. This coating doesn't just make the bed nice-looking but also gives it allergen-free characteristics to ensure comfortable sleep of kids. Moreover, the tent is designed after the necessary deliberations. The material and design of the tent are chosen to keep it cool and amply ventilated.

Pros
A colorful themed tent for the bed underside
Slide for fun climbing down
Easy to assemble and mattress-ready
Ideal for setting up kids playing space
Cons
The fitting of tent is not strong enough
Ladder is quite poor
High-quality steel construction
Full-length guardrail
Two ladders
As kids grow old, they want to customize and accent their place on their own. Home Accent Furnishings has introduced a loft bed for all those parents that are trying to make a space for those growing kids. This loft bed is made of high-quality steel with fine line design and white finish.
The loft of the bed is high enough to give you a lot of space underneath for different arrangements. It won't be wrong to say that kids can set up their small 'studio rooms' under the bed. You can put a study table and set up a sitting corner there. The underneath space is also good enough to have another full bed there when needed.
In short, you can benefit from the high loft of this bed in many creative ways. The bed on the top of this soaring unit is functional. It can accommodate twin mattress and features a full-length guardrail along with ladders on both ends of the bed. All these features make it as good as any other top-of-the-line loft bed.
We also like the lightweight yet sturdy construction of this unit. Even though it weighs just over 80 pounds, but it can easily withstand load up to 250 pounds. Moreover, support slates are included so you are not required to buy box spring separately.

Pros
Offers a lot of customizable space underneath
Can be assembled in no time
Lightweight yet sturdy metal construction
A design with clear lines, easy on the eyes
Cons
No ladder opening, one has to step over the guardrail to get to the bed
Ladder feet are quite hard and may chip the floor
Steel construction
Silver powder coated finishing
Comes in two different settings
WE Furniture had made its loft bed a functional piece of furniture from all aspects. To begin with, it is made of high-quality steel that keeps it weight light and gives it the required strength of any good bed. Then the steel features powdered finishing that doesn't just make it corrosion and stain resistant, but also gives a cool sliver appearance.
WE Furniture has also overwhelmed many of its peers by offering two different configurations in this bed. You can go for a simple loft bed that offers a lot of functional space underneath that you can customize in line with your particular needs. Moreover, it is available in a workstation configuration as well.
In the second configuration, you get a desk along with a two-tier shelf and a keyboard tray. For all those users who are looking to set up bedding and study/computer table for their kids without overstuffing their small rooms, the second configuration of WE Furniture Loft Bed will come in really handy.
Lastly, the lofted bedding platform features all those elements you look in a good quality bed. The bed is surrounded by guardrails from all four sides to offer 100% fall over protection. The bed is also mounted with ladders from both foot and head sides. There is no ladder opening on the bed, but it won't be an issue if it is being used by older kids.
We would recommend you to go for the workstation configuration to make a cost and space efficient buying decision.

Pros
Versatile, offered in two different configurations (loft-only and workstation)
Sleek metallic construction with corrosion-resistant sliver finish
Can accommodate twin mattress for more comfortable sleeping
Suitable for teenagers as well (can withstand up to 250 pounds)
Cons
No ladder opening, difficult for younger kids to get to the bed
Difficult to assemble, entails a lot of tiny parts
Without padding the bed and ladder feet can scratch the floor
Steel construction with white finishing
No box spring is required
An Amazon's Choice product
Give your kids room a makeover of play area with DHP Junior Loft Bed with slide. When kids start walking with ease, they insist for more play. There are many parents who can't take their kids to parks and play zones each day. For all such parents, DHP has introduced a smart and cost effective solution in the form of this loft bed.
Sale
This DHP model is made of steel and dons bright white finish. The bed features a slide and a ladder on either end of the bed. This design features make this loft bed a great in-house climber and slide unit. We like the well-thought-out slide of this DHP loft bed.  
Many manufacturers add slides to loft beds for kids just for the sake of it. However, that's not the case with DHP Junior Twin Loft Bed. Here, the slide is well designed and constructed. It features railing on both sides to rule out accidents. Moreover, the slide doesn't just directly end on the floor. DHP has used two rod-like stands on both sides of the slide to make a more comfortable landing.
Apart from the slide, the underside of the bed is ideal to devise a toy zone. It can also be customized to give kids a great hideout while playing different indoor games. Even with its soft appearance, the bed can withstand weights up to 225 pounds. This means you will hear no squealing sounds even after its extended use.

Pros
Impressive slide construction for all-day fun and easy climbing down
Lightweight but sturdy, no screeching and squealing
Ideal for kids above four
Can use twin mattress
Cons
Hard to assemble
Guardrail is not installed on all sides
Steel construction with stylish black finish
77-inch extraordinary loft
Full-length desk and guardrail
This is the third DHP loft bed on our list. Like the previous models, it has its own merits and renders unique benefits to make its place among best loft beds for kids. DHP X-Loft Bunk Bed is made of steel but there is a major difference between its construction and the majority of similar metallic models.
When almost every metal loft bed bears straight beams in a vertical (parallel) arrangement, you get X-shaped beam work here. It is not your typical four-legged loft bed. Instead, there are several X-shaped podiums that ensure the bed can stand firm. This unique design makes this loft bed a great accenting piece—the first thing you will notice upon entering the room will be X-loft.
Apart from an impressive design, you will also love this DHP model for its greater headroom. The bed is set at the loft of 77-inches. So, even a tall adult can stand underneath it without bending back or tilting head. This spacious underside also features a full-length desk that can serve multiple purposes.
Kids can use it as a study table. You can also set up their desktop computers on it. The desk is sturdy and wide enough to accommodate even a large LED for their gaming setup.
If you are looking to save space while accenting the kids' room, then DHP X-Loft will be a great two-in-one option for bed and desk.

Pros
Unique design, easy on the eyes
Offers greater headroom
The desk is wide enough to be used for many purposes
Great accenting piece
Cons
Ladder is not well-designed
The bed can tremble a bit under large or uneven weight
Made of hardwood and MDF
Features a trundle bed as well
Comes with a built-in 4-drawer chest
If a room is shared between more than one kid and you don't want to overcrowd it with their separate beds, consider this Discovery World Furniture product. It is a true twin over loft bed with two bedding platforms stacked on each other. And that's not it.
You also get the third bedding option in the form of trundle. Yes, the third bed can be pulled out of the bottom bed. Apart from accommodating three kids with their bedding, this twin over model has some other impressive features as well.
For instance, instead of a typical ladder you generally find in the majority of loft beds, it is mounted with a proper staircase.  These full stair steppers make sure that even small kids can easily climb up/down the top bunk. The full-length guard rail on the top also makes it suitable for kids of all ages.
The material selection for this loft bed is also very ingenious. Instead of using solid wood for the entire frame, the manufacturer has also used Medium Density Fiberboard (MDF). The use of MDF actually ensures better color finishing.
Even with such comprehensive triple-bed configuration, it seems like designers at Discovery World Furniture were not satisfied with the utility of this twin over. Therefore, they have also added a 4-drawer chest behind the staircase. You also get some space underneath the stairs. It is good enough to place some toys and action figures.
For a kids' room that has three occupants, we don't think there exists a better option than that this Discovery World model.

Pros
Three-in-one bed, a twin over with trundle
Features staircase instead of ladder
MDF is used for perfect color finishing
A great space saver
Cons
Heavy piece, hard to move and install
Weight specifications are not given
Wooden construction with white finish
Two-in-one bed
Comes with a 4-step slanted ladder
Many people don't want to invest in twin over loft beds because they come in fixed configuration i.e. a bed is permanently stacked on the top of the other. Dorel Living has got around this limitation and introduced a loft bed that is detachable and can be used as two standalone units as well: one full and one twin bed.  
Sale
Dore Living Brady Twin consists of a full bed that has stacked a single twin bed over it. Both these beds are made of sturdy hardwood. Moreover, the upper bunk is lined with full-length guardrail like any good loft bed. Similarly, an opening along with a 4-step ladder is also featured with the upper bunk.
We like the ladder of this loft bed for two reasons. Firstly, it is a bit slanted that assists in climbing the ladder up/down in a more hassle-free manner. Moreover, its extension adds up to the interesting appearance of the bed. The extended ladder along with full bed construction of both bunks gives this model a unique shape.
Even though no spring box is required with either of the bed, you still have to use spring mattresses on them. If you want to buy two beds for your kids in the price of one, then there may not be a better wooden option than this Dorel Living Loft Bed.

Pros
Versatile, can convert into two separate beds
Stylish wooden construction and finish
Can accommodate young kids as well as teenagers
Features guardrail like any good bunk bed
Cons
Can only be used with spring mattresses
Assembling it is a bit difficult
Sturdy rubberwood construction
Two detachable twin-size beds
Features a guardrail and ladder
An Amazon's Choice product
This Storkcraft loft bed is similar to the above reviewed Dorel Living model for one feature i.e. it also consists of two detachable beds. However, the similarity ends here. Instead of different sizes, Storkcraft Caribou Twin Bunk consists of the same two twin sizes.
One of the most noteworthy features of this loft bed is its wooden material. When the majority of loft beds have pinewood construction, this Storkcraft unit features rubberwood. It is a more sturdy and eco-friendly option in comparison to other wooden variants. Rubberwood also shrinks less during the drying process that helps in keeping its shape fine and stable during the construction of beds and other furniture.
This is the reason why Storkcraft Caribou has a really fine and finished construction. If you are a fan of wooden furniture items draped in traditional aesthetics, then consider investing in this rubberwood loft bed. Like any top-of-the-line loft bed, the upper bunk is fully covered with a guardrail. Then you also get an easy-to-use 4-step ladder that mounts on the foot of the bed.
Storkcraft has also made sure that the use of its versatile rubberwood loft bed doesn't pose any health risk. Therefore, only non-toxic items are used in its construction. For all those households where two kids are sharing a single room, this loft bed will provide the required functional value in the most space-efficient manner.
It is important to mention here that you are not bound to use it in the lofted setting all the time. The unique mounting system makes it really easy to use them as two separate single beds.

Pros
Rubberwood construction makes for lifetime use
Two beds in the price of one
Easy-to-climb stair
Easy to assemble and disband
Cons
Warranty period could be extended
Some users may consider its design too simple
Made of laminated particle panels
Features large drawers, shelve and a spacious storage bin
Comes with 5-year manufacturer's warranty
South Shore has designed a lofted piece to sort out both bedding and storage needs in your kid's room. There are many noteworthy features of this loft bed. For instance, it is made of lamented particle panels. This unique material differs from wood but offers the same strength and durability with better homogeneity and without grain problem.
On the design front too, South Shore has done some impressive work. The guardrail of this loft bed is not that typical rod frame. Instead, you get ridges and curves that look like a façade of a building. Moreover, the ladder is also different from what you usually see in loft beds. The 4-step ladder of South Shore Loft Bed features sturdy feet that give it a better grip.
Now let's talk about the ample designated storage you get in this loft bed. There are three spacious dual-handle drawers on the ladder end of the bed. On the other end, you get a two drawer of different sizes, a large storage bin and shelve. This assorted storage space is enough to accommodate all of the kids' supplies.
Even after carving out too much storage there, the manufacturer has still left some space underneath can serve as a great spot to disappear during a game of hide-and-seek. Get South Shore Imagine Collection Loft Bed and sort out bed and cupboard of your children in the same footprint.

Pros
Laminate particle panels ensure long-lasting use
Rounded edges all around to ensure optimal child safety
Stunning design of guardrail and ladder
Offers unprecedented cabinet space
Cons
White finish is prone to stains
A bit too heavy on the pocket
Made of Brazilian pinewood
Tents of your choice (theme and color)
White finish
Donco is known for designing well-thought-out loft beds for kids. For that matter, it is also dominating our list with several of its impressive models. The loft bed we are going to review here also lives up to this fine reputation of Donco.
DONCO KIDS 721801 is a bed and also a play area for your kids. This lofted bed features a tented bottom. Different circular cutouts are used to make this tent that doesn't just add more depth to its design but also ensures better ventilation.
It is important to mention here that this tented space doesn't serve as a den for a single kid. With 79 inches of length and 41 inches of width, space is good enough for multiple kids of 5-6 years old or younger for using it as their play area for a variety of different activities.
Apart from an impressive and thoughtful tent, you also get a quality lofted bed. Donco has used the most premium quality pinewood in its making i.e. the Brazilian one. This pine variant is more durable than other lumber options because it is intrinsically insect and rot-resistant.
To make the bed a haven of safety, the manufacturer has also used guardrails on the bed. The rail is tall and provides safety against fall over even if there is a thick mattress in place.

Pros
Kid-friendly styling and color scheme
Use of Brazilian pinewood ensures lifetime use
Offers large playing space underneath the bed along with a tent
Extra tall guardrail
Cons
Setting it up is a bit difficult
The construction of ladder could be better
Steel construction with gray finishing
Features 4 shelves and a desk
An Amazon's Choice product
DHP is also appearing on our list time and again because of some of its impressive loft beds. Let's take the example of this space-efficient model made of steel finished in gray color. The use of steel gives this bed many desirable features.
First of all, steel offers the perfect mix of lightweight and durableness. Moreover, it is easy to mold steel in different stylish shapes. This is the reason thy DHP Studio Loft Bed features impressive shape with a pretty light body but with uncompromised durability.
With this loft bed, you just don't get ample underneath space. It is also sorted and managed through different steel frames and platforms for streamlined use of the bed underside. You get four full-length shelves and a desk. In short, you get a complete study for any school kid in the price of the bed and within the same footprint.
The lofted bed of this DHP item is also remarkable. It is deep enough to accommodate the twin mattress of any thickness. Moreover, it is surrounded by guardrail from all sides. So, you are not bound to use it alongside walls. We also like the ladder that has 5 steps instead of stand configuration that has one fewer step.
If you are looking to set up a bed and study in a space-stressed kids' room, then consider investing in this sleek metallic loft bed.

Pros
A study and bed unit in the price of one
Sleek gray metallic finish
Enough storage in the form of shelves
Suitable headroom even for older kids
Cons
No ladder opening on the loft
The desk is not designed to put desktop computers
Made of pinewood with Espresso finish
Features fastened ladder and full-length guardrail
Compatible with other furniture
If your kid is insisting for a loft bed but you are wary of his/her safety, consider Canwood Whistler Junior Loft Bed. Here, the loft is not set on the standard height of the majority of bunk beds. However, it is good enough to give kids a new and exciting experience completely different from regular beds.  
To assure parents 100% child safety, Canwood has used fastened 2-step ladder even for this low loft bed. Moreover, a sturdy full-length guardrail is used to rule out any possibility of fall over. Since Canwood Whistle Junior is a low-loft bed, therefore there is not enough headroom under it to set up a study table.
Nevertheless, you can make the most of this space by adding accompanying furniture items there. From a drawer chest to bookcase and from small cupboards to slide out desks, you can work out the bed underside with what you require more in the kids' room.
We also like the simple design of this Canwood loft bed that perfectly assimilates with minimalistic décor. The wooden construction makes for lifetime use and Espresso finish gives it the authenticity of premium timber furniture.
Get Canwood Whistle Junior and add excitement to your kids' room in a cost-effective and space-efficient manner.

Pros
Simple yet elegant design
Espresso finish is quite easy on the eyes
Underside space is compatible for many kid furniture items
Assures 100% child safety from falling
Cons
May not offer desired functionality without accompanying furniture items
Not suitable for older kids
Made of high-quality steel
Features built-in ladder and full-length guardrail
Shipped in a single box
It is not necessary to go for all those heavy loft beds with number of accessories. If you are looking for some no-frills options, then here is one: DHP Junior Loft Bed Frame With Ladder. This unit is the perfect example of a simple yet functional loft bed.
Sale
It has those two essential features for which bunk beds were designed in the first place:  first, the lofted bedding; second, a lot of underside space. With DHP Junior Loft Bed, you get spacious underside to set up a study table for small kids.  Even after setting up a desk, you will still be left with a lot of space to use it for storage purposes.
The construction of this DHP loft bed is pretty simple. The bed features four legs that are reinforced with a connecting road on three sides. Moreover, there is a full-length guardrail and a built-in ladder that ensures the safe use of the bed by younger kids. We also like the easy assembly of this basic loft bed. It comes within a single box and you can easily assemble it within half an hour.
If you are not sure whether your kid will like the concept of lofted bedding or not, get this DHP junior loft bed as a trial item. If kids approve of it, you can continue to use it because of its premium quality.
Pros
Basic design, functional use
Ideal for younger kids
Offers enough headroom to set up study table
A reasonably priced loft bed
Cons
Not a multipurpose loft unit
Design is simple and color options are limited
Carved out of pinewood
Features a built-in 2-step ladder
Espresso finish
There is no greater blessing for parents if their young kids can engage themselves in different activities within their rooms. Rockjame has designed this loft bed to make sure you can make your kids' room as exciting as possible. The loft bed is not just for sleeping but for playing too.
It features a sturdy slide on one end. For kids around 4-5, this slide doesn't just make climbing down the bed easier but fun too. Whenever kids get bored with their toys and other games, the ever-present slide of Rockjame Twin Wood Bed will come in handy for additional recreation.
Apart from adding a slide, the manufacturer has made sure you can modify the bed for the best use of kids. For instance, the underside space is good enough to set up stuffed toys and action figures. The underside offers ample space for kids to sit and crawl.
To make the lofted bedding completely safe-to-use, Rockjame has used a built-in ladder. So it doesn't wobble and give kids scares. To make its bed completely failsafe for kids' use, Rockjame hasn't given too much loft to it. Moreover, the bed is further protected by an 11-inch railing from all sides to rule out any instance of tripping over.
Buy Rockjame Twin Wood Bed and sort out your kid's sleeping and playing space in a single purchase.

Pros
Pinewood construction ensures durable use
Easy on the eyes, Espresso finish
Sturdy slide
Low loft and high railing for optimal safety
Cons
A bit heavy on the pocket
Not suitable for older kids
It is important to mention here that we haven't ranked these 19 loft bed for kids in our reviews. They have been assigned numbers just for reading convenience.
Loft Bed for Kids Short Buying Guide 
Up till now, you must be aware of all different types of loft beds and the features that make them top-of-the-line. Nonetheless, we are going to categorically put down all those characteristics that you should look into while buying a loft bed for your kids' room.
Type
As you have noticed, apart from loft, many other features of construction make one bed different from the other. We are going to distill down loft beds in five categories based on their construction.
They are constructed just like simple beds with an elevated platform for bedding. The idea of basic loft beds is pretty simple i.e. saving considerable footprint or horizontal area in space-stressed rooms. Basic loft beds for kids usually feature built-in ladders and guardrails for safe use.
Twin Over Full Loft beds are the most popular ones among all those parents who have kids sharing a single room. In twin over construction, two beds are stacked on top of each other. The basic idea of twin over loft beds is also to save space by providing bedding for two kids from the space of one.
Loft beds leave ample space underneath. Some manufacturers utilize it to the maximum and integrate an assortment of cabinets there. From cupboards to storage bins and sliding drawers, these loft beds feature enough storage options so that you don't require a separate chest or cupboard for kids' room.
Setting up a study spot in the kids' room sometimes becomes quite tricky for parents. Here, loft beds with study design are very useful. These beds are constructed with a high loft that offers enough headroom to set up study/ reading tables and computer workstations. Some loft beds also come with built-in desks, cabinets, and shelves. Here too, you can set up two different items (bed and study table) in the space of one.
Although loft beds are primarily designed for kids and teens, some models are specific for little kids who have just passed the toddler phase. These loft beds are not too high and draped in colorful schemes. Moreover, such loft beds often feature slides as well.  Similarly, underneath tents are also included (we have also reviewed a couple of them). In short, these loft beds also serve as an in-house play area for kids.
After you settle on the type of construction of a loft bed you want and need for your kids' room, look out for these characteristics.
Material
Wood and steel are the most common materials used in making all sorts of loft beds. While wooden construction elicits premium feel and gives beds more enriched presence, steel is used to keep them lightweight, sleek and also cost-effective.
If you are following a particular interior theme, then it would be better to pick a particular material. For instance, steel beds with a neutral finish can be used with any contemporary decoration theme. On the other hand, wooden options allow you to play around different colors, designs, and themes. Whether its transitional mission style or rustic theme, you will find a pertinent wooden loft bed.
One more thing, wooden beds need extensive care and upkeep in comparison to metallic ones. So, there is that.
Structure
Make sure that the loft of the bed is appropriate for the ceiling of the given room. Also, try to get the models that come with built-in features. For instance, the ladder should have a mounted configuration. Similarly, other features should also be well mounted. A full-mounted configuration rules out unnecessary wobbles while climbing up/down the bed.  
Safety
Safety is the first and foremost concern of many parents when it comes to loft beds. In all the contemporary loft beds, safety features are well taken care of. You can easily find beds with high guardrails, rounded edges, and sturdy ladders. There are even options that feature full staircases (we have reviewed one). If kids are younger (less than 8) then stick with low-loft beds to ensure absolute safety against trip over.
Comfort
You can't compromise on the comfort quotient while trying to get a space-efficient loft bed with lots of accessories. The bed must be positioned at a height where it remains properly ventilated. Similarly, there should be enough leg and headroom for kids to comfortably sleep. Similarly, if the underside of a loft bed has to be used, it must have enough headroom.
We hope that these reviews and buying guide will help you in picking the right type of loft bed that saves you space, offers you required utility, gets the seal of approval from the kids and without putting too much burden on the pocket.
Related Articles
12 Ways To Put Your Bedroom Corner Space To Good Use
29 Brilliant Easy to Build DIY Platform Bed
21 Mindbogglingly Beautiful Fairy Tale Bedrooms for Kids
21 Super Small Nightstands Ready to Fit in Petite Bedrooms
37 Simply Spectacular Tree Bed Designs to Pursue
Recycled Pallet Bed Frames – DIY Pallet Collection
15 Creative Small Beds Ideas For Small Spaces
30 Small Bedroom Interior Designs Created to Enlargen Your Space
37 Smart DIY Hanging Bed Tutorials and Ideas to Do
Bedroom Christmas Lights Ideas For A Cozy Atmosphere
32 Dreamy Bedroom Designs For Your Little Princess
100 Inexpensive DIY Headboard Ideas for Your Bedroom Design
47 Stylish Floating Bed Design Ideas
53 Incredible Hanging Beds to Float in Peace
33 Epic Navy Blue Bedroom Design Ideas to Inspire You
6 Best Vacuum Cleaners for Mattress  
13 Best Loft Bed with Slide Reviews
10 Best Full Size Bed Frame Reviews