All parents can straightaway agree that getting their little ones to sleep is a demanding job!
Even if your munchkins aren't picky sleepers per se, we bet arranging for fun and adventure in everything they do is equally challenging. But with loft beds that come with slides, your task is cut out to some good extent.
Now that you know about it, the only thing left is to bring home the right bed. And this is where things can get exhausting, given the plethora of options on the market.
However, we are determined to let your munchkins rejoice in their bed routine. So, today, we have compiled a list of the 13 best loft beds with slides. As a bonus, we've also included a short and informative buyer's guide after the reviews.
So, let's start with the proceedings, shall we?
Top Loft Bed with Slides
IMAGE
PRODUCT
DETAILS

Our Top Pick

Our Top Pick

Coaster Home Furnishings Kids Camo Tent Twin Loft Bunk Bed with Slide

Tubular steel frame
Camouflage fabric
Safety rails

VIEW LATEST PRICE →

DONCO 750TE-750C-TB Circles Low Loft Bed with Blue Tent

Pine wood frame
Colorful tent
Lightweight

VIEW LATEST PRICE →

DHP Junior Twin Metal Loft Bed with Slide

Metal frame
Guardrails
Curtain set

VIEW LATEST PRICE →

Xiao Tian Kids Loft Bed with Slide

Knot-free hardwood build
Detachable slide
High railing guard

VIEW LATEST PRICE →

Powell Princess Castle Twin Tent Bunk Bed with Slide

Powder-coated finish
Polyester microfiber fabric
Fold-down windows

VIEW LATEST PRICE →

Broyhill Kids Destin Junior Loft Bed Collection with Slide

Twin-size loft
Storage box
Attached table and chair

VIEW LATEST PRICE →

Max & Lily Low Loft Bed with Slide

400 pounds weight capacity
Angled ladder
14-inch safety rails

VIEW LATEST PRICE →

New Energy Schoolhouse Twin Princess Loft Bed with Slide

Wooden slats
Headboard and footboard
Fabric pockets

VIEW LATEST PRICE →

Merax Solid Wood Twin Loft Bed

Storage boxes
High guardrail
Side rail

VIEW LATEST PRICE →

P PURLOVE Loft Bed with Slide

Removable slide
Knot-free frame
High rail guard design

VIEW LATEST PRICE →

SOFTSEA Kids Wood Twin Low Loft Bed with Slide

Engineered pine wood design
Detachable slide
Handrails and guardrails

VIEW LATEST PRICE →

DONCO Twin Art Play Junior Low Loft Bed

Mattress ready slat design
Slide board
Chalkboard

VIEW LATEST PRICE →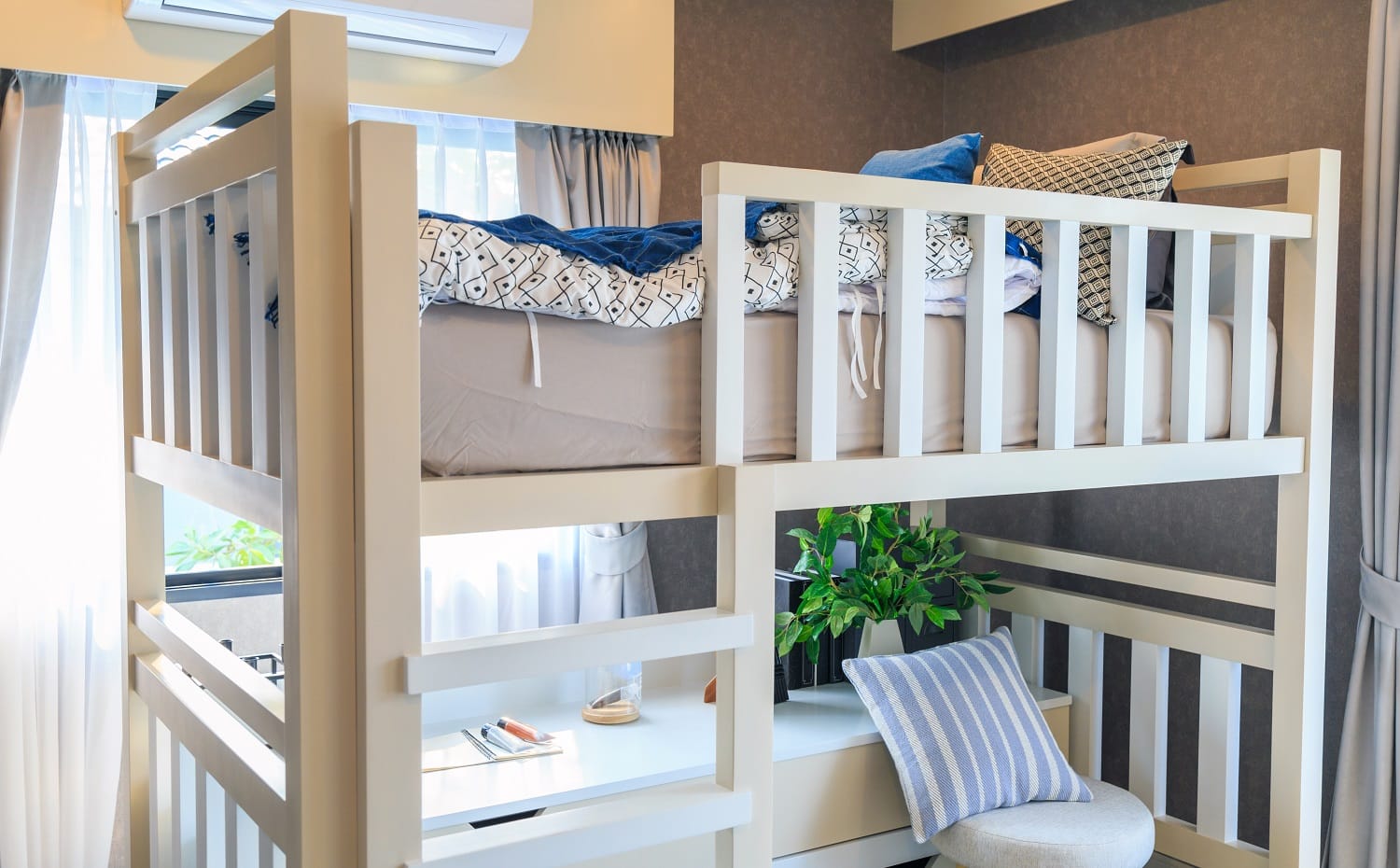 Numero uno on today's list is this high-end unit from Coaster Home. Built to be equal parts sturdy and appealing, it makes for a fun addition to your child's room. Plus, its size and carrying capacity are ideal for a diverse age group.
Why Did We Like It?
For starters, we were impressed with the positive customer feedback. Its tubular steel structure is very sturdy and stable, ensuring maximum safety for kids. Moreover, the safety rails on all four sides of the bunk prevent them from falling, even with continuous tossing and turning.
Since the bed is equipped with a carrying capacity of 400 pounds, it can easily accommodate kids between 6 to 10 years of age. Besides, the slide has a smooth surface and has a maximum weight limit of 100 pounds.
Talking about its bunk, the metal slats design facilities even weight distribution of the mattress for comfortable sleep. We also loved the camouflage tent that sits underneath, just in front of the bed, and complete with mesh windows and door.
In case you need some extra room, place a twin size mattress on the floor inside to make a second 'bed'. Alternatively, you can also use it as a fun play area; the camouflage fabric compliments almost any decor.
Agreed that it may not be the cheapest option out there, but its performance and features do well to justify the premium price.
What Could've Been Better?
The assembly isn't very challenging per se, but the instructions are hard to follow. If you're a first-timer, set aside considerable time to install the bed. Other than that, we have no complaints from this awesome product.
Pros
Powder-coated steel frame

Lightweight and easy to move

Comes with a matching and robust ladder

Slide and tent can be removed to make room
Cons
Assembly instruction are hard to follow
Up next is the Donco Loft Bed with Blue Tent. This compact and colorful low loft bed will surely become your child's favorite in no time! With its tent and slide features, playtime and bedtime will no longer require separate spaces.
Why Did We Like It?
The Donco Low Loft Bed sports a solid pine wood construction that accounts for its sturdiness. On top of that, the superior wax finish prolongs its service life for everyday use. We were both surprised and happy to see that the robust build doesn't add to its weight. So, count the brownie points!
Similar to our top pick, the loft bed is equipped with a slat design (wooden, in this case) that allows you to easily place the mattress. In addition, the safety rails extend up to 5.5 inches over the mattress to provide optimum safety for your toddler.
The tent is made from durable fabric and has two windows and a door for adequate ventilation. By placing a twin-size mattress inside, you can convert it into a bunk-like bed or simply use the space to store toys. And it comes in multiple attractive colors to match the varied interior decor.
Lastly, the two-step ladder and mini-slide will make your little one's bedtime routine all the more fun. We just couldn't have asked for more at this price!
What Could've Been Better?
Perhaps the only downside to this otherwise excellent loft bed is that when you use the tent as an additional sleeping area, the tent-door falls off. Thus, we'd recommend attaching a velcro strap on the rim to hold it in place. However, this added effort is far from being a dealbreaker.
Pros
Accents with paneled details

Smooth slide

Tent is properly ventilated

Trouble-free assembly
Cons
Tent door doesn't stick to the rim
DHP is one of the leading names when it comes to juvenile products, and as such, its twin loft bed finds an honorable mention here. In tandem with the slat design, the strong metal construction is suitable for toddlers up to 200 pounds in weight.
Sale
Why Did We Like It?
Honestly, we were intrigued by the bed's sturdiness at first glance. Its metal frame, like that of the Coaster Home bed, works well to keep it stable on most surfaces. Moreover, the brand is known for designing space-saving furniture, and this unit is no exception.
Thanks to the slats on the bunk, the mattress doesn't slide around even with constant movement. And, the full-length guardrails protect your kid from falling. On that note, we should also mention that it's built to accommodate a standard size twin mattress.
In the absence of a tent, the space beneath can be converted into one with the included polyester curtain set. Furthermore, the upper panels come with compartments, which can be used to store toys and books. You can also opt for the curtain-less model in case you plan to use curtains of your choice.
Last but not least, the slide and ladder are practically fixed in their places to ensure optimum stability. If you ask us, the DHP twin loft bed is one of the best budget-buy options that's worth considering.
What Could've Been Better?
Although we have no doubts about its stability, the bed tends to make significant noise upon movement. So, we'd suggest getting a couple of rubber feet to dampen the noise. Also, the setup is pretty time consuming and will require at least two people.
Pros
Underneath space can fit a twin mattress

Removable and washable curtain

About 20-inch slide

Available in three colors
At number four, we have yet another wooden loft bed, this time from the house of Xiao Tian. The robust pine wood construction features an equally sturdy ladder and slide for ultimate safety. With its 28-inch clearance, say hello to additional storage space.
No products found.
Why Did We Like It?
First off, the bed's espresso-colored frame compelled us to try it, but there's more to it. Our experience with the Donco Loft Bed somewhat assured us of the sturdiness of this one, and thankfully, we were proved right. What's more, the metal bolts and screws hold the parts together for reinforced stability.
The loft is designed with eight slats that support a standard twin size mattress, with a carrying capacity of around 175 pounds. Plus, the high railing guards extend up to 11.9-inches to keep your kids safe throughout. And with the fine finishing of the slide and ladder, the chances of injury become almost zero.
Unlike some other names on the list, the clearance may not serve as an additional bed, but it provides ample room for storage. In fact, you can keep a dresser or cabinet underneath for better organization of the room. Additionally, its lightweight design makes it easy to move.
Finally, the slide has a detachable design, which makes the bed more compact for smaller rooms.
What Could've Been Better?
The Xiao Tian Kids Loft Bed with Slide is a premium-priced option, meaning it can be a constraint for potential buyers. Since it can carry up to 175 pounds, the bed isn't suitable for younger kids. Having said that, the robust construction does well to ensure optimum safety and stability for the stated carrying capacity.
Pros
28.8-inch storage space

Built-in straight ladder

No squeaks and wobbles

Fast assembly
The Powell Princess Castle Bed can be the perfect gift for your daughter's next birthday! Its heavy duty steel construction comes with twin tents to replicate a little castle in the room. Besides, its affordable price tag is a fit for most budgets.
Why Did We Like It?
We loved how the overall design prioritizes looks without compromising on security. Firstly, the all-metal build testifies its stability on most floor types. The bunk features firmly placed metal slats, which facilitates even weight distribution and helps the mattress stay in place. Moreover, the guard rails have the right height to prevent your child from falling.
Undoubtedly, its biggest highlight is the shape and design of the fabric that gives it a castle-like look-and-feel. In addition to the tent underneath, the polyester fabric covers the top of the slide to form the castle-head. Complete with a little ladder and flag pole, we appreciate the brand's attention to detail.
Talking about its tent, the fold-down window 'panes' are also see-through, thereby allowing you to control the amount of light and air entering the space. Apart from that, the rings feature makes it easy to remove the tent curtain for washing.
Overall, we are thoroughly impressed with the quality and build of this castle bed for its pocket-friendly price.
What Could've Been Better?
Although the tent can accommodate a twin size mattress, it's height isn't suitable for sleeping purposes. Similar to the Coaster Home Bunk Bed, the instructions manual is a bit confusing, and the unlabeled screws don't do much to help you.
Pros
Powder-coated finish for corrosion resistance

Bunk is covered with a canopy for added security

Washable curtain and castle sheets

Tent doubles up as storage space
Cons
Assembly is time-consuming
At the sixth position, the Broyhill Kids Junior Loft Bed makes a deserving entry. While the name may tell you otherwise, it's more than just a bed. The strong wooden design is built to ensure comfortable sleep for your little one.
Why Did We Like It?
The Broyhill Junior Loft Bed takes multi-purpose utility a notch higher with its elaborate design. And even before exploring the other uses, we were truly impressed with its stability and robustness. To start off, the hardwood frame is fastened securely with metal screws and bolt. With a carrying capacity of about 200 pounds, the guard rails ensure complete safety for your child.
The package comes with multiple shelves and drawers, which can be installed underneath the bed. Simply place them as per the assembly instructions, and you're good to go. Since they are not attached to the frame, you remove them anytime to make room for something like a tent. Furthermore, it includes a table and chair extension that is ideal for your little one's study time.
Lastly, the ladder and slide are of the perfect height and width that make them comfortable and secure. When not in use, you can detach the slide to make the overall frame more compact for smaller spaces. If budget isn't an issue, then this loft bed is worth considering.
What Could've Been Better?
As we've already mentioned, it comes with a slightly expensive tag. But given its all-round utility, we feel the price is justified. However, the bottom of the slide appears to be a bit rough and can cause injuries. Perhaps, you'd want to sand it or cover with foam before use.
Pros
Hassle-free assembly

Loft is compatible with twin-size mattress

Shelves and drawers can be placed anywhere

Can be customized with or without the extensions
Cons
Lower half of the slide is rough
Today's seventh pick is The Max & Lily Low Loft Bed. Sporting an appealing wooden frame and color-coordinated tent curtains, its high carrying capacity makes it suitable for a diverse age group. What's more, the low-profile design is ideal for low ceilings.
Why Did We Like It?
To begin with, we really liked the simplistic design, which is both sturdy and attractive. The pine wood construction is secured with countersunk screws, meaning they won't protrude to cause injuries or tear the bedsheets. While the entire loft features wooden slats for greater safety, the 14-inch guard rails are especially suitable for toddlers.
Moreover, the underbed height is almost 33-inch, which provides you with ample space for placing a second mattress. Its 100% cotton curtain tent ensures adequate ventilation during playtime. And if that's not enough, the door can be opened with the help of straps for sufficient air-intake.
The angled low-height ladder is easy to climb and features grooved steps to prevent slipping. Unlike most of its competitors, the slide and ladder can switch places as per convenience. So, that's a bonus!
With a 50-inch height, the Max & Lily Low Loft Bed comes across as a perfect fit for low-ceiling rooms. Lastly, it's available in two vibrant color combinations that will suit most bedroom decor.
What Could've Been Better?
It may be useful to know that the tent curtain covers only the front and one side. So, if you plan to place it in a corner, you might want to purchase another curtain. Also, the velcro straps that hold the curtain in place tend to fall off from the wooden rim.
Pros
Non-toxic, low VOC finish

Plastic slide with 4 wood panels underneath

Removable and reversible slide

Curtain attaches with hook and loop velcro straps
Cons
Velcro straps may come loose
For the eight pick, we are back with another Princess Loft Bed, and this unit from New Energy oozes royalty like no other. The sturdy wood construction features a removable slide and ladder for optimum customization. Besides, the package includes all related assembly tools for a quick, trouble-free setup.
Why Did We Like It?
No surprises here as the overall look caught our attention at first glance. Like many other loft beds on the list, the loft is equipped with slats that support a twin size mattress for uniform weight distribution. Plus, the wooden rims are secured with metal bolts at the joints for better stability.
We loved how the fabric covers the entire bed, thereby concealing the loft and ladders. While we wouldn't have minded otherwise, the coverage is what gives the bed a true castle/fort-like feel. To top it off, the fabric is designed with little pockets on the side that can store some little essentials.
Furthermore, the underneath space can be converted into a little playroom or study room, complete with a rug and lights. Alternatively, you can also transform it into a second bed with another twin mattress.
Last but not least, the sufficiently broad slide and ladder are securely built to tolerate everyday use. We'd say that the model performs pretty well for its price.
What Could've Been Better?
The slide's angle makes it extend farther, meaning you'd need ample space to install the unit. In that sense, the bed may not be suitable for smaller rooms. Also, the quality of the fabric makes it prone to damage, and figuring out the correct alignment can be rather challenging.
Pros
Dark cherry finish

Wide clearance space

Foldable window panes

Frills and button for detailing
Cons
Cheap fabric

Not suitable for smaller rooms
The Merax Solid Wood Twin Loft Bed has a space-saving design that adds fun and comfort to your child's bedroom. Its durable pine wood frame is meant to last several years of regular use. With adequate storage space, you can tick off proper organization from the to-do list!
No products found.
Why Did We Like It?
Our search for compact-looking loft beds led us to this model, and frankly, we are pretty satisfied with its performance. Firstly, the loft features an ever-reliable slat design that secures the mattress in place. Additionally, the high guardrails will come handy for kids who toss and turn around a lot.
Perhaps, the most appealing feature of this durable bed is the ladder, which comes with storage boxes for seamless organization. And if this makes you concerned about its stability,  the side rails will ensure that your child has a safe commute up and down.
While at it, feel free to use the spacious clearance underneath for even more storage and organization. Finally, the bed has two solid color variants, viz. white and espresso that will be a perfect fit for the room's color palette. Complete with a hassle-free installation process, it's one of the most cost-effective models out there.
What Could've Been Better?
We wished that its carrying capacity had been a bit higher than the recommended 250 pounds. That way, it could've been more accommodative for growing children. Having said that, it performs exceptionally well to deliver on its claims.
Pros
Smooth finish

Slide has shock absorption feature

Doesn't squeak

Affordable
The P Purlove Loft Bed occupies the tenth spot on our list today. This ultra-affordable loft bed sports a simple and elegant design to add a fun element to your little one's bedtime. Its solid wooden construction provides for a good night's sleep.
Why Did We Like It?
By this time, it might be safe to say that we are kind of obsessed with wooden loft beds. Talking about its construction, the rugged all pine-wood frame is equipped to carry about 250 pounds on the loft. In addition, the 8 plywood slats form the perfect foundation to keep the mattress from sliding around.
Similar to the Xiao Tian Loft Bed, the knot-free design is meant for a smoother finish to prevent injuries.
While the slide can be removed when not in use, the built-in ladder reinforces stability with its wobble-free design. Moreover, the 28.8-inch clearance underneath can house dressers and drawers for quick storage. Although it won't be ideal to use as a second bed, you can easily convert into a small playroom.
All in all, the P Purlove Loft Bed is a good option for those who want a sturdy and fun loft bed on a tight budget.
What Could've Been Better?
We feel that the space between the slats will interfere with the placement of the mattress, affecting the overall support. However, you can use a bunkie board to solve this problem.
Pros
11.9-inch guard railing

Stable two-step staircase

No squeaks and wobbles

Clear assembly instructions
Cons
Slats are spaced wider than required
As we near the end of the list, here's another loft bed with a storage ladder. The Softsea Low Loft Bed is most suitable for toddlers and built to fit in those cramped rooms. Plus, it's equipped with ample storage space throughout.
Why Did We Like It?
After dealing with a number of elaborate designs, we were looking for something more simple and effective. For starters, the elegant engineered wood frame is built to suit most interiors. Since the bed sits at a height of about 31-inch, it only makes sense to have extended guardrails to prevent your child from falling down.
In addition to removing the slide, it can also be mounted on either side of the frame as per convenience. Apart from that, it has a height of 47.1-inch, which makes it safe for your toddler.
Like the Merax Solid Wood Twin Loft Bed, the two-step staircase features a couple of shelves on the side. When combined with the spacious underneath clearance, you can trust this one to solve your storage needs.
While we opted for the all-grey bed, you can also choose the white variant to add a touch of class to the room.
What Could've Been Better?
Perhaps the only thing that can turn away potential customers is the slightly expensive price tag. Although we have no complaints about its stability, some users may find it to be overpriced, considering the rather simple design.
Pros
Slide comes with buffer for reinforced safety

Adequately spaced slats

Compact design

Easy to install with included tools
For the penultimate pick, we have a second low loft bed from the house of Donco. Its height is designed to be most suitable for toddlers, while the bed is built to hold up to 150 pounds. With the slide board attachment, let your kids enjoy a climb!
Why Did We Like It?
Having tried a Donco bed before, we wanted to test another product from the brand. First off, the loft bed comes with wooden slats, which are mattress ready. Just place a standard twin size mattress, and you're good to go.
We especially liked how the design substitutes a ladder or staircase for a slide board. It's equipped with three wooden rims that ensure a safer grip. If your toddler has just learned to crawl, then this feature will come in handy.
Undoubtedly, the chalkboard on the front of the frame is bound to attract children. Hence, they can have a quick drawing session at any time of the day!
Lastly, the package also comes with two wheelable toy boxes that fit underneath the bed. However, you'll have to pay extra for the said variant.
What Could've Been Better?
Although it's called a chalkboard, we don't think the shiny surface will make the chalk stay. While crayons may work to an extent, you may need thorough cleaning to wipe off the marks. Also, the paint smell can be too strong for kids.
Pros
Stable mini slide

Secure guard rails

18.5-inch clearance

Quick and easy assembly
The last product for today is the Maxtrix Full Mid Loft Bed. The premium model boasts of a modular design that offers high customization to suit various age groups and needs. What's more, it can hold up to a staggering 800 pounds.
Why Did We Like It?
To begin with, we were impressed with the number of things that the bed can do. The loft bed features the common and reliable slat design, while the rail guards extend up to 16-inch for complete safety. Besides, the rock lock leg bolts at the joint make it capable of enduring heavy sleepers.
A striking feature is the slide platform, which can be placed on both the left and right sides. Plus, you can place it on the front or back to make the desired entry gate. When not in use, simply remove it to get a more traditional looking bed.
Not only can the unit be converted into a taller bunk and standard full bed, but you can also choose from a range of bed ends. Likewise, it comes with three wooden finishes that let you select the best option to match your decor.
What Could've Been Better?
Frankly, we love the stability and security that the bed has to offer. Plus, the customization lets you build it as per choice. But all these advantages come with a hefty price tag. In that sense, it can be a limitation for most budgets.
Pros
Underbed space facilities storage

Convertible frame

Available in twin size loft

Slide platform has steps for multi-purpose use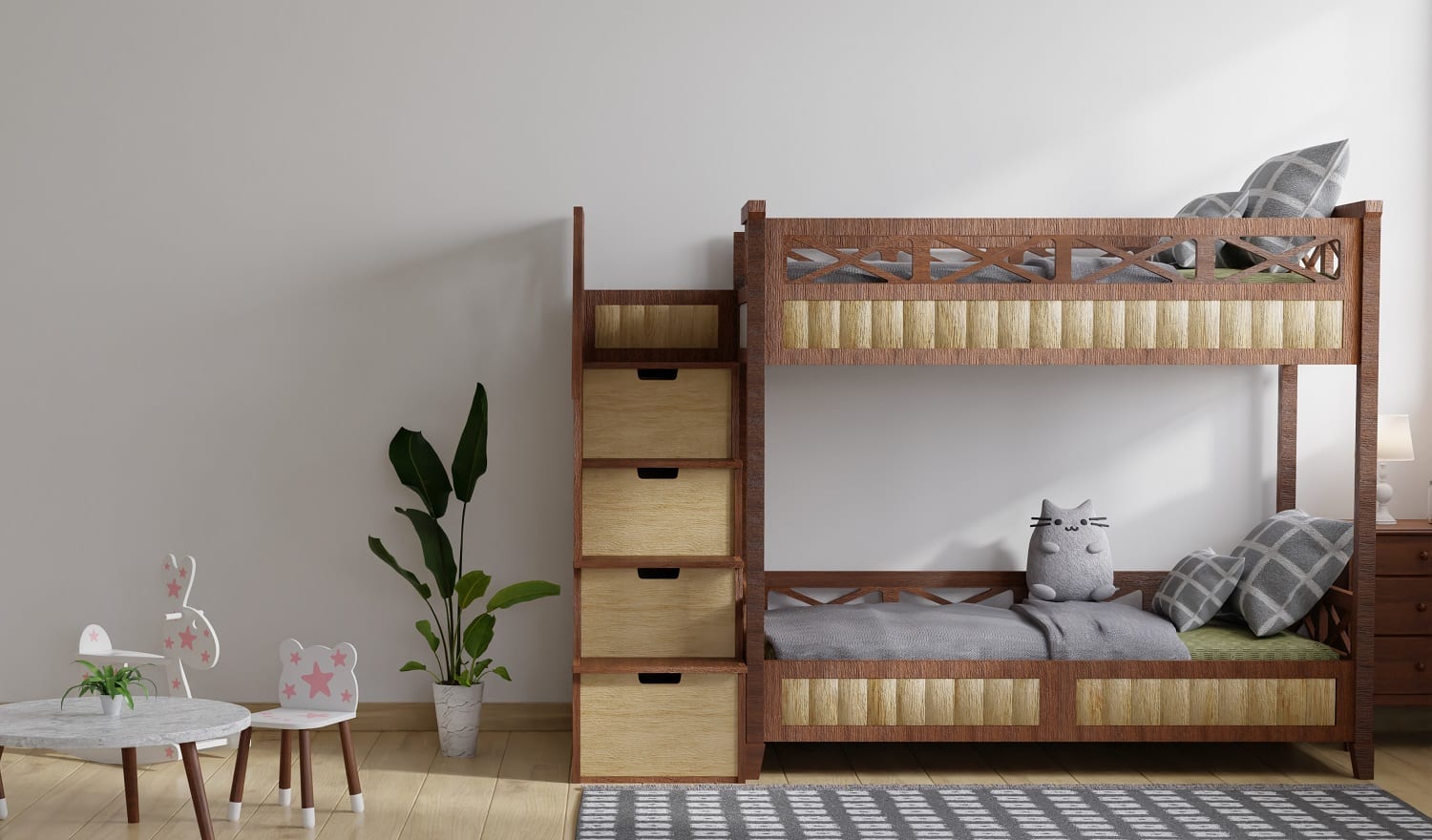 Best Loft Beds with Slider Buyers' Guide
Although such products are essentially built to be fun and attractive, there are certain considerations that need to be kept in mind. After all, the last thing you'd want is your child to get hurt or have an uncomfortable sleep. Hence, to get a step closer to the perfect bed, bear with us for some more as we jot down the key factors that should drive your purchase decision.
Size and Weight
By size, we mean the size of the mattress and that of the overall frame. Understandably, you'd want a bed that fits well in the given space and doesn't make your room too crowded. Furthermore, check on the carrying capacity of the bed to ensure a comfortable experience for your kid. Generally, beds with a higher carrying capacity are designed to grow with your child.
We'd suggest not going above the recommended weight capacity. Also, keep in mind that it doesn't include the mattress and other things that you may want to put on it. So, it's a good practice to go above the required weight capacity.
Safety
As far as safety is concerned, rail guards are of paramount importance. However, there are various safety features to look out for. For instance, you may want to invest in a bed that has handrails by the ladders. Additionally, footboards and headboards with slats are also effective in keeping your little one safe throughout.
Slide
Just because slides are meant to amp up the fun factor doesn't give them a reason to compromise on safety and stability. In this regard, make sure that the surface is smooth and the height isn't too steep. Moreover, you may opt for a removal slide to make more room as and when required.
Underbed Space/Storage
Despite having a lot of space underneath, some models may keep you from converting it into a second bed. In such cases, you can invest in one that comes with shelves and boxes. And if it's able to house a small playroom or extra bed, make sure that the tent curtains are breathable.
Material
While metal beds are a sturdier option, wooden frames are immune to rust and corrosion, making them last longer. In case you choose the ladder, make sure that it has a knot-free construction for a leveled finishing.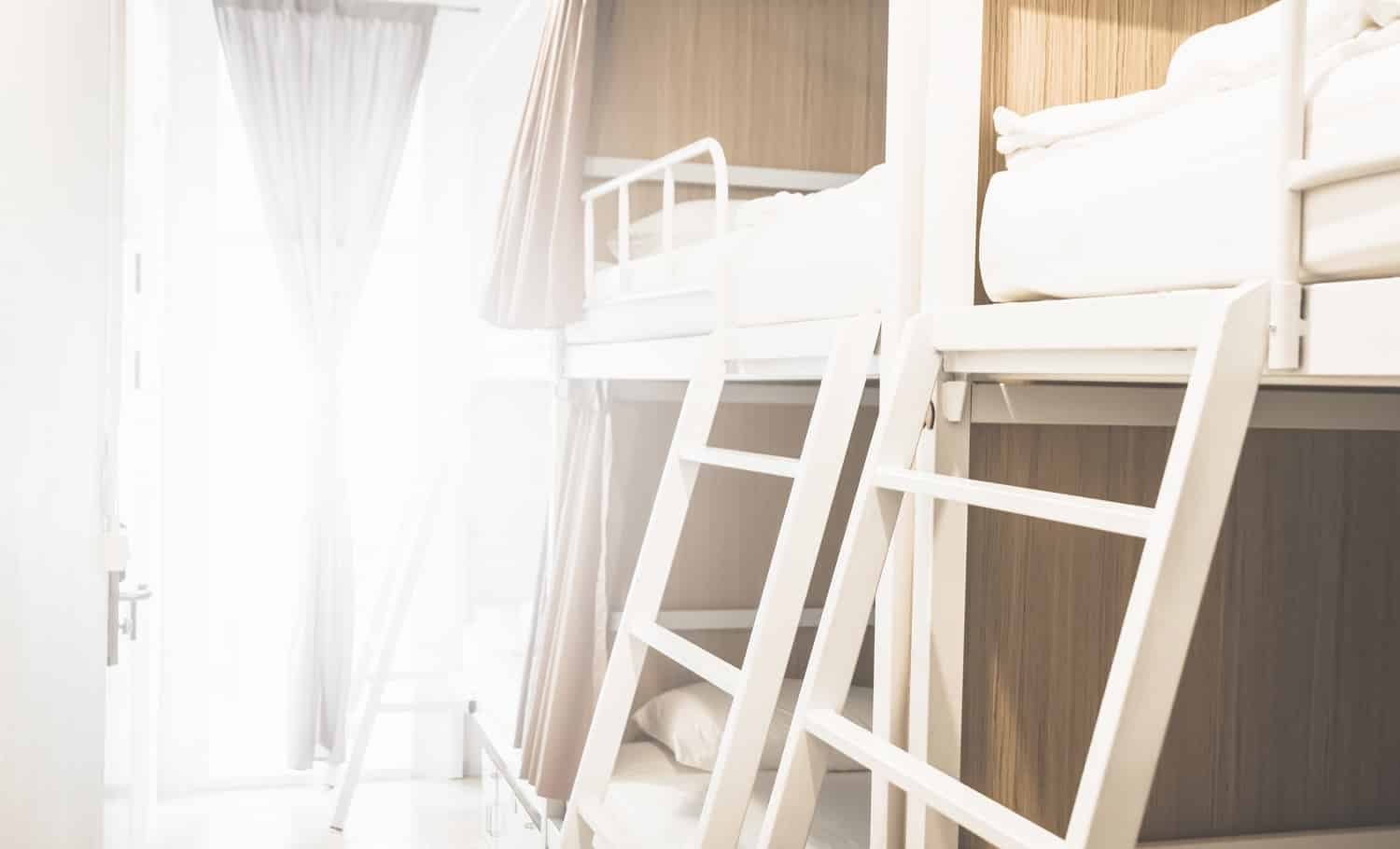 Verdict
Fun, stable and safe – that's what the ideal loft beds with slides look like!
For this reason, each of our recommendations meets those criteria that ensure a secure and enjoyable experience for your young ones. Although we can't decide for you, we can certainly pick our favorites from the list to further assist you. So, here it goes…
The Coaster Home Loft Bed is one of the best options on the market, and the Xiao Tian Loft Bed has a removal slide.
On the other hand, both the Merax Solid Wood Twin Loft Bed and the Softsea Low Loft Bed are equipped with storage shelves.
With this, it's time for us to say goodbye. Hope you enjoyed reading our guide as much as we enjoyed testing these fun beds. Do let us know about your verdict in the comments section below.
See you next time!
Related Articles
5 Japanese Bedroom Ideas | Design & Themes
11 Best Fuzzy Blankets to Hug This Year
10 Best Yoga Blankets Right Now
13 Best Loft Bed with Slide Reviews
10 Best Full Size Bed Frame Reviews
10 Best Single Mattress Reviewed
8 Best Headboards for Epic Bedrooms Reviewed