Disclaimer | This article may contain affiliate links, this means that at no cost to you, we may receive a small commission for qualifying purchases.
Lint on clothes, sofas, or any fabric for that matter is a total eyesore. Honestly, that's the kind of fluff we can do without. 
That said, it's pretty common on old garments, sweaters, curtains, and seat cushions. The matted appearance is far from appealing, but that doesn't mean you have to discard your old belongings. 
The easiest way to deal with these fuzzballs is a lint remover. While you can easily get one in the nearby electronics store, it's not a good idea to buy something randomly. Therefore, to save you from a rash decision, we've collated a list of 13 best lint removers available right now. 
Without further ado, let's get down to business.
Best Lint Remover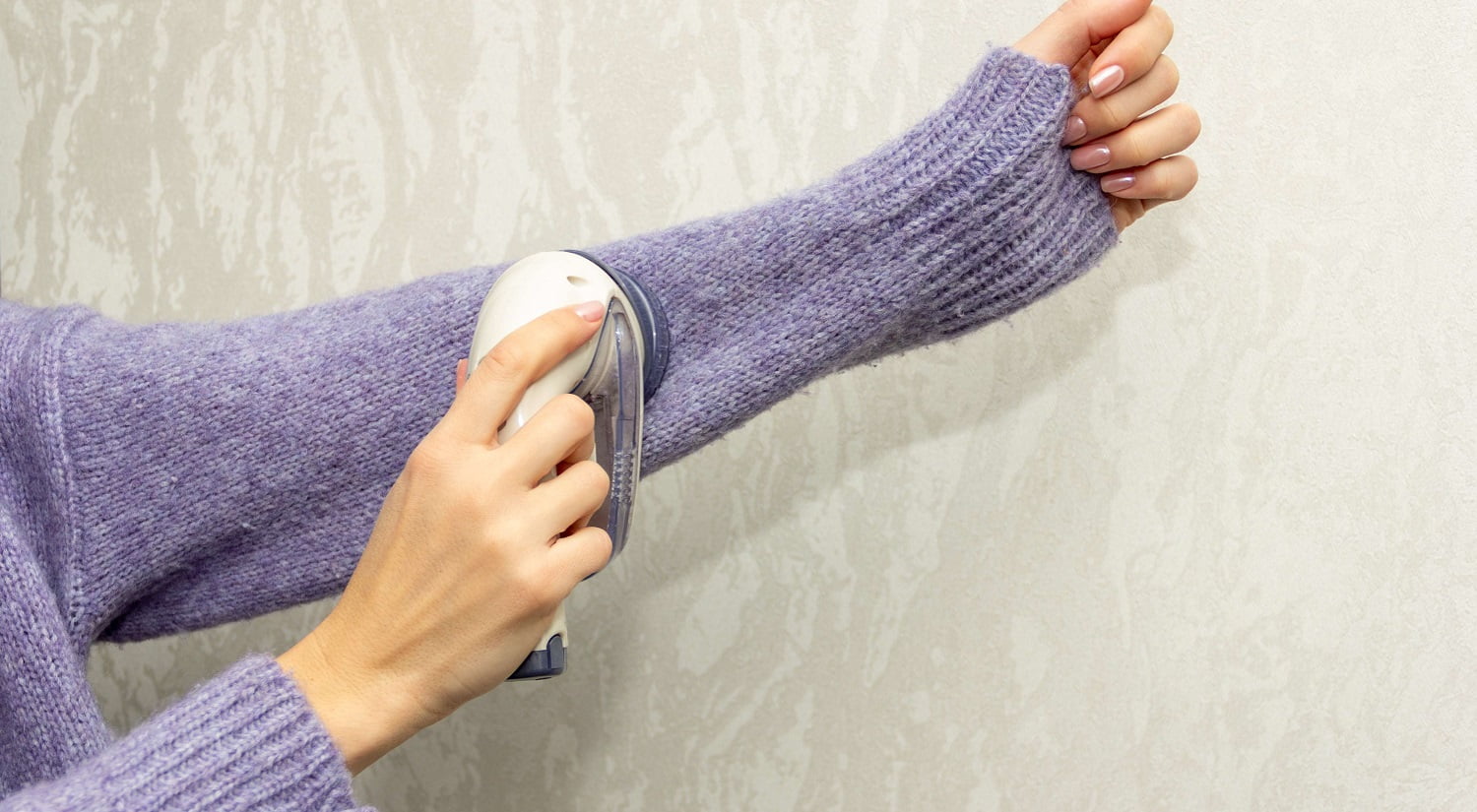 House of Wonderful has come up with an innovative solution to deal with lint, and, as busy homeowners, we're nothing short of relieved. The Wonder Lint Electric Fabric Shaver is the gadget you'd want to keep handy in your home. Be it a worn-out sweater or any other material looking worse for wear, you'll find this exceedingly convenient. 
Why Did We Like It? 
First and foremost, we're very impressed with the ergonomic shape of this handheld tool, ensuring superior performance from the get-go. The stainless steel precision blades further enhance its utility, clearing away all the lint without missing any spot. 
Besides, you can collect all the fuzz and use it multiple times before emptying, thanks to the sizable lint collector. Design-wise, we really like the extra-large shaving head, which instantly makes it more versatile than other competing products. 
Therefore, you can confidently use it on clothing, furniture, and bedding and effortlessly eliminate all lint. Other than that, we like it that it comes with a brush and 2 spare stainless steel blades. Plus, all of it can be packed in a neat drawstring pouch, also included in the package. 
So, if you're looking for a high-quality lint remover that does the job and more, we recommend investing in this product. 
What Could've Been Better? 
The device can be operated via batteries or connected to the mains, which undoubtedly is a significant advantage for users. However, if you opt for batteries, it's not going to be easy to replace them. There's very little space to maneuver, and as such, it is difficult to remove the cells from the device.
Next up, we have the POPCHOSE Fabric Shaver, another excellent option for users looking to get rid of fuzz balls quickly and effortlessly. If you feel that you need something with a little more muscle than a lint brush, it's time that you upgraded to this high utility machine. Besides, it's available at an affordable price, making it all the more viable.
Why Did We Like It? 
To begin with, this 3-in-1 model is the perfect tool to keep your fabrics lint-free and smooth. It can be configured in 3 different ways so you can use the device as per the application. 
Simply put, it can be paired with a lint catcher or an electrostatic brush, depending on the type of fabric you are working on. Furthermore, it features a 2.7-inch shaving head, powered by a 5W motor, delivering faster and accurate performance. And thanks to the 6-blade design, you can now get rid of lint, fluff, and bobbles in no time. 
What impressed us the most is how safe it is, ensuring zero glitches during operation. Basically, the device automatically stops when the blade cover is loose or open. Plus, you can use it while charging, which is a lifesaver for busy users. 
Other than that, we like the 3-light mode indicating on/pause/off, where the light turns from red to green upon full charge. Meanwhile, the blue light comes on when it's paused during operation and starts to blink on low charge.
What Could've Been Better? 
For most parts, we are satisfied with the performance of this fabric shaver and do not have any complaints about its design or features. That said, avoid using it on thin, sheer fabrics as it tends to leave tiny holes on the cloth material. All in all, it's a reliable tool that can take care of clothes without a hitch. 
The MOSPRO Sweater Fabric Shaver is an affordable, high-performance gadget worth every single dollar. This super sleek white number can breathe new life into your clothes and help you keep them in wearable condition around the year. So, if that sounds like a steal deal, get this right away.
No products found.
Why Did We Like It? 
First of all, this handy device packs in the power of a 5W motor, delivering seamless and efficient lint removal with the 6-leaf stainless steel diamond-grade blades. Meanwhile, the 50% enlarged honeycomb mesh ensures that you don't miss out on the smallest fiber clusters. 
If you look carefully at the shaving head, you'll find holes of 3 different sizes, which are meant to trap fine particulate lint, particle pills, and intensive fuzz. Therefore, you can cover more area and eliminate all dust and fluff on the fabric. 
The best part about it is the storm wind-level suction mechanism, enabling users to eliminate lint without discharging bits and pieces into the air. Ideally, you should use the Fabric Shaver when it has sufficient charge to operate. However, if you don't have enough time, you can also use it while plugged in.  
Lastly, we really appreciate the large lint container, keeping things hassle-free and simple. It'll take multiple applications to reach full capacity, and once that happens, all you need to do is detach and dump.
What Could've Been Better? 
Nothing but the cord. Now, this won't be a problem if you want to use the device after charging it. Nevertheless, we suggest getting an extension cord for plugged-in operation. The charging cable is too short, and you may find it difficult to reach all corners. That aside, it's still one of the most functional options.  
Keeping your woolens lint-free can turn into an arduous affair if you don't have the right implement at home. That's why we recommend the Conair Defuzzer to deal with annoying fuzz in style. No doubt, it looks very modish in bright orange, but it's not among our top choices all for looks. Here's why you should consider buying it. 
Why Did We Like It? 
Lint removers are hardly the most expensive home-use gadgets on the market. Regardless, the ones in the low-price range, more often than not, fizzle out pretty quickly. However, this pocket-friendly item is an exception both in terms of performance and features. 
For starters, we like the generously-sized shaving head combined with the easy-grip handle, ensuring quick and easy lint removal from the get-go. Also, it includes 3 depth settings, allowing users to customize the device depending on the fabric material.
So, whether it's clothing, furniture or upholstery, arm yourself with this battery-operated Defuzzer and tackle all the matted fiber like a pro. Other than these user-friendly features, we genuinely appreciate the compact design of this gadget. 
You can store it anywhere in the wardrobe or drawer as it takes up very little space since it's a cordless model. Besides, you can easily carry it while traveling to keep your clothes lint-free on the move.
What Could've Been Better? 
If you're looking for a reliable, travel-friendly device, your search ends with this Conair product. However, we couldn't help but notice the tiny lint chamber, which fills up rather quickly. Meaning, you gotta empty it every once in a while, and that can be really frustrating.  
Another downside to the majority of low-cost lint removers is their tendency to snag or tear fabrics. Only a few of them can cater to your budget and requirements; the Pritech Fabric Shaver is one such example. So, if you want a trustworthy solution to maintain your garments, we suggest adding this to the cart.
Why Did We Like It? 
The Pritech Fabric Shaver, with its futuristic design, looks like something straight out of a sci-fi movie; however, that's not the only thing modern about this handheld gadget. To begin with, it features 3 different sizes of mesh, enabling users to eliminate the tiniest fuzz balls. 
Apart from that, the built-in cyclone convection technology instantly makes it more viable, as it's not something you can find in such low-priced products. Long story short, this technology performs the dual functions of a lint shaver and vacuum, thereby clearing away fabric fuzz without leftovers. 
Also, it comes with elastic stainless steel blades to prevent clothes from tearing or snagging. As for its battery life, the numbers are not exceptional but works fine for most users. Basically, it takes about 2 hours to reach full charge and runs for more than 60 minutes. Honestly, that's good enough for home use.
Lastly, we appreciate the protection mechanisms, which provide user safety as well as peace of mind, especially if you have overactive children at home.
What Could've Been Better? 
We do not have any complaints regarding the performance of this product, but it's not as fast as the makers claim it to be. It'll get the job done; however, depending on the thickness of the material, you may have to make multiple passes to even out the area. Therefore, it will take some time and effort on your part to deal with thicker fabrics.  
If you don't mind shelling out a few extra dollars for a high-quality lint remover, the STEAMERY Men's Pilo Fabric Shaver is the ideal option. While it may look small and unassuming, it sure gives the best bang for the buck by delivering top-notch performance throughout. So, if you want your money's worth, get this stat.
Why Did We Like It? 
The brand seamlessly combines innovation and user comfort with the Pilo Fabric Shaver, thereby further adding to the 'value for money' appeal. Simply put, you can use it to give your sweaters, bed sheets, blankets, and other fabrics a fresh look in no time.  
For starters, it runs on lithium-ion rechargeable batteries, which works well for users on the go. Also, it's astonishingly compact, and hence, storing and transportation is a breeze. As for its operability, all you need to do is roll the device over your apparel and get rid of pills and unwanted fabric in one swipe. 
Honestly, it doesn't get easier than this, and who knew removing lint could actually be this fun and convenient. That said, what ultimately seals the deal for us is its versatility and result-driven performance. 
To lay it all out, you can apply this device on delicate materials including, cashmere, alpaca, and merino, thanks to its sophisticated and precise shaving function.
What Could've Been Better? 
Fuzz balls are annoying, and sometimes you just need your device for an instant clean-up. However, that's precisely where you might face an issue, given that the device takes about 5 hours to charge fully. Also, since it connects to a Micro USB cable, unlike other models, you cannot use the lint remover while charging.  
We're halfway through our recommendations, and now is a good time to introduce the FunnyKitchen Portable Electric Shaver. It's another low-priced item that has impressed us with its superior functionality and streamlined design. So, if you're looking for a travel-friendly and reliable lint defense, get this stat.
Why Did We Like It? 
There's very little not to like about this multi-purpose electric lint remover, but let's start with the basics first. First of all, it's very comfortable on the hand, which is a major plus for something in this price range. 
Other than that, it features an on/off button on the handle, intuitively placed for thumb access, ensuring maximum control. Therefore, all you gotta do is turn it on and gently run the shaving head over your clothes. 
Since it's powered by electricity, it delivers the same amount of power and cutting speed in each application. So, just go ahead and use it on your furniture, sheets, curtains, blankets, and other fabrics and knock out the fuzz. 
Another thing that deserves mention is the detachable 'garbage pocket', which needs to be emptied every once in a while. Also, we like that the package includes a cleaning brush, which comes in handy while scraping off lint stuck on the net cover. 
What Could've Been Better? 
Given the humble price tag, it'd be unfair of us to expect anything above and beyond basic functions. That said, we would have liked it more if the device had a longer runtime for individual applications. Basically, it just runs for 5 minutes, and then you have to let it cool down for a couple of minutes before resuming function. 
Sometimes, woolens can look really drab and old if covered in fluff balls and tangled fiber. However, that would be the least of your worries if you had the right lint remover in your life. Therefore, if you're looking for a high-performing device that can deal with the thickest fabrics, check out the Aerb Rechargeable Electric Lint Remover now.
No products found.
Why Did We Like It? 
Powerful and durable, that's how this nifty little gadget can be best described. To break it down, this Aerb product runs on a robust 5W motor, providing higher coverage and precise cutting action. 
Thanks to its high-capacity battery, this USB-chargeable device easily has one of the longest, continuous runtimes, among other options in this price range. Simply put, once fully charged, you can keep removing bobbles for 70 minutes. 
Also, it's compatible with any USB charging port, be it a laptop, car charger, or a power bank. Therefore, if you want to carry your lint buster on your trips, consider getting this model. Besides, it's small and portable, instantly making it an excellent travel-friendly option.    
Apart from that, it can be used on a range of fabrics, including sweaters, blankets, couches, upholstery, and more. For the best results, we suggest stretching out the material on a flat surface and then gently running the shaving head at a 90° angle.
What Could've Been Better? 
There's no sugarcoating this, but the lint collector is loosely fitted to the device and can easily come off and scatter lint. This is a quality control issue that should be taken care of immediately as more often than not, customers consider such flaws to be deal-breakers.  
The Kooder Fabric Shaver is hands down one of the best alternatives to corded electric models, and as such, we are completely stoked with its performance. Also, nobody thinks that they'll look cool while using a lint remover, but you should not skip this one if you love showing off your gadgets.
Why Did We Like It? 
Unlike most other models on our list, this Kooder product features a unique design that enhances functionality and user comfort. It does not have a separate handle; instead, the extended base of the shaving head serves as one. 
Therefore, it's super sleek and compact, enabling convenient storage and transport. Other than that, this USB chargeable device can be directly connected to a laptop, desktop, power bank, or car charger whenever you're out of juice. Honestly, as tech-savvy individuals, that's a lifesaver. 
Also, when fully charged, it can run for up to 60 minutes, taking care of fine particulate pill, particulate lint, and intensive fuzz. So, if your woolens, bedding, curtains, furniture, or soft toys need a quick clean-up, just go to town with this one. 
Despite its tiny size, we're actually surprised at how much lint it can collect. You can run it several times before the chamber needs to be emptied.
What Could've Been Better? 
This Kooder product is a must-have for homeowners looking for a portable, easy to use lint remover. That said, the 2-hours charging time can slow things up, and you may want to consider other less time-consuming alternatives. However, it's still one of the best USB-supported options in this price range.  
If you don't want to spend a lot on a lint remover, this product by Feeke is an excellent option. Gone are the days of lint brushes when getting rid of bobbles, and fuzz balls needed some serious elbow grease. So, get ready to use the latest technology with this efficient blue number, and we're sure you won't be disappointed.
Why Did We Like It? 
The Feeke Lint Remover is exceptionally resilient and, as such, one of the most efficient gadgets for regular home use. For starters, we're very impressed with the unique design of this model, enabling user comfort and safety. 
The device includes a dual protection mechanism that prevents hand injuries as well as fabric damages. Therefore, you can confidently use it on your favorite sweaters, jackets, and dresses without worrying about safety issues. 
Besides, it's suitable for a wide range of household fabrics, thereby truly providing your money's worth. Long story short, you can use it on everything from furniture and clothing to carpets and car seat cushions. Furthermore, you can even use it on delicate wools like cashmere. 
Regardless of how bad the lint situation is, this high-quality handheld device can tackle it without dropping the ball. Thanks to the sizable shaving head coupled with the sharp, stainless steel blade, getting rid of lint is a cakewalk. 
What Could've Been Better?
There's no point in being overly critical of something this inexpensive. After all, it's a simple enough tool with very few features. Regardless, we're not happy with the lint holding capacity, especially when other models can do much better. So, if you can look beyond this one flaw, you might as well buy this.  
Up next, we have the ORFELD Fabric Shaver, another economical option that deserves a place in our compilation. However, the affordable price tag is not the only thing that makes it worthy; we also find it very practical and user-friendly. So, if you detest chores in general and want to sort out your fabrics, this will get the job done in a jiffy. 
Why Did We Like It? 
With its streamlined design and remarkable efficiency, this Fabric Shaver is the ideal tool for busy homeowners. In this day and age, getting rid of lint shouldn't take more than a few minutes. However, not all models at this price point can offer the same speed and accuracy. 
Therefore, this is one of those rare, affordable products which lives up to user expectations. Since it's a battery-operated device, you can use it on any household fabrics without dealing with cords. 
Plus, it's super safe, thanks to the honeycomb protective cover, preventing accidental contact and snags on the fabric. What seals the deal for us is the powerful suction technology that quickly removes all fluff without leaving behind bits and pieces. 
Other than that, we really appreciate the high-capacity lint collector, enabling multiple applications at a time. Besides, the storage compartment is semi-transparent, so you can monitor its capacity in real-time.
What Could've Been Better? 
The product does not come with batteries, and so that's an added cost if you want to use this device. Usually, these models can be used straight out of the box as the package includes batteries. Since that's not the case with this one, make sure to get a couple of AA batteries. 
If you're looking for a multi-purpose 'defuzzer', the AmQuee Hair Ball Trimmer might be the one. It's handy, safe, and efficient, which pretty much sums up the top 3 criteria for most users. Therefore, we recommend buying this model if you want to spend the least amount of time removing lint. 
Why Did We Like It? 
The Hair Ball Trimmer is a highly functional gadget that can knock out everything from tangled fluff to tiny lint particles in one swipe. Simply turn on the shaving head and work it on your clothes, furniture, curtains, and other household fabrics that require tidying up. 
Since it's a USB-supported gadget, you can plug it into any USB port available on your laptop, PC, power bank, or any other smart device. Once fully charged, it can run for about 1 hour without any interruptions. 
What we liked the most is the comfortable grip, enabling users to work at their own pace. Therefore, you'll always be in complete control of the device and maneuver it in the desired way. However, for the best results, we suggest spreading out the fabric on a flat surface before using the machine. 
Also, avoid running it over wrinkled areas as that could cut a whole. Other than that, use the cleaning brush included in the package to scrape off fiber stuck on the blades. This will ensure smooth functioning throughout. 
What Could've Been Better? 
The lightweight design of this product should be clue enough to understand its real capacity. We're not talking about lint collection here; rather, it's the scope of application that is not up to the mark. Simply put, it struggles with thicker fabrics and often fails to remove the lint. Therefore, we suggest buying it only for light-duty use.
Now that we've reached the end of our list, we would like to finish off with the Addsmile Lint Remover. Lint on your favorite sweater or dress is as bad as a coffee stain. While the latter is difficult to get off, lint, on the other hand, is totally defeatable. All you need is the right tool, and that's why you should try this one. 
Why Did We Like It? 
First of all, this Addsmile product is easily one of the smallest lint removers on the market. But what it lacks in size, it makes up for in features and functionality. For instance, this device is suitable for a wide range of household materials, including wool, linen, cotton, lycra, etc. 
Therefore, you can use it on most clothes, decor items, furnishings, and blankets, which is usually not the case with all rechargeable lint removers. However, if you're apprehensive about its durability, then let's just that the stainless steel blades are designed to last for years. 
Besides, it's the ideal eco-friendly alternative to battery-operated and electric devices, as USB charging is far more convenient and not wasteful. That said, it runs about 45 minutes on a full charge, which is no laughing matter given its size. 
Nevertheless, the icing on this tiny cake is the transparent large lint container, storing all the loose fluff while preventing jams.
What Could've Been Better? 
It's no surprise that this mini lint remover takes longer than usual to get rid of fuzz balls. You may have to pass over multiple times on the same area to smoothen out the fabric. This is especially a hassle when you are working on a long dress or a woolen coat.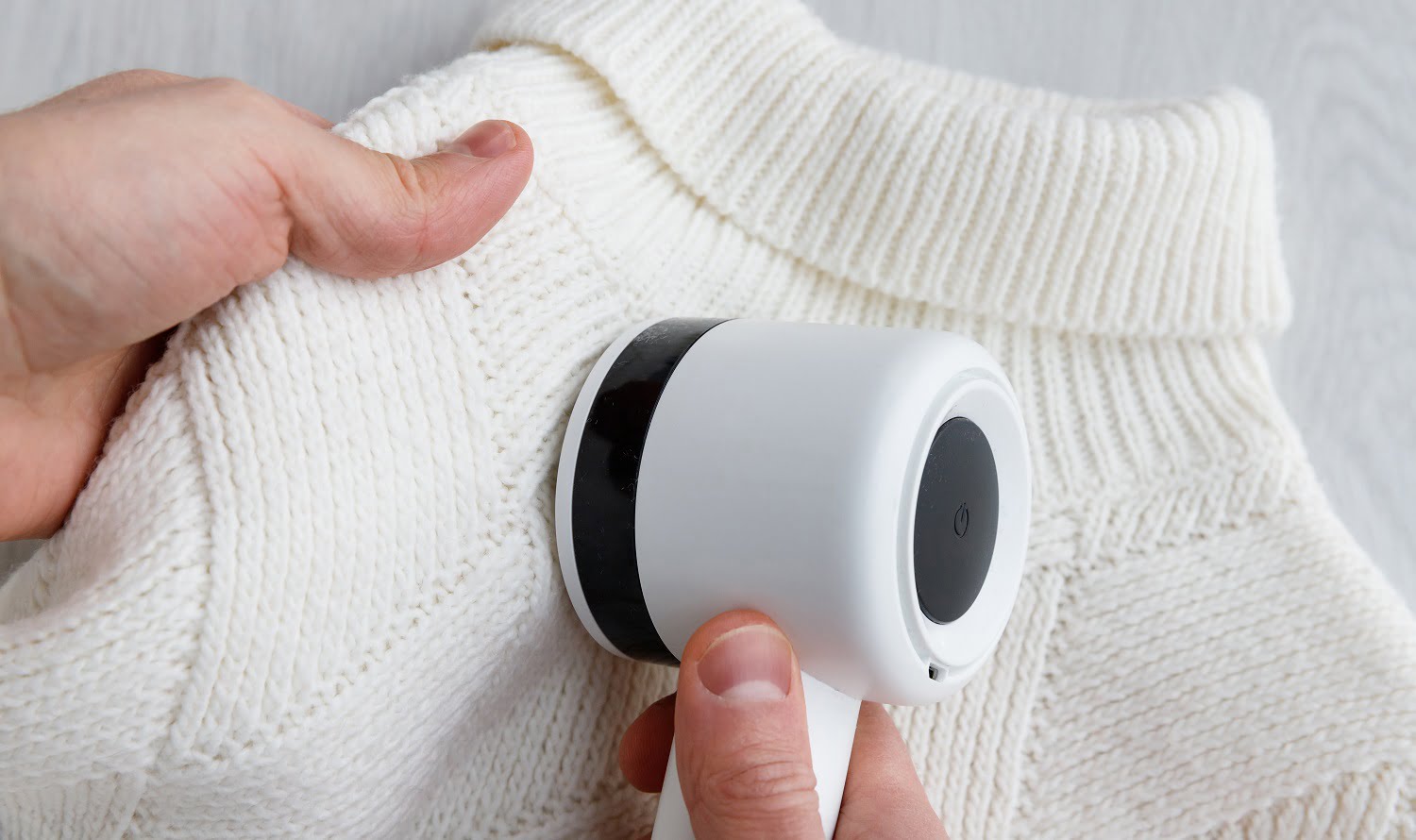 Lint Remover Buyers' Guide
Knowing all about the 13 best lint removers on the market may seem like an information overload. However, there's more that comes into play. Buying any gadget, regardless of what it does, should be backed by solid research. 
You may have narrowed down a few options, but you still need to figure which will work best in the longer run. That's why we have put together a brief buyers' guide to walk you through the essentials. 
Power Source
This is the first thing you should look at when buying a lint remover. You can choose between a corded, battery-operated, and USB-chargeable option. For continuous and unrestrained use, we suggest using a corded model. 
However, if you want to carry the device around your home and even while traveling, you can pick between the other two options.  
User Safety
Lint removers are essentially a contraption featuring fast-running blades. Therefore, user safety is of paramount importance, and as such, you should not skimp on device quality just to save a few dollars.
Usually, the gadget automatically stops working when the metal cover is loose or comes off. Some of them also have a protection mechanism that prevents snagging or tearing.   
Comfort
Your comfort matters since you'd want to make the most out of your handheld machine. Therefore, we suggest investing in something with a comfortable grip, so you can work without tiring your arm. 
Also, it's wise to focus on comfort, especially if you want to use the device on thicker fabrics that demand a little elbow grease.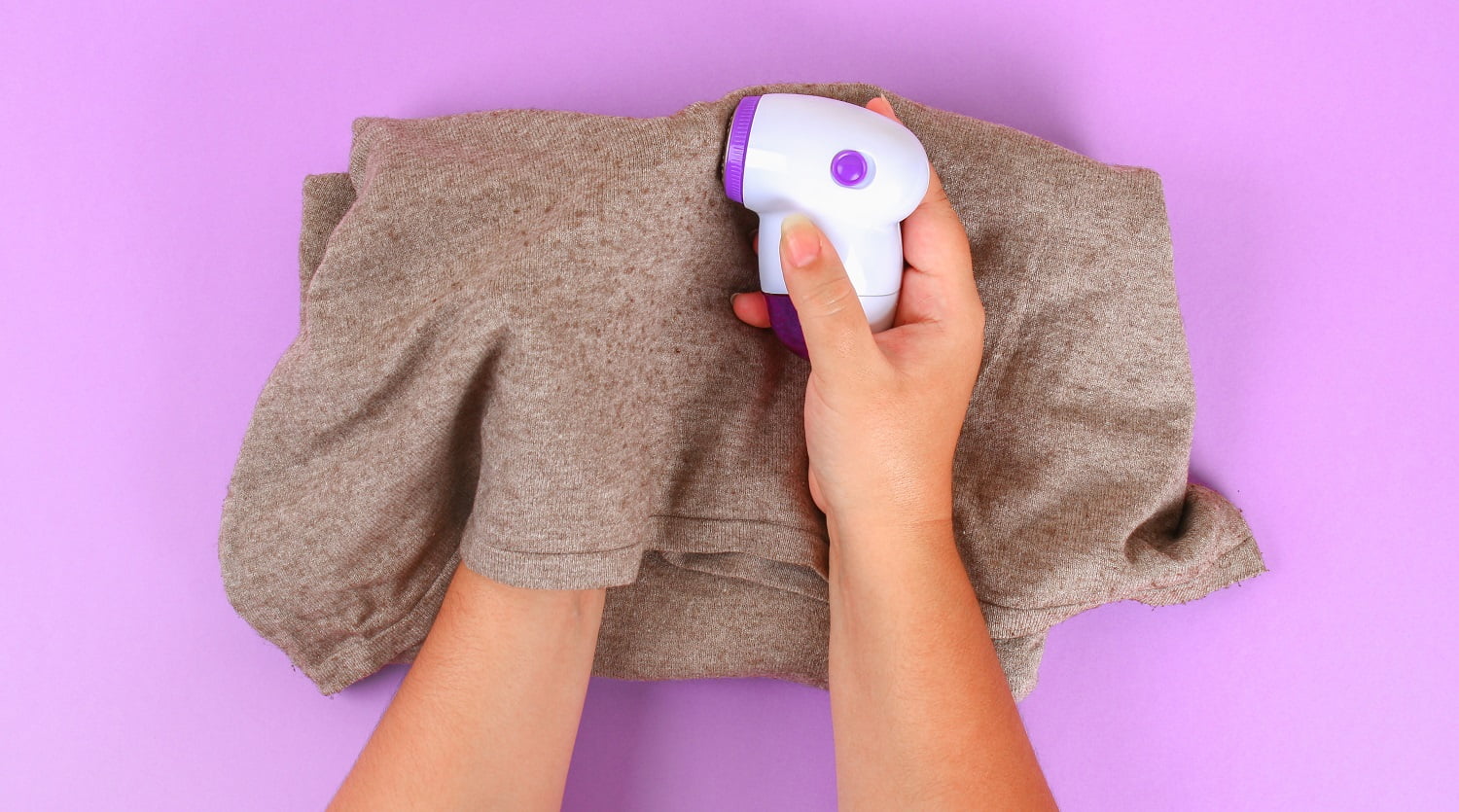 Verdict
That's all from us. 
With this, we hope you could find the most suitable option from our all-star selection. However, before you go ahead and place an order, here's a piece of advice. Make sure that your gadget saves both time and effort. 
After all, you don't want to spend more than a few minutes just to get rid of some lint. On that note, we'd like to take our leave with this round-off. 
House of Wonderful Wonder Lint Electric Fabric Shaver is the best overall, while MOSPRO Sweater Fabric Shaver is the most versatile option. Pritech Fabric Shaver Rechargeable Lint Remover is the best cordless alternative, and POPCHOSE Fabric Shaver is the best budget buy. 
Till next time! Stay lint-free!
Related Articles
13 Best Lint Remover Right Now | Buyer's Guide