You might be wondering why it is so difficult to use regular glue on leather items.
The reason for this is very simple. Being an organic material, leather tends to flex and bend a lot, and ordinary glue cannot maintain its bond in such conditions. In fact, using regular glue on leather can even damage it.
QUICK COMPARISON OF LEATHER REPAIR GLUE: Our Top 3 Picks For Leather Glue Adhesives in 2022
That's why leather requires a special type of adhesive that not only creates a strong bond but is flexible enough to maintain that bond even after flexing.
But finding such an adhesive can be quite challenging as there are several options to choose from, and going through their reviews usually takes a lot of time and effort. Luckily, our informative review-based guide of the top 10 products, comprising a buying guide and some FAQs, can help you out. Then, you'll able to repair your leather couch, chair, shoes, clothes, handbags and every other repairable leather product with potent adhesives.
Best Leather Glue Adhesives to Buy
IMAGE
PRODUCT
DETAILS

Our Top Pick

Our Top Pick

Tear Mender Fabric And Leather Adhesive

Nontoxic formula
Instant bond
Water-based formula

VIEW LATEST PRICE →

1st Runner-Up

1st Runner-Up

Aleene's Leather And Suede Glue

Multi-size applicator tip
Fast tacky glue
Nontoxic

VIEW LATEST PRICE →

2nd Runner-Up

2nd Runner-Up

Fiebing's High Strength Adhesive

Water-based contact adhesive
Non-flammable formula
High-strength permanent bonding

VIEW LATEST PRICE →

Gorilla Super Glue

Gel formula
Anti-clog cap
Impact-resistant

VIEW LATEST PRICE →

Barge All-Purpose Glue

Multipurpose glue
Permanent bonding
Quick-drying

VIEW LATEST PRICE →

Mitreapel Craft Adhesive

Two-part glue
Aerosol super glue accelerator
Cyanoacrylate glue activator

VIEW LATEST PRICE →

Barge All-Purpose Adhesive

Clear drying
Waterproof bonding
All-purpose applicator

VIEW LATEST PRICE →

Masters Multipurpose Adhesive

Strong permanent bond
Flexible
Quick-drying

VIEW LATEST PRICE →

Krazy Glue Super Glue

Temperature resistant
No-run gel
Clog-resistant applicator

VIEW LATEST PRICE →

Yue All Purpose Adhesive

No drip application
No run control gel 
Water-resistant

VIEW LATEST PRICE →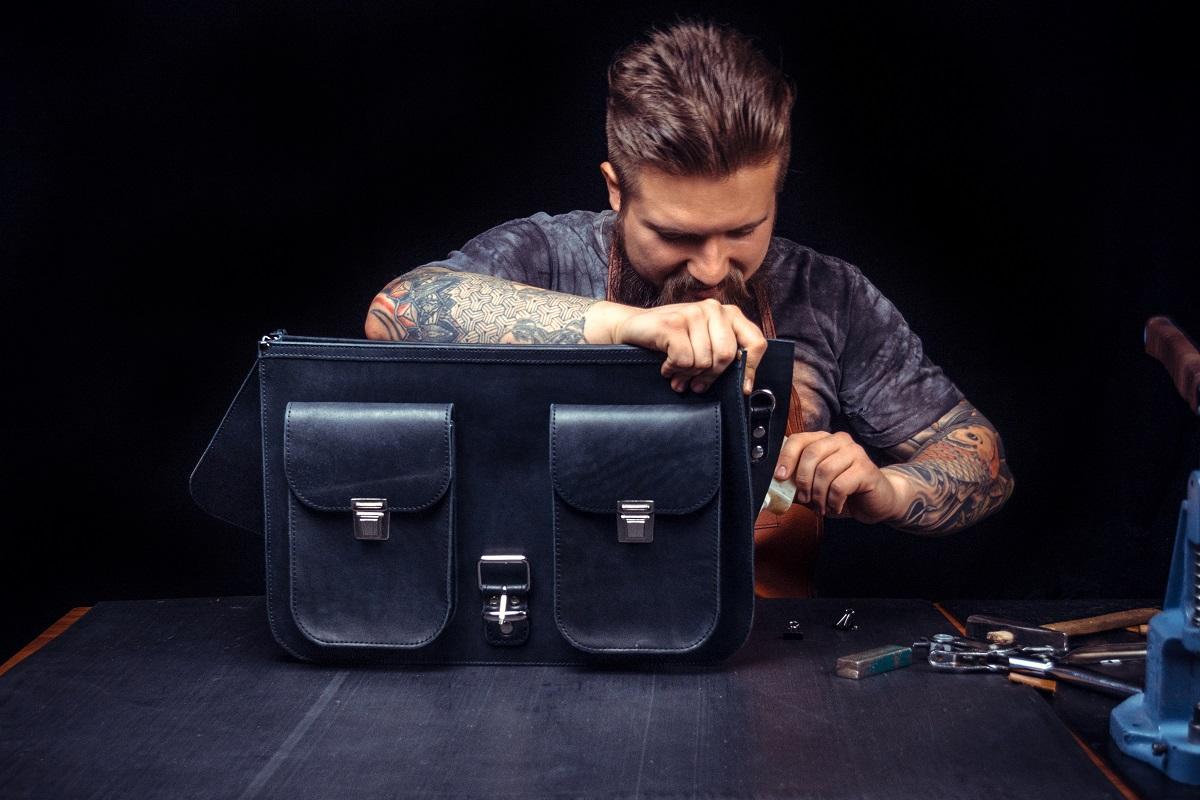 We'll start this list with a powerful leather glue from Tear Mender, a leading manufacturer of fabric adhesives, supplying quality products since 1932. This glue is nontoxic and offers instant results so that you can complete your repairs in no time. 
Sale
Why Did We Like It?
The best adhesives are those that combine ease of use with fast results. And that is the primary reason which makes this product from Tear Mender a great choice. It can create a powerful bond with any leather or fabric material within three minutes, so you don't have to wait long to get your favorite leather jacket repaired. 
Another thing that we liked about this leather glue is that it does not require any heating, ironing, or solvents for the curing process. That makes it very easy to use and also ensures that the process is a lot less cumbersome. Plus, the durability of the glue guarantees that the results are permanent. 
Apart from that, you'll love how versatile this leather adhesive is. It can be used for making repairs on clothing, upholstery, leather, sports gear, and more. You can even use it for DIY or arts and crafts projects with excellent results. 
What Could've Been Better?
We did not come across any significant downsides to this impressive product from Tear Mender. However, it tends to leave a yellowish mark on certain fabrics, so it may not be the best choice for situations that require invisible repairs. But this does not affect the overall performance of the glue.
Pros
Provides results quickly

Waterproof

Easy to use

Versatile application
Aleene's is another well-known brand in the adhesive industry, offering a wide range of glue products ranging from crafting glues to DIY adhesives. This leather and suede glue is an outstanding product from the manufacturer, perfect for all types of suede and leather repairs.
Why Did We Like It?
Those looking for leather glue from a reputable brand cannot go wrong with Aleene's leather fabric and suede glue. This glue works well on all types of fabric and leather items by creating a strong and permanent bond quickly.
Plus, the manufacturer has designed this glue to make it incredibly easy to use. It comes with a multi-size applicator tip that can be adjusted according to the needs of the project, ensuring precise and mess-free application. 
Another one of the features that we really liked is that this leather cement does not soak through the material, unlike most other fabric adhesives. It prevents the material from getting stained and also makes the application process easier. 
Moreover, being a highly versatile leather glue, this adhesive can be used for all types of bonding projects. It includes repairing leather goods like belts and bags while working well with other materials as well. 
What Could've Been Better?
While testing this glue, we discovered that the bond was adversely affected by water. This means that it is not completely waterproof and should not be used on surfaces exposed to water. Make sure you keep this factor in mind when using this glue. 
Pros
Versatile

Easy application

No soaking and non-staining

Strong, durable bond
Moving on to the next item on the list, we bring you Fiebing's high-strength adhesive. This brand specializes in the development of leather care items, including dyes, glues, and patinating products. You can use this adhesive for gluing leather with minimal effort while still getting superb results. 
Why Did We Like It?
While the other items on our list have been developed to work with several types of materials, Fiebing's leather glue has been designed especially for leather projects. Yet, it provides equally amazing results when working with materials like fabric since it creates a very strong, permanent bond that is flexible enough for all types of surfaces. 
Besides creating a strong bond, Fiebing's leather cement has a non-flammable and nontoxic formula which makes it an ideal choice for childrens' crafts projects. Plus, it dries completely clear, so you do not need to worry about visible signs of repair on your leather shoes.
Also worth mentioning is the fact that this glue allows you to perform modifications after application due to its considerable curing time. This property makes it the best glue for leather if you need to make adjustments, and we only wish more manufacturers incorporated this property in their products. 
What Could've Been Better?
The only thing we noticed while testing Fiebing's leathercraft cement is that it does require a longer period to cure compared to other leather glues on the market. While this does not affect its overall performance, it does make this glue unsuitable for emergencies or projects that need to be completed urgently. 
Pros
Wide application

Allows modifications

Completely safe to use

Clear drying
Whether you're looking for quick-drying adhesives, super glue, or craft adhesive, Gorilla Glue has it all. Both DIYers and professionals swear by this brand, which is why the Gorilla super glue gel for bonding leather is the next item we've included on this list. 
Why Did We Like It?
Coming with a host of innovative features, the gorilla glue is a compelling choice if you are looking for the perfect leather adhesive. Firstly, its formula does not run, which makes it easier to use on all types of surfaces. This can come in really handy if you intend to use the glue to make repairs on wall hangings and decor.
Moreover, the anti-clog cap prevents this leather glue from drying out once opened. You should know that due to their nature, adhesives start drying very quickly once the cap has been opened since they get exposed to air. However, that is not the case with this product. 
Additionally, the Gorilla Glue brand is known for making high-quality products that can easily resist impacts, which is another fascinating property of this adhesive. The high-strength bond is durable while also offering the flexibility required for bonding fabrics and leather.
What Could've Been Better?
Due to its comparatively thicker consistency than other leather glues, the Gorilla glue can take some time to enter into smaller crevices where it is applied. Although this problem does not occur with thinner adhesives, it's only a minor issue, and overall we were quite impressed with the results. 
Pros
Non-runny formula

Very strong bond

Dries clear

Versatile
Up next is the Barge all-purpose glue, developed not only for use on leather and fabric but also for bonding surfaces like metal and wood. This makes it the most versatile leather crafting glue currently available on the market, ideal for all kinds of repair or DIY projects. 
Why Did We Like It?
The Barge glue is an incredibly powerful adhesive that cobblers have used for several decades due to its strong bonding capabilities. We tested it out on a leather bag that had a broken strap and were delighted by the results. It was easy to apply and cured quickly, making the bag look as good as new. 
Also, since it is an all-purpose adhesive, you can use it on rubber, wood, glass, and metal objects. Naturally, it is suitable for home DIY repairs as well as professional jobs that require only the best quality adhesive. 
Adding to these features is the fact that this leather repair glue is both moisture and impact resistant. You can easily use it outside without worrying about the adhesive getting damaged. And finally, to top it all off, it is available at a surprisingly affordable price, making it a fantastic value for money option. 
What Could've Been Better?
When buying this leather glue, keep in mind that it emits strong fumes which could make you uncomfortable. That's why it is highly recommended to use this glue in a well-ventilated space or outside. Other than that, there are no issues with the Barge all-purpose cement. 
Pros
Suitable for home and professional purposes

Easy to use

Wide application

Value for money
If you are looking for a leather glue that is easy to use, highly versatile, and offers exceptional performance, the Mitreapel craft adhesive is just what you need. This instant adhesive is meant for both home and professional projects, delivering unparalleled results at a great price.
Why Did We Like It?
The first thing that you'll notice with the Mitreapel craft adhesive is that it is an extremely fast-acting adhesive. It creates a flexible bond with leather or fabric within seconds of application, making it the best option for almost any leather project. 
Besides leather and fabric, this versatile glue works well with metal, glass, and wood. It also offers a clean and professional outcome irrespective of the nature of the project you are working on. This means that repairs on your leather shoes will remain invisible so that they retain their pristine appearance. 
And the application process is made easy with the aerosol super glue accelerator. This provides greater control while using the super glue so that the glue flow is consistent and there is no mess. 
Overall, the Mitreapel liquid professional super glue is a great choice if you want to save time while working on any leather surface or craft project. 
What Could've Been Better?
There was just one issue that we came across while using this adhesive, which is that once opened, the glue starts drying very quickly. It can dry up in the container itself, which makes it unsuitable for storing for long periods, and you may need to purchase the glue again.
Pros
Fast-acting

Versatile

Does not create a mess

Affordable
Cons
It cannot be stored for long periods
Barge is doing a magnificent job when it comes to manufacturing high-quality adhesives, which is why we decided to include another product from the brand here. The all-purpose adhesive offers the best results for gluing leather and has been developed to work well with other materials like fabric, vinyl, and PVC.
Why Did We Like It?
There are several reasons why we liked the Barge all-purpose cement, the first being its effectiveness. We tested this leather glue on a pair of rubber boots whose soles had become damaged. This leather cement not only repaired the soles but also did not leave behind any visible marks.
Besides that, using this glue was very easy due to the applicator which comes with the can. And since it dries clear and sets quickly, you do not have to leave the repaired item to dry for too long. In fact, this glue only requires a few minutes to cure, making it suitable for all types of leather crafts. 
Another impressive quality of this adhesive is its waterproof bonding, which adds to its versatility and makes the glue usable outdoors. Thus, it can be used for window repairs, shoe repairs, leather repairs, and more, helping save money on daily tasks. 
What Could've Been Better?
The Barge all-purpose cement is undoubtedly a highly effective adhesive that can make it easy to complete most leather projects. However, it is flammable and releases toxic fumes that may cause problems if inhaled. That's why it is best to use this adhesive outdoors while taking adequate safety precautions. 
Pros
Very strong bond

Quick results

Economical

Wide application
The next item on our list comes from the house of Masters, which is famous for its range of adhesives, sealants, and coatings. This contact cement is another example of just how good products from the brand are, offering a high level of versatility and superb performance. 
Why Did We Like It?
Contact cement is generally used for bonding materials such as rubber, wood, leather, metal, etc. And the Masters contact cement is simply the most effective one you'll find on the market. It creates a strong, durable bond, essential for sticking leather pieces together while also being flexible enough not to affect the quality. 
Additionally, being an extremely versatile adhesive, it can be used on other surfaces as well, including wood, metal, rubber, cork, and more. If you need to glue leather to any such surface, this is the best glue that will help you do it most effectively. 
We also liked the fast-drying property of the Masters contact cement, making it suitable for projects that need to be completed quickly. Whether repairing leather goods or finishing crafts, it will help save a lot of time. 
What Could've Been Better?
The Masters contact cement can be a compelling choice for its fast and effective results, but its price might be a deal-breaker for some buyers. Since it is one of the costlier adhesives on the market, it might be unsuitable for those looking for more affordable options. 
Pros
Fast results

Easy to use

Wide application

Allows adjustments
As we near the end of our list, it is time to introduce the Krazy Glue super glue to you. This multipurpose adhesive is among the fastest-acting ones on the market and is perfect if you need to bond leather, make household repairs, or complete DIY projects. 
Sale
Why Did We Like It?
Similar to Gorilla Glue, Krazy Glue is a well-known brand famous for its high-quality adhesives, which have been in use for several years. This super glue from the brand has been developed for use on leather, wood, metal, rubber, and plastic materials, offering a wide range of uses. 
What makes it such a great option is that it can create a very strong and durable bond within minutes of application. Plus, using it is a simple process as it comes with a clog-resistant applicator and an easy-to-hold bottle.
Apart from that, the leather glue itself has been designed in such a manner that it does not run across the surface. It helps prevent any mess during application while also ensuring that it's suitable for vertical surfaces.
Lastly, this super glue has a temperature-resistant formula, so you can use it outside or on surfaces exposed to temperature changes without any worries. 
What Could've Been Better?
Krazy Glue does a marvelous job of making sure its products provide effective results, and this super glue is no different. However, like many others in this segment, this adhesive is toxic and should be kept out of reach of children and pets. 
Pros
Easy to use

Fast-acting

Non-messy

Versatile
For the final item on our list, we bring you the Yue all-purpose super glue, another multipurpose adhesive that provides exceptional results. While known for its commercial-grade adhesive products, this brand has managed to ensure that you get the same stellar performance with this home-use glue.  
Why Did We Like It?
If you're looking for leather glue that works equally well with other substances, then the Yue all-purpose adhesive should be your first choice. Offering the same level of performance provided by commercial-grade glues, this PVA glue creates a strong yet flexible bond with most materials, making any repair work easy.  This is also aided by its precise drip application, which makes it easy to apply the leather glue as required without creating any mess. 
In addition to its strong bonding capability, we liked the fact that it dries very rapidly and becomes clear after drying. Thus, it is perfect for restoring leather goods to their original condition without involving a lot of hassle or leaving behind visible signs.  
What's more, the Yue adhesive is the best glue for leather if you need an environment-friendly, water-resistant, and nontoxic option. So, you can use it for both indoor and outdoor tasks without any worries.
What Could've Been Better?
Like some leather glues from other manufacturers, the temperature also affects this product, and higher temperatures can alter the formula, making the adhesive unsuitable for use. We recommend closing the cap tightly after use and keeping the glue in a cool place to ensure that it lasts longer.
Pros
Easy application

Very strong and durable bond

Safe

Suitable for invisible repairs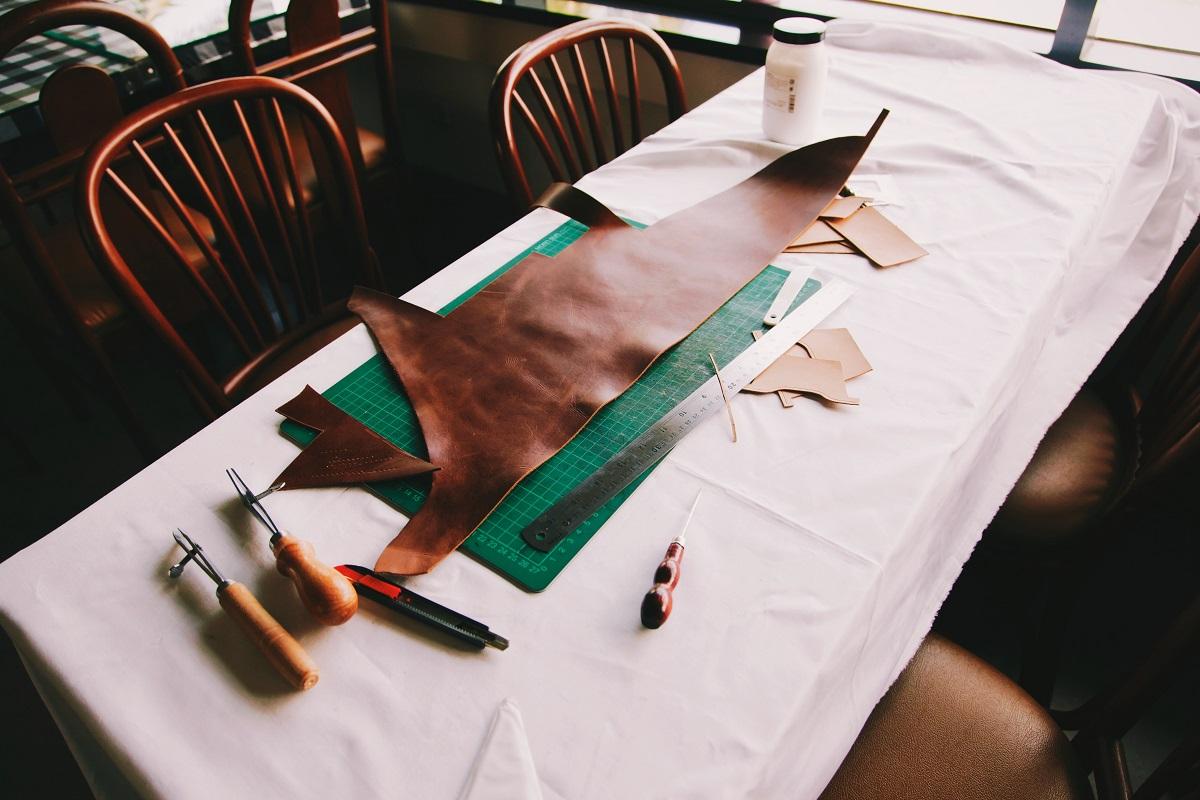 Leather Glue Buying Guide: Determining The Best Leather Glues For Your Project
So, these were the top ten leather adhesives available on the market right now. However, knowing about these options is not enough to ensure you find the right product. That's why we've created this in-depth buyer's guide, which lists some of the essential factors which should be considered when buying leather adhesive.
1. Bond Strength And Durability
The most important factor when selecting an adhesive, not only for gluing leather but other materials as well, is its bonding strength. Adhesives that contain rubber cement, polyurethane, and cyanoacrylate work best with leather, while products with more bonding strength will offer greater durability. 
Long story short, purchasing the best glue will ensure that any repairs or projects undertaken with it will last for a very long period. 
2. Drying Time
For urgent projects or emergency repairs, it is necessary to have glue that dries quickly. This is especially true for mending small rips or tears on clothing or accessories. 
On the other hand, for projects that require alterations and adjustments, you will need an adhesive that takes some time to dry. So, make sure to select the glue that offers the required drying time for your project to stand out. 
3. Element Resistance
Having waterproof and heat-resistant glue is always an advantage since it ensures that the finished project will not be damaged by exposure to heat and water. It also makes it possible to use such adhesive outside, adding to the versatility of the product. 
Similarly, cold-resistant glues will guarantee that any tears and rips repaired using that glue do not crack in extremely low temperatures. 
4. Ease Of Application
Irrespective of whether you are a professional needing an adhesive for work, or a homeowner who needs to get some repairs done, ease of use is an important consideration. 
Any adhesive that is designed to be applied easily can help save a lot of time and effort while performing repairs or completing projects. Hence, when buying leather glue, read the customer reviews, which can help you find out how convenient it is to use it. 
5. Compatibility With Materials
Leather glues can be used on all types of objects, such as belts, bags, pouches, gloves, and more. Most adhesives designed for leather are suitable for use on other materials, such as rubber, fabric, metal, PVC, etc. However, how effective they are when used with various materials varies from manufacturer to manufacturer. 
We suggest selecting the glue, depending upon how compatible it is with the materials you need to use it for. 
6. Budget
When deciding which glue to select, make sure to take into account the cost of the adhesive. You do not require professional-grade glue for general household repairs and DIY projects, which can be quite costly. On the other hand, it is inadvisable to go for the cheapest option that might not provide effective results. 
Just make sure to gauge both the performance and the price of the product you select before making a final decision. 
Leather Glue Frequently Asked Questions
Does fabric glue work for leather?
Most fabric glues work very well with leather since both these materials are of a similar nature. However, the best way to determine this is to read about the product on the manufacturer's website. At times, the label of the product mentions the types of materials the adhesive is compatible with.
Does hot glue work on leather?
Hot glue contains adhesive made using thermoplastic, which does not bond well with leather. It can even crimp leather products, which makes it unsuitable for gluing leather items. Additionally, once hot glue cools down, it can easily get removed from the surface even with the slightest pressure.
Can an adhesive be used to glue leather to leather?
For gluing leather to another leather material, you will require a special type of glue that has been specifically developed for the purpose. Ordinary wood glues or DIY adhesives do not have the bonding strength to glue leather surfaces together. 
Best Glue for Leather Surfaces Verdict
Leather can be a pretty challenging material to glue, which is why manufacturers have come up with specially-developed adhesives for the purpose. 
We've already mentioned the best items you can purchase, but right now, it's time to share some of the favorites from the list with you. Our overall favorite is the Tear Mender Fabric and Leather Adhesive that is waterproof and creates a strong, long-lasting bond. However, those looking for a fast-acting and versatile option might find Aleene's Leather and Suede Glue a better choice.
Finally, Fiebing's Leathercraft Cement is a perfect product if you want a clear drying adhesive that allows adjustments.
Related Articles
The Difference Between Epoxy & Super Glue
How to Remove Gorilla Glue From Skin
Can I repair a broken LEGO brick with glue?
11 Best Permanent Fabric Glues
11 Best Glue For Paper & Paper Mache
10 Best Ceramic and Porcelain Glue
11 Best Glue for Polypropylene
9 Best Glue For Acrylic Plexiglass
9 Best Glue for Plastic Eyeglass Frames
10 Best Glue For Stainless Steel
How To Glue HDPE 101 + Best HDPE Adhesive
9 Best Glue For Hardwood Floors
7 Best Glue For Particle Board
5 Best Glue To Fix Fridge Plastic
7 Best Adhesive For Acoustic Foam
Glue That Works On ABS And PVC