Disclaimer | This article may contain affiliate links, this means that at no cost to you, we may receive a small commission for qualifying purchases.
A lovely garden and a beautiful lawn go hand in hand, so taking good care of your lawn grass is essential.
That's where dethatchers come into the picture as they help remove the lawn thatch consisting of old stems, turf, and other such organic matter. That way, nutrients can reach the grass easily so that it grows in the right manner. Hence, such a machine is a must buy to take complete care of your lawn.
But the problem lies in making the right choice since there are hundreds of options available out there.
So, we have tried to make your task easier by curating this comprehensive list of the 10 best options to consider. We've also included a buyer's guide to help you make a wise decision.
Read on to know more.
Best Lawn Dethatchers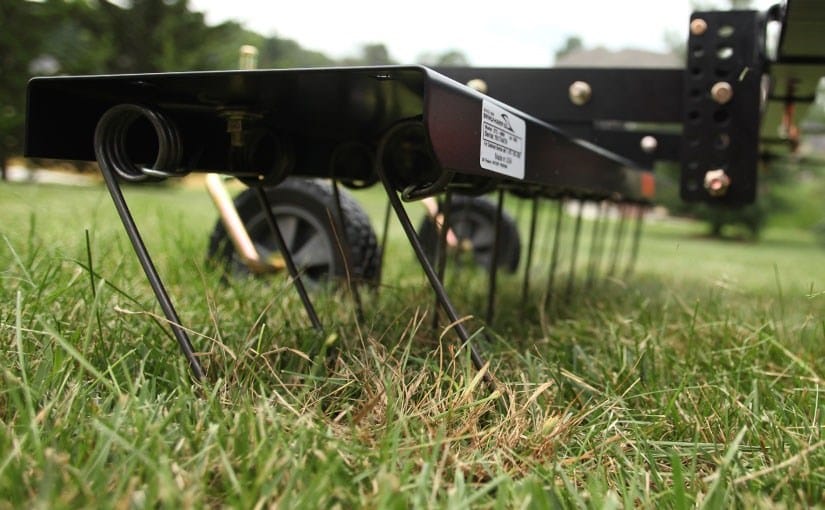 IMAGE
PRODUCT
DETAILS

Our Top Pick

Our Top Pick

Greenworks Corded Dethatcher 27022

A dethatching path of 14"
Adjustable tine depth

VIEW LATEST PRICE →

Sun Joe AJ801E Electric Scarifier

Depth control by 5 positions
Air boost mechanism

VIEW LATEST PRICE →

Agri-Fab 40-Inch Tine Tow Dethatcher 45-0294

Width of 40"
Two flat wheels with diameter of 7"

VIEW LATEST PRICE →

Brinly DT-40BH Tow Behind Dethatcher

All-steel construction
Engagement lever

VIEW LATEST PRICE →

WORX WG850 Corded Electric Dethatcher

Switch for instant lock-off
Foldable handles

VIEW LATEST PRICE →

Mantis 5222 Power Tiller Dethatcher

Comes with 60 picks made from spring-steel
Fender extensions

VIEW LATEST PRICE →

Craftsman CMXGZBF7124315 Detatcher

Universal hitch
Cantilever handle

VIEW LATEST PRICE →

Brinly STS-42BHDK Tow-Behind Lawn Sweeper

Sweeper-dethatcher combo
Upright design for storage

VIEW LATEST PRICE →

LawnMaster GV1314 Scarifier and Lawn Dethatcher

19 positions for cutting thatch
12.5 AMP motor

VIEW LATEST PRICE →

Goplus 2-in-1 Lawn Dethatcher'

Trimmer-cum-scarifier
Dual switch for lock-off

VIEW LATEST PRICE →
Greenworks is popular among consumers across the country for its high-quality and durable lawn care products. And this dethatcher from the brand offers superb performance, living up to that reputation completely. It is packed with lots of amazing features, which make it one of the most sought-after lawn dethatchers available currently. So, let's take a look at what all it offers.
Why Did We Like It?
To begin with, you get superior-grade 14-inch wide tines made of stainless steel, which retain their sharpness much longer than ordinary models. Thus, you can get all the dead grass and stems removed from your lawn more efficiently and much faster.
As for the power offered by this dethatcher, it comes with a motor of 10 Amp, which provides smooth and effective performance. It can remove unwanted dead grass and stems from as much as 150 feet of lawn area in a single cleaning session.
Further, the depth of the tines can be adjusted across three levels as per your convenience. This enables greater control for effective removal of matted layers. Plus, the handle of this dethatcher has a padded, ergonomic grip and is adjustable as well, maximizing the user's comfort.
What Could've Been Better?
The only issue we faced with this product was that the instructions for setting up the dethatcher were not comprehensive enough. Also, a few steps mentioned in the instructions were not listed in the correct sequence.
For instance, the cord holder for the product must be installed first but it is mentioned at the end. So, you will have to disassemble the product again if you did not install that part first.
Pros
Highly durable

Enables efficient performance

Tines retain sharpness for a long time

Adjustable tine depth enables greater control
Cons
Steps for installation not mentioned in correct sequence
The next product in line is this highly efficient dethatcher from Sun Joe, which helps you keep your lawn in the right shape throughout. Any small to medium-sized lawns can be revitalized perfectly with this product, which comes with a couple of advanced features. You also get a 2-year warranty for this dethatcher having dimensions of 21" x 23" x 41".
Sale
Why Did We Like It?
In our opinion, the most noteworthy feature of this product was its unique air boost working mechanism, which enhanced its raking capacity considerably. It helped to maximize thatch removal by means of durable spring tines made of steel.
Moving on to the depth adjustability (that was equally impressive), it allowed depth control by 5 positions. As such, the depth could be altered by 0.4" beneath the soil to 0.4" above it, as is needed for your lawn. Using this product frequently to dethatch your lawn will cut the roots of the grass and promote the growth of healthier and thicker turf.
Plus, you can start this dethatcher just by pushing a button, and there is also a safety switch to prevent accidental start. Lastly, it comes with a collection bag to dispose of the thatch easily.
What Could've Been Better?
While assembling the product, you might need to apply a little force to insert the bent arm into the dethatcher. Otherwise, the holes for screwing up the arm will not line up. It might take a bit longer than average dethatchers, but we can assure you that the end result is worth the effort.
Pros
Offers enhanced raking capacity

Greater scope of depth control

Starts just by a push button

Comes with convenient thatch collection bag
Cons
More effort required for assembly
If you want your lawn grass to grow faster, this dethatcher from Agri-Fab will be an excellent option to go for. It will effectively remove all the thatch from your lawn in no time, so that the grass roots get the ideal nutrition to thrive. You can also be assured that this product will last for years to come.
Sale
Why Did We Like It?
A 40-inch wide dethatcher is something you will rarely find in the market, that too with such durability. It can quite easily and efficiently uproot swathes of matted grass that are 40-inch wide, to result in a completely thatch-free lawn. Plus, you would also get 20 extra tines loaded with spring that are also treated with heat to enhance their durability.
Further, the super-quality tines also ensure that any dirt packed within the soil is dislodged and all weeds are turned up. And you can also carry the handle easily for lowering and raising the tines.
Moreover, this dethatcher has two high-quality wheels with a diameter of 7" and thickness of just 1 ½ ". These are semi-pneumatic and help in moving the machine easily on most terrains. Finally, the product comes with a useful 3-year limited warranty which keeps you safeguarded from the costs of repairing any damage for a long time.
What Could've Been Better?
The product worked perfectly to remove all the thatch on our lawn. However, we were disappointed when we tried to use it with a small mower we had at home. The main issue we faced was that the unit couldn't be hooked to that mower. That was because the assembly of the coupling pin was not long enough to ensure that the pin was locked.
Pros
Uproots swathes of grass that are 40-inch wide

Comes with 20 extra tines for greater longevity

Can be moved easily on most terrains

3-year warranty offers greater protection
Cons
Cannot be hooked to a small mower
Prevent your lawn from being "suffocated" with plenty of thatch building up all over with this high equipped dethatcher from Brinly. This one, also, is suitable for lawns of small to medium size and gets the job done quite easily and effectively. Ultimately, your grass gets a healthier root system that allows it to grow and thrive consistently.
Why Did We Like It?
This product is perfectly suitable for carrying out a great deal of thatch-removal work, thanks to its sturdy steel construction. It consists of a steel tray which can hold additional weight of as much as 70 lbs. Plus, the tines are constructed from long-lasting spring steel that helps it to deliver a superb performance each time.
Note that each of the tines also has a rod included to catch it and prevent any contact with the blades of the mower in case there is a breakage. Added to this, the rubber-tread wheels are also highly durable and can be accessed conveniently by an engagement lever. That way, you can lower the no-flat wheels whenever you need to cross driveways, paths, and sidewalks.
Lastly, unlike many other products, this one can be assembled quite easily since the tines are pre-assembled by the manufacturer. And a comprehensive pictorial manual makes the process even easier.
What Could've Been Better?
The only aspect about this dethatcher that disappointed us was the unavailability of an extension from its handle. So, when we fixed it to a riding lawn mower, we had to get off to raise or lower the handle. The extension would've made this possible while we would be seated on the mower.
Pros
Suitable for heavy-duty work

Tines are made with long-lasting spring steel

Rubber-tread wheels are highly durable

Easy to assemble
Cons
Handle can't be lowered or raised while sitting on a mower
Next, we've picked this electric dethatcher from Worx, a brand well-known for its range of super-efficient lawn care products. It can be used to yield completely clean yards as it works to remove all kinds of thatch from the yard. By going for this product, you will find it easier to keep your lawn in good shape always. Note that this product has dimensions of 39"x 22.88" x 43.25" and weighs 25.9 lbs.
Why Did We Like It?
We found the most significant feature of this product to be its set of heavy-duty steel tines which came with a width of 14″. That way, you can clean up rough patches of thatch, and remove all the debris and dead grass with minimum effort.
Plus, the depth of the tines could be adjusted to 9 mm below, 3 mm below, 3 mm above the soil. Hence, we were provided with great control over the lawn dethatching procedure.
Also, a unique feature was the switch provided for instant lock-up which let us stop the machine just when we needed to. That way, the dethatching would be done in a safe as well as power-efficient manner.
Besides, the handles of this dethatcher could be folded down, so that we could keep it in a corner of a trunk or our garage. Finally, it came with a fairly large collection bag which prevented dead grass, stems, roots, and shoots from blowing all over the feet.
What Could've Been Better?
Although the product was quite effective in improving the health of our lawn grass, we found that the wheels were not so efficient as the rest of the machine. While acting upon the areas with thinner thatch build-up, it was difficult to move the wheels, and we even observed cracks in the material.
Pros
Removes all kinds of thatch effectively

Lets you stop instantly with a switch

Foldable handles facilitate easy storage

Comes with fairly large collection bag
Cons
Wheels not sturdy and efficient enough
If you feel distressed with excessive growth of crabgrass and weeds all over your lawn, this product from Mantis will be the ultimate solution. It acts quite fast on any weed as well as other kinds of odd thatch build-up, to renew the supply of nutrients and water to the roots of the grass. So let's move on and take a look at all its amazing features.
Why Did We Like It?
First and foremost, we really liked how this product harbored insects, created a barrier of water and prevented the growth of any weed or crabgrass. What did the trick was its ability to remove a 15-inch wide swath of thatch in each pass.
Further, the dethatching ability of the machine is enhanced by the presence of 60 picks made from spring-steel, which pick up the weeds and thatch gently. And it is perfectly compatible with the 7000 Series Cultivator and Tiller from Mantis plus a number of other mowers and tillers.
Last but not the least, the model is available at a quite budget-friendly rate on most of the online shopping sites. Considering all its great features and the range of benefits it offers, the price is indeed attractive.
What Could've Been Better?
The only disadvantage of this product is that it doesn't come with a detailed installation guide but only includes a brief one. So, you would need to refer to the internet for the installation. Also, the procedure is not very easy and does take quite some time too.
Pros
Kills all weeds and crabgrass

60 high-quality picks enhance dethatching power

Compatible with Mantis Tiller and a number of other mowers

Comes at an attractive price
Cons
Very brief installation guide
This dethatcher acts very gently on your lawn yet does the job of removing the thatch more efficiently than the majority of products. As such, you can get a healthier and greener lawn much quicker and with minimal effort. Note that this product comes in dimensions of 40"x 41" x 41" and weighs 31 lbs.
Why Did We Like It?
One aspect of this product that really impressed us was how its design could fit all garden and yard tractors. This was made possible by a hitch pin fixed at the rear end of the machine that could attach to all kinds of lawn tractors.
When it comes to the dethatching power, this machine is the most high-performing model of the brand. That's because it comes with a weight tray that can hold as much as 70 lbs. and hence allows for greater lawn penetration. Plus, its tines made from spring-steel are treated with heat to increase the longevity of the product.
These times also ensure that all kinds of thatch are totally removed from the lawn. Finally, a Cantilever handle was provided which made it easy to lower and raise the dethatcher.
What Could've Been Better?
While installing the product, you might require more bolts and screws than the amount provided in the package. We had to buy quite a few of such tools, which also included a hex bolt for the long handle of the product. Note that a regular bolt cannot make the fixture tight enough, so you will need a hex bolt.
Pros
Hitch can attach to all tractors

Weight tray holds 70 lbs. of thatch

Tines are treated with heat to increase longevity

Handle makes it easy to raise and lower the machine
Cons
More tools required for installation
Another high-performing product from Brinly is this one, which performs the functions of both a lawn sweeper as well as a dethatcher. Thus, you get healthier and thicker turf while saving much of your valuable time as well as effort. Note that this product is also built to offer a highly durable performance, unlike ordinary dethatchers. This dethatcher comes in dimensions of 60"x 53" x 38" and weighs 94.8 lbs.
Why Did We Like It?
This product consists of highly flexible tines that picks up all the harmful thatch and at the same time removes all the debris through the 42" sweeper. The latter helps in providing efficient performance with a few passes through the lawn or yard. This way, all the unwanted materials left there can be done away with.
Further, you get a large hamper with a capacity of 20 cu ft, which is made using a durable and strong polyweave fabric. Additionally, the 6-brush design of the dethatcher, along with the brush-wheel ratio of 5:1, gives rise to a higher velocity. So, you can lift the debris and thatch from the ground with greater force. Ultimately, it helps you remove lots of thatch during each lawn cleaning session.
Finally, this dethatcher comes with a convenient design that can collapse easily to facilitate compact storage. It has an upright design for storage that saves considerable space in the shed or garage.
What Could've Been Better?
We were disappointed with the installation guide that came along with the product. The instructions are very brief and some of the steps were also vague. So, we had to consult the internet for points which were not clear. And it also took a long time to install the product.
Pros
Dethatcher-sweeper combo removes all unwanted materials

Large hamper capacity of 20 cu ft

Design of dethatcher and wheels provides higher velocity

Simple and convenient upright design for storage
Cons
Instructions for assembly not properly described
Bring back the clean look of your lawn with this easy-to-use scarifier and dethatcher from LawnMaster. It can take care of all your lawn cleaning needs and can also last for years to come. Loaded with top-notch features, this product is one of the most effective lawn dethatchers you will ever come across.
Why Did We Like It?
To begin with, we loved the adjustable height for cutting the thatch and unwanted grass that yielded an accurate performance. There were as many as 19 positions by which the height could be adjusted, so that you could alter it as per the thickness of the thatch.
For the scarifier, the range was 0.39″ below the soil to 0.19″ above the soil. And for the aerator it was 0.19″ below the soil to 0.19 above the soil. Plus, all the adjustment can be done by a one touch lever which makes your job much easier.
Further, a grass bag of a capacity as large as 10.5 gallon makes the machine capable of removing large amounts of grass in one go.
And what ultimately makes the work so effective is the strong 12.5 Amp motor, which provides the machine with a speed as high as 3700 RPM. So, it can be moved along the lawn or yard easily to clean up all the mess.
What Could've Been Better?
This dethatcher and scarifier will get your job done in the best possible manner. However, that cord that comes with it might have to be moved around quite a few times for lawns of medium to large size. So, you might have to use an extension cord while working on a large backyard or a lawn.
Pros
Yields an accurate performance

Height easy to adjust by one touch lever

Removes large amounts grass in one go

Powerful motor provides the machine with a high speed
Cons
Power cord not long enough
This rechargeable dethatcher from Goplus lets you scarify and trim your yard perfectly. As such, you are able to maintain the green and healthy look of your lawn grass round the year. Also its range of convenient features makes it quite easy to use and time-saving. Note that this product has dimensions of 40" x 20" x 40" and weighs 20 lbs.

Why Did We Like It?
We liked how the machine could scarify as well as trim all the thatch and excess grass within a short while. It came with a weeder that was adjustable by 3 levels of depth plus 2 blades to cut off the thatch with precision. You can switch between the scarifying and mowing or trimming functions quite easily.
As for its safety of use, a dual switch can be used to safely lock-off the machine instantly after you finish your job. And a lever with an ergonomic grip facilitated easy control while operating the trimmer or the scarifier.
Finally, the front wheels came with a large diameter and hence could be turned at will, while the lightweight rear wheels are labor-saving and flexible.

What Could've Been Better?
The only aspect which we felt could've been better was the size of the collection bag which held the thatch. The bag got full within around 40 minutes of using the product, and we had to stop our work in between to empty it again and again. This becomes too much of a hassle if you have a large backyard or lawn to dethatch.
Pros
Facilitates more effective cleaning

Enables safe and secure operation

Lever facilitates easy control

Front wheels can be turned at will
Cons
Collection bag not large enough
Lawn Dethatcher Buyer's Guide
Considering your needs and preferences is important before moving on to choose the right lawn dethatcher for your home. Making a choice hastily or randomly might lead you to bring home an unsuitable product that would give you only partial results. So, here are some factors you must keep in mind before you proceed.
Compatibility
Checking the compatibility of an electric dethatcher with the extension leads and power sources at your home is important. That's because using the machine with a power source which has an incompatible voltage might damage the functioning of its motor.
Plus, you also need to check whether the machine is compatible with the tractor or tiller at home in case you want to use it by attaching it to such a product.
Manual or Electrical
A dethatcher is either manual or electric, so you need to decide which type you will go for. The electric machine is powered by an engine and is available as a walk-behind model.
On the other hand, manual dethatcher are usually found as two-behind models or have to be operated manually. In case you have a large area to clean and also have a lawn tractor, you can go for such a dethatcher as it is a more viable option.
Size
Make sure you check the width of the path for any product while going through its details. You can also figure out the size of the product by knowing the width of each swath of thatch that it can remove.
Note that in case you need to maintain a large lawn and want to go for a tow-behind model, the width should ideally be between 36" to 48". On the other hand, electric dethatchers come with a width between 10" and 16" and are hence perfect for small to medium-sized lawns.
Verdict
That's all the time we have for you today! We hope you'll be more confident to choose the ideal product for yourself now.
But before signing off, we would like to recap our favorites from the list. The Brinly DT-40BH Tow Behind Dethatcher will be great for somebody looking for an affordable yet efficient product to maintain a large lawn.
On the other hand, if you have a small yard or lawn to maintain, the Lawn Master Scarifier and Lawn Dethatcher will be the perfect option to go for. It offers a large dethatching width and great depth adjustability.
Let us know whether you agree with our verdict in the comments section below.
Till we meet again!
Related Articles
How to Sharpen Reel Mower Blades?
5 Best Self-propelled Lawn Mowers Right Now
The 5 Best Lawn Mowers for St Augustine Grass Right Now
Best Lawn Edging for a Legendary Garden
4 Best Walk Behind Brush Cutter| Buyer's Guide
3 Best Yard Hydrant | Buyer's Guide and Reviews
5 Best Stick Edger | Buyer's Guide
11 Best Battery Powered Lawn Mowers  
13 Best Lawn Tractor Batteries  
Zero Turn Vs Riding Mower, Differences & Best Solution  
13 Best Loppers in 2022 | Buyer's Guide
Who Makes The Best Lawn Mower Engine Today?
How to Clean the Lawn Mower Carburetor Without Removing It?
13 Best Brushless Cordless Lawn Mower
39 Best Gifts for Gardeners Right Now
13 Best Potting Mix For Orchids
9 Best Small Riding Lawn Mower