Whether a professional or a DIY enthusiast, if you're into construction, then a laser level is one of the essentials in your toolbox.
Laser levels are a significant improvement over the optical dumpy levels that have been traditionally used by construction workers. Accurate, precise, and offering extreme stability of measurement, these are devices that any modern construction worker swears by.
However, while buying a laser level, be advised: not all of them are created equal. And while there are a large number of laser levels on offer in the market, not all provide equivalent performance. So which one should you get when each option purports to be the best?
Not to worry! We're here to ease your dilemma with a list of the best laser levels of 2022. And to make the task of choosing more effortless, we've even included a nifty buyers' guide at the end that can help you make the right decision.
So, without further ado, let's get to it.
Top Laser Levels  
IMAGE
PRODUCT
DETAILS

Our Top Pick

Our Top Pick

DEWALT DW088K Self Leveling Cross Line Laser

Class II laser with optimum power output
Magnetic pivoting base for extended range
Full-time pulse mode with detector use

VIEW LATEST PRICE →

Leica Lino ML180 Laser Level

Extended 10-hour battery life
Remote operating capability
High levels of accuracy and precision

VIEW LATEST PRICE →

Johnson Level Tool 99 006K Self Leveling Laser System

Turnkey leveling package
Great for vertical as well as horizontal use
Extended range for outdoor operation

VIEW LATEST PRICE →

Bosch GLL3-330CG Laser Level

Bright green laser visibility
Pulse mode for extended range
Sturdy and durable build

VIEW LATEST PRICE →

Qooltek Multipurpose Laser Level

Three-in-one tool for versatility
Ideal for indoor operation
Comes with a backup battery

VIEW LATEST PRICE →

Dewalt DW089K Laser Level

Three beam operation for greater accuracy
Large working range of 165 feet
4 AA batteries enable extended runtime

VIEW LATEST PRICE →

Johnson Level 40-0921 Laser Level

Self-leveling device
Powerful laser that's easy to see
Comes with a durable carry case

VIEW LATEST PRICE →

Bosch GCL100-80C Laser Level

VisiMax Technology
Brighter laser lines for greater visibility
Ideal for one-person operation

VIEW LATEST PRICE →

PLS-60521 Laser Level

Fully self-leveling device
Patented PLS pendulum design
Integrated plumb level

VIEW LATEST PRICE →

Makita SK104Z Self-Leveling Laser Level

Self-leveling, quick-lock feature
Auto-shut option for power saving
Sturdy and durable build

VIEW LATEST PRICE →

Bosch GLL 30 Self Leveling Cross Line Laser Level

High level of accuracy
Fast and efficient single switch operation
Ergonomic design

VIEW LATEST PRICE →

Klein Tools 93LCLS Laser Level

Durable, waterproof body
Affordable
Incorporates powerful magnets

VIEW LATEST PRICE →

Firecore F112R Self-leveling Laser Level

Multiple laser line modes
Compact and portable
Tough build that can withstand rough conditions

VIEW LATEST PRICE →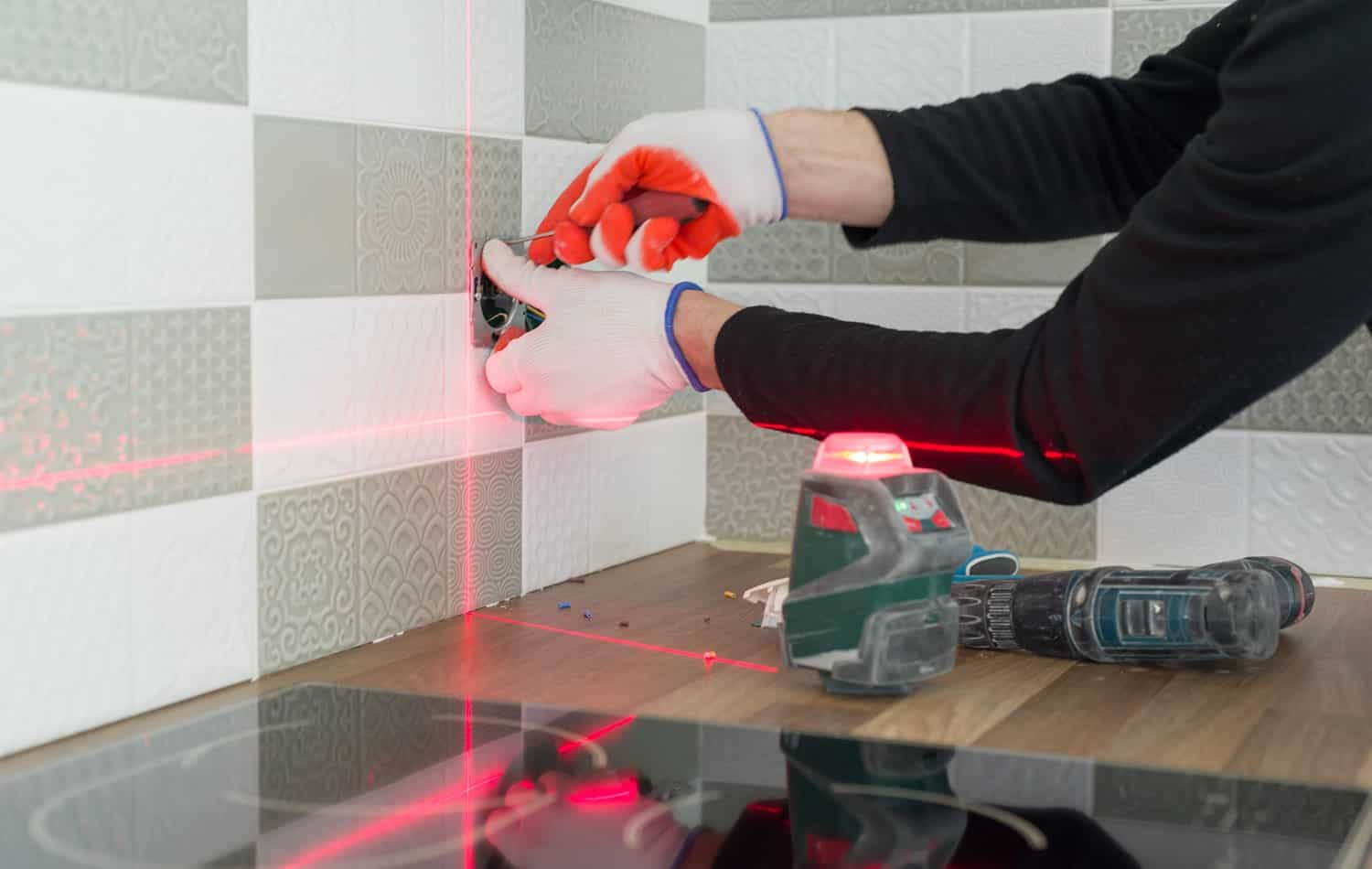 The first item on our list is from DEWALT, and this product promises to provide equally excellent performance for both indoor and outdoor use. Whether you're working in a professional capacity or just doing some construction work at home, this device can serve your purposes. The following are some of its standout features.
Why Did We Like It?
One of the first things that caught our eye regarding this product is the over-molded debris housing. Being water as well as debris-proof, the housing ensures that the device can be used perfectly under all conditions. Plus, it also comes with a sturdy storage box that simplifies the process of transportation.
A significant problem with low-quality laser levels is that of line visibility. However, this product takes care of that by providing bright red, crossed horizontal and vertical lines that are easily noticeable in any environment. These beams offer ultimate accuracy for most layout and leveling applications.
Further, the magnetic pivoting base makes the product easy to mount on any surface, and the full-time pulse mode provides the user with greater visibility. Fast, accurate and precise, this is one product that you certainly shouldn't give a pass.
What Could've Been Better?
Frankly, we'd have been happier if the device came with a locking mechanism. However, as this is only needed for indoor carpentry work, you might not really want it after all. Other than that, all is well.
Pros
Sturdy and durable build

Bright laser that's easily visible

Affordable and easy to use

Long-range of up to 165 feet
Cons
Doesn't have a locking mechanism
The next item on our list is from the house of Leica Geosystems, one of the leading manufacturers of construction equipment. And with its accurate measuring capability and remote operation feature, this is indeed a product to reckon with. Given below are some of its major features.
Why Did We Like It?
Let's see, which feature should we begin with? Leica is famous around the world for its digital cameras, and fortunately, they extend this expertise to their construction equipment as well. This is evident from the premium quality of this 90-degree cross line laser level.
But decidedly, the best advantage of going with this unit is the XCR catch laser level receiver that comes with the device. For solo operation, this is a veritable boon, as it allows the user to align the laser with the remote and handle the receiver at the same time. To make measurements easier, the receiver even emits a tone when it's directly in-line or near the laser line.
Also, must be mentioned are the Plumb Dot positioning system and electronic self-leveling function that make life easier. Plus, the device can be used with both rechargeable and non-rechargeable batteries, which is a bonus.
What Could've Been Better?
Undoubtedly, the cost. This is one of the most expensive products that we've come across, but we reckon that's to be expected, given the range of features it provides. And when you take into account the fact that this model comes with complimentary red glasses and laser plate, the cost doesn't seem that unfair.
Pros
Remote controlled operation makes handling smoother

Works with both rechargeable and non-rechargeable

High levels of accuracy

Incorporates self-leveling technology
Cons
A rather expensive price tag
This product boasts of a rotary laser design that is perfect for the construction professional. Ideal for both indoor as well as outdoor use, this device promises an extended accuracy level, which is enough to impress any user. Among its many features, the following stand out.
Sale
Why Did We Like It?
As far as laser levels go, this is the complete package. The product itself is a self-leveling rotary laser system and comes with a soft carrying case for the laser component. This ensures that the delicate parts of the device are protected. 
The device boasts of three separate rotational speeds that make it an excellent fit for exterior leveling. Also, since it can be used for vertical as well as horizontal leveling, you can use the product to lay out walls and drop ceilings with equal ease.
With an interior diameter range of 200 feet and an 800-feet exterior one, this product is perfect for indoor as well as outdoor use. As for precision, the product delivers an accuracy level of 1/8th inch at 50 feet, which is considerable in this price range. Sturdy, dust and waterproof, and with an inner locking mechanism, this device makes leveling an effortless task.
What Could've Been Better?
We'd have been a little happier with the product if the carry case was large enough to accommodate the sensor and clamp as well. Other than that, we haven't found anything else that can be held against this rather impressive piece of equipment.
Pros
Complete leveling toolkit

Multiple rotational speeds

Locking mechanism for enhanced protection

Class IIIA laser
Cons
Carry case can't accommodate the sensor and clamp
Whether you are new to the construction field or a seasoned professional, we're sure you're familiar with Bosch. Bringing the best of German engineering to the international market, the brand boasts of a rich legacy. And the GLL3-330CG laser level stays true to the Bosch tradition. Just read on below and be amazed.
Sale
Why Did We Like It?
If you are looking for a leveling as well as alignment laser, then this is the right product for you. The device can be used to quickly arrange and square rooms with triple 360-degree laser planes. Plus, the built-in VisiMax technology allows the device to maximize battery life and improve line visibility.
But the one feature that literally caught our eye is the bright green laser of the device. While most laser levels offer a dull reddish light, this one is vibrant in its bright green noticeability. This makes the device four times brighter than conventional red-laser products and ensures a working range of up to 200 feet.
And the icing on the cake: this is the only Bluetooth enabled laser level on the market. This allows the product to be remotely controlled from the comfort of your smartphone using the Bosch leveling remote app. Add to that the calibration guard and smart pendulum system, and you've got a winner.
What Could've Been Better?
We had hoped for batteries to be included with the device, but sadly, this was not the case. However, considering that this device can run with any Li-ion battery, we reckon it won't be too hard for anyone to get the device up and running easily.
Pros
Green laser light provides better visibility

Multiple laser planes for fast and accurate operation

Bluetooth connectivity

Free smartphone app
You've undoubtedly heard of multipurpose tools before, right? Well, now it's time you got a load of this. This versatile laser level from Qooltek is one of the coolest gadgets for construction aficionados. A three-in-one tool that can be easily handled by professionals and novices alike, this product scores on multiple counts, as you can well understand from the following.
Sale
Why Did We Like It?
A leveling instrument rarely has us this excited, but the sheer ingenuity of the product makes it stand out among the rest. This device is a three-pronged combo of tape measure, levelling bubble and laser level all rolled into one. This makes it ideal for any job that requires a straight line measuring.
So whether you're trying to build a shelf in your garage or struggling to hang that picture frame correctly, this device can help with either of the tasks. What's more, the 8-foot long measuring tape even comes with imperial as well as metric measures. This makes the product usable for multi-unit measurements.
The device itself is straightforward to operate and comes with an included battery in the pack. This means you'll never run out of power when you most need it. And the laser itself is a class IIIA product with optimal power output, so you don't have to worry about the quality of measurements.
What Could've Been Better?
Honestly, we were a little disappointed with the outdoor visibility of the device. The laser fades in sunlight, and you'll be hard-pressed to detect it in brighter environs as well. For such an innovative product, we expected the laser visibility to be a lot better. But after all, you can't have everything now, can you?
Pros
Multiple tools in one package

Backup battery included

Class IIIA laser product
Cons
Outdoor visibility leaves something to be desired
The next item on the list is again from DEWALT, the all-American brand that's mainly known for its range of power tools. And the DW089K is one of their most power-packed laser levels at this price range. Built for professionals, this device boasts of many standout features, some of which are given below.
Sale
Why Did We Like It?
Dewalt products are usually built to last, and this device is no exception. Feature-packed and accurate, this device primarily caught our eye with its nifty triple beam design that provides for greater accuracy of measurement.
The device flaunts separate buttons for each beam, thus giving the user greater control. Also, it comes with AA batteries included, which are good enough to provide a run time of close to thirty hours. What's more, the storage kit even allows space for extra batteries. This means you don't have to worry about running out of power in the middle of work.
Further, the product also boasts of a high clearance track that makes it easy to fix on any surface or even a tripod for smooth operation. And despite missing the pendulum lock, the device more than compensates for it with a micro-adjust knob.
What Could've Been Better?
We've already mentioned that the product doesn't have a pendulum lock. Another thing that had us miffed was the low visibility of the laser beam in outdoor light. This limits the operation of the device, which is a shame considering its otherwise excellent feature set.
Pros
Separate buttons for each laser beam

Micro-knob enables more precise beam movement

Water and dustproof design

Four inches track clearance
Cons
Low outdoor visibility

Lacks a pendulum lock
This is one of the most affordable products on our list, but that does not mean it compromises on the feature-set. With horizontal as well as vertical cross beams and a tripod stand, this is perfect for DIY enthusiasts looking for an affordable laser level. Just read on to find out more.
Why Did We Like It?
The USP of this product (apart from the affordability) is the simplicity of its operation: just turn the device on, and the laser crossbeam levels itself. Once you're done, you can mount the laser on the tripod that comes with the device, and make the necessary adjustments.
Accuracy is one of the things that the makers of this device have paid special attention to, and it shows in the precise operation of the product. We were amazed to find that the product base came with a protractor scale for making angular measurements easier!
The cross line laser of the device lays down a fixed reference line, which means you no longer have to spend time on repeated measurements. Plus, the model comes with all the general accessories you might need to complete your leveling project, including a tripod stand and laser glasses that enhance beam visibility.
What Could've Been Better?
Although the device works for both indoor as well as outdoor use, still, we feel the device's  outdoor visibility could've been better. Apart from that, we really can't find anything wrong with this product.
Pros
Self-leveling and affordable

Offers both indoor and outdoor visibility

Comes with all accessories

Provides accuracy of measurements
Cons
Outdoor visibility leaves something to be desired
The next product on our list is yet another quality laser level from the house of Bosch, and this device delivers all-in-one versatility. With highly visible lines and points, the GCL100-80C comes with a range of nifty features that are sure to capture your liking.
Why Did We Like It?
Bosch products are famous the world over for their sturdy build and impeccable performance, and this one is no exception. With built-in all-in-one functionality, this device facilitates solo operation by combining vertical alignment, horizontal leveling, and plumb point transfer capability.
We were also really impressed by the VisiMax technology that the device utilizes. This provides brighter laser beams, optimal energy consumption, and makes sure the tool lasts longer. And the laser has a visible range of 100 feet, which can be extended to 165 feet with the Bosch Laser Receiver. The device also comes with a self-leveling smart pendulum.
Another striking feature of the device is the Bosch leveling app that allows you to operate the product using your smartphone remotely. Using the app, you can easily switch the device on and off, select the laser operating modes, and adjust line visibility. Also, the device comes with a 12V Lithium-ion power source that promises all-day operation.
What Could've Been Better?
Honestly speaking, this is one of the better products in the market. The only fly in our ointment about this device is that the laser beam is a bit too thick, and might prove a hindrance in jobs that require extreme precision.
Pros
Provides multiple functions in the same unit

Extended battery life for all-day operation

High-quality, long-range laser

Self-leveling smart pendulum system
For professionals looking to add a fast, portable, and accurate tool to their repertoire, the PLS-60521 from Pacific laser systems provides a wonderful option. Once you've got a taste of this multipurpose tool, you'll never opt for your old dumpy level ever again. Brighter, less bulky, and cheaper than most conventional laser levels, this is a device that speaks for itself.
Why Did We Like It?
This product combines the twin advantages of laser plumb bob as well as a square and level laser line, which ensures that all your measurements remain as error-free as possible. The twin laser lines are highly visible and offer both horizontal as well as vertical plumb level applications.
This makes it an all-in-one tool that saves you time as well as money when it comes to any kind of construction work. With this device, you effectively eliminate the need for any other measuring instrument. And with an indoor range of 100 feet, along with a 180-degree projection angle, this is one of the longest-ranged devices in its class.
Finally, let's talk about the accuracy of the product, which is indeed impressive enough to warrant a separate discussion. Accurate within one-eighth of an inch for up to 30 feet, this device is entirely self-leveling, and uses a combination of magnetic dampening and patented PLS pendulum design to ensure precision.
What Could've Been Better?
Despite all the nifty features that this device boasts of we would've been satisfied if the casing were a bit more hardy. The plastic exterior of the device seems a bit too fragile to house such an intricate instrument. We encourage the manufacturer to come up with a better casing for future iterations.
Pros
Compact design for easy portability

One of the longest line lengths in the industry

Long battery life

Great outdoor visibility
Cons
Housing could've been sturdier
Laser levels are specialized equipment that are usually meant for use by professionals. But this product from Makita is specifically targeted at beginners and users who are generally on the go. Makita has always been relegated to the shadows in front of giants such as Bosch and Dewalt. But we believe this device warrants a place on our list on sheer merit.
Sale
Why Did We Like It?
Readers might be raising eyebrows at the inclusion of this device on the same list that has products from Dewalt. But once you get to know the performance and portability of this product, we're sure you'll fall in love with it. With a range of up to 50 feet in broad daylight, this red-laser device always gets the job done.
What's more, it can also act as a cross-line laser level for multiple construction purposes, and comes with an auto-shutoff feature that ensures power savings. This last feature is useful for this model as it uses alkaline batteries which drain out fast and require frequent replacement.
As for stability, the device scores in that department as well. With a three-second self-leveling time, the measurements that it takes are correctable up to a fourth of slope; this makes it fit for use on uneven surfaces. Finally, we also like the bright class II laser that provides perfect visibility under most conditions.
What Could've Been Better?
The only thing we'd have changed in this device is the 180-degree sweep, which we feel should be upgraded to 360-degree for future versions. Also, the user needs to remember to lock the device manually every time, or they risk messing up the calculations.
Pros
Fast operation that empowers accuracy

Auto-shutoff feature ensures power saving

Portable and rugged design for use in any situation

Fits easily on any tripod
Cons
Only 180-degree sweep

Manual lock
Once again, Bosch finds a place on our list, this time the GLL 30 model, which promises to be another winner from the brand. A versatile laser level with a highly visible crossline, this device ensures that leveling and other construction work is done fast and without any errors.
Sale
Why Did We Like It?
One of the major problems that users face with most laser levels is that of visibility. Thankfully, this device's crossline mode makes sure that the product produces a brightly visible crossline with perfect plumb and level.
The next thing that we'd like to mention in this device is the Smart Pendulum System, which is intelligent enough to indicate any out-of-level condition. Plus, the device also comes with a manual mode that enables it to be used at any angular tilt. And the pendulum auto-locks when the device is switched off to ensure extra protection.
But above all, the feature that took the victor's medal for us is the sturdy build of the product. Smart, compact, and lightweight, this device flaunts an ergonomic design, which makes it perfect for carrying in your work bag or storing in any toolbox. Accurate, compact, and smart, this product offers a winning combination that you can't afford to ignore.
What Could've Been Better?
Strictly speaking, there's not much that this product can be faulted for. The only issue that we feel must be shared with our readers is that the mounting clamp that comes with the unit is a little flimsy.  It requires careful adjustment to ensure the device stays in place, and we had a tough time with it initially. Of course, this is not an issue with the product itself, and you might choose to ignore it altogether.
Pros
Compact and ergonomic design

Can be manually tilted and locked

Equal performance at any angle

High levels of visibility
Cons
Mounting clamps leave something to be desired
Klein Tools is yet another all-American brand for you. A direct competitor of DEWALT, Klein Tools has been in the manufacturing business for over a century and is known for laser levels that provide the perfect mix of efficiency and efficacy. Don't believe us? Just read below to find out.
Sale
Why Did We Like It?
Just think, what are the basic features we look for when it comes to a laser level? They should be self-leveling, accurate, and durable enough to withstand regular wear and tear. Well, the 93LCLS promises all that, and more.
The device is capable of projecting horizontal and vertical lines together as well as independently. This allows it to be operated at multiple alignments and makes measurements easier. It also incorporates plumb spot lasers that help to pinpoint overhead locations.
We also really like the IP54 casing that ensures complete safety from water as well as dust, which ultimately leads to better peace of mind. The device also comes with a hard plastic carry case that allows it to be taken from one location to another without significant hassle. And finally, we cannot fail to mention the integrated 360-degree magnetic mounting bracket that comes with an additional clamp attachment.
What Could've Been Better?
The battery clip. Made of plastic, this thing is extremely tight, and we had to apply considerable force to get it open. And frankly, it looks flimsy enough to break easily. We would've been more reassured if the device came with a metal clip.
Pros
Self-leveling and easy to operate

Dust and water-resistant design

Comes with additional mounting clamp attachment

Robust build
Cons
Battery clip made of plastic
The final item on our list is from Firecore, a lesser-known brand when compared to the big players, but with a performance that's classy enough to land it on our list. Utterly compact yet fully functional, this laser level is exceptional in terms of accuracy and portability.
Why Did We Like It?
We've seen a large number of laser levels in the course of our work, but this device offers terrific value-for-money. Amazingly affordable, this device combines level, plumb as well as cross-line laser modes in one powerful yet compact package.
But don't make the mistake of judging this device based on size. The product offers professional-grade accuracy and a class II laser that promises perfect visibility. Also, the device features a manual mode which allows the laser beam to be projected at any angle. This helps in taking measurements for non-standard projects.
Finally, apart from the dust and water-resistant build, the device comes with a magnetic pivoting bracket that enables the product to be used for multiple applications. This only adds to the versatility of the product.
What Could've Been Better?
The only point of contention that we found in this device is the thickness of the laser line. When compared to other models, you can easily see that the line of this product is a little too thick. This makes the device less accurate when compared to more expensive models. However, at this price, that's only to be expected.
Pros
Perfect for home use

Manual Slope mode

Dust and water-resistant

Multi-use magnetic pivoting bracket
Cons
Laser line thicker than desirable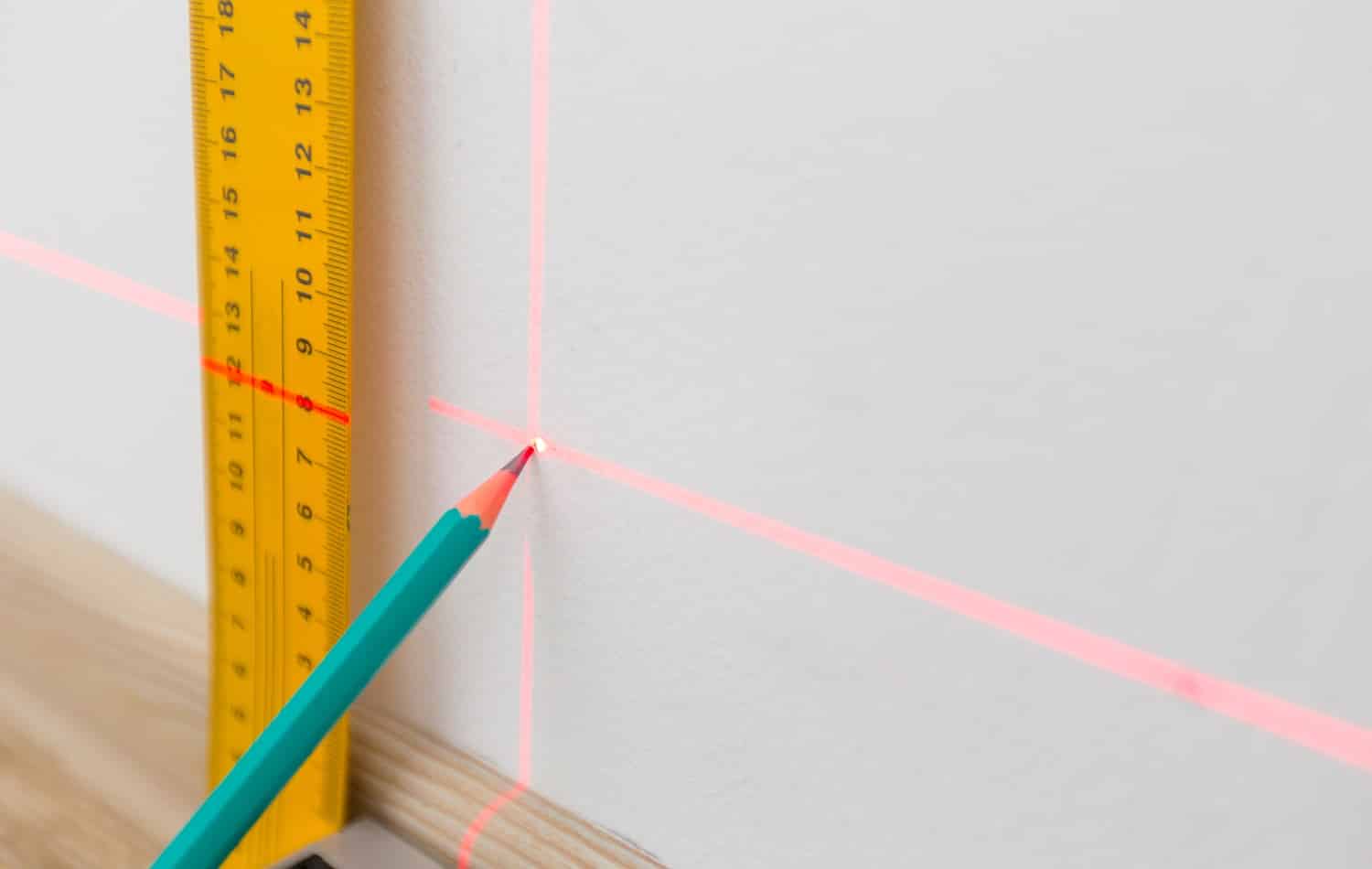 Laser Level Buyers' Guide
So now that you know about the thirteen best laser levels of 2022, we're sure you'll be enticed to buy one from this list. But wait! Don't leap just yet. Deciding on the right laser level is not as easy as selecting the most expensive piece of equipment from a list.
Buying a laser level requires careful consideration of multiple factors. It's only by taking these into account that you can expect to settle on the right device for your needs. And to help make the decision-making process easier for you, we've decided to compile this nifty buyer's guide that can help. After you've gone through the following, you'll be able to make the perfect decision.
Type Of Laser
The first and most crucial factor that you should look into while buying a laser level is the type of laser that the device uses. Laser levels usually come in three varieties: the line laser, which is the most basic laser type that you can buy. The line laser works by sending out a single level on any surface and is perfect for household work.
The second type of level that you can get is a dot laser, and as the name suggests, this device works by sending out a series of dots in a level plane. These dots are then used as the required reference point for making measurements.
The third and most expensive type of laser level is the rotary laser, which projects a leveling line on every wall of the room it's placed in. These are advanced devices that are mostly used in professional construction work.
Accuracy Levels
A laser level is nothing but a precision instrument, which means accuracy should be on top of your mind when choosing one. Usually, the accuracy of the level depends on the number of reference points your device uses: the more, the better for accuracy. So make sure you check out the total number of reference points that your device of choice has before making the purchase.
Laser Visibility
The next vital aspect that you need to pay special attention to is the visibility of the laser. If the laser isn't properly visible, this is bound to affect the accuracy of your measurements. Of course, the brightness required depends upon whether you are working in external environs or internal ones. For internal use in relatively dark spaces, a low brightness laser will also work, while for use in the sun you'd need a beam of higher visibility. 
Laser Range
The range up to which your laser level can be used is another major factor that must be taken into account. Usually, the range of laser levels varies from model to model, with higher-end models boasting of better ranges than lower-end ones.
The best method you can adopt to settle on the perfect required range is to think about how your device is going to be used. Usually, it's best to buy a laser level that has a range higher than the requirement. That way, you'll be ready to handle projects that require larger spans as well.
Laser Color
You don't have much choice in this department, as laser levels only come in two colors: red and green. The decision, once again, depends on where you are planning to use the product. In case you are going to use the level outside, it's best to opt for a green laser as these provide better visibility in the sunlight. For indoor use, however, the red laser might be a better option.
Portability
If you're a professional who needs to lug your level around the worksite, it makes sense to go for a portable device that can be easily carried. Home users, on the other hand, can settle for bulkier models in case they think it won't be moved around much. Keep in mind that for portable models, you might have to sacrifice some features.
Battery Life
Laser levels utilize either rechargeable Lithium-ion batteries or operate using standard AA or AAA batteries. The choice here depends on the frequency of your use. If you are going to use your levels regularly, we suggest opting for a rechargeable model. If, however, your device is going to be used only once in a while, it makes more sense to go for one with standard batteries.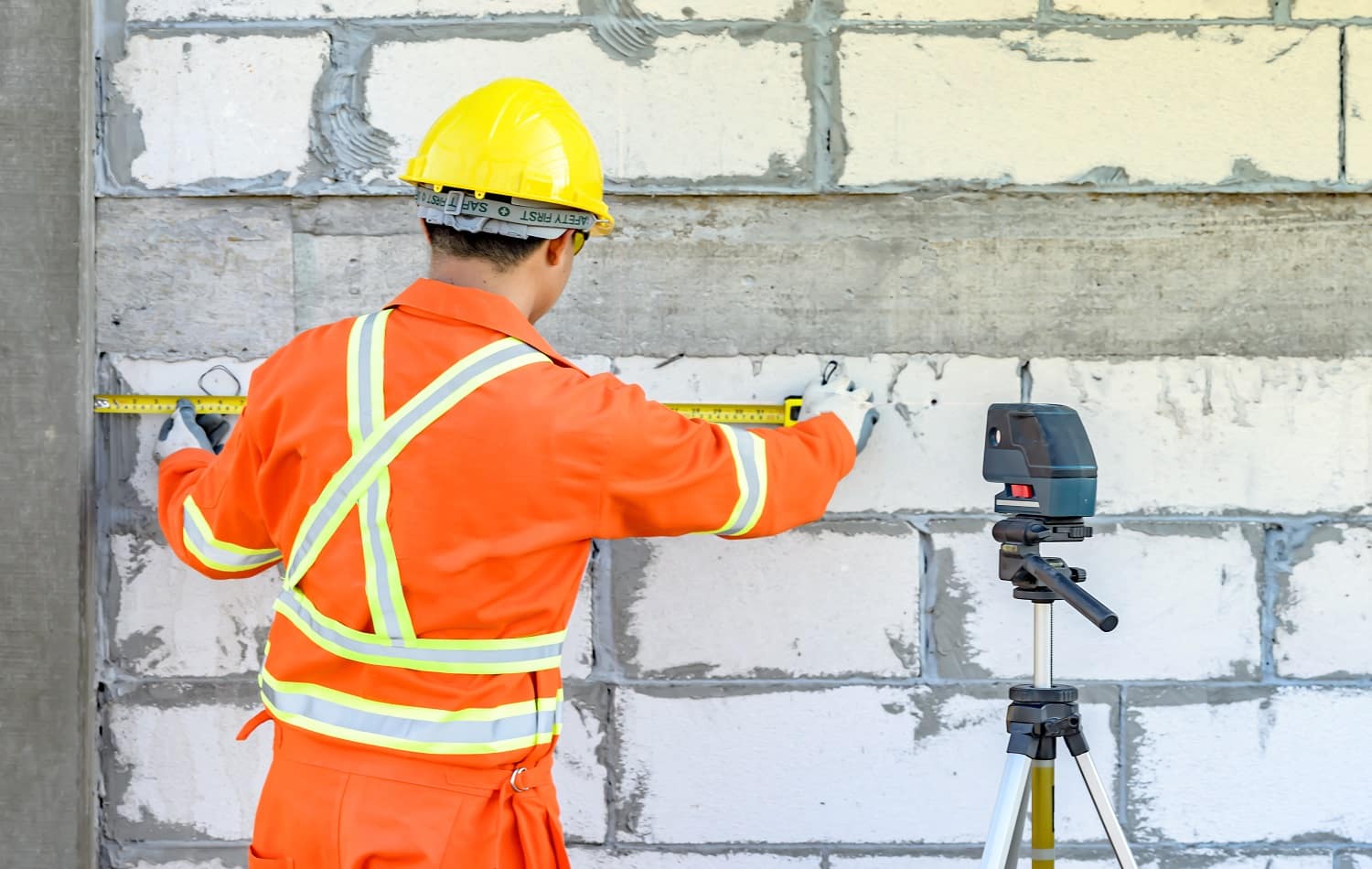 Verdict
And that's all folks! We hope you've enjoyed going through the above information, and found it useful for choosing a laser level that fits your needs.
If you're looking for a premium device, we recommend any of the Bosch or DEWALT products or the Leica model on our list. And for those looking for an affordable option, the Firecore F112R is the best budget choice.
Whichever way you decide, remember this: choosing a laser level is not an easy task. However, by keeping our buyers' guide handy, you can be sure to hit the bull's eye and choose the right laser level for yourself.
And if you think we've missed a laser level that should've been included in this list, be sure to let us know.
Till then, happy leveling!
Related Articles
13 Best Transit Levels For Surveying  
13 Best Laser Levels on the Market Today | Buyer's Guide
10 Best Laser Level For Home Use  
How to Install Ceiling Grid Perfectly Using Rotary Laser Level?
10 Best Laser Measuring Tools in  
11 Best T-Square Rulers Right Now
13 Best Light Meters on the Market Today | Buyer's Guide
DEWALT DW088K Review Laser Level Under the Microscope
9 Best Laser Level For Hanging Pictures
16 Best Torpedo Levels [Reviewed & Buyer's Guide]