The demand for your knitting has gone up in the family. But how will you fulfill the entire wishlist without boosting your speed and precision?
Well, there is a range of options for the latest knitting machines that you may use for your knitting efficiency and skill development. We understand your dilemma about choosing the best option though. After all, there are so many things to consider before that excellent buy, which will give you beautiful knits and warm clothes.
In this guide, we have reviewed some of the best knitting machines available online to help you knit scarves, socks, cardigans, caps, and other warm clothes, keeping all your loved ones happy.
Find the right model for your needs by going through our detailed reviews and buying guide. You will love what we have in store!
Top Knitting Machines
IMAGE
PRODUCT
DETAILS

Our Top Pick

Our Top Pick

Jamit Knitting Loom Machine

Works for both flat and ring weaving
Hand-cranked machine

VIEW LATEST PRICE →

Addi 990-2

Recommended yarn thickness - 3.5mm to 8mm
22 needles & an electronic row counter

VIEW LATEST PRICE →

Focket LK150

6.5mm mid-gauge knitting machine
Suitable for a huge range of handweaving yarns
12-month satisfaction guarantee

VIEW LATEST PRICE →

MIAOKE Knitting Machine

Made of high-grade plastic
High-grade plastic not only safe and reliable but also odorless and durable
Spindles and hand-pushed crank operated

VIEW LATEST PRICE →

YagoDago Knitting Machine

Enables fast knitting
Has two modes - plain knit and tube knit for different patterns
Can support all kinds of yarns

VIEW LATEST PRICE →

Walfront LK150

Rolled capped latch needle
3 Knitting Boards

VIEW LATEST PRICE →

PureZoneA Knitting Machine

Plain/tube weave conversion key
Row counter available
Hand-crank operation

VIEW LATEST PRICE →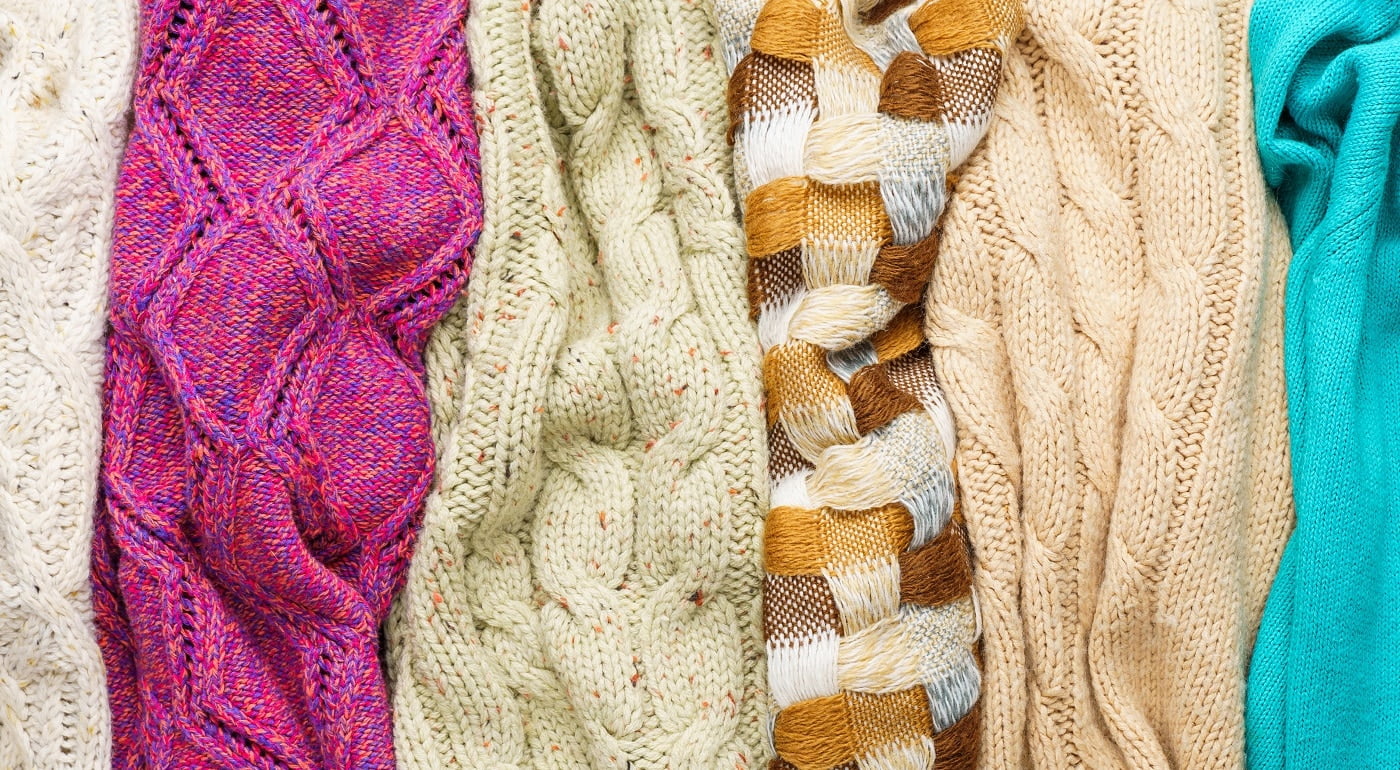 This is an ideal beginner's knitting loom to weave beautiful gifts for everyone on special occasions like Christmas, Thanksgiving, etc. Dozens of scarves, caps, and mittens can be knit together in no time by using this hand-cranked machine. Also, the model is suitable for children and adults alike.
Why Did We Like It?
We loved the fact that learning to knit efficiently and regularly with this loom machine is easy. In no time, a pile of precious gifts can be made ready for family and friends who will simply adore them!
What's more, the loom machine was a bargain for the number of knits we could weave in different modes. It was fun and enjoyable knitting regularly with the unit.
Also, it can be fixed on a table as its suction and sturdiness are quite good. But the best part is that it reduces normal knitting time to a few days. Both adults and children can easily knit hundreds of warm clothes and fashion accessories for cold climates with this machine.
All in all, it is a great bargain for its price and will last till you have knitted to your heart's content!
What Could've Been Better?
The Jamit 48 Knitting Needle Loom Machine can support a wide variety of yarns. This information could have been included with the knitting machine kit to help customers find the right yarns easily. Also, a set of detailed instructions should be included to make managing the machine a lot easier.
Pros
Great machine for kids and adults to learn knitting

Brilliant beginner's tool

Makes knitting fast and efficient

Affordable and easy to maintain
Cons
Stitches drop but can be managed easily
This machine is just right if you are looking to knit plain and circular items within a certain width and length. Addi has a guarantee against any defects, but there is no DVD accompanying the kit. So, check for details and instructions online before you go ahead and make a purchase!
Why Did We Like It?
This battery-powered knitting machine is easy to learn and master. There are video tutorials online to take you through the entire learning process. And once you master it, you'll discover that it works with a variety of yarns.
Also, it is worth the effort and resources you put in purchasing it. You may work on rounds or stop and continue with 'flat panels' to introduce more styles to your knitting.
For people who do not knit regularly, this model is a boon for their weaving and knitting purposes. It is, in fact, a daily time saver and worth every cent for the number of weaves it can make in a short while.
Furthermore, we loved its design and quality, while the guarantee on the machine promises that it will work despite the odd snag.
What Could've Been Better?
There is a slight learning curve involved, which could initially be somewhat inconvenient. This can be improved to instantly engage the knitter with the machine through design and customer feedback.
Simplifying its basic workings can greatly help the new learner develop the skills of a pro knitter!
Pros
Battery-operated knitting machine

Supports a variety of yarns

Modern design and simple to use

No assembly required
Cons
A slightly inconvenient learning curve
This loom set is made of high-grade plastic which is safe, reliable, and odorless, according to the manufacturer. It is suitable both for children and adults who want to experience the joy of weaving and knitting.
The loom set is a highly efficient loom set as it supports a combination of machine and hand weaving.
Why Did We Like It?
This loom set is easy to use right from the beginning and has a set of 150 stitches available for the knitter to get creative! You can have fun while also improving your hand-eye coordination as per the guidelines of the tool.
What's more, it is simply designed with a roller-capped latch needle to ensure smooth operation. It gives speed and efficiency right from when you begin to knit and have fun with the machine. You can weave many accessories for your friends and loved ones in a matter of a few days.
Focket offers 24-hour customer service and a risk-free purchase guarantee to ease your experience of using this loom set. Availing an offer like this is highly lucrative and promising for the budding knitter!
What Could've Been Better?
The kit comes with an instruction manual. There are many parts to the loom that you might have to spend some time understanding though, to be able to assemble the entire machine.
To begin your knitting adventure with a bang, you will have to see some videos and fully grasp the loom set. This could've been a simpler start, we feel, but even then, it is worth the effort!
Pros
Small size

Lightweight

Easy to carry

24-hour customer service available
Cons
Assembling the loom set gets a tad tricky
If you enjoy knitting or are curious about it, this is a fun and practical machine to make clothes and accessories for everyone you love. It is perfect for beginners who want to knit and give their handcrafted ideas to people. Your gifts are bound to find appreciation with just about anyone looking to get comfortable and warm in cold seasons.
Why Did We Like It?
This knitting machine is fairly simple to use. It is very easy for the entire family to enjoy knitting with this machine. The children can learn to make hats, scarves, and other accessories during their playtime.
The adults can learn the ropes of this easy-to-learn machine and spin great-looking clothing accessories for everyone. Not just that, this machine is also one of the most affordable knitting machines available for the amount of knitting it can produce!
It is not only great for a beginner but also fun for the enthusiast who wants to create more than what a pair of knitting needles can do in less time. It runs smoothly and quietly and makes a great learner's knitting machine.
For example, a hat can be made in 45 minutes once you get the hang of this uber knitting machine!
What Could've Been Better?
The knitting machine could be built to last longer. Some of its parts may seem fragile and need careful handling during cleaning and other maintenance. Being so affordable, it can be a great machine to knit with if it is well supported through much-required excellence in customer service.
Pros
Great for beginners

Simple and smooth to operate

Good output

Great gift for children – inexpensive and easy to handle
Cons
Website support not available
This knitting machine is great for a knitting hobbyist, a beginner, and just about anyone who wants to make knitting a part of their lives. Apart from fashion accessories for cold climates, it can even be used to knit blankets for adults and children.
It makes a great gift for friends and family and is a useful tool at home.
Why Did We Like It?
The online video lessons are a great place to start learning the knitting machine even before it arrives home. The extra accessories such as the 8 pompom makers, crochet, hand needles, and yarn that come with the kit are great to begin making different weaves and knits immediately. Warm up your prep till the machine arrives.
Overall, the learning process is easy and the knitting machine works fabulously for the offer price. A hat can be weaved in under 30 minutes with this knitting machine! The pompom makers can make beautiful fluff balls to use on occasions such as birthdays and parties.
You can make beanie caps for children and adults that come out very well on this knitting machine. Hats are another favorite to go for when you knit with this machine. And people with handknitting experience can have a great time on this machine right from when they begin watching the video tutorials.
There are plenty of stitches and techniques that you can experiment with that are explained quite simply in the video tutorials. Have a happy time learning and knitting with this machine!
What Could've Been Better?
It doesn't have a row counter so you can miss aspects of weaving and knitting on this machine that you might look forward to. Only thin yarns can be used on the machine or else it can jam up and cause trouble.
Pros
Makes a great toy for children

Great accessories

Kid-friendly

Can kit any genre of fashion accessories and warm clothing
Cons
Machine design not very sturdy
The LK150 is a 6.5mm mid-gauge knitting machine that is compatible with most handknitting yarns available. Unlike circular knitting machines, it can be taken more seriously for professional knitting use at home. It takes, on an average, less than two days to get started with a new LK150 machine for any owner.
Why Did We Like It?
The combination of handknitting and machine knitting greatly enhances the quality and efficiency of the final weave. For example, a mohair cap can be made in a matter of hours with this knitting machine that can otherwise take weeks to finish.
Moving on, it has a specially designed roller-capped latch needle that ensures quiet and easy working. It helps build patience while learning a new skill. The instructions for the knitting machine are not difficult to understand and it is easy to use the machine with the help of the guide included with the tool kit.
That's not all; smaller projects come out best with this machine due to the number of needles. You can also buy extra weights for your bigger knitting projects and produce many beautiful weaves from this machine.
What Could've Been Better?
The packaging and delivery of this knitting machine could be better to ensure that it reaches safely at your doorstep. Overall, the experience of working on the machine is great. That being said, frequent order lapses could still be a nuisance.
Pros
Small size

Lightweight

Easy to carry

Smooth and quiet operation
Cons
Laxes in product packaging and delivery
This knitting machine has many simple functions to facilitate a variety of patterns and weaving techniques for your knitting endeavors. You can use a key to switch from a plain weave to a tube weave easily. And within seconds, a flat or round stitch can be created by the hand-crank operation.
Why Did We Like It?
This knitting machine is a handy device for children, and useful for adults who want to pursue their passion for knitting. It cultivates curiosity for innovation in children and is one of the best companions for young knitters.
Also, the machine kit has abundant accessories for you to play and experiment with before you begin knitting those scarves, hats, mittens, gloves, etc. Spread the joy and warmth of your passion amongst loved ones with this knitting machine!
The box comes with hand needles, a thread holder, and 4 bundles of wool. So, you can knit what you want with its simple operation, speed, and efficiency.
What Could've Been Better?
The knitting machine is a great device to weave excellent fashion accessories for the special people in your life. But you have to be careful about its ability to handle the stitches so that you get the desirable knitting results.
Occasionally, it might drop a stitch in the middle of a session, so vigilance is essential to prevent errors.
Pros
Durable plastic body

Long service life

No experience required to knit

Great for beginner enthusiasts
Cons
Stitches might drop, careful-use recommended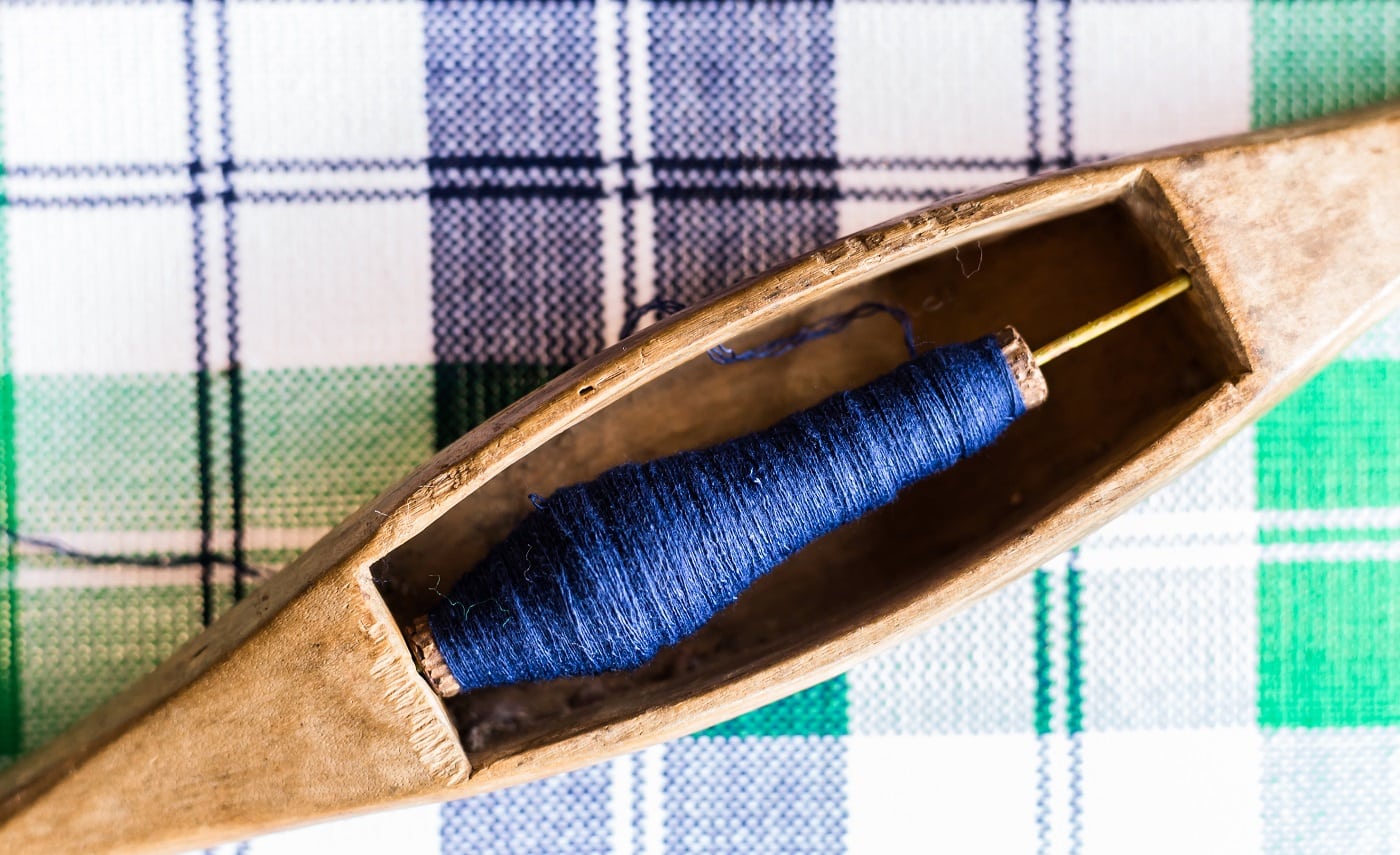 Knitting Machine Buyer's Guide
After browsing through our detailed reviews of the 7 best knitting machines of 2022, you might be ready to pick your favorite knitting machine. Are you looking forward to spending this year sharing your handcrafted accessories with everyone?
We can understand you still might not be able to choose the perfect knitting machine for your home. That is why we have put together an exceptional buyer's list to help you arrive at the right decision.
Longevity, needle strength, needle size and number, multiple functions, and yarn compatibility are essential features of any knitting machine that has a lot of fashion accessories to produce for your entire family!
Longevity
The durability of a knitting machine is assured by the manufacturer either through a written guarantee or through specifications that mention the qualities of the material used to make the knitting machine.
Some products come with a year-long written guarantee on the product parts, while others mention the strength of the material that is used for the body of the machine.
Needle Strength
Needles also require a test of strength and longevity. The sharpness of a needle, its ability to pick up threads quickly and smoothly are important for your entire knitting process.
Some needles come with a brand name guarantee that brings trust automatically to the product under consideration, for example, SENTRO needles are ubiquitous known, and are, therefore, more popular amongst knitters.
Needle Size And Number
Like manual knitting needles, a set of needles embedded with the knitting machine have a range of sizes and are also grouped in specific clusters to enable knitting by a machine.
While the size of needles decides the kind of loops and knit, the number of needles gives the knitter a bandwidth. Most of the products reviewed here have 22 or 48 needles.
Multiple Functions
Most knitting machines would give you at least two choices for the kind of weave you can make with the knitting machine. A basic knitting machine normally comes with a hand-cranked operation.
The combination of manual and machine knitting greatly increases efficiency and output in less time.
Yarn Compatibility
The thickness of the yarn is an important feature to consider before using it for your knitting with any knitting machine. Most knitting machines come with details about the size and width of the yarn that can be used with your knitting machine.
You can also experiment and see which yarns go well with your knitting on the knitting machine. Just be careful the yarn does not jam your knitting.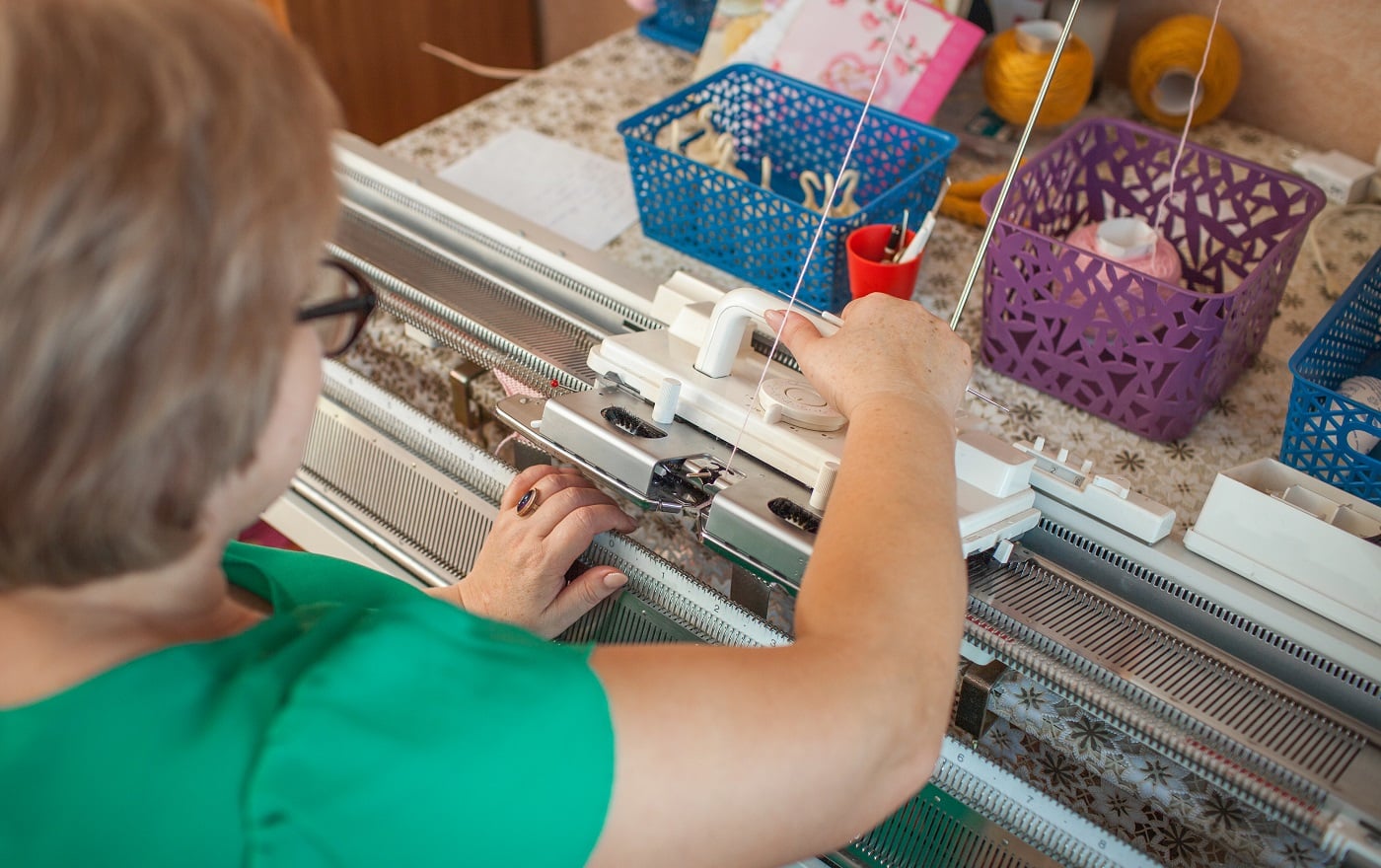 Verdict
The 7 best knitting machines reviewed here make it possible for you to have fun as well as give away your hand-knit affection in shovels! Once you buy any of the models, you can quickly knit an adorable sweater for your child that might have taken months earlier.
Now, as the demand for your craft increases, so can your output. Choose the Jamit 48 Needle Machine to try both the flat needle and ring needle techniques, or bring the Addi 99-02 home to introduce flat panels on rounds of knitting.
Furthermore, select from 150 stitches to get creative with the Focket LK150, or simply weave a beautiful and simple yarn with the beginner's MIAOKE kit.
Just remember that while knitting, you can not only relax but also enjoy working to give something to a loved one. Bring the joy of any of these machines home today!
Related Articles