Having the right setup for your kids at home for gymnastics can help them improve much faster at this sport. If you have a child who absolutely loves the activity and wants to get better and better at it, why should you spend so much extra time and money in arranging for a gym membership when you can get the same job done at home?
The thing with people who are naturals at being gymnasts is that they will never stay still for a very long time. They need constant practice no matter if they are proper professionals or children. In fact, you can often find them improvising with the furniture you have in your home as training equipment to keep themselves on their toes. It is unfortunate that making do with the furniture at home does not compare to the actual equipment.
Makeshift training apparatus is not very forgiving and it can result in accidents which are not very pretty, especially when it comes to children. Instead of letting them put themselves at risk, why don't you consider investing in some actual training equipment for them? It does not have to be something very advanced, but it can be simple enough to at least keep their basic gymnastic skills in check, right?
One of the most popular options that a lot of people consider is getting gymnastic bars. The best junior training gymnastics bars for kids are great for children that are just starting out to the level of advanced gymnasts.
Of course, you need to understand that there are just so many of them out there and each of them is slightly different from the other despite having the same function. Choosing the right gymnastics bar requires you to consider all the features that they have and the factors which count.
You need to consider aspects like weight limit, stability, matting requirements and the height of the bars, according to your child's needs. Other than that, you need to consider how easy it is to set them up and the maximum skill level it can cater to as your child gets better and better at it.
Best Gymnastics Bars for Kids Reviews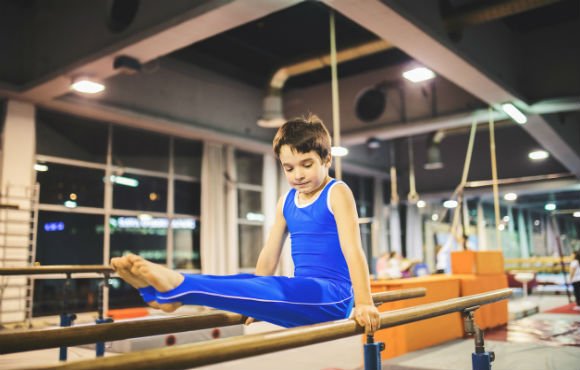 If you are planning to buy the best junior training gymnastics bar for your child, there is no better place for you to be. We have gone through the effort of trying and testing out several of the gymnastics training bars you can get in the market right now to find out which one's the best. Here is our comprehensive list of the 10 best junior training gymnastics bars for kids you can get in right now.
1. Gymnastics Bar Model DX Barney – Best Overall Gymnastics Bar for Kids
Our pick for the best overall junior training gymnastics bars for kids is the DX Barney Purple. Made using solid hardwood, this will provide your children with the authentic feel of proper gymnastics training equipment that they will need to improve in the sport as professionals.
In fact, this is a professional quality gymnastics bar which you can easily set up and adjust between 3 feet to 5 feet height for your growing child. As the child improves and takes on more complex gymnastics training routines, the adjustable height and extra stability will come in handy.
The wood used is oak so you can count on it to be sturdy and last you a very long time without any issues. The triangular bases are fitted at the base for improved structural integrity while there are rubber pads integrated into the feet to keep the floor safe from any damage and stop the bar from sliding anywhere.
2. Best Choice Gymnastics Pro-Deluxe – Best Gymnastics Bar with Extra Strength
The Gymnastics Pro-Deluxe is a very tough new bar in the market with an exclusive design. Compared to most of the brands manufacturing gymnastics training bars you can use at home for your kids, this is one of the strongest out there. The heavier frame features a 60-pound construction with premium materials for the most support and stability you can expect from a gymnastics training bar.
The bar also has a freestanding design which covers 52 inches by 48 inches of space. The rail is 1 ½ inch thick with a weight limit of 100 pounds so most children can enjoy a pretty wholesome experience of gymnastics training. There is a spin lock mechanism on the gymnastics bar, which allows you to adjust the height between 35 inches and 58 inches for your growing child's needs in gymnastics training.
The fact that the additional steel bracing at the base adds greater stability to it makes it even better.
3. 4ft Purple Horizontal Bar – Best Nimble Gymnastics Bar
Our top choice among the nimble gymnastics bars is the 4 foot tall purple horizontal bar. This is not just a gymnastics bar, it is a full package. There are lock down bolts which make it easy to adjust the height and secure it in place while the bar stands at 4 feet as a standard suitable for most child gymnasts.
The 6-foot long landing mat is foldable, which saves a lot of space when the gymnastics bar is not in use. You can store it away without any problem. The 1 3/8 inch thick mat has a firm foam padding that provides excellent cushioning for your child. The surface is resistant to mildew and punctures so you know this will last you a very long time.
The Purple Junior Adjustable Horizontal Bar is another entry on the list of the best junior training gymnastics bars which is quite strong and stable. The bar can easily be adjusted to heights between 3 to 5 feet with increments of a few inches in between to gradually change the settings for your growing child.
The height locks at 36, 42, 48, 54 and 60-inch marks. The four foot wide footprint provides a very stable base and more than enough area to fit a standard landing mat up to 8 feet long. The wooden finish on the 1 ½ inch thick bar is able to support up to a 100 pounds of weight.
5. Z-Athletic Expandable Junior Training Bar – Best Economical Gymnastics Bar
The Z-Athletic Expandable Junior Training Bar and Extension Kit Package is more than just a gymnastics training bar. This is a kit package, which completely removes the need to buy individual items to make the proper training apparatus for your child.
While the price tag might seem a little higher than some of the others on the list, you need to consider the fact that this is a whole package which includes all the things you might end up buying separately through most of the other gymnastics training bars in the market.
The bar is made with a fiberglass material, which is very strong and it is covered in soft wood that gives it a very stable and nonslip surface. The rail can hold a remarkable 1000 pounds, but the bar itself is designed for no more than 130 pounds.
An example for one of the best gymnastics bars designed while keeping young female gymnasts in mind, the Pink Gymnastics Mat Combo is a pretty good entry on this list. That being said, boys can use this as well because it is a very capable gymnastics training kit.
The bar stands at a fantastic 5 feet tall and has a four-foot wide rail. You get a lightweight construction for ease of moving but a very sturdy build that can support up to 100 pounds easily. The smooth rubber coating adds more comfort and a better grip for those training really hard.
7. Pink Adjustable (3′-5′) Horizontal Bar – Best 5 Foot Gymnastics Bar
Another great example of a gymnastics training bar made keeping girls in mind, the Pink Adjustable Horizontal bar is a thing of beauty. It is not just a simple bar like most of the others on the list – it comes with a very good 8 foot long training mat as well.
The bar comes in solid steel with stainless steel hardware so you can rely on this for years to come. A long life construction with rust and corrosion-resistant material means your child's experience of growing up with gymnastics training is going to be a very good one.
Adjust the height based on your child's needs as they grow with a 5 position adjustment option for the height. You can set it from 36 inches to increments of 6 inches up to 60 inches.
8. Z-Athletic Gymnastics Expandable Junior  – Most Versatile Training Bar
If you are looking for an incredibly stable gymnastics training bar for your children that does not need to be bolted down in order to be completely foolproof, this is should be your choice. The bar has a rugged construction, a 52 inch rail which measures 1 ½ in diameter for an excellent grip and a smooth surface to hold that is easy on your kid's hands.
The bar can support up to 130 pounds easily while taking a direct weight of 100 pounds is absolutely no problem for it. You can adjust the height from 36 to 59 inches in reasonable increments and suits gymnasts of levels up to 6 skills.
9. Tumbl Trak Kip Bar – Best Junior Training Gymnastics Bar 
A design which is going to cater exclusively to the needs of the junior gymnasts, the Tumbl Trak Gymnastics Junior Kip bar just had to be on the list of the best junior training gymnastics bars for kids. A superior design capable of providing a very stable surface, its 1 ½ inch solid maple bar is a standout feature.
The cross supports on this are included in order to keep the bar from twisting even a little bit under the highest stress. You can adjust the height between 38 inches to 56 inches which can be very helpful as your child grows up and advances in skill levels.
The bar itself measures 4 feet wide and you can fit a 8 foot long mat for the landing protection and cushioning for your child. The rounded corners on the gymnastics bar add a little extra protection in an already safe training apparatus for your child.
10. Z-Athletic Gymnastics Expandable Kip Bar – Best Expandable Kip Bar
Among heavy-duty gymnastics bars, one of the most favorable qualities, which keeps this in our list of the 10 best junior training gymnastics bars for kids is the fact that it is completely freestanding. You do not need to use any bolts to gold it securely to the floor.
The rail comes in a lightweight fiberglass material that has a 40 mm diameter. The only thing which some people might not like about it is the fact that it is made completely from synthetic material but we believe that it is a very strong quality because of the experience it offers. It still has the characteristic firm and nonslip grip which wooden bars offer.
You can adjust the height of the bar from 36 inches to 59 inches and this can handle the training regimen for gymnasts of levels 1 through 4. With the capability of holding up to 130 pounds of weight, you get a pretty long lasting solution for your child's training needs, which you can also store away easily when it is not in use.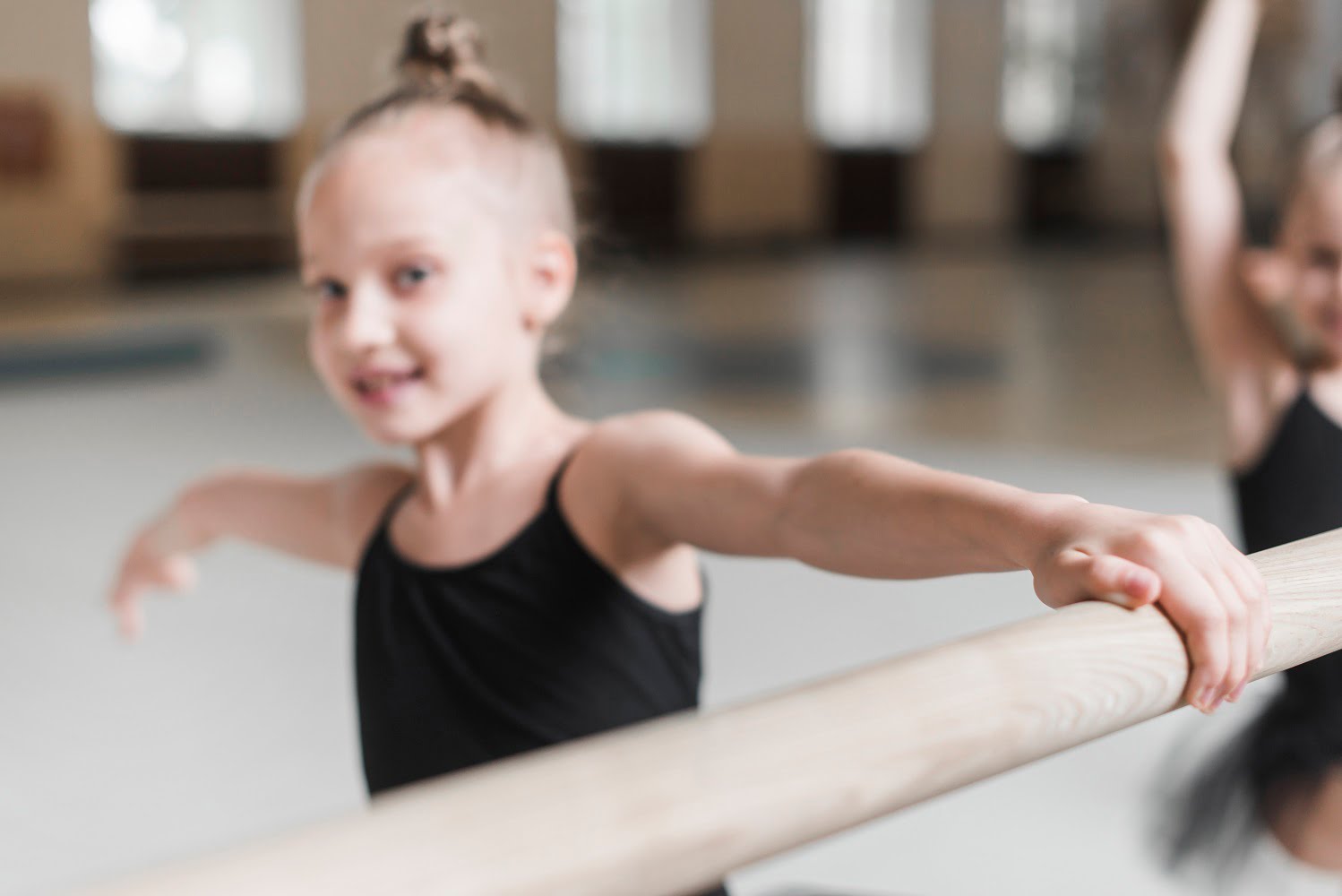 Best Gymnastics Bars for Kids Final Thoughts
As you can see, not all of the gymnastics bars for kids are made the same. This list is narrowed down to the best gymnastics bars you can spend your money on for your children. In order to make choosing the one that works out the best from them all, we have given reviews of the qualities of each of them so that you can make a well-informed buying decision.
Related Articles
10 Best Waist Trainers for Men Right Now | Buyer's Guide
10 Best Junior Training Gymnastics Bars for Kids
4 Best Bowflex TreadClimbers & 3 Best Alternatives