There's nothing like sitting by the fireplace and playing board games with the family on a chilly winter night.
Many years ago, this would mean chopping up wood and lugging them indoors to be burned at the fireplace. Apart from the risk of splinters or, say, setting your house on fire, the charm of traditional fireplaces came at a price. And indeed, there is nothing fun about cleaning out the firebox only to find a trail of soot on the carpet.
Fortunately, an infrared electric fireplace, sometimes simply known as an electric fireplace heater, provides a much more convenient, warm, and safe alternative. And all this without compromising the mesmerizing sight of flickering flames.
In fact, most modern designs now come complete with remote controls and additional features, such as adjustable brightness and heat. That said, brace yourself for next winter by taking your pick from our selection of the best infrared electric fireplaces today.
Best Infrared Fireplace
IMAGE
PRODUCT
DETAILS

Our Top Pick

Our Top Pick

ClassicFlame DFI030ARU

1,000 square feet heating coverage
5,200 BTU heating capacity
Remote-controlled infrared fireplace

VIEW LATEST PRICE →

Life Smart LS-IF1500-DOFP

1,000 square feet zone heating coverage
5,200 BTU heating capacity
Features a cabinet and mantle

VIEW LATEST PRICE →

Turbro Suburbs TS20

CSA-certified
4,777 BTU heat output
Power consumption of 11.67A at 120V

VIEW LATEST PRICE →

Belleze 014-HG-41801-APE+118

Available in five colors
Two-in-one cabinet and fireplace
Open and close shelving feature

VIEW LATEST PRICE →

Classic Flame 23II042FGL

3D infrared electric fireplace
Fireplace insert measuring 23.6" x 8.5" x 20"
Patent-pending 3D flame effect

VIEW LATEST PRICE →

Duraflame DFI-550-22

1,000 sq. ft. zonal supplemental heat coverage
5,200 BTU heater
Patent-pending safer plug

VIEW LATEST PRICE →

Kismile YH-20-1C / 5220

Heat coverage of up to 400 square feet
3D infrared heater
Overheating protection

VIEW LATEST PRICE →

Signature Design By Ashley W100-101

Heating coverage of 400 square feet
7-pre set temperature settings
Fireplace insert

VIEW LATEST PRICE →

Xbeauty Electric Fireplace

Touch screen settings
Front vent system
Available in four sizes

VIEW LATEST PRICE →

Hearthpro 5-Sided Infrared Stove Fireplace Heater

Designed to warm up to 1,000 sq. ft.
Freestanding
Large 14.5" x 23.5" x 28" fireplace

VIEW LATEST PRICE →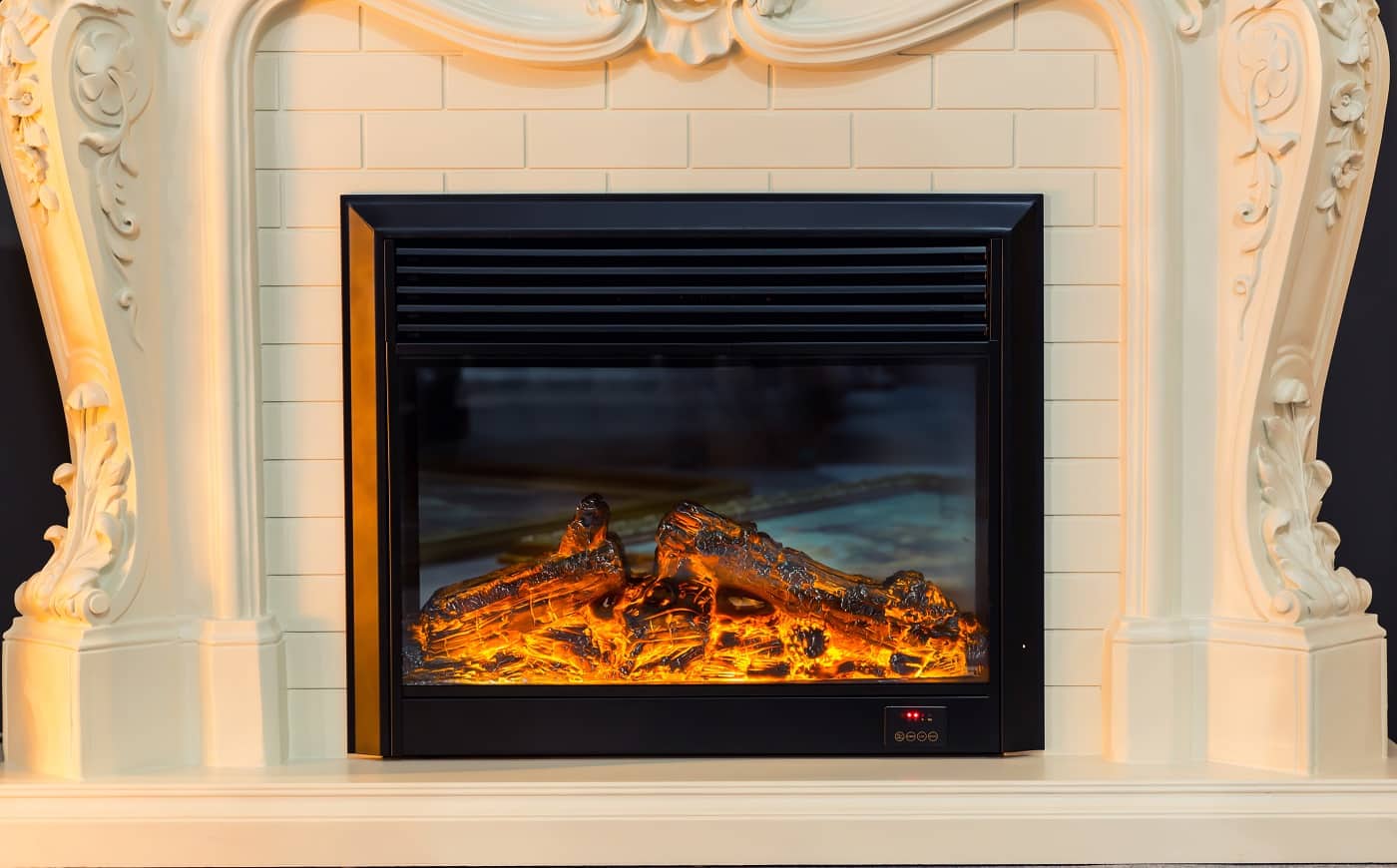 This infrared quartz fireplace is rustic and traditional – but only on the outside. And indeed, the ClassicFlame DFI030ARU dons a charmingly vintage disguise and is a sight straight out of a picture book. However, a quick look into the features is enough to remind you that this is a 21st-century piece.
Sale
Why Did We Like It?
A rugged fire grate, realistic rolling logs, and the pulsating embers of this piece by ClassicFlame can trick anybody into thinking it is the real deal. In fact, the 5,200 BTU heater provides enough warmth that you won't be missing your old fireplace in the first place.
Not to mention how you can conveniently place this compact piece on the existing hearth. And despite its dimensions of 20.51 "x 8.66″ x 12.6", this powerful infrared quartz fireplace stove provides supplemental heat to cover up to 1,000 sq. ft. of your home.
Needless to say, zonal heating prevents heat from drifting into other unoccupied rooms of the house. Combined with adjustable heating, the piece offers buyers the option to turn down the thermostat to save on their electricity bills.
In fact, you may turn off the heating altogether and still take in the cozy ambiance provided by the 3D flame effect all year round.
What Could've Been Better?
Some reviewers have found that the cord sent by the manufacturer is a tad bit short unless there is an outlet within one foot of your fireplace. However, any universal extension cord can quickly solve this problem.
Pros
Rustic design with realistic flame effect

Delivered pre-assembled

Inexpensive

Energy-efficient
Cons
The cord can only reach outlets within one foot
No existing furnace or hearth? No problem. This infrared quartz fireplace from Life Smart utilizes an intelligent design that doesn't require venting. In fact, you can move it anywhere around your house – as long as there is an outlet to plug it in.
Why Did We Like It?
In a few words, the Life Smart LS-IF1500-DOFP is a portable infrared heater device packed into a pretty yet practical design comprising of a Quakertown dark oak cabinet and mantle. And while the visual beauty seamlessly matches most people's home decor, the flame effect technology is inviting and mimics the ambiance of a real fireplace.
However, most reviews were primarily impressed by the fireplace heater's supplemental zone heating and economy setting.
Indeed, you can run this infrared electric fireplace on the economy mode all day at a comfortable heat of about 68 degrees F, and not see your bills skyrocket. Come cold nights, and it takes minutes to turn up the heat to the desired temperature.
What's more, it features everything you could ask from any of the best models on the market. These include wheels that make it easy to move and a remote control that allows you to regulate the adjustable thermostat and brightness settings from across the room.
What Could've Been Better?
Despite its small stature of 28″x 11″x 20″, the Life Smart LS-IF1500-DOFP boasts of incredible heat output. That said, if you are looking for a unit for a large room with high ceilings, this unit will provide moderate warmth and may appear oddly small.
Pros
Anti-tipping safety feature

Wheels for easy movement

Timer settings by the hour

Energy-efficient economy mode
Cons
Available only in a small size
Emulating vintage fireplaces, this metallic electric fireplace heater stands at a convenient height and emanates a feeling of home with its flickering flames. Needless to say, it provides the authentic experience of a furnace with a fraction of the safety and fire hazards.
Sale
Why Did We Like It?
Be it an electric fireplace or a traditional fireplace, getting too close to the flames is a ticket to burnt fingers. The risk increases if you have curious children or pets in the house. Of course, this charming little electric infrared fireplace comes with LED flames that automatically reduce the risk of burns and fires.
However, an electric fireplace heater may also heat up the surface to become blistering hot. That said, the Turbro Suburbs TS20 has been engineered to keep all these problems at bay. Indeed, it has been certified with the CSA and features an automatic shut-down function in case of overheating.
And while you can enjoy the flames without heat, don't do it out of fear that the metallic fireplace box will become iron-hot. In fact, the heating element rests at the bottom, so the unit remains cool to the touch. That said, you can use the flat top as a display shelf for photos or terracotta vases and never have to worry about them melting.
What Could've Been Better?
This infrared fireplace heater does not come pre-assembled. That said, the pre-drilled holes for attaching the legs were a tad bit small for the provided screws. Needless to say, buyers will have to put in some extra work to get the unit standing upright – but the powerful heating may be worth the trouble.
Pros
1,000 square feet heating coverage

Equipped with a temperature-control knob

Overheat auto-off function

6ft. power cord
Cons
The unit legs may be difficult to assemble
Belleze is known for its taste of modern style and innovative designs. It doesn't come as a surprise that the makers of this infrared fireplace heater have been able to craft a TV stand, cabinet, and electric fireplace – all into one.
Why Did We Like It?
The first striking feature of this unique piece is perhaps its barnyard doors. Apart from its classic and charmingly rustic appeal, these doors are functional and open to reveal a stunning infrared fireplace heater. What's more, the unit comes in five clean and modern colors – Ashland Pine, Espresso, Grey Wash, Light Grey, and Sargent Oak.
Not to mention how the realistic vision of wood burning within the cabinet amps up the design factor. Nevertheless, this is one of the most creative electric fireplaces on the market and will surely have your guests talking.
But don't be fooled by its aesthetic charm – indeed, this is a practical piece to have around. Constructed with high-grade manufactured wood, the top shelf can hold up to 80lbs. and also doubles up as a stand for up to 50 inches wide flat-screen TVs. And if that's not enough, the shelves provide plenty of storage and can hold up to 20lbs each.
What Could've Been Better?
All in all, this unit is easy to put together with two sets of hands on board. However, some reviewers have reported a few cases of misaligned cabinet magnets, because of which they could not shut the doors. Buyers may also have to drill holes by themselves while assembling the unit.
Pros
Multi-purpose storage and display unit

Provides supplemental zone heating

Rustic and attractive design

Remote-controlled fireplace settings
Cons
Minor complications during assembly
The Classic Flame series of fireplaces are truly engineered to be one-of-a-kind. In fact, with its patent-pending 3D flame effect technology, safer plug, and safer sensor, this inventive model packs creativity into a small unit. That said, buyers can conveniently transport this portable device from room to room.
Sale
Why Did We Like It?
There is always a risk of drying out with most heating devices – but not with this infrared heater from Classic Flame. Among its endless list of unique features, its infrared heat technology is perhaps the most well-thought-out. That said, apart from preserving natural humidity to keep your family breathing easy and feeling fresh, it effectively reduces static electricity.
Moreover, you can be at peace knowing that the closed design of the fireplace box ensures that the flames inside do not get exposed. Nevertheless, the glass front remains cool to touch. And that's not all; the patent-pending safer plug monitors the temperature and shuts off the system before it overheats.
Coming to the actual fireplace, you may be wondering what makes this patent-pending flame technology so unique? Indeed, at first glance, you only see wood burning like in any other fireplace. However, the makers at Classic Flame add a dash of innovation by allowing buyers to switch between the colors of the flame.
What Could've Been Better?
While this fireplace insert itself is almost without flaw, the addition of the glass door may prove to be a slight inconvenience. Although this problem does not arise when the lights are dimmed, the vision of dancing flames may be blocked by reflections during the day.
Pros
Zone heating

Easy to move around the house

Includes safer plug and sensor for fire prevention

Six different flame settings
Cons
Reflective glass blocks the view of flames
From the makers of the award-winning Duraflame DFI 5010 01 model, this unit is another Duraflame 3D infrared electric fireplace to watch out for. Available in two smooth and elegant colors, the traditional style combined with the glass and metal construction is a vivid vision that is hard to miss.
Why Did We Like It?
Near or far – the zonal heating feature ensures that the room you occupy stays warm without letting the heat escape to other parts of the house. Considering how it has a coverage of 1,000 square feet, you can place the infrared heater in your living room and still stay toasty in an adjoining bedroom or office.
Additionally, the makers at Duraflame recommend turning down the adjustable thermostat by 10 to 15 degrees for eight hours per day to cut down energy consumption even further. Nevertheless, the infrared heat technology puts out enough heat without drying out the air so you can stay comfortable anywhere, all the time.
And on days when it is warm enough outside, feel free to take in the beauty of the rolling logs that imitate natural wood to the T. That said, the glowing flame does not require the heater to be turned on, so you still end up saving on your electricity bills without compromising on the homely ambiance.
What Could've Been Better?
Although most buyers were satisfied with the working and look of the electric heater, there were minor complaints related to heat control. For starters, the remote did not have any temperature control button. Also, the unit features a dial instead of a digital thermostat, which means you have to play around to find a suitable temperature.
Pros
Available in two attractive colors

Sturdy glass and metal construction

The top surface does not heat up

Realistic fireplace
Cons
The temperature dial is unlabeled
Mix things up with this elongated and space-saving design which remains true to the classic vintage style. With the dimensions of 16.3″ L X 12.2″ W X 22.8″ H, this lightweight and portable piece is a fancy addition for a small space.
Sale
Why Did We Like It?
If you have a tiny space or want a lightweight option that you can move from the living room to your bedroom on a whim, then this infrared fireplace might fit the bill. In fact, the heat coverage of 400 square feet is made up for by its portability.
Nevertheless, the open three-sided design does not only serve an aesthetic purpose. That said, the creatively designed piece maximizes all the heating power it is bestowed with. In fact, it allows everyone to enjoy the warmth and visual feast of realistic wood and fire from all angles.
In the spirit of its minimalist and straightforward approach, the multiple heater functions are easy to understand and use, even for the elderly. These include a separate flame dimmer and temperature dial, an on/off switch, and two heating modes.
Combined with the retro style and air outlet placed at the bottom for maximum safety, this heater is a great gift idea for your grandparents.
What Could've Been Better?
Offering an effective yet inexpensive option – this infrared heater could very well be the best electric fireplace on a budget. Perhaps, its attractive price tag came at the cost of doing away with a remote control. That said, its absence may be a deal-breaker to some.
Pros
Attractive and practical retro design

Lightweight and portable

Easy to understand settings

Cost-effective and provides value for money
Whether lighting, rugs, mattresses or any other home décor, Ashley Furniture Industries is always ahead of the game when it comes to style and delivery. Indeed, order from here, and your package will be delivered on time – with all its original beauty intact.
Sale
Why Did We Like It?
With the dimensions of 8.75 x 23.75 x 20.13 inches, this little piece of style and elegance will fit snugly in the entertainment center of your living room. That said, you can attach this fireplace insert into your existing hearth, cabinet, or use it as a TV stand.
For more ideas on how to style this infrared fireplace heater, check out the range of compatible furniture available in the store. Anyhow, the classic black metallic finish and the brick backing bring home the ambiance of any traditional fireplace.
At the same time, starting a fire on this unit is much easier – all you have to do is plug it in and flip the switch to watch the LED embers come to life. What's more, you can switch between brightness levels with the click of the remote control buttons. And the cherry on top? This small but powerful unit can heat up to 1,000 square feet.
What Could've Been Better?
As far as fireplaces go, one of the main things reviewers look for is how much warmth it provides. That said, this electric fireplace works as a supplement to traditional heating systems but cannot be depended on for all heating needs when temperatures dip below 40 degrees F.
Pros
Attractive and realistic design

Compatible with a wide range of furniture

Multiple brightness settings

Easy to assemble
Cons
Does not provide adequate heating in low temperatures
Modern, sleek, and slim – these are the first words that come to mind when you come across this semi-wall mounted electric stove with a 3D flame. Nevertheless, the LED lights emanating from the faux wood form a perfect illusion despite having lesser room to work with.
Why Did We Like It?
No more striking off a beautiful fireplace insert from the list because it doesn't fit into your space – the Xbeauty electric fireplace stove now comes in four different sizes. Ranging from 28″ to 37," and available in differing ratios, you are bound to find one which is a perfect fit.
Not only does it have to fit your desired measurements, but the fireplace itself offers a great deal when it comes to style and practicality. In fact, the designers at Xbeauty came up with this model after fine-tuning older styles of fireplace inserts that were bulky and featured unrealistic faux fires.
The better and newer re-designed version combines a darker backing with subdued flame animations that closely mimic traditional fireplaces. Furthermore, you can choose between nine color combinations and accelerate or decelerate the flame speed to amp up the style factor.
What Could've Been Better?
As advertised by the manufacturer, this unit has a coverage of 400 sq. ft. and is not really a complete heating system. That said, it may not keep your space warm during frigid climates. Additionally, since it is a semi-wall mounted electric fireplace, it cannot be transported around like most other fireplace boxes.
Pros
Multiple flame colors

Customizable flame speed

Sleek and modern design

Attractive packaging
Cons
Designed only for supplementing heat
Black, bronze, cream, or red – this infrared quartz fireplace stove from Hearthpro is an excellent unit to place at the heart of your home. Without a doubt, the theme of your living space will match at least one from its range of classic and attractive colors.
Sale
Why Did We Like It?
Right off the bat, it's clear that the beautiful and elegant design is this infrared fireplace's selling point. Take a look at the reviews, and you will find numerous satisfied buyers who are in awe of the sloped corners, glass planes, delicate carvings, spiral handles, and so on.
In fact, the makers at Hearthpro undoubtedly paid extra attention to the design – adding a unique five-window arrangement that facilitates a 180-degree view of the flame. Not to mention how this fireplace stove with 3D flames tricks the eyes and will really have you believe it is made of real fire and wood.
However, the only wood that went into this unit is in the construction of the cabinet. And indeed, the blend of high-quality wooden, metallic, and glass parts lends this piece durability in addition to style. So, don't be afraid to carry it outdoors on a cool autumn night.
What Could've Been Better?
As much as this piece serves as a beautiful decorative piece, it possibly came at the cost of heating capabilities. That said, it may not be able to keep you warm through harsh winters by itself – be sure to supplement it with a cozy blanket or a central heating system.
Pros
Elegant design

Sturdy and well-made

The five-window design facilitates 180-degree view

Realistic logs and fire
To end this list, we go back to the classics – after all, you cannot go wrong with this style. Available in a slender 16″ and a wider 23″ model, this two-door cabinet-style infrared electric fireplace stove serves all your basic fireplace needs and perhaps more.
Why Did We Like It?
It doesn't come as a surprise that this freestanding unit stands independently – indeed, it serves as a good heater and also as a charming piece of furniture all by itself. That said, the heater is equipped with glasses on three sides, which reveal the tantalizing dancing flames in all their glory.
Anyhow, you don't need to open up the cabinet as the heat is blown out through the air outlet under the heater. Provided you keep your expectations within the 400 sq. ft. coverage limitation, as mentioned by the manufacturer, it will meet your warming needs.
And like any other freestanding heater, this piece has an obvious advantage over wall-mounted electric heaters due to its portability. Not to mention how its compact size and light weight make it easy for any adult to carry the piece from room to room.
What Could've Been Better?
It's not often that a small electric infrared heater with a solid design provides adequate heat. And while this unit from Antarctica Star had buyers excited, they soon realized that it did not come with a remote.
Pros
Compact and lightweight

Portable, freestanding infrared heater

Provides adequate heating

Well-thought-out design
Infrared Fireplace Buyers' Guide
If this list is anything to go by, it is clear that infrared fireplace heaters are so much more than just a piece of furniture to center your seating arrangement around. In fact, the best infrared fireplace is a blend of practicality and style. That said, here are a few pointers that will help narrow down your search for the best on the market today:
1. Heating Capacity
More often than not, electric fireplaces serve as supplementary heating devices for your central heating system. However, this subdued amount of heat may be adequate to keep you toasty through the days leading up to frigid winters.
Also, don't look over the fact that some electric heaters provide better coverage than others. While those units with a heating coverage of around 400 sq. ft. may work well in a small space or home, other units boast of being capable of heating up to 1000 sq. ft.
That said, consider how heaters with lesser heating capacity may have to be lugged around from room to room to keep you warm.
2. Safety Features
Although the instances of house fires and finger burns from electrical heaters are less when compared to traditional fireplaces, they are still not entirely risk-free. The looming threats of short circuits and overheating still plague this industry.
Fortunately, many manufacturers have begun adding features, such as safer plugs and safer sensors that automatically shut down the device to prevent overheating. Moreover, it is best to opt for an infrared fireplace with a heat output at the bottom so that the unit remains cool to touch.
3. Style And Design
Rustic and charming or sleek and modern – the choice is yours to make. And when it comes to electrical heaters, it is not only a stylish wooden cabinet or brick backing that makes up its aesthetic appeal.
Indeed, the color of the flames, the likeness of the wooden logs to real firewood, crackling noises – all of these add up to provide an authentic experience. On the other hand, some buyers may prefer additional customization functions, such as multi-color flames and flame speed.
Some models of infrared electric fireplaces are also equipped to produce the flame effect without giving off any heat. Apart from providing a cozy and romantic ambiance all year long, this particular setting is excellent for reducing your electricity bill.
4. Settings Control
After a look at reviews across the board, it is clear that the appeal of turning the heat or flames up from the comforts of a lounge chair should not be underestimated. That said, it is probably a good idea to opt for an electric heater that comes complete with remote controls.
Additionally, features such as a digital thermostat, temperature control buttons, and multiple heat settings go a long way.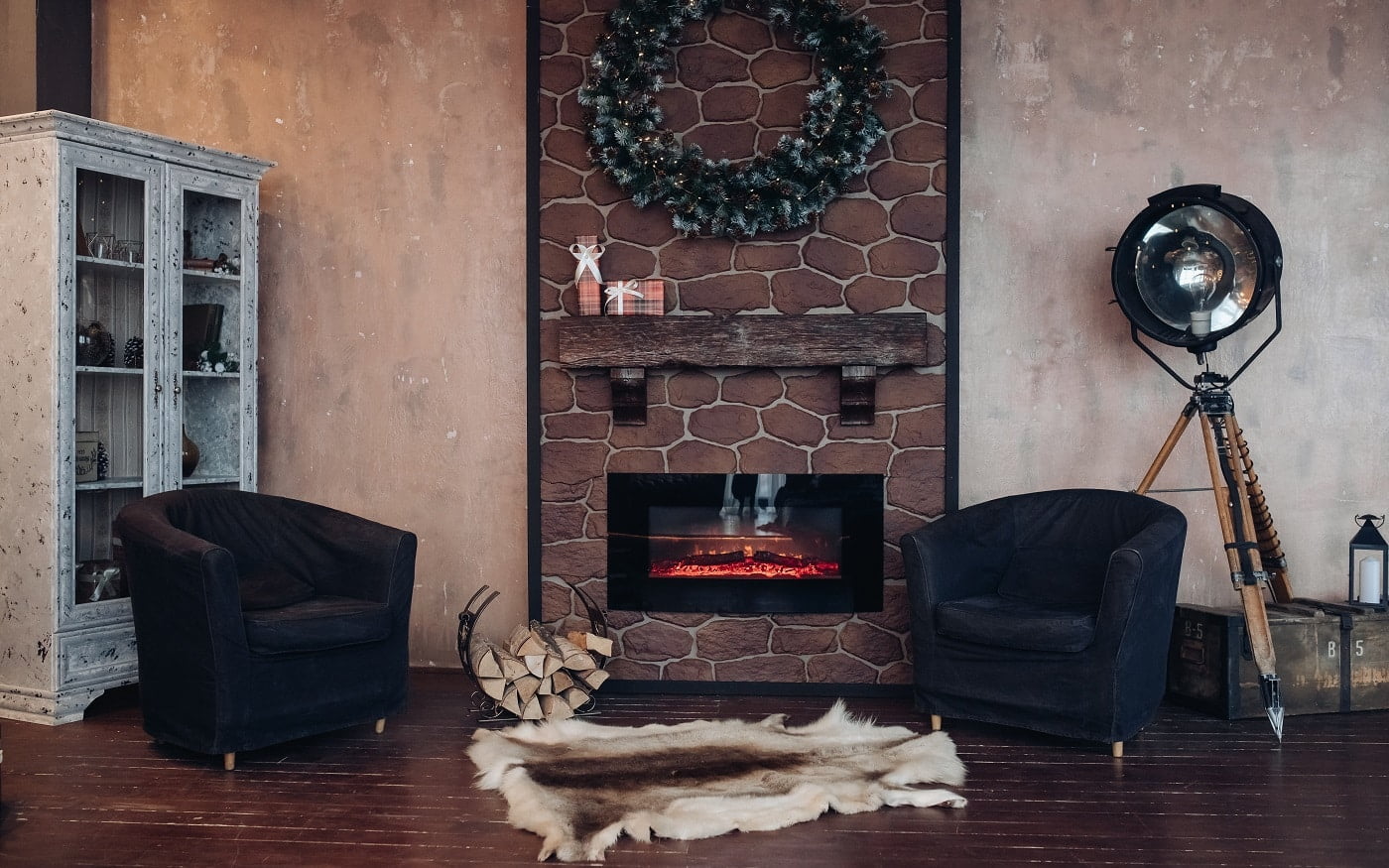 Verdict
Many people attach sentimental value to fireplaces. Perhaps sellers have begun to recognize the central role it plays not just in our living rooms but also in our lives.
So, it doesn't come as a surprise that the market is teeming with various designs, and manufacturers are continuously pumping out increasingly innovative creations. While some may be superior in design value, others focus on more practical aspects, such as safety, heating capacity, and convenient controls.
Today's top pick – the ClassicFlame DFI030ARU model, combines all of these practical aspects and wraps it in a rustic design capable of evoking nostalgia in any onlooker. But if you prefer a more modern take, the Life Smart LS-IF1500-DOFP model provides most of the same features in a freestanding design.
Nevertheless, take your pick from our selection, and let the flame light up the room. With or without the heat – that's up to you.
Related Articles
11 Best Firewood Rack to Consider 
To Mount or Not to Mount a TV Over The Fireplace – Pros & Cons
6 Best Wood Stove Fans  Buyer's Guide
9 Best Pull-Down TV Mounts to Use 
13 Best Copper Fire Pit to Enjoy This Fall
10 Best Rolling TV Stands to Roll | Buyer's Guide and Reviews
13 Best Fireplace Tool Set Reviews
9 Best Indoor Natural Gas Space Heaters
9 Best Indoor Natural Gas Space Heaters