Mowing and maintaining is a tough job if you have a garden with corners and hurdles. But it can be handled easily with the right mower.
Every garden or lawn is unique in its way, and they all come with a different set of requirements. If you can find the perfect mower, the work becomes a lot easier. We know the search can be tough and so we decided to come up with a list of the best products that are available today.
After thorough research, we noted down the different kinds of lawn mowers and their functionalities. There are critical differences between most of the models, and you will get a varied range to choose from.
What's more, all of them are budget-friendly options and would not make a hole in your pocket. Read on to solve all your lawn maintenance problems in a jiffy.
 Best Inexpensive Lawn Mower For Small Yards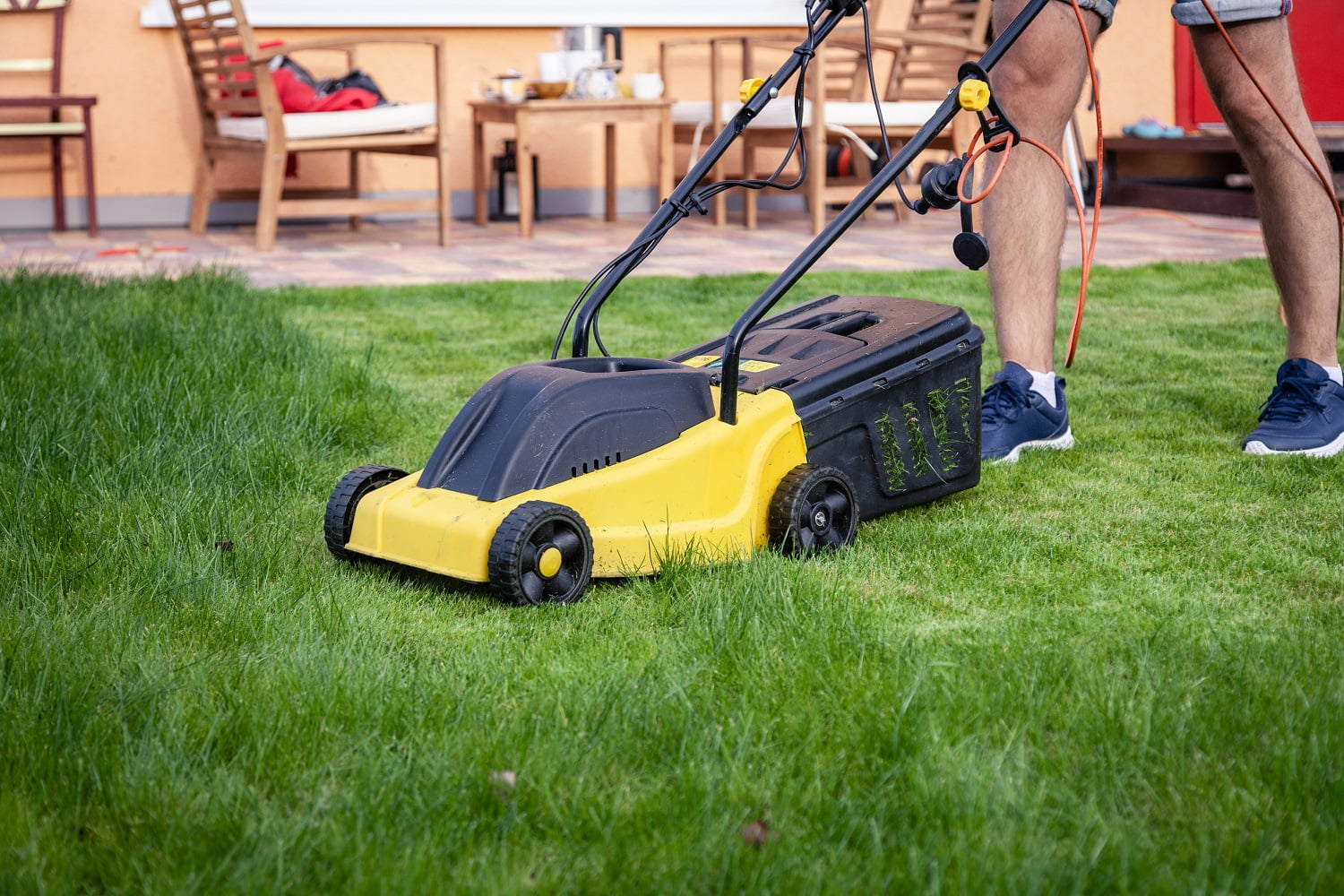 With a hectic schedule and constant work pressure, if you feel you aren't able to find time to keep your garden growing and healthy, this product will help you out. Worx brings a pre-programmed, fully robotic mower to the table, which will do everything while you can sit and chill. 
Why Did We Like It?
The best part about this device is that it is entirely automatic, and it can navigate obstacles, move, and turn about to miss as little grass as possible. Our kids love watching this machine at work. It can be used as a tool that you fire up and forget about when using. 
Adding to this, it has rain sensors that get activated as soon as it senses a drop of water. The device is programmed to run back to the charging base anytime it starts raining. Also, if it is low on charge, it will head back to the base by itself. 
This is the best device we have seen. The product even comes with a sturdy and stable design, which allows it to climb shallow slopes with ease and an anti-theft alarm. We could not have asked for a better device to meet all our needs.
What Could Have Been Better?
This is truly an exceptional product with all kinds of possible features ingrained in it. We have nothing to complain about with the productivity and the efficient functionality that is offered. We would just suggest keeping it charged when not in use to prevent deep discharge of the battery. 

Pros
Rain sensors

Anti-theft alarm

Pre-programmed automatic machine
Imagine if mowing the garden was as simple as taking a walk in your backyard as the sun sets for that day. With the American Lawn Mower 1204-14, the feeling is similar. Specially made to clear off cool-season turfgrass, this product is so light and easy to use that an older woman can easily take the mower out on a walk.
Why Did We Like It?
With smooth-spinning blades and easy-roll wheels, the mower is swift and does not need to be pushed hard while using. You can take it on a walk and get your garden cleaned up with ease.
Also, the machine is quiet, and we could use it even when the kids were sleeping after school. Loud devices are a hindrance not only for your family members but also for your next-door neighbors. This did not cause any problems for us and we enjoyed using it.
Additionally, the device comes with a 14-inch cutting width and three cutting height adjustments from 0.5″ to 1.75″. This means it can be used for cutting low grown grass, which is soft and easy to pull out of the ground.
Lastly, we were thrilled that the device is not expensive. It performs all the essential functions without burning a hole in your pocket. What more could we ask for!
What Could Have Been Better?
The device is suitable to cut thin and fine grass, but it will not work with dense, thicker and tougher grass and reeds. So know your requirements before purchasing the mower. If your garden does not have thicker grass, you can choose this device without a second thought.
Pros
Lightweight and extremely quiet

4-blade system and smooth spinning blades

Durable

Ideal for cool-season turfgrass
Cons
Not for thicker, more robust grass
If the garden is overgrown with all kinds of grass, and you need a robust machine to clean it up, the Sun Joe MJ401E Mow Joe will work efficiently. We had a backyard full of reed and tall hard grass after the rainy season, and a simple mower was not doing the job; that's when we decided to shift to this powerful machine.
No products found.
Why Did We Like It?
Being an ETL-approved corded mower, it meets North American safety standards and is a great choice to go with when it comes to difficult mowing. It is not at all complicated to use and assures high quality. We were surprised that the machine, while being lightweight and compact, can be used to clip all types of grass.
Adding to the features, if your lawn is sized 1/4th of an acre or smaller, this machine should suit you well. This is because the length of the cord is 100 ft, and it is appropriately sized for this kind of a lawn.
Moreover, the machine comes with all-terrain wheels, which make it easy to maneuver and take around places. It can easily be pulled up on rocky surfaces as well as the plain ground.
Lastly, the product comes with a 10.6-gallon hard-top rear bag, which is big enough to store grass until the end of the mowing session. You will not have to empty it time and again while mowing.
What Could Have Been Better?
The product has some great features and comes with handles for ease of pulling it around. The only issue we had with it was that the cutting width was too narrow. This increases the amount of time you would take to mow, but if you like to do your work at your own pace, this should not be a problem.
Pros
Compact and lightweight

Comes with all-terrain wheels

100 ft long cord

10.6-gallon hard top bag for collection
If you are concerned about not interfering with the growth of new grass while also being able to leave grass clippings in some places to supply nutrients, go for this. The Greenworks 25052 – 2-in-1 lawn mower can be used for both mulching and rear bagging grass.
Why Did We Like It?
We were very impressed with the two in one function. There were areas in the backyard where we wanted to leave grass clippings as nutrients for the soil. Here, we had shifted to the mulching mode and removed the rear bag.
Whereas in our front yard, we wanted to clear off the grass to allow new ones to grow, and thus the rear bagging feature came into use. The rear bag of this product is big enough to store all the grass. It can hold all clippings till you complete mowing if you have a small to medium-sized place.
Contrary to the earlier device, this one has a full cutting path, making it easy for us to clip grass quickly. This will save you a lot of time and effort and is a great benefit for all the homeowners-turned-mowers.
It also comes with four height options for the grass, ranging from 1.125″ to 2.25″, which helped us mow the different regions of grassy surfaces.
What Could Have Been Better?
This is a mechanical mower and is not supported by a power cord. Thus, it is not as powerful and would not work well with sturdy and thick grass. But no power cord ensures you can take it around quickly, and it does not make a sound. Note down your needs before going ahead and buying one.
Pros
2-in-1 mulching and rear bagging mode

Wide cutting width

Four types of height adjustments
Cons
Not suitable for tough, thick grass
If you are looking for a lawn mower that will cut off hard grass while being cordless and easily carryable over a large surface, we have the perfect product. The Greenworks 16-Inch 40V Cordless Lawn Mower is what you would want for convenience and efficient capability. 
Sale
Why Did We Like It?
Powered by a G-MAX 40V 2Ah Li-Ion Battery, which can give you up to 60 minutes of uninterrupted run time, this device is like a minibeast. No cords are pulling it back while you can take it around easily. 
The mower additionally comes with a full cutting width of 16 inches, thus making cleaning off grass quick and convenient. We finished cleaning the whole backyard in half an hour without any issues.
The machine also comes with five levels of cutting height, which makes it easier to operate. You can change the height by merely pulling on a lever. 
Lastly, the device comes with SMART CUT technology, which makes sure that the grass has been cut neatly and in equal lengths. This will work on turfgrass as well as thick and wet grass. We have a very neat, well-kept garden thanks to this device. 
What Could Have Been Better?
The machine works well and has not caused any issues for us. It is just a little bulky and heavy, but the handles make it easy to pull around. Younger members of the family will not have any difficulty pulling this device around, but older members may. 
Pros
SMART CUT Technology provides clean cuts

Wide cutting width for quicker sessions

Five-position height adjustments
If your lawn is pretty big and you are looking at a lawn mower that will function for more than 60 minutes, we have found the product for you. The WORX WG779 40V Lawn Mower is a golden choice to make with two batteries powering it simultaneously, providing it with extended runtime. 
Sale
Why Did We Like It?
This device comes with a Twin Power Share module that utilizes two 20V 4.0Ah batteries. This is what makes it possible to have a longer run time. We liked this feature as it makes the process of cutting more relaxed and more convenient. 
It also comes with two in one feature, including mulching and bagging. You can leave the clippings out there or clean the surface thoroughly. This, like the previous devices, makes it easier for us to clean our yard, keeping in mind the varied requirements. 
To add on, the Intellicut technology proved to be very beneficial for us as this increased the torque power when demanded. This made it easier to mow lawns, especially difficult areas with dense growth.
Long hours of lawn work does not seem scary anymore with this machine in our house. Adding to the features, a 14-inch cutting width made the process very easy. 
What Could Have Been Better?
This is an exceptional product to have in your house. It is near about perfect except for a slight glitch. It does not rate high on height adjustment features, and that can be of a hindrance if you have grass of varying lengths in your lawn. If it is not a requirement, then the device is a great choice to make.
Pros
Intellicut technology

Twin power share with two batteries

2-in-1 mowing ability
If you require a big discharge bag, the Sun Joe iON16LM 40-Volt 16-Inch Brushless Cordless Lawn Mower will fit your choice. In addition to a brushless machine, it comes with a huge 9.25-gallon discharge bag making it one of the most efficient devices to use. 
Sale
Why Did We Like It?
The best part about this device is that it comes with a grass level indicator window. This ensures that we understand the level of grass collected and when the bag needs to be emptied. A 9.25-gallon tank provides a lot of storage, and you would be able to go for more than an hour without having to clear the bag. 
Additionally, the brushless motor which comes with this model is better than conventional motors. The motor is smooth and energy saving. It meets ETL certification as well as Energy Star Certification, which are given for high energy efficiency. 
Also, this device comes with six levels of cutting height. This is very beneficial for people who have different grassy terrains in their lawn. 
Lastly, the device has a high cutting width quickening our pace. It does not make any noise while it cuts away the grass seamlessly. You cannot help falling in love with this product. 
What Could Have Been Better?
Since this device comes packed with so many qualities, it is a heavy machine and bulky. The bag has to be large to be able to hold so much of the grass. This is not really a disadvantage considering the size is synonymous with the ample amount of functions it performs. 
Pros
Six levels of cutting height

Brushless motor saving energy

9.25-gallon tank
Are you looking for an efficient gas lawn mower that is easy to use and will be sufficient for your home needs? The Husqvarna Push Lawn Mower will meet your demands as it did for us. With a long life span and high quality, this device is a beast which functions splendidly. 
Why Did We Like It?
The product produces 160cc of consistent power, which is good enough for a medium-sized lawn. It can cut soft and medium-thick grass and will work very well with turfgrass. 
It also comes with a padded handle and height adjustment features. This made it very easy for us to get a comfortable grip. The handles can also be folded, and this is extremely important if you are thinking of storing the device. With folded handles, the device becomes comparatively smaller and compact.
The company has taken care of intricate details as they have made the rear wheels bigger than front wheels. This made it very easy for us to maneuver the machine and pull it up and down the lawn.
Lastly, the 3-in-one cutting system was another feature we loved because it made it easy for us to choose how to discharge the grass. Every lawn has different requirements, and it is easier to work on them with this feature.
What Could Have Been Better?
The only problem that we faced with this device is that the wheel height had to be adjusted separately and not at once. This made it time-consuming for us if we had to adjust. Other than this, you will face no other problems. We were relatively satisfied with the product on the whole.
Pros
3-in-1 cutting style

Adjustable handle with height adjusting features

Foldable handle for better storage
Cons
Difficult height adjustment
What if you could mow your lawn without getting tired? The Troy-Bilt TB220 Lawn Mower will help you out with just that. With its self propelling qualities, it can be moved easily without you having to push too hard. This product will ensure that the task becomes very convenient for you.
Why Did We Like It?
The machine comes with a dual lever, which makes height adjustment very easy. You can fix the height according to the grass length and then let it work on its own. 
Additionally, the cutting width is 21 inches, which is pretty good and worked fine for us. Unlike most of the previous devices, this has a large width making the product almost 2x faster than the rest. 
The machine is easy to handle, too, with foldable handles provided. You would not need it much as the product walks on its own. Foldable handles make it easier for us to store the device. 
Lastly, the product is pretty lightweight and comes at an affordable price. Considering the benefits associated with this device, we were surprised to see the price. If you do not want to stress yourself, buy this product without a second thought.
What Could Have Been Better?
We were happy with everything except the built of the machine. Many of the parts are made with plastic, and plastic gets corroded and damaged easily. This makes the device prone to damage. So if you are going for the product, make sure you keep it safe. 
Pros
Wide cutting width

Presence of mulch, rear bag, and side discharge options

3-in-1 cutting techniques

Lightweight

Not expensive
Cons
Body made mainly of plastic
Are you concerned about those small patches of grass which most mowers will miss and skim right over? The Greenworks Electric Corded Lawn Mower will do the job for you very easily. If you have a small yard, this product will take care of the mowing job without any issues. 
Sale
Why Did We Like It?
Being small and compact, this lawn mower was our choice to be used in tight spaces. Also, equipped with a strong electric motor, it can cut through grass easily, be it of any length. With seven built-in levels of height adjustment, the mower can easily tackle tall as well as tiny grass.  
We could easily trim the grass to the desired length wherein it looked neat, yet there was enough grass for it to grow back quickly. 
The other thing that fascinated us was the ease of storage. The device came with foldable handles and a removable rear bag. We have a smaller house, and storage is a big issue for us. So this feature was an excellent benefit for every time we wanted to store it away.
The rear bag could also be removed if you're going to shift to mulching mode. Not only that, but you could also use the side discharging mode to dispose of the grass. We needed different settings to work in the garden, and this product gave us all of them. 
What Could Have Been Better?
The mower worked wonderfully for us, and we did not face any significant hindrance. The only thing which could have been better was that thick wide blade grass could only be properly cleaned when the rear bag mode is on. It is difficult to trim thick moist grass in any other way, and this could be a slight issue for some. 
Pros
Small and compact

Foldable handles

Removable rear bag

3-in-one function
Cons
Difficulty in removing thick grass if not on rear bag mode
We wanted a device that could be pushed around as we take our afternoon stroll in the garden. The Great States Push Reel Lawn Mower helped us in being active when we were too lazy to take a walk otherwise. The T-shaped handle makes it very easy to guide across gardens and push around.
Sale
Why Did We Like It?
We loved the simplicity of this device. It did not need fuel or electricity to function and was a simple manual mower that could be taken around the lawn easily. It is equipped with five strong blades in the bottom, which efficiently trims grass as fast you can push it. 
The blades can further be adjusted to separate heights according to your needs. We all want our gardens to look a certain way, and with different seasons the needs change too. With this mower, you can rest assured that the grass can be trimmed to any length you desire. 
Also, because there is no engine, the machine is super quiet and will not disturb house members as well as the neighbors. You could rise to be the best neighbors to have with a silent mower operating on your lawn early in the morning. 
What Could Have Been Better?
This lawn mower meets our expectations in the most straightforward way possible. The only issue we had with this device is that it does not come with a rear bag, and thus you cannot store the grass to throw away later. This could make the process of clearing away the grass more time consuming as you will need to use a separate product to do that.
Pros
Adjustable cutting height

Silent 5 strong blades

Cuts as fast as you make it walk
If you have a small garden with plenty of grass, the Greenworks 14-Inch 40V Cordless Model may just be what you are looking for. With a large rear bag, the product is made to gather up as much grass as it can. It leaves behind a neat well-trimmed lawn for your guests to praise.
Sale
Why Did We Like It?
Along with a substantial rear bag, a 14-inch deck makes sure that you can cut grass of any height. There is a lever based height adjustment system which helps in adjusting the device to the desired height whenever you want to. The process is simple, and you would not need to put in the extra effort. 
To add to the features, this machine comes with 4.0 AH batteries, which will keep the device working efficiently for a long time. You can use it to clear grass of small yards multiple times in one charge.
Also, it is made to be very lightweight and compact, so one can easily carry it around when necessary quite effortlessly. We did not break a sweat while doing this at all. 
Lastly, because the device does not have a cord attached, you do not need to worry about the distance it can cover. Till the rear bag isn't full, you can easily keep working with it. 
What Could Have Been Better?
The mower handles its responsibilities well, but there is a slight glitch in the design. The product comes with rubberized plastic back wheels which are not suited for tough movements. The plastic made it a little difficult to push over sloping surfaces. We suggest you make a product choice based on what you need.
Pros
Huge rear bag

Efficient 4.0AH batteries

Lightweight and compact

Height adjustment lever

14-inch deck for wider cutting rows
Cons
Inefficient rubberized plastic back wheels
This is one of the easiest to move devices in case of many obstacles in your path. If your garden has side paths or paved road in the middle, this product is one of the most important choices because you can start and stop it with just a press of a button. 
Why Did We Like It?
With three features including, bagging, side discharge, and mulching, if you have a garden like ours with multiple needs, the product will be a boon. We like to keep changing the look and the aesthetics of our yard, and with this machine, we were able to do so easily. 
Also, the compact design and foldable handles made it very easy to store the machine. Most of us face challenges while storing something as space is somehow always low. This device will not give you such a headache. 
The button start option is another feature we were impressed with. With most machines, you need to handle a lever or a pulling mechanism that may be tricky or awkward. But here, we pressed a button to start and pause whenever we are shifting terrains. 
Lastly, it will give you ample productivity up to 55 minutes in one charge cycle. That was enough for us as we have a slightly smaller garden, and we could easily wrap up within the period without having to charge the device again. 
What Could Have Been Better?
The only improvement we would want with this device is shortening of the handles. The handles are long, and we faced some problems while turning the machine in tight spots. We would also recommend you to choose the device according to the kind of space you have in your lawn.
Pros
One press button start

Three disposal methods

Compact

Ample battery capacity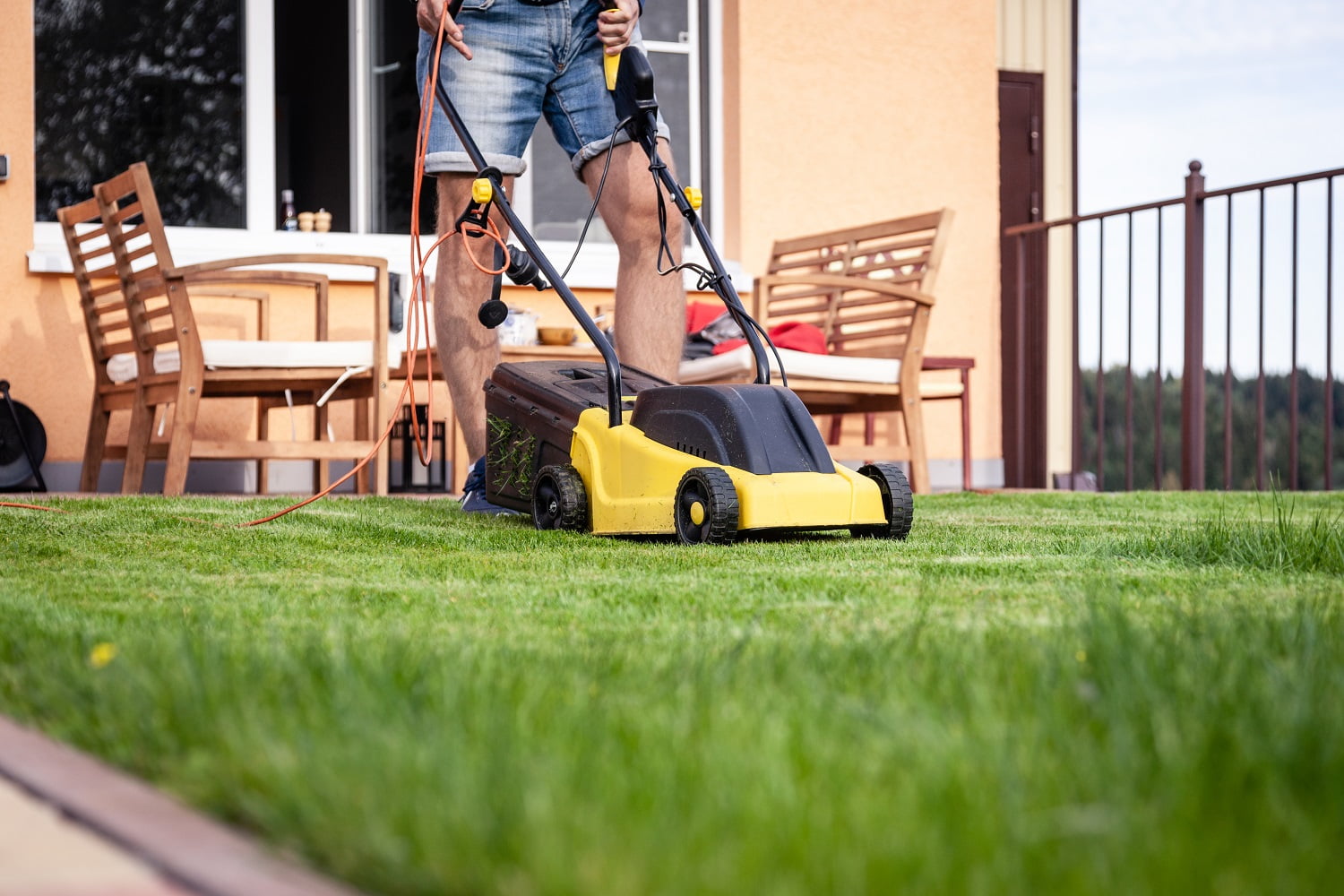 Inexpensive Lawn Mower Buyer's Guide
Now that you have a fair idea about the types of lawn mowers and its crucial features, half your job is already done. But when buying a mower, you do need to keep in mind certain requirements and note down your preferences.
 It may seem simple, but if you buy a product based on its amazing features and then end up not needing most of them, it would be a waste of money. To avoid such nuances, we have compiled a list of requirements to keep in mind.
How it is powered
Different mowers work differently because of the variation in power, be it gas, fuel, or electricity. Choose according to your needs, and if you have a simple small lawn with not many obstacles, a manual mower may just do the trick. 
A big garden with a lot of obstacles will need a cordless model. Also, if you are busy and do not have time for gardening, go for a robotic electric mower, which will do everything on its own after it is set up.
Cutting width
This may seem like a small feature, but it is the most important when it comes to trimming. Wider cutting width will ensure that the grass is cut off quickly and efficiently. For smaller gardens with turfgrass, shorter width is enough, while for thicker or denser patches, wider cutting width is vital. 
Rear bag capacity
Do you have massive amounts of grass to be trimmed, or do you have tight spaces with less grassy areas? If your answer is the former option, a big rear bag is a must. Otherwise, you will have to continually clean the bag while trimming, making the very process time-consuming. 
If your answer is the latter, you may go with a smaller, more compact device with a small rear bag. This will save you space while storing as well as be sufficient for your garden. 
Noise level
It is best to go for a device that will make extremely little to no sound. Regardless of the situation, if the motor makes too loud a noise, not only will your house members be disturbed, but also your next-door neighbors can complain. 
If you plan to use the device during common working hours, you could still choose a device that makes some amount of sound. But if you are a person who prefers uncommon hours to do the trimming, the device must be noiseless.
Verdict
A lawn mower may not be spoken about too much, but it is the need of every family. If you own a house with a backyard or a front porch, you are bound to need a mower sooner than later.
We know the importance of being able to have the best in our gardens to leave a lasting impression on any guest who visits us.
Though we have listed down our 13 favorites, if we have to pick the best in terms of functionality, the WORX WG794 Landroid Pre-Programmed Robotic Lawn Mower is our choice. This product is stacked with efficient features and makes mowing feel like a breeze.
If you are looking for a simple machine that will meet your needs, the American Lawn Mower 1204-14 is our choice. Young or old, this lightweight and compact device can be manually controlled and pulled around by anybody.
It is time to hit the online stores and buy a mower that will change the look of your garden altogether. Happy shopping!
Related Articles
5 Best Self-propelled Lawn Mowers Right Now
The 5 Best Lawn Mowers for St Augustine Grass Right Now
Best Lawn Edging for a Legendary Garden 
5 Best Gas Hedge Trimmers Reviewed
4 Best Walk Behind Brush Cutter | Buyer's Guide
3 Best Yard Hydrant  | Buyer's Guide and Reviews
5 Best Stick Edger | Buyer's Guide
13 Best Trimmer Lines | Multi-Sided, Round, Square, Twisted & Serrated
13 Best Inexpensive Lawn Mowers For Small Yards
6 Best Electric Start Self Propelled Lawn Mowers 
11 Best Battery Powered Lawn Mowers 
How to Clean the Lawn Mower Carburetor Without Removing It?
13 Best Brushless Cordless Lawn Mower
13 Best Potting Mix For Orchids