Due to increased micropollutants in the air, asthma cases have gone up worldwide in recent years.
Asthma is a chronic condition, and even those who have beaten it may relapse if exposed to unsuitable conditions. If you are highly susceptible to the microbes in the air and experience congestion easily, you need a permanent solution for that.
Investing in vaporizers and air purifiers is a smart decision to make your living environment breathable. Humidifiers release warm mist in the air and increase the humidity level. That, in turn, makes it easier for people with breathing difficulties.
If you are confused because of the innumerable options on the market, we understand your dilemma. That's why we have put together this review-based guide along with a comprehensive buyer's manual. 
Read on, and you'll find solutions to all your air-humidifier related queries. 
Best Humidifiers For Asthma 
IMAGE
PRODUCT
DETAILS

Our Top Pick

Our Top Pick

Pure Enrichment PEHUMIDIF

Battery life of twenty-five hours
Certified by ETL
Three-sixty degree mist nozzle

VIEW LATEST PRICE →

GENIANI Huron

Can be used as a diffuser
Smart mode 
Top-fill humidifier 

VIEW LATEST PRICE →

Everlasting

High mist output
Essential oil tray
Large water tank 

VIEW LATEST PRICE →

LEVOIT Humidifier LV600HH

Dual mist feature with hybrid technology
Remote sensing
Ultra-quiet functioning

VIEW LATEST PRICE →

AquaOasis™ AO-101

Three-sixty degree rotatable nozzle
Lifetime replacement warranty
Multiple mist settings adjustable by a knob dial

VIEW LATEST PRICE →

Vicks Warm

Medicine vessel for using inhalants
Produces 95% microorganisms free mist
Can be modified using accessories

VIEW LATEST PRICE →

LEVOIT Classic 200

Leakage proof tank with a lock 
Has patented DC hydraulic and silencer fan
The display can be turned off

VIEW LATEST PRICE →

Crane Drop Ultrasonic

Iconic drop-shaped body
Detachable mist lid with an easy-grip handle 
Demineralization filter for purifying hard water 

VIEW LATEST PRICE →

Pohl + Schmitt HU 11

Has a low water level indicator
Cozy blue night light
Adjustable mist direction

VIEW LATEST PRICE →

HuPro Premium Ultrasonic Humidifier

Has a detachable water container
Smart moisturization at five different speed levels
Hundred percent leak-proof construction

VIEW LATEST PRICE →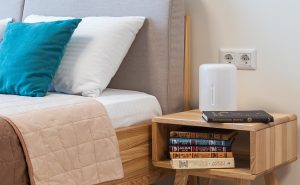 Sale
Let's start our list strong with this cool mist ultrasonic humidifier from Pure Enrichment. The company is committed to delivering intelligently designed and rigorously tested products for your homes since 2010. Naturally, the PEHUMIDIF model lives up to the brand's mission statement and provides the best breathing experience for asthmatic patients.
Why Did We Like It?
This humidifier is loaded with a lot of impressive features, and we'll begin by discussing its long operation time. The device can humidify the air with its cool mist technology for up to 25 hours at a stretch, thereby making the room comfortable. 
Now, thanks to its one and a half littered easy-fill water tank, it can humidify mid-sized rooms without any hassle. Moreover, the complete round angle nozzle allows all-around flow and circulation of humid air, directing it to all areas and preventing contact with electronic items. 
When you buy this device, you also get a complete kit of all the essentials required for smooth operation. The package includes a cleaning brush, an AC power adapter, a user manual, and a warranty of five years. 
Additionally, it comes with an auto shut down technology and an optional night light for convenient overnight use. So, the device is suitable for treating sinus problems and is ideal for use throughout the year.  
What Could've Been Better?
Honestly, it'll be a little greedy to ask for more at this affordable price. It's a well-rounded package equipped with all the essential features you'll want in a humidifier. But some users have claimed that they would've liked it even better if the tank could hold more water. 
Pros
Three-sixty-degree coverage

Two adjustable speed settings

Optional night light

Auto shut off system
Cons
There's scope for improvement in the tank size
Sale
Available in three different color options, the next device on our list is a versatile two-in-one unit. It functions not only as a humidifier but as a diffuser too. What's more, the product comes with a smart mode feature, but what is this technology? You'll have to keep reading to find out.
Why Did We Like It?
The device is super easy to set up and operate due to its top-filling technology. This feature allows you to refill the tank simply by opening the lid and pouring water instead of disassembling it like other models. Since it also functions as a diffuser, you can add any essential oils of your liking too. 
Coming to the device's much anticipated smart mode, it is a setting that enables the humidifier to automatically judge the room's environment and maintain the humidity level accordingly. You can also control it manually, keeping the speed high, medium, or low. 
If you are a light sleeper and easily get disturbed by even low sounds, then the GENIANI bedroom humidifier is an ideal choice for you. It operates at a low noise level of 38 decibels, generating even less sound than a ticking clock. 
What Could've Been Better?
We have only one complaint with this otherwise excellent device. It collects a lot of dust if you use it with tap water, meaning, the more impure your water, the more dirt it collects. Hence, we recommend you use soft or distilled water in the unit. 
Pros
A water tank of four liters

Has four mist settings

LED night light

Filter free design

Cons
Collects dust with hard water
Sale
Everlasting comfort has two main concepts: improving health and promoting wellness throughout the world. Designed for reducing airborne bacteria and viruses and creating a serene environment, this humidifier is perfect for modifying air in large living spaces. It caters to patients with respiratory disorders and deals with dry skin, throat, and nose.
Why Did We Like It?
The best quality of the everlasting comfort humidifier is its extra-large tank capacity of six liters. It is by far the largest on our list and has the maximum coverage. With the enormous water holding feature, you don't need to worry about frequent re-filling. It effectively works in rooms as big as five hundred square feet and maintains a tranquil atmosphere. 
This device can be continuously operated for a long period of fifty hours and has an auto-turn-off feature. It's an effective humidifier with added benefits of being fit for aromatherapy. It has an in-built essential oil tray where you can add your favorite oils to diffuse some fragrance in the room. Additionally, the device has a powerful mist output of up to nine ounces per hour.
Furthermore, it is filterless and doesn't require replacement, saving you the extra cost. The humidifier is whisper-quiet, functioning at a sound level of 30 decibels, and automatically shuts down after running out of water. 
What Could've Been Better?
The Everlasting Comfort Cool Mist Humidifier starts accumulating water if the humidity level exceeds the 40 to 60 range. That is the only negative thing we observed in this one. Apart from that, it is a good choice, especially for kids' rooms and nurseries.
Pros
Soothes dry and itchy skin

Has two-year warranty

Available in two color options

Filterless and whisper-quiet operation
Cons
Accumulates water on high humidity levels
Sale
Strongly made out of Acrylonitrile Butadiene Styrene, the humidifier comes from the trustworthy and excellent brand Levoit. Being a part of the Vesync brand, the company has received recognition across the world for its innovative designs. It is on the topmost rank for its air purifiers and the third-best in small appliances.
Why Did We Like It?
Levoit ultrasonic air vaporizer can produce both warm and cool mist to provide relief from allergies, colds, congestion, flu, sinus, bloody noses, and dry skin. It has the highest mist output of up to 500 milliliters per hour. Capable of handling spaces as big as 750 square feet, its huge 1.5-gallon water holding capacity allows sixty hours of continuous operation.
Leaving your comfy bed in the middle of the night is so annoying, right? But with this one, you wouldn't need to. The device comes with a convenient remote control, which means you can adjust the setting with just a few clicks without having to leave your comfortable bed. 
It also has a timer that can be set in the range of one to twelve hours. If you are running on a tight schedule and are skeptical of accidentally leaving the humidifier on, then this feature comes in handy. 
What Could've Been Better?
It is by far one of the most efficient humidifying devices, with a power consumption of 280 watts. Since it can produce warm mist too, you cannot directly place it on your wooden nightstand without any elevation or insulation. Moreover, it is prone to dusting and molding if operated on tap water.
Pros
Includes absorption and aroma pads

Controlled by a remote

Has an auto mode

Can be used for aromatherapy


A long runtime of sixty hours
Cons
Avoid direct contact with wooden pieces

Accumulates dust with tap water
Sale
Sleep, breathe, and live better at your home by minimizing the unnecessary discomfort of dry air with AquaOasis. Whether it is congested nose, snoring issues, or breathing difficulties in arid conditions, this humidifier is your one-stop solution. We experienced significant improvement in our sleeping cycles after using it; you can try it yourself!
Why Did We Like It?
We have mentioned adjustable speed settings in other devices multiple times in our guide, but this one takes it one step further. You wouldn't need to stick to a decided level of low or high speed because you can set it according to your precisely preferred level with the analog dial knob.
The water tank can hold up to 2.2 liters and operate for twenty-four hours without a break. The running period isn't as impressive as others on the list, but it's still a competent option because of its ultra-quiet functioning. This humidifier will be a good addition to your meditating space or baby's room.
We'll have to admit, AquaOasis cool-mist humidifier steals the show when it comes to budget buying. It offers all the major features at a really affordable price, and the cherry on top, it doesn't even require costly filter replacements. 
What Could've Been Better?
It's the tank size that makes this device slightly less appealing to us. But, if you need a humidifier for a small room like the kitchen or the bath, this one is an amazing choice. We'll say it is the best product in its price range.
Pros
Cleaning brush included in the pack.

Rotating nozzle

Doesn't need a filter

Knob dial for easy operation
Vicks has been the go-to choice for everything related to cold and flu for decades. Honoring the trust put in it by the users worldwide, the brand extends its branch in producing air vaporizers. This one has many unique capabilities. Want to know more? Just keep reading.
Why Did We Like It?
If you suffer from frequent asthmatic fits and are sensitive to the irritating dry air, then adding a little Vicks Vaposteam to the medicinal cup in this humidifier will ease out your breathing. The Vicks liquid inhalant increases the moistening effect of steam and makes the dry nasal passage soft, making it much more comfortable for breathing.
The air vaporizer releases warm and visibly clear mist that is free from ninety-five percent of the microbes typically present in the air. The water unit can contain one gallon of water and can make the air humid continuously for twenty-four hours at the lowest speed setting.
The shape and size of the tank allow easy cleaning and filling without forcing you to assume uncomfortable hand positions. Additionally, you can make things hi-tech by installing accessories like Vicks Humidity Monitor and Protec Humidifier Cleaning Ball. All these features on top of the brand value of Vicks make this product highly desirable. 
What Could've Been Better?
Coming to the downsides, or rather, features that could use some improvement, we'll say the run time is short. There are various models on the market that allow up to sixty hours of uninterrupted operation. Hence the merely twenty-four-hour period of this device seems a little dull. 
Pros
Auto shut down when empty

Filter free

The water level is visible at all times

Easy to handle tank
Cons
The running period is short
Famous for its humidifiers and air purifiers, the primary goal of the brand Levoit is to design products that add a comfortable and clean atmosphere to your homes. ETL listed and BPA free, Levoit humidifiers are reliable and trustworthy. They provide temporary relief from allergies, cough, and nasal congestion.
Why Did We Like It?
The Levoit Classic 200 has an advanced and exclusive ultrasonic technique that enables it to atomize the water molecules down to five micrometers. The device evenly spreads the fine mist across the room through its independent air ducts, moistening the room but keeping the electronics and furniture safe at the same time. 
In addition to that, the unit has a four-inch-wide opening that allows convenient cleaning and quick refilling. You can clean it simply by wiping the interior with a dry cloth through the cavity or by detaching the silencer completely. It is safe and reliable and shuts off automatically when the water tank runs out of water or is lifted.
The vaporizer lies in an affordable price range and has amazing features like an auto cut-off system, adjustable speed settings, an all-around rotating nozzle, and simple one-touch button control. Align the arrow present on the cap with the lock icon on the tank to save it from leaking.  
What Could've Been Better?
Despite the silencer and DC hydraulic fan, the device wasn't as quiet as we expected it to be. It creates a little sound, equivalent to a fan's buzzing, but this serves as white noise while sleeping on the brighter side.
Pros
Can be used for aromatherapy

Preinstalled cleaning brush

Automatic power off

Dual three-sixty degree nozzle
Sale
With the motto of "design for better living," crane products are all about function, efficiency, and style. The brand strives to better the appearance of its models so that along with keeping you comfortable, they complement your interior decor too. The humidifiers provide soothing heat and accurate air filtration.
Why Did We Like It?
Good news for the home decor enthusiasts! If you want your humidifier to blend in with your interior, then the chances are that you'll like this one. Iconically designed in the shape of a water drop, this model is available in nine different colors. 
These humidifiers generally come without a filter, but the brand offers a demineralization filter, that is, model HS-1932. The filter is optional, and you don't need to buy it if you plan to use only distilled water. The water tank has a capacity of one gallon and coverage of five hundred square feet area. Furthermore, it is translucent, allowing you to monitor the water level all the time.
Lastly, the design is exceptionally easy to clean and maintain. The detachable base and mist lid are a game-changer, letting you tidy up the unit effortlessly. You can disinfect it by filling up the vessel halfway and adding one to two tablespoons of vinegar.  
What Could've Been Better?
The coverage area is good, and the water capacity is also up to the mark. Once again, our only complaint is the limited run time of twenty-four hours. Considering the price one needs to pay, the brand can do better in that aspect. Rest assured, it is a top-notch product.
Pros
Whisper quiet functioning

Easy to clean

Detachable cord

See-through water tank
Say goodbye to dry and itchy skin and irritation in the eyes with the advanced technology of the Pohl Schmitt humidifier. Based in Portland, Oregon, the company offers top-quality swiss home appliances. The device has a sleek and stylish design and moisturizes the air safely and quietly. 
Why Did We Like It?
This model is quite impressive because of its sleek look. It's the most aesthetically pleasing out of all, especially when it gives off soothing blue night light in the dark. The device is small in build but is very powerful despite its compact size. 
The tank is see-through, so you'll always know the water level, but in case you overlook that, the system will remind you to refill it with the indicator light. It will require frequent refilling because of the small holding capacity of 1.5 liters, but it is robust in functioning and is ideal for small rooms.
You'll wake up happy and well-rested with this one because it has a whisper-quiet operation and offers a pleasant blue glow. When the water level is too low, it automatically turns off without forcing you to get up and turn it off.  
What Could've Been Better?
The humidifier wins when it comes to modern design and beautiful appearance, but tank capacity and coverage area aren't its strongest points. It can be run for only sixteen hours at a stretch because of its 1.5 littered tank and is effective in smaller rooms only.
Pros
Warranty of two years

Adjustable mist settings

Dial knob for adjusting the speed

Easy to clean

Good for houseplants
Cons
Smaller moisturizing area

Small tank size
Last but not least, we have HuPro Premium Humidifier to end our list with a bang. Honestly, our review-based guide would have been incomplete without this one. The Pro 777 is a combination of the state of the art technology and contemporary design. It is one of those unique models that provide both cold and warm mist.
Why Did We Like It?
There are multiple reasons to love this device, but let's start with its fantastic display panel. The panel showcases all the features of the humidifier and features the settings in one place including the timer, humidity level, temperature, and warmth display. 
You will also find that it has a huge capacity of five liters and is designed for rooms as big as five hundred square feet. As a result, the smart humidifying technology cleans the air with triple purification and offers thirty hours of steady operation. 
Now, the system mainly has three controls: constant humid environment, auto mode, and five-speed settings. You can choose the one that suits you the most after a little experimentation but we found the auto mode to be the best out of all. 
Furthermore, the humidifier has an extraordinary lamp that keeps the water in the container fresh and reduces the odor of stagnant water. Speaking of odor, it has a ceramic filter for air ionization.  
What Could've Been Better?
The HuPro humidifier is an excellent product and a near-perfect appliance with no flaws. But perfection comes at a cost, and consequently, this one is the most expensive model on our list. But having discussed all those fancy features, we don't have many complaints, because the higher price is expected.
Pros
Quiet operation perfect for sensitive sleepers

Has a reinforced handle

Energy-efficient and user friendly

Ultrafine mist and all-season comfort
Humidifiers For Asthma Buying Guide
That was a lot of detailed information, wasn't it? Now you know about all the top humidifiers currently available on the market in in-depth detail. But do you feel confident enough to go ahead and buy one just yet? No right? 
Simply knowing about the best picks isn't enough to make a smart purchase. For that, you need to gather more knowledge about the basic features and parameters that should be considered. Don't worry, because we've got you covered with our buyer's guide. Keep the following important qualities in mind, and you'll be good to go.
The key points to bear in mind while buying a humidifier are:
Water Tank Capacity
The most important factor in an air vaporizer is its water holding capacity. This parameter determines the operation time of the device. The larger the capacity, the longer the humidifier will run without any interruptions or requirement of refilling. 
Some models can contain up to six liters of water, while some have a capacity of only one liter. Those with high capacity can last up to as long as sixty hours at a stretch, while the smaller ones run for sixteen to twenty hours only. 
We recommend that you buy a humidifier with a large water holding capacity if you want to keep it in a spacey room. The size should be proportional to the area you want to cover.
Speed Settings
Almost all the products on our list have variable speed settings. Two adjustment levels are the most common, while some provide multiple speed settings that can be controlled by a knob. 
If you are highly sensitive to the humidity level and want to handle it precisely, then go for the models that provide multiple speeds. But if you aren't that bothered and just high and low levels will do the job, then you don't need to buy the complicated ones. 
Maintenance
Humidifiers are one-time investments, but that doesn't mean they won't require proper cleaning and maintenance from time to time. Some models collect dust faster than others and are prone to molding. You'll be better off avoiding these types because who wants to go through the hassle of frequent cleaning?
We recommend buying devices that have easily detachable bases or water tanks, even better if you can remove the mist lid too. The gripping also plays a key role in ease of maintenance. The better the grip, the better will be the overall handling. Moreover, give preference to those that have top-fill technology and a wide opening.
Cost 
The shopping experience becomes truly joyful when we grab a well-rounded product at a reasonable price. Weigh the offered features against the cost of your device while buying it. Compare the products with each other thoroughly, paying attention to all the qualities.
Typically, durable and top-quality appliances come at a higher price. Don't hesitate while investing in them but research well beforehand. The Crane Drop Ultrasonic Cool Mist Humidifier is the best budget buy among our top picks.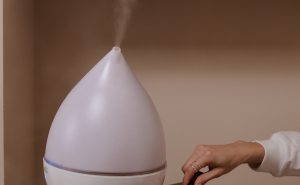 Humidifiers For Asthma Verdict
Having discussed the best humidifiers from top brands in detail, along with an elaborate buyer's manual, we have finally reached the end of our guide. 
Buying a humidifier can be tricky, but not anymore. Now you know everything that you need to buy a suitable air vaporizer. Before signing off, we'll make things even more convenient by letting you in on our favorites. 
The Red Dot award winner GENIANI Huron is our top pick because of its two-in-one diffusing and humidifying qualities. Our second favorite is the Pure Enrichment PEHUMIDIF for its three-sixty degree nozzle and large coverage.
Also, the Everlasting is pocket-friendly and reliable. Alright you guys, apply all this knowledge in the best way possible and have fun while shopping. 
We'll see you next time. Goodbye!
Related Links
13 Best Dehumidifier For Basement
Best Dehumidifier For Apartment
11 Best Evaporative Swamp Coolers
10 Best Dehumidifiers for Mold
9 Best Dehumidifiers for Basements 
TrueMist Top Fill Cool Mist Humidifier Review
10 Best Urpower Essential Oil Diffuser
What Size Humidifiers Do I Need?
15 Best Commercial Dehumidifier