If you're wondering what's missing from your beautiful backyard, it may well be a hanging chaise lounger!
After all, who doesn't want to relax with a feel of resting on the clouds from the comfort of home? But there's only one problem that might get in the way – the plethora of options out there.
With similar looking models, we can't blame you if confusion and fatigue kick in. However, what we can do is help you make the right choice. So, today, we've reviewed the 7 best hanging chaise loungers that money can buy. You may place it indoor or outdoor, wherever you want.
Now, without further ado, let's dive in!
Top Hanging Chaise Loungers 
IMAGE
PRODUCT
DETAILS

Our Top Pick

Our Top Pick

Best Choice Products Hanging Curved Chaise Lounge Chair

Tempered steel cantilever
Removable canopy
UV resistant polyester

VIEW LATEST PRICE →

Sunnydaze Floating Chaise Lounger

6'5'' long chair
Poly-fill fiber pad filing
Lightweight design

VIEW LATEST PRICE →

BELLEZE Hanging Chaise Beige Lounger Chair

265-pound carrying capacity
All-weather resistant
Built-in canopy

VIEW LATEST PRICE →

CHENJIU Patio Chair Lounger Chair Hanging Chaise

Polystyrene umbrella
2-inch thick cushion and pillow
Durable steel frame

VIEW LATEST PRICE →

FDW Hammock with Stand Lounge Chair

Gentle motion
Adjustable umbrella
Heavy duty steel frame

VIEW LATEST PRICE →

BalanceFrom Hanging Curved Chaise Lounge Chair

Foam-filled cushions
Durable frame
Quick assembly

VIEW LATEST PRICE →

ANCHEER Hanging Chaise Lounger

Powder-coated steel frame
Removable cushion
Protected poles

VIEW LATEST PRICE →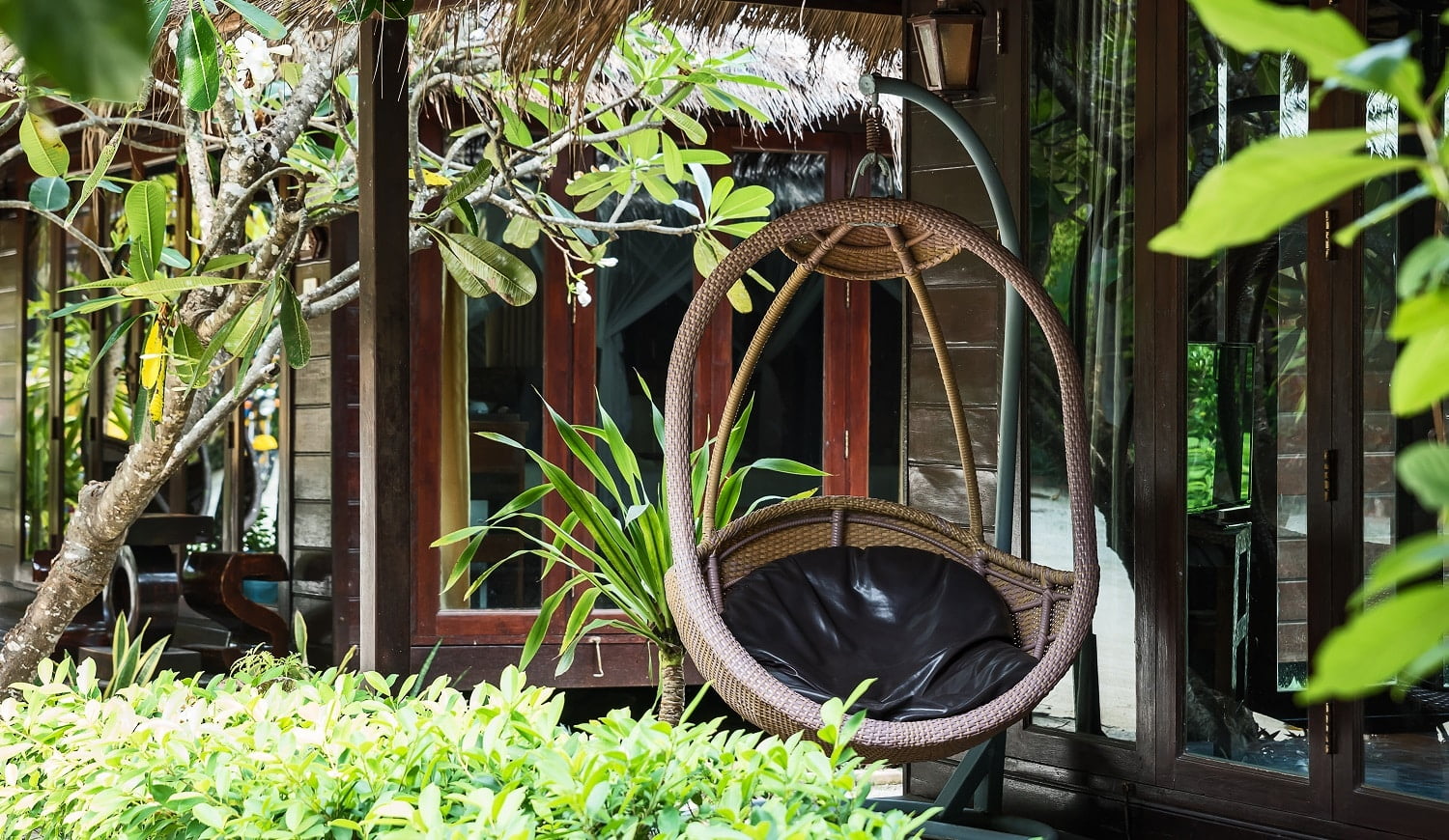 First up on the list is the Best Choice Products Hanging Curved Lounge Chair. Sporting a robust steel construction and waterproof cushions, it has a weight capacity of 265 pounds. What's more, it adds value to your outdoor space without making you break the bank.
Sale
Why Did We Like It?
Right off the bat, we were impressed with the positive customer feedback. Its heavy duty steel frame, in tandem with the chaise chair, makes for a superior suspended lounging experience. Moreover, it has the perfect curve that provides unmatched comfort at all times.
We were also pleased with the curved foam design that compliments the chaise like no other. Besides, it has the ideal amount of thickness that doesn't make you sink but provides adequate support. On that note, we should also mention that the water-resistant upholstery makes it perfect for all-season use.
Thanks to the detachable canopy feature, you can customize your experience quite literally! Put it on for enjoying an afternoon nap, or remove it to bask in the evening sun. Its UV resistant property keeps you protected from the harmful rays, no matter what time of the day it is.
Lastly, it comes with a tie-on pillow/headrest for reinforced support to the head and neck. Not only for outdoor use, but this chaise curved chair can be the perfect addition to your interior setup as well.
What Could've Been Better?
Despite having a powder-coated finish, some metal parts may be prone to rust, especially with constant exposure to moisture. We'd suggest spraying a coat or two of rust-proof paint for a long service life. Also, the chair tends to sway a bit in the wind. So, you may want to tie it to the base.
Pros
Lightweight and easy to assemble

2-inch foam plush cushions are fade-resistant

46-inch polyester canopy is held by 4 ribs

Available in multiple vibrant colors
Cons
Metal parts are prone to rust
Closely following our top pick is the Sunnydaze Floating Chaise Lounger. Its durable metal frame is built to have a carrying capacity of 260 pounds. Plus, the chair's overall length makes it more suitable for taller people.
Sale
Why Did We Like It?
Sunnydaze is known for its high-quality products, and this chaise lounger is no exception. The 1.5-inch tubular steel frame accounts for its durability and stability on almost any surface. Meanwhile, the chair is made from polyester with polly-fill fiber padding that takes care of your comfort. And its burnt-orange color will match most color pallets.
Furthermore, the chair has a length of about 6 feet 5 inches, meaning taller people will get sufficient support to their back and legs.
Similar to our top choice, the detachable canopy can be removed or attached anytime, anywhere. Apart from that, the cushion also comes with a tied pillow flap that can be adjusted as per convenience.
Once put together, the unit weighs around 76 pounds, which makes it one of the lightest chaise loungers out there. You can simply lift it to place in the desired area, viz. lounge, patio, backyard or even in the hall without having to dismantle the frame.
Last but not least, the easy-to-follow instructions will come in quite handy for first-timer users.
What Could've Been Better?
The only thing that makes it miss the mark is the slightly elevated leg-rest. As a result, the legs are kept a bit too high, making it difficult to get on and off the chair. However, with a little practice and caution, th\is problem should be resolved.
Pros
Powder-coated steel frame

Padded armrests

UV-resistant removable canopy

Simple installation
Cons
Legs are kept high above the ground
At number three, we have the Belleze Hanging Chaise Lounger Chair. Featuring a heavy duty stylish metal frame, its adequately padded cushion provides sufficient amount of support for a comfortable experience. If you're looking for a hanging lounger on a budget, then this might fit your needs.
Why Did We Like It?
Honestly, the combination of the beige-colored cushion and stylish-looking frame grabbed our attention at first glance. While we agree that strength and quality should be on top of the priority list, we don't really mind having good-looking furniture in our backyard. So, count the brownie points!
Now coming to its construction, the powder-coated steel frame and polyester cushion are built for all-weather use. On top of that, the study base makes sure that you can swing the chair freely without worrying about damage. Additionally, the rubberized feet ensure reinforced stability.
Unlike the Sunnydaze Floating Chaise Lounger, this model has the right elevation that keeps the legs at a comfortable distance from the ground.
What also contributes to its sturdiness is the meshed base. This means that the cushion sits atop a thick mesh material that's attached to the base with bungee cords. Hence, it keeps the cushion firm and damage-free for prolonged use.
Finally, the UV-resistant detachable polyester canopy is ably supported by four metal ribs, which prevents the material from slacking overtime. All in all, we are quite happy with how the product performs for its price.
What Could've Been Better?
It may be helpful to know that this model isn't the most lightweight option on the market. Also, if you're a first-time user, set aside considerable time to figure out its assembly. The instructions are rather confusing and appear somewhat incomplete.
Pros
Removable cushion and headrest

2-inch foam padding

Weather-friendly polyester

Ergonomically positioned handrests
The fourth product of the day is this hanging chaise lounger from the house of FDW. Its curvaceous design creates just the perfect suspension for keeping you comfortable throughout.
Why Did We Like It?
For starters, we liked the angle of suspension that the chair creates with its curve. Moreover, the 2-inch foam-filled cushion has a compatible design that makes it sit firm on the chair. And since it's tied to the frame, you can always replace it with something more comfortable as per convenience.
The steel frame has a superior quality powder-coated finish that makes it resistant to various weather conditions. Furthermore, the high-tensile steel chain makes it capable of tolerating up to 260 pounds.
Much like the FDW Hammock Lounge Chair, the built-in umbrella can be adjusted as per the sun's direction. Alternatively, you can detach it when using indoors. Complete with assembly instructions and all related tools, the setup won't make you strain your nerves.
What Could've Been Better?
Although we are satisfied with its stability and sturdiness, we are not sure if the model is worth the hefty price tag. Considering its significantly low carrying capacity, the premium pricing can be a big constraint for potential buyers.
Pros
Adjustable canopy

Removable pillow

Stable feet

Meant for both indoor and outdoor use
Cons
Very expensive

Low weight capacity
The FDW Hammock Lounge Chair has a robust design that is equipped to carry up to 250 pounds. Its curved design and padded cushion team up to provide adequate support to your body. What's more, it's available in multiple colors to best suit your space.
Sale
Why Did We Like It?
Having tried a number of steel frames, we had somewhat anticipated the sturdiness of this one, and we weren't wrong. Not only does the powder-coated finish prevent it from developing rust, but also makes it capable of enduring adverse weather conditions. In combination with the padded cushion, you'll have access to round the year comfort.
The strong metal chain that holds the chair in place is also accountable for maintaining a gentle, rocking motion. This, in turn, minimizes the pressure on the frame to prolong its service life.
Much like the Belleze Hanging Chaise Lounger Chair, this model has a high-strength fabric tied to the frame that reinforces the cushion's stability. On a side note, it has four bright colors to match the varied decors.
Undoubtedly, we were intrigued by the adjustable umbrella feature. In addition to removing it altogether, you can also re-position it in accordance with the ever-moving sun. Despite having an affordable price, we appreciate the brand's attention to detail.
What Could've Been Better?
It may be helpful to know the canopy supports only vertical re-positioning, meaning you can only turn it either to the right or left side. Plus, its broader and bigger build might not be suitable for compact spaces.
Pros
Anti-skid rubber feet

Breathable fabric

Foam wrapped armrest

2-inch thick foam-filled cushion
Cons
May not fit in compact spaces
For the penultimate spot on today's list, the BalanceFrom Chaise Lounge Chair finds an honorable mention. It's simple yet effective construction provides maximum stability for greater comfort.
Why Did We Like It?
The BalanceFrom Chaise Lounger is a no-nonsense product that doesn't make fancy promises but stays true to its purpose. Firstly, the powder-coated steel frame provides the chair with optimum stability, which in turn, keeps a check on its swinging motion.
Talking about its cushion, the 2-inch foam padding supports your stress points in almost every position. Moreover, its water repellent property makes it suitable for use near the pool. And like every other model on the list, it doesn't miss out on the detachable headrest for added comfort.
If you ask us, we are highly impressed with how the unit packs a punch for such a low price. Sure, it isn't anything luxurious or fancy, but works just fine to deliver on its promises. If you're a first-timer and on the hunt for an ultra-affordable unit, then this one is worth considering.
What Could've Been Better?
Although it's meant to carry up to a significant 330 pounds, we feel that the cushion's thickness might not be ideal to withstand that much weight. In that sense, the model may not be very useful for heavy users.
Pros
Built-in and removable canopy

Compact construction

Hassle-free installation

Pocket-friendly
Cons
May not be able to carry heavy users
For the last pick of the day, we'd like to introduce the Ancheer Hanging Chaise Lounger. Backed by an ever-reliable steel frame, this unit is built to carry up to 350 pounds with ease. Besides, the controlled swing provides optimum comfort and relaxation. 
Why Did We Like It?
First things first, we were impressed with the heavy duty steel frame that forms a solid foundation for the hanging chair. Although it significantly contributes to the product's weight, we are not too bummed about it, given the carrying capacity. In addition, the chair sports a slight bend near the base that allows you to get comfortable in any position.
Likewise, the sufficiently padded cushion features a durable fabric that can endure year-long use. Furthermore, you don't need to remove the cushion when not in use, which in turn, cuts out the maintenance needs. We also loved the utilization of vinyl caps, which keep both the pole ends and surface free from damage.
Since the chair is tied to the base, you don't have to worry about wild swinging in the wind. While it doesn't interfere with your comfort, the feature gives you greater control in terms of movement, especially with kids.
All in all, the Ancheer Hanging Chaise Lounger comes across as an ideal option for heavy users.
What Could've Been Better?
Like the Belleze Hanging Chaise Lounger Chair, this model is extremely heavy, meaning you may require many extra hands to help you with the setup. Also, getting in and out of the chair is a bit tricky, so we'd advise exerting gentle force while doing the same.
Pros
Powder-coated smooth finish frame for rust resistance

Removable and anti-UV canopy

Tied pillow/headrest

Vinyl protected feet prevent scratches and marks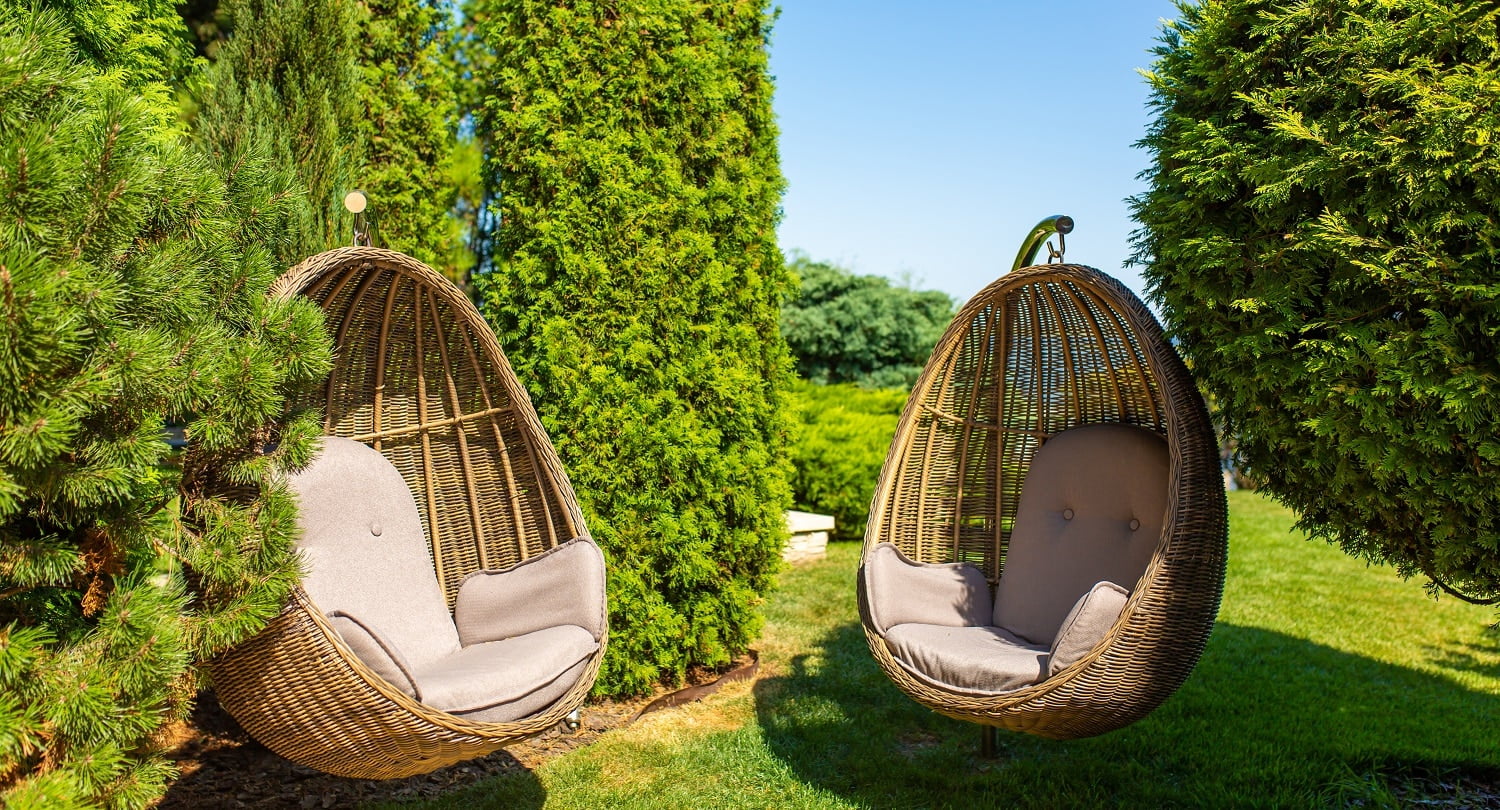 Hanging Chaise Lounger Buyers' Guide
Agreed that you might not want to compromise on looks while buying furniture like this, but there are still a lot of other considerations to make your investment worth it. Now that we've talked about the top 7 hanging chaise loungers, we take it upon ourselves to list the factors that should drive your purchase decision.
Weight
The first and foremost point to consider is the weight capacity. In general, models equipped to carry around 260 pounds are most suitable for residential use. However, we'd suggest opting for a higher carrying capacity than needed to make room for future requirements.
Durability
One of the main reasons why steel frames are preferred over others is its strength and durability. Since they are less prone to rust, chaise loungers having steel frames are ideal for outdoor use. Additionally, you can look out for features like powder-coated finish for reinforced protection.
Cushion
As you may have guessed from our recommendations, foam-padded cushions provide comfort like no other. In this regard, make sure that it has the right amount of thickness as per your body type. While dense cushions will make you sink, thinner cushions will cause significant discomfort.
Canopy
Most models out there come with a detachable canopy so that you customize the overall experience. Alternatively, some loungers have an adjustable umbrella that provides adequate shading without having to remove it altogether.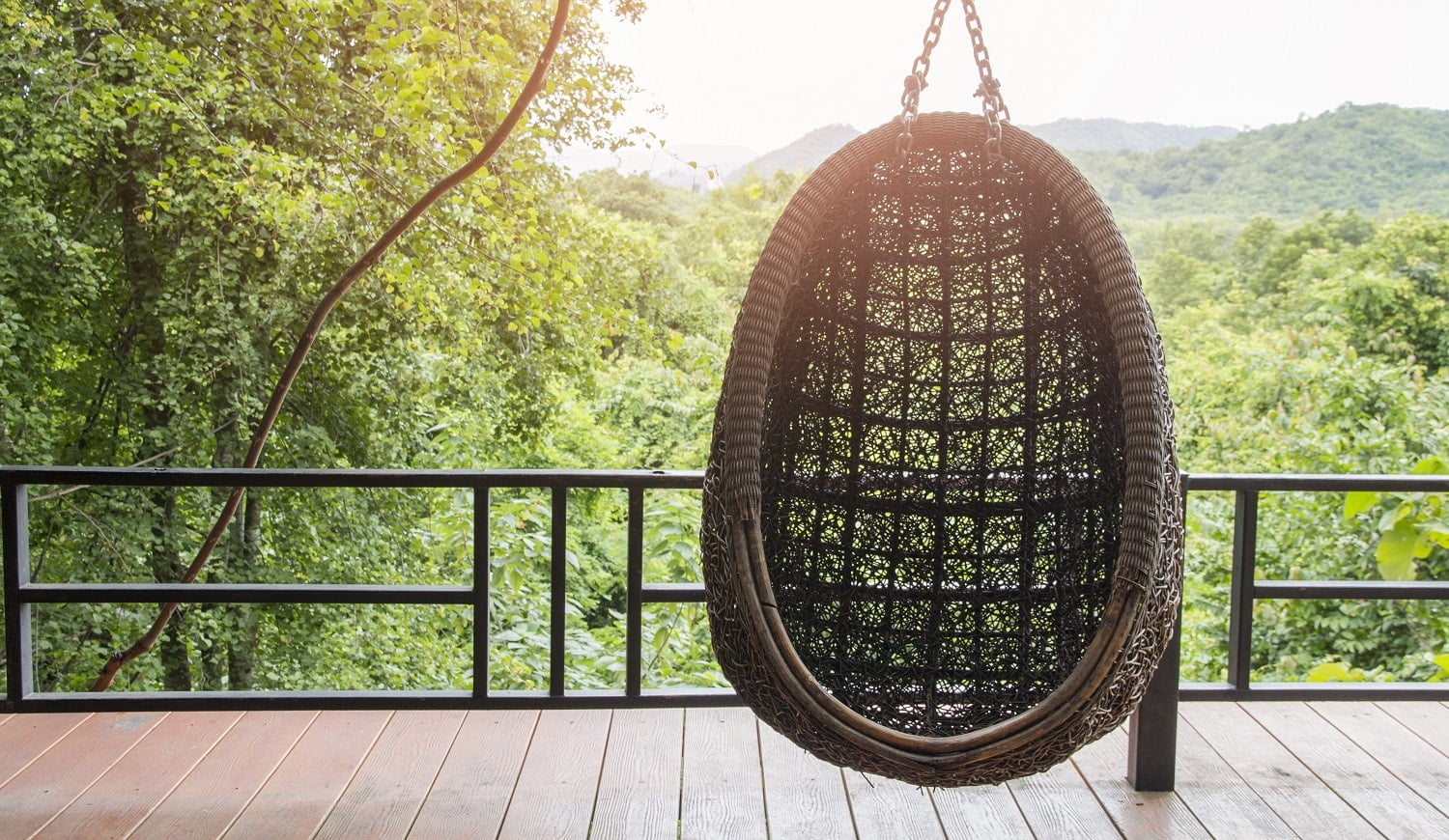 Verdict
When it comes to enjoying a laid back afternoon in the outdoors, hanging chaise loungers become must-haves!
Not only do they enhance the look of your space, but also give you the distinct feel of floating in the air. And so that you can choose one easily, we compiled this exhaustive guide of the 7 best units out there.
But before you head out to buy, here's a quick shoutout to some names that stood out for us.
The Best Choice Products Hanging Curved Lounge Chair is a robust model with decent carrying capacity, and the Ancheer Hanging Chaise Lounger is built for heavy users. On the other hand, the FDW Hammock Lounge Chair comes with an adjustable canopy.
With this, it's time for us to draw the curtains. Hope our effort helps you find the best product for your needs and of course, budget. Do let us know about your favorites in the comments down below.
Wish you a happy lounging experience!
Related Articles