Remember those summer holidays when grandma would whip up chilled desserts at home? It is time to recreate that with hand made ice creams.
With a good ice cream maker, you can churn out sweet treats within an hour. It is super easy to make and is free of added preservatives. Let your kids enjoy the goodness of fresh and creamy desserts and turn your picnics into a hit!
But for all of this to happen, you need the best hand crank ice cream maker, and that's where the dilemma arises. We know that there are hundreds of options available, and to make the choice easier, we have narrowed it down to the top seven.
We have written a detailed review of every item, along with its pros and cons. This is followed by a buyer's guide for your use. Whether it is multiple batches that you want to make to sell or just a few for your family, our list has a recommendation for everyone.
So, dig in to find out more!
Top Hand Crank Ice Cream Maker 
IMAGE
PRODUCT
DETAILS

Our Top Pick

Our Top Pick

PREMIUM 6 qt. - Immergood Stainless Steel Ice Cream Maker

Leak-free ice cream freezer
All stainless steel hardware
Powder-coated gear frame and crank

VIEW LATEST PRICE →

Norpro 6840 Ice Cream Maker

Makes in 15 minutes
Recipe and instruction booklet included
Capacity of 1 pint

VIEW LATEST PRICE →

Maxi-Matic 4-qt Old Fashioned Pine Bucket Electric/Manual Ice Cream Maker

Makes 4 quarts of ice cream
Classic die-cast hand crank
Overheat protection

VIEW LATEST PRICE →

White Mountain Hand-Crank Ice Cream Maker

Three-gear drive hand-cranked system
Stainless steel canister with lid
Comes with a recipe booklet

VIEW LATEST PRICE →

Nostalgia Aqua Blue Electric Ice Cream Maker with Candy Crusher

Capacity of 2 quarts
Aluminum canister and mixing dasher
Bottom-drive electric motor

VIEW LATEST PRICE →

Donvier 837409 Manual Ice Cream Maker

Chillfast cylinder
No ice or salt required
Lightweight at 6.5 pounds

VIEW LATEST PRICE →

Buffalo Tools Hand Ice Cream Maker

Capacity of 6 quarts
Toggle between electric or hand crank

VIEW LATEST PRICE →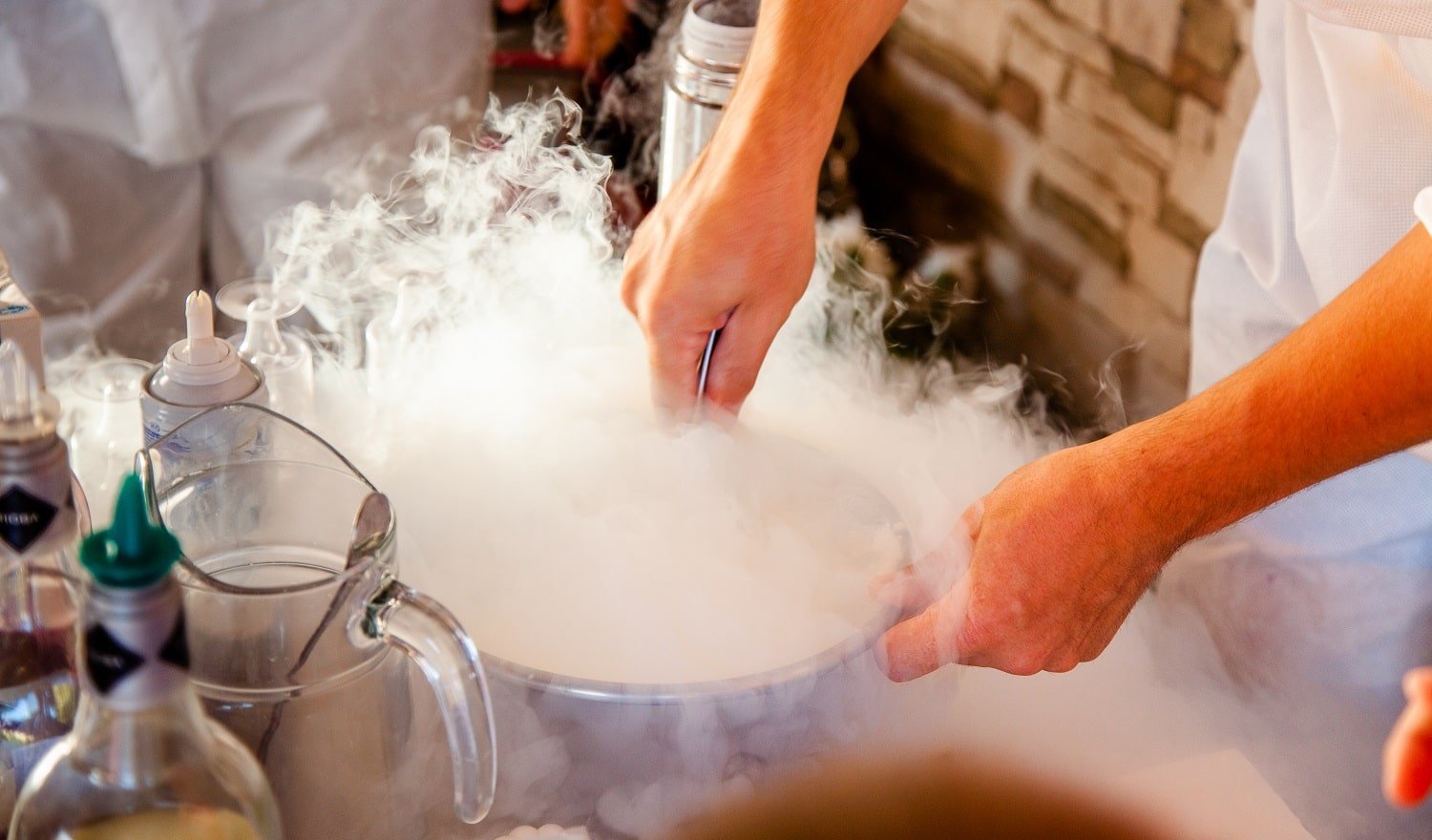 Carry your freezer anywhere you go with the PREMIUM Immergood Stainless Steel Ice Cream Maker. Make the best of memories with your frozen treats at the next picnic you go to. You could also create a family tradition of making ice cream with this incredible product at your place.
Why Did We Like It?
We found that the body is entirely leak proof. Now, this is vital as even with a slight amount of leakage; you could have cream seeping into the salt and ice causing the whole process to get disrupted. But here you will face no such issues.
To add to it, it is highly insulated and comes with a triple-layer construction. This will keep the dessert frozen for a long time as well as make the process quick. The insulation will prevent the ice from melting; you would not need to replace it at intervals.
Also, the body is wholly made of stainless steel. This makes the product rust-proof, and it does not strip out at all. The polished steel surface looks good and shiny.
Besides this, there are wear bushings between the gears and housing. This means that wear and tear from the constant movement is prevented, and you would not have to add additional grease to do so.
What Could've Been Better?
With great features comes a higher price tag. The product is expensive and may get you to cross your budget if one has been set. But we have to tell you that it is an excellent deal to make and it will last for generations to come.
Pros
Known to last for generations

Highly insulated with triple layers

Unique triple-action dasher

Clear plastic lid
If you are looking for a mini product to suffice for a single person, the Norpro 6840 Ice Cream Maker is the best option. It will make sure that you enjoy your favorite desserts without overeating as the capacity is just enough for one. If you are health conscious, this will help you out!
Why Did We Like It?
This is one of the quickest units and can make incredibly creamy ice cream in just 15 minutes. Because of its less capacity, it is able to function quickly, and the metal bowl at its bottom can be taken out and put into the freezer with ease. You would not need to shift bowls too.
It usually takes around 8 hours to freeze, and then you can indulge. To make the process simpler, there are recipes and an instructions booklet that comes with the pack. You can just read and follow it to create creamy wonders.
Besides this, the unit comes with a plastic lid. This lid helps you see within and make sure that the dessert has reached perfect consistency and texture before you stop churning. Add in ingredients accordingly to better the consistency when needed.
Packed in an attractive body, this will genuinely add the charm to your kitchens and make your kids look forward to summers.
What Could've Been Better?
The only issue is with the funnel. It has a very thin neck and cannot have large chunks of cookies, fruits, berries moving through it. So it is difficult to customize the ice cream. It is recommended to top it at the end with your favorite toppings. Mix it manually with a spoon, and you are done!
Pros
Vibrant and attractive design

Weighs only 3.35 pounds

Perfect for one person

Bowl fits into any freezing compartment
Cons
Funnel does not work with chunky liquids
With a wooden body that will remind you of grandma's ice creams, the Maxi-Matic Electric/Manual Ice Cream Maker will make your day with the yummiest treats. It makes 4 quarts of deliciousness and can efficiently serve a small gathering or picnic. Take it along anywhere with ease!
Why Did We Like It?
We loved the sturdy paddle that comes with this product. It will crush cookies, fruits, chocolate chunks, and brownies easily and churn it along with the ice cream to make the perfect flavor. It whips in the air smoothly along with the ingredients to achieve a soft and smooth texture.
From sorbet to gelato and frozen yogurt, this machine can tackle a host of items with ease. It will give you the thick and creamy consistency that you are expecting. Also, we loved the classic hand-crafted solid pine wood bucket used to carry the salt and ice. It keeps the ice cream tub appropriately insulated, enabling the ice cream to freeze quickly.
Besides this, we also loved how we could shift between motor and manual crank. It can get strenuous to be churning for long and so whenever you get tired, switch on the motor, and it will do the job correctly.
What Could've Been Better?
Although we have no complaints about the body of this device, the plastic used to cover its metal handles is made of flimsy material. It has already cracked, and the sharp edges could now hurt anyone who holds it without watching out for the cracks.
Pros
Hand-crafted solid pine wood

Comes with a 6-fin paddle

90-RPM strong motor

Aluminum freezing canister
Cons
Cheap plastic handle cover
If you wish to take the traditional route and opt for a manual hand-crank model, the White Mountain Hand-Crank Ice Cream Maker is a superb deal. It is preferred by a lot of customers for its creamy and smooth finish products. Our kids loved this more than us and have been trying to make their ice cream with it.
Why Did We Like It?
The wooden bucket which comes along is made of pure pinewood from New England. This gives it the old school vibe while also providing it with a strong body. It has galvanized hoops attached and is equipped with electroplated fittings for better stability.
Further, the tall canister design is very beneficial in bringing most of your ice-cream in close contact with the ice and salt outside its walls. This gets it to thicken and churn better. 
Also, we loved the triple action dasher. This folds and churns the dessert continuously using triple-motion action. It is said that the better you stir, the tastier your finished product is. That is so true as we ended up with a smooth and perfectly textured treat.
Adding on, the capacity is impressive too, and it will make around 40 scoops of ice cream at one time. That is a large amount and can easily feed everyone at a birthday party.
What Could've Been Better?
It takes more time to freeze the cream, which could mean more manual labor. But you will relish the end product and would not regret the excess time at all. On the other hand, we did wish that the time taken could be reduced slightly to make it more efficient.
Pros
Old school and classic design

Large 6 quarts capacity

Has sturdy hoops for support

Corrosion-resistant
Do you want a device that will whip your favorite ice cream topped with crushed candies? The Nostalgia Aqua Blue Electric Ice Cream Maker with Candy Crusher will do just that. It creates a smooth and creamy dessert with any kind mix-ins that you love. Make your favorite bowl of dessert with this!
Why Did We Like It?
The specialty here is the sturdy hand crank candy crusher. This works with candied fruits, caramel pieces as well as cookies and properly crushes them to customize your ice cream. If you are looking to create unique combinations, this is the product to do so with!
Another vital feature is the detachable bucket. Since the bucket can be taken out, you could use it to keep the ice cream cold. No transferring is needed in case you want to take it out on your picnic. It will keep the ice cream frozen and in perfect condition to be consumed.
Also, it is lightweight at 5.5 pounds and thus is easily portable. Take it to your parent's house during vacations and make customized ice cream for everybody.
Additionally, with the electric motor, you can easily shift to automatic mode when needed. This makes sure the dessert's yummy without putting in too much effort.
What Could've Been Better?
One issue we found with this product is that the paddle does not scrape the sides. Now, this leads to the side parts freezing and not getting churned well. You can manually scrape it out, but using it in automatic mode could be an issue.
Pros
Detachable bucket for easy cleaning

Hand-crank candy crusher

Turn dial on/off Medallion

Lightweight at 5.5 pounds
Cons
Paddle does not scrape the sides properly
Make the best of desserts with this classic and compact device; the Donvier 837409 Manual Ice Cream Maker is a genuinely authentic option to choose. With its simple manual functioning, whip up your favorites in a jiffy. It is known to make some of the creamiest ice creams ever!
Sale
Why Did We Like It?
Make the perfect yogurt, ice creams, gelato, and sherbet with this classic device. We were happy to find the wide variety of desserts that this could be used for.
Besides this, the machine comes with a Chillfast cylinder. It acts as a storage unit for the ice cream. All you have to do is leave the ice cream in a freezer for 12 to 24 hours, and you have a bowl of goodness ready! The cylinder will keep the dessert cold for a long time.
Furthermore, we were very pleased with the transparent lid. It made the contents visible, and you could watch the whole churning process. This lets you estimate the consistency and make changes accordingly to get the perfect texture.
And that's not all; this device is very light, at 6.5 pounds. And that makes it easy to take around and place anywhere you want. Take it outside, and you could use the cylinder as an ice bucket for your outdoor picnics.
What Could've Been Better?
Although we have no complaints about its functioning, we wished that it was bigger. The machine can whip up 8 scoops or 1 quart of ice cream at one time, and it takes 12 to 24 hours for it. So, if you have a larger family or your demands are high, this may not be a suitable option.
Pros
Easy to clean

Can create several desserts

Has a transparent lid

Compact and easy to store
Are you looking for an electric machine to turn the ice cream on its own? The Buffalo Tools Hand Ice Cream Maker will help you out! It not only has incredible features but also lets one shift between manual and automatic churning. Check out its features to know more.
Why Did We Like It?
With a capacity of 6 quarts, it is known to be one of those devices which offers the largest capacities today. 6 quarts would be sufficient for any kind of party at home, and your children will love the unlimited ice cream.
Another great feature has to be how you can shift between electric and manual churning. This is also a rare feature as most machines come with either of those functions but not both.
Besides this, the device shuts off automatically after it completes. This means you do not have to keep a watch over it the whole time. It will pause on its own and present you with properly churned ice cream.
We also have to mention the attractive wooden body, which gives it an authentic touch. Metal handles accompany the wooden body for better stability. What's more; a carrying strap is also added for your convenience.
What Could've Been Better?
With a great capacity comes a heavier gadget. It weighs more than 14 pounds and can be a task to move about. Kids may not be able to lift it altogether. We suggest that you find a space and keep it there for good to avoid these hassles.
Pros
Made of wood

Comes with metal straps and carrying handle

Heavy-duty mixing paddle

Completion time of 30 minutes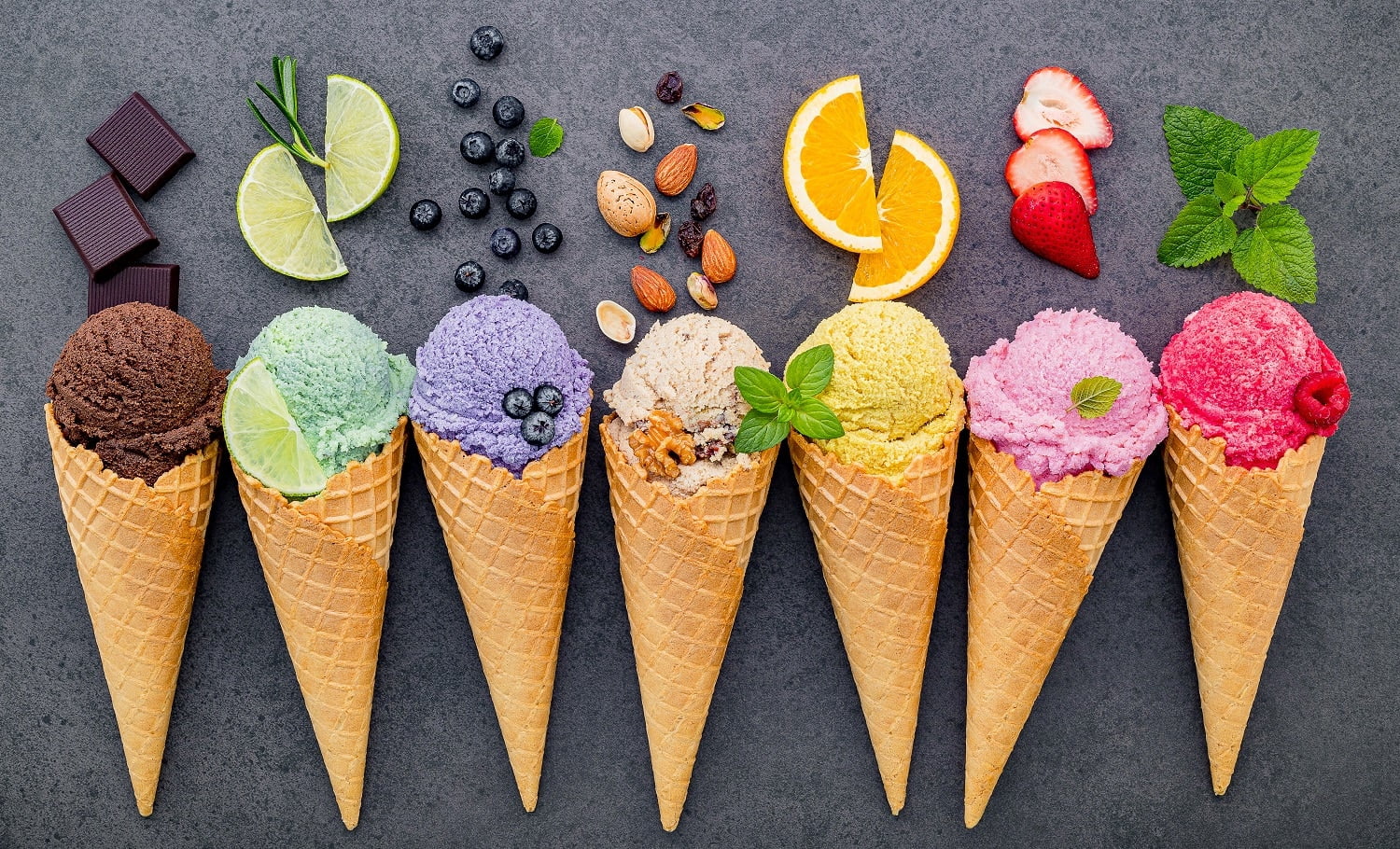 Hand Crank Ice Cream Maker Buyer's Guide
Now that you have enough knowledge about the different types of makers, it is time to select one for yourself. This choice should depend on your needs and convenience only. We have noted down a few points to keep in mind while selecting.
Capacity
The amount of ice cream that this unit can make at one time is very important and completely depends on the purpose of it. Why do you need it? If you just need it for the family, a capacity of 1 or 2 quarts will be sufficient, whereas if you plan to use it for picnics or gatherings, it is best to go for a capacity of 6 quarts.
This ensures that you do not have to go through the process and make the dessert in batches.
Manual v/s Automatic
Manual hand cranks are those which you have to churn by yourselves. All you need to do is turn the paddle and keep folding the cream. But this is not the ideal option for everyone. Especially for older adults who may not have the same levels of physical strength, a manual crank could mean hand pain or fatigue that could last for days.
 The automatic churner is the answer to these issues. It will churn the mixture by itself with no outside help. But again, we tested both and found that manual churning leads to creamier ice cream. So we would recommend that even if you have an electric one, try churning it for a while by hand and then let the motor continue with the job.
Ease of Cleaning
The product should be such that it can be easily cleaned. We know that cleaning can be a task, and if there is any amount of leakage, it may become messy. So try opting for a removable bucket where you can take out the bucket containing ice cream and wash it separately. This will make the whole process a lot easier.
Timing
This is an essential factor to remember. Timing often depends on your upper body strength that is needed to keep churning. If you stir slowly, the whole process will take longer to finish.
It is best to opt for a machine that does the job in 40 minutes or below so as you do not end up making the process too time-consuming. This will result in fear of wasting too much time, and it will make its way to the storeroom pretty soon.
Also, it depends on the quantity that you are working with. If it is 1 or 2 quarts, the time taken should not be more than 20 minutes, while the time may go up to 40 minutes for a larger amount.
Remember to leave it in the fridge overnight for it to freeze properly and reach proper consistency.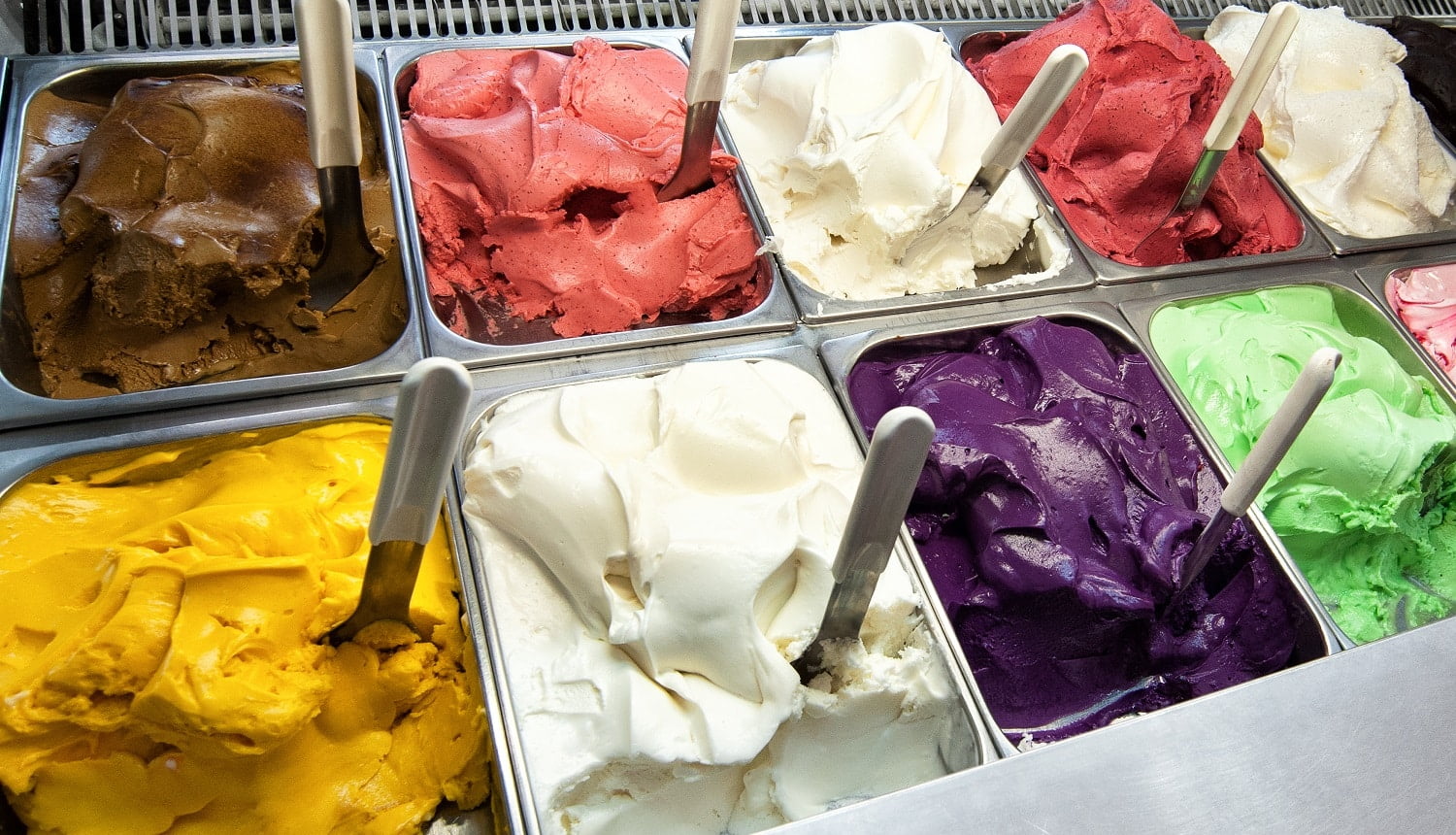 Verdict
A good ice cream maker can make a huge difference in your kitchen. It could make a picnic fun and ensure that kids want to eat indoors. They will end up preferring homemade ice cream to ones that they buy outside.
On that note, we have reached the end of this guide, and it is time to choose our favorites. The Donvier 837409 Manual Ice Cream Maker is a brilliant device and is excellent for one or two individuals. It can make 8 small scoops at a time, which will suffice for use indoors.
If you are looking for a hybrid device with both manual and electric controls, the Buffalo Tools Hand Ice Cream Maker is an excellent option. It will give you the choice to toggle between manual and automatic mode, bringing you the yummiest of desserts with the least amount of effort.
Add to the summer vibes and make some delicious ice cream at home. Happy shopping!
Related Articles
10 Best Hot Chocolate Makers  | Buyer's Guide and Reviews
10 Best Personal Mini Pie Makers That Will Sweeten Your Party
10 Best Omelette Makers to Buy
7 Best Hand Crank Ice Cream Maker
13 Best Cappuccino Makers to Enjoy Today | Buyer's Guide
7 Best Quesadilla Maker [Reviewed & Buyer's Guide]
Koolatron P-20 Thermo-Electric Cooler Review
NutriBullet vs. Vitamix [All You Need to Know][Winner]
What Size Air Fryer Do You Really Need? [Buyer's Guide]
11 Best Food Processors For Nut Butter
13 Best Mini Freezers for a Chilly Year
13 Best Wine Coolers Right Now