Disclaimer | This article may contain affiliate links, this means that at no cost to you, we may receive a small commission for qualifying purchases.
Nothing beats the luxurious and rejuvenating experience of unwinding on a hammock after a long day.
But what do you do when your backyard or porch does not have trees or poles to set one up? Simple – you get a hammock with a stand. No matter how easy that sounds, finding the right one can leave you searching high and low.
This is mainly because not all stands can hold up to prolonged outdoor exposure and eventually end up buckling. That's why to make things easier on your part, we curated a list of 13 best hammocks with a stand available right now.
Without further ado, let's get down to business.
Best Hammock With Stand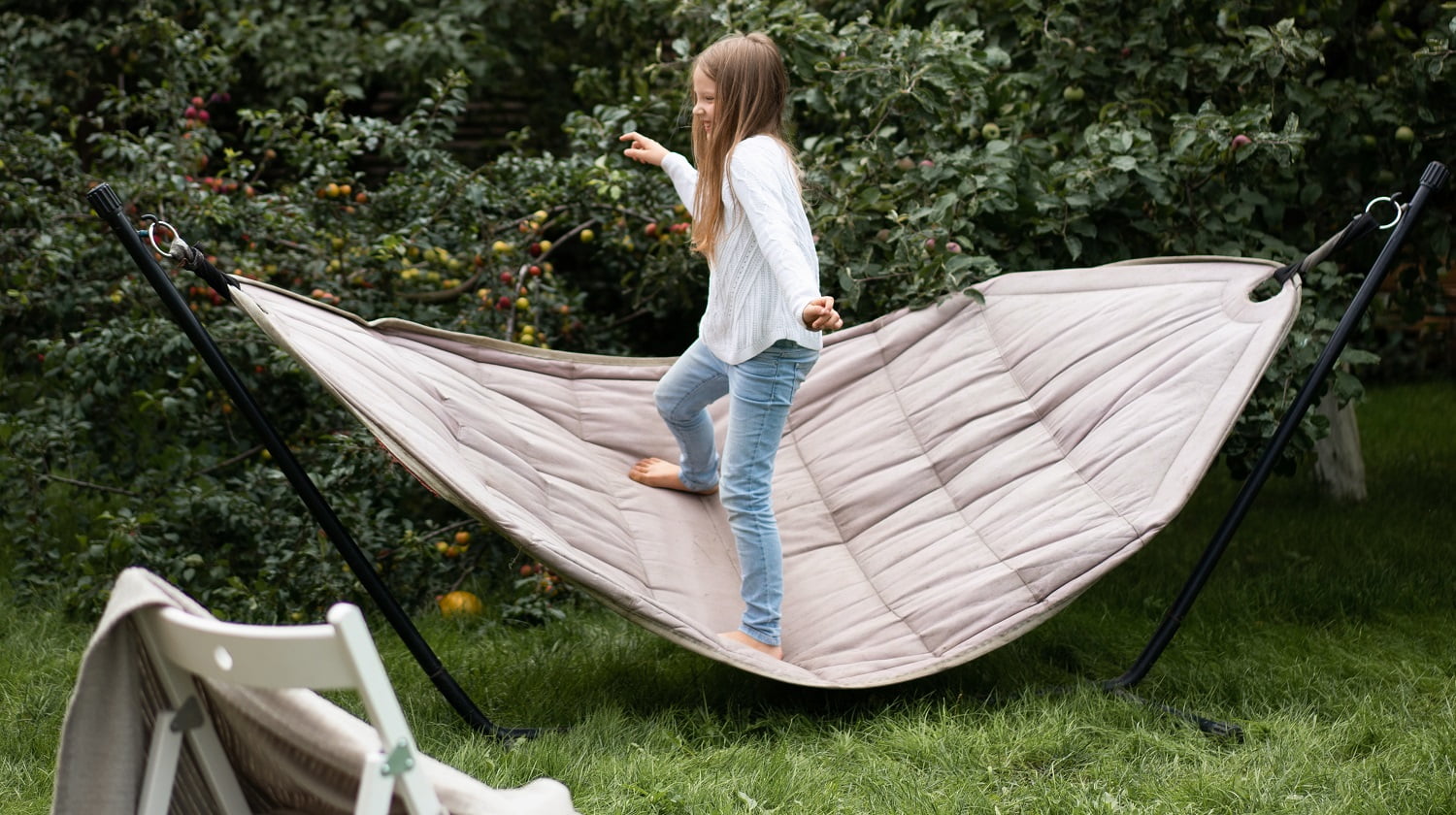 The SUNCREAT Cotton Rope Hammock is the ideal option for anyone who wants to add a pop of color to their backyard. Life can get hectic between household chores and work, but you can always catch your outdoor break in this relaxing hammock. So, if you want to unwind in style while enjoying the sun and breeze, get this right away.
Why Did We Like It? 
First and foremost, we love how chic and summery it looks with a quilted fabric pad on the rope construction. Therefore, it seamlessly combines modern style with comfort, so you can zen out in this statement outdoor piece. 
Also, it ranks quite high in terms of durability, thanks to the high-quality cotton ropes and polyester padding. Meaning, it can hold up to the external environment for the longest time, and you can enjoy your setup without worrying too much about maintenance. 
Besides, it comes with a 12 ft, high-strength steel stand, ensuring rust resistance and stability. Other than that, the hammock itself is 144 inches long with a weight capacity of 475 lbs. Hence, you can lounge solo or with a partner; either way, the hammock won't buckle.
Lastly, we like that it includes a cup holder and an iPad holder, providing maximum convenience from the get-go.
What Could've Been Better? 
This hammock is the perfect companion for breezy summer evenings when you just want to kick back with your favorite drink. However, some of us prefer a low-strung hammock, but that won't be possible unless you buy chain extensions. We would have liked it more if the height could be adjusted. 
While hammocks are reminiscent of the beach life, you don't necessarily need to visit the sandy shores to enjoy one. Especially when you can get something like the Sienna Stripe Quilted Hammock, a gorgeous backyard accessory that can be set up anywhere without poles or trees. So, if that sounds fun, maybe consider buying this one.
Why Did We Like It? 
First of all, we totally dig the striped, multi-colored look of this hammock, which can accentuate any outdoor decor. Furthermore, it comes with a matching pillow, enhancing style and comfort. So, whether you want to read a book, take a nap, or just enjoy the view, this hammock can provide an unparalleled experience. 
Apart from that, the package includes a 14-gauge heavy-duty steel stand designed to ensure support and safe use. However, despite its sturdiness, it's relatively lightweight, and as such, you can easily set up your hammock anywhere on your backyard, patio, porch, or deck. Also, the powder-coated frame protects from rust and other environmental factors. 
That said, what took us by surprise is the 6′ 5" length of the hammock, allowing users plenty of legroom to stretch room. Also, it's a cinch to assemble as it includes all the hanging hardware, and you'll not be needing any tools.
What Could've Been Better? 
We do not have any complaints with the hammock design or the stand; however, we couldn't help but notice one flaw while testing it out. The hammock bed tends to sag to the ground, making it difficult for people to climb out of it. This is especially problematic for taller people. 
If you prefer keeping your outdoor accessories low-key, the Pure Garden Portable Hammock is an excellent option. It may not have a lot going on in terms of looks, but it's definitely one of the most versatile options on the market. Therefore, if you want something portable for your outdoor escapades, this is an excellent buy.
Why Did We Like It? 
When it comes to these suspended 'beds', comfort takes precedence over appearance. Therefore, if you'd rather have a modest-looking hammock offering superior comfort, your hunt ends here.
For starters, we cannot get enough of its practical design, which makes it exceedingly handy for your outdoor trips. So, whether you want to go hiking, camping or just spend a day at the beach, this hammock is ready for all occasions. 
The best part is that it neatly folds to fit into the backpack included in the package. Therefore, you can pack light and keep your hands free for other belongings. As for the frame, we're very impressed with the aluminum construction, which works perfectly well with the durable canvas cloth.  
Other than that, we like how easy to assemble it is thanks to the intuitively placed hooks and loops. If you'd rather not deal with ropes, you might as well buy this one.
What Could've Been Better? 
We are, for the most part, satisfied with the overall design of this hammock and do not have any complaints regarding its build quality. However, we would have liked it more if it was more inclusive of very tall users. Basically, if you're taller than average, you may have to dangle your feet from the sides, which is hardly comfortable. 
Up next, we have the Giant Swing Hammock, designed to appeal to users with a penchant for all things classy and unique. Who knew that a hammock could up the style quotient of your home exterior. So, if you want to make a bold statement and enjoy the sublime feeling of a hammock, get this stat.
Why Did We Like It? 
To begin with, we absolutely adore the elegant arched wood frame on this, creating the perfect balance between imposing and ornamental. Despite its shape, it's skillfully crafted to provide balance and support.  
Therefore, you can swing on the hammock for hours without worrying about falling over. Other than that, we're stoked about its resistant qualities, which deems the entire setup highly durable and sturdy. To explain further, the frame is made of Russian larch wood, coated with a wood oil finish to keep things low-maintenance and hassle-free. 
Other than that, we like the polyester cotton fabric of the hammock, providing comfort and cushioning desirable for utmost relaxation. Besides, it has a weight capacity of 265 lbs, which frankly is good enough for most single users. 
Lastly, it's streamlined profile makes it suitable for both indoor and outdoor use. So, if you want, you may station it on your balcony, porch, or under any shade, for that matter.
What Could've Been Better? 
We are all for a white hammock with a wood stand, but the only catch is keeping up the pristine appearance of the fabric. Long story short, it collects dirt quite easily, and sometimes the stains are hard to get off. If you can manage to keep it in top condition throughout, this might be for you. 
The AmazonBasics Fabric Hammock is quite the game-changer with its top-notch design and quality. You may not have a beach trip in mind anytime soon, but you can always enjoy a slice of that experience with a superb hammock. That said, if you want something durable in the mid-price range, we recommend buying this one.
Why Did We Like It? 
This beautiful hammock designed in a classic style is the ideal companion to kick back after a long day at work. To begin with, the hammock bed is made of a unique fabric blend, including polyester, cotton, rayon, and nylon. Therefore, you can expect it to last for a very long time without succumbing to the outdoor environment or intensive use. 
Capacity-wise, it can do a solid 400 lbs, which is a good number for accommodating two adult occupants. Other than that, you'll appreciate the generously-sized 94" x 63" bed, designed for superior comfort and space.  
So, whether you want to sit or lie down, this hammock will provide you with a safe experience regardless. Coming to the stand, we have nothing but praise for the space-saving steel design. Some of us do not have the luxury of a large backyard or porch; nevertheless, this compact number will seamlessly fit in.
Lastly, it comes with a carry bag and all the parts required for assembly, so you don't need to buy anything aftermarket.
What Could've Been Better? 
Nothing but the instructions. If you have never used a hammock before (the strap-on ones don't count), you may find yourself in a bit of a soup with its assembly. The directions are not much help either, and a lot of it has to be figured out through trial and error.
The Vivere Solid Pine Wood Hammock is the piece of luxury you'd want to add to your home. If you're not restricted budget-wise, this gorgeous, regal-looking model will surely appeal to your aesthetics. Frankly, we can see ourselves hours sunbathing on it in winter afternoons, so you might as well give it a shot. 
Why Did We Like It? 
We usually imagine a hammock along with other elements like calm sea waters, clear blue sky, and the feeling of being suspended from trees. Cut to the urban scene; all you got is a porch, backyard, or a pool deck at best. 
Regardless, you can still work something out in a treeless arrangement, and as such, this model with the pinewood stand is an excellent choice. The bed is made out of pure cotton, providing users with maximum comfort and cushioning.
So, if you prefer gentle fabrics instead of threaded designs, give this a shot. Other than that, we love the arched 8′ pinewood stand, adding a vintage charm to your existing decor. However, the best part is that the hammock height can be adjusted, which is great news for most users. 
Lastly, this Brazilian style hammock includes premium-quality polyester end strings, allowing users to create the right tension for the best experience.
What Could've Been Better? 
The hammock is cozy and comfortable, alright; however, before you go ahead and buy it, you should know that it doesn't swing. Now, that's not a deal-breaker per se, but many buyers want that rocking motion. That aside, it's still a great choice that can truly upgrade your wind-down routine.  
We're halfway through our list, and now is a good time to introduce the Sorbus Hammock With Stand. That said, tying a hammock to trees or poles is not something most new-generation users want to deal with. When you can pay a little extra, you might as well get a model with a stable stand. Here's why we found this one truly worthy of mention.
Why Did We Like It? 
Add some zing to your backyard, porch, or poolside with this striped hammock on a stand. Frankly, lying in this beautiful bed is that addictive and enjoyable, so much that you won't be going back to your lounge chairs anytime soon. 
For starters, we're very impressed with the heavy-duty cotton construction, dye-treated for UV and weather resistance. Furthermore, the package includes a powder-coated steel frame that can hold up to an external environment regardless of the weather condition.  
In terms of capacity, it has won us over with its 450-lb load-bearing ability. Besides, it's super easy to assemble thanks to snap lock mechanisms, allowing users to set up the hammock in no time.  
It's spacious enough to accommodate 2 adults, so whether you have planned a romantic evening with your partner, or a book-reading session with your child, this can work wonders. Lastly, it's incredibly portable, so feel free to take it to your camping, hiking, or other outdoor expeditions. 
What Could've Been Better? 
Well, there's no sugarcoating here, but the hammock starts to unravel from the seams over time. While the bed and the stand remain intact throughout the course of use, we would have liked it more if it was stitched to perfection. Regardless, it's one of the best options if you're on a budget. 
If you're not hung up on looks and would rather buy something more utilitarian, the Best Choice Products Polyester Hammock is a worthwhile investment. While it's quite plain-looking, what it lacks in appearance, it makes up for in quality and capacity. Honestly, that sounds like a steal deal to many, and we can hardly disagree.
Why Did We Like It? 
Reimagine your outdoor sessions with a high-quality hammock designed for superior comfort and relaxation. You don't need a sea-view to enjoy the cozy, cocooned feel of a hammock, as this model delivers it all straight out of the box.  
The stand is slightly low to the ground, allowing users to set the hammock at a convenient height for easy accessibility. Also, we really appreciate that it's made of water-resistant polyester, meaning you can virtually set it up in any outdoor location. 
Another thing we like about the steel stand is that it's reinforced with a powder coating to prevent rust and scratches. Despite its unassuming appearance, it can support up to 500 lbs, which is not something every double-hammock can sustain. 
Apart from that, we totally adore the pillow and the matching pouch included in the package. So, if you want to keep your book, glasses, or any other small item within reach, the pouch will come in handy. 
What Could've Been Better?
This hammock is more like a cot, as once set up, it remains fixed in its position. While that's a safe option (especially if you have children at home), some users may not enjoy the experience. However, it ranks high in durability and capacity, and hence, it's a great option for some. 
The Sunnydaze Cotton Rope Freestanding Hammock is a gorgeous backyard accessory that can virtually transport you to the beach. It looks like something you'd find in a small seaside cottage, where you could just spend hours swinging on a hammock with your favorite drink, watching the sun set. You don't need to replicate the scene, just buy this and let your imagination run wild.
Why Did We Like It? 
First of all, we love the premium-quality cotton construction of the hammock, paired with solution-dyed padding. Not all of us like the feeling of threads against the skin, hence this is a perfect option if you're looking for more comfort and space. 
Design-wise, we're very impressed with the sleek stand made of steel tubing, taking up the least bit of space. The small footprint of the stand is a bonus, considering that a lot of users want to set it up inside their homes.
Besides, the model is exceptionally lightweight and portable at only 36 lbs, thereby enabling hassle-free storage and transport. Plus, you can pretty much use it straight out of the box, thanks to hanging chains and O-rings included in the package. Also, it comes with a matching pillow, which is great for a quick outdoor nap. 
All in all, it's an excellent buy for single users who want to feel pampered and rejuvenated after a relaxing session.
What Could've Been Better? 
We're satisfied with the overall quality and performance of this unit, but if there were one thing that bothered us, it would be wood spreader bars. With time, the varnish on the spreader bars starts to flake off, leaving the wood bare and exposed to the elements. You may have to touch it up to maintain the original condition.  
The Vivere Double Cotton Hammock is an elegant backyard accessory that can truly elevate your outdoor decor game. It's summary, fun, and most importantly, it looks at home in any location, be it on the garden, porch, patio, or deck. Therefore, if you'd want such a multi-functional piece, add this cart right now.
Why Did We Like It? 
First things first, this double Brazilian-style hammock is an excellent option if you're looking to share the 'swinging' experience with a partner. Made of tightly-woven, resilient cotton fabric, this multi-colored piece exudes a beachy vibe that you simply can't resist. 
We especially love the polyester string ends attached to the hammock, providing the right amount of tensile strength to keep you afloat. Other than that, the slender shape of the steel stand is a bonus, adding to the portability of the setup. 
Besides, it takes mere minutes to assemble and disassemble the whole thing, and hence, you can set it up anywhere depending on your mood. If you're curious regarding capacity, let's just say that it can effortlessly sustain a good 450 lbs.
What Could've Been Better? 
The hammock can seem a little too high-strung for users who are in the 5-5'2" height range. While it can be adjusted, there's only so much you can do to bring it down a few notches. So, depending on your height, this may not be for you.  
Finding the right double hammock with a stand is not as easy as it seems. Not all models out there can you provide you with an authentic experience without compromising safety. That's where the ONCLOUD Double Hammock comes into the picture. So, if you're looking for a seamless blend of comfort and style, check out this option.
Why Did We Like It? 
When you're on a tight budget, lack of research can lead you to sub-par products that start to show signs of damage early on. You'd want to avoid spending money on such items, and instead, get something reliable like this double hammock. 
While we love how it all looks, once set up, we included it on our list for its superior comfort and performance throughout. To explain further, the cotton and polyester construction is designed for the long haul and won't rip even after intensive use. 
Apart from that, we're very impressed with the universal design of the stand, which is compatible with any string style hammock between 9 1/2′ to 11 1/2′ long. Also, each side features 6 holes, about 4 inches apart, so you can tie the hammock at an appropriate height.
What Could've Been Better? 
The 300-lb weight capacity may not be enough for some users, and that's an issue you can't otherwise ignore. However, given the humble price tag, this bit does not come as a surprise. We'd suggest looking for other options if high-capacity is a top priority.  
If you're bored of your lounge chairs or patio seating, try something different with the Mototeks Double Hammock. Unlike average hammocks that tend to sag after some use, it provides an unparalleled experience to users with taking any serious hits. So, if you'd instead focus on durability than looks, we suggest opting for this one.
Why Did We Like It? 
For starters, we're very impressed with the spacious design of this hammock, providing sufficient elbow and legroom to users. Therefore, even if you and your partner are on the heavier side, there'll be enough room for both to stretch out. 
Other than that, we really like the sleek frame that comes with the hammock, occupying minimal space on the ground. Long story short, it's the best option for compact spaces, where you can seamlessly blend among other things. 
The best part is that the package includes all the tools required for assembly, so you won't need to buy anything aftermarket. Plus, it comes with a carry bag, thereby instantly streamlining storage and transport. All in all, it's an excellent, hassle-free option that can take your outdoor escapades to a whole new level.
What Could've Been Better? 
While we do not have any complaints regarding the quality or performance of this product, it's not the safest choice for children. The hammock fabric is a bit slippery, and your kids, if left unattended, can fall over and injure themselves. 
Now that we've reached the end of our list, we'd like to finish off with the Best Choice Products Brazilian-Style Hammock. That said, not all of us have the budget for a high-end hammock-stand combo, and that's where this item comes to the fore. It's classy, decorative yet functional; pretty much all you need in a hammock.
Why Did We Like It? 
To begin with, this unique product is designed in typical Brazilian style with gathered ends to give you the ultimate cocooned feel. So, whether you want to stargaze on a summer night or enjoy an evening drink, you can do it all solo or snuggle with a partner in this suspended bed.  
As for its weight capacity, it can support up to 450 lbs, which is nothing short of impressive, given the affordable price tag. Likewise, we're all praises for the robust, tempered steel stand, ensuring maximum support and stability. 
Also, both the hammock and the stand are designed for enhanced weight distribution to make things more comfortable from the get-go. Lastly, we like that it comes with a carry bag, allowing users to neatly fold and store the hammock for easy transport. 
What Could've Been Better? 
We are more or less satisfied with the quality of this multi-colored unit; however, assembling and disassembling can be a real pain. The package includes different types of hardware, and you need to figure out what goes where, as the instructions are not very clear.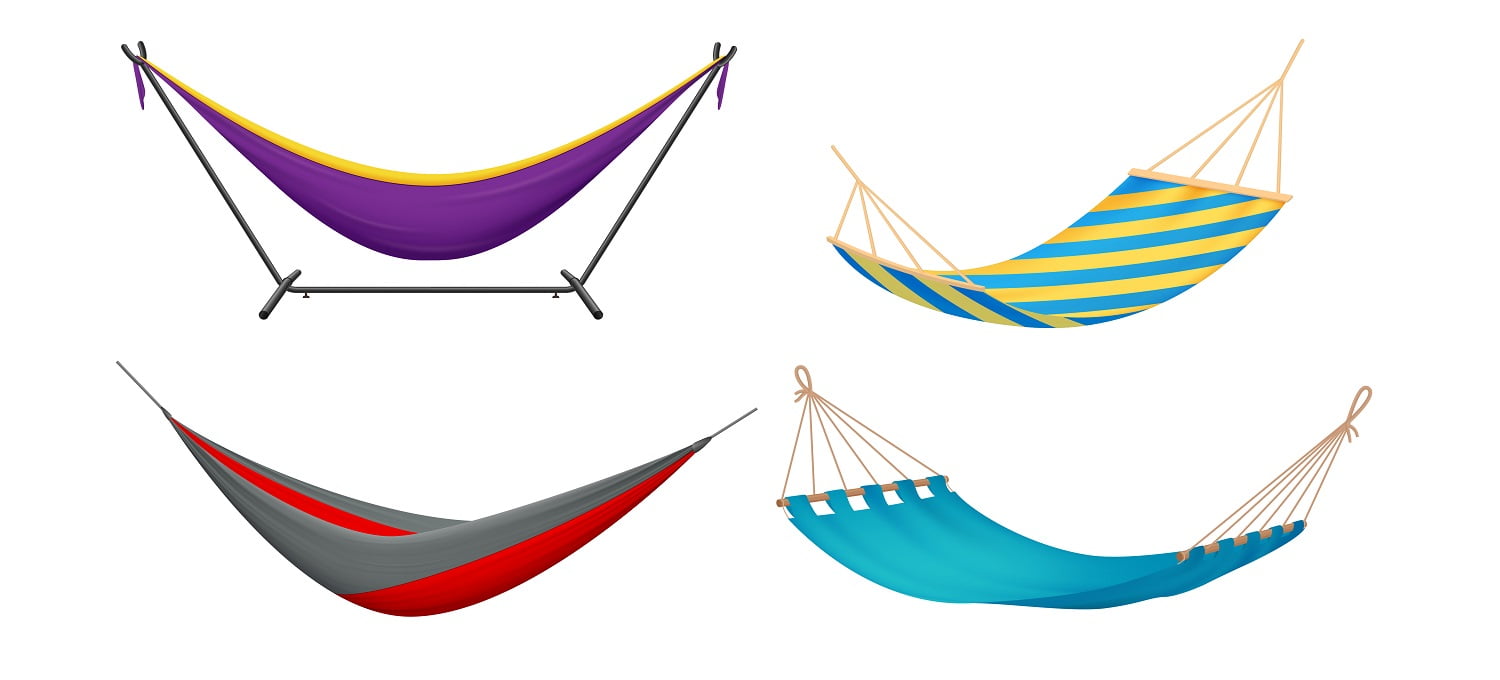 Hammock With Stand Buyers' Guide
Knowing all about the 13 best hammocks with a stand may seem enough information to go ahead and buy one. However, you still need to figure out which among these options will work best for you. 
While buying a hammock is not rocket science, you still gotta make certain considerations to ensure the best experience. That's why we have put together this brief buyers' guide to walk you through the essentials. 
Hammock Material
The first thing you should notice about a hammock is the fabric material. While you can find cheaper rope ones, they don't do much in terms of comfort. However, some rope models include polyester padding so you can avoid direct contact with the rope. 
Other than that, you can find cotton, polyester, or blended fabric options. That said, the combination of cotton and fabric is one of the most sought-after varieties. 
But if you want to experiment with something different, you can try out quilted fabrics, which are quite popular for their vibrant look and comfort. Nevertheless, these fabrics tend to absorb a lot of heat, which is not at all desirable in the summers. 
Single Or Double Design
After you make up your mind about the hammock material, it's time to choose between single and double design. Based on your preference, you can buy something for solo use or get a model with a substantially higher weight capacity, suitable for 2 adults. 
We'd recommend buying a double design if you plan to share the hammock with your partner, children, or pets. Also, a double hammock will give you more room to stretch out when you want to spend some quality time by yourself. 
Size And Weight Capacity
Regardless of whether you're purchasing a single or double hammock, size and weight capacity is a key consideration you cannot ignore. If you plan on using it with a partner, be clear about your combined weight before selecting a 2-person option. 
On the safer side, it's best to go 50 lbs above what you need, so you can get that extra support if you have somehow miscalculated. Also, not all hammocks are long enough to accommodate individuals close to 6′. 
Therefore, it's best to read up on the product dimensions to find something that won't fall short on length or breadth.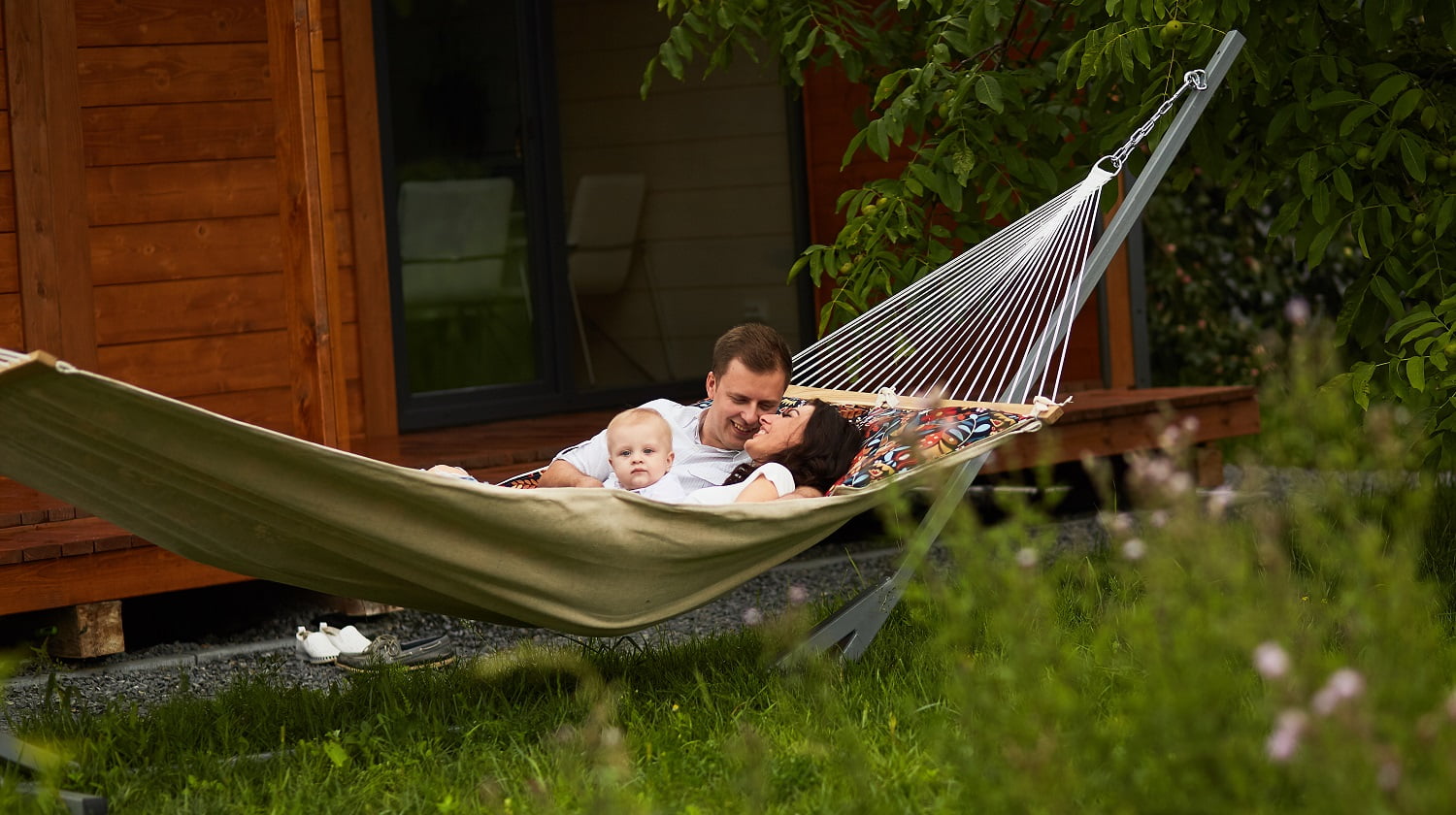 Verdict
That's all from us. 
With this, we hope you could find the most suitable hammock to relax outdoors. However, before you go ahead and buy one, here's some advice. Make sure that the hammock is height-adjustable and does not sink to the ground.  
After all, you don't want something that fails to provide the 'floating in the air' feel. On that note, we'd like to take our leave with this quick round-off. 
The SUNCREAT Cotton Rope Hammock is the best overall, while the Pure Garden Portable Hammock is the most versatile option. The Sienna Stripe Quilted Hammock is the most durable choice and the AmazonBasics Fabric Hammock is the best budget buy. 
Till next time, stay afloat!
Related Articles
11 Best Backyard Hammocks to Enjoy