Are you a DIY enthusiast on the hunt for some gold paint? Because if that's the case, you've come to the right place! 
What we've done for you is compiled the seven best gold paints for wood-based projects that are available on the market in 2023. Don't worry if your project isn't solely wood-based, though, because most of the paints on this list can be used on a wide range of surfaces. 
Now, some of you might be wondering why we have an entire article devoted to just choosing the right kind of gold paint. That's because most standard gold paints are not suitable for wooden surfaces. Why? Wood tends to absorb the paint applied, leaving a dull and awful finish instead. But this guide will ensure you avoid any such unfortunate mess! 
So, without wasting any more time, let's get right into it, shall we? 
Best Gold Paint For Wood
IMAGE
PRODUCT
DETAILS

Our Top Pick

Our Top Pick

Shabby Chic Chalk Paint

Available in 250 ml and 1-liter volumes
Water-color based chalk paint
Full cure time is 3 hours

VIEW LATEST PRICE →

Rust-Oleum 253537

Water-based paint
Available in 2 fl oz and 32 fl oz volumes
Cure time of 30 minutes

VIEW LATEST PRICE →

Modern Masters ME701-06

Available in 6 oz volume
Water-based paint
Cure time of 30 minutes

VIEW LATEST PRICE →

Rust-Oleum 245221

Available in volumes of 11 oz only
Oil-based paint that has a cure time of 30 minutes
Packaged in a spray bottle

VIEW LATEST PRICE →

Krylon K05588007

Comes packaged in an aerosol can
Has a full cure time of 48 hours but is dry to touch in 20 minutes
Available in 12 oz volume

VIEW LATEST PRICE →

Design Master 746

The size of the product is 11 ounces
It's a semi-transparent pigment spray

VIEW LATEST PRICE →

Chase

Has a volume of 8.5 fluid ounces
This is an enamel paint
Comes packaged in a spray can

VIEW LATEST PRICE →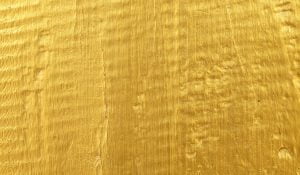 Rainbow Chalk Markers Ltd. is a rather popular UK-based family-owned business. They are known to specialize in chalk paint and are commonly known as liquid chalk specialists. Their Shabby Chic series of chalk-paints is specifically targeted at furniture painting and refurbishment purposes, which is ideal for professionals and DIY enthusiasts. 
Why Did We Like It?
The Shabby Chic Chalk Paint (antique gold shade) is one of our absolute favorite picks for gold paint! It has a slightly distressed yet ornate finish that gives a glow to any old furniture you decide to use it on. Also, it is an ideal metallic gold paint for refurbishing old furniture and highly recommended in the DIY community. 
We love how even though this paint is targeted for wooden furniture, it can also be used to paint various other surfaces. This includes metal, stone, plastic, as well as plaster and brick surfaces, making this paint rather versatile. It's also straightforward to use because it doesn't require any undercoat or primer for a smooth and flawless finish. 
If that wasn't enough, this paint is non-toxic and water-based, making it very safe to use around children and inside the house. The rich and advanced formula makes it one of the best for DIY users because it does not need to be applied impeccably for a smooth and thick finish. 
What Could've Been Better? 
This paint takes over 3 hours to dry, which may pose an issue to some users with little children or pets around. Also, you may need to apply 2-3 coats to achieve the desired finish. But these are far from deal-breakers, if you ask us. 
Pros
Rich pigment and smooth metallic finish

Can be used on multiple surfaces

Short cure time

Non-toxic and water-based, thereby safe to use

Does not require a primer or undercoat
This gold paint is manufactured by Rust-Oleum as a part of their Metallic Accents series of paints and is in the shade of Soft Gold. It is an elegant metallic paint meant to upgrade or re-touch wooden furniture, doors, windows, etc. 
Why Did We Like It?
This paint creates a rich, elegant, and shimmery finish on wood, which interacts with light to give it a more accented and iridescent color. The paint features a very simple one-step application; it is versatile and suitable to apply on most surfaces. Just two coats of it are enough to provide a thick and flawless finish on any surface. 
One bottle of this paint can cover up to 105 square feet of surface area and is therefore, as quick and easy to apply as it is to clean up. However, one of the very best qualities of this paint is that it only takes 30 minutes to dry completely. Its non-toxic nature and little to no odor make it ideal for application within closed spaces and around kids. 
What Could've Been Better? 
This paint is a little expensive and might not seem affordable to purchase for smaller DIY projects. Also, it goes on rather thin and, therefore, can be easily scratched and ruined, which is kind of a letdown.
Pros
Rich and iridescent finish

Water-based and low odor

Easy to apply and clean up

Dries very fast

Can be used on most surfaces
Cons
Applies thin


Can be easily scratched
Sale
Modern Masters is one of the oldest paint brands and has been manufacturing water-based metallic paints since the early 1970s. Their continued focus on decorative paints with metallic finishes has set them apart from their competition and made them one of the best in the business. The paint we have on our guide from this company is in the shade Rich Gold. 
Why Did We Like It?
This Modern Masters paint in Rich Gold gives a vibrant, semi-opaque, satin metallic finish that provides a luxurious appearance. It's a rather versatile paint that can be applied to all interior surfaces ranging from walls and ceilings to furniture and other trimmings. 
Just like the last paint on our last, this one also dries up completely in just 30 minutes while covering a respectable area of 18 square feet per bottle. The water-based formulation is as per Leed Specifications and has little to no odor and volatile compounds. This makes it very safe and easy to use in home environments, making it a good option for all DIY enthusiasts to invest in. 
Last but not least, this paint is composed of pearlescent pigments and real metallic particles, which strengthen its durability and make it more long-lasting. Because of its high-end decorative finish, this paint is ideal for large and small architectural pieces. 
What Could've Been Better?
The quantity of paint provided in this product is very low. Furthermore, the consistency of this paint is rather dense and hence provides exceedingly low coverage. This makes it a hassle for people who are attempting bigger projects to invest in this paint. 
Pros
Suitable for a variety of interior surfaces

Low odor and safe to use

Provides a rich satin-metallic finish

Dries very fast

Does not tarnish or fade easily
Cons
Available in very small quantities only
Sale
Rust-Oleum, as we know, is one of the leading manufacturers of metallic finish paints. This one is a part of their Universal Spray Paint series and is therefore oil-based and comes packaged in a spray can. Moreover, this gold paint is very highly rated amongst consumers for its superior quality shimmering metallic finish on all surfaces. 
Why Did We Like It?
This Rust-Oleum spray paint works virtually on all surfaces, from wood, fiberglass, plastic, and metal to even vinyl, concrete, and Vicker. This paint also does not require any primer or undercoating, making it one of the most versatile paints in this entire guide. 
This paint's oil-based formula provides excellent adhesion, which alternately resists fading and chipping and prevents rusting while giving a long-lasting finish. The superior fade and UV resistance that this paint provides make it ideal for painting both indoor and outdoor surfaces alike! If that wasn't enough, this paint dries in just 30 minutes and covers an area of up to 15 square feet per can. 
Hence it is fair to say that this gold paint is one of our very top contenders, especially when it comes to spray paints specifically. The spray can has an ergonomic trigger design and a 360-degree spray angle that facilitates a smooth and luxurious finish. 
What Could've Been Better?
The spray feature of this product can make it slightly messy to work with. You will have to keep shaking the can to make sure that the paint is coming out. The spray application may also cause a considerable amount of wastage of the paint. 
Pros
Fast-drying formula

Does not require a primer or undercoating

Works on a large variety of surfaces

Can be used to paint outdoor surfaces

Long-lasting and durable
Cons
The application can be tricky
Sale
Krylon was the first brand in America to create spray coating and is one of the most trusted companies since its inception in 1947. Krylon's COLORmaxx series offers the widest range of colors in the highest quality compared to any given company. Hence, the metallic gold variant of this paint has understandably made it to our top 7 gold paints list. 
Why Did We Like It?
This spray paint works as a primer and paints 2-in-1, eliminating any need for undercoating and considerably reducing your painting time. Much like the last Rust-Oleum spray paint, this one can be used on an even wider variety of surfaces from wood, metal, and plastic to glass, ceramic, paper, and even fabric. This makes it ideal for a DIY enthusiast who likes to experiment with a lot of materials and surfaces. 
The glamorous metallic sheen of this paint is not only beautiful to look at, but it also protects objects against rust and other weather conditions. The 12-oz volume of paint can cover up to 25 square feet of surface area with relative convenience. This makes it an ideal paint for outdoor projects. 
Furthermore, the spray can this paint comes in is extremely user-friendly with a big button spray tip that can even spray when held upside down. And in case you make any mistakes or spill the paint in the wrong area, you can always clean it up with a lacquer thinner. 
What Could've Been Better?
This paint, similar to the last one, comes packaged in a spray can, and hence the application is automatically always slightly messy. Other than that, this aerosol spray also releases a lot of strong odor and fumes that might make it a little bit difficult to use. 
Pros
Can be used on both indoor and outdoor surfaces

Primer and paint 2-in-1

Applicable on a very wide variety of surfaces

Easy to use
Cons
Has a strong odor and fumes

Messy application
Next up on our recommendation list, we have the Design Master paint in the color Antique Gold that comes packaged in a tin spray bottle. This paint stands out from the rest by providing a smooth but semi-transparent bronze-gold finish on all the surfaces it is applied to. The versatility in the usage of this product has quickly made it a fan favorite amongst most DIY users. 
Why Did We Like It?
The uniqueness of this spray paint lies in the muted semi-transparent satin finish that this paint provides. It is characterized by its ability to paint wood, plastic metal, and styrofoam, fresh flowers, fruits, and vegetables for decorative purposes. The pigment has a quick-drying formula and forms only a thin coat, enabling the paint to be used on such a versatile set of surfaces. 
Furthermore, this gold spray paint has one of the highest customer reviews compared to all its other counterparts on this list. It seems to have been specifically formulated for the demanding use of creative individuals, such as professionals and DIY enthusiasts. While the spray may not be very long-lasting, it comes in very handy for creating wedding decorations and painting over scratched or rusted surfaces that need a touch-up. 
What Could've Been Better? 
Since this spray paint only provides a thin coat of pigment on surfaces, it very easily fades away or scratches with too much wear and tear. Hence, this gold paint is ideal for temporary decorative pieces and light touch-ups rather than full coverage paint jobs. 
Pros
Quick-drying

Can be used on fresh flowers, fruits, and vegetables

Can be used on styrofoam

Value for money
Cons
Requires frequent re-touches in the long-term
Last but not least, we come to the Chase 24-karat gold spray paint manufactured by Darice. Many of you may have heard of Darice being one of the US's most affordable art and Craft suppliers. They have been providing the best selection of craft supplies for the everyday crafter for more than 60 years. And it is hence no surprise that their gold spray has made it to our top 7 list. 
Why Did We Like It?
Darice has developed a gold spray paint called 24-karat gold that gives a brilliant and flawless finish. This paint is an enamel that is made from an alkyd resin that was dissolved in a solvent. The paint forms a hard coating on the surface, making it one of the most long-lasting gold paints on our guide. 
The exquisite shine and luster make it the ideal gold paint to use on furniture, ornamental pieces, frames, craft projects, and more. At the same time, the durable nature of this paint makes it the perfect option for touching up old and fading centerpieces in your house. This gold spray is also rather affordable compared to most other gold paints available in the market today. 
What Could've Been Better?
This product is highly flammable and has several precautionary measures that need to be followed while in use. Hence, it's highly recommended this paint spray is kept out of reach from children and used only in open and well-ventilated spaces. 
Pros
Provides a hard and long-lasting enamel coating

Has a brilliant gold finish

Simple to use

Affordable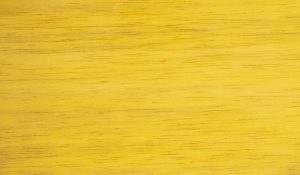 Gold Paint For Wood Buying Guide
Durability
For starters, you will want to invest in gold paint depending on the kind of project you are working on. So if you're planning to paint an object that has high wear and tear, then you'll want to go with conventional water-based paint. Applying a water-based paint with a rush and applying a polyurethane coat at the end will ensure a strong and long-lasting finish.
Alternatively, if you're looking to re-paint an old dresser, furniture, or other ornamental objects, any paint with a glossy or chalky finish should do the trick. Spray paint could work very well for such projects.
Need For Primer
DIY enthusiasts have always highly recommended using a primer as an undercoating before painting any surface for a more even and beautiful finish. However, the priming process increases the painting time and effort required for projects considerably.
Hence, for this reason, you might be looking for ways to skip this priming step altogether. For such people, we have paints that are primer and paint 2-in-1. The cost of these paints is usually a little on the higher side for their dual capabilities. But they're well worth the investment if you're looking to save some time and money while painting your project.
Drying Time
Paints have a variety of different drying times. Some dry as quickly as 30 minutes, while others may take hours or even an entire day to dry completely. Depending on the circumstances you are painting in, you will want to pick a paint with a drying time that suits your needs.
For example, if you have handsy children around you or are in a rush to finish a project, you will want to buy fast-drying paint.
Finish
Different gold paints provide a very different set of finishes on the wood that you are painting. Some of the common finishes for wood are matte, satin, and gloss. So, if you're going for a more modern finish, you may want to invest in gold paint with a matte finish. If you want a more reflective finish, then gloss and metallic finish gold paints would be the one for you.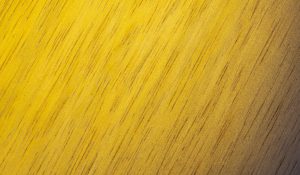 Best Gold Paint For Wood Verdict
So, with that, we come to an end to our guide for the top 7 gold paints for wooden surfaces. As we mentioned earlier, each of these paints has been tried and tested by our experts. Hence, you can rest assured that the quality of each of these paints is top-notch! 
That being said, we would like to mention some of our favorite picks before we go. The Rust-Oleum 253537 and Shabby Chic gold paint are perfect for painting outdoor furniture and decoration pieces. The former has a more glossy metallic finish while the latter has a matte finish and so you can choose the one according to your likes. 
The Krylon gold spray paint, on the other hand, is our top recommendation for DIY enthusiasts planning to paint indoor objects. 
And with that, we'll leave you to it. See you next time! 
Related Articles
9 Best Finish for Kitchen Table
Sherwin Williams Vs. Benjamin Moore
9 Best Paint Primer For Drywall
9 Best Paint Sprayer for Lacquer
9 Best Paint Brush For Polyurethane
6 Best One Coat Paint and Primer