Glass is a unique material with a non-exhaustive list of uses—everything ranging from packaging, tableware, furniture, housing, etc. 
Despite being such a versatile product, glass is one of the materials that require utmost care while handling. It tends to develop cracks and breaks easily and quickly, often even after careful handling.
Now, damaged glass is not very easy to repair and requires special types of adhesives available on the market from several different manufacturers. However, as the market is flooded with so many products, it becomes difficult to select the right one.
That is why we have compiled this list of the best adhesives for glass. Additionally, we have included a buyer's guide that explains what factors to consider while selecting the right glue. 
Without further ado, let's dive into it.
Best Glue For Glass Reviews
IMAGE
PRODUCT
DETAILS

Our Top Pick

Our Top Pick

E6000 230010 Craft Adhesive

Industrial strength adhesive
Non-flammable
Waterproof and dryer safe

VIEW LATEST PRICE →

Loctite 233841 Glass Glue

Dishwasher safe
Water and heat resistant
Clear drying

VIEW LATEST PRICE →

Gorilla 5002801

Strong yet flexible
Multipurpose glue
Completely waterproof

VIEW LATEST PRICE →

Gorilla 4200101 2-Part Epoxy

Permanent, durable glue
2-part bond
Includes cap for storage

VIEW LATEST PRICE →

Rhino Glue

Instant adhesive
Commercial-grade formula 
Clear-stress feature

VIEW LATEST PRICE →

Elmer's E1012 China and Glass Cement

Non-toxic
Heat resistant and waterproof
Dishwasher Safe

VIEW LATEST PRICE →

J-B Weld 50112

Very high tensile strength
Two-part epoxy
Easy application syring

VIEW LATEST PRICE →

Devcon 31345 2-Ton Clear Epoxy

Heavy duty glue
Non-shrinking adhesive
Excellent impact strength

VIEW LATEST PRICE →

GE Sealants and Adhesives 2708910 Silicone

Permanently flexible
Economical
Completely waterproof

VIEW LATEST PRICE →

Beacon GM2OZ Glass Metal & More

Dries clear
Water and weatherproof 
Long lasting bond

VIEW LATEST PRICE →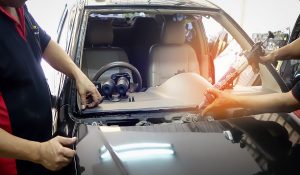 We begin with the E6000 230010 Craft Adhesive, which has a unique formula that offers impressive results. This product is placed so high on our list as it is compatible with a wide range of materials that not only includes glass, but also wood, fiberglass, metal, and more. 
Sale
Why Did We Like It?
We found the E6000 230010 to be very effective in sealing all sizes of cracks in glass and work excellently to repair delicate ornaments or damaged glass objects. Also, it does not leave behind any visible signs that show it has been fixed.
As mentioned above, this glue is highly compatible with several different types of materials and you can use it successfully to repair or join wood, porcelain, glass, cement, rubber, etc. Additionally, the industrial-grade material performs excellently in all weather conditions.
This craft adhesive also possesses the property of being highly paintable, allowing you to easily paint over the repaired section. This property makes it an excellent product for various types of crafts where visibility might be an issue. 
What Could've Been Better?
This craft adhesive is one of the finest products for use on glass and other types of material. The only drawback that it has is that the product emits fumes you should try to avoid. That is why using it in enclosed spaces is not recommended without ensuring proper ventilation beforehand.
Pros
Allows versatile application

Compatible with several different types of materials

Durable and long lasting

Temperature resistant and non-flammable
Loctite is one of the brands in the industry that has been offering premium quality adhesives for over 50 years. The Loctite Glass Glue is one of the products on this list specifically suitable for bonding glass. It has a unique butyl formula that is effective for all glass varieties such as clear glass, tinted glass, etc. 
Why Did We Like It?
You will be very impressed with this patented super glue that bonds to glass perfectly. Besides such strong bonding, another impressive feature is that it sets clear without turning yellow like most other adhesives for glass. Due to this property, you can use it on any type of glass without worrying about the aesthetics.
This glue for glass also works very quickly, bonding almost instantly to the glass. For projects that require faster completion, this quick acting feature is an additional benefit. 
One of the most critical factors that make a glue ideal is its resistance to temperature changes. The Loctite Glass Glue is reasonably resistant to such changes and does not melt down in extreme heat, making it suitable for use in areas or objects with heat exposure. 
What Could've Been Better?
While the Loctite Glass Glue is one of the most impressive products for working with glass, there is one limitation that you need to consider. It can only work with glass and does not provide excellent results on other materials. This drawback limits the number of use cases for the product.
Pros
Bonds very quickly

Does not turn yellow over time

Suitable for all types of glass

Value for money product
Cons
Not suitable for use on materials other than glass
Next on this list is the Gorilla 5002801 Original Waterproof Polyurethane Glue, one of the strongest adhesives for working with glass. This product is excellent for application on dissimilar surfaces and works well for several different applications.
Sale
Why Did We Like It?
There are several reasons why we liked this product. The Gorilla 5002801 is one of the adhesives that work on almost all surfaces, making it handy for repairing glass objects as well as wood, plastic, fiber, metal, etc. Also, the industrial-strength formula ensures that the glue lasts for a very long time.
We also found the glue to be unaffected by the elements, making it perfect for both interior and exterior use. As it is waterproof, you can use it on surfaces that are frequently exposed to moisture. Overall, this adhesive has the broadest range of applications you could imagine.
Another point to note is that the glue expands up to 3 times its original size as it dries up. This property ensures that it securely holds the pieces or parts together without leaving any gaps in between, creating the strongest bond between materials. 
What Could've Been Better?
The efficiency of this industrial-strength glue is unparalleled. However, this also leads us to one drawback: since the glue works so well, removing it from unwanted sections is a complicated process and requires a lot of effort. 
Pros
Offers versatile application

Suitable for interior and exterior use

Not affected by the elements

Highly flexible
Another excellent product that we would like to mention is the Gorilla 4200101 2 Part Epoxy. Coming from the same brand as the previous product, this is an adhesive that offers a long setting time. It is ideal for challenging repairs and provides a permanent solution for glass, wood, ceramic, and metal repairs. 
Why Did We Like It?
As we know, the Gorilla brand is well-known for offering quality products that provide a great user experience, and this product is no different. It comes with an easy-to-use syringe that makes the application process very simple and you also get separate barrels of resin and hardener, which prevent the epoxy from hardening. 
This glue provides a decent setting-time which allows you to reposition it as required. Many other glass adhesives do not offer this feature. The durable bond formula expands to fill any spaces in the glass or other material, making the glue suitable for even minor repairs and damages.
Besides, this is one of the most cost-effective products on the market right now. This is because the convenient cap that comes in the package allows you to store the glue properly and use it again later as needed. Also, the adhesive itself also does not dry up so quickly as to render it unusable later.
What Could've Been Better?
We cannot recommend this product enough due to the excellent results it offers, though you should keep in mind that the glue dries with a slight yellowish tint. So, this product would not be a perfect choice for repairs that are meant to remain invisible. 
Pros
Adequate setting time

Expands to fill gaps

Easy to use and store

Cost-effective
Cons
Visible yellowish tint after drying
We suggest the Rhino Glue if you are looking for a glass adhesive that offers commercial-grade results. This adhesive is an instant glue that bonds with almost any material and works flawlessly for all repairs, making it suitable for home, business, as well as industrial use. 
Why Did We Like It?
When looking for instant glues, the curing time is the main factor to take into consideration. As such, this is one of the best instant adhesives that exceeds expectations and requires very little time to cure, making it ideal for projects that require urgent repairs.
One of the unique features of the Rhino Glue is its clear stress formula that is resistant to shock, impacts, vibrations, etc. It will not face damage even after repeated exposure to such factors, making the product perfect for use on machine surfaces.
Rhino Glue offers excellent results using glass, vinyl, wood, rubber, metals, etc., and is ideal for various types of applications using different materials. This is a significant reason why it is an excellent choice for business or industrial applications.
What Could've Been Better?
This glue is one of the best adhesives that are resistant to shock and impacts of various types. Unfortunately, this property does not extend to heat and moisture, and frequent exposure to extreme heat or water tends to affect the glue's holding capacity. 
Pros
Fast acting formula

Stress and impact resistant

Ideal for home, business, or industrial applications

Highly versatile
Cons
Not very resistant to heat and moisture
Elmer's is a leading brand that specializes in offering easy-to-use adhesive solutions for domestic purposes. It has been offering quality products that provide the best results for over 65 years. Elmer's E1012 China and Glass Cement is a non-toxic adhesive that works flawlessly for repairing cracks on glass, ceramics, china, and other similar materials. 
Why Did We Like It?
One of the best products that we tested and reviewed, Elmer's E1012 China and Glass Cement is also one of the highest-rated products online. This might be due to the fact that it is a completely non-toxic adhesive. You can easily use it for repairing your glassware, such as mugs, without worrying about toxicity.
Additionally, the glue works perfectly in indoor and outdoor conditions as it is waterproof and heat resistant. This makes it an excellent option for outdoor repairs as it creates an unbreakable bond when exposed to sunlight. Similarly, you can use it in areas exposed to moisture without any worries.
The glue sets quickly, helping you save time on repairs and is ideal for projects that require no visible signs of repair, since it becomes clear as it hardens. You will also not find any discoloration even after over a year since the time of application.
What Could've Been Better?
There's no defect in the product itself, except for the fact that it requires even more thorough preparation before application than most other adhesives. You need to properly clean the surface and prepare it for getting the best results when using this glue as unclean surfaces will prevent it from holding on.
Pros
Completely safe food-grade adhesive

Almost invisible after setting

Fast setting allows quick repairs

Dries quickly
Cons
Requires plenty of preparation before use
The next item on this list comes from J-B Weld, a Texas-based world-famous company known for its epoxy products. The J-B Weld 50112 Clearweld is a multipurpose two-part epoxy perfect for repairing glass, ceramics, wood, etc. It is one of the most potent adhesives that we came across while researching.
Why Did We Like It?
Coming from one of the most innovative brands in the industry, the J-B Weld 50112 Clearweld offers excellent results for glass repairs. It creates a robust and lasting bond and works fine with glass, ceramics, metal, concrete, and plastic,making it suitable for repairing all manner of objects without putting in a lot of effort.
The glue comes in a syringe that allows easy application as well as storage due to the resealable cap that prevents the adhesive from drying out. This two part epoxy has a very high durability, which makes it perfect for larger repairs. 
The J-B Weld 50112 Clearweld can also withstand extreme temperatures ranging from blistering heat to freezing cold. Where other adhesives are likely to melt or freeze and crack, this product holds its own against harsh temperatures very effectively, making it ideal for use on exposed surfaces.
What Could've Been Better?
We have nothing negative to say about this product, other than the fact that it emits a foul odor during use. This limitation is only to be expected, considering it is an industrial-grade adhesive. The smell fades away as the glue dries, and you can cover your face using a mask during application.
Pros
Highly durable

Easy to store and offers multiple uses

Compatible with glass, ceramics, wood, etc.

Setting time allows adjustment.
Cons
It emits an unpleasant odor
The Devcon 31345 2 Ton Clear Epoxy offers an excellent combination of outstanding performance, versatility, and affordability. It helps repair cracks in glass, metal, and wood very effectively and is a perfect example of how effective Devcon's products generally are. The Devcon 31345 is one of the best value for money products on the market. 
Why Did We Like It?
People who want durable, high-strength glue to repair glass or ceramics cannot go wrong with this product. Besides being one of the more affordable items on this list, the Devcon 31345 2-Ton Clear Epoxy offers excellent results when working with glass, ceramics, metal, or wood.
This glue creates a very strong and long-lasting bond with the surface it is applied to, ensuring perfect repairs effortlessly. It also possesses good impact strength, helping prevent further damage to the object by absorbing shocks, impacts, and vibrations. Surfaces that are subject to frequent shocks and vibrations can be repaired using this product with great results.
Not only is the Devcon 2-Ton Clear Epoxy resistant to water, but it is also completely unaffected by oils, solvents, gasoline, salts, and mineral spirits. You won't have to worry about the glue getting dissolved after exposure to any of these compounds. 
What Could've Been Better?
While testing out this product, we discovered that it performs exceptionally well indoors. The problem occurs when you use it outside, exposing it to the weather and particulate matter. In such conditions, the adhesive tends to lose its effectiveness, and we recommend using it only for indoor repairs.
Pros
Creates a very strong bond

Resistant to oils, solvents, spirits, salts, etc.

Offers versatile applications

No chemical smell
Cons
Not suitable for outdoor use
The 2708910 Silicone adhesive from GE Sealants and Adhesives is one of the most innovative products you will find on this list. It is a 100% silicone-based glue that works like a charm to repair cracks and breaks in different materials like glass, porcelain, wood, steel, etc. This product combines durability with flexibility, offering great results for all types of repairs.
Why Did We Like It?
It is easy to find adhesives that work well indoors, while fewer products work as well  outdoors. Thankfully, this product seems specially designed for outdoor use. It provides unmatched results and offers long-lasting durability.
It is a silicone-based glue suitable for prominent surfaces such as glass and ceramics as well as steel and aluminum. The product's formula allows it to be highly flexible, which helps in the absorption of various types of shocks and impacts. This property is highly beneficial for making repairs on outdoor surfaces. 
If you are looking for an inexpensive adhesive but do not want to compromise on quality, the 2708910 is for you. It is highly reliable and ideal for use on objects exposed to moisture, such as outdoor furniture, as it is entirely waterproof.
What Could've Been Better?
The drawback that this product suffers from is a fairly common one. Once you open the tube for the first time, the glue starts hardening up very quickly, making it difficult to get it out of the tube for later use. So, it's best to purchase it as and when required.
Pros
Absorbs shocks and vibrations easily

Suitable for areas exposed to moisture

Great for outdoor use

Works fine with metallic objects as well
Cons
It does not allow multiple uses
Further down the list, we bring you one of the strongest adhesives perfect for glass, plastic, jewelry, and more. The Beacon GM2OZ Glass Metal & More is a fantastic product that provides a rock-solid bond while ensuring that your glass repairs remain completely invisible. It has been proven to provide unmatched results even in situations where super glue does not work.
Why Did We Like It?
The Beacon Glass Metal & More uses a unique formula that promises unmatched durability for several years. We found it impressive as it becomes utterly transparent once dry, leaving behind no visible signs of repair. In case of projects where the signs of repair require to be hidden from view, this is the perfect choice.   
Adhesives that are waterproof expand the scope of usage, making them a highly versatile product. To our satisfaction, the Beacon Glass Metal & More is not only waterproof but can also effectively survive snow, hail, sleet, etc. For repairing surfaces such as outdoor ornaments and furniture that are exposed to such elements, this is the ideal option. 
The glue works flawlessly not only with glass but also metal, creating a super-strong bond that is nearly impossible to break. Additionally, it works reasonably well to seal up cracks on certain plastic surfaces as well. 
What Could've Been Better?
Compared to many other items on this list, the Beacon Glass Metal & More requires considerable time to set. During the setting period, which is around 24 hours, you won't be able to use that surface. This factor might be an issue in case of regular-use.
Pros
Works perfectly with glass and metal

Ideal for invisible repairs

Also suitable for plastic surfaces

Unaffected by the elements
Cons
Requires a considerable amount of time to set
As we near the end of the list, we would like to mention another exceptional product for making repairs on glass. The Eclectic E6800 262011 UV Resistant Pro-Grade Adhesive is an industrial-strength, non-flammable product that is highly versatile and offers excellent results for glass repairs.
Why Did We Like It?
Despite ranking lower on our list, it is no less effective than the others. You can use it easily to fix glass, since it is firmer and more flexible than polyurethane. Additionally,  its resistance to chemicals makes it ideal for surfaces exposed to dilute acids and caustics, such as vials, lab equipment, marble, etc. 
The product works flawlessly even in fresh and saltwater conditions. This feature distinguishes it from most other waterproof adhesives that do not allow submerging in water. Being highly resistant to moisture allows it to be used to repair surfaces like swimming pools.
The manufacturer has used UV stabilizers in the formula, which provides resistance against UV rays, making the glue suitable for outdoor use. It is also reasonably resistant to extreme temperatures and does excellent under hot as well as cold conditions. Using it for repairing your outdoor furniture or ornaments is sure to provide excellent results.
What Could've Been Better?
The only defect we found while using this product is that it does not perform very well for vertical applications. You can use it successfully for horizontal work without any worries, but it tends to run down the surface during vertical use. 
Pros
Extremely strong

Resistant to UV rays and vibration

Works well in freshwater and saltwater

Paintable
Cons
Only suitable for horizontal applications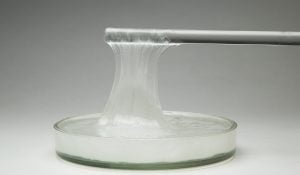 Glue For Glass Buying Guide
By now, you must have got an idea of what to look for while purchasing an adhesive for glass. Before making a final decision, however, there are some other factors you should take into consideration.
Even after reading through this list of best adhesives, it is possible to end up with a product that does not meet your needs. To prevent this from happening, you should take into account various factors when purchasing glue for repair purposes.
This buyer's guide lists the essential factors that will help you make an informed decision.
Strength and Durability
How strong an adhesive is determines how effectively it can hold pieces together for repair. The stronger the glue, the better it tends to perform. This property also relates to durability, as stronger adhesives last longer. 
When shopping for the ideal glue for repairing glass surfaces, you will find several products that offer industrial strength. In most cases, such products perform their function well and are suitable for heavy-duty use.
Flexibility
Flexibility is another essential factor to consider while selecting the suitable glue for your purpose. Flexibility allows the adhesive to expand and contract depending upon external conditions such as moisture, temperature, and pressure.
The more flexible the glue is, the more resistant against breakage due to such external stimuli. Non-flexible adhesives tend to crack and break if they are exposed to sufficient pressure or extreme temperatures. 
Resistance to External Stimuli
Most adhesives you will find on the market claim to be resistant to several factors such as heat, cold, water, shock, etc. Products that meet such claims are generally great options. Surfaces often tend to get exposed to various stimuli, especially exterior ones.
Adhesives that offer such resistance can be used in numerous ways, such as repairing ceramic pools or glass panes. On the other hand, glues that are less resistant limit their use to mainly indoor repairs.
Versatility
The versatility of an adhesive determines which type of use it is suitable for. Versatile glues are ideal for glass and metal, wood, porcelain, and even plastic. 
You should select the product that works well with the surfaces you intend to use it on. A versatile adhesive would be more suitable for multiple surfaces and objects than one that works only on a single surface.
Storage and Multiple Uses
A significant issue with adhesives is that most of them tend to dry up quickly once you open them. This tendency prevents multiple uses and forces you to purchase again for later use. Some products come with a cap that prevents them from drying up.
If you are looking for a product you would like to store and use again, go for products that allow multiple uses. Products that dry up quickly are fine for a single-time use case.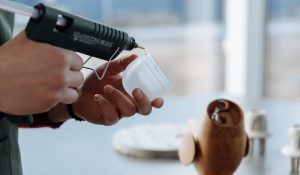 Verdict
Finally, we have come to the end of this comprehensive review and buyer's guide, and hope you found it informative and helpful for selecting the right product. 
Before taking our leave, we would like to mention our favorites from the list. The best overall product for us that offers excellent results would be the E6000 Craft Adhesive. 
For those looking for a value-for-money product, we recommend the Loctite Glass Glue. Finally, if you are looking for a completely waterproof and multipurpose glue, then nothing beats the Gorilla 5002801. 
That's all for today, till next time!
Related Links
How To Glue HDPE 101 + Best HDPE Adhesive
9 Best UV Light Glue for Amateurs & Professionals
Food Safe Epoxy Guide 101 [All You Need To Know]
How to Remove Gorilla Glue From Skin Safely & Easily
How To Get Poster Putty Off Walls
The Difference Between Epoxy & Super Glue [Clear Winner?]
Types Of Glue | Everything You Need To Know
Wood Filler vs. Wood Putty [A Clear Winner?]
9 Best Glue for Metal to Wood [Reviews & Buyer's Guide]
9 Best Caulk For Your Showers and Bathtubs [Buyer's Guide]
10 Best Leather Glue on the Market 
11 Best Permanent Fabric Glues [Reviews & Buyer's Guide]
11 Best Aquarium Safe Silicone
11 Best Glue For Paper & Paper Mache
10 Best Ceramic and Porcelain Glue
11 Best Glue for Polypropylene
3 Best Adhesive for Carbon Fiber
9 Best Glue For Acrylic Plexiglass
9 Best Glue for Plastic Eyeglass Frames
10 Best Glue For Stainless Steel
Polyurethane Glue 101 | All You Need to Know 
Gorilla Glue vs. Super Glue | Strengths, Weakness + Winner?
JB Weld VS Gorilla Glue | Comparison & Winner
9 Best Glue For Hardwood Floors
7 Best Glue For Particle Board
5 Best Glue To Fix Fridge Plastic
7 Best Adhesive For Acoustic Foam
Glue That Works On ABS And PVC