Recreating spectacular crafts made of felt is fun, considering all the parts stick together. 
We've often seen it – a felt flower or box that barely hangs together as the poor quality glue struggles to keep things in place. But the good thing about fabric is that you could always sew things in place. 
If not, one must resort to using glues to fix the project that needs to be completed immediately. So, here we have a list of options for the best glue for felt, a guide that you can hopefully use to find the perfect product for your household. 
Take a look at detailed reviews for the best options on the market below… 
 Best Glue For Felt
IMAGE
PRODUCT
DETAILS

Our Top Pick

Our Top Pick

Aleene's Always Ready Tacky Glue

Dries clear
Customizable nozzle opening

VIEW LATEST PRICE →

Aleene's Felt And Foam Tacky Glue

Instant dry and thick formula
Suitable for foam and felt 

VIEW LATEST PRICE →

Elmer's CraftBond Tacky Glue

Strong and wet tacky glue
Dries clear
No-run formula

VIEW LATEST PRICE →

Beacon Adhesives Felt Glue

Dries clear
Cleans with water 
Thick formula

VIEW LATEST PRICE →

3M Super 77 MultiPurpose Spray Adhesive

Forms strong bonds
Can be used on multiple surfaces
Gives transparent finish

VIEW LATEST PRICE →

Bearly Art Precision Craft Glue

Multi-sized tips
Clear drying formula
Wrinkle and clump resistant

VIEW LATEST PRICE →

Plextone Sew Glue Liquid

Resistant to high temperature
Waterproof
Dries quickly

VIEW LATEST PRICE →

Tear Mender Instant Fabric And Leather Adhesive

Waterproof
UV-resistant 
Permanent and flexible glue

VIEW LATEST PRICE →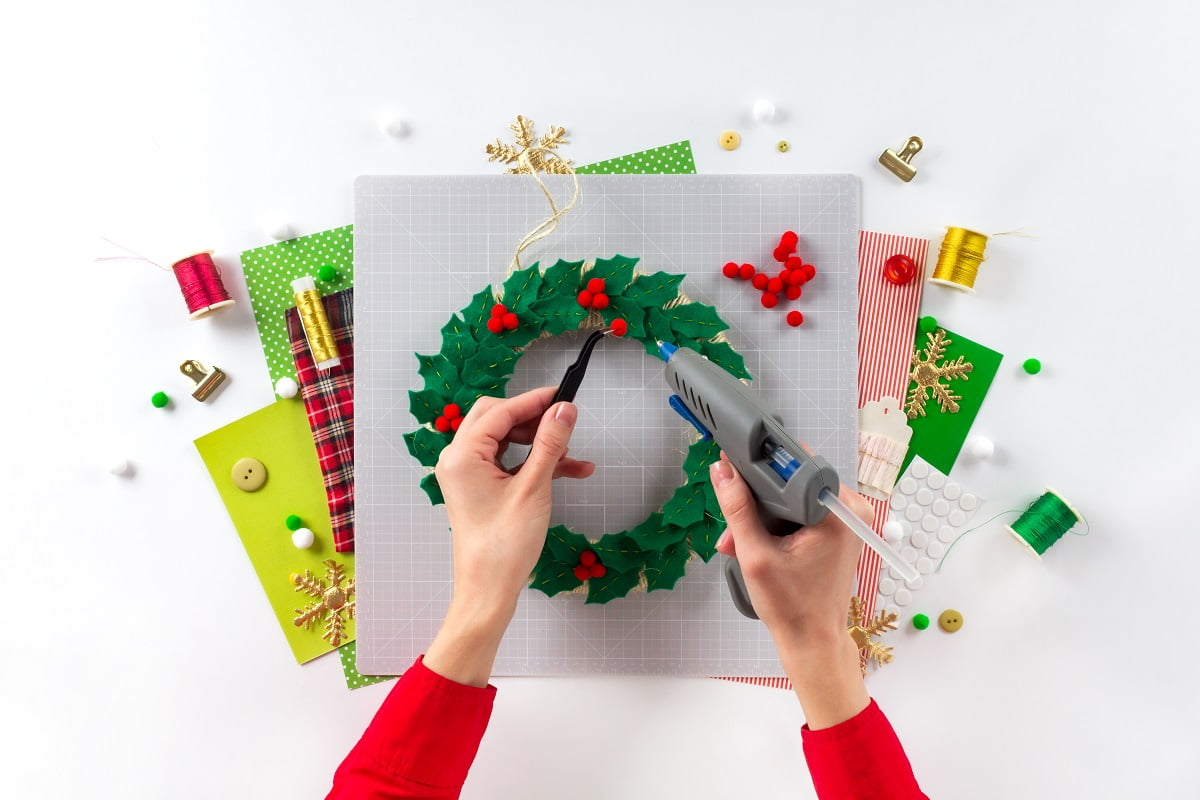 The number one glue option we found for you is the all-purpose Always Ready tacky glue by Aleene's. Its incredibly versatile formula holds all sorts of items together and permanently sticks the adjacent surfaces. Dubbed "America's Favorite Craft Glue," this product is the only adhesive you need in your project kit. 
Why Did We Like It? 
Aleene's original tacky glue has been a household name in the world of glues and adhesives for over 50 years. Millions of Americans trust this brand for craft projects, hobbies, or household repair purposes. Its distinctive gold bottle is a visual representation of the gold standard of quality that one expects for this brand of glue! 
As we mentioned earlier, this glue is versatile enough to hold together two pieces of felt, foam, wood, paper products, ceramics, and non-washable fabrics. Whether you are adding small jewelry or designs to the material or working with a felt project, this glue will help you along the way. Also, you could use this glue for making DIY slime recipes for the kids. 
Moreover, one unmistakable benefit of using this permanent glue bottle is the choice of nozzle openings. You can customize the opening of the nozzle by cutting it with a pair of scissors to a comfortable size. 
What Could've Been Better? 
Purchasing glue is not as easy when there are tonnes of worthy options on the market. But, we can all safely agree that Aleene's is one brand that you can trust without giving a second thought. However, we think this fabric glue is the best glue for felt; and it would be better if the formula dried a tad bit quicker. 
Pros
Non-toxic formula

Cleans with water

Forms a very strong bond

Bonds a range of materials
Another glue type by Aleene's would make for a perfect bonding agent for felt and several other materials. As the name mentions, however, this glue is specifically designed to stick together pieces of felt and foam. Available in 118 milliliter or 4 oz bottles, you can use this tacky wet glue for any of your craft projects for the best results. 
Why Did We Like It? 
We have a really good reason to bring back Aleene's brand for our second glue recommendation. When we talk about glues for felt and foam, you must remember that not any glue will do the trick. It should be either super glue that holds just about anything or specially designed to form bonds with felt fabric. 
Moreover, this permanent adhesive dries almost instantly and forms a strong bond between both the felt materials.  This will come in handy for adding decorative pieces, embellishments, or even sparkles to foam for a children's project. As such, a playroom prop will adhere much quicker with foam glue like this one to enhance the craft project. 
In any case, this tacky glue might be the best glue in the thick, non-runny variety, thus making it towards the top of this list. 
What Could've Been Better? 
While we know that foam and felt glue has a slightly different formula to regular adhesives, this also makes the product less versatile. So, buy this bottle only if you need to work with felt and foam because it may have limited uses elsewhere. 
Pros
Formula does not run

Forms a durable bond

Made in the USA

Makes instant grab bonds
Coming up next on the list is another well-known brand, Elmer's, and we've decided to review the CraftBond Tacky Glue by this company. Now, Elmer's markets this product as perfect for household fixes and arts and craft projects alike. The formula is smooth and wet on application and dries pretty quickly too. 
Sale
Why Did We Like It?
Firstly, Elmer's glue falls into the category of clear-drying tacky glue that helps adhere flat surfaces together. This craft glue is ideal for bonding felt to wood or any other material because it is pretty versatile. The wet tack can also work as fabric glue to hold the felt material of fine fabric together. 
Moreover, Elmer's tacky glue remains flexible even after application, thus giving you some time to work with it. It might be quick-drying, but it does not dry instantly either. As far as the glue felt formula is concerned, it is thick and smooth and will not ruin your projects by leaking from the sides and spilling everywhere. 
As with other glue for felt, this option does the job pretty well while remaining open to multipurpose use. Permanent adhesives like this are perfect for home décor projects, holiday décor, and creating handmade gifts for friends and family. 
What Could've Been Better? 
Gluing felt together is not possible with any glue, and you will find that there are many hits and misses in bonding this material. But the best adhesive is one that manages to apply without spilling and dry to form a strong bond within a short time. On the downside, this formula might be too thick for bonding paper. 
Pros
Remains flexible after application

Multipurpose use

Convenient tube bottle

Dries quickly
Cons
Not ideal for paper quilling
Next, we have shortlisted a felt glue formula by the brand Beacon Adhesives. If we are to look at glues designed to form bonds between felt materials, it doesn't get better than this option. You can use it for all sorts of gluing projects around the house and expect it to form permanent bonds that clean up by water. 
Sale
Why Did We Like It? 
During our search for the best glue for felt, we found this fabric glue option that was formulated especially for felt projects. If you have an arts or crafts setup that requires gluing felt to wood, this craft glue can help you out. Using a thin layer of this product, attaching felt becomes seamless, and this results in a smooth finish for felt projects. 
Besides, this glue dries quickly after application and leaves no residue behind. Sticking felt requires a particular type of formula, and this non-toxic glue is perfect for that. Since it is non-toxic, you can use it to repair children's objects and create craft projects. What's more, you can even allow the kids to use this glue for their schoolwork. 
Apart from that, this glue dries completely clear and does not leave a yellowish tinge behind. In case you make a mistake, simply clean it with some water because the glue dissolves upon contact with water. 
What Could've Been Better? 
We discovered that you could use this glue for a number of purposes in and around the house. However, we felt that glue should dry moderately quickly for it to be effective and whole fabrics of felt together. Since that was not the case with this product was slightly disappointed. 
Pros
Non-toxic glue

Made in the USA

Odor-free

Easy to clean
Now that we have seen a few wet or tacky glue options, it's time to check some spray adhesives. One popular option is the 3M Super 77 multipurpose sprayer adhesive, which is the best spray glue for bonding wooden projects. Apart from the industrial strength of the glue, it also dries instantly. 
Sale
Why Did We Like It? 
While searching for the best glue for felt, we found a suitable alternative to the traditional tacky wet glues in the form of spray glue. Whether you are sticking felt to a wooden surface or any other material, this all-purpose tacky adhesive spray will come in handy. 
A spray adhesive is especially helpful when you need to cover a large area quickly, especially on vertical surfaces. In such scenarios, sticking felt to wood panels becomes easier, and you do not need to reapply the glue all over again due to drying. A thick layer of tacky spray is all you need to cover a large space, and gluing felt will seem like the easiest thing to do. 
Anyway, once you apply the spray, it gives you around 15 minutes to reposition the materials. A complete bond is formed within 30 minutes or so if the glue felt is left alone. Additionally, the adhesive is photo-safe, meaning you can use it to create photo albums without fear of damaging the images. 
What Could've Been Better? 
While this spray glue has several purposes that make it ideal for felt, wood, and other substances, a few details were left overlooked. The spray format is suitable for quick fixes with thin materials, but the same cannot be said for larger objects. Reviewers felt that this spray could not handle heavier projects. 
Pros
Provides coverage on larger surfaces

Allows time for repositioning

Ideal for light materials

Does not seep into materials
Cons
Not ideal for heavier objects
The Precision Craft Glue by Bearly Art is a premium clear-drying adhesive, which some might argue is the best glue for professionals. While that might be true, it can also be an ideal pick for home projects, crafts, and, not to forget, glitter application. So, your search ends here as this wrinkle-resistant glue is what you need! 
Why Did We Like It?
To begin with, we know that attaching paper and felt material needs a strong bond, which is precisely what this glue manages to nail. Whether you are attaching felt to wood pieces or the wooden floor, a thin layer of this fabric glue goes a long way. 
What's unique about the glue bottle is the four options of application tips it comes with. The tip kit contains all the tools you will need to make crafts of your choice. The fine tip is made of stainless steel end and a plastic base, ideal for the most precise applications. The fine tip is made of plastic and allows a slightly larger amount of glue to pass through. 
Apart from that, the bottle also comes with a tip cap to prevent the glue from drying and a cleaning pin to clear any blockages. One added benefit of this glue formula is its wrinkle and clump resistance, no matter the amount of glue you add. 
What Could've Been Better?
We loved the fact that this glue formula was resistant to freezing and thawing. But one downfall prevents this adhesive from being a truly great glue. Most reviewers liked the product and its application but thought the odor was overpowering for the most part. This might put off some people from using this adhesive. 
Pros
Varied application choices

Stable to freezing and thawing

Quick-drying formula

Made in the USA
Another option we have selected for this list is the Sew Glue Liquid by Plextone. In essence, Felt is a fabric, and a dedicated fabric glue like this one would get two felt pieces stuck in no time. This particular glue is also capable of adhering pieces of leather together and does not wash off even after cleaning. 
Why Did We Like It? 
If you are on the lookout for glue that bonds any type of fabric, this is the one you should go for. Apart from attaching felt, it also bonds solid materials like leather in an unbreakable bond with each other, even bonding felt to wood. 
Once this liquid fabric glue is used for repairing materials like felt, it will not come apart even if you toss the cloth in a washing machine. Simply put, it is resistant to water once it dries up, and the same is applicable to high temperatures. Thus, fabrics created or repaired using this glue are safe for ironing or putting in the dryer after washing. 
Additionally, the glue comes with a repair kit that includes two tools for easy fabric adhesion. Whether you are starting a project from scratch or making minor changes and repairs to old, torn clothes, this is the right glue to go for. Another reason for sticking felt with this glue is that it dries completely clear and is made of a non-toxic formula. 
What Could've Been Better? 
All in all, gluing felt with this fabric adhesive could make your life easier, and you could even ask the customer service team for help. However, applying this glue to white fabric might be a mistake because it leaves a yellowish tinge after application. 
Pros
Works on all fabrics

Comes with tools and instructions

Convenient nozzle

Non-toxic
At last, we arrive at the final recommendation for the day – the Instant Fabric And Leather Adhesive by Tear Mender. This is an eco-friendly, non-toxic glue that dries in mere minutes of application and exposure to air. In the pure sense of the word, this glue is genuinely all-purpose since you can use it to repair almost anything. 
Sale
Why Did We Like It? 
Now, adhesives are the most valuable when they bond all sorts of material together, but with felt projects, they only need to stick fabric pieces. This adhesive will, however, also stick your leather products together apart from gluing felt. Plus, if you need to stick fabric or leather to a wooden surface, this is the option you might want to select. 
Unlike hot glue, this adhesive does not require heat, ironing, solvents, or reactions to form bonds to attach felt to wood. The formula has a naturally thicker consistency that leaves the surface flexible for three minutes after application. Once dried, the glue is waterproof, UV resistant, and flexible, making it ideal for an outdoor repair project. 
Tear Mender glue comes in a standard bottle size of 2 oz. per packaging; however, there are several bundles offered on third-party sites. So, if you have a large project lined up, be sure to grab the offer. 
What Could've Been Better?
Reviewers appreciated that the glue formula is intrinsically acid-free and safe for contact with human skin. Something customers were rather displeased with was that the bottles that came in the mail all dried up and were quite impossible to use. To add to their frustration, the customer service team took a long time to reply. 
Pros
Non-toxic formula

Dries quickly

Forms long-lasting bonds

Various bottle options are available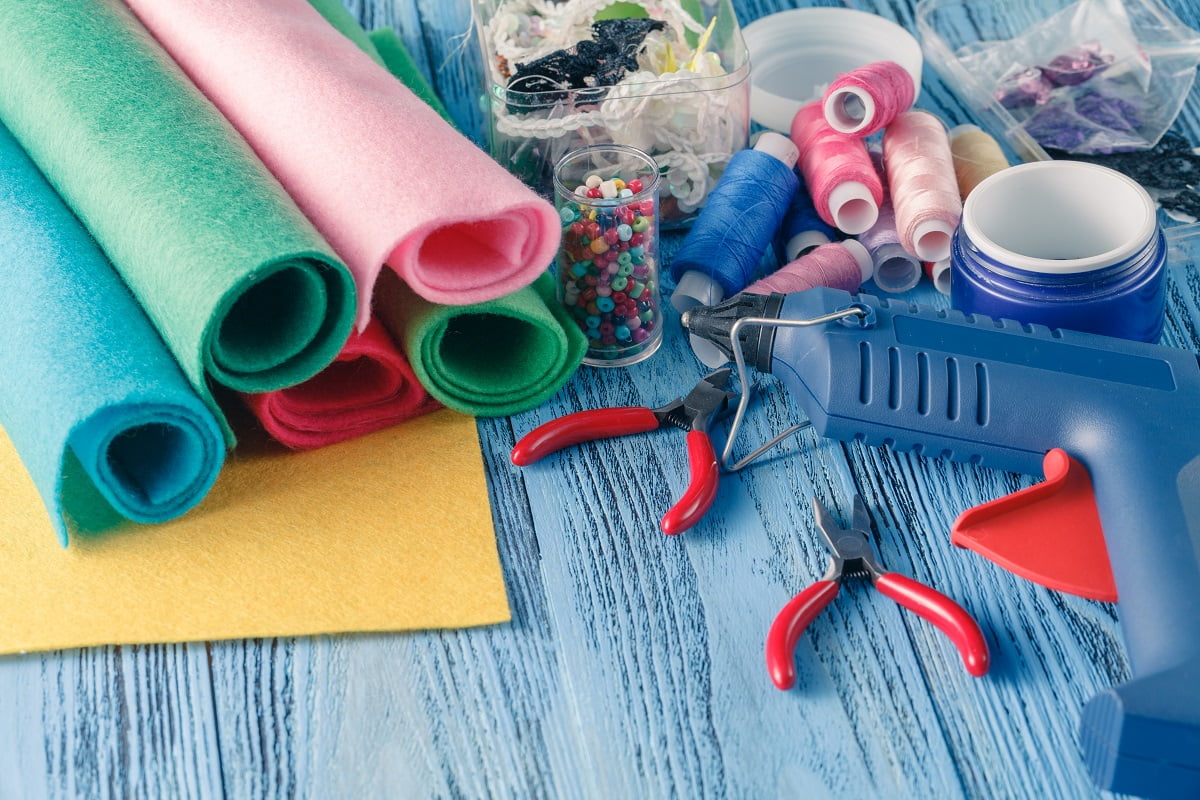 Glue For Felt Buying Guide
In this section, we leave the reviews behind for a deeper look into what makes a glue worth selecting over all of the others. Whether you select a glue for felt from the list or from any other source, there are a few unchanging factors that need consideration. 
1. Type Of Glue
Essentially, you will find four types of glues for felt – super glue, hot glue, fabric glue, and tacky glue. Your purpose will determine the type you should ultimately select. For instance, working mostly with fabrics or non-porous materials requires fabric glue. On the other hand, kids will do well with using tacky glue since it is safe and ideal for crafts. 
Similarly, you wouldn't want children to go anywhere near super glue because it has a strong odor and forms bonds too quickly. 
2. Drying Time
Another basic check is the drying time, which may be crucial to some fast-paced projects. Some crafts and wood projects cannot wait for long, due to which you must check the glue drying time before purchase. Hot glue and super glue always dry and cure much faster than the other types. 
3. Ease Of Application And Use
Working on a large project with a pinpoint nozzle that extracts glue excruciatingly slowly is simply a waste of time. You'll find yourself needing a larger bottle or a nozzle with adjustable points or even spray paint for getting the job done quickly. 
Along the same lines, ensure you get a precise, pointed nozzle if small decorative pieces need adding to the fabric. Apart from that, go for glue kits that offer cleaning kits to unclog the nozzle if necessary. 
4. Type Of Finish
You would have come across the term "dries clear" quite often by now. This is important if your work involves attention to the tiniest details and the fabric is light in color. Some glues leave behind a slight yellowish tinge that would stand out too much on white fabrics. 
So, avoid this issue by checking the packaging of the glue to see if the adhesive indeed remains transparent after drying. 
5. Viscosity
Similar to our list here, not all glues on the market have the same consistency. Some are liquidy and runny, while others, like tacky glue or hot glue, are much thicker. With porous felt material, you can't go for something too runny since that will get messy quickly. In this case, fabric glue and super glue happen to be thin and liquidy, so select the type carefully before finalizing your purchase.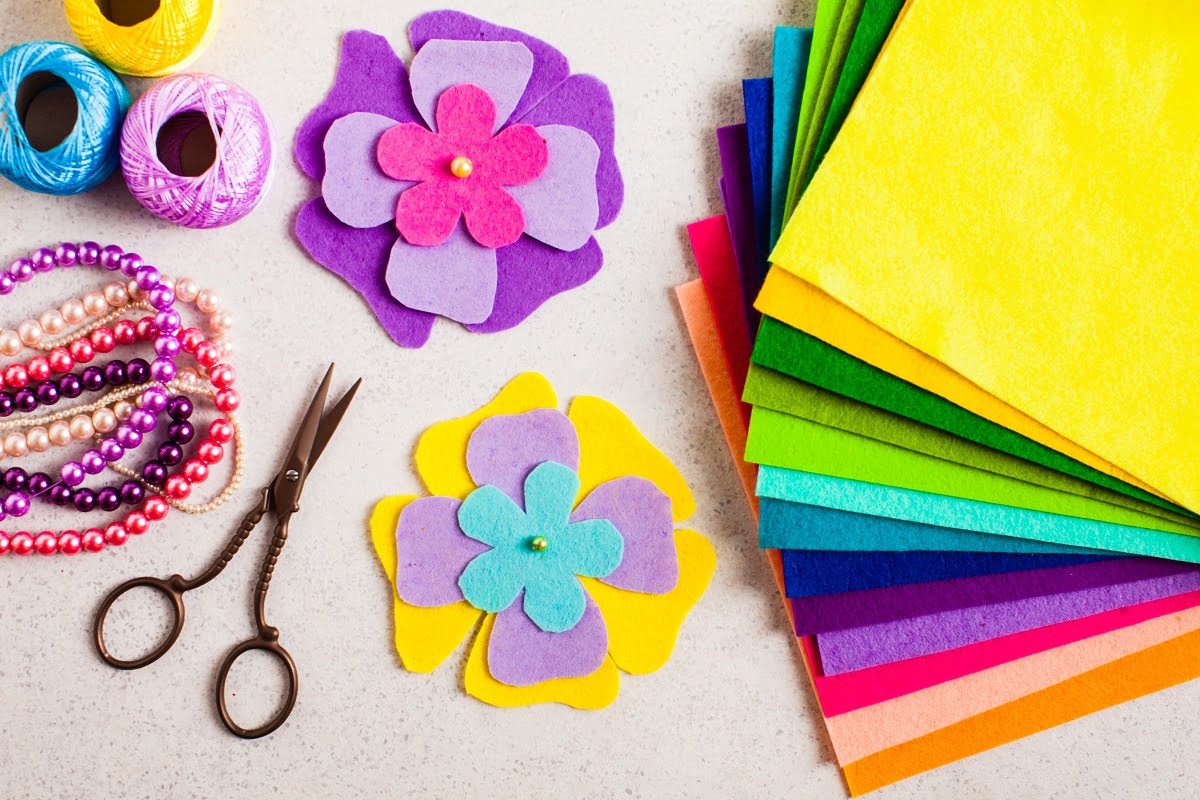 Glue For Felt Verdict
Essentially, you are surrounded by numerous adhesives that are pretty good in their own right. However, after going through the buying guide, you may find that the kind of glue you need is heavily based on the project at hand. 
In any case, there are still a couple of glues that won't miss the mark, no matter the project. The first one, and our top choice, is Aleene's Always Ready Tacky Glue. Not only is it the most reliable for felt, foam, or fabrics, but it is also light on the wallet. 
The other product that would go well with felt and similar materials is Aleene's Felt And Foam Tacky Glue. Since this adhesive was explicitly designed for felt fabric, it is no surprise that it finds its way into our top two types of glue for 2022. 
Related Articles
11 Best Permanent Fabric Glues
3 Best Adhesive for Carbon Fiber
The Difference Between Epoxy & Super Glue
How to Remove Gorilla Glue From Skin
Can I repair a broken LEGO brick with glue?
11 Best Permanent Fabric Glues
11 Best Glue For Paper & Paper Mache
10 Best Ceramic and Porcelain Glue
11 Best Glue for Polypropylene
9 Best UV Light Glue for Amateurs & Professionals
9 Best Glue For Acrylic Plexiglass
9 Best Glue for Plastic Eyeglass Frames
10 Best Glue For Stainless Steel
9 Best Glue For Hardwood Floors
7 Best Adhesive For Acoustic Foam
Glue That Works On ABS And PVC