Unless you are a home chef or food lover, it might be challenging to know what foodies and cooking enthusiasts want.
Whether your significant other, family member, or friend is a cooking enthusiast, they could be particular about the kitchen tools and gear they use. Maybe you are in the predicament of not knowing what they want since they seem to have it all.
For this reason, we have compiled a list of some foolproof gift options that are sure to delight your foodie friends. Scroll through these excellent options to find the perfect gift for your home cook.
35 Best Gifts For Cooks And Food Lovers In 2022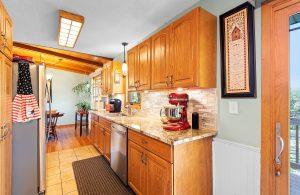 Starting off with the first idea, we have a pour-over coffee or tea kettle that is sure to appeal to most food and drink lovers. In fact, they do not have to be a fan of cooking to enjoy this sleek electric kettle. Because let's be honest- who doesn't love coffee? Hence, this option is your best bet for a birthday present.
With a stainless steel gooseneck, the kettle is ideal for pouring a measured cup of coffee with optimal flow rate and precision. Additionally, the device has a 1200 watt quick heating element to get you boiling water in minutes.
Cooking at home can be tedious work, but it is likely that your home cook enjoys each part of the cooking process. While some of us might opt for ready-made pastes and powders to add in curries, an experienced cook will prefer to grind and pound the spices fresh for a better flavor in curries.
This is where the unpolished granite mortar and pestle come into the picture. With the stone duo, you can crush spices like garlic, black pepper, chilies, and many more herbs and spices with ease. The product has thick walls with the capacity to hold two cups of ground spices, making it the perfect gift for your home cook.
Every meal can be converted into a healthy one by using a simple bamboo steamer for cooking all the ingredients. Not just cooks, but health-conscious ones will also tell you that steamed food has lower calories than traditional food. Thus, this two-tier bamboo steamer would be one of the best gifts for a chef who wants to explore steamed food.
With the woven bamboo that traps moisture within, you can make all your favorite recipes in no time. Since the steamer is 10 inches in diameter, it is big enough to cook dim sum and vegetables in a stockpot.
Home cooks who love to cook up a storm in the kitchen often search for a cooking utensil that works for all dishes. If your friend or loved one is all about food and enjoys cooking, they will fall head over heels for this multi-functional electric pressure cooker.
Don't be surprised by the list of dishes this one-pot can make with its one-touch cooking program and 13 customizable buttons. With this one-pot, you can pressure cook, slow cook, steam, sauté, and warm up food. Besides, the product comes with over ten safety features, including overheat protection and a safe-locking lid to keep your family safe.
If your home cook enjoys cooking homemade pasta with a sauce from scratch, chances are they could do with an ungraded food processor. The convenient work bowl in the processor features a locking blade, handle, and spout for serving quickly. Apart from that, after making sauce flavors like hot sauce, the device is safe to wash in the dishwasher.
With precise controls, including two speeds and pulse options, your chef gets to decide how fine to chop ingredients like chili peppers for sauces. Select between chunky dressings or creamy hummus and mayonnaise for the accompaniment of the day. Indeed, this is one of the best gifts for someone who likes to prep ingredients quickly before cooking.
Consider this innovative indoor garden that grows fruits, veggies, and all sorts of plants right in the kitchen. We think this product would make the perfect gift for home cooks who also love to garden and grow their own fresh herbs. The biodegradable plant pods have perfectly calibrated watering, nutrients, and light systems to grow more than 75 plant varieties for cooking.
Also, the fact that anyone can grow organic, pesticide-free herbs and flowers at home is a win-win situation and worth the investment. What's more, the brand sells seeds for common herbs like rosemary, thyme, cilantro, and peppermint.
Baking cakes or pies requires measurements, precisions, and certain shapes for layering and coating. For instance, rolling out thick fondant for a cake requires a heavy yet steady rolling pin, just like this option. The natural grey-white marble rolling pin has enough weight to roll out thin layers of pizza base or ravioli sheets.
The product comes with a wooden base for holding it in place. Plus, the 10-inch long working base should be enough to roll out sheets on a large surface. If your home cook loves making pasta recipes and dough from scratch, this pin could be one of the best gifts they receive all season.
If your home cook loves setting the dinner table, they are sure to be on the hunt for elegant crockery and table accessories often. They would probably love to arrange a beautiful table with good-looking plates, wine glasses, and bowls. So, a ceramic salt and pepper container would make for a lovely addition to their table.
These 5 x 2-inch ceramic grinders come with a 10-year warranty, so you can be sure they can be reused for ages. Don't worry about matching it with the rest of the serving dishes because this model is available in 10 different colors.
A teak wood cutting board might be all that a home chef is missing from the kitchen. Imagine carving boards made of certified FSC teak from well-managed forests. Well, this board is made of moisture and stain-resistant teak that is safe from warping, scarring, and splitting. They make for perfect gifts because the board lasts a lifetime without any damage at all.
Apart from that, the teak boards are easy to clean and maintain, requiring merely a hand wash and coating of mineral oil for longevity. As such, the product is rightly named "The last cutting board you will need" by Cook's Illustrated magazine and America's Test Kitchen!
The clumsy chefs might have trouble finding their spices unless they are organized and stored in a convenient place. Maybe they could benefit significantly from a spice rack organizer that keeps all their flavorings and spices in one place. Cooks can save a lot of time when they have all the ingredients to the recipe close by.
With this gift option, you get 12 transparent glass jars with stainless steel caps, allowing you to pull out the required jar effortlessly. Besides, the jars have three opening sizes for sprinkling, shaking, or pouring the ingredients on your food for extra flavor. Also, the jars have a wide mouth for pouring and are large enough to fill an entire retail bottle's worth of spices.
Your home chef need not sit around guessing the temperature of meats in the oven. They can use this long-range wireless thermometer to judge if the heat inside the meat is optimum. Meat lovers know that the perfect sear and cooking is essential to wrap in all the flavors. This smart option offers two sensors that can measure ambient and internal temperature simultaneously.
Not only that, the guided cook system walks you through the entire cooking process for guaranteed perfection and consistency in the meat profile. The advanced estimator algorithm gives an estimate of how long you need to cook and rest the food to help you save time. This is one of those gifts any home cook would be delighted to have.
Friends or family who complain of over or undercooking their food need not worry ever again. Present your home cook with this Precision Cooker Nano that circulates heat at the exact temperature throughout the pot. Using the sophisticated sous vide technique, they can prepare meats, fish, vegetables, eggs, and much more to perfection.
The 12.8-inch is compact enough to fit in the kitchen drawers, preventing countertop clutter. Basically, it can stay atop any stockpot or container with a fixed clamp.
A high-quality baking set is a wish list item for most bakers. You could gift this bakeware set by Farberware for your home cook on a special occasion. The set includes 11 pieces, including a baking tray, baking sheet, muffin pan, square pan, loaf pan, circle pan, and cooling rack.
While all the equipment is oven safe up to 550 degrees Fahrenheit, the aluminized steel body also has a non-toxic ceramic coating.
Probably the only gift coffee lovers will appreciate as much as a coffee machine to make their own cold brew or hot beverage. With an espresso machine, one can grind fresh coffee and create their favorite recipe for a leisurely drink. Also, there are already 17 coffee combinations that you can make with a simple touch of a button.
Easy-to-access operations and user-friendly design make it a great gift for someone who enjoys coffee every day.
Does your home cook love fried foods but wishes to cut down on the calories? If yes, the Pro 5.8 Quart Air Fryer would make a perfect gift. With an NTC sensor that sends across accurate information to adjust the temperature, meals are even cooked all over. The air fryer is large enough to fit 5 pounds of chicken at a time, perfect for big families.
Your chef will love cooking dishes like fries or even delicate fish 50% faster than with regular oil. In fact, compared to a traditional oven, the air fryer uses 85% less amount of oil for cooking. Additionally, the baskets are removable, dishwasher safe, and cleans easily, making this one of the best gifts anyone could ask for.
If you have friends or family that love to cook, it would be common knowledge to you how precious their knives are to them. Many chefs like to collect specialty knives and display them in a dedicated corner of the kitchen. Traditionally, this sharp 8-inch knife is used to cut large blocks of meat and fish for sushi and sashimi.
But, it comes in handy for chopping veggies quickly and perfectly. Made in Tokyo, this knife is made of the highest quality stainless steel by artisans with 150 years of history. Since the cutting edge is double beveled, it is easy to use for both right and left-handed individuals.
High-quality kitchen tools are the perfect gift for cooks who love spending time in the kitchen. Apart from knives and cutting boards, a Dutch dough whisk is a kitchen staple for bakers. Whether your recipe requires whisking eggs or making dough for delicate pastries, your home cook can find hundreds of uses for this whisk.
Besides, the flexible material has a curved profile that can whisk in any bowl shape. The dough does not stick to the wires and does not clump to the center, quickening the process of creating the dough. Incorporate flavors in your meal by mixing chocolate for your baked cookies recipe, or get the perfect base for a pizza with one handy tool.
Chefs often love seafood, and oysters are one ingredient that needs to be cooked to perfection. However, the expertise required for cooking oysters is not limited to its searing, but the shucking requires technique too. If your home cook is spending hours shucking oysters with a plain old knife, it's time you provide the correct prepping tools.
Just like a chef's knife, an oyster knife like this one is made of stainless steel and has a wooden handle. The handle consists of a handguard that prevents the knife from slipping when the blade gets wet. The 6.5-inch knife with a 2.5-inch blade is light and comfortable, assisting for easy oyster removal for meals.
Consider a gift of a heavyweight frying pan that has seen several upgrades since the days of the regular old cast iron skillets. This skillet has an enameled cast-iron construction that retains heat evenly across the pan. Whether it is frying eggs or sautéing veggies, anyone who loves to cook can make at least one meal per day using this skillet.
Don't worry about calories when using this superior pan for frying. It naturally requires very little oil to make just about any recipe and is perfect for incorporating balanced, low-calorie meals into your diet. Besides, the skillet makes for a good gift since its improved interior is resistant to wear, stains, and dullness.
If you have a home cook who loves fermenting cabbage, pickling vegetables, and meat, this container might be something they use every day. The best part about this tub is you get to choose between more than ten size options – from 0.45 gallon to 4.4-gallon tubs.
Apart from being food safe, dishwasher, microwave, and freezer safe, it is also light and easy to operate. Besides, when not making a batch of kimchi, you can always use it to store dry grains.
The chef in your life will be delighted to see a tub of sea salt flakes as a new ingredient for their cooking. And, they do not have to be a savory-loving person either, because sea salt has plenty of uses in baking like cookies too. This sea salt is well-loved for its unique flavor and purity.
Many people like to use the salt in cocktails to season the drink itself or decorate the glass.
Allow your favorite cook to dry all their foods for extra flavor and textures for their dishes with this superior dehydrator with even heat distribution. Its rear-mounted drying fan circulates hot air to the interior perfectly so that the food dries without the need to change shelves.
Meat lovers will appreciate this dehydrator as a gift because the product comes with a hanging rack for jerky. So, it is possible to use the trays for regular meat and vegetables, while the mesh ones are great for getting crunchy fruits and nuts. Not only does this machine impart extra taste to the food, but it also adjusts the temperature.
A lover of Italian cuisine will surely get excited at the thought of baking fresh flatbread and pizza. This baking stone is safe to use in ovens, charcoal, and gas grilling. The build is thick and comes in two sizes, 14-inch and 16-inch round stone.
The material used to make the stone is durable and strong enough to handle the high temperatures of the oven. Get one for your favorite cook if you want to give something that will last for ages.
Buying gifts for a chef can be daunting, especially if you aren't aware of their preferences. If you want to play it safe, go for something simple like a mason jar for iced coffee and other beverages. With this option, not only chefs but anyone can enjoy a cold brew in a durable stainless steel container.
Another kitchen item that would make an excellent gift for a cook is an immersion blender with a strong grip. The base of the handheld blender is bell-shaped with internal ribbing for efficient blending with minimal suction.
However, the highlight of this option lies in the grip with trigger operation. One can immerse the blender in pans 8 inches deep without any splashes outside the pot.
It doesn't get better than a 3-in-1 grill in your kitchen all year round. With this device, you do not have to wait for the holiday season for delicious burgers and meals. One machine helps to grill the main course or use the full and half griddle option while also offering a full panini press. Its 11-inch by 9-inch plates are removable and reversible, allowing easy cleaning.
Your home cook can cook everyday meals on the same grill since it has a large surface area to hold many ingredients at once. Apart from that, it comes with a custom control option with handles that adjust to the thickness of the food and knobs that adjust the temperature.
If you have a friend or family member who can never get enough of sodas and sparkling water, this machine will make the perfect gifting option. With the soda maker, it is possible to transform any flat drink into a fizzy one quickly and conveniently. Select your choice of drink, whether it is juices, beer, wine, cocktails, or simply water.
With fizz infuser technology, making fizzy drinks at home is easier than ever. And it does not require electricity or batteries either; simply add any beverage to the machine and push the button for quick action. Since the device is compact, it won't take up much space on the countertops either.
An experimental chef might have thought about combining chemistry with food. If that sounds like someone you know, consider getting them a fun molecular gastronomy set. With this kit, anyone can convert their kitchen into a laboratory by deconstructing any dish and modifying its texture.
The kit teaches the user how to convert liquids to jelly or powder form; the options are endless. Measuring spoons and silicone molds are included with the whole set.
If you are running out of gifting ideas for your beloved chef, know that shiny new pots and pans never go out of fashion. Even if they seem to own every new gadget, they will appreciate a set of new cookware, considering the fact that they cook daily. The ten pieces in this set have a tri-ply construction with an aluminum core for quick and even heat distribution.
Along with that, the lids are double-walled and specially designed to keep the heat and moisture in the pots while cooking. At the same time, the handles are ergonomic and heat resistant, while the non-slip milled texture gives a good grip on the pots and pans. With an entire set, there is no dish or cuisine you couldn't make, whether it's soups, sauces, frying items, among others.
If not for coffee, the next best accompaniment to your breakfast is a refreshing glass of freshly squeezed fruit juice. While you can always purchase packaged orange and apple juices and store them in the fridge, nothing beats the freshness of homemade pressed juices.
If you are thinking of a great holiday gift for chefs, know that a juice extractor will bring a smile to their faces. This is especially true if they are trying to incorporate more fruits and vegetables into their diet. With a titanium-reinforced disc and Italian-made micro-mesh filter, this brushed stainless steel juicer gets the last drop out of fruits without having to cut them.
You may have plenty of recipes in books, but what a hassle it is to look at them without them slipping over the table. Instead of fumbling with heavy cooks while you've already started cooking, try using a cookbook stand or holder. If any of your friends love reading cookbooks for new recipes for every meal, consider giving a stand this holiday season.
With a cherry wood base strong enough to hold a book of any size, this option makes for one of the best gifts for the kitchen. One can easily adjust the angle for easy reading, and the acrylic clear glass protects the pages from splashes. Also, the stylish metal black hinge is bendable, making it so you can fold the holder and store it.
The ideal gift for a chef that loves to cook and equally loves growing their food is a plant that bears fruits or vegetables. One such tree is the Meyer lemon tree, which blooms all year round and produces delicious fruit. Since this hybrid is obtained from crossing lemons and mandarin oranges, it makes a rich and sweet flavor that has endless cooking or beverage options.
Also, this tree bears plenty of fruits since they are self-pollinating, so they provide a constant supply of lemons all year round. The best part about this plant is that you can plant them indoors or outside on the patio, and they survive equally well in both conditions.
Any chef will tell you that a large chunk of their time and energy is spent in prep work rather than the actual cooking. So, wouldn't it be amazing to have dedicated air-tight tubs to store freshly prepped ingredients for the next day's cooking? With this eight-piece fridge ware, you are investing in better quality materials while refusing to spend on single-use plastics.
The tubs are a new standard for eco-friendly living, retaining food flavor and texture even after refrigeration. Also, they are easy to store and clean and will fit in a fridge or dishwasher easily. The entire set is available in five different colors, so you can gift your loved ones something that will match the rest of their kitchen décor.
It is impossible to avoid contact with splashes and water when one is cooking up recipes all day long. The apron option provides great coverage waist downwards and also contains deep pockets to hold items. A phone, dish towel, or serving spoon is handy whenever you need one.
The stitching is stronger at the stress points, thus preventing tears while at work. Made in the USA, the fabric is made of exceptionally high-quality fabric and raw materials.
When all other options seem less than ideal, go for a gift box of pure olive oils and fruit vinegar. These ingredients are convenient to use and share in petite bottles, and any home cook would love to use them in their cooking. This box comes with two extra virgin olive oils and two orange and grape-based vinegar.
Gifts For Cooks And Food Lovers FAQs
Q. How Do I Know What To Buy For A Chef Or Home Cook?
The thing about people who love to cook is you can often find them in the kitchen cooking up a storm. You'll surely get a better gift idea if you know them personally. Consider if there is a cuisine type in particular that they prefer or the usual style of food they like to eat.
It would help if you already have a tour around their kitchen to see the equipment they already have and what's missing.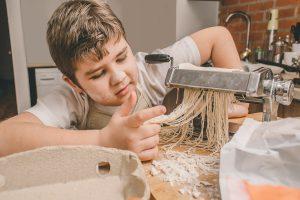 Final Words
We hope these options help you find the perfect gift for your favorite foodie friend. Depending on your home cook, they may be interested in expanding their baking tools collection or pie pans for baking. Others might be drawn towards collecting unique ingredients to stock up the pantry.
Either way, surprise your home cook with a gift they can use in the kitchen, and they are sure to appreciate the gesture. 
Related Articles
32 Best Gifts For Coffee Lovers
27 Best Grilling Gifts for BBQ Lovers
63 Best Star Wars Gifts for Him
28 BBQ Recipes for Fall & Winter Grilling 
46 Best BBQ Forums, Websites & Broadcasts
30 Gorgeous DIY Birthday Gifts