Let's face it- you can't get all comfortable and cozy on a frosty night without a rip-roaring fire. 
While a traditional fireplace delivers a graceful appeal to your space, a gas fireplace insert is more cost-effective and efficient. Apart from that, burning natural wood can lead to a tedious cleaning routine, and purchasing wood logs can be a costly endeavor. 
At A Glance: Our Top 5 Picks for Gas Fireplace Inserts
So, having a gas-powered fireplace insert saves energy and costs and cuts off labor-intensive cleaning tasks. Plus, most modern gas fireplace inserts render a natural log appeal. 
However, with so many options on the market, selecting an ideal model for your home might be difficult. Hence, we took it upon ourselves to select and review some of the best options. Now, without further ado, let's get to know more about them. 
Top Gas Fireplace Inserts 
IMAGE
PRODUCT
DETAILS

Our Top Pick

Our Top Pick

Peterson Real Fyre Live Oak Log Set

Superior refractory ceramic logs
ANSI-certified vent-free burner
Operates at 90,000 BTUs

VIEW LATEST PRICE →

Ventless Gas Log Set

Ventless Gas Log Set

Duluth Forge Ventless Dual Fuel Gas Log Set

Thermostat remote control
Patented dual-fuel technology
ODS mechanism

VIEW LATEST PRICE →

Peterson Real Fyre Split Oak Log Set

G45 burner
90,000 BTUs heat output
Ceramic refractory vented gas logs

VIEW LATEST PRICE →

Barton Premium 24-inch Natural Gas Fuel Log

Refractory ceramic log material
Ventless gas fireplace
Maximum heat output of 32,000 BTU

VIEW LATEST PRICE →

Empire Flint Hill Log Set

Liquid propane fuel
Ceramic fiber gas log set
Includes ODS (Oxygen Depletion Sensor)

VIEW LATEST PRICE →

Empire Tahoe Deluxe 36" Direct-Vent

83% efficiency rating
16 inches deep
Includes logs and brick liner

VIEW LATEST PRICE →

Pleasant Hearth Vented Gas Fireplace Insert

Heat output is 55,000 BTUs per hour
Ventless fireplace
Natural gas or propane fuel

VIEW LATEST PRICE →

Napoleon GVF36 vent-free Gas Fireplace

50% flame and heat adjustment
Oxygen depletion sensor
Includes safety screen

VIEW LATEST PRICE →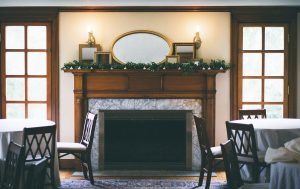 The Peterson real fyre live oak log set is a premier example of craftsmanship that captures quality and tradition with natural realism. Its bark is hand-painted to deliver the look of natural wood and it's made of superior refractory ceramics to deliver radiant heat, even if the burner is turned off. And its vented design means it won't affect the air quality while burning. 
Why Did We Like It?
There are several reasons to like this gas fireplace insert by Peterson. For one, the logs are meticulously hand-painted to give a realistic and natural look. They are made of refractory ceramic with steel rods inserted to make them more robust. And their unique design allows them to burn for some time even after the burner is switched off. 
This unit is a low-maintenance fireplace, and the burner comes with a 10-year warranty, while the logs are covered for a lifetime. Plus, the vent-free design means you don't need to install a separate chimney to eliminate the flames. Apart from that, it generates a maximum heat of 90,000 BTUs, which is enough to heat any large-sized room, and this ventless fireplace saves a lot on fuel consumption. 
Last but not least, it comes with an ODS (Oxygen Depletion Sensor) safety system and a safety pilot valve to control the use of natural gas. 
What Could've Been Better?
Installing this gas fireplace insert can be challenging if you're a first-timer. Hence, we suggest following the detailed step-by-step instructions provided in the user manual. And if you're still not confident enough, it's always a good idea to call a professional. 
Pros
Logs give a natural look

Saves natural gas

Comes with safety features

Generates a lot of heat
Cons
Installation can be challenging
Next on our list is the Duluth Forge compact gas fireplace insert with patented dual-fuel technology that allows the use of natural or LP gas. The logs are painted to provide the natural feel of a real wood-burning fireplace and the charring resembles real fire. It also comes with an adjustable thermostat remote control to help set the desired temperature. 
Why Did We Like It?
You can quickly heat your room with this Duluth forge gas fireplace insert with a maximum heat output of 33,000 BTUs. This is sufficient to heat a 1,350 square feet room without requiring external venting. 
Its patented dual-fuel technology allows you to use either natural gas or LPG according to your convenience. Plus, it comes with a remote control that allows the user to adjust the heat according to the external temperature. 
In terms of design, this electric fireplace insert comes with four gas log sets made of ceramic fiber material that brings out a stunning look. Interestingly, they seem to char when you burn these logs, making them much more realistic and natural. 
Besides, it's integrated with an ODS safety system and battery-assisted ignition that turns off the heater if there's a lack of oxygen inside it. 
What Could've Been Better?
The heat output of the burner is not sufficient to heat up a large room and is only suitable for a medium-sized room. So, if you're planning to install a gas fireplace insert in your mansion or penthouse, this might not be the right option. 
Pros
Manual temperature control

Integrated with a safety system

Realistic and natural design

Runs on both natural gas and LPG
Cons
Heat output is suitable only for smaller space
This is yet another gas model by Peterson on our list, and its exquisite design, heat output, and other features make it one of the most desirable products. Although it has many features in common with its sibling product, it also has some notable differences. 
Why Did We Like It?
Starting with its design, the split logs are painted to capture the texture, realism, and subtle nuances found in nature, adding an aesthetic look to your home. And the split pieces and their ends are colored differently than the bark, including a detailed red feather painting, giving the logs the most authentic appearance. 
The Peterson Real Fyre comes with a vented G45 burner designed in a T-shape and with a smaller pipe running through the ember bed and a large one through the center of the pan. Such a design allows for the flames to "dance" both at the center of the ember bed and log set, thereby forming a more realistic fire pattern. 
Apart from that, with a maximum heat output of 90,000 BTUs, it's sure to heat every corner of your house. So, you can just sit practically anywhere in the room to feel the warmth. 
What Could've Been Better?
Like its sibling product, it doesn't come with any safety feature or control knob to regulate the flow of natural gas. As a result, you don't have much control over the fire and heat generated from it. 
Pros
Generates a large amount of heat

Unique burner design

Logs look natural and realistic

Affordable
Cons
Doesn't comes with a safety knob
Up next, we have the Barton Premium natural gas fuel log, whose logs are made of highly durable ceramic fibers, suitable for outdoor and indoor use. These logs can sustain temperatures as high as 1,832 degrees Fahrenheit without scuffing or scratching the fireplace. 
Why Did We Like It?
Now bring elegance to the hearth of your room with these beautifully painted logs by Barton that generate enough heat for 1,200 square feet of space. The logs are painted to look like real wood but don't generate any ash. In simple words, they give out the essence of burning real wood but eliminate any inconvenience caused by it. 
Made of superior refractory ceramics, they retain strength even at substantially high temperatures. And the heat output from this unit can reach a maximum of 32,000 BTU, while the minimum is 17,000 BTU. 
Additionally, it comes with a control knob that lets you adjust the heat according to your needs. This particular feature makes it much more convenient and easy to use. 
And lastly, its vent-free design doesn't require any chimney or vent pipe to let the heat out. 
What Could've Been Better?
Replacing the control knob with a thermostat remote control would have provided much more control in the hands of the user. However, you'll get used to it once you've understood how it works. And some customers complained about the logs not being as durable as anticipated. 
Pros
Considerable heat output

Vent-free design makes it more convenient to install and use

Beautiful design

Can withstand high temperatures

Comes with a control knob
Cons
Remote would have been more viable opposed to control knob

Logs are not that durable
Empire brings you an exquisite-looking and hand-painted log set that comes at a budget-friendly price and is ideal for both existing gas fireplaces or fireboxes and the newly constructed ones. It can be a perfect replacement for a traditional fireplace that comes with various inconveniences like ash, improper heat, and burning out quickly. 
Why Did We Like It?
This gas fireplace insert by Empire is integrated with richly detailed and hand-painted logs, which you can arrange to deliver an illusion of real wood fire. 
Unlike other products on our list, it runs on liquid propane fuel, which is highly preferred over natural gas or LPG in terms of affordability, convenience, and environmental friendliness. And it's much safer to use compared to traditionally-used fuels. 
Apart from that, it comes with an oxygen depletion system- a safety feature that turns off the heater automatically as soon as it detects a lesser flow of oxygen and increasing concentrations of carbon monoxide. And the unit complements both vent-free or vented models, making it a versatile and convenient choice. 
What Could've Been Better?
Irrespective of the benefits of using propane fuel, it's incapable of generating much heat compared to traditional oil fuels. Plus, installing the unit is a challenging process and requires you to call upon a professional. 
Pros
Runs on propane fuel

Versatile and convenient

Looks elegant

Comes with a safety feature
Cons
Doesn't generates much heat compared to traditional fuels

Installation is difficult
The Empire Tahoe gas fireplace insert is another quality product by the company known for its reliability. With a maximum of 20,000 BTU output, it can cover up to 1,000 square feet. And it runs on both natural gas and propane gas. 
Why Did We Like It?
So far, this propane fireplace insert is one of the most efficient direct-vent appliances on our list and is known for its millivolt control features and durability. If price is not a concern anyway, you would love to have a unit with an 83% heat-generating capacity.  
Roughly, it generates up to 20,000 BTUs of heat with a natural gas supply, which covers up to 1,000 square feet, which is essentially a middle-sized room. For liquid propane, the output generated is 16,500 BTUs per hour. 
Besides, the direct vent model comes with a thermostat remote control to adjust the mini volt gas valve and to shut down the system. The manufacturer recommends purchasing a separate double-wall chimney pipe to release the extra heat generated. And, you can install a safety screen to create a barrier screen with the flames. 
What Could've Been Better?
The unit comes at a premium pricing and all other accessories like remote control, safety screen, and chimney need to be purchased separately. And without these accessories, it's a basic fireplace insert suitable for heating a medium-sized room. 
Pros
Higher heat efficiency

Control the heat using the remote control

Runs on both propane and natural gas

Durable unit
Cons
Premium unit and all accessories need purchasing separately
Pleasant Hearth comes with the six most realistic, detailed, and impressionable logs for modern fireplace and people who want to feel the essence of traditional wood burn. These are easy to install and generate sufficient heat to cover up an entire house. And the unit is one of the most affordable units on our list. 
Why Did We Like It?
Probably one of the cheapest options on our list, this gas fireplace insert comes with a massive heat output of 55,000 BTUs per hour. The unit runs on both natural gas and propane, but the heat output is much less in case of the latter. 
Concerning design, the gas insert is surrounded by solid wood, which adds to its sleek look. And its realistic and detailed logs add up to its elegance. 
Moving on, thanks to its versatile installation options, the unit is much easier to install. Even if you haven't installed these things before, simply follow the instructions provided in the user manual. 
It is a ventless model, so you don't need an extra chimney to eliminate the extra heat and gases produced. And it comes with a thermostat remote control, so you can relax peacefully by maintaining an ideal temperature level. 
What Could've Been Better?
The most disappointing feature of this product is that it doesn't come with an ODS safety feature. Having this feature enables easy detection of oxygen levels, and any reduction in concentration would turn off the burner. Absence of this feature can be risky if you fail to detect it, thereby increasing the concentration of carbon monoxide. 
Pros
Affordable

Dual fuel technology

High heat output

Comes with a thermostat remote control
Cons
Doesn't comes with an ODS safety option
As we have reached almost the end of our list, presenting you with a uniquely designed vent-free gas insert by Napoleon. The company is long-established and known for manufacturing reliable, and high-quality products, and this ventless model doesn't disappoint anyway.  Let's discuss what features it has to offer. 
Why Did We Like It?
If you're living in an extremely chilly place and want a fireplace that warms up your rooms quickly, then this ventless model by Napoleon is a convenient option. Coming with all modern features, this heavy-duty fireplace delivers a maximum output of 30,000 BTUs, enough to warm spacious rooms in no time. Its sleek and unique design combined with quick heating up space makes it a desirable product. 
As it works only on natural gas, so won't have to spend extra on your electricity bills. It comes with a millivolt ignition system, so firing up the fireplace is also much easier. And, featuring a ventless design, you won't have to install a separate chimney that quickly makes the air warm. 
Apart from that, it's more convenient to use with a 50% flame and heat intensity. And it comes with a safety screen that keeps your pets and children safe from flames. 
What Could've Been Better?
The Napoleon gas fireplace insert doesn't have a propane option, making it less versatile than others on our list. Moreover, you need to spend additional funds on louvers and trim. So, the model is not as affordable as perceived. 
Pros
Adjustable flame

Includes a safety screen

Quickly heats up the room

Not required to spend extra on electricity bills
Cons
No propane option

Trim and louvers are extra

Gas Fireplace Inserts Buyer's Guide
Before selecting a gas fireplace, it's essential to know about and explore certain aspects. In this detailed buyer's guide, we'll explain these to help you further select an ideal unit for your home. So, let's get on discussing these. 
1. Types Of Gas Fireplace Inserts
There are several types of gas fireplace inserts available on the market. These are divided on whether they are vented or ventless, based on their gas use, either propane or natural gas. 
Most units are designed for natural gas, but we might not have access to the fuel in a particular area. So, the solution will be to use a propane fireplace insert, also known as an LPG fireplace insert. Propane generates less heat than natural gas but is much cheaper than it and comes in bulk tanks, while the latter reaches your home through a gas line. 
In fact, gas inserts with propane fuel options generally have dual-fuel technology. It means they are manufactured to run on natural gas but are either compatible with propane or come with a conversion kit if needed during installation. 
2. Traditional Fireplaces Vs. Fireplace Inserts
While traditional fireplaces deliver an undeniable charm to the house, there are numerous reasons to upgrade to a fireplace insert. Although the former look attractive, they create an unnecessary mess, and replacing the logs can be costly. You need to clean stains and ash caused by smoke, and removing hot ash can be a fire hazard. 
On the other hand, technology-laid modern fireplace inserts look like a natural log and free you up from any inconvenience. And they have an efficiency rating between 70% and 99%, compared to 5-10% in a traditional fire. It means more heat is generated, and bills are reduced. These are also much easier to clean. 
3. Vented Models Vs. Vent-Free Models
While these gas inserts are classified as vented or vent-free, the former is available in two models: direct vent or natural vent. A natural vent uses an existing chimney and is an ideal replacement for a traditional fireplace. However, most of them are open models and, therefore, less safe and efficient. 
On the other hand, most houses have a direct vent model installed. These can be vented horizontally and vertically, making it ideal where there's no fireplace. 
Vented systems must vent to the exterior wall, which might be impractical for some houses. Vent-free fireplaces practically eliminate the problem and are much more efficient and easier to install. However, they potentially release harmful carbon monoxide in the room, and therefore for them to be safe, the company fits them with a safety device named oxygen depletion sensor. 
It shuts down the insert if the oxygen level reaches below the standard level. 
4. Heat Coverage And Efficiency
Heat efficiency ratings depend primarily on the vent type, and vented models are generally 70-85% efficient, while the efficiency of ventless models can go up to 99%. The heating performance of an appliance is measured using BTU (British Thermal Unit), which tells you the overall fire output. 
A good fireplace insert needs to have a value of 20 BTU per square foot of living space. While this is a standard value, some models quote higher or lower figures than the average. 
Apart from that, air circulation is also a key factor in this respect. Some models include a blower that pushes hot air into the room, quickly making the air warm. While you might not find it in other models, there's always a provision to install these separately. 
5. Additional Features
Some additional features can make an individual model much more user-friendly. For one, you get a standard electronic ignition in most, but some require a household supply but both piezoelectric and millivolt. So, check before purchasing. 
While most gas fireplace inserts have a control knob, some have thermostat remote controls for variable flame height adjustment to set up for visual preference and heat output. 
Best Gas Fireplace Inserts FAQs
Q1. Is a gas fireplace powered by electricity?
Not all need electricity to run. Some electric fireplaces need a standard household electricity supply for the pilot light, but they might need a battery backup in a power outage. While others only need propane or natural gas and don't need electricity to run. 
Q2. Can I install a fan kit or blower on my gas fireplace?
Many models come with a blower or fan kit, so those don't need to be installed separately. At the same time, there's also a provision to install them separately. 
Q3. Are the fumes emitted from gas fireplace inserts toxic?
Yes, carbon monoxide is a byproduct of burning gas and is considered lethal. But these models have safety features installed to keep you safe from its exposure.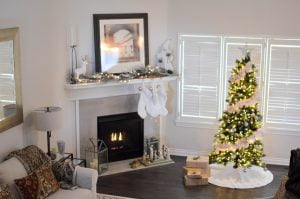 Final Verdict
With that, we've reached the end of our review-based guide on the best gas fireplace inserts available on the market. But before we wrap, here are some of our favorites from the list. 
Our top recommendation would be the Peterson Real Fyre gas fireplace insert that comes with most of the features we need. Be its efficiency, heat output, or looks- it has it all. And our next favorite would be Duluth Forge Ventless insert that also comes with a decent heat output, greater coverage, greater efficiency, and needed safety features. 
We will see you another day. Take care and goodbye! 
Related Articles
19 Types of Fireplaces for Your Home
To Mount or Not to Mount a TV Over The Fireplace
38 Rustic Country Cabins With A Stone Fireplace For A Romantic Getaway
9 Best Indoor Natural Gas Space Heaters
9 Best Indoor Natural Gas Space Heaters