Gardening is fun, but transporting all that material? Perhaps not!
At least not if you don't have a garden cart to add to your convenience. Because let's be honest, the days of flexing muscles (with progressing age) are long gone. Moreover, who likes that many trips to bring out some pounds of soil?
With this thought in mind, we set out to buy a garden cart to free our muscles from all that pain. But the job was easier said than done! The plethora of options left us totally confused, and we returned empty-handed.
To make our (and your) job of buying one easier, we've compiled this list of the top 11 garden carts of the year. And we've included something for each budget and requirement.
Now, let's dive in!
Top Garden Carts 
IMAGE
PRODUCT
DETAILS

Our Top Pick

Our Top Pick

Gorilla Carts GOR6PS Heavy-Duty Poly Yard Dump Cart

Quick-release dump
Convertible handle
1200-pound carrying capacity

VIEW LATEST PRICE →

Mac Sports Collapsible Folding Outdoor Utility Wagon

600 denier polyester
Adjustable handle
Foldable

VIEW LATEST PRICE →

Gorilla Carts GOR400-COM Steel Garden Cart

Removable sides
10-inch wide pneumatic tires
Carrying capacity of up to 400 lbs

VIEW LATEST PRICE →

Sandusky Lee CW3418 Muscle Carts Steel Utility Garden Wagon

Steel mesh crate
Pull-down sides
D-style handle

VIEW LATEST PRICE →

AmazonBasics Collapsible Folding Outdoor Garden Utility Wagon

Collapsible frame
Premium plastic handle
Smooth-rolling design

VIEW LATEST PRICE →

Marathon Yard Rover Wheelbarrow Garden Cart

Sturdy poly tray
Loop handle
Air-filled tires

VIEW LATEST PRICE →

Timber Ridge Wagon Folding Garden Cart

Adjustable handle
360-degree front wheels
Side storage

VIEW LATEST PRICE →

Polar Trailer 8449 Cub Cart

Polyethylene tub
Optimum load balance
Shielded ball bearings

VIEW LATEST PRICE →

WORX WA0228 Aerocart Wheelbarrow to Wagon Conversion Kit

Seat
Detachable storage tray
Drink holder

VIEW LATEST PRICE →

BEAU JARDIN Folding Wagon Cart

360-degree wheels
Free-standing mechanism
Double brakes

VIEW LATEST PRICE →

VIVOSUN Heavy Duty Collapsible Folding Wagon

600D Oxford fabric
Anti-skid wheels
Adjustable handlebar

VIEW LATEST PRICE →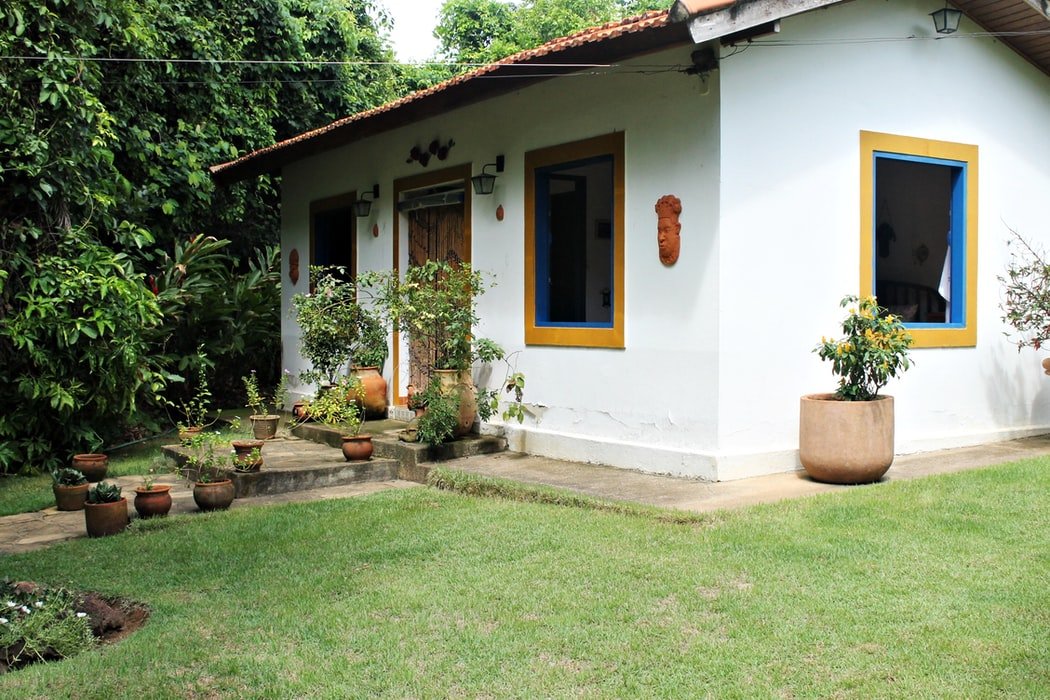 One of the brand's newest entrants, the GOR6PS Heavy Duty Poly Yard Dump Cart finds a place in our list for all the right reasons. Its sturdy design is engineered to tackle every terrain without compromising on maneuverability.
Sale
Why Did We Like It?
For starters, the positive feedback from existing customers got us interested in this product. Its robust steel frame makes it capable of carrying a massive 1,200 pounds. So, be it for your gardening, lawn maintenance, or construction needs, this one can take it all.
Moreover, the quadruple 13-inch air-filled tires provide the cart with shock absorption abilities. We tried moving it around on uneven terrain, and it showed no signs of tipping.
With such a heavy-duty carrying capacity, it only makes sense that the model will be equipped with some kind of easy dumping mechanism. And the brand's patent quick-release dump feature does that. All you have to do is reach for the bottom located release handle and pull it to tilt the cart.
Similarly, the 2-in-1 convertible handle is designed to assist both pulling by hand and hooking it up to the tractor or ATV. For the latter, simply pull the locking handle and turn it.
Finally, the hassle-free assembly process is further simplified with an easy-to-understand instructions guide, which will come in especially handy for first-time users. Overall, the GOR6PS Heavy Duty Poly Yard Dump Cart comes across as one of the most cost-effective models in its price range.
What Could've Been Better?
In the absence of an automatic mechanism that would initiate the dumping motion, you will have to strain your muscles quite a bit. When the cart is heavily loaded, unloading it may cause the frame to lift off the ground. Hence, we suggest having an extra set of hands for help.
Pros
Maintenance-free poly bed

Padded handle for superior grip

Adequately grooved tires

Comes partially assembled
Cons
Unloading may be tiresome
Our next recommendation is an affordable pull cart for all your light-duty gardening needs. The Mac Sports Collapsible Folding Outdoor Utility Wagon boats of a durable frame and fabric combination to get the job done for you.
Sale
Why Did We Like It?
First and foremost, the durable structure helped us put our faith in this utility wagon. The 600 denier polyester is fixed firmly to a strong steel structure and can carry up to 150 pounds. Besides, the fabric is resistant to UV rays and mildew, and a couple of mesh holders lets you carry beverage bottles for the day out.
We loved the adjustable handle design that lets you lock it at a convenient height, be it horizontally or vertically. Furthermore, the four sturdily built wheels support just the right kind of movement for enhanced stability.
And once you're done, just fold the wagon for easy storage. The package includes a carry case to help you move it around when not in use.
While we opted for the solid green variant, you can also choose from the many colors and patterns. If you're looking for a utility wagon on a budget, then the Mac Sports Collapsible Folding Outdoor Utility Wagon is worth considering.
What Could've Been Better?
We felt that the maneuverability gets a bit compromised on rocky surfaces, but nothing that can't be managed. With a little effort, it rolls smoothly on practically any surface. So, this is far from a deal-breaker.
Pros
Easy to clean fabric

Smooth-glide wheels

Twin mesh holders

No assembly required
Cons
May require more effort on rocky terrains
We are back with another model from Gorilla Carts for our next recommendation. The GOR400-COM Steel Garden Cart sports a robust design and trouble-free assembly to become the ideal aid for your gardening, farming and other outdoor tasks.
Sale
Why Did We Like It?
Although this unit may not add anything appearance-wise, its top-notch performance will make up for that in no time. To begin with, the rugged steel frame is meant to last for years while resisting different adversities. Apart from that, four 10-inch wide pneumatic tires take care of maneuverability on almost all terrains.
What appealed to us the most about this garden cart is its mesh sides. Additionally, you can also remove them to convert the cart into a flatbed for carrying a heavy load, like compost bags or lumber. For this conversion, the model employs a simple pop-in, pop-out mechanism. On that note, we should mention that its maximum carry capacity is 400 pounds.
Similar to the GOR6PS Heavy Duty Poly Yard Dump Cart, this one also has a sturdy pull handle for smooth maneuverability. Overall, the GOR400-COM Steel Garden Cart is a good budget-pick for light to medium-duty carry needs.
What Could've Been Better?
Owing to the open mesh design, you will have to line the sides and bed for carrying finer loads like sand or soil. Also, the handle might be a bit too short for taller users, who will then have to pay extra attention not to tip the cart.
Pros
Padded handle for better grip

Smooth maneuverability for more clearance

Steel mesh bed

Easy assembly
Another one of our favorite utility garden wagons is from Sundusky Lee. Sporting an all-steel body, the CW3418 Muscle Carts Garden Wagon is built for your day-to-day outdoor activities, from gardening to maintenance.
Why Did We Like It?
We were quite surprised by its resemblance to the GOR400-COM Steel Garden Cart, and that's what made us want to try this product in the first place. With a maximum carrying capacity of 400 pounds, the robust steel frame provides this garden wagon with much-needed stability on uneven terrains.
If you carry freshly harvested vegetables or flowers, the open mesh allows the dirt and debris to fall through. That's an automatic cleaning session right away!
Furthermore, the four 10-inch tires facilitate smooth maneuverability, even on indoor floorings. Beyond that, the sides can be folded down during loading or unloading heavy bags and tools. Or, you can remove them altogether to convert the cart into a flatbed transport. The even weight distribution makes it easier to move oversized loads.
This brings us to the D-style handle, which features a cushioned grip, so that long hours of work don't tire your palm and fingers.
Lastly, you can assemble the cart with basic tools and without much effort. For its price, there's nothing more that we could've asked for!
What Could've Been Better?
We feel that the instructions guide can do better as it doesn't have step-by-step illustrations. Hence, first-timers may find it a little challenging to figure out the installation. It may also be good to know that the tires are pretty smelly. We'd suggest keeping them outdoors for some time to get rid of the stink.
Pros
Powder-coated finish for rust-resistance

Tires resist shock and abrasion

Suitable for indoor and outdoor use

Removable sides
Cons
Insufficient assembly instructions

Smelly tires
The AmazonBasics Collapsible Folding Outdoor Garden Utility Wagon is a simple, durable and affordable solution for your outdoor carrying needs. It's equipped with big grooved wheels for easy maneuverability of varied terrains.
Why Did We Like It?
To start off, the durable fabric is attached to a strong metal frame with buckle belts, which makes it capable of carrying about 264 pounds at a time. Moreover, its long sides ensure that your flower pots and gardening supplies don't tip while in the cart.
We also liked how a premium plastic handle sits atop an extendable steel tube for facilitating comfortable maneuverability. And similar to the Mac Sports Collapsible Folding Outdoor Utility Wagon, the package comes with a protective storage cover to prevent the buildup of dust and debris. The quick collapsible mechanism makes storing the cart in compact spaces a breeze!
Last but not least, the smooth-rolling wheels are designed for bump-free maneuverability on different terrains. Whether you're heading out for the weekend gardening session, zoo or beach, the AmazonBasics Collapsible Folding Outdoor Garden Utility Wagon will be the ideal companion!
What Could've Been Better?
Despite getting the installation done perfectly, we observed that the wheels don't align automatically. Thus, you may want to take it out a few times before actually putting it to use. However, this small problem is far from being a deal-breaker.
Pros
Fabric can be cleaned easily

Twin mesh cup holders

Comfortable plastic handle

Available in four vibrant solid colors
Cons
Wheels may take time to align
Almost halfway through the list, and we'd like to introduce the Marathon Yard Rover Wheelbarrow Garden Cart. If you're a fan of the traditional garden carts, then this model will surely fit your needs.
Sale
Why Did We Like It?
Our search for a conventional wheelbarrow led us to this product, and frankly, we are decently satisfied with how it performs. Firstly, it features a 5 cubic foot polypropylene plastic tray with a contoured design, making it convenient to load bulky and large loads like rocks, logs, topsoil, and so on.
Apart from that, the large plastic loop handle makes it easy to push or pull the car, as well as dump the contents without straining your muscles. In this regard, the lightweight tray doesn't obstruct the dumping motion. You can carry up to 300 pounds at one go.
As far as storage is concerned, it stands upright against any flat surface for hassle-free storing. But you can also hang the cart on a wall without worrying about it falling down.
Lastly, the couple of air-filled tires are engineered to create even weight distribution and optimal balance, especially on rough terrains.
What Could've Been Better?
The Marathon Yard Rover Wheelbarrow Garden Cart is designed exclusively for lightweight carrying. In case you exceed the 300 pounds limit, expect it to tip and turn even on smoother terrains. So, it may not be your go-to option for heavy duty use.
Pros
Wide grip

Impact-resistant, no-rust poly tray

Lightweight body facilitates storage and maneuverability

Tires provide ease of lift, bounce and stability
Cons
Not meant for heavy duty use
Next up, we have the Timber Ridge Wagon Folding Cart. With adequate storage space and convenient maneuverability, this unit is an ideal solution for your multi-purpose utility needs. What's more, the affordable price tag won't burn a hole in your pocket.
Why Did We Like It?
At first glance, we were really impressed with how spacious this wagon cart looks, and its dimensions proved just that. It provides more than 4.5 feet cubic feet of storage when unfolded, which can house bulky loads (up to 150 pounds) without breaking a sweat.
Besides, it comes with a hard padding that converts the base into a hard surface. However, you may also use it to create two horizontal partitions. But if all that space is still not enough, the two mesh holders and three side bags will surely get the job done!
Among other likable features is the adjustable handle that can reach a height of up to 31-inch. For this, pull the red lever and extend the handle to the desired height. Once done, push it back in for locking the height. By pressing a small button located underneath, you can even adjust the angle as per convenience.
Perhaps its biggest advantage is the pair of 360-degree front rotating wheels, which are designed for more stability and smooth maneuverability on all terrains. Finally, its no-tool assembly will appeal to those who love ready-made carts.
What Could've Been Better?
For all things good, we are a bit bummed out about the low clearance of the handle. Even with maxim angle adjustment, we experienced a strain on our back and keens to pull it with a heavy load on.
Pros
Undulated round handle

Collapses easily for storage

Velcro straps keep the cart folded

Available in two vibrant colors
Cons
Handle doesn't have much clearance
The Polar Trailer 8449 Cub Cart sports a rugged design for tackling heavy duty hauling tasks. Its 400 pounds weighing capacity is complemented by a number of user-friendly features for delivering consistent performance.
Sale
Why Did We Like It?
Having tried a wheelbarrow before, we wanted to test another model. The highlight of the Polar Trailer 8499 is a robust 7 cubic feet wide polyethylene tub that has a carrying capacity of about 400 pounds.
On top of that, it's built to resist impact and cracks, even if you carry rocks or logs on a regular basis. And the optimal load balance means you can haul the heaviest load without tipping the cart.
Likewise, the twin 16-inch wide-track tires are equipped with shielded ball bearings to provide smooth maneuverability on almost any terrain. We were also pleased with the traction that the tire's grooved design had to offer.
All in all, the Polar Trailer 8449 Cub Cart is a no-nonsense product that doesn't make fancy claims, but does well to stick to its basic job.
What Could've Been Better?
For the price, we'd have been happy if the tires didn't have plastic wheels, which can compromise their durability in the long run. Moreover, the ridges on the poly tub can retain fine contents like soil or mud, thereby making it difficult to clean.
Pros
Strong metal body

Loop handle has adequate grip

Smooth unloading motion

Lightweight, balanced and stable
Cons
Plastic wheels aren't much durable

Ridges in the tub retain soil
As we near the end of today's list, here's a product that will give you an instant upgrade without the need to purchase a wagon. The WORX WA0228 Aerocat Conversion kit transforms the more conventional pull carts into a spacious wagon in minutes!
Sale
Why Did We Like It?
Honestly, we were quite intrigued by the idea of transforming a wheelbarrow into a wagon. Although you can't use it separately, having a handy conversion tool will save you from the cost of frequent upgrades. Plus, you can fall back to your reliable wheelbarrow whenever required.
Its metal frame features a long and sturdy handle with a D-shaped grip for convenient maneuverability. Additionally, the open extension arms and dolly flaps are ideal for creating a hay wagon for carrying blades of hay, pine needles, firwood or any other large and bulky load.
We absolutely loved that it comes with a small seat that can be used for picking flowers and weeds, or just for resting. Now, this is a feature that you won't find easily in any wheelbarrow or wagon, so brownie points awarded!
Lastly, the removable storage tray and drink holder provides your cart with extra storage space that will always come handy.
What Could've Been Better?
Nothing apart from some detailing. For instance, the seat could've a padding or cushion for more comfort. Similarly, the drink holders can't accommodate large bottles. But for its price and utility, we don't mind compromising!
Pros
Flat-free twin tires

No tool attachment

Smooth pivot

Padded handle
Cons
Seat doesn't have padding
The Beau Jardin Folding Wagon Cart is a profession-looking model that is designed for your heavy duty needs. It's loaded with various features that cuts out your efforts to a bare minimum, without costing a fortune.
Why Did We Like It?
No surprises here as the free-standing mechanism was one of the first things that grabbed our attention. For this, the pair of rear wheels are designed in a way that makes the cart stand still without the user requiring to hold the handle. This feature also facilitates easy storage as you don't need any additional support.
Not only that, but the front wheels are equipped with a double brake system, which brings the cart to a complete halt on sloppy terrains. Once you're done loading (or unloading), push the cart to unlock the wheels for further movement.
Just like the Timber Ridge Wagon Folding Cart, its handle has an adjustable mechanism that features a self-locking system. When you pull it out, the handle automatically locks itself for reinforced stability. Moreover, the cart employs an adjustable push handle that can be used when the cart is heavily loaded.
Last but not least, the 360-degree rotating wheels provide excellent control over maneuverability for almost all terrain types. What's more, the user may adjust the spacing between the wheels as required during assembly.
What Could've Been Better?
Since the package doesn't mention a specific carrying capacity, we aren't sure if it's meant for transporting very heavy loads. That being said, we tried it for hauling medium duty goods and didn't experience any significant difficulty.
Pros
Pull handles has an adjustable angle

Removable polyester for easy maintenance

Equipped with both push and pull handles

Folds quickly
Cons
Doesn't have a definite carry capacity
Featuring a reliable and stable design, the Vivosun Heavy Duty Collapsible Folding Wagon meets quality control standards for superior performance. Its hassle-free operation is suitable for a variety of needs, be it indoors or outdoors.
Why Did We Like It?
First things first, the durable structure consists of a steel frame and 600D Oxford fabric, which prolongs its service life. Furthermore, the crate is both tear-resistant and waterproof, thereby allowing you to carry a wide range of things (up to 176 pounds) without fretting over damages.
Similar to the Timber Ridge Wagon Folding Cart, its pull handle comes with an adjustable mechanism that lets you decide on the clearance. If you have to carry heavy loads, simply pull it away from the crate for unobstructed maneuverability. It also has a small red push lever that is used to retract the handle to its original position.
Finally, the 360-degree anti-skid wheels let you move it around in any direction without causing jerks or bumps. This is a good feature to protect your delicate plants from getting damaged. When done, just lift the bottom handle, fold in the middle and put in the carrying case.
What Could've Been Better?
The handle doesn't have a dedicated bracket to keep it secure when the cart is not rolling. Hence, keep an eye for the flinging handle when you take it out of the bag for use. Other than that, we don't have anything else to complain about.
Pros
Fabric can be disassembled for cleaning

Space-saving storage

Comes with padded surface cushion

Heavy duty carrying capacity
Cons
Handle doesn't have a holding bracket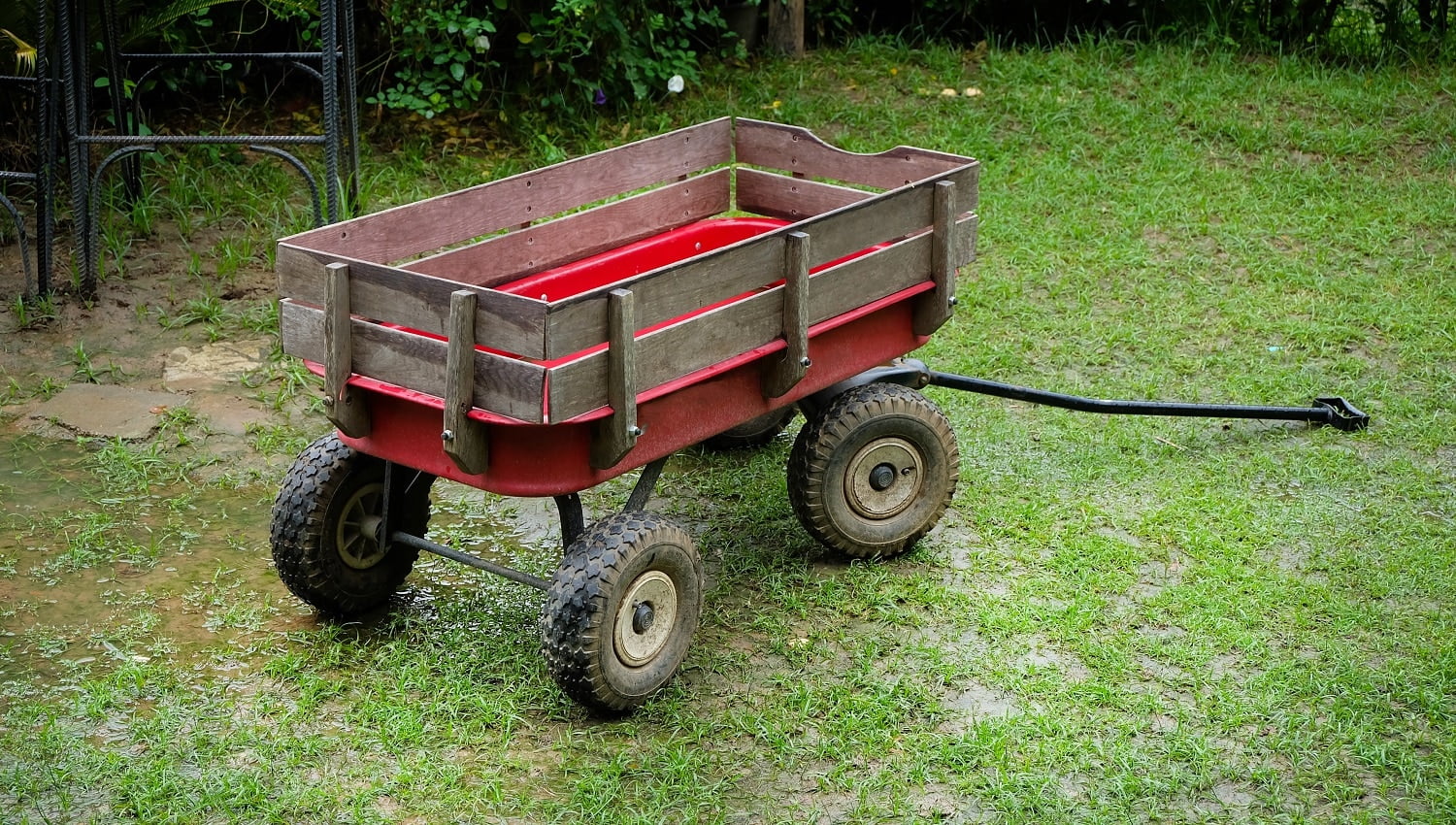 Garden Cart Buyers' Guide
You may think that there isn't a lot to consider while buying a garden cart. But the truth is that there are certain factors that decide whether or not your purchase will meet your requirements. And to simplify your task, we've listed the most important aspects that should drive your purchase decision.
Read on to know more….
Type
The first and foremost thing to consider is the type and utility of the garden cart you wish to buy. In this regard, garden carts can be categorized into the following:
Utility Wagon
In simple terms, utility wagons are those which come with four vertical sides to help contain everything on your cart. In fact, these vertical sides provide these models with the safety you need while carrying smaller or delicate items.
We'd recommend opting for the removal side design to make it easier while loading and unloading heavier bags and materials.
Dump Carts
Dump carts look similar to traditional wheelbarrows, and are especially beneficial if you're involved in heavy duty dumping of soil.
Foldable Carts
Generally, users prefer foldable carts due to their space-saving design and high vertical sides. Although they may not have outstanding weighing capacity, their ease of portability is second to none.
In case of foldable carts, we'd strongly suggest going for an option that has an adjustable handle. As an additional feature, you may also go for one that is equipped with a push handle or adjustable angle mechanism (of pull handle).
Similarly, 360-degree rotating wheels are preferable for unobstructed maneuverability on all terrains.
Carry Capacity
No matter the type, always check for the maximum carry capacity of the cart. Homeowners usually prefer a model between 150 and 400 pounds for regular use. However, you may also choose for a higher capacity to accommodate future needs.
Material
All our recommendations have a steel frame and polystyrene bed for their excellent durability. In case of foldable carts, 600D polyester fabric prolongs their service life.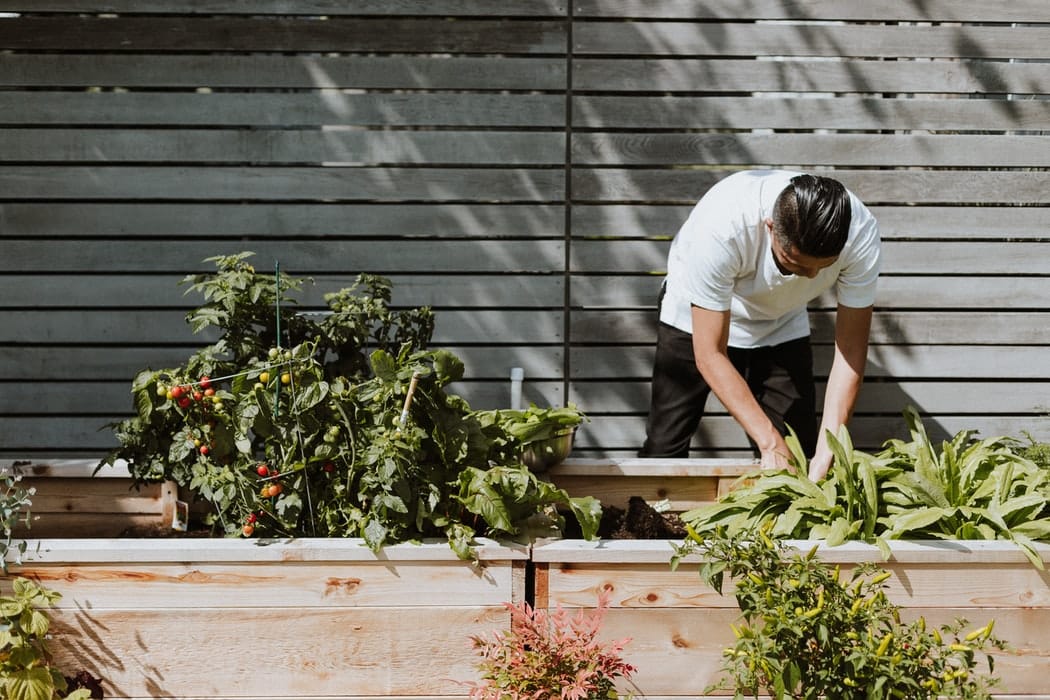 Verdict
Had garden carts not been there, carrying materials would've become a lot more cumbersome. So, if you still don't have one, now is the time to make that much-needed purchase.
But before you do that, here's a quick shoutout to the top three names that stood out for us. While the Gorilla Carts GOR6PS Heavy Duty Poly Yard Dump Cart is one of the best heavy duty options, the GOR400-COM Steel Garden Cart has removable slides.
On the other hand, the Marathon Yard Rover Wheelbarrow Garden Cart is a good dumping/wheelbarrow cart.
On that note, it's time for us to wrap up today's guide. Do let us know about your verdict in the comments section.
So long!
Related Articles
8 Best Dump Cart for Lawn Tractor & ATVs
10 Best Stair Climbing Carts of Today | Buyer's Guide
13 Best Motorized Wheelbarrows
4 Best Towable Portable Mini Backhoe Digger