Garbage disposals are a blessing that has made dishwashing a breeze. The use of garbage disposal under the sink proves to be a game-changer when it comes to the hygiene of a household. You are not required to clean the dishes before landing them into the sink. You don't need to worry about disposing of those gooey food leftovers that pave the way for flies to invade your home.
However, not all kitchens have sinks with pre-installed disposals. Furthermore, the garbage disposal unit is an electric machine after all and it breaks down past its service life just like any other home appliance. If you are facing a similar situation where you need a new garbage disposal unit for a hassle-free dishwashing unit and an overall clean home, then read on. We are going to review 13 best garbage disposals available in the market right now.
One more thing: all the models we are going to review here cost less than $100. This means you can make a long-term investment by buying a high-quality garbage disposal unit without straining your budget. We will number the reviewed garbage disposals to maintain a reading order. The numbering has nothing to do with their market standing and consumer ranking.
Best Garbage Disposals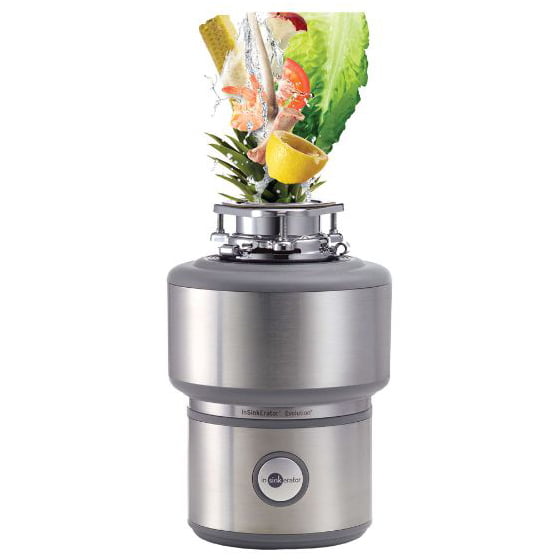 Continuous feed jam-free vortex motor

Pre-installed power cord

Comes with a 3-year limited warranty
If you are looking for a garbage disposal that costs you less than $100 and can be easily installed, then consider Moen's GXP50C GX PRO Series. It is a continuous feed garbage disposal that comes with the universal Xpress mount that fits nearly every existing 3-bolt mounting assemblies. The installation gets easier with its lightweight, compact construction, and the pre-installed power cord. With a built-in power cord, you are not required to hardwire it or to purchase a separate one.
Besides being easy-to-install, this GX PRO Series disposal is a powerful machine. Its 0.5-hp vortex motor features permanent magnet that rotates its stainless blades at 2600 rpm to shred every last bit of food scrap without getting jammed.
Noise is an unwanted byproduct of many garbage disposals. Moen has overcome this problem by using state-of-the-art SoundSHIELD insulation that significantly dampens the motor sound. This high-quality garbage disposal is designed to last long. Its polymer grinding chamber rules out corrosion, which can cut down the service life of any garbage disposal.
With 3-year manufacturer warranty along with in-home service, it is pretty evident that GXP50C GX is one of the most dependable garbage disposals under $100.
Pros
Easy to install, Universal Xpress mount, and preinstalled power cord
Jam-free motor operation
Produces significantly low noise
Lightweight and compact design
Cons
Requires a power outlet under the sink
Not suitable for small sinks
Continuous feed with 0.3-hp and 1,900 rpm motor
Features noise-dampening insulation
Compatible with septic systems
If you are looking for anything that can easily be installed with standard-size kitchen drain and let you grind and dispose of medium-size leftover food junk, then getting Frigidaire GrindPro is not a bad idea. Its 0.3-hp motor that operates at 1,900 rpm is good enough to take care of food garbage produced in a small household.
What we like about this Frigidaire machine is that it gets the job done in an energy-efficient manner. With average use, this disposal only uses four kilowatts of energy in a year. So, Frigidaire FFDI331DMS GrindPro doesn't just entail cheap upfront cost, but it also keeps your overhead expenses low.  We also like its stainless steel impellers that doesn't rust and remain jam-free even after extended use.
Even if the rare event of disposal jam occurs, you can easily sort it out through a manual reset. Many times, the aggressive turning and twisting of impellers of a disposal unit throw some junk out through its inlet. Frigidaire has ruled out this problem by installing a splash guard. Moreover, noise-dampening insulation is also done to take the edge off the deafening motor sound.
With two-year limited warranty by the manufacturer, it is quite obvious that this medium-size garbage disposal is a reliable kitchen appliance.

Pros
Standard fit, for 1.5-inch drain outlets
Splash guard for mess-free use
Energy-efficient motor
26-ounce grind chamber perfect for small and medium-sized households
Cons
Doesn't include power cord
Not suitable for extensive use
0.5-hp motor
Made of galvanized steel and ABS plastic
Comes with jam-release wrench
Comes with 1-year full warranty
Whirlpool GC2000XE has the horsepower of Moen's and rpm of Frigidaire's disposal units. In other words, it's a perfect combination of garbage disposal specs for households that need to dispose of a considerable amount of organic leftovers. However, the distinctive part of this Whirlpool machine is that it features an internal centrifugal switch that makes sure that the motor operates at its rated rpm by any means.
Garbage disposal is a long-term investment. A good-quality model can easily give you non-stop service for 10-12 years. Whirlpool knows that users prefer longevity over any other feature while choosing a garbage disposal. This is the reason why it has used the best-available material in the construction of this garbage disposal. The galvanized steel grinding wheel and shredder ring are housed in a chamber made of sturdy ABS plastic. This perfect corrosion-resistant combo increases the lifespan of this 0.5-hp garbage disposal.
If you are replacing your old garbage disposal with Whirlpool GC2000XE, then the installation will be a piece of cake. You can use the existing connector in the locked-in mounting setup of this garbage disposal and install it on your own without needing any professional help. The other good thing about this disposal is its compact size. It is not going to occupy the entire sink underside and you can still use it to stuff various kitchen supplies.
Lastly, Whirlpool has made sure that you can deal with unexpected jams and overloads without breaking a sweat. Apart from manual reset, you also get a jam-release wrench to easily get the disposal back at work.

Pros
Internal centrifugal switch ensures uncompromised grinding
Galvanized steel for extended rust-free use
Lightweight and ergonomic design
Effective mechanism to deal with overloads
Cons
A bit underwhelming grinding activity, given that its 0.5-hp
Not suitable for large families
Sound-dampening insulation is absent
0.5-hp motor with 2,800 rpm
EZ mount installation
Comes with splash guard and stopper
Direct-wire connection
It is only natural to be curious about a garbage disposal if it is being offered by the mighty General Electric. After thoroughly assessing its features, we can confidently say that GFC520V is an appliance that lives up to the big and reliable name of the manufacturer.
Sale
It is a garbage disposal unit with 0.5 of horsepower that rotates its double-swivel and jam-free stainless steel dual blades at 2,800 rpm, operating in two stages. This means whether its stiff pizza crumbs or hard apple leftovers, General Electric GFC520V is going to crush them down in one singular consistency. Moreover, a tilted fin is installed within the disposal chamber that adds more force to the incoming water torrent to prevent clogging; General Electric calls it Drain Boost Technology.
The thorough grinding along with forceful water push turns all the solid waste into a liquid, making  GFC520V equally compatible for septic tanks as well. The manufacturer has also made sure that users find this disposal unit easy to use. Therefore, it comes with the EZ mount system. Moreover, splash guard (removable) and stopper make sure that you can use the disposal with utmost convenience.
It needs to be mentioned here that all components of this garbage disposal are either made of stainless or galvanized steel, making this disposal unit a reliable kitchen appliance. The 1-year warranty covering full unit replacement further proves the reliability of this 0.5-hp disposal unit.

Pros
Fitted with one of the most perfectly designed blade assembly
Drain Boost Technology rules out clogging
Can be used with septic tanks as well
Noise-free operation
Cons
A bit bulky
Prone to corrosion to some extent
0.5-hp motor with 1,725 rpm
Continuous feed mechanism
Comes with 1-year manufacturer warranty
For a family of 3 or 4 that prefer home-cooked dinners over takeouts most of the times, this kitchen Aid mid-size disposal can come in really handy. It features a 0.5-hp motor that rotates the galvanized steel impellers of the machine at over 1,700 rpm with continuous feed operations. All the leftover stuff you are disposing in the sink, it will be crumbled into the tiniest pieces that will easily pass through any standard drain size.
Kitchen Aid KCDB250G comes with a drain connector hose so you can easily use it along with your dishwasher without making any changes to the existing plumbing system of the kitchen. Although its 26-ounce chamber is good enough to take care of a large size junk, you can still face some occasional overloads. In any case, where the chamber has to deal with more food disposal than its capacity, the motor will automatically shut off to protect the internal components.
No one likes to get splashed by a dirty muddle of food leftovers while using the sink and therefore, it features an effective splash guard. You can stand on the sink while the disposal is running without worrying about staining your clothes.
To make its disposal unit a long-serving kitchen appliance, Kitchen Aid has only used stainless and galvanized steel in the making of its impellers and shredder rings. To protect your nerves from the jarring motor, grinding and crushing sound, KCDB250G features a polystyrene sound barrier.

Pros
Easy flip-switch operation (direct-wire construction)
All internal parts made of corrosion-resistant and durable steel
Features robust mechanism to deal with garbage overloads
Noise-free operation due to polystyrene sound barrier
Cons
The size is bit too wide
Not for large quantity of food disposals
0.5-hp permanent magnet motor
Glass-filled polyester body
Comes with a 2-year parts warranty
Waste King's Legend Series features some of the best garbage disposals on the block. We are also going to review the ones that come under $100. Waste King L-1001 is yet another 0.5-hp motor with permanent magnets that ensures jam-free food disposal. The impellers fitted inside Waste King L-1001 are corrosion resistant. The manufacturer gives a two-year warranty on it. If you notice any corrosion on any of the grinding component in the said time, you can get it replaced free of cost.
Sale
The motor's RPM complements with its horsepower. When impellers are moving and grinding at 2,600 RPM, you can turn all sorts of solid food waste into a fluid. This is the reason why you can use L-1001 with septic tanks without any apprehension.
Moreover, the installation of Waste King L-1001 is also quite easy and DIY in nature. It comes with 32" built-in power cord and EZ mount system. With regular hardware tools present in-home (pliers, dowel, hammer, and a screwdriver), you can easily install it on your own within half an hour.
What we most like about L-1001 is its lightweight body and compact construction. With just over 9 pounds, it doesn't occupy the entire space below the sink. Lastly, the splash guard comes in handy to protect yourself from the aggressive pulverizing happening inside the disposal. It also lets you retrieve any dropped item without risking any injury.
Pros
Easy-to-install, EZ mount, and built-in power cord
Thorough macerating makes them septic tank-compatible
Lightweight and space-efficient
Features splash guard
Cons
A bit too loud
Not for big chunk of food garbage
A powerful 1-hp motor with iron alloy blades
Features splash bafflers
Made of ABS polymer
If you are looking for a garbage disposal replacement for a kitchen serving large families, we would strongly recommend you to consider this Goplus's powerful disposal. This heavy-duty disposal features 1-hp motor that rotates its sturdy iron alloy blades at 2,600 rpm. The combination of power with tough blades allows you to crush every hard food leftover into a runny liquid. From egg shells to small bones and uncooked vegetables, Goplus Food Waste Disposer can ruthlessly squash everything into a fluid waste.
The disposer's chamber also complements its powerful grinding action. Here, you get a large 750-ml grinding chamber made of durable ABS plastic that doesn't just ensure rust-free operations but also keep the sound of running disposal in check.
Even with such powerful specs, Goplus Food Waste Disposer doesn't produce the deafening noise of typical garbage disposal. With its only 50 decibels of sound, you can't tell if it is running even from the adjacent dining area.
Apart from integrating all this power, Goplus has also made its heavy-duty disposal a really versatile and functional kitchen appliance. For instance, it is compatible with both single and double sinks. Moreover, a dishwasher connector also comes with it so you can use all the plumbing-related kitchen appliances in a synergized environment.
The disposal unit comes with all the necessary installation components (power cord, air pipe, elbow pipe, lids). In other words, you don't need to visit a hardware store and spend more money on installing this powerful disposal machine.

Pros
Powerful pulverizing activity
Noise-free operation (produces below 50 decibels)
Easy-to-install, comes with all necessary installation components
Large garbage chamber capacity
Cons
Doesn't work with wall switch
Prone to jamming
0.3-hp motor with 1,900 rpm
Pre-installed power cord
Comes with 2-year manufacturer warranty
As mentioned earlier, Waste King has introduced a garbage disposal range to cover all sorts of users. For homes with small families and lesser amount of food leftovers, Waste King L-111 is a worthy option to consider. This Legend series garbage disposal features 0.3-hp motor with permanent magnets. This motor configuration ensures smoother and relatively jam-free operations in comparison to induced motors used in the majority of garbage disposals.
Waste King has taken care of all aspects of small families in designing this disposal unit. So, it's not just low-power but also space-efficient. You can easily install it under small sinks in small kitchens without disturbing your existing sink and cabinet setting.
The three-bolt mounting configuration is pretty common in the modern garbage disposals. They definitely ensure reliable fitting, but their installation can eat up a large part of your day. Waste King L-111 features EZ mounting assembly that you can easily install on your own within an hour or less. The power cord also comes with it so you can finish the installation without spending a single dollar other than the price of the unit.
It is important to mention here that the lightweight and less power consumption of L-111 has no bearing on its durability. The use of a galvanized turntable, grind ring, and stainless steel blades along with glass-filled nylon chamber guarantee long-lasting use.

Pros
Perfect for small households
Easy-to-remove waste elbow and manual reset protector
Lightweight and space-efficient
Made of durable material
Cons
Not suitable for large sinks
Blades can warp under hard grinding
0.5-hp Dura-Drive induction motor
Galvanized grinding components
An  Amazon's Bestseller
If you are looking to dispose of all the soft food junk of your house in a more streamlined and eco-friendly manner, then you can definitely count on this InSinkErator product. InSinkErator has been around for more than 80 years producing top-of-the-line kitchen appliances. The same quality and attention to details have also been used in the making of Badger 5.
Its 0.5-hp motor is good enough to pulverize the everyday food waste into runny pulp. The use of induction magnets in the motor guarantees extended use. Moreover, the galvanized grinding components also ensure that you are making the right investment by buying Badger 5.
While offering all the valuable characteristics of any high-quality 0.5-hp garbage disposal, the most striking feature of Badger 5 is its mounting system. It won't be wrong to say that this disposal unit has the easiest installation procedure on the block. The patented Quick-Lock system of InSinkErator let you replace older disposal unit with a new one in a couple of minutes.
The reliability of an InSinkErator Badger 5 is also demonstrated by the fact that it comes with a 2-year warranty that includes part replacements and as well as in-home services. We would strongly recommend this reliable mid-range garbage disposal from a reliable name of the industry for all those small families looking for a model that costs under $100.
Pros
26-ounce garbage chamber is ideal for regular food disposal
Patented Quick-Lock system for easy installation
Comes with a jam buster wrench to deal with clogs
Lightweight and ergonomic design
Cons
Power cord is not included
Noise dampening is not that great
0.5-hp permanent magnet motor with 2,600 rpm
Features EZ mount
Comes with extended 5-year warranty
This is the third and last Waste King disposal on our list. It is a high quality food disposal machine perfect for moderate use and comes within $100. It is 0.5-hp motor that operates its swiveling stainless steel impellers at 2,600 rpm macerate every last piece of soft and hard food leftover into millimeter pieces. Like all the other Waste King Disposal units, L-2600 is also fitted with permanent motor that reduces the possibility of jams.
Many people start having second thoughts on the installation of a garbage disposal when they factor in its difficult installation, space occupation and maddening noise. Waste King has made sure that you don't have all these aforementioned reservations about L-2600. It features EZ mounting configuration and comes with 36" power cord. Both these features make installation cost-effective and hassle-free.
Then sound-dampening insulation makes the running motor sound of L-2600 quite bearable. Lastly, the compact size allows you to install it without worrying about the shrinking space in the kitchen. Even after the installation of the disposal unit, there is still space under the sink for other kitchen supplies and cleaning products.
However, the most striking feature of this King Waste appliance is its extended 5-year warranty. Whenever the reset configuration of the machine can't resolve the issue, you can call for in-home service of the manufacturer under this valuable warranty.

Pros
Perfect for medium-sized households
Comes with removable splash guard
Lightweight and ergonomic design
Comes with power cord
Cons
Jams can happen with hard food stuff
The finishing could be better
1-hp permanent magnet motor
Made of ABS exterior and stainless interior
Features air switch
Compatible with septic tanks
There are not many 1-hp garbage disposals for household use. And the ones available are either expensive or low-quality. KUPPET has struck the right balance of cost-effectiveness and power in its heavy-duty garbage disposal.
If you are looking for a garbage disposal for a large family or for the kitchen of a roadside eatery, then you should definitely consider this budget-friendly unit. Its powerful motor features permanent magnets for efficient and reliable operations. The grinding mechanism of KUPPET 1HP is quite something. The stainless blades rotating at 2,600 rpm through 1-hp motor works in three stages to break down every food waste into parts smaller than 2mm.
This heavy-duty garbage disposal also comes with a power cord and all the important installation accessories. The inclusion of these parts keeps the entire installation process in your budget. Even with this high power and intricate grinding mechanism, the design of KUPPET Food Waste Garbage Disposal is not that bulky. You can easily install it under the kitchen sink without disturbing the existing setting.
Similarly, the heavy grinding and macerating of the machine doesn't reflect from its low noise. It operates while making less than 50 decibels of sound; even a regular conversational speech produces more noise than that (60 decibels). The ABS exterior and red finish make KUPPA disposal lightweight and easy on the eyes.

Pros
Powerful 3-stage grinding
Aesthetic and ergonomic design
Noise-free operation
Easy-to-install
Cons
Prone to jamming
Not for small families
0.5-hp motor with 2,600 rpm
Features jam-free stainless steel impellers
Comes with 3-year limited warranty
There are many reasons Titan T-560 stands apart among other 0.5-hp garbage disposals. To begin with, it offers 2,700 rpm rating that is not found in all disposal units of similar power. Moreover, the turntable of this disposal unit is balanced with so much precision that it doesn't vibrate like regular units. This balanced turntable doesn't just extend the service life of the disposal unit but also makes its operation less noisy.
Sale
All the grinding components of Titan T-560 are made of stainless steel. Moreover, they bear a unique Bio Shield Agent. This molding prevents the growth of bacteria that makes a disposal unit stinky. You won't find this odor-protection mechanism in any other 0.5-hp disposal unit. Apart from putting removable splash guard on it, Titan has also added a magnetic silver guard to T-560. It captures the dropped metallic objects before they end up in the chamber. This guard protects both the internal components of the disposal and your precious metallic cutlery.
The warranty that Titan is offering with this disposal unit is quite interesting. For the entire disposal unit, you get 3-year limited warranty. However, the manufacturer is quite particular about the corrosion. For any machine failure due to corrosion, you get a lifetime warranty. It shows that how good are the internal components of Titan T-560 with their corrosion-resistant features.  
Lastly, the lightweight body and space-efficient design ensure that you can install it without compromising your under-sink space.

Pros
Balanced turntable guarantees vibration-less and noise-free operation
Lifetime warranty for corrosion-driven failures
Feature antibacterial shield to prevent stinky odors
Magnetic silver guard for easy retrieval of dropped metallic items
Cons
Power cord is quite short
Mount system could be better
0.3-hp motor with pigtail construction
Comes with adapter (compatible with every sink flange)
Jam-free swiveling impellers
We are concluding our list with a sleek disposal unit that is ideal for apartment kitchens in all aspects. Whirlaway 86708 Food Disposer is a 0.3-hp motor that is perfect if you are not dealing with large and hard food waste. Moreover, its pigtail construction ensures that you can easily fit it under a small sink without congesting the space.
Whirlaway has also made sure that you don't have to call professionals to install.  It's fast and easy-mount system makes for hassle-free installation. Moreover, the new adapter allows you to mount it with any sink flange. It is important to mention here that the low price and light construction doesn't affect Whirlaway 86708 from functional standpoint.
Like any top-quality garbage disposal, it also features rust-proof grinding chamber and drain housing. Similarly, jam-free stainless steel swivel impellers are used to macerate food particles into consistent liquid waste.
Moreover, the splash guard is now also added to this handy disposal unit. It ensures mess-free use and makes it easy to retrieve dropped utensils. With all these features, Whirlaway 86708 is a great bang for the buck if you are looking to dispose of food waste in your apartment with a small family.

Pros
Ideal budget disposal unit for apartments and small families
All internal components are corrosion-resistant
The most space-efficient construction on the block
Also features splash guard
Cons
You may need a power outlet under sink
Not noise-free operation
Short Buying Guide for a Garbage Disposal
We have you covered for your disposal replacement with those 13 units that are not just top-of-the-line but also come in reasonable prices (all under $100). Nevertheless, you must be aware of some general rules to buy the right fit of disposal unit for your sink while searching it online or in any brick and mortar appliance store.
1. Motor Rating
If you have noticed, the majority of disposal units we have reviewed here feature 0.5-hp motors. This motor rating is considered the industry standard for home units. Any good quality 0.5-hp disposal unit can easily pulverize the food garbage that any regular household produce.
However, 0.5-hp is not a mandatory feature. If there is a large family, then homeowners can definitely upgrade to 1-hp motors. Similarly, people with small families are not bound to have 0.5-hp machines. They can go with more space-efficient, power-efficient, and cost-effective 0.3-hp garbage disposals.
It is important to factor in the motor rating before making a purchase. Otherwise, you can end up with either too small or too large garbage disposal.
Tip: When in doubt, go with 0.5-hp garbage disposal unit.
2. Power Cords or Built-in Wires
The majority of modern garbage disposals come with built-in power cords. This improvement has made garbage disposal a plug-n-play device like any other electric appliance. However, there is a caveat attached to disposal units with power cords i.e. you will require a power outlet in the near vicinity of the sink.
If the power outlet is on the opposite wall of the sink, then this convenient feature can turn on its head. And if that's the case, you can go with traditional units with built-in (hardwired) wires. It will definitely stretch the installation time of the unit, but you will end up making an electric connection once and for all.
3. Cost
From the above reviews and the title of this piece, it is pretty evident that there are many top-of-the-line garbage disposals for homes that come under $100. So, there is no need to even consider any item that exceeds the $100 mark when all the industry leaders are offering reliable disposal units in 2-digit prices.
Important Note
Before wrapping up the article, we want to highlight an important aspect of using garbage disposals i.e. a disposal unit must always be used with the running water. The metallic blades and impellers of a disposal unit are moving at a speed where they radiate a lot of heat. Running water doesn't only lubricate those blades to lessen their friction, but also cools them off.
Keep in mind that you can't evoke a disposal unit's warranty if its internal components break down due to the absence of running water. By acting on this simple tip all the time, you can use your garbage disposal way beyond its prescribed service life.
Using garbage disposal is a great way to deal with your everyday food leftovers. Apart from streamlining your kitchen activities, they also let you contribute to the environmental conservation by sharing the burden of already saturated landfills.
Related Articles
13 Safest Electric Kettles without Plastic 
11 Best Under Cabinet Range Hood 
Vitamix 5200 vs Vitamix 5300 [All You Need to Know]
4 Best Ways To Reheat Chicken Wings [Oven, Refrying, Sauté, Microwave]
13 Best Electric Kettles Right Now | Buyer's Guide
10 Best Food Scales Buyer's Guide and Reviews
15 Best Electric Smokers – Guide & Budget Picks
13 Best Kitchen Shears Right Now Reviewed
13 Best Mini Freezers for a Chilly Year
10 Best Hot Dog Rollers | Buyer's Guide and Reviews
13 Best Cappuccino Makers to Enjoy Today | Buyer's Guide
11 Best Range Hoods to Consider
11 Best Bar Stools Today | Buyer's Guide and Reviews 
13 Best Wine Coolers Right Now
7 Best Hand Crank Ice Cream Maker
Best Apple Peelers on the Market