Tired of the dingy, old-fashioned furniture in your dwelling? It's time you go to furniture stores and revamp your home with modern and elegant pieces. 
Shopping for furniture online or visiting a physical store? We prefer the latter, because what could be more gratifying than snuggling down on a bunch of assorted recliners or trying out beds, furnishings, and sofas to your heart's content. 
But with zillions of furniture stores out there, how do you know which one's the best to explore? That is where the internet walks in. You can explore all the different couches, recliners, and every furnishing trending currently, with just a click. 
With that in mind, we are letting out the best furniture stores in Houston that you can walk in and get your old furniture replaced with modern ones. 
So, without further ado, let's check them out!
Best Furniture Stores in Houston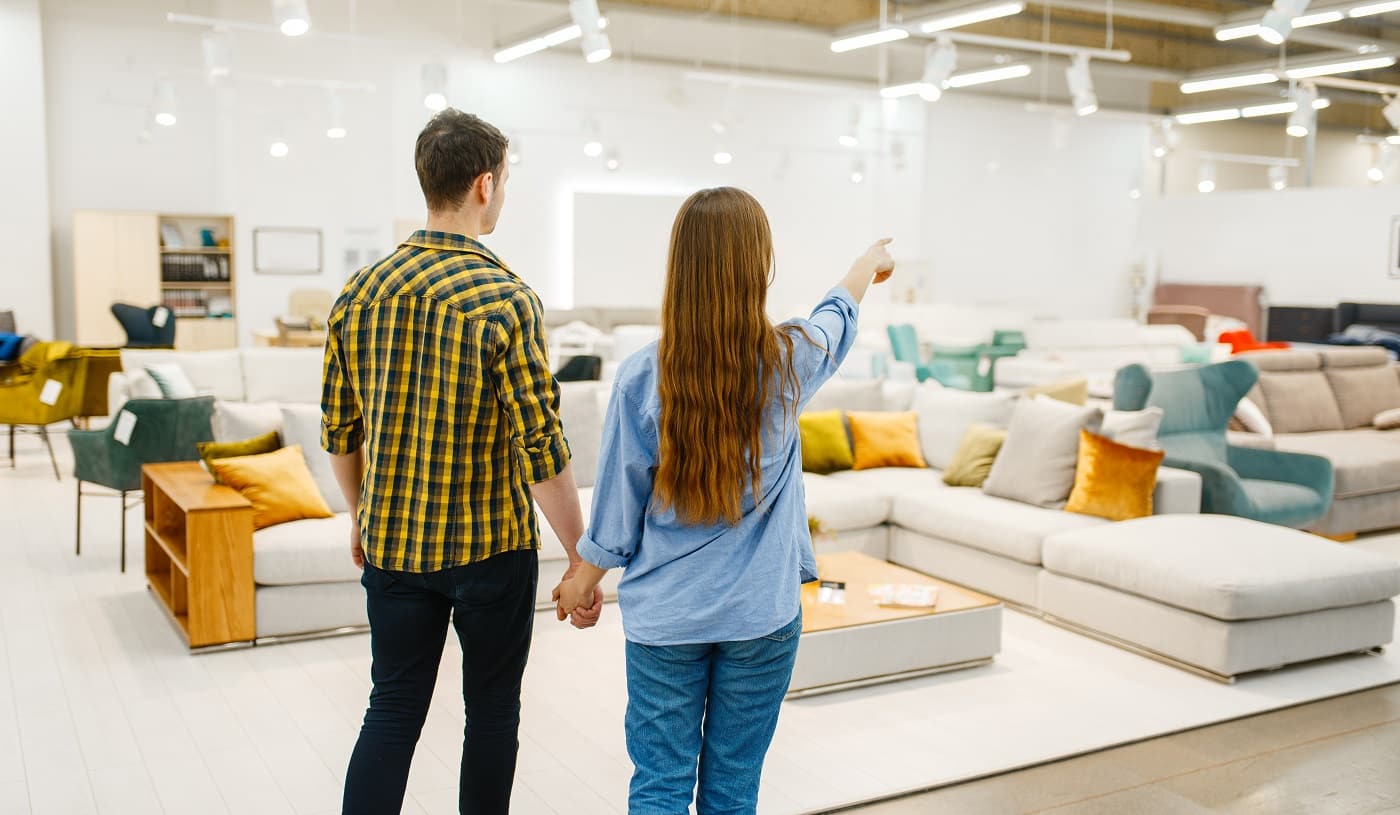 The Amish Craftsman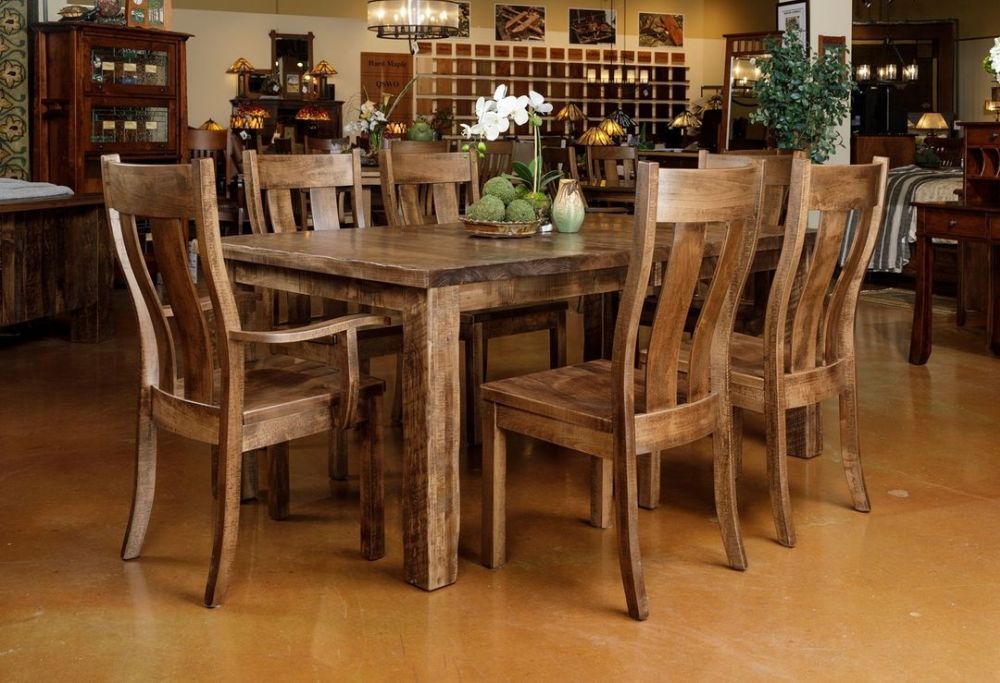 Location – 5555 Washington Ave Suite M, Houston TX 77007
Want to revamp your dining space, living room, bedroom or  office space? The Amish Craftsman has it all. This boutique store creates some of the best furniture that's not only unique and stylish but is also designed to last a lifetime.  
Handcrafted in the USA by the Amish Craftsmen since 1926, you can also customize sofas, beds, loveseats, and other types of furniture you have in mind. So, you don't have to settle for anything less than what you want. 
The Amish Craftsman store also features pieces for home decors. This boutique store is something you should surely explore, for it will cater to all your needs and requirements. 
Exclusive Furniture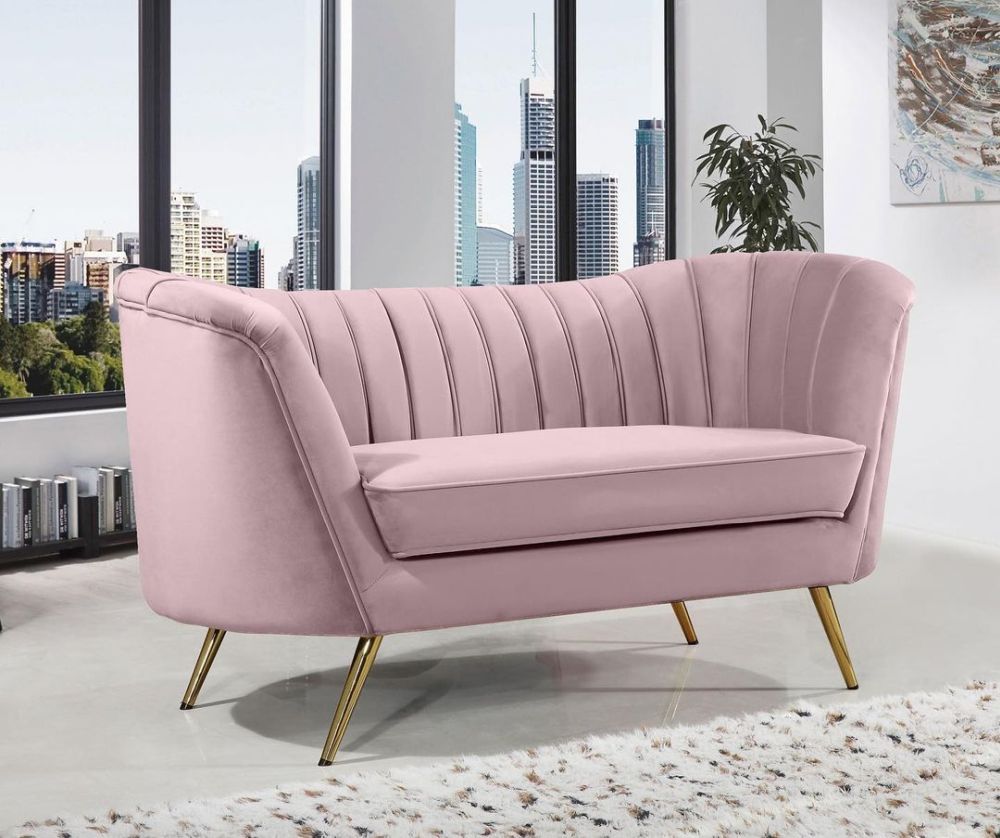 Location – 12200 Gulf Freeway Houston, TX 77075
With 7 exclusive stores in Houston, Exclusive Furniture has been offering affordable furniture.  Be it your living room, bedroom, dining room, or even office – Exclusive Furniture is the one-stop solution for all your furniture needs.
Since 1988, they have been the leading manufacturer and producer of top-quality furniture in Houston. If you are looking forward to visiting one of its showrooms, we recommend you visit the one at Gulf Freeway road. 
Apart from furniture, they also offer mattresses and home decor pieces. With their friendly customer service, you are sure to find the right furniture within your budget. 
Noel Furniture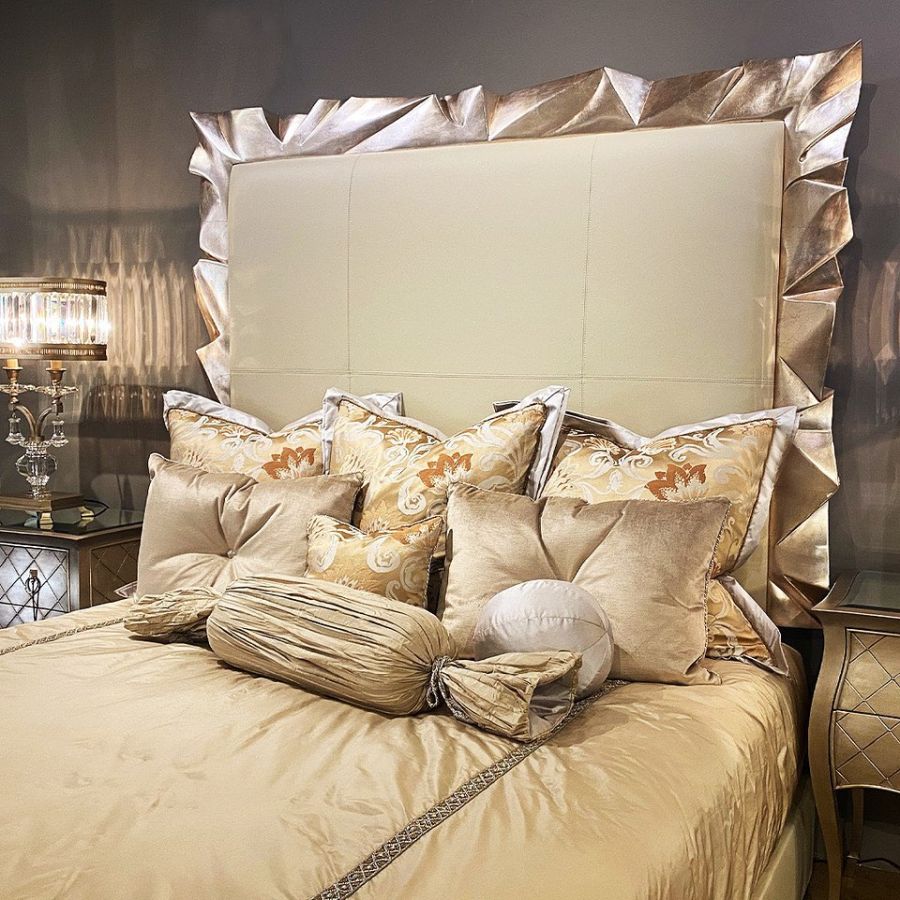 Location – 2727 SW Freeway Houston, 77098
Looking to adorn your home with something unique? Noel Furniture is a furniture store you must not miss. Designed by designers, Noel Furniture offers everything for your home. 
From premium furniture for living rooms or bedrooms to hand-woven carpets, you are sure to discover an assortment of exclusive items to furnish your place. Whether classic or modern, Noel Furniture caters to every taste.  
Houston's leading furniture showroom also offers design services. Just walk into the store and get assisted by their designers. Schedule an appointment today and transform your place into the house of your dreams. 
Living Designs Furniture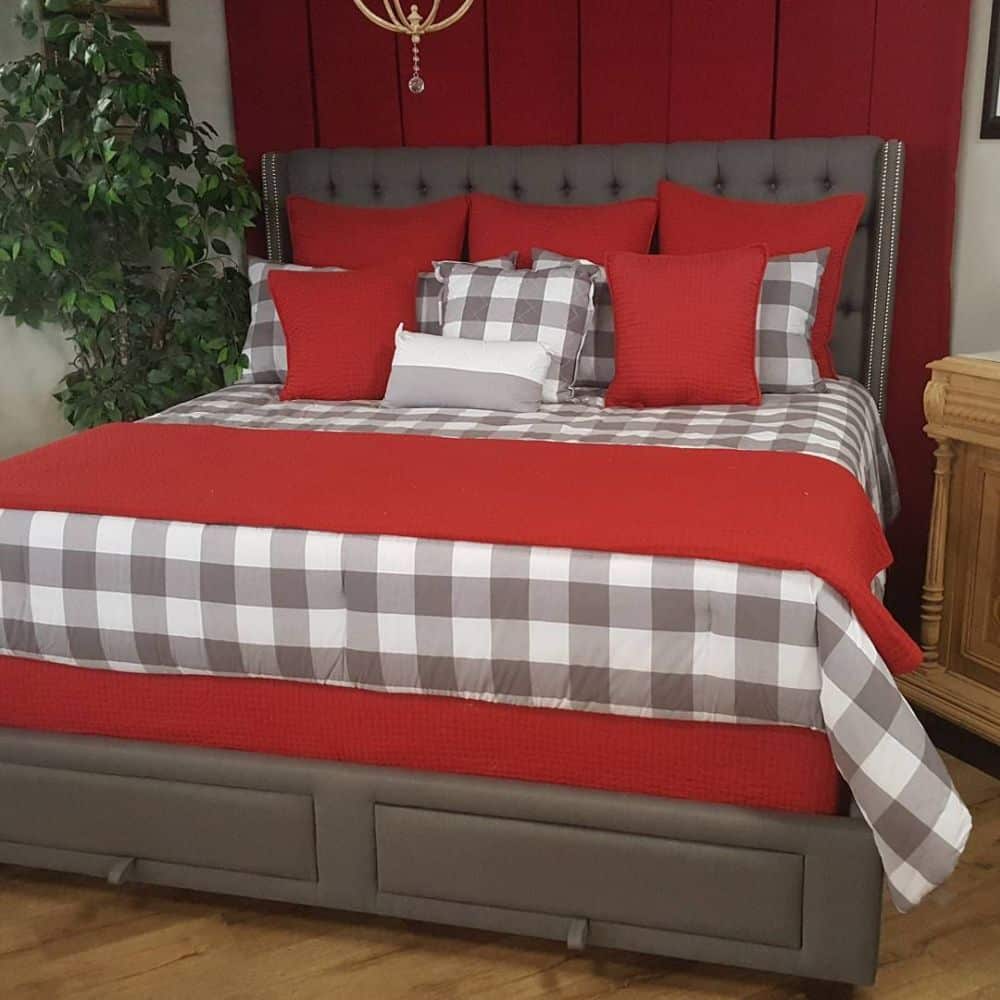 Location – 4619 Navigation Blvd, Houston, TX 77011
Fond of handcrafted furniture? Living Designs Furniture has it all. Get everything at factory prices without compromising on quality. Whether it is that exquisite couch or that upholstered bed that you've seen online and wish to have in your bedroom, Living Designs Furniture can make all your dreams true.
You can choose from thousands of fabrics, and rest assured you won't be disappointed. Handcrafted in Texas, they offer premium quality, exclusive furniture at affordable rates. 
Rush to their showroom factory to collaborate with their design team and create the perfect furnishing for your home to transform your space.
Nadeau – Furniture With A Soul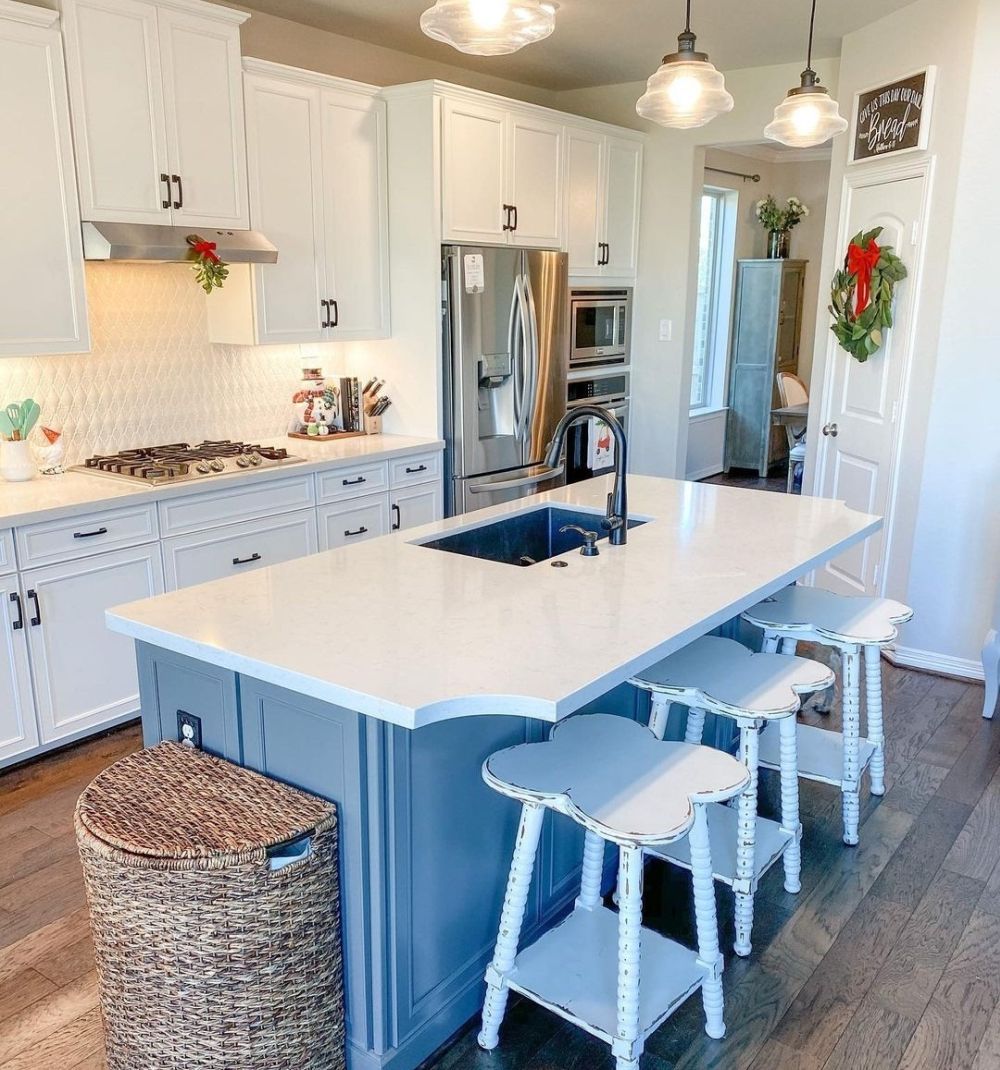 Location – 1502 Durham Dr Houston, TX 77007
Nadeau offers exclusively handmade furniture from all over the world at incredibly affordable rates. Because they are handcrafted, each piece of Nadeau's furniture has a soul. Every piece of furnishing is specifically designed to add grace and warmth to your living space. 
From carved tables for your living rooms to bookcases for the reading room, Nadeau has everything that you will want. Their pieces are going to adorn your space and completely remodel them. 
The carved mirror frames of Nadeau are really beautiful and would be an ideal piece if you want to add something eye-catching to your living room. If you are fond of boho décor, then you must pay a visit to their store.
La Sierra Home Furniture
Location – 11245 Southwest Fwy, Houston, TX 77031
La Sierra Home Furniture is one of the finest furniture stores in Houston which aims at providing a lavish living to you while being easy on the pocket. If you want to breathe life into your living room and bedrooms, pay a visit to the La Sierra furniture showroom.
You will find everything from love seats, sofas, beds to decor and mattresses. Their unique furnishings will breathe life and add beauty to your space. Want sofas, beds, or any other furniture to be customized your way? Head on to the La Sierra showroom – they will design precisely what you have in mind. 
Modani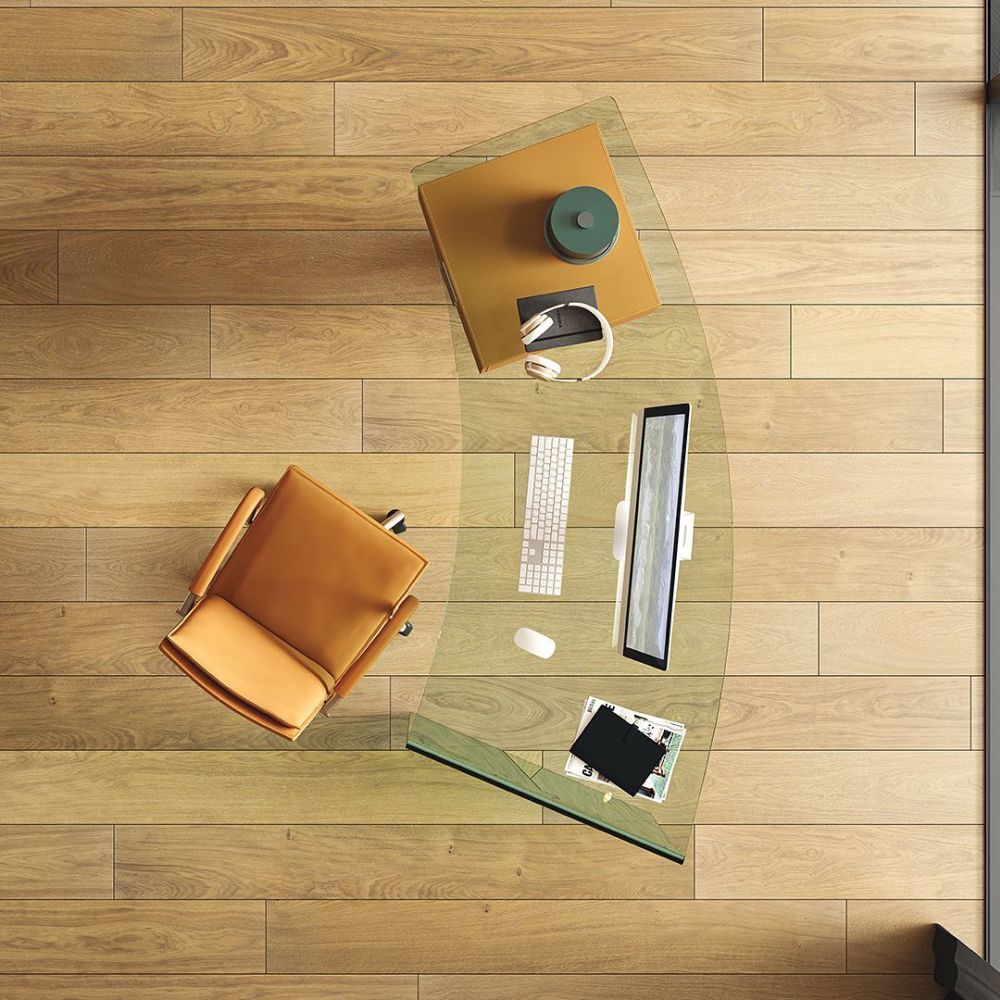 Location – 5370 Westheimer Road, TX 77056
One of the best furniture stores not only in Houston but also in the United States, Modani caters to almost all your furniture needs from the living room to bedroom, outdoor, and offices. Also, you will find sculptures in its showrooms which can add to the aesthetic appeal of your living space. 
Love decorating your walls? Modani has a wide variety of wall arts to choose from. Although they specialize in contemporary design, you will find a few vintage pieces as well. Because of their exclusive collection, Modani has become a favorite store amongst celebrities and interior designers. 
Star Furniture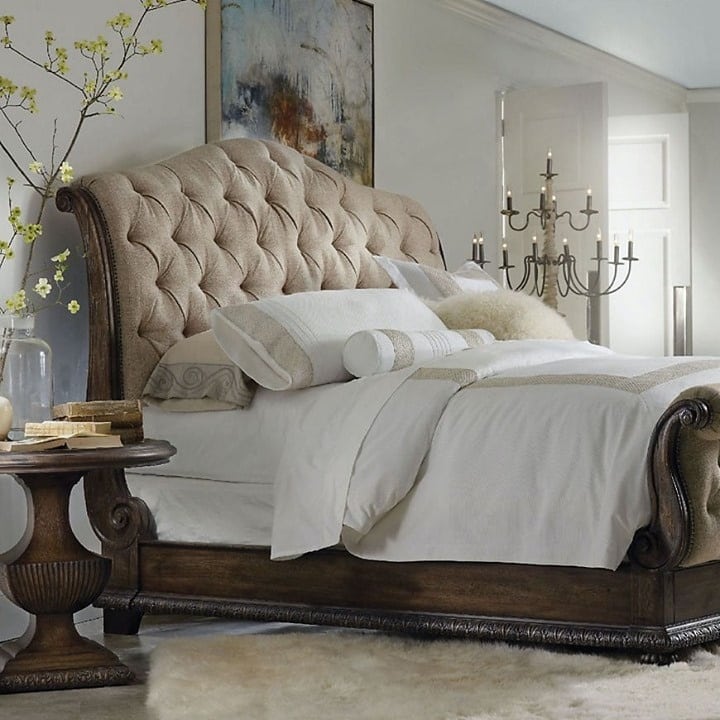 Location – 18107 North Fwy, Houston, TX 77090
Star Furniture store is one of the oldest furniture stores in Houston. If you are looking for quality and durability along with comfort, head on to the Star Furniture showroom. Plus, their unique pieces add beauty to your space. 
Their showroom consists of a wide variety of furnishings – from armoires to dressers, cocktails, standard ottomans, rugs, and lamps. They don't compromise with quality, and so, they are slightly more expensive than other stores. You can also order online through their e-store. 
Mid In Mod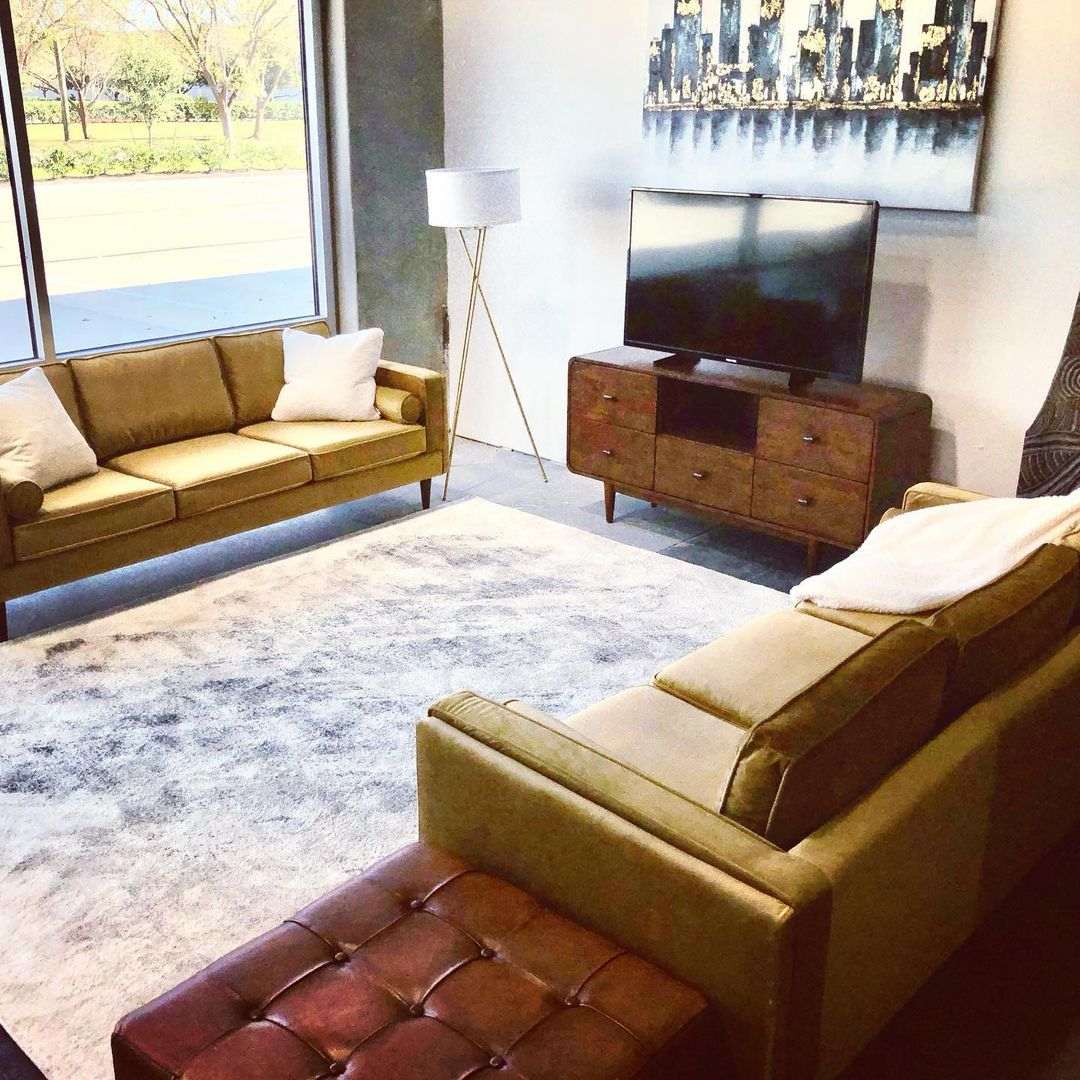 Location – 2803 Westheimer Road, Houston, TX 77098
Featured on Houstonia, Tidbits, Mid In Mod furniture store is ideal for those who have a fondness for mid-century modern design. They excel in mid-century modern furniture, and this is why they are ahead of the game. 
They offer leather sofas, lounge chairs, dining tables, and a lot more. Want to order that favorite couch or anything that you want? You can now shop online from the comfort of your home. Moreover, they ship orders within 3 – 5 business days. 
Home Source Furniture Post Oak Showroom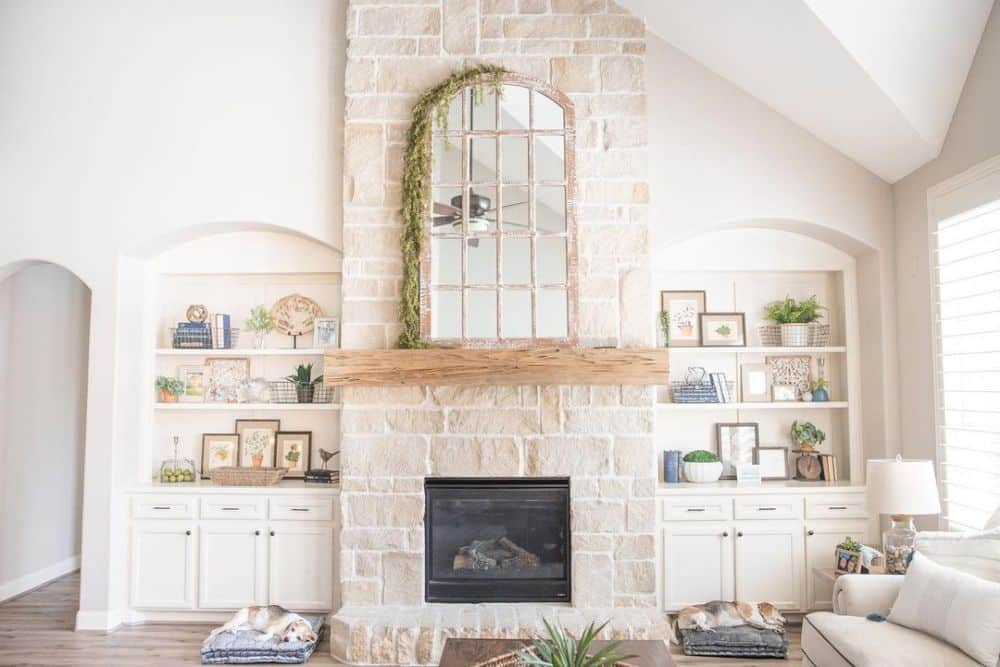 Location – 1705 Post Oak Blvd, Houston, TX 77056
If you love decorating your house from pieces around the world, then Home Source Furniture is the perfect place. Their showroom consists of a variety of handcrafted pieces imported from China, Indonesia, Central America, and India. 
With stunning elegant pieces from Home Source Furniture, you can give your house a complete makeover. Their furnishings are pretty affordable. So, you can beautify your house within your means. Their handcrafted pieces are unique and have a soul of their own. Visit their showroom today and browse through their exclusive pieces to get your favorite one. 
Bi-Rite Furniture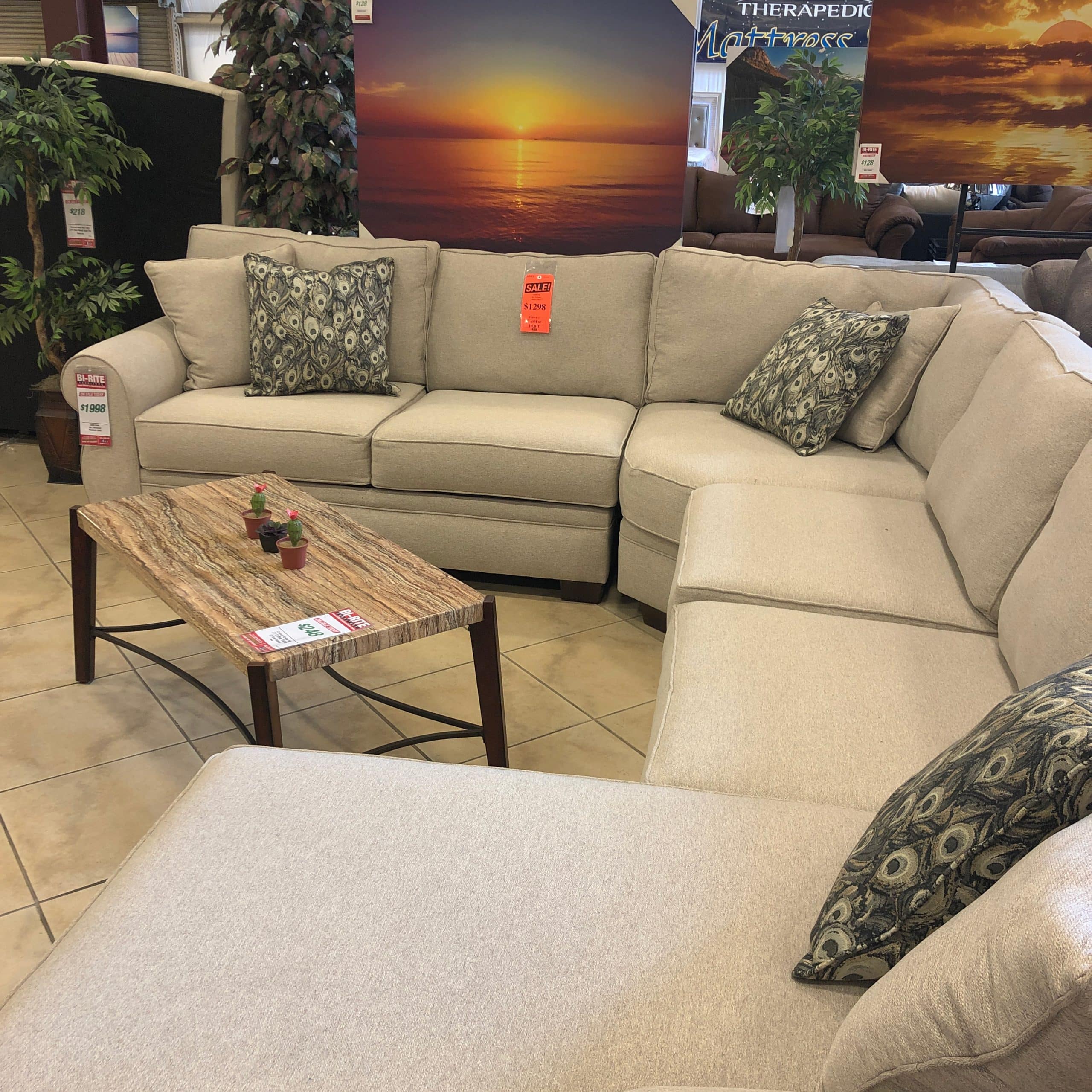 Location – 7114 North Fwy, Houston, TX 77076
Are you looking to give your bedroom a complete makeover? Bi-Rite Furniture has it all. Whether you are in the quest for furniture for your bedroom, living room, or dining room, take a look at of Bi-Rite Furniture showroom.
Moving on, they have a warehouse behind their showroom, and so you can take home your favorite piece. Also, if you are too lazy to visit the store, you may choose to shop online. Just place an order on their website and wait for your furniture to be delivered. 
Furniture Town
Location – 224 Farm to Market 1960 Bypass Road East, Humble, TX 77338
You can browse through a wide variety of furniture of various styles and materials by stepping into the Furniture Town showroom. Whether it is your living room, bedroom, office, or outdoor requirement, their pieces can add beauty to your living space. 
Stepping into their showroom, you will be taken into a different world of furniture where you will come across all kinds of bed styles – from canopy beds to platform beds and upholstered beds. Whether you are looking for a new dresser, mirrors, or a complete set, Furniture Town has it all. 
Gallery Furniture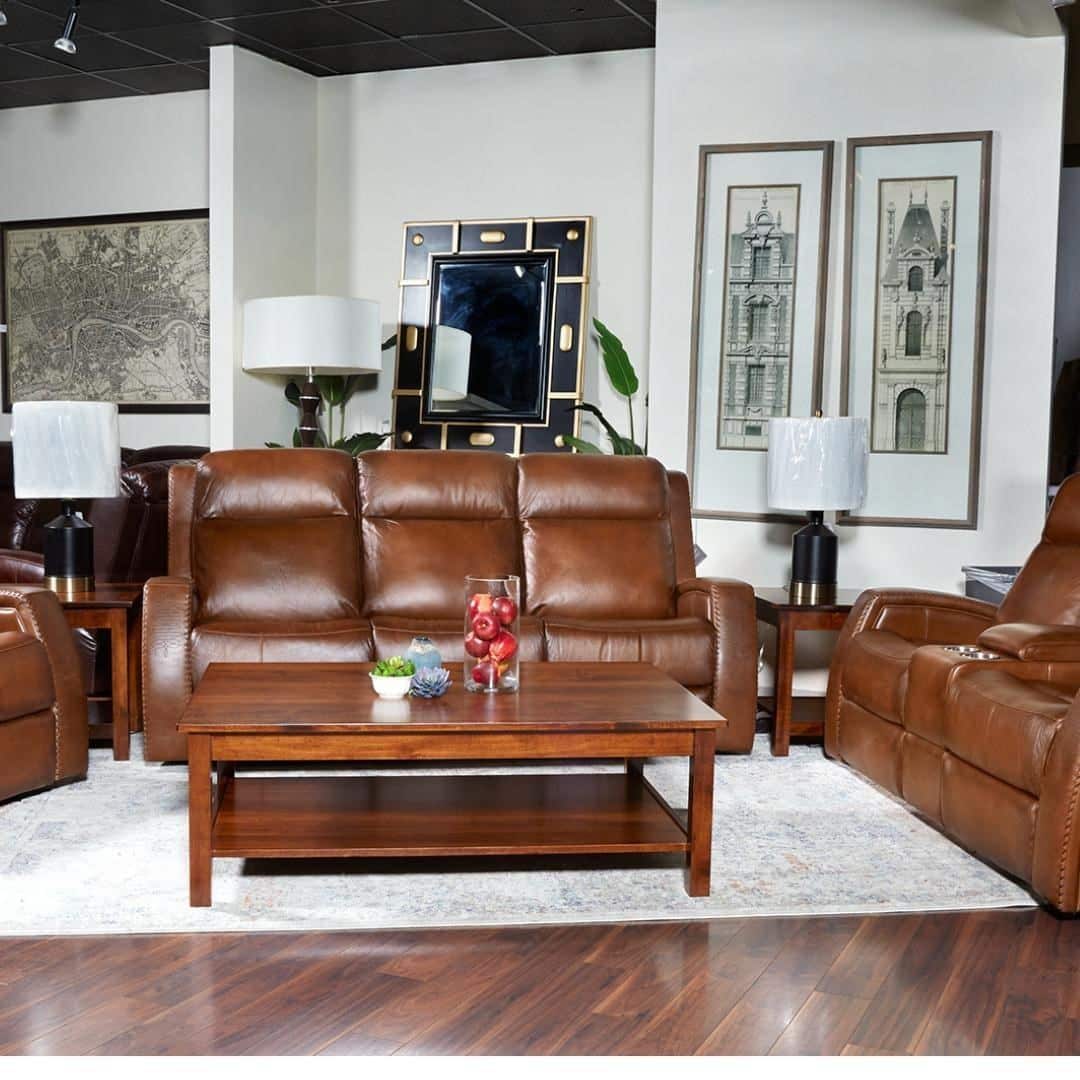 Location – 6006 North Freeway, Houston, TX 77076
Gallery Furniture offers furniture of the highest quality, manufactured in the United States at the most reasonable prices. You'll love the warm, friendly atmosphere of the employees at the Gallery Furniture showroom. 
The showroom is furnished with plenty of styles, finishes, and varieties to choose from. With such versatility, you can select the best piece for your home. Also, they offer same-day delivery so that you can take your favorite pieces home without delay. You can win exciting prizes by participating in the giveaway hosted by Gallery Furniture.
Ikea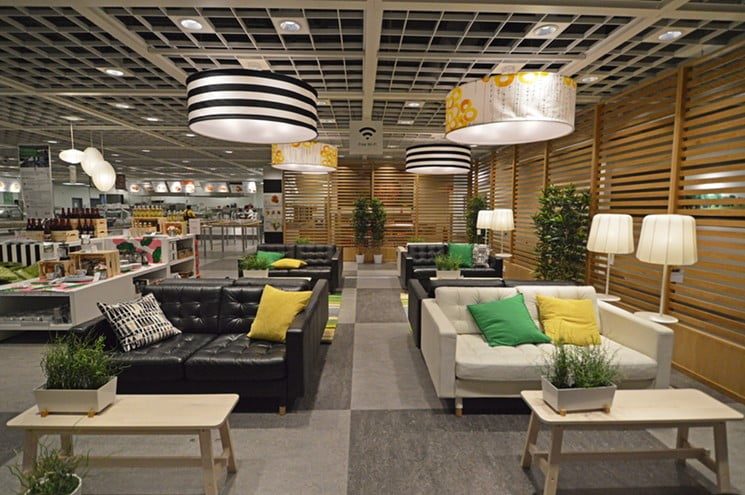 Location – 7810 Katy Freeway, Houston, TX 77024
If you are on the lookout for stylish furniture with modern designs, then Ikea is your go-to store. With their comfortable mattresses, classic drawers, fashionable lighting, and trendy pieces, you can transform your bedroom from a monotonous space to a lively one. 
Just step into their showroom, and you will find furnishings of various styles, designs, materials for every space of your home. From living rooms to kitchen cabinets, Ikea has it all. You can adorn every corner of your home without worrying about the budget, for they are easy on the pocketbook. 
With Ikea's furniture, you can create a warm living space within your means. 
Sarah Furniture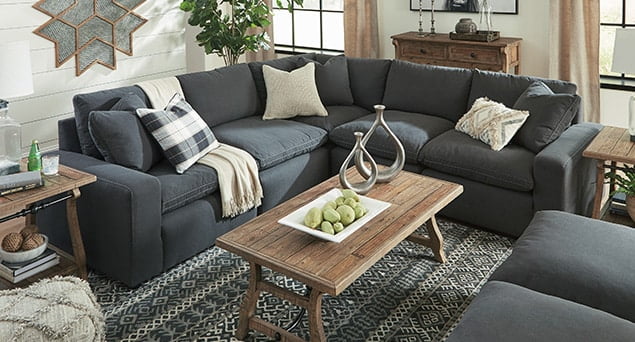 Location – 8009 Harwin Drive, Houston, TX 77036
For over 16 years, Sarah Furniture has been offering top-notch quality furniture to its Houston-area buyers. Their showroom floor is filled with a wide range of furnishings and accents from renowned manufacturers. 
You can explore its showroom and discover items for your bedrooms, living rooms, dining area, kids room, and a lot more. Plus, you can beautify your space with their exquisite accent pieces. From rugs to pillows, lightings, and accessory sets, Sarah Furniture has it all.
Do you want to add a splash of color to your plain wall? Browse through their varied assortment of mirrors and wall arts.
Bellagio Furniture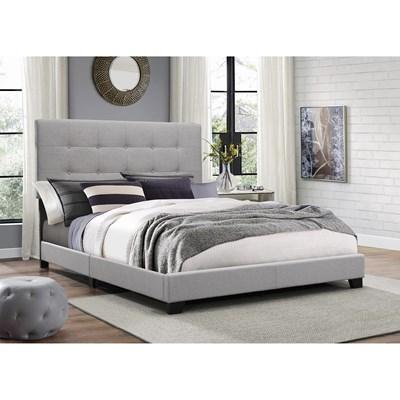 Location – 5869 W 34th Street, Houston, TX 77092
If you are looking for a furniture store delivering high-quality furniture that is long-lasting, Bellagio Furniture is your go-to place. Their wide range of furniture is aesthetically appealing and is a perfect embellishment for your space. They have dining tables that will add elegance to your dining area. 
Also, Bellagio Furniture has stylish home décor items which you can buy without spending a fortune. With such affordable décor pieces, you can not only give your home a complete makeover but also add a stylistic flair to the living spaces.
Castle Fine Furniture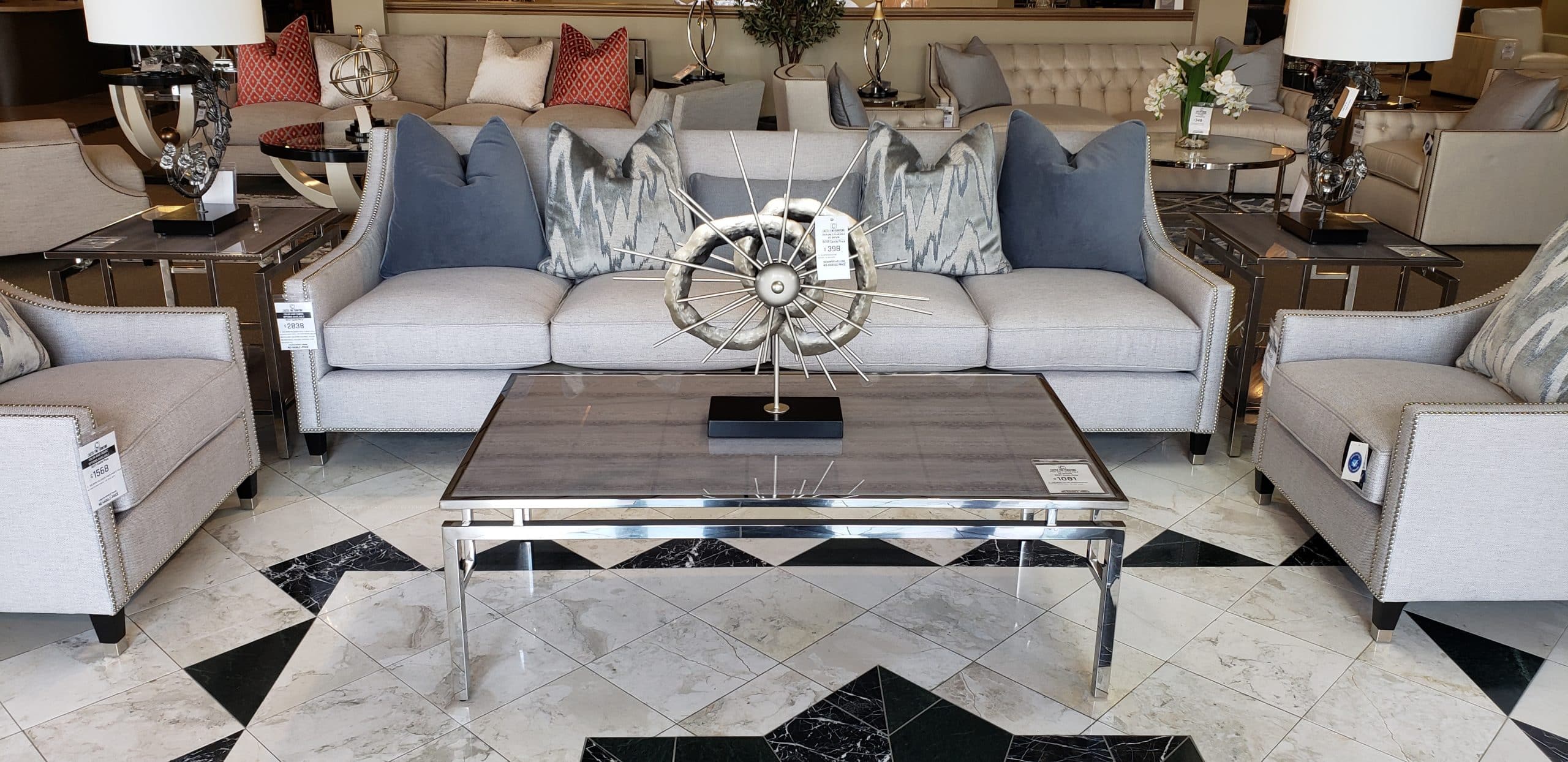 Location – 3911 Fondren Rd, Houston, TX 77063
For over 23 years, Castle Fine Furniture has been offering unique furniture to the residents of Houston. It caters to the taste of not only the minimalist who is fond of classic furniture but also of those who prefer modern, stylish fittings for their space. 
With their wide-ranging variety of furniture, you can add colors to the décor of the space and make your home a welcoming one. You are sure to love the elegant sets offered by Castle Fine Furniture.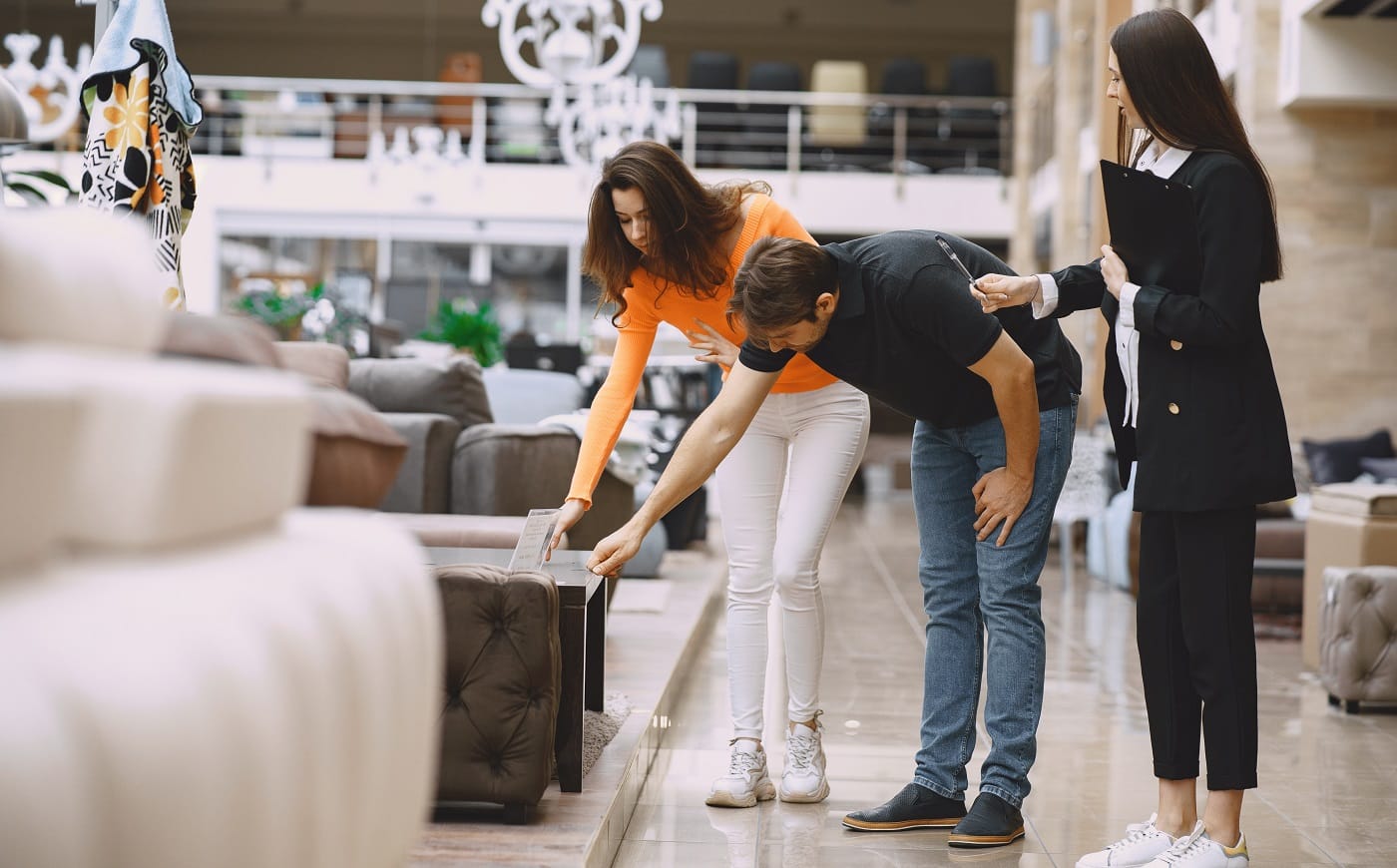 Final Thoughts
Don't let your old-fashioned furniture kill the beauty of your living space. 
Instead, give your room a complete makeover by replacing your furniture with modern and luxurious furnishings. After all, your home is a place where you relax from the hustle and bustle of life. 
So, it must be designed in a way that would provide you with much needed comfort and relaxation. At the same time, it must be attractive. The furniture stores mentioned in this guide are among the best ones in Houston where you can get marvelous pieces to adorn your space. 
You can even get your favorite pieces customized. Add colors to your space with the unique accents offered by these stores. Do let us know your favorite furniture stores in Houston. 
Till then, beautify your space!
Related Articles
15 Best Furniture Stores In Chicago
40 Best Online Gardening Stores
Online Craft Stores DIY Projects of Any Nature