Whether it is fixing a cabinet or making a birdhouse, every project needs some handy tools that make it easier to bring it to completion.
That being said, there are times where just handheld devices do not do the trick. There is a need for more extensive tools that enhance stability and accuracy. A floor drill press is one such tool. They are motorized tools that are used to make holes into wood, metal, or plastic surfaces.
While it may sound like any regular drill, these can be attached to the workbench or kept on the floor. Either setup allows the tool to be more precise, stable, and accurate. If you are working on bigger projects that need more extensive tools, this review is for you. Peruse through our list of the ten best drill presses before deciding to get one. 
So, without further ado, let's dive right into it. 
Best Floor Drill Presses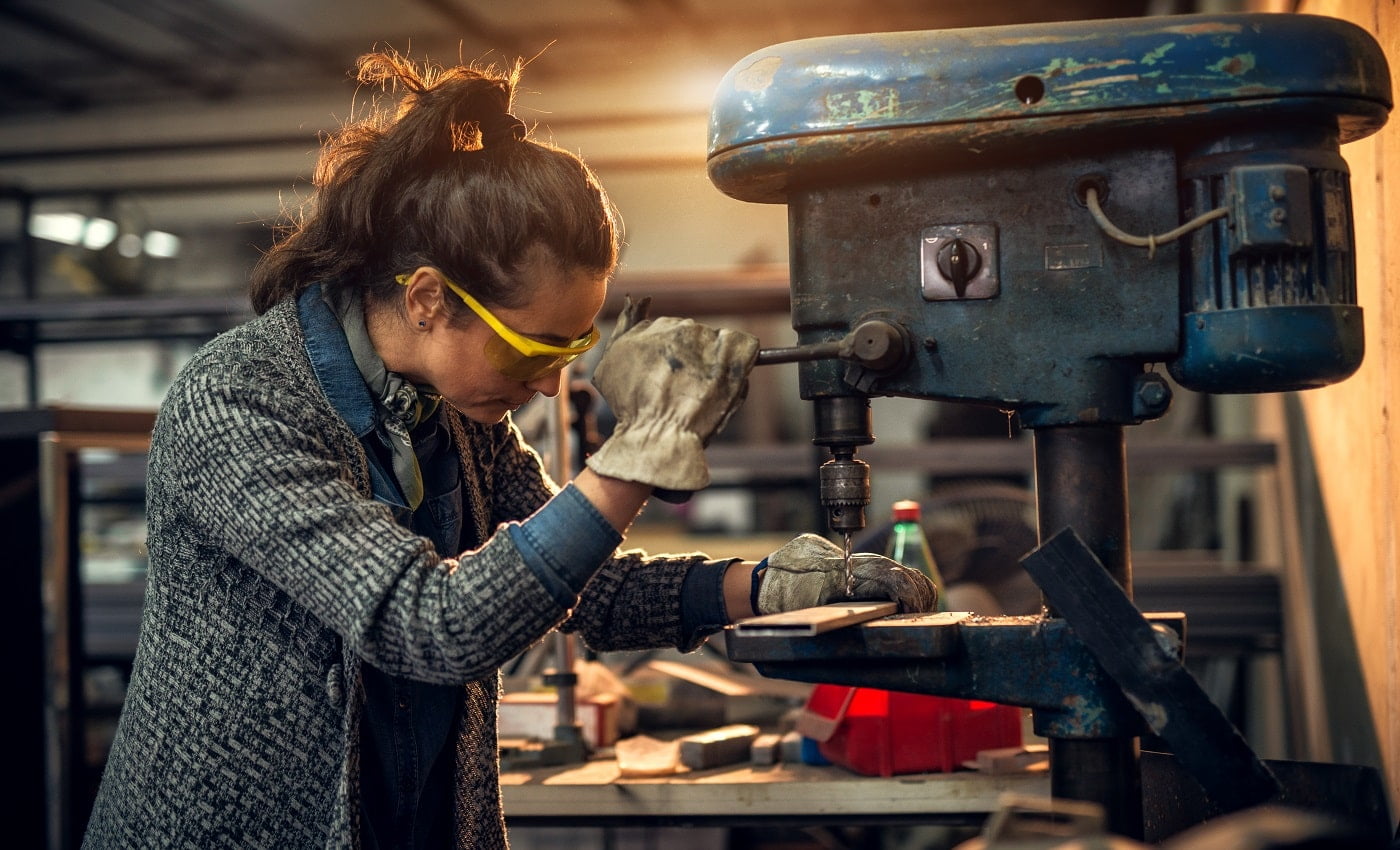 If you are a professional that works on a ton of projects and needs high-quality equipment, then check out this floor drill press by Shop Fox. Shop Fox has been a known name in the market for a long time as it specializes in top-notch professional equipment. Naturally, this one has a lot to offer.
Why Did We Like It?
It can be challenging looking for a floor drill press that works well and is reasonably priced. However, that ends with this one by Shop Fox. It offers tremendous value for money and is incredibly powerful. It does not matter if you are a professional or amateur; this drill press will be your best buy.
One of its most appealing features is the tilting work table. It tilts to a 90-degree angle to both left and right, making it more precise with the drilling. Additionally, it can also be removed if you wish to use the drill press base as a workstation. 
Moreover, it has an oscillating spindle that can switch from drilling to sanding. It is also quite powerful as it works between the range of 250 to 3050 RPM with 12 different speeds.  
What Could've Been Better?
Overall this is an excellent option for anyone interested in using professional tools for their project. That being said, it can be a bit bulky and difficult to manage by people who are new to this kind of stuff. But, nothing a little bit of time can't fix.
Pros
Table tilts to 90 degrees on both sides

Oscillating drill

Includes sanding drums

Multiple speed variations to choose from
Cons
A bit bulky for beginners
Next on the list is this drill press by Jet. The company takes pride in offering tools that can help you maintain accuracy, stability, and versatility while you work. This particular one is one of the best-selling machines by Jet as it has a ton to offer. 
Why Did We Like It?
This is another excellent choice for professionals and DIY enthusiasts alike. The Jet 3541470 is the ideal machine to use for any kind of project as it can tackle the most challenging surfaces. This is because the 1.5 horsepower motor has enough power to cut through hard materials like steel and cast iron.
Additionally, it also has a 20-inch swing which means it can cut through thick stocks – we're talking 10 inches at the very least. Moreover, it has a tilting table with a quick-release clamp. You will appreciate that the table can rotate to a 45-degree angle, making it easy to work with while maintaining accuracy. 
We also like that it has a built-in work lamp for all the night owls that spend time building things. Other than that, it has more impressive features like 12 different power speeds, three nut locking, and a spindle return spring. 
What Could've Been Better?
The price is one of the main issues here. It is a bit expensive compared to most of its competitors. However, it offers high value for the money paid and will not disappoint. Additionally, some users felt that the assembly instructions were not entirely accurate and were confusing. 
Pros
150 to 4200 RPM range

45-degree tilting table

Multiple drilling speeds

Secure locking feature
Cons
A little expensive compared to competitors in the market
If you are looking for a compact floor drill press, just as powerful as any other tool, try the WEN 4225. WEN aims to provide top-quality powerful equipment that is not too bulky and hard to manage. Plus, these are ideal for home users as well as professionals. 
Why Did We Like It?
Straight off the bat, we were impressed with what WEN is trying to achieve. Finding user-friendly power tools can be challenging, leaving beginners at a bit of a  disadvantage. However, with WEN, this is far from the truth. This is a 15-inch model which is easy to carry and not bulky like some of the others in the market. 
We particularly like that a work light has been built into the body of the drill press. Users have found it very helpful when there is less than adequate lighting. Additionally, this drill has a mechanical variable speed. While 280 to 1000 RPMs is the ideal range for wood, it is between 1000-3300 RPMs for steel. 
You will also appreciate that it has a 12×12 inch work table that can tilt 45 degrees at any angle. It also has an adjustment gauge to ensure the spindle does not travel too much. Plus, it has a digital readout and laser precision that make working with it much easier. 
What Could've Been Better?
While this is a compact and lightweight drill press, it does have its own set of issues. One such problem is that the speed-adjusting handle tends to interfere with the built-in light. This is not a critical problem in the long run but can be frustrating when you're new to using this machine.
Pros
Massive range in speed

Digital readout

12×12 inch table

Lightweight than most others
Sale
Next on the list is another floor drill press by JET. As we mentioned, Jet promises to create tools that help achieve maximum accuracy and precision in any project. This model by Jet delivers on that promise in many ways. Let's take a look at some of the features.
Why Did We Like It?
If you are looking for an all-out powerful machine, this is where your search ends. This Jet drill press has 16-speed variations that range from 200 to 3630 RPMs. No matter what surface or material it is being used on, it will drill accurate holes with utmost stability and precision. This is why this machine is perfect for not just professionals but also DIY enthusiasts. 
This particular model by Jet also has an excellent spindle range as compared to some of its competitors. Plus, it has four permanently lubricated ball bearings that allow for an enclosed spindle assembly. Additionally, the steel column and cast iron head ensure that the entire thing stays stable as you work.
You will also appreciate that it has a large working table that can tilt 45 degrees on either side, making it more flexible to work with. Moreover, this Jet drill press comes with a two-year warranty. 
What Could've Been Better?
The fact that it has a steel body and cast iron head makes it stable and heavy. Many users have complained about how bulky and heavy it is, making it challenging to move around if needed. However, it is this material that makes it durable, so it is not a total dealbreaker. 
Pros
Easy assembly

Back with a two-year warranty

Multiple speed options

Large workbench
Cons
A little bit bulky and heavy
Some power tools can be used as an everyday tool, too, and this is why the Shop Fox 1667 comes into the picture. It has a rigid and durable build that is ideal for every kind of project as it is easy to operate and beginner-friendly. Shop Fox likes to make products you can rely on, and this one is no different.
Why Did We Like It?
One of the best things about this particular drill press was that not just the table but the head, too, is tiltable as well. This makes it easier to work as it is flexible and can help achieve optimum accuracy and precision. Since both the head and table can be tilted, it can be used horizontally as well.
Another great thing about this machine is that it has five speeds ranging from 550 to 3470 RPMs, and that's it. While it may seem limiting to some, it is easier to pick a speed for the project faster as you would know precisely what to choose. Plus, the speed chart under the belt guard is a significant help while picking the right speed. 
Overall, it is a great tool to have by your side for any project. It is not too complicated and has visible markings to make it easy to use. Additionally, it comes fitted with a depth stop that allows drilling multiple, precise holes. 
What Could've Been Better?
One of the issues that many people have faced with this is the lack of proper assembly instructions. They are a bit hard to understand and hence increase the time spent on getting the pieces together. However, once it's fixed, it works like a charm. Also, a few people received it damaged, so keep an eye out for that. 
Pros
Easy to use

Clear markings to adjust the speed

Adjustable table and head

Fitted with depth stop
Cons
Unclear assembly instructions
Sale
Next on the list is the efficient and easy-to-use drill press by Sunex. This one is quite popular among professionals and beginners alike. It is highly durable and lightweight making it easy to carry too. Let's have a look at some of the other outstanding features.
Why Did We Like It?
One of the first things that caught our eye was the motor this machine had. Sunex wants its product to not just be efficient but also powerful. This is why it has a motor with 3/4 horsepower. Additionally, it has 12 variable speeds for you to choose from.
Speaking of 12 speeds, it ranges from 200 to 3850 RPMs which is perfect for professionals and beginners. It gives them a wide range to pick from and adapt to the surface they are drilling into. Plus, this drill press also has a table that can rotate 360 degrees and tilt up to 45 degrees.
Considering the machine's flexibility, we'd say it is a great tool to have if you wish to achieve optimum precision. Moreover, it is easy to use and very efficient as well. 
What Could've Been Better?
A significant issue quite a few users have faced is related to the belt guard. It is not of the best quality and tends to be quite flimsy as well. Additionally, the motor makes the machine vibrate a bit more than it should. So stability might be a bit of an issue to achieve. 
Pros
Wide speed range

Affordable

Rotating and tilting table

Ideal for professionals and beginners
As much as we would all love to buy power tools and equipment at a meager cost, those tend to be low in terms of quality as well. If you can dish out a few extra bucks for a premium drill press, we recommend trying the Delta 18-900L. It offers incredible value for money with its special features.
Why Did We Like It?
The first thing we noticed about this drill press was the 3/4 horsepower motor. The Delta 18-900L drill press is ideal for people who are looking for a solid and long-lasting drill press. Since it has a heavy motor, it can be used on any surface and for any project. 
We also appreciate the LED work light that is built-in with the machine. This particular feature is ideal when you are working in a space with less than adequate lighting. Moreover, the twin laser feature is also quite helpful for creating a bright crosshair. 
Interestingly, this machine has a forward tilting table. It tilts up to 48 degrees and has clamping slots and a removable center. Since the table is different from most of its competitors, people find this drill press quite appealing. Other than that, a 90-degree tilt in either direction is possible. This feature is a design patented by the company. 
What Could've Been Better?
One of the things we found to be a little problematic is the auto-belt tensioning system. Not just us, but many users have mentioned that it is a little underwhelming in terms of performance. People have found shorter belts to have better tension than this one. 
Pros
Quiet operation

Table tilts forward

Built-in LED light

Clamping T-slots on the table
Cons
Underperforming auto-tensioning system
Sale
Another premium, high-quality, and slightly expensive floor drill press is this one by Powermatic. The Powermatic PM2800B is a smooth and efficient power tool, and It is packed with features that make it stand out among a sea of floor drill presses. Let's take a look at some of the features.
Why Did We Like It?
When we think about power tools, it is not just how powerful they can work but also a matter of convenience. We love tools that make the overall project a lot easier, and this can be achieved with the Powermatic PM2800B. This particular drill press has an LCD speed indicator located on the casing that indicates the current RPM.
In addition to that, this machine is incredibly precise and efficient. It has a one-horsepower motor and a speed range between 250-3000 RPMs, ideal for any professional project. Moreover, the great thing is that the speed changes mechanically, and there is no need to change belts for accurate speeds. 
We also like the work table this machine has. It has an adjustable fence and is very easy to align based on your requirement. Not only is it easy to align, but it also aligns quickly. In addition, it has an adjustable material stop. 
What Could've Been Better?
One downside to this floor drill press is that it has a keyless chuck. Often people prefer that, but in reality, it is not the ideal setting for heavy-duty equipment. It makes room for mistakes and can even break the bit due to accidental release. Moreover, it is pretty high in the price range.
Pros
Easy to read digital screen

Adjustable fence system

Wide range of speed

Powerful 1 HP motor
Cons
Keyless chuck not ideal for this model
Sale
Next on this list is the high-performing and reliable drill press by a brand that everyone knows and loves. This one by Shop Fox is perfect for smaller spaces like small cabinet shops or machine shops. However, it can be used by professionals and beginners alike.
Why Did We Like It?
We found ourselves loving how much one can get done with this machine. The Shop Fox W1680 is ideal for people that want to do as much as possible with their power tools. It has a 1 HP motor that gives it enough power to drive through any surface you could be working on. Additionally, it has 12-speed variations ranging from 140-3050 RPMs.
We also liked the 3-1/4 inch spindle this machine is equipped with. It allows the drill to be more precise and dig deeper holes, especially when working with wood. In addition, it has a 14-inch diameter work table that tilts 90 degrees on either side for enhanced flexibility.
In a nutshell, this is a great machine to have if you use hardwood or metal for projects since it has the power to drill through anything effortlessly. Plus, it is backed with a two-year warranty by Shop Fox. 
What Could've Been Better?
Assembling this machine is a bit of a task. While the instructions are clear and easy to follow, the unit itself is pretty heavy and may need more than one pair of hands to assemble. Moreover, the knobs on the machine are not top-quality plastic and seem like they will break off. 
Pros
Reliable 1 HP motor for metal and hardwood

Wide speed range with 12 variations

Straightforward instructions

Large cast iron workbench
Cons
Assembly needs more than one person
Sale
Finally, we have the Grizzly Industrial floor drill press. This one is ideal for industrial use by professionals because of its powerful motor and sturdy make. It is a bit on the expensive side but offers incredible value for the money spent. Read on below to see how it stands out.
Why Did We Like It?
Not everyone needs a power tool like this at home, but if you are looking for one for a professional environment, this is the perfect buy. This floor drill press by Grizzly Industrial is ideal for people who deal with larger projects and need this professionally. This is because it has a 1.5 horsepower motor that can drill through the most challenging surface.
In addition to the strong motor, it also has a solid workbench that can tilt 90 degrees on each side. This allows the machine to be more flexible and efficient, affecting the overall look of the project. Moreover, users have mentioned it is a very stable machine and does not move around much.
Other than that, it includes a built-in work light which helps in clearly seeing the project you are working on. It also has a paddle key switch for optimum safety when switching the machine on and off. 
What Could've Been Better?
A significant issue with this drill press is that it is a bit heavy and bulky. It weighs around 300 lbs and is hard to move around. Moreover, it can be harsh on fragile flooring because of the weight it bears. In addition to this, it is a bit more expensive than its competitors.
Pros
Efficient and reliable 1 HP motor

Safe paddle switch

Built-in work light

Ideal for professionals
Floor Drill Press Buyer's Guide 
Trying to find the ideal drill press can be challenging since there are so many to choose from. However, once you have decided that this is the power tool you wish to own, it is only a matter of looking at a few essential factors.
In case you are wondering what those essential factors are, then buckle up. We have researched and gathered some important information on what to look for in a floor drill press. Hopefully, keeping these factors in mind when you buy a drill press will make the decision a whole lot easier. 
Let's get right to it then, shall we?
Power of the Drill Press
Most of the time, machines like these are being used in a more industrial environment. That being said, there are a few DIY enthusiasts that like to use these at home too. Regardless of the project, the drill has to be powerful.
Whether you are working with hardwood or metal, the machine needs to have a powerful motor to drill through effortlessly. We recommend going with a motor that is within the 1.5 – 3 horsepower range. This is to ensure optimum power and accuracy.
Speed – Number and Range 
The next most important thing when looking at features is speed. It's not just about how fast it can go but about having multiple speed options and an extensive range to maintain accuracy while drilling. One of the biggest reasons you need to have a drill press with multiple speed variations is to make it easier to adapt to the project.
Next comes the range, which is equally as important. Having a wide range of speeds to pick from gives more room to work with bigger wooden projects. The better the speed range, the easier it is to work with, and you will not have to change the drill bits either.
Ideally, having at least ten different speeds is best the starting point. And that should be combined with a range that starts around 150 and goes all the way to 3000 RPMs.
Table Features 
As you can tell, working with a drill press means having a ton of flexibility to ensure it is precise. Having a tiltable worktable on the drill press makes it easier to drill more accurately. And while most tilt 45 to 90 degrees on each side, the material of the work table matters as well. 
We would recommend getting something made out of cast iron as it is a sturdy material. In addition, getting a table around 14" x 14" is a better option. 
Lighting
We consider this to be a critical factor since the lighting in such projects is very important. Not having the right amount of light or not having the light angle in specific ways makes it difficult to see and work accurately. 
This is why it is essential to have a built-in LED light. Most of the time, they are flexible and hence easy to move around if the table needs more light. 
Weight
While weight may not be as crucial as some of the other factors, it does play a somewhat significant role when assembling and moving the machine around. It can be a little difficult for some users to even keep on the floor if they have fragile flooring. 
We want to remind you that in case you're looking for a very powerful drill press machine, it will be heavy. Bigger motors add to the weight, so that is something to be wary about. 
Spindle Travel
The machine must work on not just hard surfaces but soft ones as well. To make sure the holes drilled are accurate and, most importantly, sufficient for the project, it is vital to have the appropriate spindle travel. We recommend looking for spindle travel between 3-6 inches as it tends to be most suitable for every project. 
Additional Factors
After spending tons of money on the machine, it is perfectly normal to want it to last forever. However, at some point, it may stop working at full potential and will need maintenance. In those cases, having the machine backed by a warranty is ideal. We urge you not to settle for any less than two years warranty.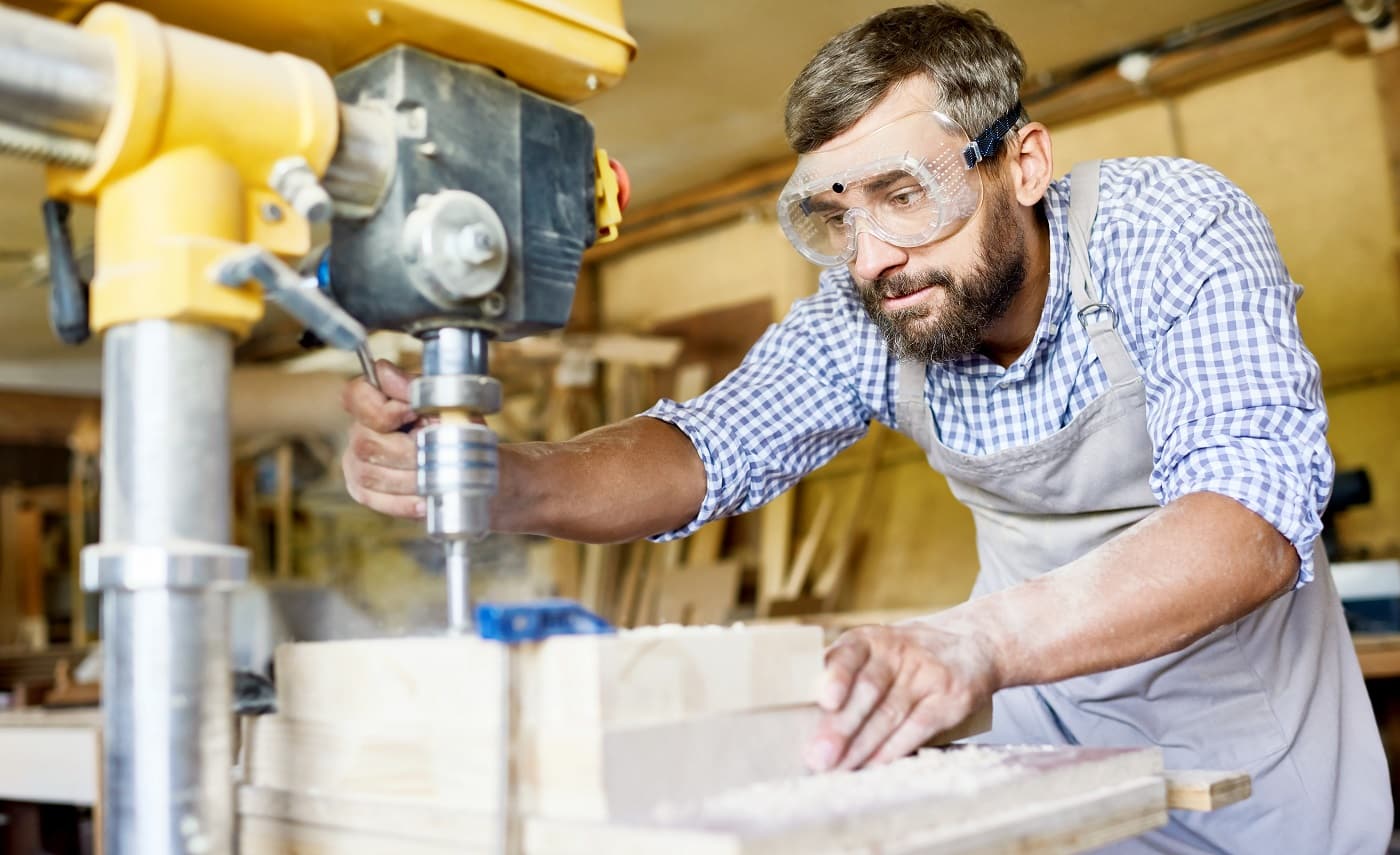 Floor Drill Verdict
On that note, we have finally come to the end of our review of the ten best floor drill presses. We hope it has been super informative and eye-opening. 
We understand that it may be difficult to take all that information in one go, so allow us to tell you some of our personal favorites. Our absolute favorite is the JET 354170. It is precise, has an inbuilt light, and is ideal for thicket stocks. 
However, It may be a bit expensive for some. If that's the case, go for WEN 4225, as it is affordable and highly user-friendly. 
We shall now take your leave but will be back soon with many more reviews and guides. 
See you next time!
Related Articles
Makita vs Dewalt Drill [Differences & Winner]
9 Most Powerful Cordless Drills
13 Best Screwdriver Sets on the Market Today
13 Best Brushless Impact Driver 
13 Best Drill Bits for Metal Right Now
Forstner Bit vs. Spade Bit [All You Need to Know & Winner]
11 Best Drill Bits for Hardened Steel
11 Best Drill Bits for Hardened Steel 
Cobalt vs. Titanium Drill Bits [Differences & Winner]