Disclaimer | This article may contain affiliate links, this means that at no cost to you, we may receive a small commission for qualifying purchases.
Lilacs are not very difficult to cultivate and are very low-maintenance. But you will need to provide them with enough nutrients at intervals.
That is where fertilizers come in! With the best organic formula, you can have a blooming garden without spending too much time on it.
Lilacs make for an aesthetic delight and can change the complete look of your backyard. If you love hosting barbeque dinners outdoors, surround it with beautiful blooms, and enhance the ambiance.
What's more! These fertilizers are mostly organic, and you do not have to worry about using artificial ingredients. They are environment-friendly and will sustain in all seasons.
But when we set out to purchase the best fertilizer for lilacs, we found multiple options in the market. To save you from that hassle, this detailed and unbiased list of 11 top options has been curated. We have also included a buyer's guide to help you choose the right one for your needs.
So, let's dive in!
Best Fertilizer for Lilacs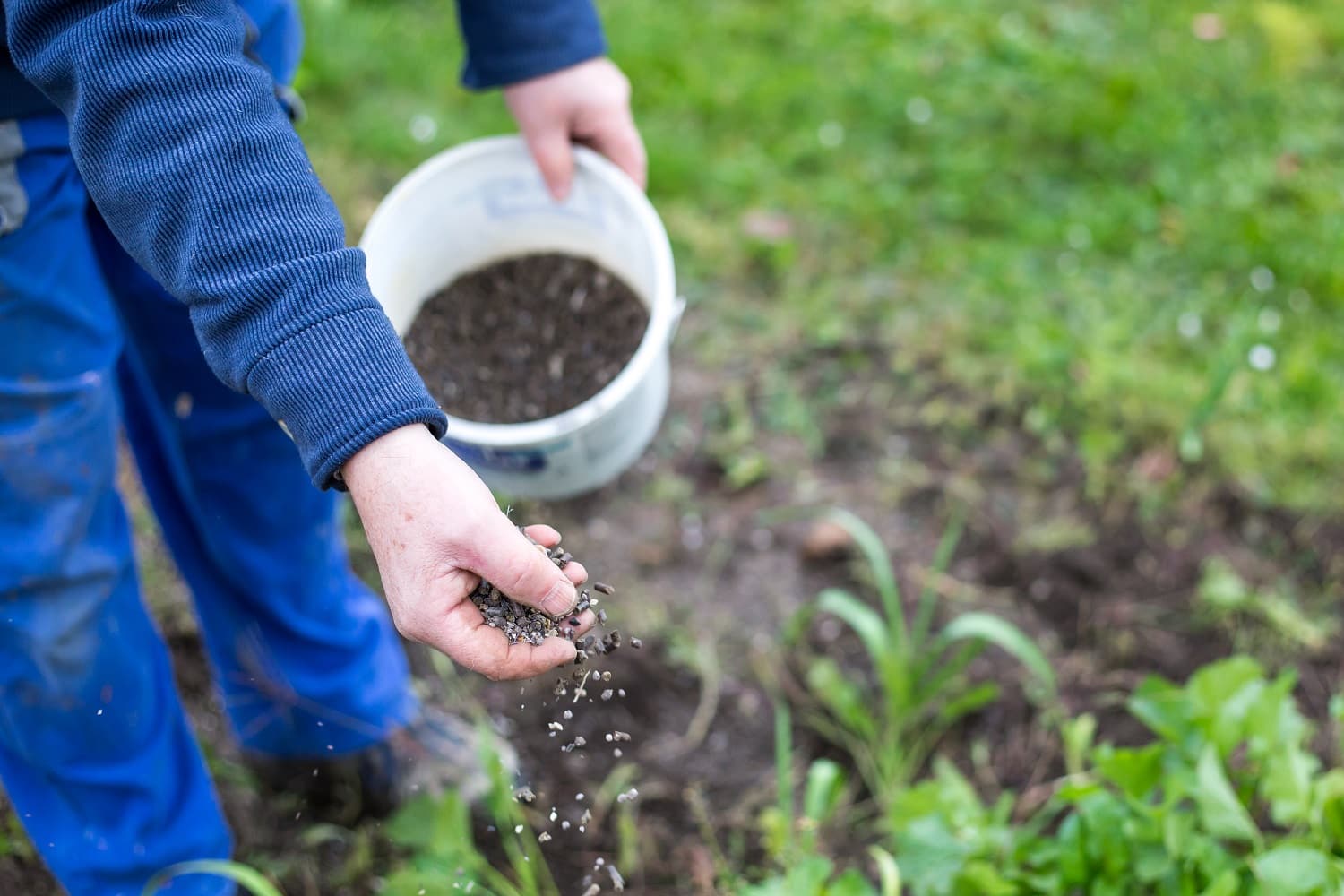 Do you want an absolutely natural product that will take care of your blooming plants perfectly? The Miracle-Gro Shake 'N Feed 3002410 is going to be a great addition to your gardening supplies. Packed with vital micronutrients along with natural organic ingredients, this is indeed impressive.
Why Did We Like It?
To begin with, this product consists of earthworm castings, kelp, bone meal, and feather meal that would be an excellent feed for the microbes in the soil. These are good bacteria that initiate growth and ensure proper root development.
Another great advantage is that it will provide the soil with continuous release feeding, which lasts up to 3 months. You have to apply it once every 12 weeks, and the plants should grow well. So, even with a busy schedule, maintaining your blooms should not be an issue.
It is also effortless to apply, and you will be able to do it directly from the pack. Just make sure that you read the instructions carefully and pour in the exact amount. One should be very careful with this as excess amounts of fertilizer can severely damage the roots.
What Could've Been Better?
Although the pack says that it increases water efficiency, we found that it needs a lot of water to survive well. This is because the formula is pretty concentrated, and you will have to spread it evenly throughout the plant bed. Water helps in doing that, and hence you should water it regularly in the beginning.

One of our top recommendations is the BioAdvanced 701700B, which is known for its unique blend of ingredients. If you have an infestation problem or simply want your lilacs to grow well, this will be the perfect solution. Read on to know more about it.
Why Did We Like It?
First of all, it is incredibly versatile and targets a variety of pests. From adult beetles to leafminers, fall webworms, adelgids, and caterpillars, it removes them all efficiently.
Once you apply this, there should be no new infestation in the next 12 months. It stays in the soil and will keep it healthy for your flowers to grow well.
Now, if you are wondering what will happen if it rains, do not worry at all. This is absorbed by the roots and is stored internally by the plant. In the first 12 hours, the absorption is completed, and after that, it will not be affected by heavy rain or irrigation. Your plants will be well protected, and the effect will continue for the whole year.
Also, it is very easy to apply; a measuring cup is present inside the package, which will help you determine the exact amount. Read the instructions provided carefully, and you should not face any problems.
What Could've Been Better?
The only issue we faced is that the lid was tough to open. It may seem very trivial, but when you are actually working, it does seem to be a hindrance. We had to open it with the help of pruning shears. But once you open it, it is pretty easy to use.

If you are looking for good plant food, which will provide your lilacs with all kinds of nutrients? The Osmocote 277160 Smart-Release Plant Food is an excellent choice and will ensure vigorous growth. We had seen our lilacs bloom like never before after we started applying this product.
Why Did We Like It?
The pack consists of granules that are coated with a semi-permeable resin. This makes it easy for you to apply. Scoop 3 spoonfuls and mix it with the top layer of the soil. You can use a sharp object to dig into the soil, and once you are done, water it well.
This brings us to the second benefit of the item. Once water is poured, the shells allow it to permeate and dissolve the nutrients inside. Nutrients then come out and mix with plant roots, while the coating remains in the soil.
Further, we loved the mixture of nutrients and the benefits that it had on our soil. It worked very well for the roots, and we found the plants growing at an impressive rate. It is not only great for lilacs but also for other vegetables. So, you can pour it throughout your garden or farm without any issues.
What Could've Been Better?
The white shells do not dissolve and will stay in the soil. Ideally, you should clean them up as they remain very visible and look odd. We found it very time-consuming because each one had to be picked up separately, and it was indeed a tiring job.

If you want your flowers to be blooming for a longer period, the Dr. Earth 707P Bud and Bloom Booster will help out with it. Made with a host of rich ingredients, it will make sure that you have a beautiful garden to flaunt to your guests.
Why Did We Like It?
This is a blend of fish bones, feather meal, alfalfa, and soft rock phosphate along with mined potassium sulfate. The mixture is extremely nutritious for plants of all types. They dissolve very easily and will feed the plants for almost a year.
We also noticed that the mixture did not contain any kinds of impurities and sewage. It had no chicken manure or GMO making it entirely organic and natural yet devoid of impurities.
Besides, if you have pets in the house, you might be worried about the fertilizers affecting them. Well, these are absolutely safe to use with kids and pets alike.
Lastly, we found the lilies to be blooming better than before. The leaves were greener and shiny, while the flowers had a rich color. We could see and tell the difference, and hence we were delighted with it.
What Could've Been Better?
The only drawback to this product is that it does not smell good. Yes, the flowers were blooming very well, but it would smell really bad initially. The smell disappears with time, and we would recommend you apply it several days before having anybody over.

We are almost halfway through the list, and it is time to introduce the Bonide 811 Copper 4E Fungicide. This is known for its versatility and is designed to keep your garden healthy. If you are a gardening enthusiast or a DIY gardener, this could be an incredible product to use.
Why Did We Like It?
To begin with, this product works very well in preventing all kinds of diseases, including black spot, peach leaf curl, powdery mildew, and downy mildew, to name a few. For anybody who has a large garden with big trees or a dense but decorative one, these are common issues that may affect your plant's life.
This fertilizer promises to keep your fruits, roses, ornamental turfs, and herbs safe and protected. It is also safe for humans and pets and will not cause any health problems. You can use it efficiently till the day of harvest.
If you are wondering about the crucial ingredient that provides this fertilizer with an extra touch, it is liquid copper or copper octanoate. This is a natural element that provides a huge number of benefits to your plants.
Lastly, it is very easy to apply, and it mixes with water immediately. Apply it with the help of a hose-end sprayer and make sure that you follow the instructions given carefully.
What Could've Been Better?
If you have painted wood or vinyl siding in your garden, make sure that the formula does not touch it. It can leave a lasting impact and cause discoloration. So, we would recommend covering any such surfaces before you start with the job.

If you want an easy solution for your plants, the Scotts 200910 Evergreen Flowering Tree Food is going to work well. It can be directly applied from the packet itself and will be released into the soil. We were very happy to see our flowers blooming well, thanks to this brilliant product.
Why Did We Like It?
Acid-loving plants are slightly different from those who thrive on natural ingredients only. These need special acids, which increase growth rate and enrichen the colors, and this fertilizer will give you just that. With the perfect blend of different acids and organic nutrients, it works well with lilacs.
The product is pretty affordable, and you need to use 1 cup of it for every 35 feet. The best part is you can apply the product every 2 months. This makes the job less time consuming, and you do not have to worry about your garden's health for the period in between.
Also, the nutrients mix with the soil easily. You just have to rake the top layer a little so that the fertilizer can penetrate a few centimeters inside. Once it does, it will be absorbed by the roots and then spread through the whole of your plant.
What Could've Been Better?
We would want to warn you about one thing, overfeeding can be extremely harmful and may lead to your plants wilting away. So, make sure that you apply the right amount, or you could even apply a little less than the mentioned amount.

Do you want gorgeous blooms around your house? The Jobe's 06105 Fertilizer Spikes will give you just that. It helps your plants grow beautifully while providing them with all the nutrients they might need. You will be surprised to read about all of its bells and whistles.
Why Did We Like It?
It is made up of ammoniacal nitrogen, along with phosphate and soluble potash, which together make up an excellent feed for your lilacs. Suitable with almost all kinds of weather and soil conditions, these need to be applied once every 8 weeks. It is not time-consuming at all, and you do not have to keep a constant check on your plants.
Another great advantage is that it does not provide any kind of wastage runoff in case of rainfall or irrigation. The substance is well absorbed by the roots, and then it spreads throughout your plant. The item provides slow-release nourishment, which continues over the 2 months.
Besides, the formula can be safely used and will not have any toxic reaction with pets and humans. It is divided into smaller packs for easy application. We did not have to touch it with our bare hands at all.
What Could've Been Better?
Although our lilacs were not affected, the hydrangea plant in our backyard changed its color from blue to maroon. This can happen with a few other flowering plants, too, and hence you need to be careful while applying. Make sure that you test it on one plant first and keep it for a week or 2.

Up next is a natural product that will provide you with a completely organic solution to your problems. The Down to Earth Organic Fish Bone Meal Fertilizer arrives in a 5-pound box and is packed with nutrients from what can be considered as organic wastes. This made it very environment-friendly and safe to use anywhere.
Why Did We Like It?
The product consists of a 4-12-0 formula and is registered by the Organic Materials Review Institute (OMRI) to be used for organic production. While you must have heard of the traditional steamed bone meal, which is fed to the soil and acts as a rich nutrient, this is a marine-based alternative to it.
The item consists of some crucial ingredients, including phosphorus and organic nitrogen. This plays a big role in the development of the roots. If you want high-quality flowers, this is going to be the perfect addition to the soil. You will find fine-milled fish bones derived from white fish in the mixture, which boosts growth.
Another big feature is that it comes in a 100% recycled paperboard box which has vegetable-based ink on it. It is biodegradable and environment friendly. You can add the box to your compost pile, and it will help in making good manure.
What Could've Been Better?
Although it is a great addition to the soil, we found its smell to be problematic. The formula does smell like dead fishes, which might not be liked by anyone sitting in your backyard. We would recommend that you use it a few days before any kind of backyard parties.

If you are looking for a fertilizer that will take care of your whole garden instead of just focusing on lilacs, the Nelson Plant Food NutriStar 17-7-10 is a great choice. It is tested multiple times to ensure its best performance. Apply it after every 2 weeks initially, and then with a 30 days gap, and you will have a beautiful yard to flaunt.
Why Did We Like It?
The major ingredients are nitrogen(17%), soluble potash(10%), and phosphate (17%), which promotes overall plant growth and development. There are 4 sources of nitrogen that are used for more efficiency. Flowering plants usually need larger amounts of potassium and nitrogen, and hence, this product is perfect for it.
Plus, it is not only good for lilacs, but it works well for Jessamines, Mandevilla, Allamanda, Bougainvilleas, Trumpet Vines, Wisteria, Passion Vines, and Queen Ann's Lace, to name a few. These are flowering vines that are usually used to decorate a garden. If you have a garden filled with varieties of lilacs along with these plants, spread the fertilizer equally throughout.
Besides, this is known to produce immediate effects, and you can see a vast difference within a few days. One of our plants was almost dying off when we bought this. It was able to rejuvenate it completely.
What Could've Been Better?
We found that although this works efficiently, you will have to use a large amount of the product and at 2 weeks interval throughout spring. Make sure that you do not miss applying it as then you will not see results.

Finally, we are nearing the end of our list, and it is time to introduce the Espoma BM04 4lb Bone Meal. It is known for promoting growth, strength, and longevity to your flowering plants. With the perfect balance of micronutrients, this product is bound to impress you.
Why Did We Like It?
This product is of the slow feed releasing variety and will last for 4 months before you need to reapply. The long time span will allow you to go on with your busy schedule. All you need to do is water it frequently, and your plants should be surviving well.
Further, this came in an easy-to-open pack, which made it very simple to work with. You can pour the contents directly from this pack saving you the hassle of mixing and then applying.
Besides, we found that the mixture is filled with a number of organic ingredients that come together to provide the best results. It has no toxic or artificial elements and will not harm your plants in any way. We found no bad odor, and hence, it will not be bothersome for anyone.
What Could've Been Better?
Be very careful about watering your plants too much as this fertilizer could be washed away otherwise. We had heavy rainfall, after which we had to reapply the fertilizer since all its effects were gone. Hence, it may not be suitable for rain-prone regions.

Give your plants the nourishment that it needs with this specialized formula. The TreeHelp Premium Fertilizer is made to enhance the growth rate and also ensure that plants do not die off. It works wonderfully well on plants that are on the verge of dying and has an amazing capacity to bring them back to life.
Why Did We Like It?
While this product works well with lilacs, they are a great hit with all dogwood trees too. When insect infestation can be a great issue with barks and branches, this can successfully remove it completely. We were impressed to see our garden fill with greenery again after the leaves had mostly turned yellow.
Further, the composition of ingredients aims to provide more strength to the roots. The nitrogen is slowly released, providing optimum benefits.
Also, it is very affordable, and the size of the bag is large. It should last you for long but remember to store it indoors and away from extreme temperatures.
Besides, this comes with all the instructions needed to work with this product. We would recommend that you follow it carefully so as not to harm your plants in the process. Since you are dealing with concentrated formula, you should stick to using the right amount.
What Could've Been Better?
While they work well in eliminating insects and pests, they do not work well with some kinds of mildew. We were disappointed to see some of it growing on branches even after applying the fertilizer. Keep a watch on your plants for a week to see the effect.


Lilac Fertilizer Buyer's Guide
Now that you have gone through the 11 top products, you will know that each one is unique in its way. There are variations in the kind of ingredients, amount, concentration, to name a few.
To help you out, we have put together a list of vital attributes that you must consider before buying any of these options. Take a look now. We hope this guides you towards buying the one that fits the best.
Kinds Of Diseases
Lilacs are susceptible to many diseases and can fall prey to insects, pests, and blight. Insects can make holes in the trunk and destroy the plant. But they are the easiest to remove, and you can do it with all kinds of fertilizers.
Pests, on the other hand, include mice and voles which gnaw and destroy plants. These are difficult to get rid of, and you will need specialized insecticides for it.
Powdery mildew can keep appearing on the surface if you live in a place with humid weather. They can also appear if the plant is not pruned regularly. These are easily removable, and any fertilizer can do it.
Life Span
Lilacs take 3 years to bloom, and hence you will have to ensure that the plant stays well protected throughout before it can have flowers.
Check the lifespan of the fertilizer and how long it would work before you have to apply a second dose. If you have a very busy schedule, it is best to opt for options that need to be reapplied after 6 months or so.
Application
Some fertilizers arrive in ready-to-use packs, which can be simply poured on your plants. These are the easiest to handle, and you will just need to measure and pour it. The measuring cup is also provided in most cases.
On the other hand, other formulas come in a very concentrated form. These cannot be directly applied, and you will have to first mix it with water. The solution is then poured on to plants. Be very careful with this as you may end up killing the roots if you pour it without mixing it first.
Also, while some products mix well with the soil and leave no residue, others leave tiny shells behind. The nitrogen inside dissolves and the shell remains, which then needs to be cleaned from the ground. This could be time-consuming and hence may not be a good fit for people with busy schedules.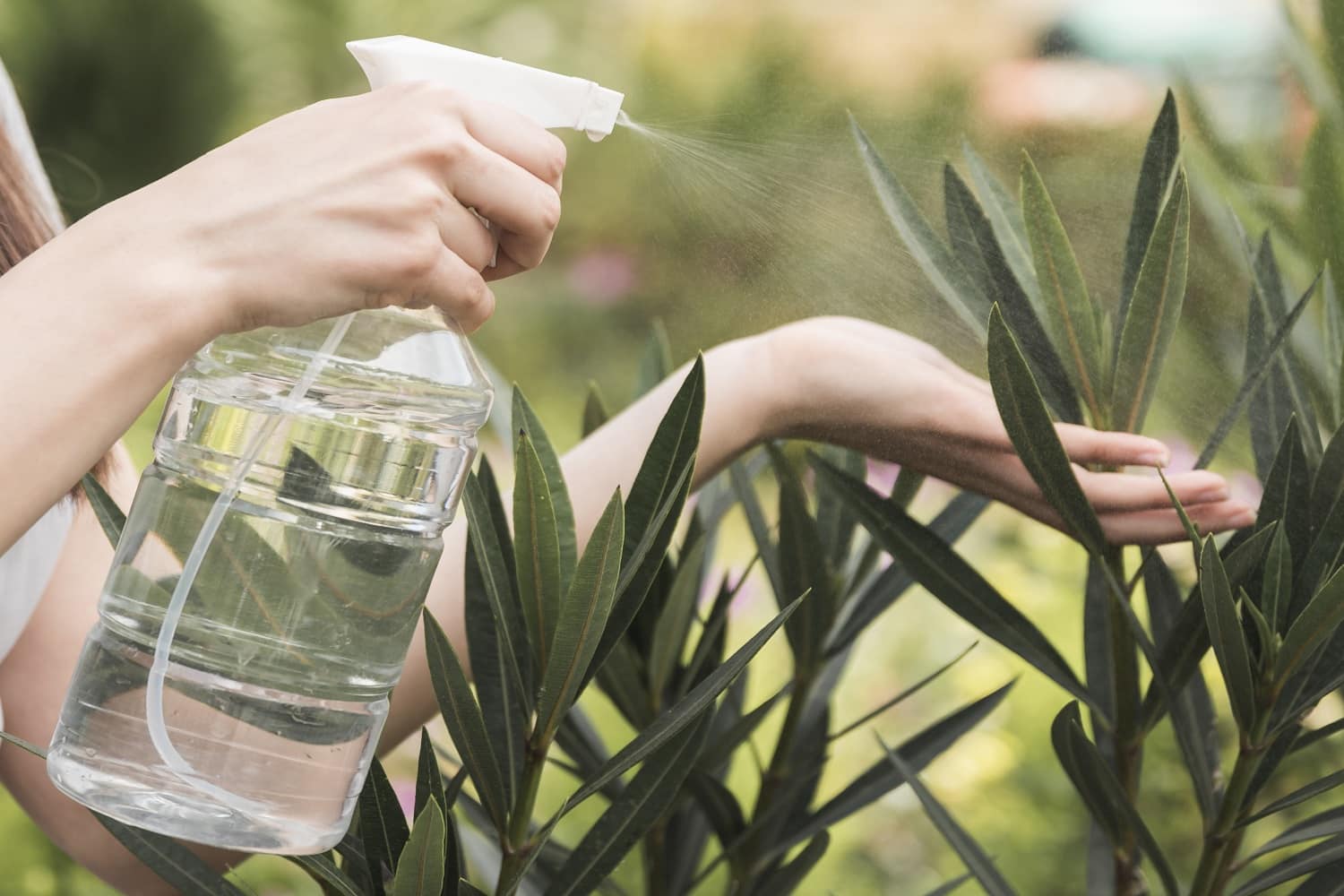 Verdict
While lilacs are mostly outdoor plants, dwarf lilacs can grow indoors, and they stay more protected. But when grown outside, these plants are more prone to catching pests and diseases, and hence, need to be protected. An efficient fertilizer will see to it and ensure that your lilacs are blooming well.
With this, we come to the end of this detailed guide about the 11 best fertilizer for lilacs of 2021. But before we take our leave, let's do a quick recap of our favorites. The Miracle-Gro Shake 'N Feed 3002410 is our favorite overall for its efficiency and a great mix of ingredients.
On the other hand, if you have an infestation problem, the BioAdvanced 701700B is going to be a wonderful choice. At the same time, the product which is very durable is Dr. Earth 707P Bud and Bloom Booster.
Happy shopping!
5 Best Weed Barriers and Landscape Fabric for Happy Gardeners
Where to Find Good St. Augustine Grass Seed & How to Grow It
13 Best Lawn Sprinklers | Review & Buyer's Guide
11 Best Crabgrass Killers Right Now
11 Best Mosquito Fogger Insecticide
9 Best Fertilizers for Petunias Right Now
9 Best Fertilizers for Hydrangeas
11 Best Fertilizer for Citrus Trees Right Now
13 Best Poison Ivy Killer Reviewed
13 Best Fertilizer for Fruit Trees
13 Best Fertilizer For Blueberries 
13 Best Organic Lawn Fertilizer
13 Best Fertilizer for Tomatoes
13 Best Fertilizer For Succulents Reviewed 
13 Best Fertilizer for Hydrangeas
13 Best Fertilizer for Hibiscus 
13 Best Liquid Lawn Fertilizer Right Now 
13 Best Fertilizer for Hydrangeas
13 Best Fertilizer for Green Grass
11 Best Lawn Fertilizer Options
13 Best Fertilizer for Vegetable Garden
13 Best Orchid Pot [Reviewed & Buyer's Guide]
13 Best Fertilizer for St Augustine Grass Reviewed
13 Best Potting Soil For Herbs To Consider Today
13 Best Backpack Sprayer [Buyer's Guide]
13 Best Fertilizer for Palm Trees 
13 Best Fertilizer for Zoysia Grass
13 Best Potting Mix For Orchids
How Long After Grass Starts Growing Can You Mow It?
Does Grass Seed Go Bad | Expiration Dates Explained
How to Get Rid of Pampas Grass