If you're considering changing up or upgrading the aesthetics of your swimming pool, the easiest thing to do would be to apply a fresh coat of paint. However, that doesn't mean you choose just any type of paint, as there are several varieties out there. Irrespective of whether you're planning on painting a brand-new pool or want to upgrade the paint on your pool because it is blistering, fading, chalking or bubbling, you've come to the right place. We are going to review the 5 best epoxy pool paints you can choose for transforming your swimming pool.
It's imperative that you thoroughly research the swimming pool paint and the different tools that are required, as the right tool guarantee a superior finish. This epoxy pool paint guide and review article is going to help you choose from 5 of the best options out there. We'll also cover some important tips for painting your pool, so you can transform it into your mini-oasis without much effort. So, let's go ahead and see the best epoxy pool paints first and proceed to discuss some of the best tips in the second part of the article!
Best Epoxy Pool Paints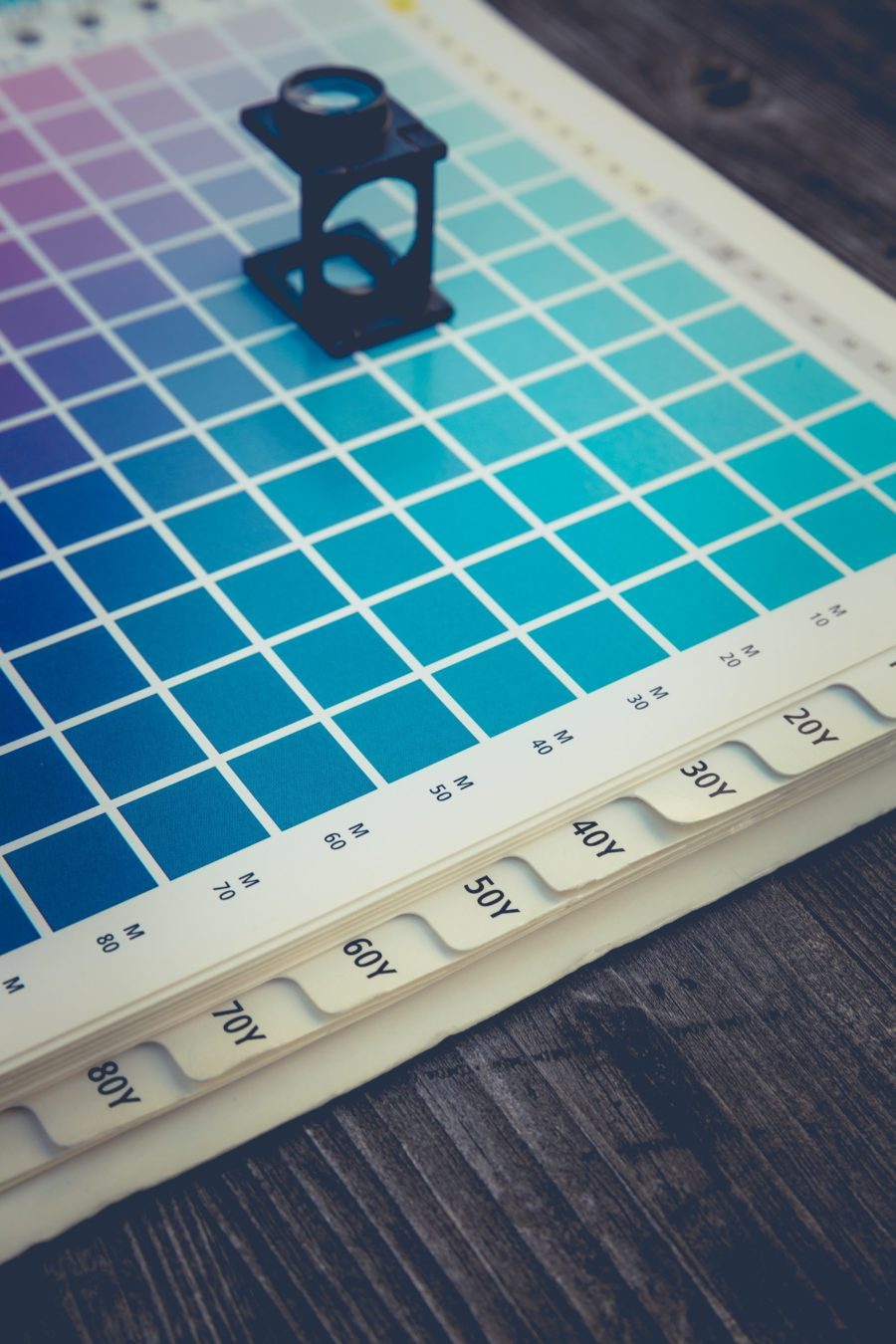 Keep in mind that all these paints have their pros and cons, and whichever paint you choose should be based on your pool type, the size, and the overall look that you want to give. Don't forget about the durability of the paint as well.
If you're looking for a paint that is light on the pocket and offers you amazing coverage the best option out there is the AdCoat Swimming Pool Paint. It's a great choice for budget-conscious individuals and the two-part water-based acrylic and epoxy paint is suitable for all types of swimming pools whether concrete, fiberglass or gunite. The most impressive aspect of the AdCoat paint is its exclusive acrylic resin formulation, which provides a cured finish. That means it can comfortably defend the surface from harmful solar rays and minimizes degradation, whereas other swimming pool coatings tend to fade out and chalk with prolonged exposure from the sun.
The two-part system of the paint works incredibly to provide a sturdy surface bond, and the great thing is that you can easily mix the two components and apply them with standard painting methods. It provides you with an amazing 300 square feet of coverage, ensuring that you won't need a lot of gallons to get the job done. It's available in two color options, which are the cool blue and white. The amazing price of the paint combined with its superior coverage make this paint an incredible value for money option when you're looking to buy swimming pool paints.
Pros
Extremely versatile

Bonds and seals great

Very durable

Easy to apply

Exceptional coverage

Great value for money
Cons
A lot of people may prefer a simpler single-can solution 
If you're looking for a paint that offers you with long-lasting durability, a high-gloss finish, and high-quality epoxy, In the Swim Super Poxy Shield ticks all those boxes. It comes in three different colors, apart from the standard blue, which are white, black, and dark blue. The best thing about the Super Poxy paint is that a single application of the paint is going to last for 8 years. That makes it one of the best one-coat epoxies available in the market right now.
Sale
All you need is a single-coat of paint and your swimming pool is going to have a refreshed and transformed look about it. However, the only downside is that applying the paint isn't the easiest, and you'll need to prime, acid wash, and scrub the surface before applying it on the surface. On the plus side, you'll only need to apply one coat and with the right tools, accessories, and instructions you'll get a superior paint finish. This paint is suitable for various surfaces, and some people have even applied it on hot tubs, birdbaths, and foundations as well.
Pros
Various color options

Great for different pool surfaces

Stain-resistant

Only requires a single application

Durable and stylish high-gloss finish
Cons
Heavy, thick and difficult to apply  
If you're a professional and are looking for a super durable paint that provides a phenomenal finish, the Olympic Zeron Epoxy Coating is what you want. This epoxy paint is a fantastic choice for sealing cracks, covering stains, and refinishing for plaster pools. When it comes to durability, there's no paint out there that is in the league of Olympic Zeron Epoxy Pool Coating. When applied directly to the surface, the paint offers an incredibly perfectly finish that will protect your pool's surface for a good 8 years, making it one of the most effective paints in the industry.
Another great thing about the Zeron Epoxy is that it looks superb when applied on surfaces, with its chic and sleek high-gloss finish, which will provide your backyard pool with a resort-like feel. All you need to do is ensure that you use the right tools and accessories when applying this epoxy paint. You'll also need to prepare the pool surface for the best adhesion and finish, as the Zeron needs to be applied on a dry, primed, and clean pool surfaces. It's our choice for the best paint because it guarantees you nearly a decade of swimming in a spectacular looking swimming pool.
Pros
Great plaster alternative

Perfect for new construction or refinishing

Great for sealing

Inhibits algae growth

Super durable
Cons
Requires proper prep and a primer to avoid bubbles on the surface 
If you want to get a pool paint that dries incredibly fast, this Rust-Oleum paint is a perfect pick for your pool. It is designed to dry out in under 6 hours, meaning you'll be swimming in your new pool before nightfall. This paint is renowned for its quick-drying capability, which is even faster than most water-based pool paints.
Apart from drying out quickly, the ZINSSER is incredibly versatile as well; It can be used for waterproofing and sealing plastered, gunite, masonry, and concrete pools. Another great thing about this paint is that it doesn't require any mixing or other oils and can be applied directly out of the can. The only concerning thing about this paint is that you won't get great coverage, meaning a second coat would be necessary. It's also not suitable for fiberglass pools.
However, if you're looking for paint that delivers all-round capabilities for your swimming pool and that's easy to apply and quick to dry, the Rust-Oleum paint is the one you want. It's available in two color options, the blue and the white.
Pros
Caribbean-like color

Compatible with different pool surfaces

Great for above ground and in-ground pools

Ready for use out of the can

Easy and quick to apply
Cons
Not very durable

Doesn't provide a great shine 
For those individuals looking for paint that requires minimal downtime and offers a great finish, the In the Swim Aqua Coat is ideal. You can apply this premium water-based pool paint on various kinds of damp or dry surfaces. The fast-drying capability of the Aqua Coat is its standout feature but it also requires two coats of paint to give the desired finish.
The overall downtime for this paint, once it's applied to your pool, is around 3 days which is way better than other paints. It also manages to provide 275 square feet of coverage per gallon, which is extremely good for water-based paints. Aqua Coat is a durable acrylic enamel paint, despite being water-based, which is why it can last for years and provide a great finish to any pool. The budget-friendly price of the paint combined with its easy application and quick-drying makes it a superb choice to paint a pool. It's available in three color options, namely dark blue, blue, and white.
Pros
Great coverage

Dries very fast

Easy to use

Water soluble 
Cons
Not as durable as epoxy

Colors are misleading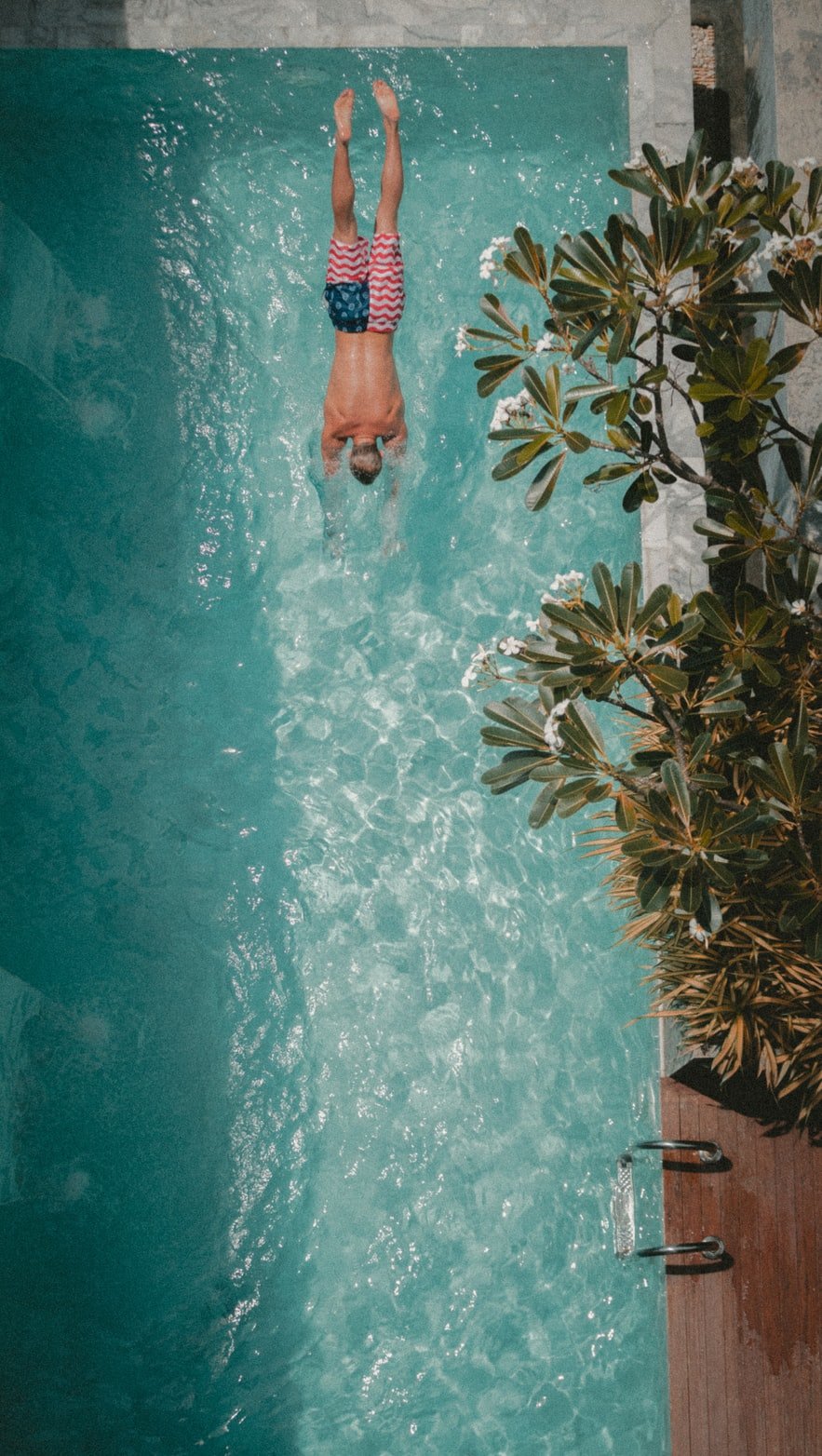 Swimming Pool Paint Buyer's Guide
The paint you choose for your swimming pool is going to give it the look and feel, which is why you shouldn't make a hasty decision. Choose the best paint and you'll instantly transform it into your resort but make the wrong choice and you'll end up regretting as swimming pool is going to look worse than you could ever imagine. So, before you go ahead, let's get into the basics of choosing the right paint for pools. Here's all the important stuff that you need to know.
Types of Pool Paint
When it comes to paints there are tons of variety in the market, but we'll break it down into three main types of pool paints. These are the:
Epoxy paint
Acrylic paint
Water-based acrylic paint
Until recently, one of the most popular options out there was the chlorinated rubber paints, but they've been discarded by the public after it was found that they harm the environment. So, let's discuss the main types of pool paints available right now:
1. Epoxy Pool Paints
Epoxy paints are a popular choice as they are the most durable option and are solvent-based paints. That means they aren't affected by chemicals, scrapes, stains, etc. If you choose to apply modern epoxy pool paints in your swimming pool you won't need to worry about the paint withering off for nearly 8 years, that's how durable this paint is.
Epoxy pool paints come in different finishes, and one of the most popular ones is the silky satin finish, but if you want a super stylish and cleaner look you can choose to get the high-gloss finishes. You can easily apply epoxy paints on different types of materials, including fiberglass, plaster, gunite, and unpainted concrete. You can also apply them on pools with existing epoxy coatings to smoothen out rough edges and give the pool a fresher look.
You'll find epoxy paints in two-gallon kits and you'll need to mix them well before applying them on the swimming pool. One downside to epoxy paints is that they take a long time to dry up completely, and when applied to outdoor pools you may need to wait for about a week for the paint to dry up, while indoor pools may take nearly two weeks to dry up. When exposed to pool chemicals and the sun epoxy paints tend to chalk up, but the best epoxy pool paints are UV-resistant and highly durable.
2. Acrylic Pool Paints
Acrylic paints are another popular option and were designed to be used instead of synthetic pool chemicals that contain rubber-based adhesive. These paints are a great option if you're applying them on unpainted concrete pools or plaster, and you can also apply them on swimming pools with existing coatings of synthetic chlorinated rubber, or acrylic. One of the biggest reasons to choose acrylic paints is mainly because they provide a superior high-gloss finish, which completely transforms a swimming pool.
You shouldn't apply acrylic paints on spas, hot tubs, or fiberglass surfaces since it is susceptible to chemicals and will start chalking up quicker than epoxy pool paint. That's the reason acrylic swimming pool paints have an average lifespan of nearly 4 years.
3. Water-Based Acrylic Pool Paint
If you want to freshen up your swimming pool by applying new paint for pool but don't want to wait for weeks for the paint to dry up, you should choose water-based acrylic pool paints. They dry up faster than other types of paints as they only take a couple of days for outdoor pools to dry up, while indoor pools may dry up in approximately 5 days. However, this paint isn't the most durable and has the shortest lifespan, and if applied on residential pools you'll need to get it repainted every 2 years, while for commercial pools you'll need to reapply paint every year.
However, the advantage of choosing water-based acrylic paint pool is that you get incredible versatility since it can be applied on pools previously coated with synthetic rubber, acrylic, epoxy and on unpainted concrete and plaster. Don't ever apply this paint on fiberglass or gunite pools. The only color you get with water-based acrylic pool paints is eggshell white, but some brands are providing you with a greater range of color selections. However, you wouldn't be choosing water-based acrylic pool paints if you want to give your swimming pool a dramatic look.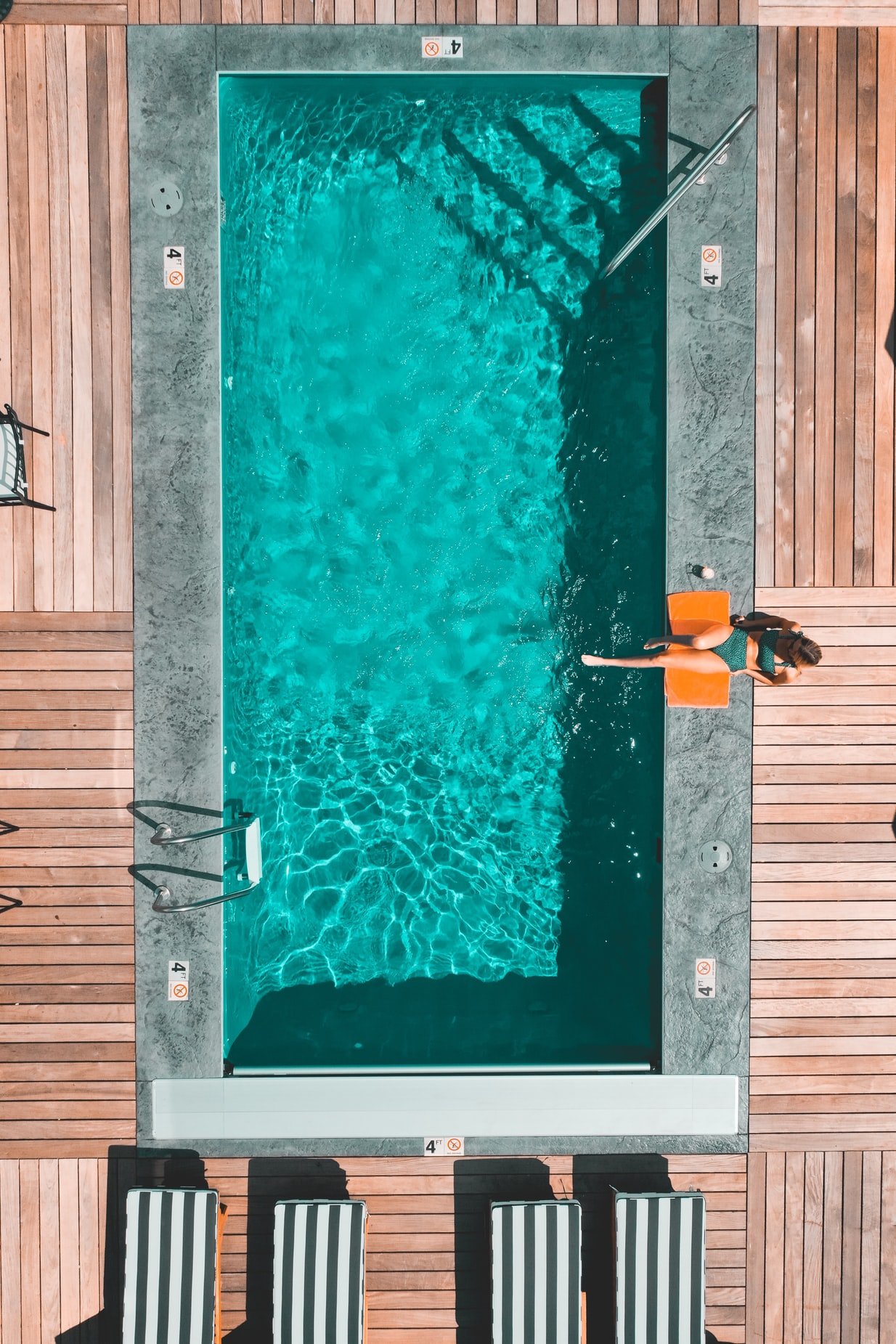 Testing Method for Choosing the Right Paint
It's critical that you end up choosing the right swimming pool paint for your pool. After all, it's a considerable expense and you don't want to reapply paint on your pool repeatedly. Our recommendation is to repaint your pool with the current paint type already applied to it, even though there are a lot of high-quality pool paint options that will look great over another paint type.
For example, if your swimming has been coated with epoxy pool paint you should repaint it with epoxy, and if it was painted with acrylic then you must choose acrylic for the repaint. We know that most people aren't familiar with the type of paint used on their swimming pools, but we've got the answer to that riddle. All you need to do is perform a simple paint chip test, and here's how you do it:
Chip off paint
Rub that paint chip in acrylic or epoxy paint solvent
You'll have a match if the chip dissolves in the solvent in a minute. So, if the chip dissolves in the epoxy solvent, then it is epoxy pool paint.
Most people forget to check the existing type of paint on their swimming pool and end up making the right choice. You need to test the paint type before you're reapplying paint on your swimming pool as it is the difference between a horrible DIY project or a spectacular looking pool.
Amount of Paint You Should Buy
When it comes to buying the amount of paint for your swimming pool, several factors must be considered first which include the number of coats that need to apply, the paint you've chosen, and the size of your swimming pool. Some paints provide you with greater coverage, meaning it will take less paint to achieve the desired effect.
Most high-quality pool paints can cover nearly 150 square feet, while some can go up to 300 square feet and even more than that. Some paints may need an additional coat, and you need to consider that if you're painting on unpainted, rough or pitted surfaces. To be the on the safe side, we would recommend buying an extra gallon of paint or two gallons more than you need, since there's nothing wrong with having more paint than you need. You don't want to be rushing to the store to buy more paint after you run out of it in the middle of the paint job.
Your goal should be to get your swimming pool painted properly with a consistent and nice application of paint. You can start rolling excess paint more thickly once the paint begins to dry, especially around the drains and on the steps, as it guarantees additional protection.
Calculation Guide for Pool Paint
You can easily calculate how much paint you'll need for your swimming pool by performing a simple equation. Don't worry it's not going to be that difficult, and anyone can do it, even if you don't like doing mathematical equations. Here's what you need to do:
Length x Width x 1.7 = Amount of paint needed
You'll need to multiply your answer by two if you're applying two coats of paint, as it will provide you with the complete square footage that must be covered. Next, you'll need to divide the answer with the number of square feet a can of paint can cover. For instance, if you've got a can of premium acrylic paint that has 300 square feet of coverage, you'll perform the following equation:
Single Coat – Length x Width x 1.7 / 300 = Amount of paint needed
Two Coats – Length x Width x 1.7 x 2 / 300 = Amount of paint needed
That's all you need to do to find out how many gallons of pool paint you'll need for painting your swimming pool completely.
Do You Really Need Primer?
You don't need it for most situations but applying primer is always a great idea when painting your swimming pool. If you're painting for the first time, you should apply primer by spraying or rolling it on the surface of the pool. Before you apply paint to maximize the adhesion. Primer helps provide the best bond for unpainted swimming pool surfaces, but you don't need to apply primer if you're using an old school rubber-based pool paint or acrylic paint, as the first coat will do that job.
However, if you're applying epoxy paints you need to get primer applied first, but you'll only need one paint. When using epoxy pool paint on rough gunite or bare concrete surfaces, primer helps provide a great bond and smoothens the surface.
Avoiding Blisters and Bubbles
A common occurrence you'll deal with when you're painting your swimming pool is the emergence of blisters and bubbles. They're mainly the result of poor adhesion and a lack of proper preparation, and to avoid them you'll need to ensure that your pool is completely dry and clean from any debris before you start applying paint. The paint is going to have blisters and bubbles if you apply the paint too thickly or if the pool surface isn't at the right temperature and hasn't been cleaned or dried completely.
Once the paint starts to blister you'll need to act fast and the best way to deal with it is to prepare and paint the swimming pool again. That's why you must get the preparation right the first time. When cleaning your swimming pool with a TSP degreaser, ensure that you thoroughly scrub the surface to remove all the minerals and oils. Then you'll need to wait for the pool to completely dry out, and then wait for the weather to get sunny or cool outside, to avoid experiencing any blistering or bubbling issues with your swimming pool paint.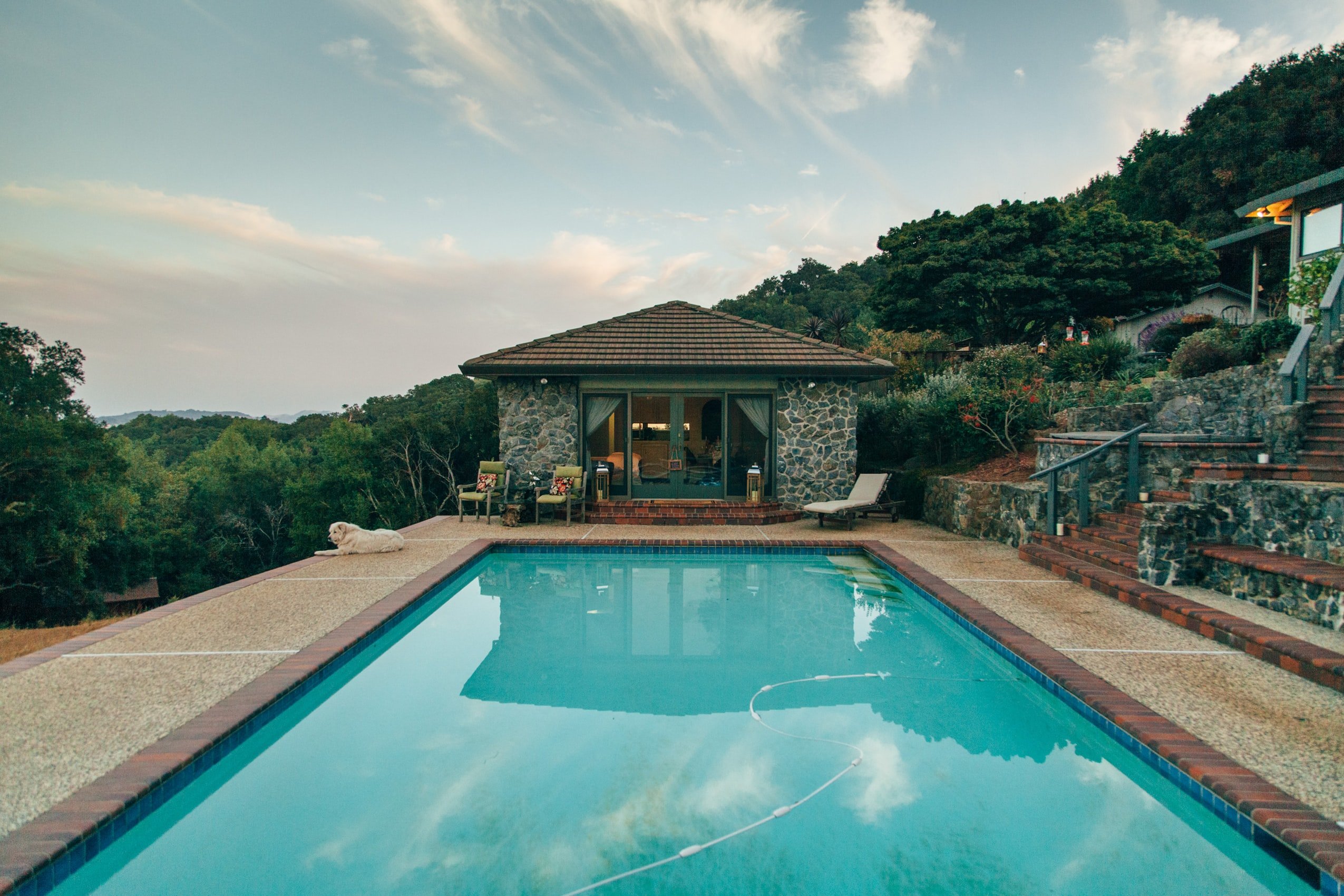 Preparing Your Swimming Pool for Painting
If your swimming pool is poorly or roughly prepared, even the best paint in the world isn't going to provide you with superior results. It's best to give your swimming pool some TLC by rolling up your sleeves, getting the right supplies, and cleaning it thoroughly. Here are the pool painting supplies that you'll need to prepare your pool for painting:
White sand for steps
Extension pole and paint roller frame
Paint mixer drill attachment
Trim brushes
Paint roller with a 3/8-inch nap
Painter's tape
When preparing the surface of your swimming pool for painting, the first step would be to drain out all the water from the pool and letting it dry a litter. Then you'll need to remove any grease or oils that are left on the surface, which can be cleaned up by using a scrub brush, flower waterer, and a tri-sodium phosphate solution (TSP). You need to carefully rub the surface as your life depended on it, and then rinse it completely to get a nice clean swimming pool surface.
Once the surface has been degreased and cleaned thoroughly, it's time to get to business, which means getting rid of the mineral deposits on the surface. You'll need to remove them with acid washing, but it's not as difficult as it sounds. You'll need to get some diluted muriatic acid or Sulfamic Acid cleaner, which can be easily bought at most swimming pool stores and online. Acid washing is an important step for preparing your swimming pool as it not only gets rid of the mineral deposits but also etches the pool surface for paint adhesion and a better bond.
How to Acid Wash Your Swimming Pool?
Acid washing isn't that difficult but if you don't want to get your hands dirty it is best that you contact professional pool cleaners for an acid wash of your swimming pool. However, if you're intent on doing it yourself, here is what you need to know. You must properly sand fiberglass swimming pools before painting them. Instead of acid etching, you must sand the entire swimming pool with coarse sandpaper and then use TSP to clean the surface.
You must also ensure that the swimming pool deck and the surrounding area is completely free of any debris that may get inside the pool when you're painting the surface. You must also check the weather forecast before you start painting your swimming pool, as painting in rainy, stormy, snowy, or windy weather is a complete waste of time and resources. Also keep in mind that apart from water-based acrylic paints, other types of paints need at least one week to completely dry out and cure.
Conclusion 
After going through all that information you're well placed to make an informed decision about the type and quality of pool paint you should buy for refreshing your swimming pool. When painting your swimming pool, it's important that you pay attention to the preparation, since that can make or break the finish of your pool.
If you want to improve the appearance of your swimming pool, painting is the best way to go about it. So, go ahead and browse through all the pool paint options that we have reviewed above and get ready to dive into a pristine pool.
Related Articles
5 Best Above-Ground Pool Pad | Buyer's Guide and Reviews
10 Best Pool Cover Pumps  | Buyer's Guide and Reviews
Learn How to Install a Spa Cover Lifter
Dolphin M400 with Caddy Review & Buyer's Guide
Learn How to Keep Chlorine Levels Up In Your Pool
Aquabot X4 Robotic Pool Cleaner Review | Buyer's Guide
9 Best Liquid Pool Covers and Why You Need Them
13 Best Chlorine Tablets for Swimming Pools | Reviews & Buyer's Guide
13 Best Salt Water Chlorinators
13 Best Pool Volleyball Nets to Enjoy This Summer
39 of the Best Pool Toys to Enjoy this Summer
13 Best Pool Test Kits | Reviews & Buyer's Guide
5 Best Auto Chlorinators for Pool 
9 Best Above-Ground Pool Ladder
11 Best Deck Box For Outdoor Storage
Acrylic Pouring Medium Guide [All You Need to Know]
2 Best Epoxy Resin Guide [All You Need to Know]
3 Best Polyester Resin [Reviewed & Buyer's Guide]
Aquabot X4 Robotic Pool Cleaner