With the cold season approaching, an effective electric wall heater can make all the difference in keeping you and your loved ones warm and cozy.
Now, if you're wondering " are electric wall heaters cheaper than the other options?" then let us tell you that they can save your hard-earned money. Plus, they are considered better than baseboard heaters in terms of heating, acting as standalone units or an extension of the central heating system.
However, with many types of space heaters ranging from ceramic to infrared variants, choosing one can be tricky. This is why we have compiled the best electric wall heaters to help you along.
Our buyers guide also features everything you will need to find the most compatible electric wall heater. With that being said, let's get right into the electric wall heater reviews!
Best Electric Wall Heater
IMAGE
PRODUCT
DETAILS

Our Top Pick

Our Top Pick

Heat Storm HS-1500-PHX-WIFI

Wi-Fi enabled
Space-saving wall-mount design
Safe to touch the grill

VIEW LATEST PRICE →

DeLonghi

Dual fan system
Freestanding or wall-mounted design
Overheat and frost protection

VIEW LATEST PRICE →

Broan 174

Front-mounted thermostat
Permanently lubricated motor
Operates at 2000W and 1000W

VIEW LATEST PRICE →

Heat Storm HS-1000-WX

Lifetime air filter
Less than two square feet of wall space
Adjustable LED thermostat

VIEW LATEST PRICE →

Stiebel Eltron 074058

Down-draft heating design
Standalone or supplementary heating
Booster timer

VIEW LATEST PRICE →

EconoHome Wall Mount Space Heater Panel

Overheat protection
Built-in heat reflector
Even convection heating

VIEW LATEST PRICE →

TRUSTECH Wall Mount Heater

Heat resistors
Windless heating technology
Overheating safety protection

VIEW LATEST PRICE →

NewAir

Heavy-duty hard-shell exterior
Overheating protection
Adjustable louvers and tilt head

VIEW LATEST PRICE →

Dr. Heater

Remote-controlled thermostat
50-90 degree temperature range
Five adjustable louvers

VIEW LATEST PRICE →

Broan 198

18-gauge steel grille
Built-in adjustable thermostat
White baked enamel grille

VIEW LATEST PRICE →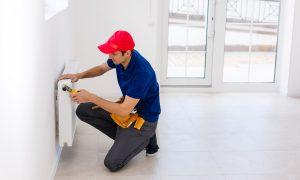 This wall-mounted electric heater from Heat Storm is both safe and energy-efficient, packed full of the latest modern features. A Wi-Fi connection capability allows it to be controlled from anywhere, furthering the ease of use. The space-saving design is also a nice touch for those who are limited on space.
Sale
Why Did We Like It?
One feature which was appreciated on this wall-mounted heater was the compact design that saves a ton of floor space. The wire can be stored inside the heater to minimize the footprint it has in a room. Furthermore, the electric wall heater works well as a portable unit with its easy installation, so moving it between rooms is quick and easy.
Compared to a traditional wall heater, the energy efficiency of the Heat Storm provides a greater heat output with minimal energy consumption. It utilizes patented HMS dual-wall technology to give the maximum heat output with just 110 volts of power.
Additionally, the safety features on this wall-mounted electric heater are safe even for children and pets. By accessing the heat settings from the app, the heat output can be easily controlled. The programmable thermostat can even be set up to work on a schedule.
What Could've Been Better?
As this Heat Storm wall heater features infrared technology, the noise levels can get quite loud. There is an internal vent that turns on and off to control the heat output. If a quiet operation is an essential feature for you, this factor should be considered before buying.
Pros
Compact and portable design

Cool to the touch

Efficient infrared heater

Easy installation
The DeLonghi has a sleek and modern build and uses dual fans in front of the heating element to efficiently spread warm air. With multiple heating settings and thermostat, complete control and customization is given to the user. Additionally, the three-inch wide design allows it to easily fit into any room.
Why Did We Like It?
DeLonghi panel heaters use two fans alongside the heating panel to provide instant heat to any room. Whether it is as a supplementary heating panel or an extension of the existing HVAC system, it meshes well in any room. The fans push air from the top of the unit, so there is almost instant heating of the space.
Additionally, the control that the unit provides allows for precise temperature adjustment. The digital control panel features a built-in thermostat with a timer so you can schedule heating for when you most need it.
There are also a number of safety features that will help prevent the internal circuitry from being damaged. An internal switch will trigger if the unit begins falling over. There is also a unique thermal cutoff that cuts off the water when it is not needed to prevent frozen pipes.
What Could've Been Better?
One feature that would have made the DeLonghi model better is the inclusion of a remote control. Forced fan heaters tend to demand regular adjustment as they can quickly heat a room, so including a remote control option would make accessibility easier.
Pros
Instant heat

Compact standing design

Adjustable thermostat

Internal tip-over switch
The 174 Broan wall heater is built to last, with an enamel finish and one-piece assembly for durability that lasts. Additionally, this electric wall heater features a permanently lubricated motor for an efficient operation every time. Sporting a design that is both functional and durable, you can't go wrong with the 174 from Broan.
Sale
Why Did We Like It?
Efficiency is the name of the game when it comes to the 174 from Broan. Starting from the design to the power consumption, there is not a single inefficient component. The grille features downward-facing louvers to control heat distribution.
Furthermore, the built-in thermostat makes for a straightforward method to adjust the temperature. There is not an overabundance of LEDs or other settings to change; just a plain and simple control panel.
It is not uncommon to see wall heaters draw a substantial amount of power while in operation. This is another area where the efficient Broan electric wall heater shines. It operates at both 2000W and 1000W with little difference in performance, which can save you a buck or two in power consumption.
What Could've Been Better?
Although this electric wall heater has such an easy-to-use design, it is by no means easy to install. Broan themselves recommend getting a professional to install the unit. Unless you are absolutely sure of what you are doing in terms of wiring and installation, it would be best to follow their advice.
Pros
Easy to use and adjust

Downflow louvers

Energy-efficient

Durable enamel finish
Cons
Professional installation recommended
Another infrared wall-mounted electric heater from Heat Storm, the HS-1000, has a number of valuable features. Among the many features, the safe touch grill is solid insurance against accidental injuries and damages. The easy-to-adjust settings on the remote control are also a nice touch for better accessibility.
Sale
Why Did We Like It?
One of the most appreciated features of the HS-1000 is the LED control panels that turn off after five minutes. Although it may seem like a simple feature, having bright LEDs in a bedroom at night is not the best for sleep. The auto shut-off feature makes using this electric wall heater in bedrooms and nurseries much more comfortable.
Speaking of nurseries, the grille is made of a material that will not burn skin. If you have young children or pets, you can rest easy knowing they won't be able to get hurt around this electric wall heater.
Another handy feature is the compact design that is translated well onto a wall installation. Less than two square feet of wall space is needed, making for an incredibly minimal footprint.
What Could've Been Better?
If there were one caveat to this model, it would be the noisy operation of the electric wall heater. This could be a deal-breaker for many, as the internal machinery became quite loud at certain levels. Although it is not to the point of being deafening, compared to standard wall heaters, the noise difference is clear.
Pros
Compact, wall-mountable design

Infrared heating element

Adjustable digital thermostat

Uses standard 110V power supply
The Stiebel Eltron is in another field than standard wall heaters. Featuring top-notch German engineering and design, it is able to distribute heat efficiently and quietly. As far as forced fan heaters go, this model is able to quickly turn cool air into warm air in no time at all.
Sale
Why Did We Like It?
Stiebel Eltron has taken the concept of forced fan heaters and increased their efficiency. As the cool air is lighter, it tends to be higher than warmer air. That is why the 074058 pulls cold air from the top and blows hot air from the bottom for the best coverage and circulation possible.
Additionally, a booster dial can be used to turn on the booster mode for up to an hour. In this mode, the efficient operation of the electric wall heater is kicked into high gear for rapid heating.
As for the temperature range on this model, it can be easily adjusted with the built-in thermostat. The frost protection setting can also be used to keep the room temperature just above freezing and prevent any damage.
What Could've Been Better?
While the Stiebel Eltron electric wall heater sports German engineering, there were quite a few cases where the unit would protrude from the wall. As the installation was not flush, some wiring could be seen from the top; definitely not the best look where safety is concerned.
Pros
Ultra-quiet operation

Built-in thermostat

Frost protection setting

Surface mount design
This convection heater from EconoHome uses a heating panel as the heating element to circulate warm air throughout the room. The low power consumption allows you to leave it running without breaking the bank on your energy bills. Safety features to keep the unit from overheating make this a solid choice for heating small rooms.
Why Did We Like It?
Convection heaters use a panel heater for energy-efficient performance. When starting up the panel, it uses minimal radiant heat to allow the heated air to fill the room slowly. This radiant heater heating panel uses less than 1/3 of the electricity consumption of standard wall heaters.
Additionally, it is possible to leave electric wall heaters running to ensure a constant temperature in the room. An overheat protection feature makes it safe to touch while constantly heating up to 120 square feet of space.
Another valuable feature for those with asthma and dust allergies is the fan that does not dry out the air. Dust and other air particulates are not allowed to circulate due to the unique fan system that circulates the heated air.
What Could've Been Better?
One common drawback that was seen in a number of units was the strong smell that the heater gave off. Many of the electric wall heater reviews stated a strong VOC coming off of the model. Airing it out was the only way to get rid of the strong smell.
Pros
Paintable design

Heat reflector included

Overheat protection

Easily mount and install
Cons
Strong smell in some units
Another radiant heater, this model from TRUSTECH, uses an efficient heat resistor system to radiate heat into the room. The flush mount makes it appear similar to an in-wall electric heater and can be painted to blend in with a range of interior designs.
Why Did We Like It?
Installing the TRUSTECH space heater effectively turns a wall into a surface that gently pulses heat into the room. It measures only 1.4 inches thick, saving tons of floor space compared to stand and baseboard heaters. To install the heater, simply drill four holes in the wall and attach the unit with the included screw caps.
Additionally, the in-wall heaters have overheating protection that will turn off the unit if it gets too hot. Otherwise, it uses windless heating to minimize allergens and dust from traveling throughout the room.
With all the safety features and a quiet operation, this model is ideal for even children and the elderly. The control panel is also as minimal as possible with a single on and off switch.
What Could've Been Better?
Although TRUSTECH convection heaters have an easy-to-use interface, it does limit the temperature range and adjustments possible. There is a lack of a digital thermostat to increase or decrease the temperature. By removing this feature, users are forced to stay at the temperature the unit is shipped in.
Pros
Quiet operation

No odor or VOC

Paintable design

Limits allergen and dust spread
The G73 from NewAir is a sturdy and portable heater with forced-air heating to warm up to 500 square feet. It features adjustable louvers to allow for complete control over where the heat is being pointed. Furthermore, a built-in thermostat adds further control to the heater.
Sale
Why Did We Like It?
Among wall-mounted electric heaters, the construction can be an area of compromise. By having a stainless steel shell, the G73 is able to withstand any environment, whether it is a garage or a workplace. Climatic conditions will not affect the performance of the wall heater as well with such a robust build.
Additionally, the G73 has overheating protection that is ETL certified. By being hardwired during the installation, turning it on is as simple as flicking a switch. You can leave it on without worrying about it becoming too hot.
Controlling the heat output on the G73 has two dimensions, giving extensive options for heating. On one level is the built-in thermostat that can easily be adjusted. The adjustable louvers and tilting heads provide further control by pointing the output to areas where you need it the most.
What Could've Been Better?
A drawback to the design of the G73 is the set speed of the fan. As it is a forced air wall heater, it uses a fan to spread the heat. The fan speed remains constant, making the unit operate at the same pace despite the temperature it is set at.
Pros
Mountable on ceiling and wall

Overheating protection

Controlled heat distribution

500 square feet coverage
Heating up a garage, stores, or large areas is a breeze with the DR-975 from Dr. Heater. Five adjustable louvers on the front point the heat where you want for the most efficient heat coverage. Acting as the primary or secondary heating element, it can also be easily mounted and controlled remotely for a seamless user experience.
Sale
Why Did We Like It?
Heat generation in the DR-975 electric heater is done using a spiral steel metal sheath that has a low temperature. This has the benefit of making the unit safer and having a uniform heat distribution. A timer setting can be used to switch off the heating element after the set period has expired.
Furthermore, a sizable dynamic fan pushes the heat into the louvers with maximum airflow that is both silent and efficient. The fan motor is enclosed and has a ball-bearing that allows it to spin smoothly without generating too much noise. By changing the angle of the louvers, the direction of the heat can also be adjusted according to your needs.
Dr. Heater has also included a remote control to make adjusting the electric heater more accessible. Temperature, as well as duration, can be changed without having to access the unit directly.
What Could've Been Better?
Although the DR-975 has an extensive range of customizability in heat output, it requires a significant power source to operate. While installing, it needs to be hardwired and uses 240 volts with at least 4700W of power. This can make it costly to use for an extended period of time.
Pros
Fully enclosed motor

Wall/ceiling mountable

Timer feature

Quiet fan operation
Another electric wall heater from Broan, the 198, is a high-capacity and energy-efficient option for heating. It has a one-piece, heavy-duty build that is easy to install and made to last. A simple thermostat on the front of the unit makes for a quick-access control panel to easily adjust the temperature.
Sale
Why Did We Like It?
Durability is the main focus of the 198 models as it is made of durable white enamel. Not only can this material withstand heavy use, but it is also able to blend in with any décor you have. This enamel grill also features louvers to direct the heat downward for even distribution.
Furthermore, adjustments can be made with either the built-in thermostat or a wall-mounted option. Power draw is not substantial in this model as it can be converted to work on half the voltage with no considerable impact on the performance. The overload protector ensures there are no surges and keeps the 198 smoothly pushing out air.
To install the Broan 198, there are two options to choose from depending on the room dimensions. A recessed installation makes the unit flow inside the wall. Additionally, a surface mount keeps the 198 flush against the wall with only the enamel grille slightly protruding.
What Could've Been Better?
Whether it is due to the design of the motor installation, or other factors, the noise levels on the 198 can become relatively high. After a few months of use, the screws that secure the motor began rattling. It can be fixed, but that involves taking it apart and making adjustments.
Pros
Durable enamel finish

Lubricated motor

Straightforward application

One-piece build
Cons
Fan motor can become loud
TRUSTECH has made a versatile and portable model called the IPH-01S that can be a wall heater or a standing heating element. With three modes to choose from, the rooms are quickly warmed thanks to the built-in quartz tubing. There is also a programmable timer to allow it to autonomously warm the room.
Why Did We Like It?
Performance-wise, the IPH-01S is a solid ten that is comparable to central heating units. The TRUSTECH electric wall heater handles heating times using a quartz tube that provides warmth in seconds without getting too hot. Additionally, the tube quickly becomes cool when it needs to be carried around, so the unit is safe to handle.
Furthermore, the control panel is backlit with LEDs and can also be used with a remote control. There are also three modes to choose from: a low and high mode as well as an energy-saving mode. Depending on what you need, these modes can be easily switched between using either the remote or the control panel itself.
Using a natural cross-convection heating method, the IPH-01S has a balanced coverage. The programmable timer can turn the electric heater on or off when you need it. Heating is autonomous and ready to go at the push of a button.
What Could've Been Better?
A minor change that would elevate the user experience in the IPH-01S is the loud beeps anytime adjustments are made. Both the remote and control panel give off a loud noise even when changing the temperature. The fans can also become loud when used on the high mode.
Pros
Three power modes

Covers 500 square feet

Natural cross-convection heating

Built-in quartz tube
Cons
Loud noise levels in operation
With a sleek European design and German interiors, this Stiebel Eltron electric wall heater combines comfort and performance. The downward air circulation allows it to circulate warm and cool air throughout the room efficiently. A dedicated power button also ensures the unit is not drawing power unnecessarily.
Sale
Why Did We Like It?
A highlight of this model from Stiebel Eltron is the quiet operating fan that circulates the air. It pulls cool air through the top, heats it, and then pushes it downwards to heat the room efficiently. By cycling the air, there is efficient coverage throughout the room.
Having a dedicated on/off power button to turn off the unit completely is handy to limit power consumption. This keeps the electric wall heater from using power-intensive features like the frost protection setting. In rooms where the settings do not need a constant operation, the off button can prevent the unit from racking up an enormous power bill.
Additionally, the control panel has a thermostat on the top of the unit for easy control and access. If necessary, there is also the option of hooking it up to a wall-mounted thermostat.
What Could've Been Better?
It is recommended to get a professional or someone with experience to install the unit. Individuals who are not experienced with wiring may find this installation complex as the heater needs to be wired into the wall. However, if you are able to work with wires, you should be able to install it with no issues.
Pros
Ultra-quiet fan

Booster timer

On/off power switch

Minimal footprint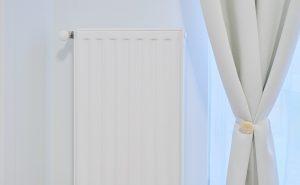 Electric Wall Heater Buyer's Guide
Choosing the best electric wall heaters should not be done on an impulse. There are many facets and features to consider in order to make the most informed decision possible. And in the following sections, we will talk about some of them.
1. Coverage
An efficient output from electric wall heaters is one of the most crucial factors in deciding which model to go with. When browsing between models, the rated square feet will tell you how large of an area it can effectively cover.
Whether it is a bedroom or a garage, you are sure to get better coverage from an electric wall heater than a standard baseboard heater. However, with an increased range, there tends to be a hike in price as well. Conversely, an electric wall heater that has a  cheaper price tag usually implies a smaller coverage.
2. Heating Method
Among portable heaters, there are two main types of heating methods. There is a ceramic and infrared variant that uses two different heating methods.
In ceramic electric wall heaters, the primary heating source is a plate that gives off radiant heat. Under this type of electric wall heater, a popular means of spreading the heated air is through a fan. Once the hot air is created, the unit then distributes it into the area.
Ceramic electric wall heaters that use a fan are called fan-forced heaters. A forced fan heater is similar in concept to space heaters, which spreads warmed air throughout the room by giving off radiant heat.
On the other hand, infrared types of electric wall heaters use airflow to heat everything uniformly. As they can use a number of energy sources, there are many types of infrared electric wall heaters.
Propane and natural gas heaters are two favorite infrared heaters. Compared to radiant heaters, this heating method is much cleaner as dust, and other allergens are not stirred up into the air.
3. Power
Power supply and demand is a crucial factor in determining the energy efficiency of a particular model. Depending on how much heating power an electric wall heater generates, the demand can vary.
While some models require minimal power, more heavy-duty builds and features require an extensive power supply. There are certain wall heaters that can still perform at half wattage and maintain steady performance. An energy-efficient electric wall heater is more preferable in circulating warm air locally than using central heating, which requires much more power than a standalone unit.
4. Accessibility
Wall-mounted heaters come in a variety of designs when it comes to making adjustments in temperature and mode. How easily these adjustments can be made should be taken into consideration if you plan on regularly using the unit.
A common feature found on many wall heaters is a thermostat to set the temperature to the desired level. An alternative to this is wiring the wall heater to a wall-mounted thermostat, which allows it to be adjusted without directly accessing the unit.
Additionally, a remote control can be used to allow for an increased range of accessibility. With the development of technology, wireless methods have been created that do not require any specialized tools to change the wall heater settings.
5. Safety
Safety should be a high priority when it comes to an electric wall heater as it has a number of heated components. Compared to baseboard wall heaters, there are more areas of malfunction when it comes to these heaters.
A common safety precaution in a wall heater is using specific materials to make the surfaces safer to touch. These materials can be heated and cooled quickly, which is ideal for those who have young children or any elderly.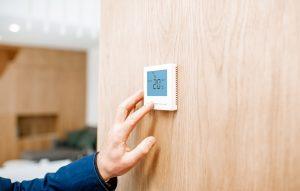 Verdict
Hopefully, you now have a better understanding of the best electric wall heaters and how to pick a suitable model.
Our top choice has to go to the Heat Storm HS-1500-PHX-WIFI with its remote Wi-Fi control that has easy accessibility. The DeLonghi has a compact three-inch design that easily fits into any room for those who are tight on space.
Additionally, if you need more control over heat direction and flow, the Broan 174 may be what you need with its adjustable louvers. Keeping your home heated is infinitely easier with one of these wall heaters at your side.
Regardless of whatever model you choose, your new electric wall heater is sure to be a warm addition to the home.
Related Links 
18 Best Tabletop Patio Heaters
13 Best Portable Bathroom Heater
13 Best Oil Filled Radiator Heater
13 Best Portable Air Conditioner and Heater Combos
13 Best Electric and Propane Heaters for Garage
13 Most Energy Efficient Space Heaters
11 Best Bathroom Exhaust Fans With Light And Heater
11 Best Tankless Hot Water Heater
10 Best 240v Electric Garage Heater
9 Best Indoor Natural Gas Space Heaters
Ceramic VS Infrared Space Heaters
Beacon-Morris "BRT" Residential Garage Heater