It's difficult to find a device that's efficient in the hands of both professionals and regular woodworkers. 
However, electric staple guns put all those issues to bed, ensuring that you get nothing short of the best when using these nifty tools. Given that they run on electricity, you get a steady supply of power, delivering accuracy and versatility to handle a wide range of tasks. 
Moreover, their ergonomic design provides much-needed comfort, allowing you to work for extended periods. Therefore, even under harsh conditions, you can fire nails into various materials using your trusty staple without any hassle. 
But how will you choose from the many products available out there? Our guide lists 11 premium-quality units that are all the rage right now. We've also added a buyer's guide to help you make an informed decision. 
Are you locked and loaded? It's time to fire some nails.  
Best Electric Staple Gun 
IMAGE
PRODUCT
DETAILS

Our Top Pick

Our Top Pick

STANLEY TRE550Z

Flush nose design
Dual-powered lever
Eight-foot cord 

VIEW LATEST PRICE →

NEU MASTER N6013

Adjustable power knob
Safety switch
2-in-1 nailer and stapler

VIEW LATEST PRICE →

KIMO 9418A

Dual-mode toggle switch
Lithium-ion battery
Adjustable rotation knob

VIEW LATEST PRICE →

Makita XTS01Z

Depth adjustment
Viewing window
Contact actuation system

VIEW LATEST PRICE →

Ryobi P360

Lithium-ion battery
Tool-less depth adjustment
Built-in LED

VIEW LATEST PRICE →

Arrow T50ACD

Quick-release mechanism
Over-molded grip
Oversized trigger

VIEW LATEST PRICE →

WORKPRO Staple Gun

Holds 1,100 staples
Can fire 60 nails/ minute
On/off switch

VIEW LATEST PRICE →

ROBERTS 10-600

12-foot cord
Bottom-loading mechanism
Non-slip handle

VIEW LATEST PRICE →

DEWALT DCN681D1

Plastic construction
Brushless motor
20V max lithium-ion battery

VIEW LATEST PRICE →

BHTOP Staple Gun

LED indicator
Bottom-loading magazine
1.5 amp lithium-ion battery

VIEW LATEST PRICE →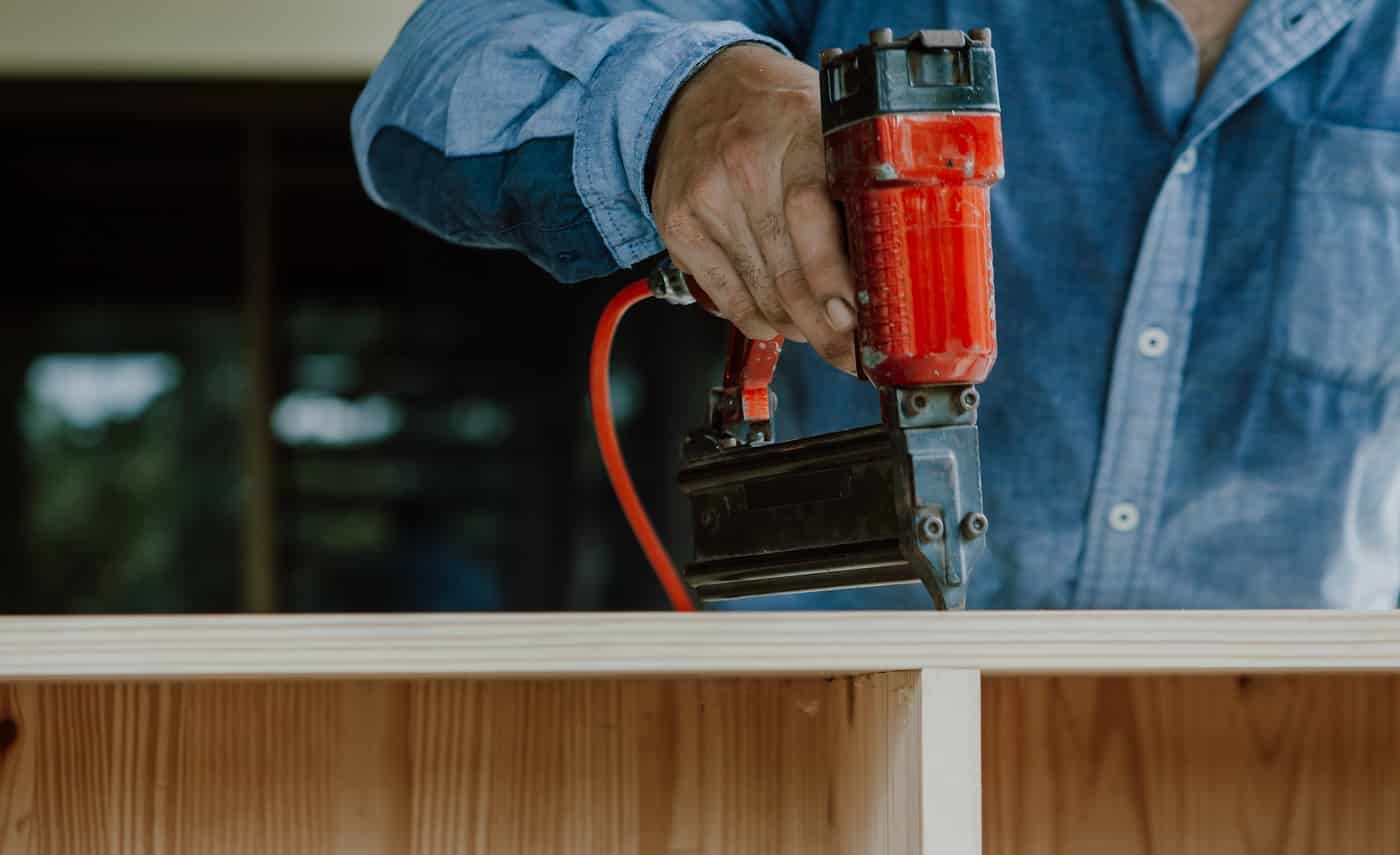 The Stanley Nail Gun has made significant strides towards developing a fantastic staple gun, and its latest product has ticked all the right boxes. It's highly maneuverable and thanks to its innovative nose design, you'll get precise output on most tasks. Not surprisingly, it has received a largely positive response from users.
Why Did We Like It? 
At the very outset, we noticed that this product is available in several variants, highlighting its versatility. Once you choose the model most suitable for your needs, you'll love its heavy-duty construction and powerful driving force. As a result, you'll be able to put nails into most surfaces, thanks to its dual-powered lever that works well with hard and soft materials. 
Moving on, the eight-foot power cord delivers a steady supply of energy without affecting maneuverability. Compared to non-coded models, the degree of movement is less, but you can still operate it from different angles for the best results. In that regard, we must mention its flush nose design, which comes in handy while working in tight spots. 
Furthermore, despite its many features, the nail gun weighs only 0.04 kgs, reducing fatigue and allowing you to work for extended periods. Also, STANLEY has developed a series of nails compatible with this unit, making it easier to find the right components.
What Could've Been Better? 
There are a couple of downsides to this unit. Firstly, it doesn't work sideways, meaning you'll have to hold the staple gun in an upright position which may not be convenient. Other than that, it fails to drive the nails into thick hardwood pieces. 
Pros
Heavy-duty construction

Flexible

Weighs 0.04 kgs

Low-brad indicator

Contoured grip
Cons
Doesn't work sideways

Not suitable for thick hardwood pieces
If you're looking for consistency, you'll love our next recommendation, which has quickly climbed the charts to rank among the top products. The attention to detail is visible in its adjustable power knob and safety switch, allowing you to alter the output based on different tasks. No wonder it's extremely popular among the masses.
Sale
Why Did We Like It? 
When it comes to buying a staple gun, choosing the right components is critical. In that regard, this model has done well since the designers have included 336 staples and 200 nails for your convenience. Meaning, it's affordable and saves you the hassle of making additional purchases. 
Furthermore, it's the perfect product for DIY enthusiasts allowing users to work on upholstery, wooden handiwork, and home improvement projects. Its adjustable power knob ensures that you can control the output depending on the task at hand.   
Apart from that, we loved its safety switch that prevents accidental firing to keep you safe while working on different materials. Plus, thanks to its easy magazine release mechanism, users can work uninterrupted and enjoy fast reloading.
What Could've Been Better? 
While using it, you need to ensure that the material isn't uneven, which might lead to performance issues. But once evened out, this staple gun delivers better results when punching the same material. Besides, it's challenging to install fasteners which slightly affects the overall experience. 
Pros
Highly efficient

Prevents accidental firing

Easy magazine release

Fast reloading

Includes staples and nails
Cons
Challenging to install fasteners

Not suitable for uneven surfaces
Unlike our previous models, this is a stapler kit, and so it comes with several exciting additions that make it stand out in the market. Some of these features are exclusive to this unit; therefore, it's easy to understand why buyers are queueing up outside stores to check it out.
Sale
Why Did We Like It? 
This unit has an advantage over STANLEY and NEU MASTER as it's cordless, thereby offering greater maneuverability. So, you won't have to worry about tangling, making it low-maintenance, while the noiseless air compressor provides a suitable work environment. 
Moving on, you can conveniently switch between sequential and contact-actuation modes with help from the dual-mode toggle switch. Therefore, depending on the project, you can fire one nail at a time or a series of nails to get the desired result. But irrespective of your choice, you won't face issues with accuracy. 
What else? It has KIMO's patented lithium-ion battery, designed to deliver a long-lasting performance. Along with that, it's incredibly powerful, and on a full charge, it can drive 700 brads into wood and other materials without any hassle.
What Could've Been Better? 
We noticed that it comes in a poor storage bag, making it difficult for you to store the staple gun safely. Therefore, it would be best to buy a replacement bag, but it does raise the overall cost of this model. Apart from that, DIY enthusiasts felt the absence of a tactile click is slightly inconvenient.  
Pros
Powerful performance

Adjustable firing depth

Cordless

User-friendly

Fast
Cons
Poor storage bag

No tactile click
Makita is a well-known brand, thanks to its range of terrific products, and this latest stapler is no different. With a viewing window and depth adjustment system, it has generated substantial buzz among potential buyers. But that's not the only good thing about it, so read on to find out more.
Why Did We Like It? 
The Makita Stapler is available as a kit or a bare tool, making it suitable for professionals and homeowners alike. As seen with the KIMO unit, it also features a depth adjustment function, and all you need to do is turn the knob. Consequently, you can make alterations depending on the type of task for a smooth experience. 
However, the significant addition is that of a viewing window, ensuring that you can see the number of staples left. As a result, users won't face unnecessary interruptions, and they can keep extra staples close by to feed into the machine for a smooth experience. 
Other than that, its contact actuation mechanism is suited for production systems, allowing you to fire continuous staples and nails. Moreover, its rugged aluminum construction, supported by a spring-loaded drive mechanism, has several benefits. Not only does it promise long-lasting performance, but it also lowers the weight of the model for improved movement.
What Could've Been Better? 
You can't use this model for crown stapling, raising concerns about compatibility. While this might be a deal-breaker for professionals, you won't face problems on regular tasks. Also, after working for extended periods, your hands start tiring, so you'll need to take short breaks in between. 
Pros
Spring-loaded drive mechanism

Rugged aluminum construction

Smooth experience

Weighs 4.41 pounds

Easy to reload nails
Cons
Doesn't work for crown stapling

Slightly tiring
Ryobi is often considered the benchmark for quality, and its state-of-the-art stapler has DIY enthusiasts bubbling with excitement. Why? Well among its many quality functions, this product features a powerful battery and built-in LED, giving it an edge over other units. As a result, it's well worth the investment.
No products found.
Why Did We Like It? 
While most models offer choices among nails and staplers, this unit works with various batteries, highlighting its incredible compatibility. You'll see it features a lithium-ion battery ranging from the P100 to P108 variants, all part of Ryobi's series of batteries. Meaning, it saves you the hassle of searching for the right component in the market. 
Furthermore, there's no need for an air compressor since this battery powers all the components. Thus, the staple gun is safe, reducing the chances of accidents while noise is kept to a minimum, providing the ideal workplace environment. 
What's more, we loved the seamless experience, thanks to its tool-less depth adjustment, which permits single-handed operations. And with help from the onboard dial, you can alter the firing depth for accurate results.
What Could've Been Better? 
We noticed that the instructions accompanying this unit aren't suitable for first-time users. The designers should have detailed the steps in an uncomplicated manner, complete with diagrams and descriptions, which isn't the case. Additionally, this staple gun misfires from time to time, but it's not a serious issue. 
Pros
Numerous battery options

Ergonomic handle

Single-handed operations

No air compressor

Quiet performance
Cons
Poor instructions

Slight misfire
We're at the halfway point in our guide, but the premium-quality models keep coming. Up next is the Arrow Staple Gun, and as the name suggests, it delivers outstanding accuracy, leading to its increasing popularity. Plus, it delivers unmatched comfort, ensuring that it finds a spot on most wish lists.
Why Did We Like It? 
We'll begin by discussing its quick-release mechanism, delivering a faster performance without compromising on accuracy. Not only does it reduce work time, but it also allows you to handle varied projects with aplomb. In that regard, the bottom-loading staple system proves convenient, ensuring that users can swiftly refill the gun without any hassle. 
You'll love its ergonomic design, which is complete with an over-molded grip for maximum comfort. Furthermore, it flaunts a durable design for long-lasting performance, but in spite of that, this is a lightweight staple gun. Hence, users won't experience issues with maneuverability, enabling them to work from various angles. 
Coming to its other attributes, we found that the designers have included an oversized trigger, permitting you to get more power with each shot. Also, you can conveniently switch between sequential and contact firing for more versatility while working.
What Could've Been Better? 
To operate it, you'll have to put your weight behind each shot to penetrate the surface. So, it can get tiring after a while, and it would be best to rest in between tasks. Besides, the capacity needs improvement as it requires frequent magazine changes compared to other models. 
Pros
Bottom-loading system

Durable

Easy to use

Safe

Ergonomic design
Cons
Manual force needed

Capacity needs improvement
If you're looking for a model with terrific capacity, you'll love the performance of the WORKPRO Staple Gun. Not only does it hold 1,100 staples, but you can fire them at 60 staples/ minute with incredible accuracy. As a result, it's attracting a lot of positive attention, making it one of the top buys right now.
Why Did We Like It? 
Firstly, you can use this device only after fully charging, but there's no need to worry, thanks to its high battery backup. Meaning, users will have to charge it once every two or three months, making it one of the most reliable units going around. 
What's more, thanks to its convenient on/off switch, you won't experience safety issues. And all you need to do is flip the switch to start working, highlighting its user-friendliness. Plus, we loved its compatible nature, allowing you to use six different kinds of nails, complete with a power switching mechanism for a smooth experience. 
Apart from that, this gun holds 1,100 staples, and when you need a fast output, it fires 60 nails per minute. However, it doesn't affect accuracy, ensuring that you get the best results irrespective of whether you're working on hard or soft materials.
What Could've Been Better? 
Compared to other models available out there, this staple gun is slightly heavy, which isn't ideal. While you won't face maneuverability issues, long working hours might take a toll. Meanwhile, it's challenging to access the holder, but it isn't a major concern for prospective buyers. 
Pros
Cordless

Versatile

Accurate

Excellent battery backup

Cordless
Cons
Slightly heavy

Difficult to access holder
There's nothing eye-catching about the Roberts Electric Stapler but what you get is reliability, making it sought-after by DIY enthusiasts and professionals alike. Also, it's highly user-friendly, permitting you to work from various angles to get the desired output. So, if you're interested, read the following section to learn more about it.
Sale
Why Did We Like It? 
If you're looking for versatility, you'll love what the Roberts Electric Stapler has up its sleeve. Users can use it for flooring purposes such as carpeting, leading to its popularity amongst homeowners. Furthermore, this gun can hold 85 staples at any given time, and when it's time for reloading, its bottom-loading mechanism delivers the best user experience. 
You'll enjoy using its quick-release system, reducing work time without affecting accuracy. In that regard, the non-slip handle proves useful, enabling you to have more control over your tasks. Plus, thanks to its comfortable shape, you can work for long hours without feeling fatigued or experiencing pain. 
Now, it's highly durable, made possible by its heat-treated hammer mechanism for consistent output. Finally, we recommend using duo-fast or surebonder staples to minimize jamming for a smooth experience.
What Could've Been Better? 
While punching through wood, the nails might occasionally miss the table, which is very unusual and not seen with other staple guns. Also, this product is known to double-fire, which is a serious concern for professionals because it could damage the material if it happens too often. 
Pros
Ergonomic handle

Heat-treated hammer mechanism

Operates on 1,500 watts

Reliable

Precise output
Cons
May double-fire

May shoot wide, occasionally
When it comes to choosing modern tools for DIY tasks, very few products can match DEWALT's range of products. You'll find that this stapler kit has all the relevant functions, delivering an all-round performance to make your projects stand out. So, it has received mostly positive reviews from customers.
Why Did We Like It? 
First and foremost, this model runs on electricity, thereby eliminating the need to use gas, making it eco-friendly. Interestingly, despite the focus on sustainable sources of power, the engineers have made sure there's no let-down in performance. So, you'll find it comes with all the relevant functions for the desired output. 
Moreover, it's a plastic model, but that doesn't mean it compromises on durability. In fact, it can withstand daily use and features brushless motors for long-lasting performance. These motors also come in handy for reducing noise emission and offering an extended runtime to handle numerous tasks. 
We loved its 20V max lithium-ion battery, which powers the various components, allowing you to opt for sequential or contact actuation firing. With the former, you can fire one nail at a time, while the latter option fires a series of nails in a short span.
What Could've Been Better? 
Users have reported that this unit tends to jam, which is frustrating, but if it doesn't happen too often, there's no cause for concern. Other than that, DEWALT has built a bulkier model, which might appear a tad heavy for regular woodworkers. However, managing the extra weight doesn't prove too challenging. 
Pros
Sequential and contact actuation modes

Durable

Noiseless

Eco-friendly

Extended runtime
This model from BHTOP has many similarities with other products available out there, so why should you buy it? Well, the designers have made the necessary upgrades, offering a seamless experience on various tasks. Plus, it's available at an affordable price which is sure to please you.
Why Did We Like It? 
This is a low-maintenance staple gun having a bottom-loading magazine for easy access and a smooth experience. Plus, thanks to its convenient magazine window, you can always keep track of the number of nails and staples left in the gun. 
Another interesting addition is that of the LED indicator, highlighting the power left in the unit. And once you plug it in, it charges quickly, after which the 1.5 amp lithium-ion battery allows you to fire 1,000 shots without any hassle. 
Now, coming to safety, you'll love its triple-lock mechanism, which prevents accidental firing for protection while working. Speaking of safety, users will need to press the safety switch, flip the on/off button and then push forward with the nose to fire. This shows the attention to detail, making it stand out in the market. 
What Could've Been Better? 
It's not compatible with U-shaped staples, so a section of buyers might look elsewhere. While this isn't a major issue as the gun works with other staples, you won't be able to use it on certain projects. Other than that, we found issues with brads which proves inconvenient. 
Pros
Durable

Triple-lock mechanism

Safety switch

On/off button

Viewing window
Cons
Incompatible with U-shaped staples

Issues with brads
The VonHaus Nail Gun has solved most issues that plague other models, thereby justifying its positive response from customers. This unit is safe, user-friendly, and highly comfortable, and it has covered all bases, delivering the best results. There's a lot to like about it, and you can use it for a long time, without any hassle.
Why Did We Like It? 
The striking aspect of this product is its ergonomic design, complete with a 2-in-1 soft-grip nailer/stapler. What's more, since it's cordless, users get an intuitive output, ensuring that they can use it for extended periods without feeling bogged down. 
Further adding to its user-friendliness is the easy magazine reload system, making it suitable for indoor and outdoor tasks. You won't experience unnecessary interruptions, highlighting its efficiency, while VonHaus has included all relevant components, such as nails and staples for your benefit. 
We loved its adjustable impact control mechanism; it allows you to operate on different workpieces. In that regard, the anti-jam function delivers consistent output while the safety switch keeps you safe. This switch also prevents accidental firing, enabling you to handle various tasks with ease. 
What Could've Been Better? 
We found that it doesn't hold long nails, so there are certain projects where you can't use this staple gun. As a result, it doesn't deliver the best results on hardwood surfaces as short nails won't penetrate the material. Consequently, it's most suitable for working around the house instead of professional purposes. 
Pros
Consistent output

Easy magazine reload

Ergonomic design

Soft grip handle

Prevents accidental firing
Cons
Not suitable for hardwood surfaces

Doesn't hold long nails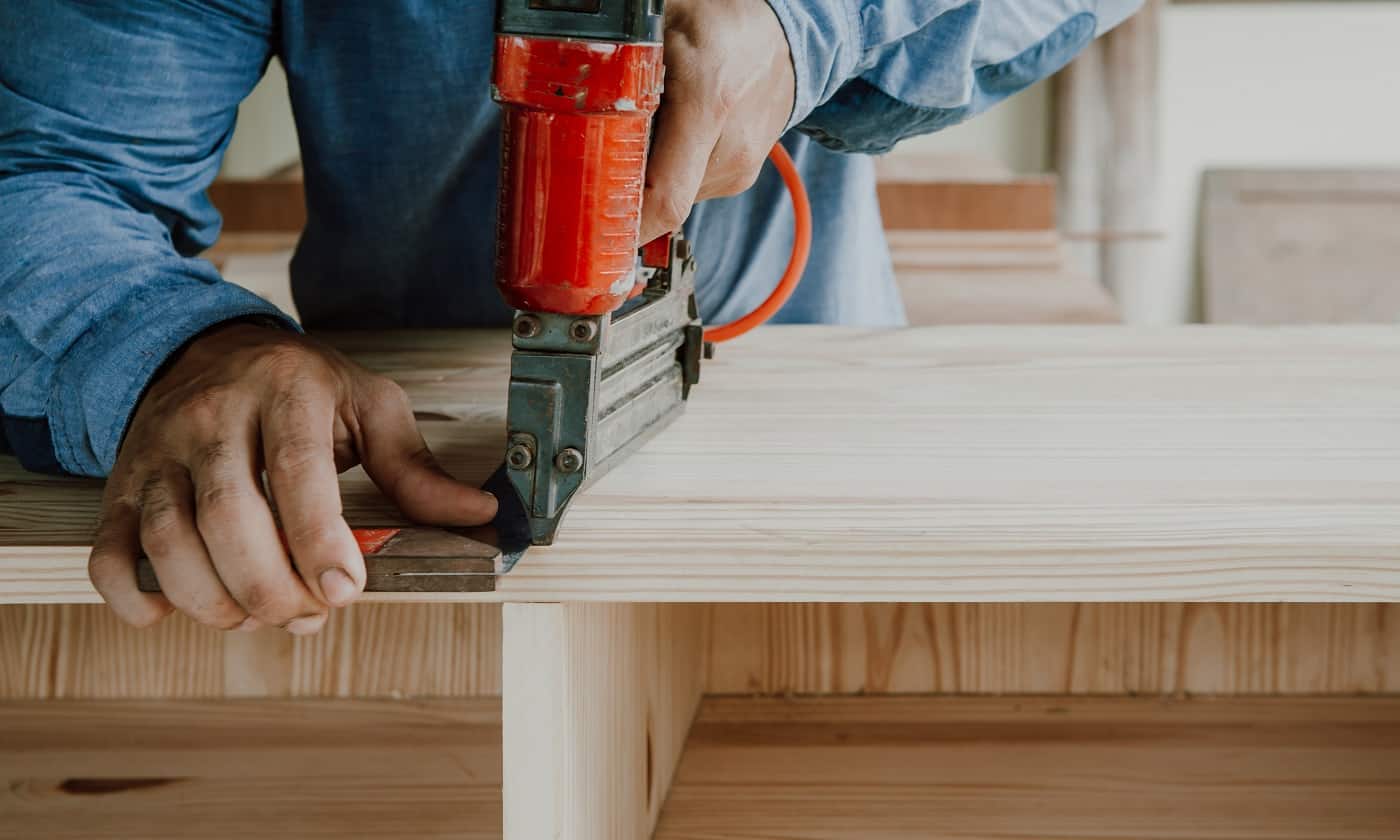 Electric Staple Gun Buyer's Guide 
It's time to focus on the buyer's guide, where we'll be highlighting the essential characteristics of staple guns. You can note the points mentioned below to choose between two similar units and without further ado, let's begin. 
Sturdiness
First and foremost, a staple gun must be sturdy to handle the demands of everyday use. Punching nails and staples into materials of varying thickness is no easy task, so the manufacturers must use only the best materials for construction. Plus, it must last a long time, guaranteeing reliability and a worthwhile return on investment. 
Battery
Secondly, engineers must design a powerful battery that has a large capacity to deliver a steady supply of power. Additionally, it must charge quickly, allowing you to fire nails all day long without any difficulty. 
Adjustability
Finally, a staple gun must be easily adjustable, ensuring that you can change the output based on different tasks. Furthermore, it must be possible for you to maneuver the device in tight spots without compromising on accuracy.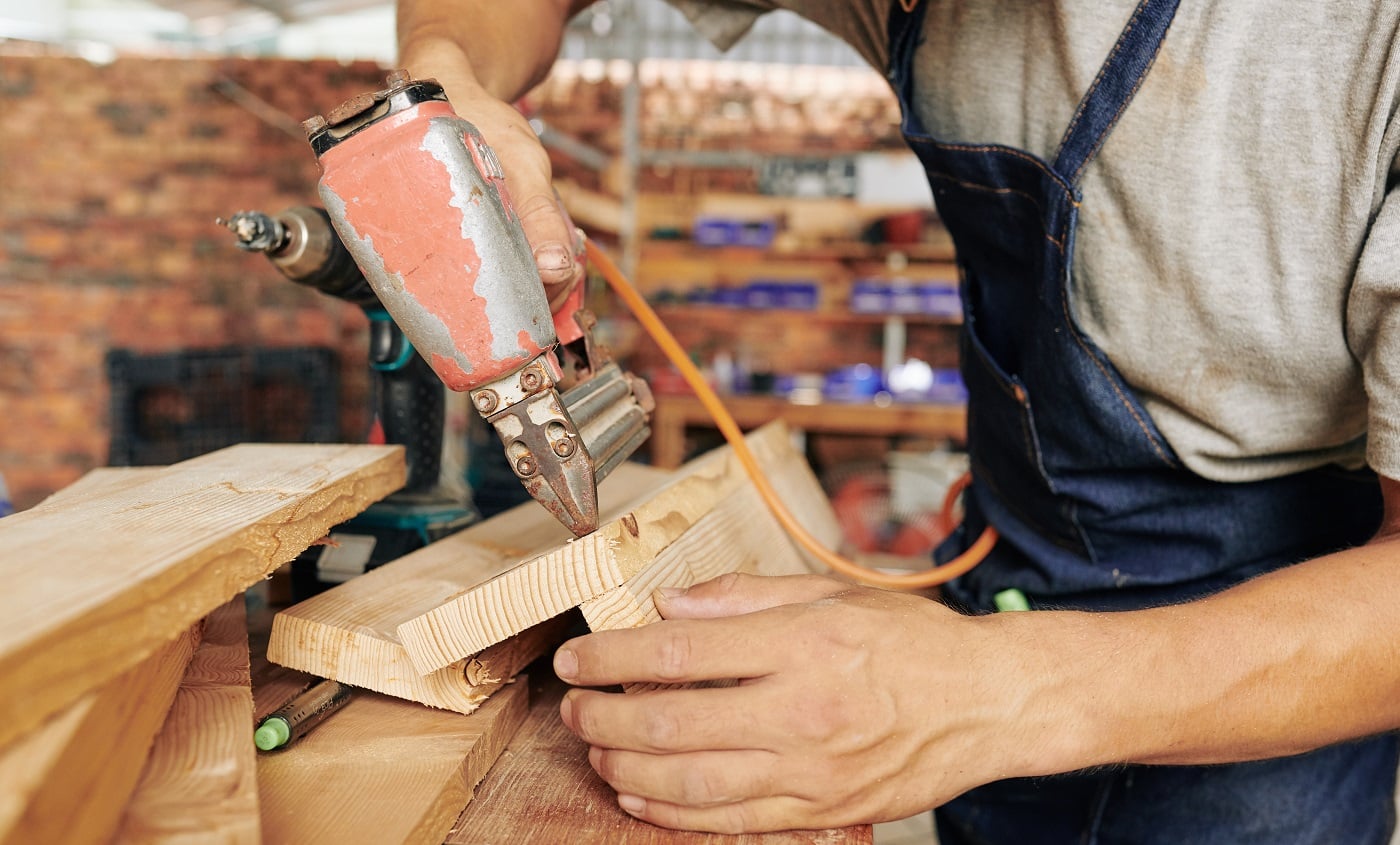 Verdict
We've arrived at the final section of our guide, where we'll be giving a few more pointers before you make a purchase. 
Hopefully, the guide was interesting and informative, allowing you to pick a model from our selection of tools. However, if you're still unsure, there's no need to worry because we'll be highlighting our favorite products in different categories. 
After careful consideration, we've come to the conclusion that the STANLEY Nail Gun is unmatched in terms of maneuverability. Apart from that, the NEU MASTER Staple Gun offers the perfect balance of power and versatility. 
That's all for now, but we'll be back with more exciting product reviews. Remember to keep your staple gun clean and conduct regular maintenance for long-lasting performance. Till then, take care and enjoy the controlled output of this small yet powerful tool. 
You know what they say – great things often come in small packages. Ciao! 
Related Articles
11 Best Budget Drywall Screw Guns 
10 Best Air Compressors For Nail Guns