Security alarms and CCTVs are good for monitoring who goes inside and out of your home, but they are not sufficient. 
Both of these are useful at letting you know who is around but aren't that effective at preventing their entry. This is where sliding gate openers come in because they can prevent unauthorized entry and trespassing. 
QUICK COMPARISON: Best Electric Sliding Gate Openers
As such, once you get an automatic gate opener, you can supervise the main gate using a remote control. A gate opener will ensure that only people you know come in. 
So, if this has you wanting to buy a gate opener, look no further and read this guide. We've compiled a list of the 11 best electric sliding gate openers to help you make up your mind! 
Best Electric Sliding Gate Openers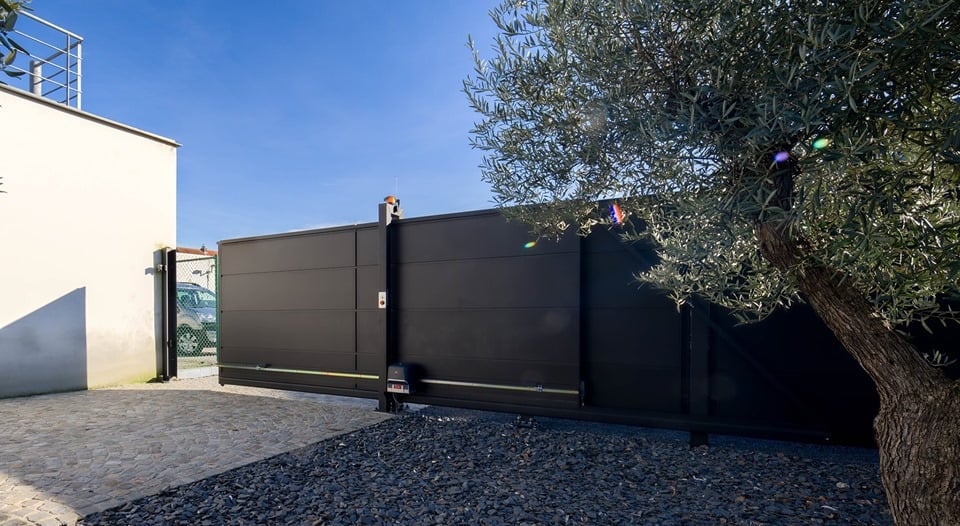 Sale
First up on our list is this sliding gate opener by CO-Z, which can slide up to 40 feet and pull around 1400 lbs. This gate opener also has a powerful yet noiseless motor, and that, combined with a handy auto-close feature, makes this gate ideal for protecting large homes.
Why Did We Like It?
To begin with, we liked how quiet the gate was. Its 280W AC motor makes the gate slide open smoothly at a speed of 43 ft/per minute, which is neither too fast nor too slow. The automatic gate opener also produces less than 56 decibels of noise, ensuring that opening the gate won't alert everyone around.
In addition to that, this sliding gate has an auto-close feature, through which one can set the gate to close in 12, 24, or 36 seconds. The gate system comes equipped with two keychain remote controls, which are effective up to 100 feet. What's more, the gate opener can support up to 23 remotes, making this gate perfect for small communities.
Lastly, the gate is stainless steel and features an aluminum base. The entire unit is also safe to use since it is not only CE-approved but also inculcates RF Hopping Code Technology. This prevents the remote control from being controlled by unauthorized people! 
What Could've Been Better
Though this is a stellar automatic gate opener kit, we did feel that it had one major shortcoming. When we got the package, we found the unit a tad difficult to install, with the instructions also being a bit vague.
Thus, due to the complicated nature of the installation process, setting up the gate opener can get a bit tough for novices.
Pros
Quiet

Customizable

Secure

Heavy-duty

Corrosion-resistant
Cons
Complicated installation process
Next up is this sliding gate opener from Gatexpert, which though a bit pricey, works like a charm and is super functional. The gate can open and close as per your wish, and this way, it will help keep your family, pets, and belongings safe at all times.
Why Did We Like It?
For starters, this sliding gate has a high weight capacity and can also manage long gates with ease. The sliding gate can bear a load of up to 1350 lbs and can lug gates that are up to 26 feet in length.
What's more, the gate is controlled by a single-button remote control, which works effectively within a range of 100 feet. The unit also offers a lot of flexibility regarding the controls and can learn up to 25 of them. Thus, there is a lot of scope for adding and deleting commands to the gate opener.
The gate also has a customizable closing option, which can be set to close after 12, 24, or 36 seconds. Moreover, the motor that handles the movements of the gate has a cool-off function to ensure safety. This means that the motor shuts down if it has been working continuously for more than 15 minutes or has heated up to 120°C. 
What Could've Been Better
This gate opener, too, is victim to ambiguous installation instructions like the first product on the list. They do provide an installation video to help set the sliding gate up, but one has to contact the customer service team to receive it.
This can get tedious, and thus, we recommend that the manufacturers upload the video on their website to make it easily accessible.
Pros
Flexible remote controls

Customizable closing options

Safe

Quiet
The forthcoming entry on our list is the sliding gate from TOPENS, who have been manufacturing security paraphernalia for more than two decades. This particular gate opener is long-lasting, easy to install, and perfect for all kinds of residential and commercial spaces. The automatic gate opener is also packed with features that provide bang for the buck!
Why Did We Like It?
Right off the bat, we liked the load-bearing capacity of this sliding gate, which stands at an impressive 1300 lbs. The gate is controlled by a powerful ⅖ HP 300W AC motor, which is able to pull gates of lengths up to 40 feet. In addition to that, the gate is quiet and equipped with an auto-close function which makes using it easier.
We liked how it has been designed for use with all kinds of driveway sliding gates, such as vinyl, steel, wood, etc. Due to its stellar compatibility, the gate opener can be used in a commercial, agricultural, or residential setting.
However, the biggest advantage of this automatic gate was the ease with which we could set it up. It took us just a few hours to completely install the gate opener, and no extra welding or complicated tools were required. TOPENS also offers a 12-month warranty and a 30-day exchange, which you can utilize in case you aren't satisfied.
What Could've Been Better
When we received the gate opener, we were initially quite pleased. However, the unit broke down within just a week, which was majorly disappointing.
Though thanks to their amazing customer service, we were able to get a replacement within another week, and we have had no complaints about the gate opener since then.
Pros
Ultra-quiet

Auto-close option

Compatible with different kinds of gates

Easy to set up

Warranty and exchange available
Aleko is a well-known brand known for making quality security products. All of its products are well-rated and affordable. This electric sliding gate opener is perfect for people with heavy, big-sized gates since it can handle a considerable amount of weight.
Why Did We Like It?
This sliding gate opener is ideal for heavy-duty use and protects properties in remote areas. It can open gates that weigh up to 1400 lbs and are up to 50 feet in length, making its load-bearing capacity more than many of its counterparts.
The gate opener also offers a lot of customization scope since it supports up to 100 remotes. You can, additionally, get an external receiver (which is usually sold separately) and increase the capacity of the device.
Moving on, we really liked the make of the product too, since the opener is made of aluminum alloy and is resistant to corrosion. It's also quite lightweight and can easily be carried by one person. 
Lastly, it's a breeze to install the device, and it comes with a handy user guide that has all the information you'll need for the assembly process.
What Could've Been Better
We had an unpleasant experience with the customer service since our gate opener was damaged and did not work when it came. The customer service executives took far too long to get back to us, and when they did, they kept redirecting us to many different departments.
We did eventually get a replacement, but not without considerable hassle.
Pros
Heavy-duty

Scope for customization

Corrosion-resistant

Easy to install
Coming in next is this excellent sliding gate opener from Furgle, which has a host of features that make it ideal for any kind of property. This gate opener is not only resistant to water, but it also has the ability to withstand harsh, extreme temperatures. Overall, this is a heavy-duty opener that will be sure to impress you.
Why Did We Like It?
This sliding gate opener features a powerful 550 W AC motor that has a strong pulling force and can handle up to 2640 lbs, which is a lot. In addition to that, the direction of the opening and closing feature can be changed, which makes things quite convenient.
Moving on, the automatic device features two remote controls that can open or close the gate within a range of 100 feet. The opener is also compatible with various accessories and can learn 25 additional commands.
Yet another impressive feature of this automatic opener is that it is extremely quiet as it functions since it is rail-driven and made using pure copper wire. The automatic sliding gate opener makes less than 45 decibels of noise and won't wake the house up and alert everyone if you frequently commute via the gate.
What Could've Been Better
Since this is a rail-driven device, the gate opener took ages to install. Apart from that, the instructions on setting it up were too vague, and we had to do extensive online research to figure out the process.
Pros
Strong and heavy-duty

Customizable remote controls

Low operating noise

Waterproof

Resistant to extreme weather conditions
Cons
Takes ages to install

Vague installation instructions
This electric sliding gate opener by G.T. Master is an excellent option for those looking for a reliable product at an affordable price. It comes packed with features that are sure to impress you, and if they don't blow you away, the price tag surely will!
Why Did We Like It?
For starters, we appreciated the load-bearing capacity of this electric sliding gate opener. The gate opener can support a gate that weighs up to 1300 lbs and has a length of up to 27 feet. It works very well in almost any kind of setting-residential, commercial, etc.
The sliding gate opener also features a remote control that has a singular button. Despite the limited controls, the opener is a powerhouse and can effectively control the main engine and support up to 25 remotes with batteries!
Moving on, it has a cool infrared photocell feature, which works as follows: covering the infrared sensor will automatically open the gate. This helps to secure the property and is an extremely useful function.
We also liked the smart control board with a "soft start" and a "slow stop" function. These make the opener easier and safer to maneuver. 
What Could've Been Better
This device was also plagued by the same issue as many of the other products on our list. I.e., ambiguous installation instructions. The gate opener was a hassle to set up, and we not only had to look up the procedure, but we also ended up asking around for help. All in all, the installation process was an ordeal.
Pros
Supports up to 25 remotes with batteries

Ensures safety

Easy to use

Works in any kind of setting
If you're looking for a reliable electric gate opener that will keep your house, family, and pets safe, then this is the one. The opener is heavy-duty, ideal for commercial and residential areas, and designed to work in compact and tight spaces.
Why Did We Like It?
This gate opener comes packed with innovative features that are sure to impress you. It can be used with gates that weigh up to 1000 lbs and are 30 feet long. In addition to that, it is compatible with all kinds of gates, be those gates made of wood, tubular steel, wrought iron, or any other material.
Apart from that, the inclusion of an Internal Friction Brake Lock means that the safety of people and objects is taken care of. The lock basically holds the gate closed to prevent any unwanted persons or animals from accessing the property.
What's more, you can also customize the gate controls to a great extent. The auto-lock timer can be changed to a time of your choosing, and the gate controls can be programmed for either right to left or left to right opening.
What Could've Been Better
The opener worked fine when we got it, but we did believe that the functionality offered was slightly lesser for its price range. We also read reviews online that mentioned a drop in the quality of the product over the past few years, and we wonder if that is actually true.
Pros
Innovative

Compatible with all kinds of gates

Room for customization

Ensures safety
Cons
Low quality compared to the price
Next up is this excellent option from Eagle Gate, a reputed brand that is known for manufacturing quality products. This model is best suited for medium-duty gates that aren't too long, so if your house fits the bill, this is a great option considering its price.
Why Did We Like It?
This electric sliding gate opener is primarily built for gates that weigh up to 600 lbs and are up to 27 feet long. Thus, it is used for light residential or commercial purposes and cannot handle heavy-duty gates. In addition to this, the gate opener is incredibly easy to install since it is chain-driven and has a 20-inch long nickel-plated chain.
However, that's not all-the opener also features an Eagle Diamond Control Board, which is the most user-friendly board around and is easy to install and understand. The addition of the eight-feature selector allows the user to turn the transmitter into a three-button station.
It's also pertinent to mention that the opener has a ½ horsepower motor, which is powerful enough to be used in a commercial or residential setting. What's more, the gate opener comes equipped with Foot Release (FR) technology that ensures that a power outage doesn't disable the gate and allows it to be opened with a foot pedal.
What Could've Been Better
Compared to all the other products on this list, this one lags in its load-bearing capacity. However, we like how the manufacturers have never tried to masquerade as a heavy-duty option, and the price tag reflects the same too.
Pros
Easy to install

User-friendly control board

Powerful motor

Foot Release to use the opener during a power outage
Yet another excellent option on our list is this gate opener from SereneLife, which is suitable for use even in harsh environments. This is because it has an aluminum body, making it corrosion and weather resistant. Additionally, the opener is easy to install and, thus, is ideal for newbies.
Why Did We Like It?
For commercial and residential purposes, a heavy-duty gate opener is required. This is where the SereneLife gate opener steps in, with a load-bearing capacity of 1322 lbs and the ability to handle a gate of up to 26 feet. Apart from being capable of being used in a variety of areas, it is also compatible with different kinds of gates.
Moving on, the opener is pretty quiet and makes less than 56 decibels of noise when it opens. This is because of its powerful 280W AC motor that drags the gate smoothly at a speed of 43 feet per minute!
The gate opener also has a handy auto-close option with a customizable timer. You can set the gate to close at an interval of 12, 24, or 36 seconds. What's more, the remote control that comes with the device can function effectively within a range of 98 feet and comes with four buttons for easy use.
What Could've Been Better
This is a brilliant product, considering the price at which it is available. However, the customer service was awful because even though the guide mentioned that one could contact them for assistance, they were unreachable. When we did get through to them, they told us they would get back to us, but they never did.
Pros
Affordable

Quiet

Compatible with different kinds of gates

Customizable
The penultimate entry on this list is this majestic opener from HappyBuy that offers superior functionality at a pocket-friendly price. It has wide usability and can secure factories, schools, farmhouses, and other residential and commercial properties. If you have this opener installed, your family and community are sure to feel a lot safer.
Why Did We Like It?
Incredibly easy to operate, this electric sliding gate opener features two wireless remotes with four buttons for seamless use. In addition to this, the remotes can function effectively within a 100 feet range. 
The gate opener also has an emergency release key which kicks into action when there is a power outage or when the electricity is turned off.
We liked how the opener is made of premium pure copper, making it rust-proof and resistant to corrosion. What's more, there's an anti-dust casing and a waterproof covering on the top, which lends it durability and longevity.
Lastly, the anti-shock stroke design of the unit affords it superior functionality and powers it down if an obstruction is encountered while opening or closing.
What Could've Been Better
We really liked the overall working of this opener; however, we ran into a hitch while installing it (since we're new to this). When we attempted to contact customer care about it, we received no response even after repeated attempts.
Pros
Emergency release key

Corrosion and dust resistant

Superior performance

Quiet
Cons
Unresponsive customer support
The final entry on our list is this excellent electric gate opener from YILIKISS, which can bear a load of 1800 lbs and move gates of lengths up to 45 feet. This gate opener also comes packed with multiple features and accessories, making it a great choice for any property.
Why Did We Like It?
One of the key highlights of this product was the inclusion of a temperature protector in the device. Basically, it switches the motor off if the temperature of the motor has reached an alarmingly high level. This way, the motor isn't overloaded, and any risk of it malfunctioning or blowing up is prevented.
Yet another commendable aspect of this device is that it is compatible with sliding gates made of all kinds of materials- wood, vinyl, steel, etc. In addition to that, it even works with gates of different kinds of shapes. Thus, this opener is perfect for use in any sort of residential or commercial area.
Lastly, the gate opener a clever design, allowing users to switch between the open and close modes easily. Moreover, there's also a useful pedestrian mode, which doesn't open the gate all the way but just enough to let a few people through.
What Could've Been Better
The opener has an automatic door closing function, with a timer that can be adjusted to 5,15, or 20 seconds. In our opinion, this is a bit too less, and there should be an option of a waiting period higher than 20 seconds too.
Pros
Motor switches off if it gets too hot

Compatible with gates of different kinds of material

A pedestrian mode that lets a few people through

Quiet
Cons
Auto-close timer has limited options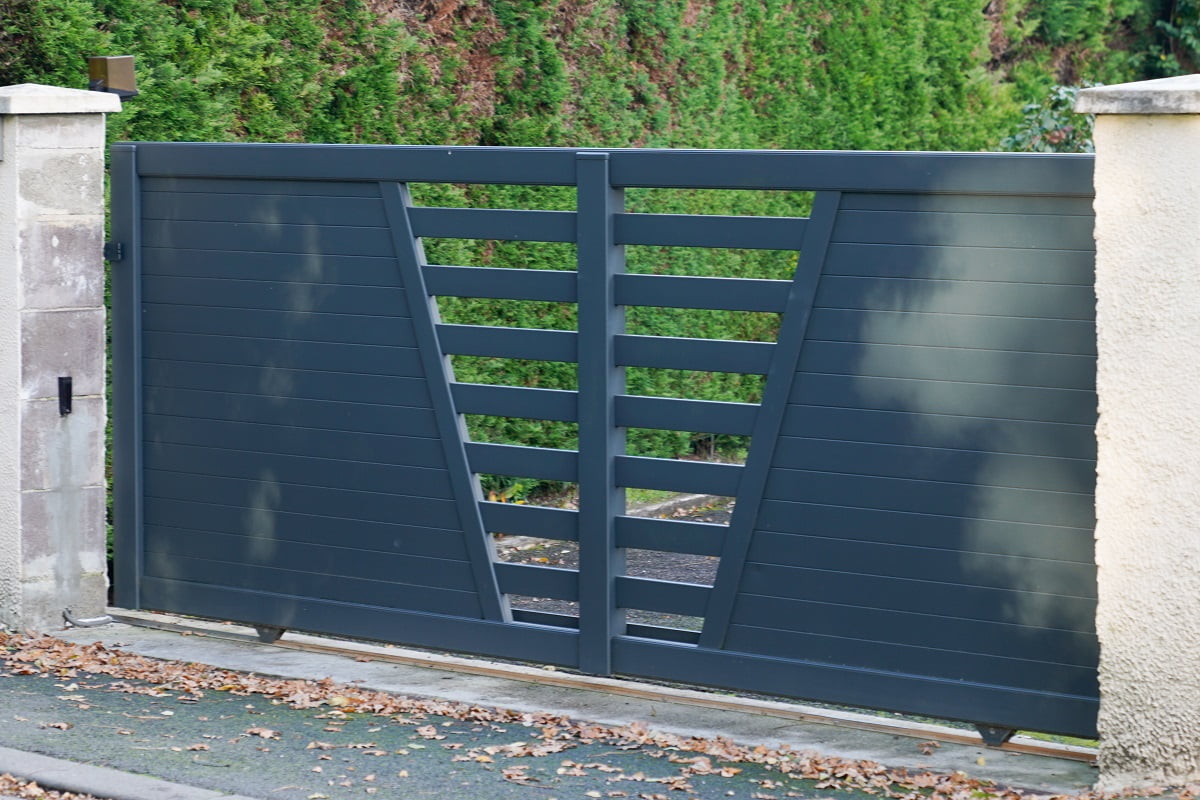 Buying Guide for a Top Gate Opener
To help you select the best electric sliding gate openers, we decided to test out the gate openers ourselves and carefully evaluate all aspects of them. Lots of factors influence the kind of opener that one should get, and you should buy one after keeping all of them in mind.
Swing gate openers also exist; however, we did not feel that a swing gate opener can be compared on an equal footing with sliding gate openers; thus, we omitted to include them in our analysis. The options on our list of gate opener remotes have a wide range when it comes to both pricing and load-bearing capacity, so we're certain that you'll find something that meets your requirements.
Furthermore, electric slide openers also differ from each other on the basis of the area covered by the remote control and the steps needed to install them. Most of the automatic gate openers on our list come with installation guides, and additional information on setting up is easily available on the internet.
If you're getting an opener for the very first time, you should pay special attention to its features. Since gate openers are not a cheap investment and returning items is a hassle, it would be best if you found the perfect opener on your first try. So, here are some things you must consider while buying sliding gate openers:
1. Quality Of Gate Opener Material
Ensure that the gate openers you buy are resistant to corrosion and can withstand different weather conditions. Since gates are always located outside where there is no shelter, openers are susceptible to damage and wear and tear. 
If you're looking for a durable opener, we recommend the Aleko Electric Sliding Gate Opener.
2. Ease Of Gate Opener Installation
As you may have noticed, some of the gate openers products on our list are otherwise perfect but are bogged down by tedious installation procedures. If you're a first-time buyer, you should be especially careful about buying an opener that is easy to set up. This is why we recommend the TOPENS Electric Sliding Gate Opener since it comes with handy installation guides and step-by-step instructions.
3. Gate Opener Energy Efficiency
This might be a little difficult to ascertain, but it's well worth the extra effort. Getting an energy-efficient opener means lower electricity bills in the long run. So, do your research well and get an opener that doesn't draw too much power and is in compliance with all standards.
4. Gate Opener Emergency Release Feature
Many systems come with a feature that allows the gates to open despite no power or voltage fluctuations. Our recommendation, thus, would be the opener by Eagle Gate since it has a handy Foot Release that opens the gate manually in case of an outage.
Best Sliding Gate Openers
Do Automatic Gates Have Manual Override?
Some of the options on our list come with emergency override options. This means that even if the opener is unable to function due to a power outage or breakdown, you can open the gate using a foot pedal or something similar.
How Do You Install An Automatic Opener on My Gate?
The instructions to do are usually provided along with the package. However, do not hesitate to reach out to customer support if they are unclear. If customer support executives are unresponsive, you can always ask around on the internet.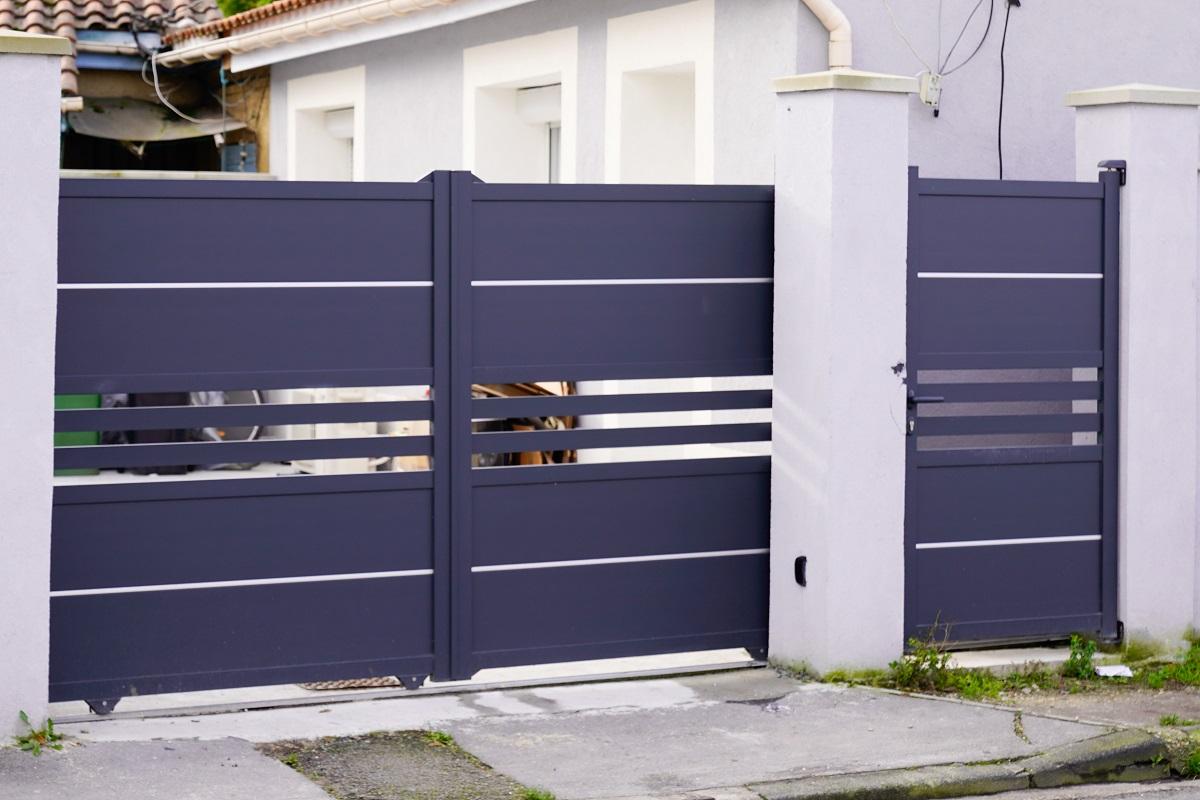 Verdict on the Best Automatic Gate Opener Remotes
As we're nearing the end of the guide, it must be evident to you that selecting a gate opener is no easy task. If the many gate openers are buzzing in your head and making you feel confused, we'll let you in on our pick to help with decision-making.
Our vote goes to the CO-Z Electric Sliding Gate Opener due to its superior functionality, rave reviews, and pocket-friendly price.
With this, we've come to an end, and we sincerely hope to meet you again with another informative review-based guide. So, until next time!
Related Articles
23 FREE Detailed DIY Garage Plans With Instructions To Actually Build
41 Best Driveway Gate Ideas and Inspiration For Your Home
Insanely Beautiful DIY Upcycled Garden Gates That You Will Simply Adore
33 Brilliant Home Fence Gate Design Ideas to Protect Your Home in Style