Disclaimer | This article may contain affiliate links, this means that at no cost to you, we may receive a small commission for qualifying purchases.
Cooking emissions are unavoidable in the kitchen. However, you can improve the air quality considerably by buying a ductless range hood for the stove.
Why ductless, you may ask! Range hoods carry emissions out of the kitchen area via ducts, which suck cooking fumes out and pass them through vents to the outside. However, range hoods that filter odors and harmful agents are known as ductless range hoods.
Moreover, ductless or non-ducted range hoods do not extract air like normal hoods. They recirculate air and distribute it to keep the kitchen clean. In fact, the air quality is improved by charcoal filters made of carbon, and that is brought back into circulation in the cooking area.
To increase cleanliness and safety at home while cooking, buy a ductless range hood that can recirculate air quietly as you do your work. We have carefully curated this list of the eight best options out there.
Without further ado, let's get straight to the reviews.
Top Ductless Range Hoods
IMAGE
PRODUCT
DETAILS

Our Top Pick

Our Top Pick

Broan 413004 Non-Ducted Ductless Range Hood

Rocker-type fan
Non-ducted filter
Rocker switches

VIEW LATEST PRICE →

Cosmo COS-5MU30 Ductless Range Hood

3-speed motor, 56dB maximum sound level
Brushed stainless steel
5-year limited warranty

VIEW LATEST PRICE →

Hauslane PS18 Chef Series 30" Range Hood

3-way ventilation
Six speed settings
Buttonless design

VIEW LATEST PRICE →

Cosmo COS-QS75 Range Hood

500 CFM airflow
4-speed fan
5-year limited warranty

VIEW LATEST PRICE →

Broan PM390 Range Hood

390 CFM at 6.0 sones
1-year limited warranty
Heat Sentry system

VIEW LATEST PRICE →

ZLINE KB-30 Range Hood

4-speed fan
21-gauge brushed stainless steel
3-year warranty

VIEW LATEST PRICE →

Broan PM250 Range Hood

Two or three-rocker wall switch
Two-speed motor
7-inch round duct

VIEW LATEST PRICE →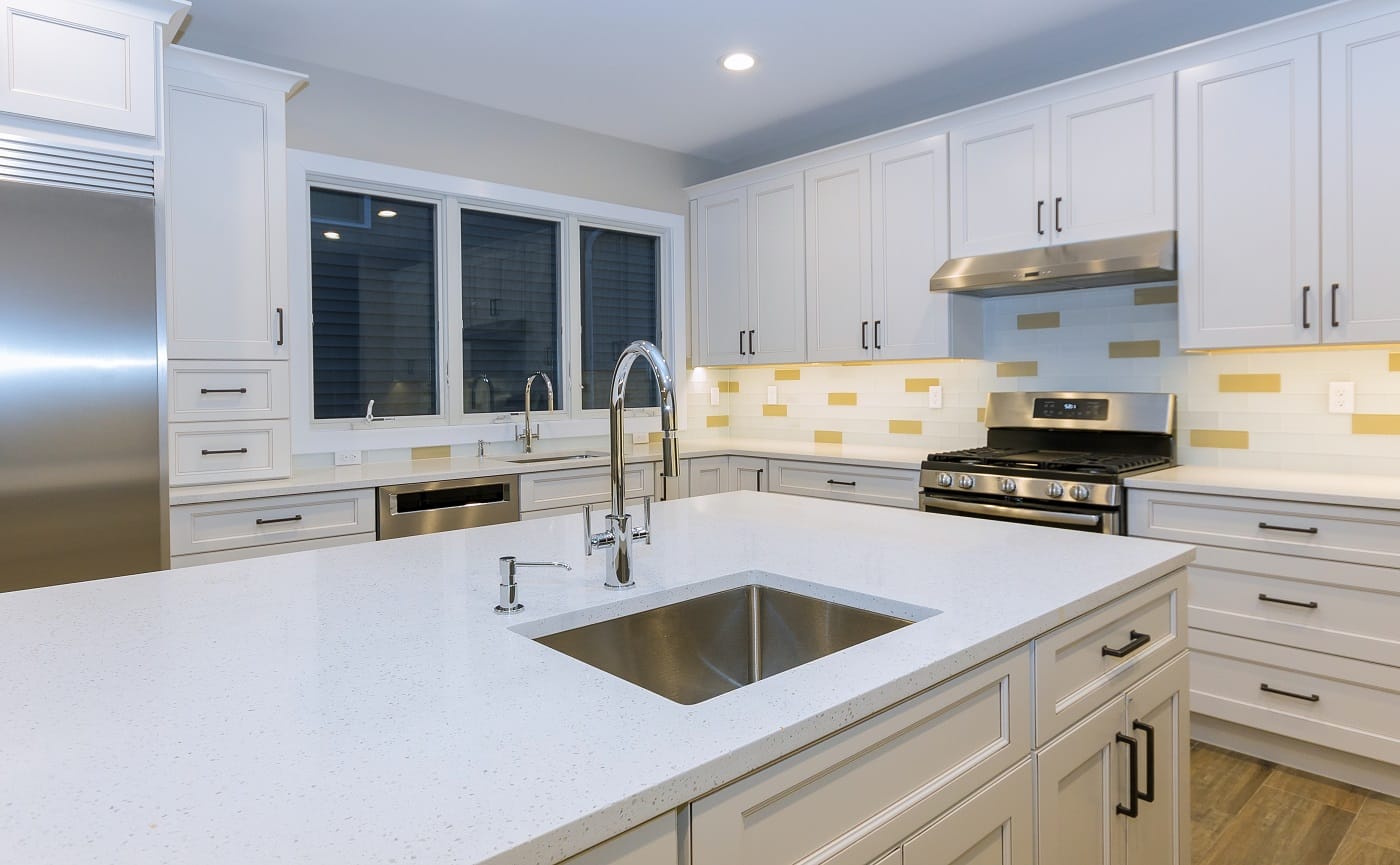 The main feature of this ductless range hood is an insert that is made of fine stainless steel. It provides ventilation and improves the lighting over the stove by throwing direct incandescent light. This is accompanied by a non-ducted filtration system that systematically removes odors and smoke from the kitchen.
Why Did We Like It?
The insert gives you all that is required for good ventilation at home. It serves as both a lighting device and an exhaust fan for the kitchen. Long story short, your kitchen gets that perfect finish with the stainless steel body of the overhead hood.
Moreover, the ductless range hood can be tucked away neatly under the cabinets of the kitchen. It is as simple as that to get quality air control for your home!
A lamp throws incandescent light over the stove that can be fitted with a light bulb of 75-watts, at best. Besides, the bulb recommended for this lamp lens is known as A-19, and this lens helps distribute light evenly over the stove.
That's not all; the hood has a filter made of charcoal that is completely replaceable. It can keep the kitchen fresh by maintaining the range hood's capacity to capture grease and oil.
What Could've Been Better?
Kitchen applications are usually bought, keeping in mind that they are going to be used every day. You also want them to last for a long time. But, there is only a limited 1-year warranty on this ductless range hood. And that is not adequate for a long-term solution to the smoke and pollutants in your kitchen.
Pros
Easy care

Versatile

Easy installation

Lightweight
Cons
1-year limited warranty

Noisy exhaust fan
This convertible duct has been built with cutting-edge technology and a lot of attention to detail. The premium range hoods made by this brand also come at a price that you can easily afford. Safety, health, and design have been carefully considered in the making of this product.
Why Did We Like It?
This sleek convertible duct has been built to fit any place above the stove in the kitchen. Even if there are cabinets above the cooking range, this Cosmo unit is designed to fit between the stove and the kitchen fittings. So, it's safe to say that its design saves space and the need for early renovation.
Also, the slim and stylish ductless range hood is specially made for condos and apartments. You have the option of back venting or top venting, whichever is more suitable. And it can easily be mounted on a wall or installed under a cabinet to make cooking healthy and easy.
That's not all; the convertible duct has reusable aluminum filters that can remove the dirt and grime from the stove. The mesh filters can easily trap oil and grease for effective cleansing.
Last but not the least, there is a 5-inch duct round in shape that fits inside the exhaust vent. This can easily blow out the pollutants from your kitchen.
What Could've Been Better?
The ductless range hood is hardwired. You may need to visit the store and get some tools and accessories to fit the power cord in a suitable place. Simply make a power cord change as per your requirements. Or get some professional help for minor customization.
Pros
Safe cooking

Efficient cleaning

Noiseless filtering

Attractive design
Cons
Installation guide could be difficult to follow

Might need customization
This range hood has a stainless steel finish that makes the cooking area look sleek and stylish. A digital screen makes the job convenient while you are gauging the performance of this range hood. Also, the accompanying baffle filters give you the kind of efficiency that the kitchen requires.
Why Did We Like It?
The duct comes with a 3-way exhaust option that can remove dirt and grime from the rear of the range hood. The set also includes a 3-way adapter that can fit a round or a rectangular duct.
Moreover, the baffle filters are specially designed to soak in a lot of cooking grease. They have deep grooves that give them the ability to do so. The most significant advantage is that they are easy to clean in a dishwasher. All you have to do is put them in for a wash when they are soaked with oil and grime.
Finally, an LED display and buttonless functions make the range hood easy to operate and maintain. Cleaning it is effortless, with no hidden nooks and crannies to wipe because of the buttonless design.
What Could've Been Better?
The settings of the range hood can be adjusted to suit your needs. However, the speed of the exhaust fan is related to the quietness and efficiency of the gadget. You might just have to bear with some noise while this range hood does its job.
Pros
Easy to maintain

Easy to clean

Simple to use

Available in 3 colors
This range hood has the added advantage of twin centrifugal motors and a backlit touchscreen. The 4-speed fan can ventilate your kitchen faster than a lot of other range hoods. A carbon filter included in the kit can help deliver ductless performance when required.
Why Did We Like It?
The range-hood is fitted with arc flow stainless steel permanent filters, which are durable and dishwasher-safe. The filters and other parts of this unit use the latest technology in ductless range hoods.
Also, the hood comes with 1.5 watt LED lights capable of illuminating the kitchen stove area at night. The LED lights can last for a long time, ensuring enough brightness to help in your cooking.
If you have limited space in the kitchen, it will not be difficult to fix this range hood onto the wall where your stove is set up. Even if there are cabinets above the stove, this Cosmo unit is built to sit comfortably between the stove and the cabinets in the cooking area.
What Could've Been Better?
The range hood comes with accessories required to install it in the kitchen. But you might need some extra clamps and additional tools to fit the range hood properly in its place. If you do buy this range hood, anticipate additional costs and some trips to the store.
Pros
Dishwasher-safe

Durable

Affordable price

Long-lasting LED lights
Cons
Additional accessories required

Instruction manual inadequate
The PM390 hood is high in quality and provides both lighting and ventilation for your cooking. The lamp lens uses two 40-watt incandescent bulbs, which are enough for lighting up the entire kitchen area where the stove is installed. Read on to know all the deets about this product.
Why Did We Like It?
With this range hood, you have three speed slide controls that give you 390 CFM at 6.0 sones fan speed. The filter is made of aluminum that can be washed easily to maintain its functions – like soaking grease from the cooking fumes.
Also, you can wire the hood either to a 2-rocker or 3-rocker wall switch. If you do that, you could manage the range hood from one switch. However, the cooking environment has to be ADA-compliant for you to install this in the kitchen quickly.
Moving on, we were impressed by the Heat Sentry system installed in it. It can automatically detect an increase in the temperature of the kitchen. As such, it switches the speed of the blower for the safety and protection of the house.
Finally, there is an option to fit a 6-inch round duct with the hood or go with non-ducted operation.
What Could've Been Better?
Even though the lamp lens uses two incandescent 40-watt bulbs to provide bright light in the cooking area, you might encounter problems with it. That is because the lamp clips that hold the bulbs are thin. They are made of plastic and might need replacement soon.
Pros
Easy care

Versatile

Automatic heat detection

Great design
Cons
The hood can be noisy

Inferior plastic lamp lens clips
The KB-30 can be fitted onto a ceiling as high as 7ft to about 12 feet. The range hood can also take on chimney attachments available as short kits or extension kits. This range hood also has optional charcoal filters, which can vent out or recirculate the air in the kitchen.
Why Did We Like It?
This one is a range hood with an installed fan and blower, which makes it easy to handle and use in the long run. The KB-30 also has a factory assurance for performance and durability. That's not all; it comes with various approvals and certifications in the US and Canada to meet quality standards.
For example, the CE, GS, and CCC Safety Approvals guarantee health, safety, and performance for your kitchen. You can also avail the benefit of activated charcoal filters to switch between duct or ductless performance.
Moving on, the hood body is made of 304-stainless steel, which is tested and is strong enough to withstand all the kitchen elements. There are two other options available for this range hood made of different grades of stainless steel.
One of the hoods has a finishing made of brushed stainless steel, while another is made of 430 stainless steel material. Both the 304 and 430 grades are made of 21 and 19 gauge materials, respectively.
What Could've Been Better?
It would be advisable to check the fan's power to measure its compatibility with the kitchen's environment. The size of the room can determine how well the exhaust works for your house. It just may not be enough to suck the smoke out of the kitchen.
Pros
Great design; suitable for most kitchens

Range up to 760 CFM

Dishwasher-safe filters

Durable wall hood
Cons
Exhaust might not suit kitchen area

Could need professional help for installation
This hood insert gives excellent performance while lighting and ventilating the cooking area in the kitchen. It also has three-speed slide controls for the exhaust to adjust according to the kind of cooking you do. Long-lasting 40-watt candelabra bulbs can do the lighting.
Why Did We Like It?
The range hood has a washable aluminum mesh. It ensures that your kitchen remains clean and the grease is soaked out in the best way possible to keep the air fresh and healthy.
The best part is that this range hood is easy to maintain. It can be cleaned in a short while, and the filters can also release the air quickly. You can wash the filters in a dishwasher without worrying about scratches or damage. All in all, the range hood will give you plenty of free time from the kitchen!
Finally, the range hood can also work in an ADA-compliant situation. Just wire the hood to a two or three-rocker wall switch that can turn it on or off. The entire range hood has a silver finish and can last a long time. The aluminum mesh filter is optional, as are the charcoal filters.
What Could've Been Better?
The fan is easy to install but may disappoint in performance. At high speed, it could make some noise that can disturb the environment while cooking. Also, the fan might not move much air in the kitchen. If you want the fan in plug-in form, just get professional help.
Pros
Easy care

Versatile

Easy cleaning

250 CFM of exhaust with 8.0 sones
Cons
Fan could need rewiring

Noisy fan on high speed
The UC30 has multiple features that ensure precise and quality airflow in the kitchen. This range hood minimizes the risk of contaminants, grease, and odors in the kitchen while ventilating the cooking environment. It has push-button controls and a 3-speed fan with a range of 308 CFM.
Sale
Why Did We Like It?
The filters in this range hood can last for a long time. They are permanent filters that need not be replaced at all. Easy to maintain, the filters can just be put for a wash in the dishwasher when they need cleaning. There is no need to worry about their safety as the filters are dishwasher-safe.
Moreover, this premium range hood comes at a price that you can easily afford. It is not only built to suit the architecture of your beautiful home but has cost-saving parts that make it an excellent buy for the kitchen.
In particular, bright lighting is made possible by putting durable 2-watt bulbs into the lamp lens. These bulbs also provide good visibility at night. Both the permanent filters and the lights make the range hood durable and an option worth considering for the safety and health of your home.
What Could've Been Better?
The fan is housed inside a frame that is made of plastic. The duct flaps are also made of the same material. The fan might be noisy or vibrate at high speeds due to the build and material, disturbing the kitchen environment.
Pros
Built with cutting edge technology

Easy to clean filters

Dishwasher safe and durable filters

Power saving lights
Cons
Fan body is made of plastic

Could be noisy at high speed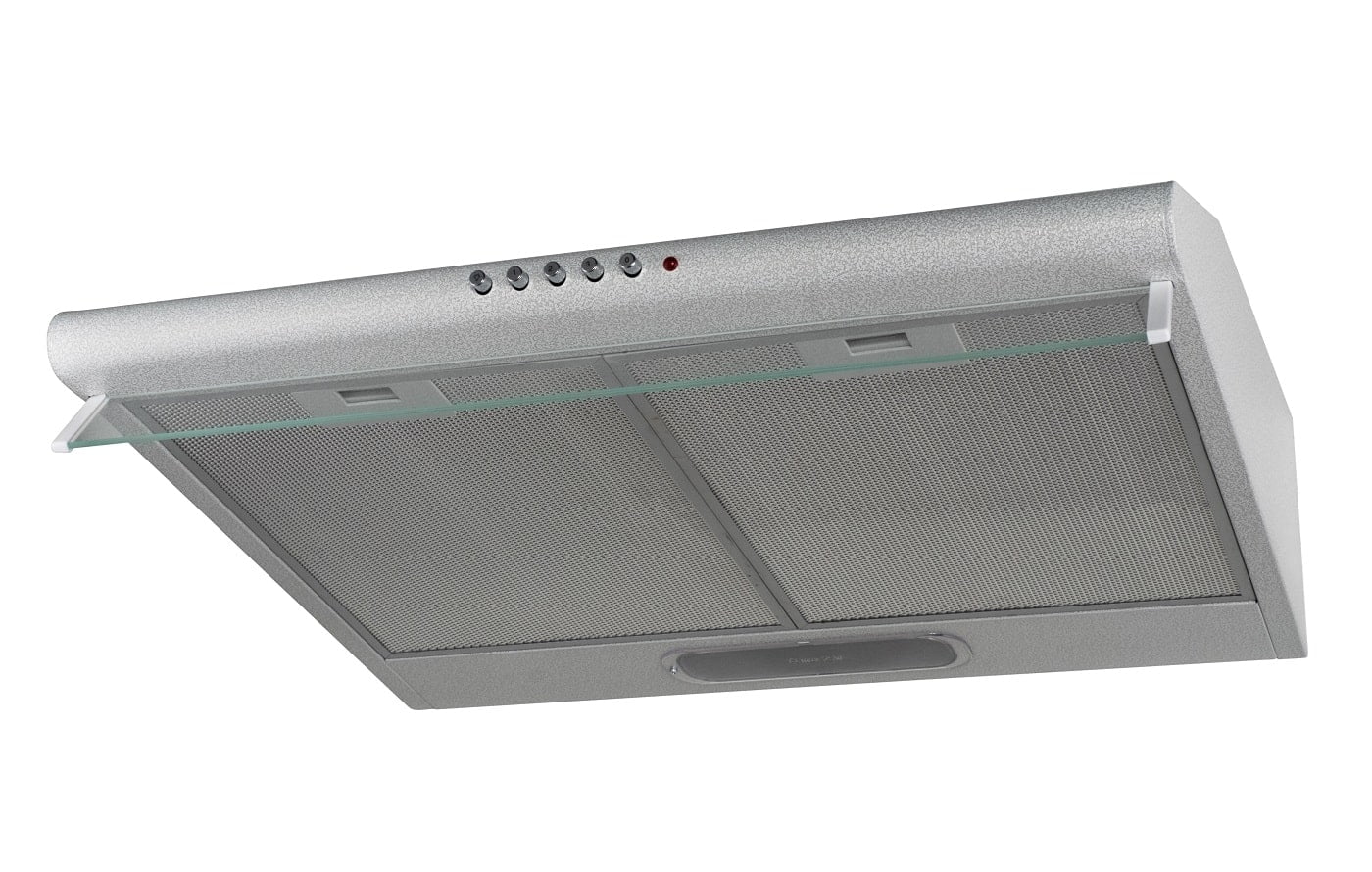 Ductless Range Hood Buyer's Guide
There are several factors to consider while choosing the best ductless range hood available this year for your kitchen. We are sure you have identified just the right hoods from our detailed product reviews for the safety and health of your home.
But, there are some essential features of these range hoods that need deeper insight before you consider selecting the best hood for your needs. For this, we have put together a buyer's guide so that your decision does not wait anymore!
Below are the main features of a range hood that can help you arrive at the perfect choice as quickly as possible.
Kitchen Safety And Health
It is essential to check the exhaust fan, filters, and lighting in any range hood before considering it for the health of the environment in the kitchen. Also, the technology has to be efficient and powerful for keeping the kitchen contaminants at bay and the room odor-free.
Durability
Your range hood should last long years; hence, installation should only be a one-time affair. Check the quality of the product, including its certifications. Insurances and warranties are an added advantage for replacement and damage control. Choose wisely for the longevity and look of the kitchen.
Latest Technology
Keeping the cooking range and kitchen up to date in terms of health and design is natural. Just make sure the range hood matches all your kitchen's requirements. The functions and performance of the parts are essential to gauge before buying any particular range hood. Technology, too, needs to be effective in the long run.
Easy Installation
Since it is most likely that you will install the range hood in the kitchen by yourself, do check the parts and accessories. Find out the details of the assembly and all the necessary tools for the entire setup.
Remember that some hoods do not include all accessories. You can always get professional help at a fee to fix the range hood and all its parts.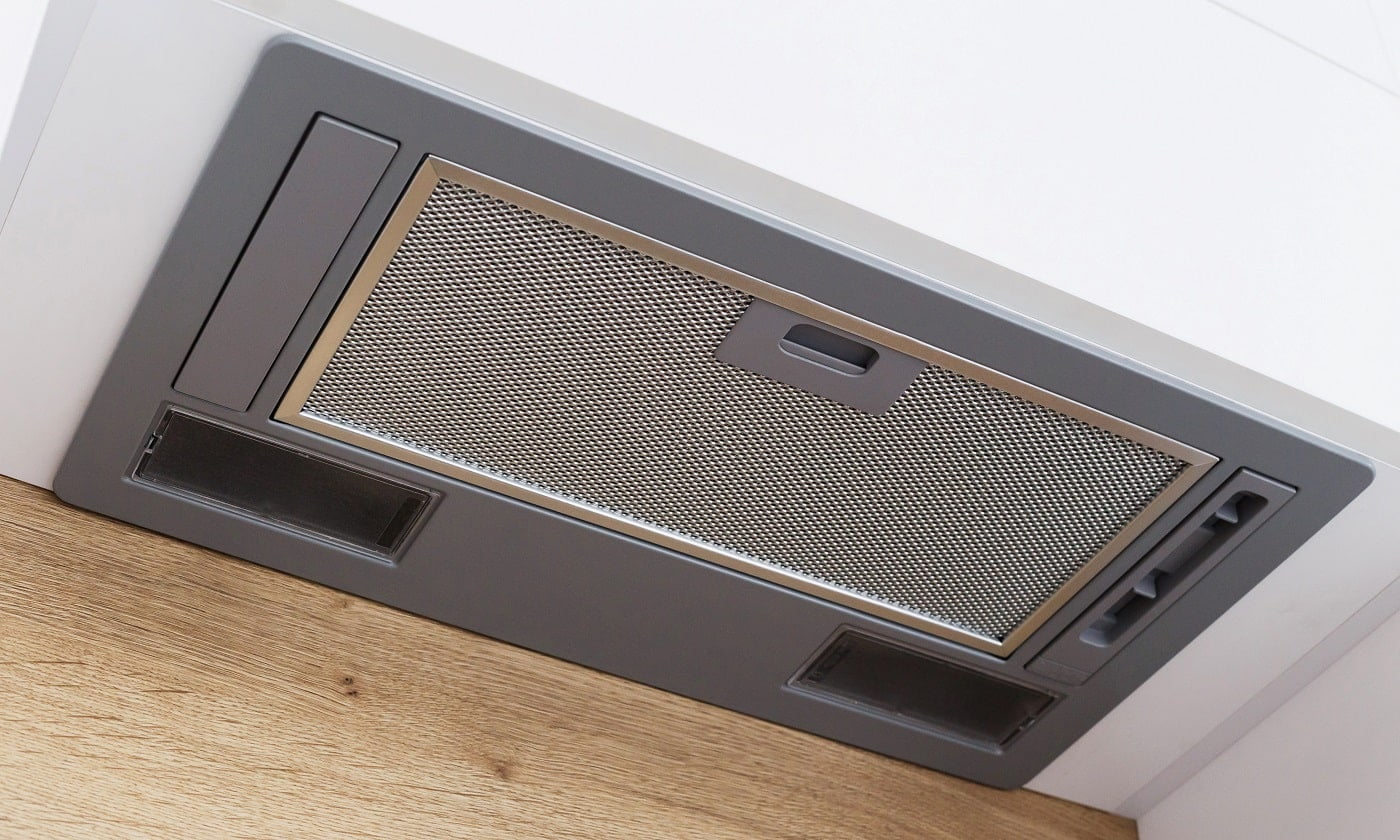 Verdict
With that, we have reached the end of this review-based guide. But before calling it a day, allow us to recap our favorites from the list to help you a tad more.
The Broan PM390 Range Hood has a Heat Sentry that can automatically detect excessive heat in the kitchen and adjust the controls accordingly. It can also fit comfortably, irrespective of the design of the kitchen.
On the other hand, the Broan 413004 Non-Ducted Ductless Range Hood is easy to install and gives the kitchen a stylish finishing touch.
But nothing beats the Cosmo UC30 Range Hood in terms of design, durability, and kitchen safety. A 5-year warranty on the multiple-feature hood gives the assurance required for the safety and health of the kitchen.
On that note, we will sign off. Take care!
Related Articles
11 Best Under Cabinet Range Hood
7 Best Broan Range Hoods Reviewed