Frustrated with the inconsistent water outflow of your defective shower? It's high time you get a dual shower head. 
These amazing models are relatively new on the market but have already gained great popularity. The reason? A good quality dual shower head offers the consistency, flexibility, and comfort that you desire and comes in various attractive designs. 
So, going for such a model would definitely be a wise decision. But, given the availability of a ton of options out there, choosing the ideal one becomes difficult. 
That's why we've tried to make the task simpler for you by curating this comprehensive guide on the 11 best dual shower heads on the market. We've also included a buyer's guide to help you make a well-informed decision. 
With that said and done, let's dive in!
Best Dual Shower Head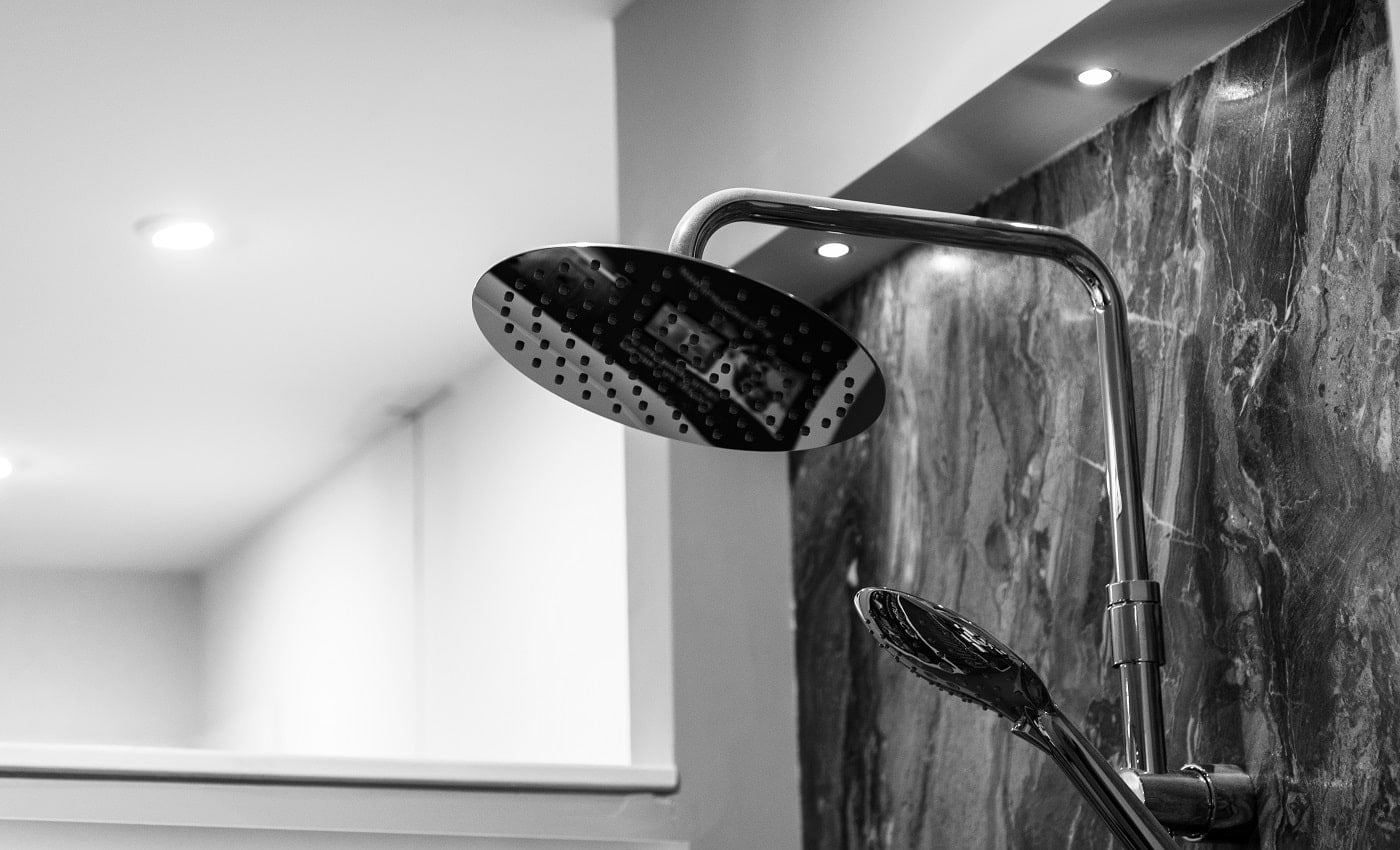 Tested by experts to meet the highest US standards for performance and quality, this dual shower head can make every shower enjoyable and comforting. It is equipped with a slew of top-notch features that work to provide ultimate user convenience. In fact, this model can also be a great out-of-the-box gift option for any occasion.
Sale
Why Did We Like It?
First things first, this dual shower head consists of overhead and a handheld option, each with a diameter of 7 inches. This large diameter gives you a thoroughly immersive experience with every shower. 
Another great benefit of going for this model is that its installation doesn't require any tools. On the contrary, it can be completed just by tightening the shower heads by hand. The two fixtures also fit any of the standard shower arms. 
Last but not least, these shower heads come with six different settings, viz. pulsating massage, rain massage, power rain, rain mist, and the water-saving pause mode. This allows you to regulate the water flow as per the need so that you can enjoy the desired style of showering at any point of time.  
In addition, the three-way diverter valve allows you to utilize a single shower head or both of them at once, thereby providing additional convenience and flexibility. 
What Could've Been Better?
This dual shower head needs more frequent maintenance than many other models. As such, you'll have to clean it at least once a week to ensure too much dust or dirt doesn't accumulate on the two heads. But we don't have any other complaints regarding this one as it delivers a commendable performance. 
Pros
Comes with a handheld and overhead option

Installation is completely tool-free

Six shower settings help you get the desired showering style

Both shower heads can be used at once or separately
Cons
Needs more frequent maintenance
Next, we've chosen this efficient model from Hydroluxe that's also a great option if you want to have a pleasant and refreshing shower each time. Customers from across the country have praised it for its range of highly effective features. From our experience with this model, we are sure you'll be delighted with its performance.
Why Did We Like It?
We found the most noteworthy feature of this shower head to be the availability of 24 water-flow patterns, including full as well as combined ones. For activating any of these patterns, you just need to click the lever dial provided on the shower head. This feature facilitates user convenience to a great extent by letting you bathe in the style you prefer.
What's more, the model offers five shower settings like our previous pick, which include massage, economy rain, stay-warm mist, power rain, and a pause function. It also has flow limiters fixed within, which ensure that the water pressure never exceeds 2.5 GPM. This results in a reduction in water wastage, thereby putting it a step ahead of other models. 
Furthermore, the model comes with a durable 3-way diverter which enables you to operate both the shower heads at the same time or separately as per your needs. 
What Could've Been Better?
The only downside of this dual shower head is that the packaging material used is not strong enough. This makes it prone to damage while being delivered. So, make sure you check all the parts of the model thoroughly to ensure it's in the right condition. Apart from that, it delivers a pretty consistent performance. 
Pros
Boasts of 24 water flow patterns

Flow limiters reduce water wastage

Shower heads can be operated at once or separately

Offers five shower settings for more convenience
If you're searching for something that looks different from the general round-shaped shower heads, you would love this model for sure. Coming with utility-based features, it also ranks high in terms of performance and durability. So, let's move on and have a closer look at all that it offers.
Why Did We Like It?
To begin with, each of the shower heads in this model has a diameter of 4.75 inches, which facilitates a wider coverage. We were also impressed with the push-button control on the handheld shower head, which lets us operate it with one hand. Thus, you don't require turning any dial as in the case of ordinary models. 
The highly fashionable square shape of the shower heads, along with a superior-grade chrome finish, is another factor that sets it apart from other models. Plus, they have rub-clean jets that help you clean mineral buildup easily; just rub each nozzle with your fingers, and it's done. 
You even get really effective customer support that tries to resolve all sorts of queries. And finally, there's an instant return or replacement policy if you're not satisfied with the performance. 
What Could've Been Better?
Some customers complained that the Teflon sealing tape in the package that has to be used after tightening the shower heads is much thinner than the standard size. Hence, they suggested that it was best to purchase a thicker Teflon tape for the purpose. But they were pleased with how the model worked. 
Pros
4-75-inch diameter facilitates wide coverage

Fashionable square shape

Rub-clean jets help clean mineral buildup easily

Instant return or replacement policy
This Bright Showers model is another good choice if you want a shower head that stands out from many others in terms of looks. It also makes each shower ultra-comfortable; in fact, it offers a spa-like experience that's bound to impress you. Plus, this model is available in 4 attractive colors.
Sale
Why Did We Like It?
Firstly, the ABS plastic material of this dual shower head enhances its strength and durability to a great extent and also provides great heat resistance. This ensures it delivers consistent and long-lasting performance for the years to come. In addition, the rectangular shape of the fixed shower head and the wand-like design of the handheld one is visually quite appealing.
Another advantageous feature is the 5-feet long hose that's flexible and also comfortable to handle. 
There's also an adjustable swivel connector on the shower head, which can be adjusted 360-degree to position it at the desired angle. Plus, its stainless steel material is very sturdy and damage-resistant and is coated with a beautiful oil-rubbed bronze finish.
And that's not all; the 8.9-inch width of the fixed shower head ensures much wider coverage than most other models on the market. 
What Could've Been Better?
We felt its only drawback was the availability of just two shower settings, which makes it lag behind other models in terms of user convenience. As such, some users may choose another one coming with more shower settings over this model. But performance-wise, we didn't spot any issues with it. 
Pros
ABS plastic material enhances strength and durability

Flexible and comfortable hose

Beautiful oil-rubbed bronze finish on hose

Visually appealing design
Cons
Offers only two shower settings
Halfway through the list, we've included this dual shower head from Waterpik that not only offers the ideal comfort but also heals the body with each shower. In fact, many homeowners all over the country have expressed their satisfaction over its performance. The brand also offers efficient and reliable customer service.
Sale
Why Did We Like It?
The single biggest advantage of this model is that it uses a highly efficient PowerPulse water massage technology to make each shower truly therapeutic and rejuvenating. It enables a deep massaging effect and provides up to twice the massage force to help soothe the tension in muscles and increase body flexibility. 
You can even get a more restful sleep by using this model regularly. Sounds great, doesn't it?
For this purpose, it utilizes a combination of three spray modes, viz. full body, massage, and PowerSpray to offer eight spray settings. 
A water-saving spray mode is also included along with these therapeutic massage settings. To activate any of these, you just have to move the small knob attached to the lower part of each shower head.
Moreover, the 5-inch diameter of the fixed shower head helps in providing the desired coverage consistently. 
What Could've Been Better?
The stainless steel material used for the hose is not as durable as that offered by other models. As such, it might not remain in the right shape after a few years of use. We also didn't find any information related to the warranty offered by the brand. 
Pros
Uses a highly efficient water massage technology

Provides relief from muscle tension

Lets you change the spray settings easily

5-inch fixed shower head provides the desired coverage
Cons
Less durable stainless steel material of hose
HotelSpa is well-known for its range of good-quality showers, and this model from the brand is definitely one of its best dual shower heads. Coming with an advanced and sophisticated design, it offers the right combination of comfort, convenience, and efficiency that most users desire.
Sale
Why Did We Like It?
What we liked the most about this shower head was its SpiralFlo design that provides superior-grade flow performance and water pressure. You won't have to worry even when the water pressure at the source is lower, as it efficiently maintains the flow at the desired intensity.
Besides, the model offers six spray settings that include pulsating massage, power rain, rain massage, power mist, economy mode, and rain mist. These help suit the different bathing styles of users, thereby facilitating greater convenience. 
 Beyond that, we found the overhead bracket to be highly suitable as it allows you to point each of the shower heads at the desired angle. The model also has a switch that you must turn to direct the water flow between the two showers. Lastly, we liked the thick sealing tape included in the package that provided a firm fixture.
What Could've Been Better?
Many customers expressed their disappointment over the lifetime warranty offered by this brand. They pointed out that it didn't cover all the issues that might be faced with the model. As such, this won't be an ideal choice to go for if the effectiveness of the warranty is a primary lookout for you.
Pros
Provides superior-grade flow performance

Spray settings designed to suit different bathing styles

Lets you point the shower heads at the desired angle

Thick sealing tape provides a firm fixture
Cons
Ineffective lifetime warranty
This shower head from the Taiker also comes in a different design and offers a considerably durable performance in the long run. As for the comfort and convenience on offer, it can provide you with a shower experience at par with some of the best hotels. Well, who wouldn't love that!
Why Did We Like It?
The large fixed showerhead with dimensions of 8 x 8 inches is the best feature of this model in our opinion. Such a large size promotes a coverage wide enough to provide you with a full-fledged and highly relaxing shower. 
Plus, it comes in an attractive square shape and is made from an extremely strong stainless steel material that gives it immense durability. 
Each shower head also has a water outflow of as much as 2.5 gallons per minute (GPM) which ensures it works consistently even when the water pressure is low. Coupled with this is an air-in, ultra-thin technology that optimizes the performance for any pressure level, thereby promoting sustainable water usage.
In addition, there's a flow regulator that can adjust the pressure according to your needs. And you'll be glad to know that the shower head is 60-inch long and hence makes the handheld option more flexible and convenient. 
What Could've Been Better?
The swivel connector on the fixed shower head might not work properly sometimes. Thus, you may find it difficult to adjust it to the desired angle so that the water can be dispensed in an improper direction. If you face this issue, make sure you report it to the manufacturer as soon as possible. 
Pros
Promotes extensive coverage

Stainless steel material is durable

Good water outflow ensures consistent performance

Long hose makes the handheld option more flexible
Cons
Poor quality swivel connector
Our next pick is yet another Bright Showers model, which works perfectly to provide a fulfilling shower experience. Coming in three appealing colors, it is built to suit the bathing needs of every home and also has an eye-catching design that would complement any bathroom quite well.
Why Did We Like It?
We found the handheld shower head to be really convenient as it came with an ultra-comfortable grip and three efficient spray settings. Each setting is well equipped to provide ultimate relaxation to the body and can be activated quickly with the push button positioned on the front face. 
While the saturating mode enables full coverage, the massage mode provides a relaxing water spray. As for the third mode, it enables a combination of the two others to give users a full-fledged relaxing water massage. 
You will also like the overhead rain shower as it consists of 200 super-efficient nozzles spread over the 8-sq inch area to offer ample coverage. These nozzles would never clog and have a self-cleaning property that helps push out water at a faster pace. 
Finally, the durable shower holder for the handheld option can be fixed without having to drill the wall and can be adjusted by two angles. 
What Could've Been Better?
The only issue that you might face with this model is that the connection between the shower heads and the diverter can't be tightened firmly. As a result, it may not be able to prevent the shower head from turning. But it does the job quite well otherwise. 
Pros
Comfortable grip of handheld shower head

3-spray settings provide ultimate relaxation

200 nozzles offer ample coverage

Shower holder can be fixed without drilling
Cons
Poor quality connector between shower head and diverter
Provide your family with a luxurious shower experience by installing this model from Doiliese. Enhanced with a beautiful chrome finish on its entire structure, it's also a cost-effective means of upgrading your shower system. So, let's proceed and check out all the features on offer.
Sale
Why Did We Like It?
To begin with, this model allows users to choose from as many as 30 combined and full patterns of water flow, which ensures they can take a shower just the way they like. 
The handheld shower head also comes with six spray settings, viz. rain massage, water-saving, rain mist, power rain, power mist, and pulsating massage. As such, you are provided with further adjustability and comfort.
Added to this is the dual diverter with a built-in bracket that has an easily accessible switch to direct the water flow between the two shower heads. Also, the rain shower and handheld shower have diameters of 6 inches and 4 inches, respectively, and hence provide the ideal coverage. 
Another significant feature is the highly flexible hose which can be extended up to 80 inches. Plus, its interface can be adjusted by 360-degree on both heads, facilitating easy coverage for larger areas. 
What Could've Been Better?
The installation can seem a bit difficult since the instructions mentioned in the user manual are not described clearly enough. Some of the illustrations are also not clearly drawn. As such, you'll have to look online for help. 
Pros
Lets you take a shower the way you like

Six spray patterns provide further adjustability

Both the shower heads provide the ideal coverage

Flexible hose can be extended up to 80 inches
Cons
Unclear instructions for installation
The next model we have for you is the Moen 26009, which comes in a classic design and blends beautifully with any decor. Its chrome finish is highly reflective and hence provides it with an appealing mirror-like look. Performance-wise, the product also lives up to the expectations of any homeowner.
Why Did We Like It?
This model uses a unique magnetix technology for docking the handheld shower head with a magnet to provide greater convenience. If you're taking a shower for a long time, this will relieve you from hand fatigue while also providing the desired comfort. 
In addition, the multiple spray settings give variety and flexibility to the shower system in your bathroom so that you can enjoy every shower to the fullest. The high-quality metal hose is also completely kink-free and gives greater flexibility and reach to the user. 
Beyond that, the brand offers a limited lifetime warranty that ensures you don't incur additional expenses for any repair or replacement. Even the instruction manual is well illustrated, making the tool-free installation quick and easy.
What Could've Been Better?
The shower head may be delivered with certain parts missing in the package. So, make sure you check all the contents carefully, and if you face such an issue, don't delay informing the manufacturer about it. But other than that, we were pleased with how this model worked. 
Pros
Handheld shower can be docked by a magnet

Kink-free hose gives greater flexibility and reach

Effective lifetime warranty

Quick and easy installation
Cons
Some parts may be missing in the package
Towards the end of our list, we've included this good-quality model from Delta, which also comes in an attractive design. It gives you an intensely rejuvenating shower experience all throughout and is built to last for years. On the whole, it would be a pretty decent choice to go for.
Why Did We Like It?
Straight off the bat, this model lets you choose between a powerful full-body spray with forceful water streams and a relaxing massage with focussed water jets. We also loved the 2-in-1 design that allows you to use the hand shower head either separately or securely docked within the larger fixed shower head.  
Moreover, the spray nozzles on each shower head are very easy to clean as you just have to use your fingers to wipe away the lime and calcium buildup. This rules out the need to use chemical cleaners, as in the case of ordinary models. 
It even comes with a WaterSense label which ensures you enjoy a drenching shower while using much less water. As a result, it lets you save money while making sure the performance is never compromised. 
What Could've Been Better?
The chrome finish on this model is not very durable, due to which it might lose the shine after a couple of years. So, if you're looking for a model with a better quality chrome finish that would last longer, it's best to go for another model. 
Pros
2-in-1 design facilitates convenient use

Spray nozzles are easy to clean

WaterSense label promotes sustainable water usage

Offers full body sprays as well as relaxing water massages
Cons
Poor quality chrome finish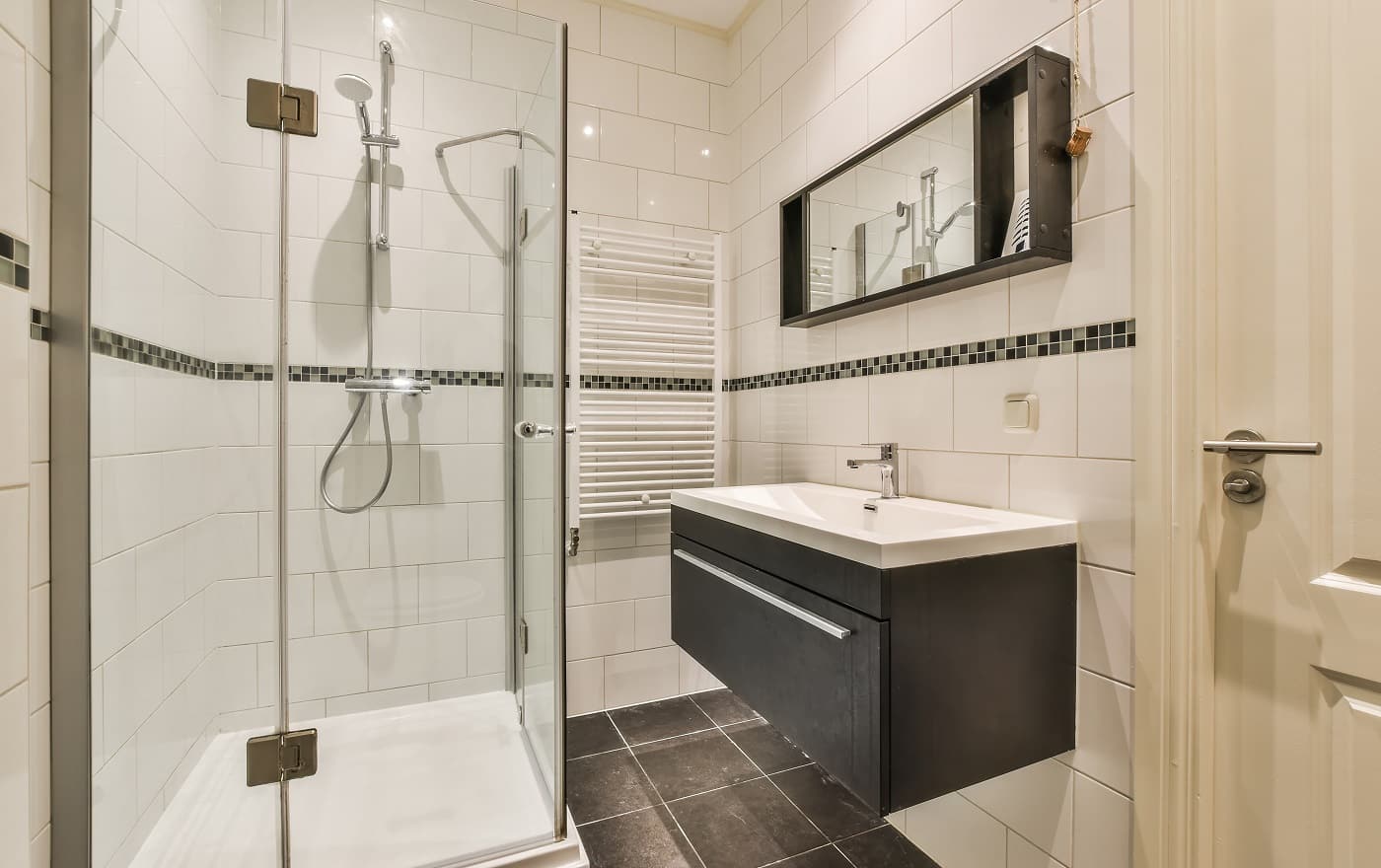 Dual Shower Head Buyer's Guide
Going through the specifications of some high-performing dual shower heads won't be enough to make a suitable choice. You will have to consider some key features of these models to ensure that you get the right performance. So, in this section, we've listed some essential factors to keep in mind before proceeding to choose an ideal dual shower head. 
Versatility
When it comes to choosing shower fixtures, you must decide how versatile you want them to be. Ask yourself which spray patterns you would prefer, and try to decide the shower functions needed. Note that in case you prefer greater versatility, you'll have to go for a model with lots of spray features. Also, it must have adjustable shower heads, or ones that feature many clearly distinct spray patterns.
The Diverter
Since these models have two shower heads, the setup would come with a diverter valve to direct the water flow from the plumbing to any one or both the fixtures. So, it must be efficient enough to ensure this mechanism works in the proper way. 
To be sure regarding its efficiency, you can check the customer reviews on the product page. Also, note that some models may have 2-way diverter valves which allow you to use only one shower head at a time. This makes it essential to check the type of diverter valve used in the product while going through its details. 
Build Quality
The material of the dual shower head is one of the most crucial factors to consider as it would determine its durability and longevity. We'd suggest going for metal fixtures as they are more tough and long-lasting than the majority of models. 
However, if you still wish to go for a plastic dual shower head, it would be best to choose a model made from ABS plastic as it's much tougher than the more prevalent standard plastic material.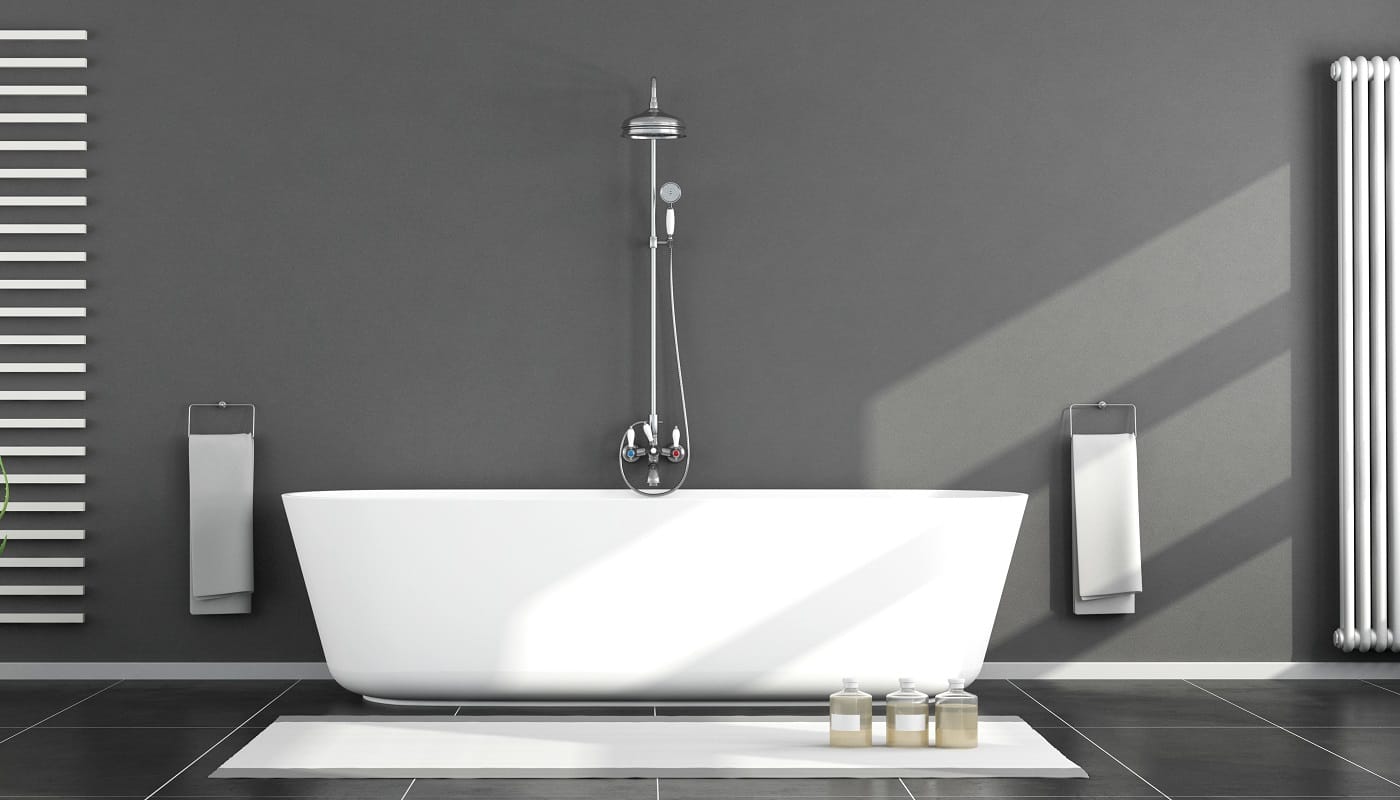 Verdict
By now, we hope all the doubts in your mind regarding dual shower heads have been cleared. Choosing a suitable model is not that difficult after all; just remember to consider your needs and preferences before making a choice. So, go ahead and purchase a good model to enjoy a more refreshing shower experience. 
But before we bring down the curtains, here's a quick recap of our favorites from the list. The Hydroluxe 1433 is the best budget buy in our opinion. On the other hand, if you prefer a high-performing model with a more visually appealing design, the DreamSpa 1684 would be an ideal choice. 
With that, we'll call it a day. Till next time, take care!
Related Articles
Top 10 Best High Pressure Shower Heads
9 Best Caulk For Your Showers and Bathtubs
7 Best Grout Sealers For Shower 
How Cleaning a White Fiberglass Shower or Tub Works