Propane has become the fuel of choice for campers as well as RV users. And when you're using a propane tank, you need a good regulator.
Unless your propane tank has a high-quality regulator, you might have to face problems such as insufficient gas pressure and sudden supply drops. What's more, a faulty regulator can also lead to severe accidents.
The trouble is, the market is flooded with sub-standard products that claim a lot but deliver very little. That's why we've gone ahead and reviewed five of the best propane tank regulators of the year for you.
And to simplify your decision-making process, we've also included a handy buyers' guide at the end. Using these, you can quickly settle on the right propane tank regulator that suits your needs.
Without further ado, let's take a closer look.
Top Dual Propane Tank Regulators  
IMAGE
PRODUCT
DETAILS

Our Top Pick

Our Top Pick

Camco Auto-Changeover Double Stage Propane Regulator (59005)

Automatic switching functionality
Robust and durable design
Quality aluminum build

VIEW LATEST PRICE →

Marshall Excelsior MEGR-253 Auto-Changeover Propane Regulator

Durable zinc body
Excellent flow rates
Automatic changeover feature

VIEW LATEST PRICE →

Cavagna 52-A-890-0006C Auto Changeover Regulator Kit

Excellent indicator visibility
Advanced safety features
Efficient and durable build

VIEW LATEST PRICE →

Fairview 2-Stage Automatic Propane Regulator

High flow rates
Easy to operate yet sturdy in construction
Gas pressure can be quickly adjusted

VIEW LATEST PRICE →

Flame King 2-Stage Auto-Changeover Propane Gas Regulator

Automatic changeover functionality
Double stage design
Works well under demanding conditions

VIEW LATEST PRICE →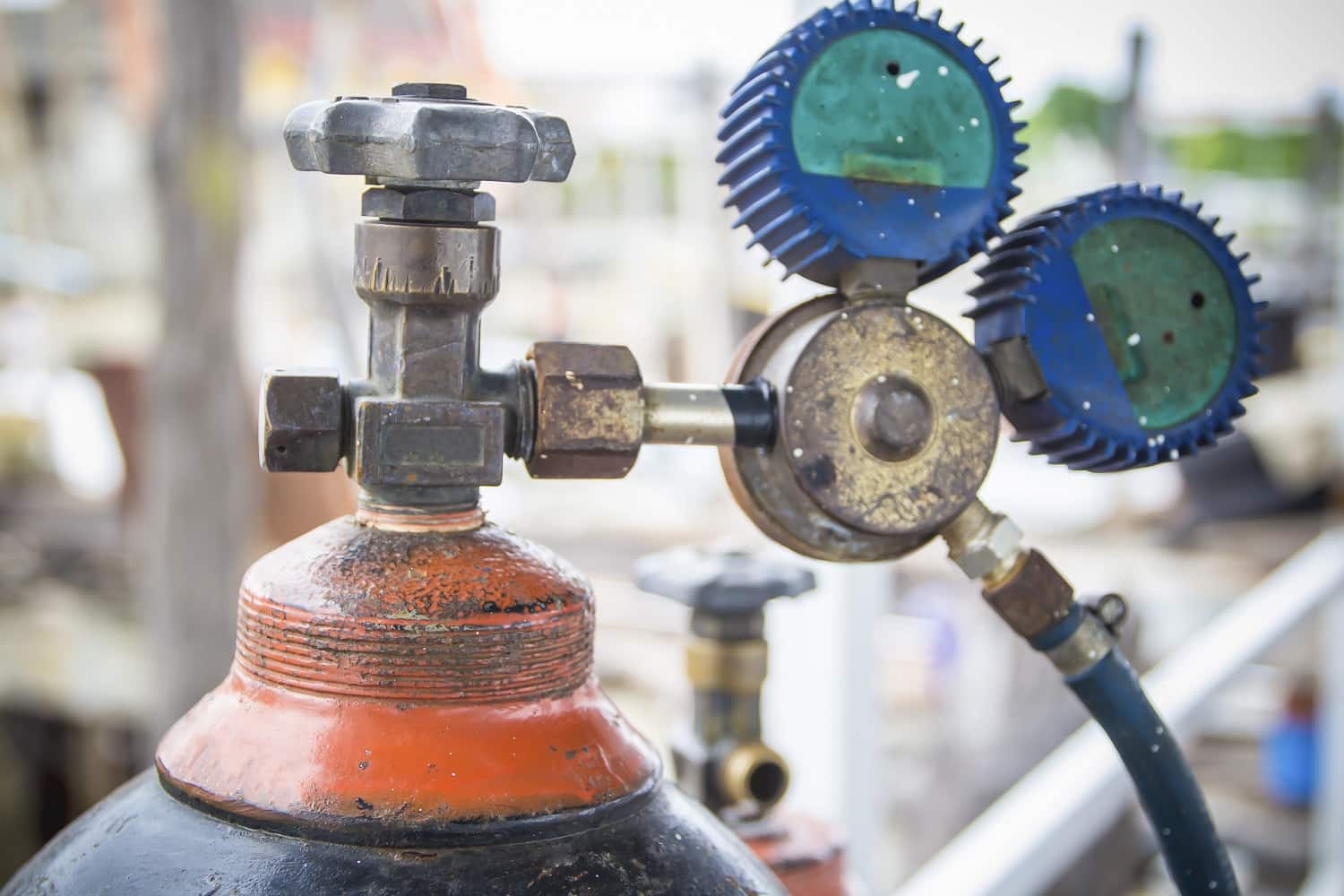 The first item we have for you is the 59005 propane regulator from Camco, a company known for high-quality, affordable products. Meant for RVs with dual-propane tanks, the regulator works impeccably to ensure steady fuel supply for all your needs. The following are some of the salient features of the product.
Sale
Why Did We Like It?
The first thing that draws your attention to this product is the sturdy aluminum construction that promises long term durability. The pipe inlet and outlet connectors are made of brass, which ensures they won't rust even with continued use.
The best thing about this product is that it has automatic switching capability. This means once the primary tank is empty, the regulator automatically switches to the secondary tank, without you having to intervene manually. This ensures an uninterrupted fuel supply.
The primary tank capacity is clocked at 210,000 BTU/hr, while the secondary cylinder delivers 130,000 BTU/hr. However, you easily change the capacity by turning the crossover switch and designating the reserve one as the primary.
Finally, we also like how the unit allows for the removal of the empty tank without affecting the propane supply. Plus, it also has an indicator that signals when the tank is empty. Overall, we think this is one of the best regulators in the market, if not the best.
What Could've Been Better?
The only thing that can be improved in this product is the crossover switch, which must be manually turned to increase the secondary cylinder's flow rate. Also, the regulator knobs are made of plastic, which seems a bit flimsy for such a well-built unit.
Pros
Aluminum and brass construction

Automatic switchover function

Empty-tank indicator window

Steady flow rates
Cons
Knobs are made of plastic

Crossover switch must be manually turned
If consistency and performance are your major lookouts, then we suggest the MEGR-253 from Marshall. This propane regulator brings efficient 2-stage operation along with auto-changeover features and delivers a steady and uninterruptible propane supply at all times. Plus, it's priced competitively, which means you won't have to strain your pockets.
Why Did We Like It?
For any propane tank regulator, the first and foremost factor that must be looked at is the build material. And we were pleased to find that this product is made using zinc, which guards it against excessive wear and tear.
The changeover system is automatic and flawlessly switches over from the primary cylinder to the reserve one. This ensures that the fuel supply to your appliances remains steady, and you don't suffer any service outage.
Next, we checked the flow rates, which we found rather impressive at 225,000 BTU/hr for the primary and 150,000/hr from the reserve. What's more, the changeover switch even has an indicator that lets you know once the primary tank is empty.
We think this unit is a reliable option for RVs and campers looking for some creature comforts along the road. Just make sure you turn the changeover switch from secondary to primary after the tank switches supplies.
What Could've Been Better?
Despite the high efficiency of this product, there is one significant flaw that we'd like to point out. And that's regarding the mounting holes, which aren't threaded and lack mounting screws. That aside, this product doesn't have anything else that can be improved.
Pros
Weather-resistant construction

Automatic changeover facility

Empty-tank indicator

Consistent flow rates
Cons
Mounting holes aren't threaded

Doesn't have mounting screws
The next item we have for you is the complete regulator kit from Cavagna, a well-known brand. Italian in origin, this is also an auto-changeover regulator that simply switches from the empty primary tank to the reserve one, thus helping to preserve the flow of fuel and maintain steady operational efficiency.
Sale
Why Did We Like It?
The most notable characteristic of this unit is its enhanced focus on safety, which we think is essential in any propane tank regulator. It comes with a safety valve that shuts that device off in case of a leak.
What's more, the regulator also works to lower the leaking cylinder's pressure, thus ensuring that propane doesn't escape into the air. The check valve ensures that the empty tank can be easily removed while the reserve one is in operation.
We noticed one difference in this unit as compared to others: it delivers steady flow rates of 160,000 BTU/hr for both the primary and the secondary tanks. The regulator even allows you to change the outlet pressure as per your needs, within a range of -0.5WC to +1.5WC.
Lastly, we must mention the prominent fuel level indicator, which lets you know that the tank is empty. All the above features, coupled with the efficient and easy installation process, make this a value-for-money device by all means.
What Could've Been Better?
We'd like it if the price of the unit were lower. Considering the normal range of propane tank regulator prices, this is a pretty expensive one. Also, the flow rate, though steady, is lower than the first two models on our list.
Pros
Prominent fuel level indicator

Variable pressure settings

Advanced safety measures

Efficient and effective operation
Cons
Slightly expensive product

Low flow rates
Unlike the previous three offerings, the product we have for you now doesn't have any special bells-and-whistles. Nevertheless, it gets the job done impeccably, and assures that you're going to get a steady fuel flow at all times. Plus, it's very durable, which means it'll last longer than most other units in its price range.
No products found.
Why Did We Like It?
To be honest, it's the high flow rate of 262,500 BTU/hr that brought this unit to our attention in the first place. Compared to the other products on the list, this one has the highest capacity per hour, which is an excellent feature.
The regulator body is 6 ¼ inches in height and works with most standard propane tanks. What's more, it even has an adjustable pressure tap that allows the user to change the pressure levels as and when required.
Similar to the other offerings on our list, this one is also an automatic regulator and changes from the primary to the secondary tank on its own. The indicator lets you know once the primary tank is empty, and you can simply flip the supply lever and remove it for refilling.
Designed for a continued and steady supply, this product is meant for long term operation. And it also includes a pair of Acme inverted flare pigtails, which is a bonus. Overall, a great product if you're looking for simple, straightforward operation.
What Could've Been Better?
First thing, the weight. At two pounds, this is a rather heavy product when compared to others on the list. Plus, it doesn't include any mounting hardware, which must be procured separately.
Pros
Impressive flow rates of 262,500 BTU/hr

Fluid auto-changeover

Prominent fuel level indicator

Durable construction
Cons
Relatively heavy product

Mounting hardware not included
For the final entry, we have another simple but effective product that works to get the job done. The propane gas regulator from Flame King is a standard unit that comes with two 12-inch pigtail hoses included. This makes connecting the device to the propane tanks an easy task. But that's not all this unit has to offer.
Why Did We Like It?
As we've already mentioned, this is a simple product, and therein lies its utility. It's easy to set up and allows uninterrupted fuel supply from double propane tanks. Even when the primary is empty, it switches to the secondary without any hitches.
What's more, the regulator also allows you to remove the empty cylinder for refilling without turning off the fuel supply. This ensures that your devices can run without interruptions and downtimes.
There's an indicator present, though we found it to be of a lower quality than the previous items we reviewed. But we'll be honest; it gets the job done rather nicely. Plus, the unit is waterproof, which means you can use it in the rain without any trouble.
What Could've Been Better?
The flow-rate, which at 190,000 BTU is lower than most comparable options. Still, the regulator does a decent job. Also, the weight of the product is the highest on our list (2.4 pounds), so that might pose a problem for some users.
Pros
Extremely quiet operation

Flawless automatic changeover

Easy to install and use

Plastic rain cover included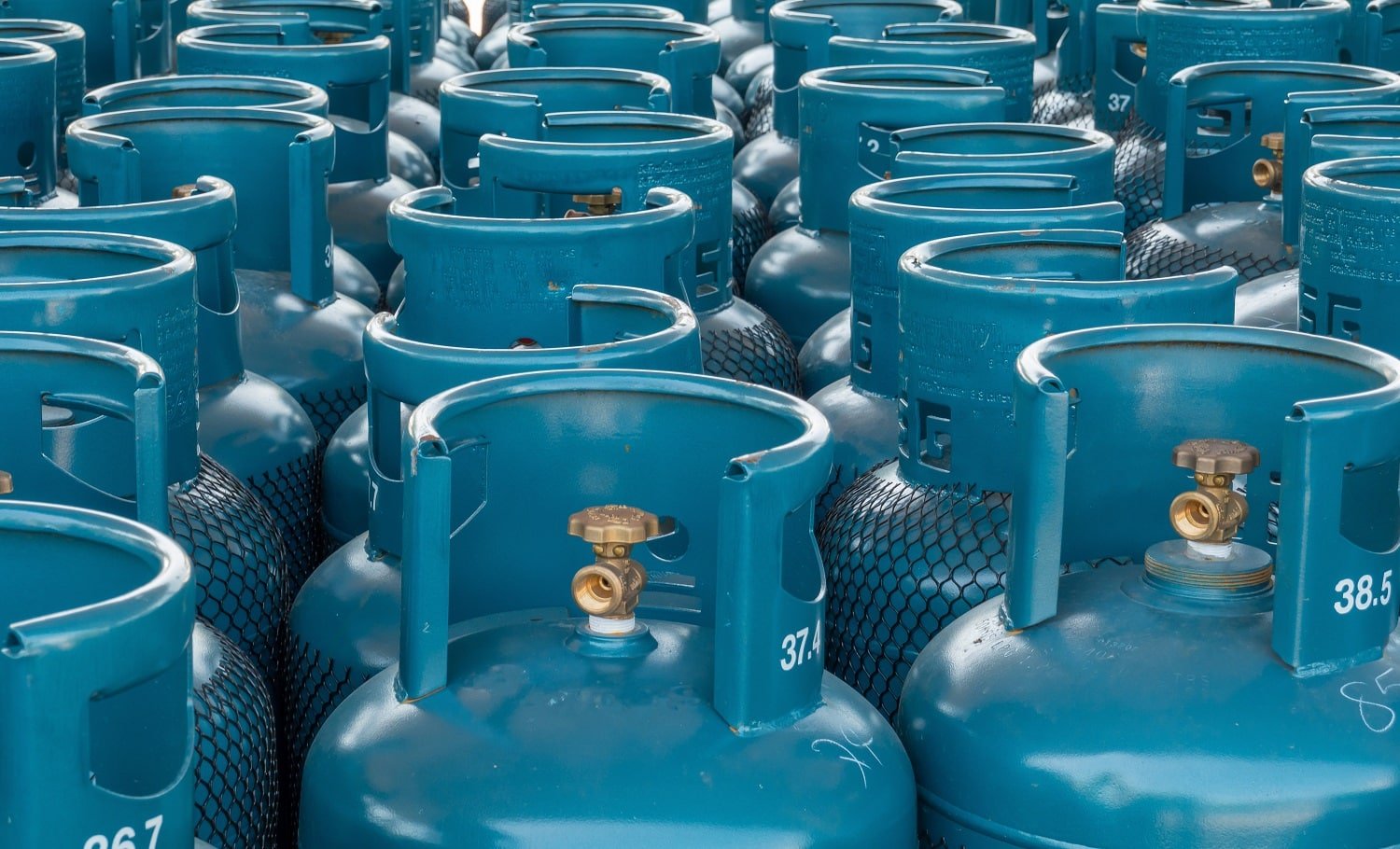 Dual Propane Tank Regulator Buyers' Guide
By now, we're sure you've got a good handle on what to look for in a propane tank regulator. But don't jump to any decisions yet, for we're only halfway there to our destination.
Just knowing about the five best propane tank regulators simply isn't enough to ensure that you end up with the right one. There are, in fact, several other factors that we need to consider when evaluating propane tank regulators for purchase.
The following are the significant features that you need to keep in mind when you're about to buy.
Regulator Material And Thickness
A propane regulator is, essentially, a safety device that's there to ensure efficient fuel flow, along with user safety. Therefore, you need a product that can withstand the wear and tear of long-term use, even under harsh conditions.
For this reason, when buying the regulator, make sure you pay special attention to its built material. Usually, propane tank regulators are made of either aluminum, brass, raw zinc or steel, all of which are viable options.
Also critical is the thickness of the material. The thicker the material, the more durable the product. Hence, you must take care and choose a product with a thick build quality for enhanced durability.
Regulator Capacity And Appliances
You've no doubt already noticed that propane regulators come in different flow-rates or capacities. The BTU/hr unit indicates the amount of fuel that the regulator allows to pass from the tanks per unit time.
Naturally, the higher the capacity, the better the rate of flow. This is important because if you end up with a low capacity regulator, you'll certainly not be able to power multiple devices at once. Also, pay attention to the power requirements of the devices you'll be running.
Prominent Indicator
This is another crucial factor that you need to consider. Most propane tank regulators come with a fuel gauge to indicate whether the tank in use is empty or full. They indicate the same using red and green markers, respectively.
In many cases, the trouble is that the indicators aren't prominent enough, and the users have to strain their eyes to discern the levels. That's why, when buying a propane regulator, make sure you choose one with a prominent indicator that can be seen easily. This'll help a lot in the long run.
Uninterruptible Supply
Propane tank regulators usually have an auto-changeover feature. However, in some models, the entire system must be turned off to remove the empty tank for a refill. This leads to a disruption of fuel supply and added work on the part of the user.
That's why, it's better that you choose a model which allows the removal of the empty tank, while the spare is still in use. This'll ensure that fuel flow to none of your operating devices is hindered in any way.
Safety Features
As we've already mentioned, a propane tank regulator is, first and foremost, a safety device. So when buying one, it's essential that you ensure it has all the required safety features such as a check valve, pressure control valve, and automatic shut-off features.
Ease of Installation
Although mounting a dual propane tank regulator is a simple enough concept, still many regulators don't have a clear set of instructions that the user can utilize. Also, many regulator sets don't come with the required hardware that's needed to mount the product.
That's why, as a precaution, always go with regulators that provide all the necessary mounting hardware. Make sure the inlets are threaded, and that all the mounting screws are included in the package.
Budget
We get it; monetary constraints are real. Still, we suggest you don't always opt for the cheapest product on the market. After all, buying the right regulator is linked with your safety and that of your loved ones. So make sure you get one that's of the right quality, regardless of the cost.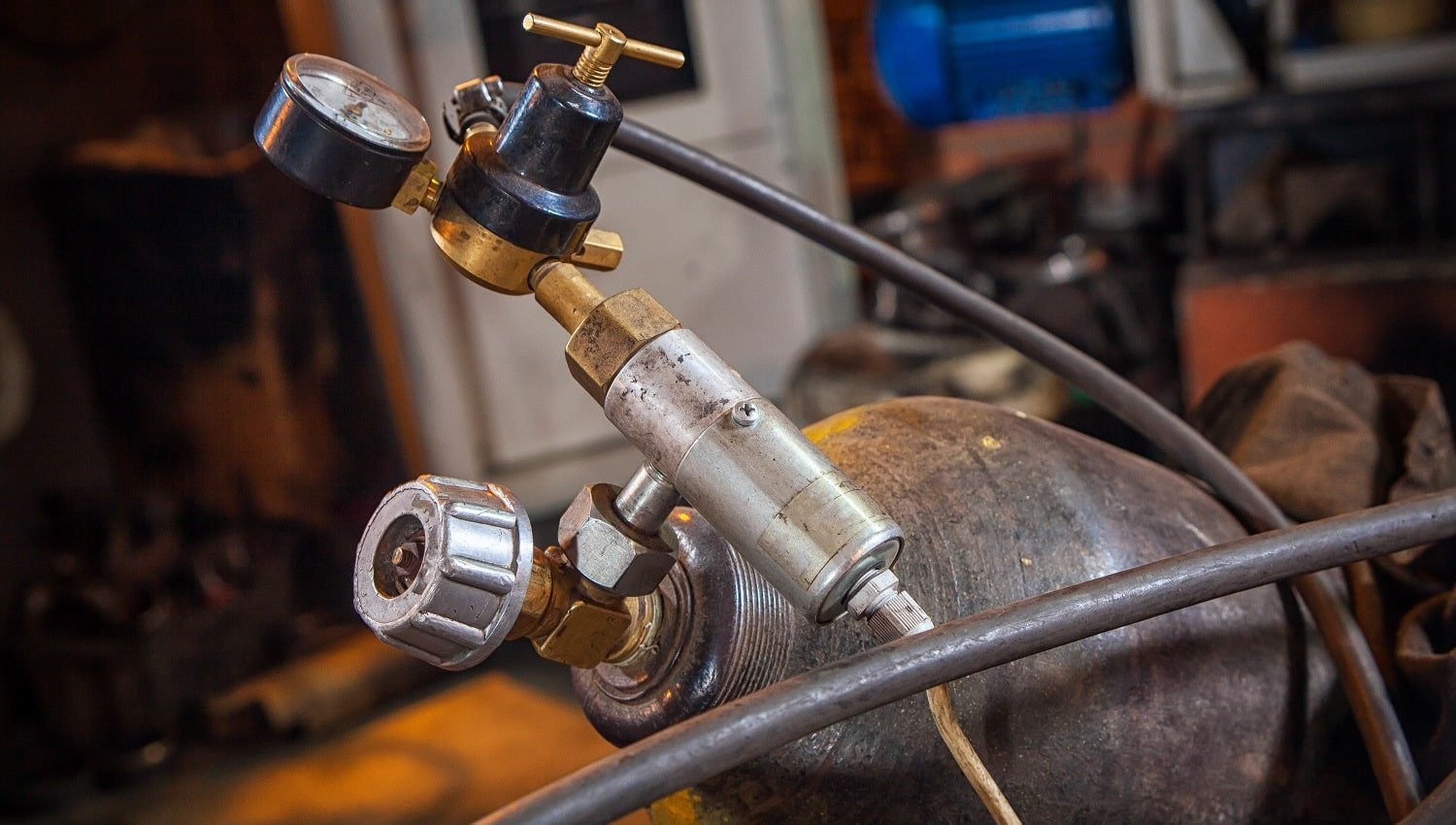 Verdict
And with that, we've reached the end of our comprehensive guide of the best propane tank regulators of the year. We hope you've enjoyed going through this as much as we enjoyed compiling it for you all.
Before we leave, we'd like to let you in on our favorites from the list. The best overall title goes to the first item on the list, which is the Camco 59005 propane regulator.
In case you're looking for a regulator with enhanced durability, we suggest you go with the Marshall Excelsior MEGR-253 model, which offers excellent value for money. And if a high flow rate is your main concern, then nothing tops the Fairview propane regulator.
And with that, we'll take our leave. Till next time!
Related Articles
10 Best Quiet Propane Generators For Home And RV Use