Disclaimer | This article may contain affiliate links, this means that at no cost to you, we may receive a small commission for qualifying purchases.
Why stick to conventional toilets when you can have stylish, water-saving, and durable models to amp up your bathroom?
There are a lot of questions surrounding dual flush toilets since they are very innovative and quite new to the game. So, we conducted extensive research to solve the mystery and help you select the best option, now that you are considering getting one.
We understand that the market is filled with hundreds of alternatives and choosing one can get confusing. Well, this guide will help you know about the top 7 options that are available out there. You will find a detailed description of the pros and cons along with a buyer's guide to help you make an informed decision.
So, without further delay, let's dive right in.
Best Dual Flush Toilets
IMAGE
PRODUCT
DETAILS

Our Top Pick

Our Top Pick

Woodbridge T-0019

Made of porcelain
Floor installation
Weighs 119.7 pounds

VIEW LATEST PRICE →

Swiss Madison Well Made Forever SM-1T254

Perfect height for residential installations
Quick-release seat
Certified by Uniform Plumbing Code (UPC)

VIEW LATEST PRICE →

TOTO MS446124CEMG#01

Made of ceramic
Weighs 119 pounds
Soundless flush

VIEW LATEST PRICE →

Kohler K-3987-0

Class 5 flushing technique
Circular toilet bowl
Effective flush system

VIEW LATEST PRICE →

American Standard 2795.204.020

EverClean Surface technology
Flush valve is extra-wide
Excellent flushing mechanism

VIEW LATEST PRICE →

Deer Valley Dual Flush Elongated Standard One Piece Toilet

Made of ceramic
Weighs 100 pounds
Siphon flushing technology

VIEW LATEST PRICE →

Sheffield Corner 2-Piece

Weighs 46.5 pounds
Made of stainless steel and porcelain
Slow-close seat

VIEW LATEST PRICE →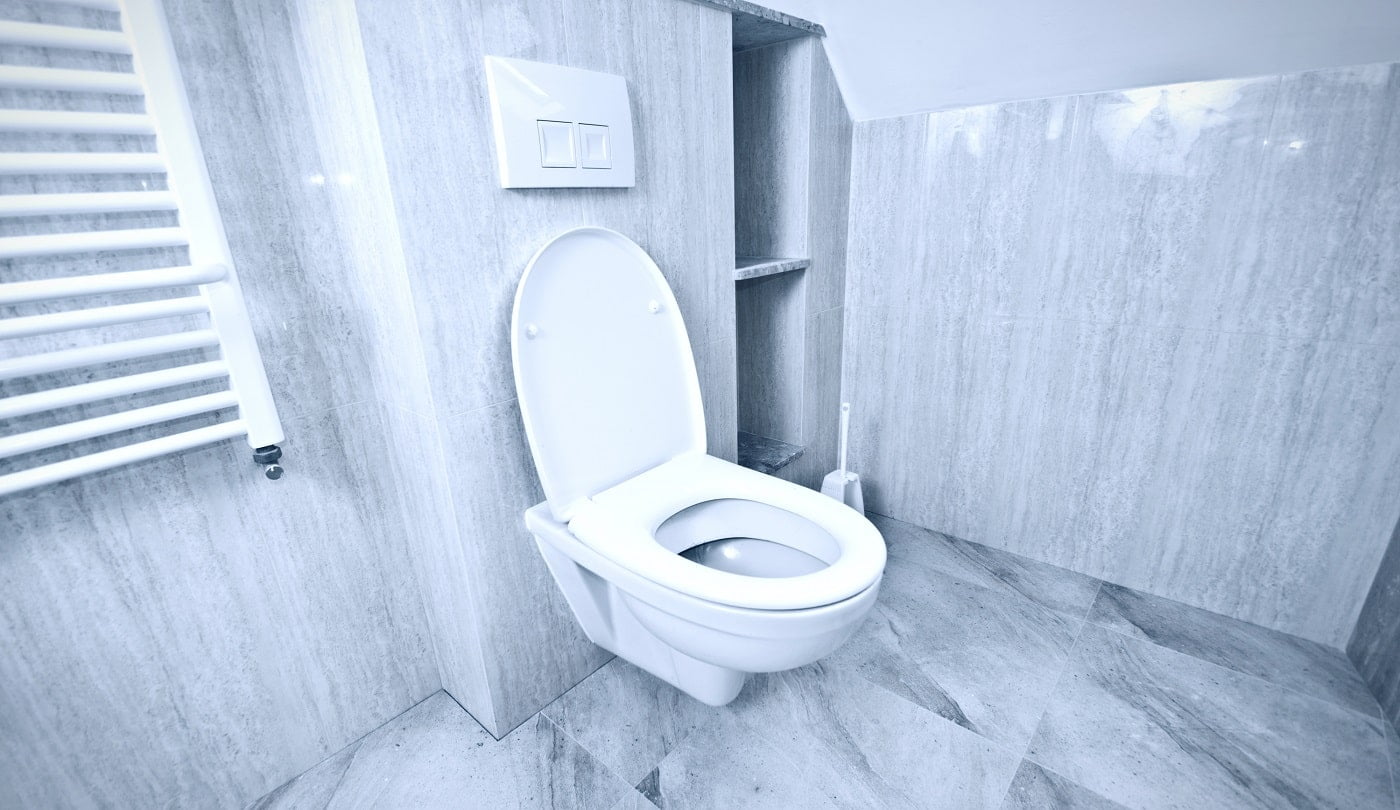 If you are looking for a dual flush toilet, Woodbridge T-0019 is a good option to consider. This is a safe bet if you have an inclination towards smooth and modern finish bathroom décor. It is perfect for people who do not have special plumbing skills but want to get the device installed themselves.
Why Did We Like It?
The first thing to catch our attention was the shape of the bowl. It is cornerless, so it becomes very easy to use and clean the toilet.
Furthermore, the flush is quite impressive in the way it functions. It is very powerful and always uses an optimum amount of water to push down any solid or liquid waste without leaving any stain behind. Also, you will notice that the flush does not make much noise when in use.
Moreover, as mentioned above, it is super easy to get this product installed. On purchase, you will find an all-in-one pack with the toilet bowl and all the essential tools and accessories needed to assemble it. It also comes with a soft-close seat that is pre-installed.
Additionally, this product comes with an exceptional warranty. On purchase, you will be handed a 5-year manufacturer warranty that covers porcelain fading and stains. Also, the flush and seat are protected under a 1-year warranty.
What Could've Been Better?
Although there are hardly any complaints that we have with the item, a small modification could make it even better. The toilet height is not very adjustable, and in case you have people of different sizes using the toilet, we suggest that you get a wax ring installed.
Pros
Brilliant design

Easy to install

Long warranty period

Effective flush function
If there is one toilet that is designed solely keeping in mind the needs of the consumers, it is Swiss Madison Well Made Forever SM-1T254. This item is made of durable ceramic and functions well for a long time. The design is quite thoughtful and is suitable for both small and big bathrooms.
Why Did We Like It?
The best thing about this product is the ease that it offers. Cleaning toilets is a tedious task, but this one makes that job a lot easier. The seat of this toilet is very comfortable to use and can also very easily be removed when needed. It has chrome hinges that make this removal quite easy, thereby simplifying cleaning it.
Moreover, the flush needs a special mention. It is of high strength and has a powerful impact on both solid and liquid waste. With just one click on this tornado-like flush, the wastes get completely cleaned and do not leave any stains behind.
Also, the flush is highly functional since it has dual properties. It lets you choose if you want a full or partial water release. Depending on the requirement, you can choose a particular option and save water when you can.
What Could've Been Better?
While we do not have any complaints about how comfortable it has been to use this product, it is true that you might face some hardships while installing it. The manual is not simple to understand and the tool kit that comes with the package is not well-stocked. So, you might have to call a professional plumber to help you with the process.
Pros
Helps save water

Highly efficient flushing mechanism

Very easy to clean

Height is very comfortable
Cons
User instructions are not clear
TOTO is a popular name in the market when it comes to home furnishing. And their product MS446124CEMG#01 is engineered in a way to maximize your comfort. If you like designs that are modern and offer high functionality, then look no further. This product adds an elegant look to your beautifully decorated bathroom space.
Why Did We Like It?
When buying toilets, cleaning is always a major consideration. With this item, all your cleaning worries will be at bay. You do not have to use harsh chemicals every day to clean the bowl of stains. This technology helps clean the toilet in a single flush without using a large amount of water.
It comes with a Dynamax tornado feature that makes use of the 360-degree cleaning capacity to reach and sanitize every area of the bowl. Moreover, it has a unique ceramic glaze that completely prohibits any form of mold from getting stuck to the ceramic.
Also, as it is clear by now, this item is geared towards saving water.
The flush technology is designed to save almost 10 gallons of water every day when you get this product installed. With a water strike of 0.8/1.28 gallons for every flush, you have a high chance of saving a substantial amount of water.
What Could've Been Better?
After using this item for a while, we felt that the dual flush button is not exactly the best one out there. The low flush button does not respond well every time you press it. Sometimes you might have to press it a few times for it actually to work. In such instances, we recommend that you get the switch replaced.
Pros
Cleaning is effortless

Very powerful flush valve

Water-saving

Seat does not make a sound while closing
Cons
The low flush button is not very good
It is not true that a toilet that is geared towards saving water faces the problem of clogging. Kohler K-3987-0 is one such option. This entire unit, along with the flush and the glazed finish, prevents any possible forms of clogging or staining.
To know more about the item, read on.
Why Did We Like It?
If you are on a budget and are looking for an affordable toilet that performs well, this is a great option to consider. It is made of vitreous china in subtle almond color, and that makes this item very durable and looks absolutely stunning!
Moreover, when it comes to comfort, this product will surely leave a good impression on you. The toilet bowl is of a circular shape that is contrary to elongated versions that are mostly available in the market.
The round shape of the bowl helps to save space too. So, even if you have a small toilet, this item can easily squeeze its way in.
Furthermore, this item faces no problem of leakage. The canister of this item is very strong and has 90% unexposed seal material. This is what prevents any form of leakage.
What Could've Been Better?
Despite being extremely comfortable to use, this item will make you go a little extra way to let you enjoy its benefits. It does not come with an in-built toilet seat or one that comes with the package. You will have to hit the local hardware store to purchase a standard toilet seat before you can start using this item.
Pros
No issue of leaking

Helps in saving space

Easy to install

Cost-effective
Cons
Does not come with a toilet seat
With this item, American Standard 2795.204.020, this brand has made the most recent upgrade, and it is one of the best so far. The dual flush technology that this item comes with aims to save water and keep your toilet stainless and odor-free simultaneously. And cleaning this toilet is as easy as a breeze!
Why Did We Like It?
Nobody likes a toilet that is stained and infested with germs. This item will never leave a scope for that to happen. The design is super-sleek with fewer ridges and corners that might lead to the growth of germs.
Rather, it is coated with an antimicrobial finish that helps to keep your toilet free of any stains or smell. The insides of the toilet bowl have very smooth edges that enable you to keep it speckless.
Moreover, the flush of this item requires a special mention. The mechanism is incredibly strong and cleans up to 1000gm of solid waste in the heavy flush mode. And if you have to clean a lighter load of waste, you can go for the light flush too. This would also enable you to save some water.
Furthermore, the package is pretty well-stocked, and that makes installation very easy. In it, you will find a toilet seat and all the necessary tools and accessories needed for installation.
What Could've Been Better?
After using it for some months, we have noticed that the toilet seat might seem a little small. So, if you or your family is filled with people of different body structures, the seat might feel a little inconvenient to use. However, you can always go to some local hardware store and get the seat replaced.
Pros
Prevents odor and stain

Prohibits bacteria from growing

Highly efficient flush

Very easy to install
Cons
Seat seems to be a little small
Deer Valley Dual Flush Elongated Standard One Piece Toilet is the perfect bet for people who value comfort over everything else. It is created keeping in mind the comfort and the ease of users. The height is perfectly comfortable, and the seat has a wax ring that makes usage highly convenient.
Why Did We Like It?
This item is a child's play when it comes to installation. It is no rocket science, and if you go through the manual carefully, the installation will definitely become very simple.
The instruction manual is pretty clear, and the package is loaded with all essential tools and accessories to facilitate and make installing this item very easy.
Moreover, for design enthusiasts and small bathroom owners, this item is a treat. Its contemporary design is outstanding and will be surely noticed by your guests. In case you have a small bathroom, it would not occupy space unnecessarily but add to the décor.
Furthermore, the flush will not give you any added worries as it is incredibly efficient. It does not generate any noise, and siphon flushing ensures that there is no stain or clogs. This extremely efficient dual-flush mechanism also prevents leaking.
What Could've Been Better?
Honestly, we were not very impressed with how this item was delivered. This is a premium quality product that totally deserves better packaging. We only hope that the manufacturers shift their attention to this to prevent any form of damage that might happen during transit.
Pros
Suitable for small bathrooms

Brilliant design

Very convenient to install

Toilet seat is included in the package
We could not have ended our list without having mentioned Sheffield Corner 2-Piece. For all those who like a corner toilet that saves both water and space, this is an excellent choice. This item is good at saving space but offers all the features that a conventional toilet would.
Why Did We Like It?
We know how tired you get of all the scratches and stains that your toilet has to endure. But, with this item, you do not have to face any such trouble. Because of the Reno-Gloss coat, your toilet is completely resistant to scratches and stains.
This finish also prevents unwanted paint chipping. Even after years of use, your toilet will look as good as new.
Furthermore, it performs exceptionally well when it comes to saving water. The flush valve uses exactly the correct amount of water to prevent any wastage. However, you can rest assured that just because this technology uses water judiciously, it does not mean that it would lead to any form of clogging.
Also, the toilet shape is such that it provides the maximum amount of comfort to users. The surface area that you enjoy while sitting is incredible and very suitable for kids and adults alike.
What Could've Been Better?
Though we would score this product high on performance, it needs to be mentioned that the package does not come with supplies that are required for installation. You would need to either call a mechanic or buy some supplies from the hardware store to install this item.
Pros
Scratch-resistant

Saves water

High-performing flush valve

Very comfortable to use
Cons
Does not come with floor bolts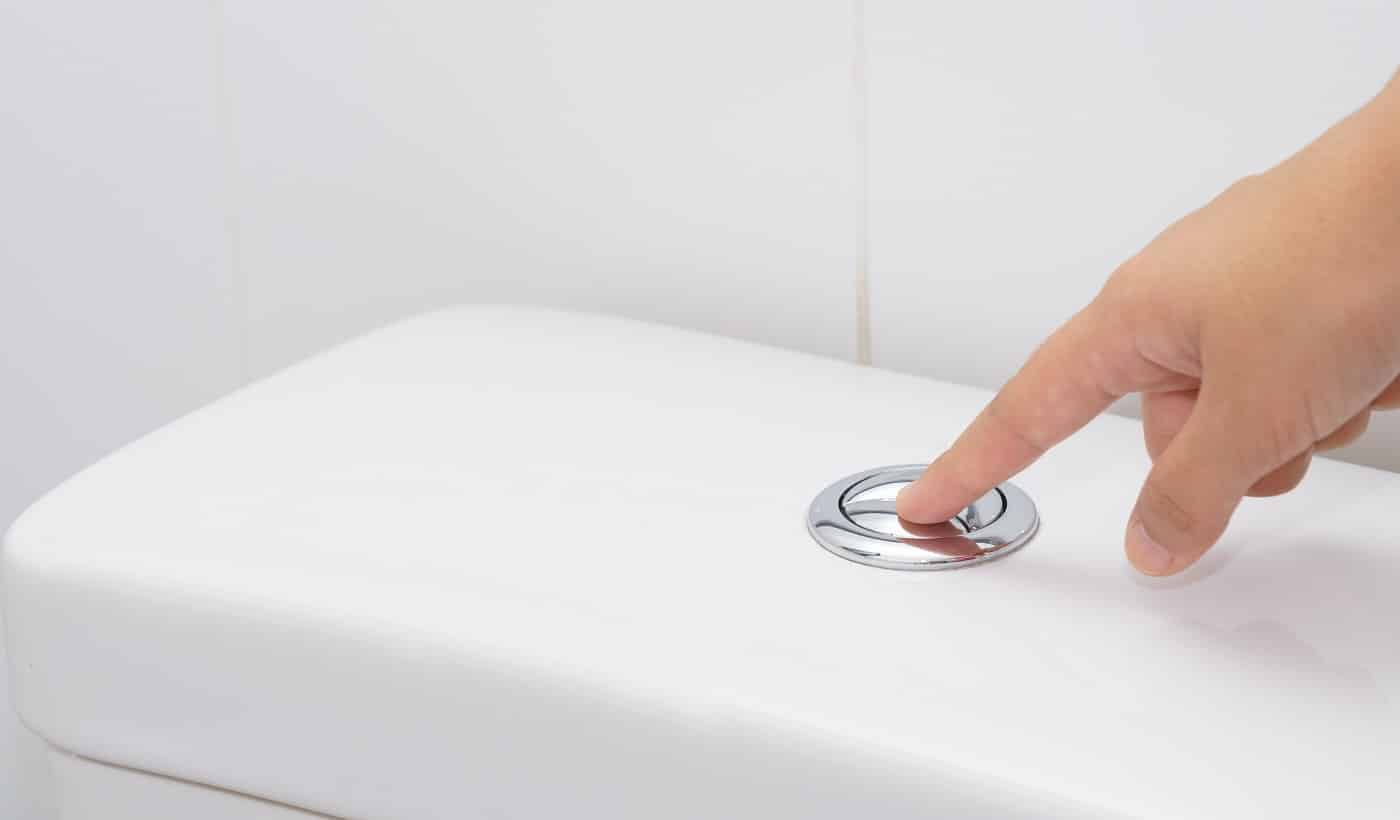 Dual Flush Toilet Buyer's Guide
After going through the products in great detail, we hope you have learned a few things about dual flush toilets.
You must have understood that comfort and ease of cleaning are some of the major concerns when it comes to choosing a good option for your bathroom. However, we understand that just knowing the products in depth is not enough to make an informed choice.
You need to keep in mind a few more things before you actually decide on a product. And in this section, we are going to talk about those. After reading this, we hope that deciding on the perfect product becomes a tad bit easier for you.
So, without much delay, let's check them out.
Size And Shape
Before you decide on which toilet to buy, the first thing is to give your bathroom a visit and measure the space.
Depending on that and the area that toilets of different shapes cover, you will have to make a choice. The most common bowl shape in the market is circular, and they are around 2 inches smaller than their elongated counterparts. Round shape toilets are around 17 inches in length, and the elongated bowls are of 18-19 inches.
The circular ones are more compact, and thus they are more suitable for cozy bathrooms. They are also relatively cheaper than toilets of other shapes.
The elongated versions, on the other hand, are more comfortable to use because of the extra inches. However, they are on the expensive end of the price spectrum.
In case you cannot decide what to select, you can always opt for a hybrid bowl shape. They are oval in shape and help to save space and also add comfort to your use.
Flush Technology
Flush is one of the most important considerations when it comes to deciding which toilet to get your hands on.
Before checking out the options, know that there are mostly two standard styles that are available out there: Gravity system and pressure-assisted flushing system.
The first option is very simple to use and more common. This technique relies on gravity and uses the weight of the water to maximize flush pressure. It is through the S-shaped trap way that the waste gets flushed.
We would recommend this system for the ones who like the flush to be really noiseless. Also, we have to say that these are the more affordable options.
The second option is pressure-assisted technology, and it is air pressure that puts water in the bowl. This mechanism uses a combination of high-pressure air and water. As a result, when you press on the flush, the air pressure sucks the waste with a high force.
It is a very effective mechanism that uses water quite judiciously. However, on the downside, these do create a lot of noise and are more expensive.
Cleaning
You cannot decide how good a toilet is without knowing if it is easy to clean. If it stains, even a very good product will give you a hard time.
One way to check out the cleaning features is to draw an ink line on the inner areas of the bowl. And then press on the flush to notice how much paint is left after the water strikes. That would give you a fair idea about the cleaning features.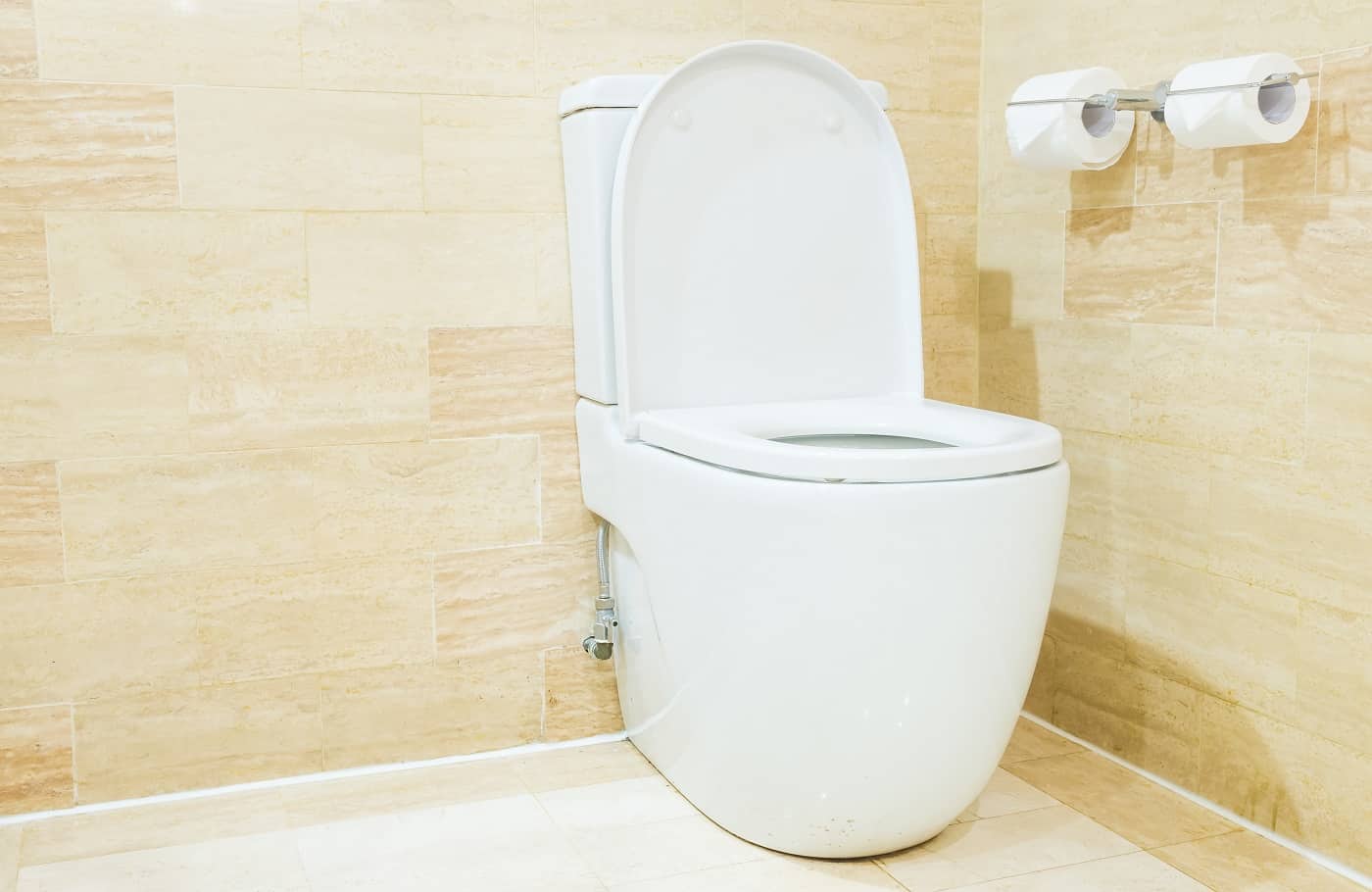 Verdict
By now, it should be clear to you what all features that you should look for when choosing the ideal dual flush toilet. We also hope that the buyer's guide has helped you to understand the factors that act as major determinants in enhancing your experience.
And with that, we have reached the end of our concise and informative guide. We hope that you have had as much fun reading it as we did while curating it.
But before we say goodbye, we would like to share our favorites with you. Woodbridge T-0019 takes the award for being the best overall. In case you are looking for an option with adjustable height that also helps save water, Swiss Madison Well Made Forever SM-1T254 is a good bet!
And if you are looking for an option that is completely soundless, you can go for TOTO MS446124CEMG#01.
And with that, it's a wrap. Take care!
Related Articles
9 Best American Standard Toilet Right Now
8 Best Bidet Toilet Combos Right Now
13 Best Soft Close Toilet Seats
7 Best [Macerating] Upflush Toilets
13 Best Septic Tank Treatments
Toilet Won't Flush, Things to Do
7 Best Corner Toilet [Reviewed & Buyer's Guide]
7 Best Kohler Toilets Reviewed [All You Need to Know]
Toto Neorest NX1, 550H & 700H [Reviewed & Buyer's Guide]
Kohler Santa Rosa Toilet Review [All You Need to Know]
11 Best Toilet Seats [Reviewed & Buyer's Guide]
Convenient Height Toilet Review [All You Need to Know]
11 Best Toilet Flapper [Buyer's Guide]
5 Best Gerber Toilets Reviewed [All You Need to Know]
11 Best Toilet Clog Remover [Reviewed & Buyer's Guide]
11 Best Automatic Soap Dispenser 
Kohler vs American Standard [All You Need to Know]