There is nothing more relaxing than feeling the water flow on your skin as it washes the stress away. This is why people consider baths therapeutic.
Stepping into a shower or a bathtub after a long hard day of work is the perfect way to de-stress. So, it is necessary to have the perfect bathroom fittings. Having a drop in bathtub is great not just to rejuvenate but also to enhance the bathroom's look.
However, there are many kinds of drop in bathtubs that vary in shape, size, and color. That is why finding the ideal one can be challenging. To make it easier for you, we have put together this guide of detailed reviews of the 9 best drop in bathtubs that are worth investing in.
Time is of the essence, so let's dive right in!
Best Drop in Bathtubs
IMAGE
PRODUCT
DETAILS

Our Top Pick

Our Top Pick

Kingston Brass VTDE603122L

Ideal for compact bathrooms
Resin reinforcement

VIEW LATEST PRICE →

American Standard 2973102.011

Designed to provide optimum comfort
Textured floor

VIEW LATEST PRICE →

Kingston Brass VTAP543022L Aqua Eden Tub

55 gallon capacity
Glossy finish

VIEW LATEST PRICE →

Kohler K-1130-0

1 year warranty
5 feet in length

VIEW LATEST PRICE →

American Standard 2422V002.011 Deep Soaking Tub

Enhanced safety features
Armrest for added comfort

VIEW LATEST PRICE →

Fine Fixtures BT106-5114

Safe for salts and oils
Crack-resistant

VIEW LATEST PRICE →

ProFlo PFS7242AWH

5 year warranty
80 gallon capacity

VIEW LATEST PRICE →

Swiss Madison SM-DB559 Well Made Forever Bathtub

Adjustable feet
3 sided flange

VIEW LATEST PRICE →

Signature Bath LPI16-W-RD Whirlpool with Stainless Jets

Valve to adjust water pressure
Anti-fungal plumbing

VIEW LATEST PRICE →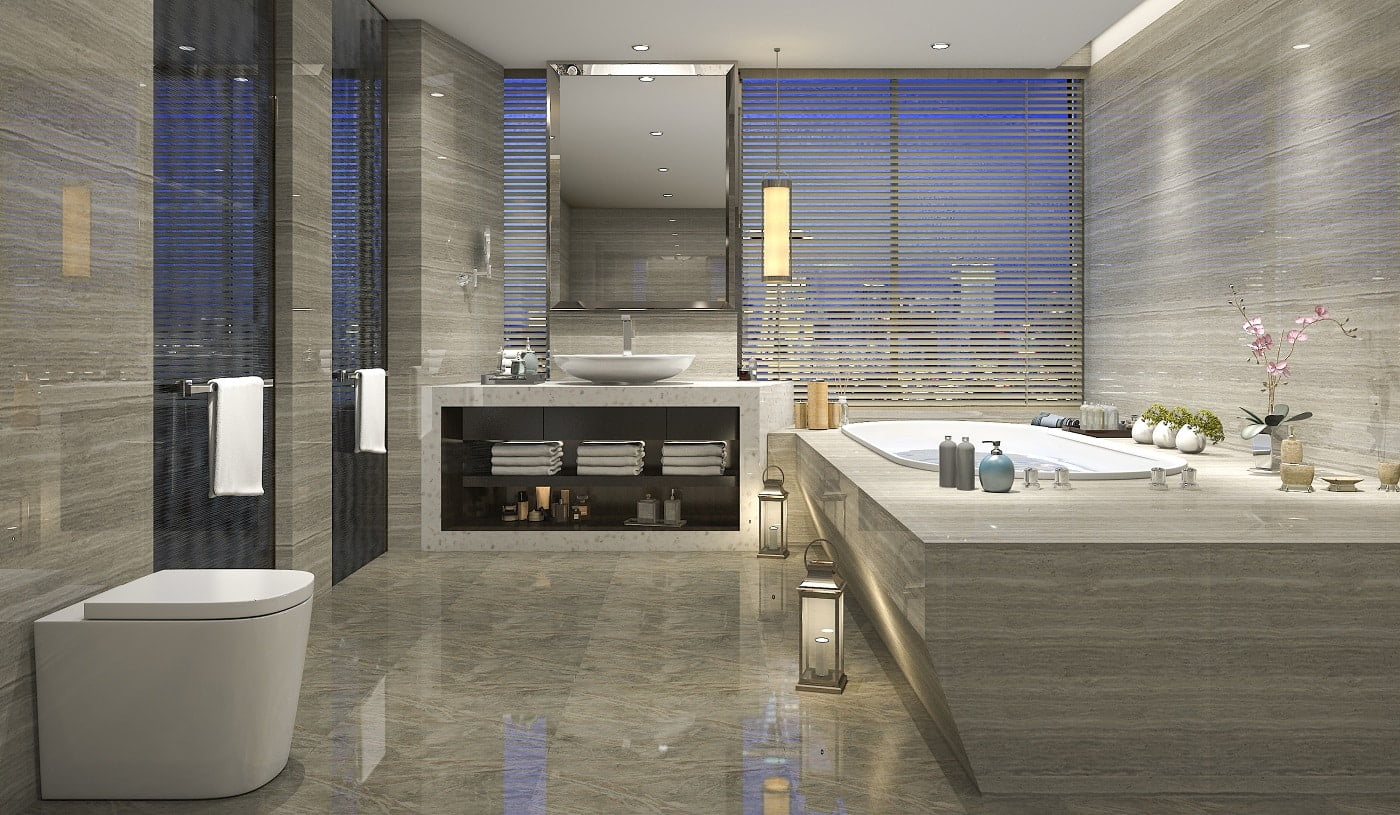 There is nothing more relaxing than lighting up a few candles, putting on music, and taking a long comfortable bath after a long day. But, this can be difficult in small bathroom spaces. That's where the Kingston Brass Alcove bathtub comes in, which is made to fit in limited spaces.
Sale
Why Did We Like It?
This is an excellent option for people that are short on space yet want a small piece of luxury. This alcove bathtub has an acrylic construction, which makes it strong yet easy to move. Plus, there is no need to rush in for a hot bath as the tub has resin reinforcement that ensures better warmth retention.
Now, coming to some of the specifics, the tub has a 55 gallon capacity, and measures 60" in length. The amount of area it provides is enough to soak in those well-deserved bubble baths comfortably. Moreover, you can choose between left or right-handed drain so that you can have the best-suited one.
Another impressive thing is that it is packaged well. The tub comes in a cardboard box with plastic corner protectors, so you do not have to worry about any damages. Lastly, the built of the tub makes it easy to install.
What Could've Been Better?
One of the most consistent complaints with this bathtub is that it scratches easily. If you have kids who like to bring their toys in the bath, be careful as those can damage the tub. However, if it is nothing significant, it can be fixed with any standard scratch removal kit.
Pros
Well packaged

Easy to install

Great for small bathrooms

Quite deep
If comfort is what you seek, then you shall receive it with the American Standard acrylic tub. This is one of the most comfortable drop in bathtubs that has an excellent capacity. It features a clean and minimalistic design that makes it ideal for any bathroom setting.
Why Did We Like It?
It is pointless to have a bathtub that does not offer any comfort. After all, that relaxing session you have been looking forward to cannot happen if there are parts jutting out and poking you from all sides. This one by American Standard is the ideal pick if comfort is a significant factor. It has armrests and a backrest that make baths even more relaxing.
Coming to the make of this tub, the acrylic material ensures it is sturdy and is not affected by the impact. Much like the bathtubs we have reviewed in the past, it has fiberglass reinforcement to retain heat during hot water baths. Plus, it has a textured floor that improves safety while inside, minimizing accidental slips.
In terms of installation, American Standard has ensured there are enough features that make it easy. The bottom of the tub is pre-leveled, and it also has a three-sided tile flange that makes the installation effortless.
What Could've Been Better?
Even after using it for a while, it was tough to find something to complain about. However, we would advise being careful while using bath bombs. Some reviewers mentioned a ring being formed at the bottom that was challenging to remove.
Pros
Great for soaking

Smooth apron giving it a minimalistic look

Easy to install

Armrest and back support for extra comfort
Cons
Might be difficult to clean after using a bath bomb
Another great bathtub to consider for smaller spaces is one from the Aqua Eden collection by Kingston Brass as this collection is full of high-quality and sleek-looking tubs. So, whether you are looking to make bath time fun for kids or want to spend a quiet evening by yourself, this one is guaranteed not to disappoint.
Sale
Why Did We Like It?
The Aqua Eden collection by Kingston Brass is full of modern and minimalistic options that have plenty to offer. Not only do they have a smooth glossy finish, but they are also lightweight compared to the cast iron ones. These are ideal for anyone looking to have a tub in a small alcove space.
Now, let's talk about the overall make and dimensions. The tub is made out of acrylic material and is better suited for people looking for a less bulky alternative to cast iron. It is 54" long and seamlessly fits into compact spaces. The depth is 21", which is enough to soak in after a long day comfortably.
Much like the other Kingston Brass tub, this one too has a smooth apron and a three-wall tile flange, which makes it easy to install. There is no doubt that this one will blend into any bathroom interior and enhance the look of the room effortlessly.
What Could've Been Better?
As mentioned, installation is easy; however, there is a need to be a bit careful. Reviewers mentioned that it is not stable when it is empty and tends to lean forward during the process. You might have to press it down on a rubber mat or layer of concrete to have even tub legs.
Pros
Ideal length for a small alcove

Deep enough for a comfortable soal

Lighter alternative to cast iron

Elegant design
Cons
Legs might be uneven during installation
Kohler has been a leading name in bathroom fixtures for a long time. They have been incorporating their core values of making quality products that are simple to use since they were first established. The Kohler rectangle bathtub is no different as it is simple with a lot to offer.
Why Did We Like It?
Kohler has always offered its customers quality products, and this one is no different. This rectangular bathtub is great for people of varying heights as the depth is 32". This model is 5 ft. in length but is also available in 5.5 and 6 foot sizes. With an 81 gallon capacity, this is a great tub for a relaxing soak.
Moving on to the make and design, this bathtub is minimal yet elegant. This particular one is in white, but it is available in multiple colors to suit the bathroom's interior. Additionally, the overall crisp design and fine lines on the tub allow it to blend in well with other granite, stone, and even tile bathroom fittings.
Moreover, the drain is pretty simple as well. It opens and closes with a slight push and is installed at the end of the tub. The backrest is slopped, providing optimal comfort without any jutting parts. And this comes with a 1-year warranty.
What Could've Been Better?
There is very little to complain about regarding this tub. Reviewers cannot stop raving about it and for a good reason. However, it is essential to note that the instructions are not very informative, so installations will have to be done after taking measurements. Moreover, it has no texture and has no non-slip features.
Pros
Comes with a warranty

Simple and minimal design

Suited for people with varying heights

Slopped backrest for comfort
Much like Kohler, American Standard has also been delivering high-quality bathroom fittings for years. Not only are their products beautiful, but they also meet the highest standard in safety. This deep soaking tub by American Standard is one of their many excellent bathtubs. It is luxurious, elegant, and very comfortable.
Why Did We Like It?
If you are looking for a bathtub that guarantees quality and safety, this is the one to go for. This one by American Standard is durable and sturdy, so you can rest assured that it will last for a long time. The bottom is pre-leveled, making it easy to install regardless of whether it is a drop in or undermount installation.
As we mentioned, this is very durable as it is reinforced with fiberglass and is made out of acrylic. The acrylic not only makes it stronger but also gives it a beautiful glossy finish. The fiberglass, too, adds to the strength and also ensures an adequate amount of warmth retention. It is available in three colors – white, linen, and arctic white.
In terms of comfort, American Standard has added a lot of features. It has a wide contoured lumbar support, armrests, and a backrest to enhance the comfort factor. Moreover, the floor is slip-resistant, which makes the tub safe to stand-in.
What Could've Been Better?
Few reviewers have complained about the size of this tub. Even though the depth is a little over 18", which is enough for a soak without overflowing, it is not long enough. The problem is that people, even the ones below 5'5", cannot fully submerge in the water for a full soak.
Pros
Durable make

Slip-resistant

Back and armrest for extra comfort

Easy to install
Cons
Not long enough for a full-body soak
A tiny bathroom does not mean you need to settle for a simple shower space, at least not until the Fine Fixtures bathtub is around. This one is ideal for people that do not have space for a large tub or want more compact bathroom fittings for a guest bathroom. Let's have a look at some features.
 Why Did We Like It?
This tub is 48" in length, making it ideal for a very small area, but has a 32" depth which is enough for a relaxing soak. These dimensions confirm that the days when luxury needed space are long gone. Now, you can unwind with a long comfortable bath even in a small remodeled bathroom.
Now that we have covered the dimensions, let's move on to the make of the tub. Much like all the other ones we have reviewed, this one too has an acrylic make. This is why it is strong and has a glossy porcelain-like finish. It is also resistant to cracking and is easy to clean after using bath salts and oils.
In terms of installation, the small make of the tub makes that easy. Moreover, the bottom of the tub has legs that make it sit right with the need for mortar as a base.
What Could've Been Better?
Since this is small in length, it is no surprise that tall people might be at a disadvantage. Although this is wide enough for anyone to sit in, laying for a full soak may be difficult. Few tall reviewers have mentioned getting in and out was a bit awkward for them, but otherwise, the tub is comfortable.
Pros
Made for smaller spaces

Durable and sturdy

Legs in the bottom for better support

Easy to clean
Cons
Tall people might have difficulty getting in and out
If you are on the lookout for an ideal soaking bathtub, the ProFlo drop in tub will not disappoint. This is classy and minimally designed, making it great for any bathroom interior. Also, It can be installed as a drop in or as an alcove tub. Let's have a look at some of its features.
Why Did We Like It?
Straight off the bat, we were impressed with the quality and satisfaction guarantee this company had to offer. The tub is of an acrylic make, which confirms that it is durable and sturdy. However, if you are not satisfied, the company offers a 5 year warranty which fully covers every aspect of the product.
To elaborate a bit more on the make, it is reinforced with composites that make the material of the tub even stronger. Moreover, it is easy to clean as it is spot and stain-resistant. So, there is no need to worry when using bath salts and oils. It is also deep with an 80 gallon capacity making it ideal for a soak.
Moving on to the installation. It is quite easy to install as it is versatile and can be installed as a drop in or an alcove. This is a must-have for anyone looking for a good quality tub to come home to.
What Could've Been Better?
Even though this can be installed as an alcove tub, the apron for the alcove is not included in the package and needs to be purchased separately. Another downside to this product is that it is not available in any other color but white, which can be a bit restrictive.
Pros
Guaranteed customer satisfaction with warranty

Dual installation options

Large capacity

Easy to clean and install
The next one we will be reviewing is by Swiss Madison. This company prides itself on manufacturing products that are aimed to make their customers' life easy. Along with that, they also guarantee top-notch quality and excellent customer service. Read on below to see what makes these tubs unique.
Why Did We Like It?
We were quite impressed by the company's dedication to producing quality products. The well-made forever collection of products, including this tub, has undergone many durability tests. It is a modern and sleek product that can provide spa-like comfort within the four walls of your house.
Coming to the look for the bathtub, since it is made out of acrylic, it has a glossy and smooth finish giving it a minimalist elegance. It is also effortless to clean, and the acrylic makes it resistant to chipping and cracking. The dimensions for this one are 60" x 30" , making it ideal for a relaxing bath.
One additional impressive feature is the adjustable feet in the bottom. This allows the level of the tub to be adjusted without much hassle. Plus, it also has a 3 sided flange that minimizes water leakage and it is available in right and left-hand drains.
What Could've Been Better?
It is a good quality, durable and sturdy product that is bound to impress. However, this particular size might not be ideal for very tall people. Soaking in this tub is possible but only at specific angles. This isn't an issue since there are multiple sizes available.
Pros
Easy to level during installation

Lesser water leakage

Smooth finish

Resistant to chipping and cracking
Cons
Size not ideal for very tall people
The last bathtub we will be reviewing is the one by Signature Bath. This one is a bit different from the last ones we have reviewed as it has water jets. The tub itself, as well as its fittings, are all made out of high-quality materials. Let's explore some of the features.
No products found.
Why Did We Like It?
If you are looking for spa-like treatments at home, we recommend getting the Signature Bath drop-in whirlpool tub. This is essentially a jacuzzi with water jets that can be installed in your home for a relaxing spa-like experience. The water is powerful and provides an ample level of pressure in the right spots.
It's time to move on to some of its features. According to your needs, this whirlpool tub has 8 stainless steel jets and valves to adjust the water pressure. Apart from the water pressure, even the heat can be adjusted to make it even more comfortable. It is 66" in length with a depth of about 18".
One very fascinating feature is that the tubes in this are all anti-fungal. They are coated with a fungicide to minimize the chances of bacteria. Additionally, it comes with a 5-year warranty.
What Could've Been Better?
A tub like thi should be ideal for date nights and quiet moments with your partner. However, this is where this particular one is lacking. The one, and probably only, downside is that it can only accommodate one adult despite having big enough dimensions.
Pros
Plumbing coated with fungicide

High-performance pump and jets

Adjustable water and heat

Comfortable and durable
Cons
Only accommodates one person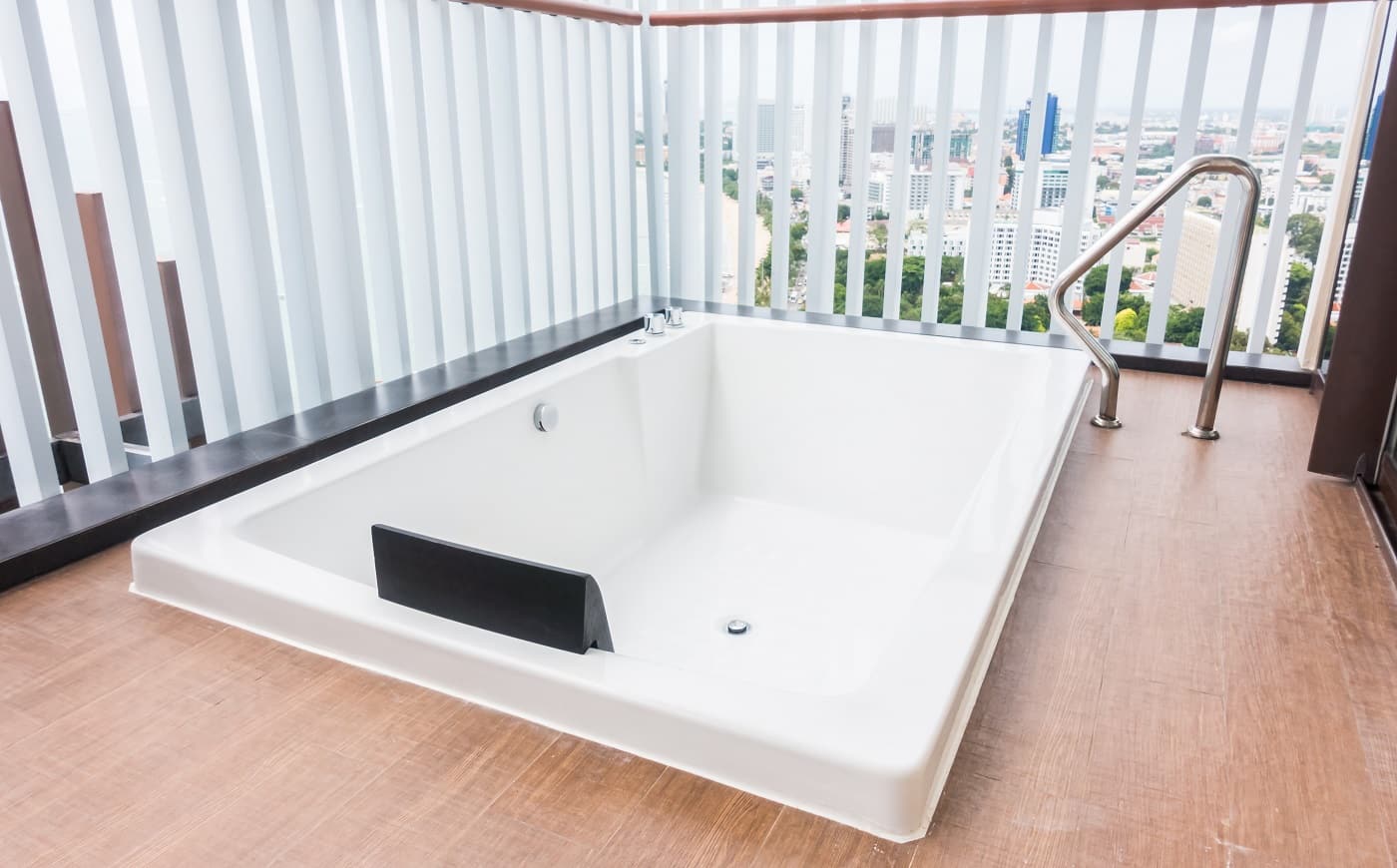 Drop-in Bathtub Buyer's Guide
After having gone through 9 product reviews, the information could be too much or too little. Either way, there is a need for a certain amount of clarity. This is why we dug a little deeper to understand the essential features that make a tub unique.
So, here we have a buyer's guide that lists out some things that are worth considering while buying bathroom fittings like bathtubs. Let's get right into it!
Material
One of the essential features is the material. It pretty much determines the weight and durability of the tub. All of the ones that we have reviewed are mainly acrylic with composite reinforcements like fiber or resin. In combination, these materials make the tub strong and durable. Plus, it also enhances its heat retention.
Apart from acrylic, there is also cast iron and enamel on steel tubs. The former is a heavy-duty material making the tubs resistant to any damage. They tend to last long but are also prone to rust. Enamel on steel is like cast iron, but a little light making it easier to move around. However, they are also prone to rust.
Maintenance
Based on the point above, picking the right material makes maintenance more manageable as well. An acrylic-based tub will always be easier to clean and maintain as opposed to cast iron. This is mainly because acrylics have a smooth surface that does not stain, scratch, or rust.
Size and Shape
It is crucial to find a tub that can be accommodated in the area that is already available to you. So before picking one out, carefully measure the area and ensure that it will seamlessly fit.
The shape here is vital for a more personal reason. There is no point in buying something you will not be comfortable in. So, ensure that the tub has an ergonomic design with plenty of features that enhance comfort, like arm and backrests.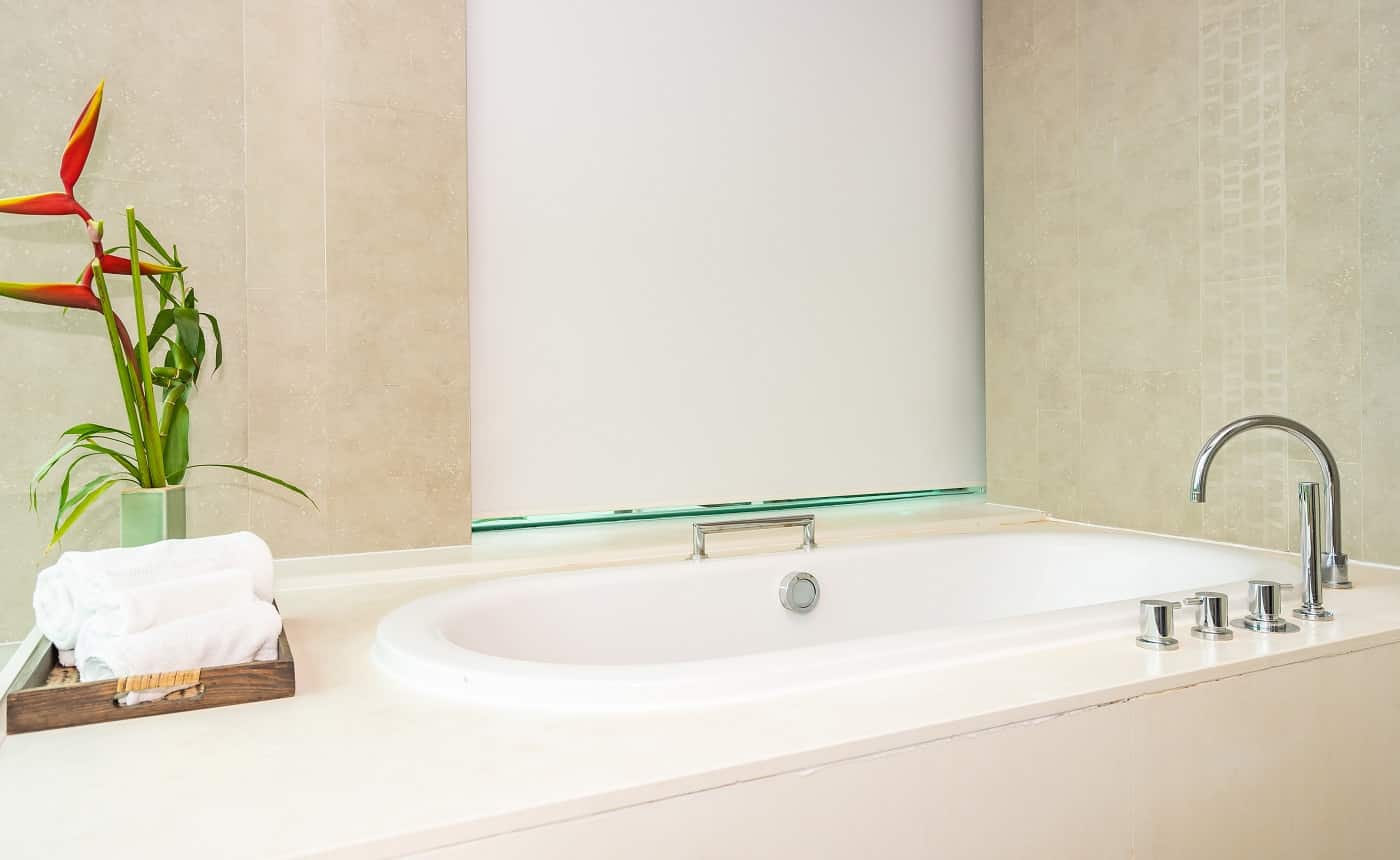 Verdict
We now come to the end of our detailed guide of the 9 best drop in bathtubs that are popular in the market. We hope that with the information provided, it will be easier for you to choose the ideal one.
However, we understand that this is a lot of information to process, so let us sum it up by listing our favorites. Overall, for the best soak, we would recommend the ProFlo drop in tub. The only issue is that it is only available in white. So, if you want something with more color variants, go for the deep soaking one by American Standard.
We part ways now but don't worry, as we will be back soon with more reviews and guides. See you next time!
Related Articles 
13 Best Bathtub Faucets Right Now